How to Make a Picture Fit on Instagram: The Ultimate Guide
Instagram is a popular social media platform that allows users to share photos and videos with their followers. However, not all pictures fit perfectly on the app. Therefore, you should be prepared to know how to make a picture fit on Instagram. Lucky, this article will provide you with the best guide and solutions. And if you want to do it fast and conveniently, try WorkinTool Image Converter. it is an all-in-one image editing solutions with many more features to explore. You will definitely get the best experience for Instagram posts.
😍 1. Best resizing and cropping options for Instagram images.
🤩 3. Easy interface for users to edit with 3 STEPS.
😎 4. Support more than 100 different image formats to operate.
🥳 5. Cover all the features that you can on the market and interesting filters.
😊 6. Available for image conversion, compression, matting, watermark, and more.
How to Make a Picture Fit on Instagram: The Ultimate Guide
Instagram has come a long way since its inception, and what started as a simple photo-sharing platform has turned into a juggernaut with over one billion active users worldwide. Despite changing its look and feel over the years, Instagram is still famous for its square photos. It's a unique and essential aspect of Instagram's visual culture, and for the longest time, any image that didn't fit the square size looked odd and out of place. However, things have changed, and Instagram now allows you to post pictures of different aspect ratios, but square still remains the most popular. But trying new things can make you gain more likes. Do you know how to make a picture fit on Instagram with more aspect ratio choices?
You should know that there is more than one solution to solve the Instagram size problem. And in this article, we will provide easy methods to get your pictures to fit on Instagram, including Instagram and third-party software. Please continue to read and make it happen.
---
How Many Image Sizes for Instagram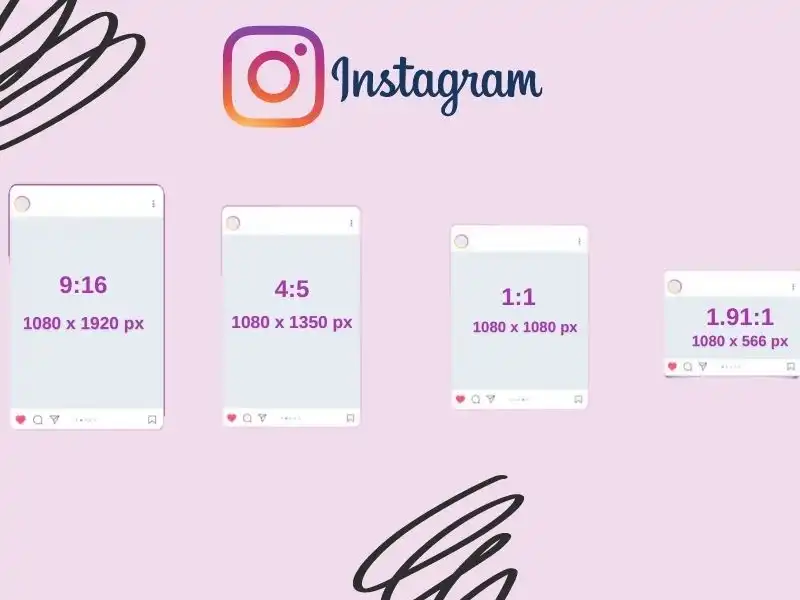 The first and arguably the most crucial step in making a picture fit on Instagram is to ensure the image has the appropriate resolution. Instagram supports multiple image sizes for different types of posts. You can choose to post your photo in square, portrait, and landscape. When you post Instagram Stories, the size also differs. Here are the differences you should consider when posting on Instagram:
We're talking about tweaking the image when uploading it to make it fit on Instagram. And the last IGTV cover photo is something we can't modify ourselves, so let's leave it at that. If your image is larger or smaller, it might need to be fixed. If your phone's camera doesn't take pictures at this resolution, you can still upload lower-resolution pictures, but they might look better on larger devices. By using these recommended sizes, you can ensure that your images look great on Instagram and are sized appropriately for the platform's requirements.
---
How to Make a Picture Fit on Instagram: Crop Feature
Resizing your images for Instagram is a simple task with the crop feature. The Instagram post screen has a light gray icon with a white box at the bottom left, and clicking it will instantly adjust the size of your image to fit the desired frame. Alternatively, use the pinch-to-zoom gesture to shrink the image for a proper fit on the post.
However, using the crop feature on Instagram has one major drawback: No matter if you click the gray icon or use the pinch-to-zoom gesture to adjust image size, you only have two basic aspect ratio options to resize. Plus, there is a great chance to cover only some of the image areas. And it means your image might display only some of the content you need on Instagram. If the method falls short for your pictures, seek help from a third-party photo editor for better results.
---
How to Make a Picture Fit on Instagram: WorkinTool
Well, as you can see, there are no more than four controllable sizes of images on Instagram, but if you use the Instagram upload and crop feature directly, it only provides you with two of them as options (1:1 and 4:5). If you want to make your photos more Instagram-friendly, your best bet is to use a third-party app. Most of them offer excellent image editing features for users to optimize the image effect. And here, we highly recommend that you try WorkinTool Image Converter. It is a powerful image tool. With simple clicks, it can satisfy all users' needs with no effort.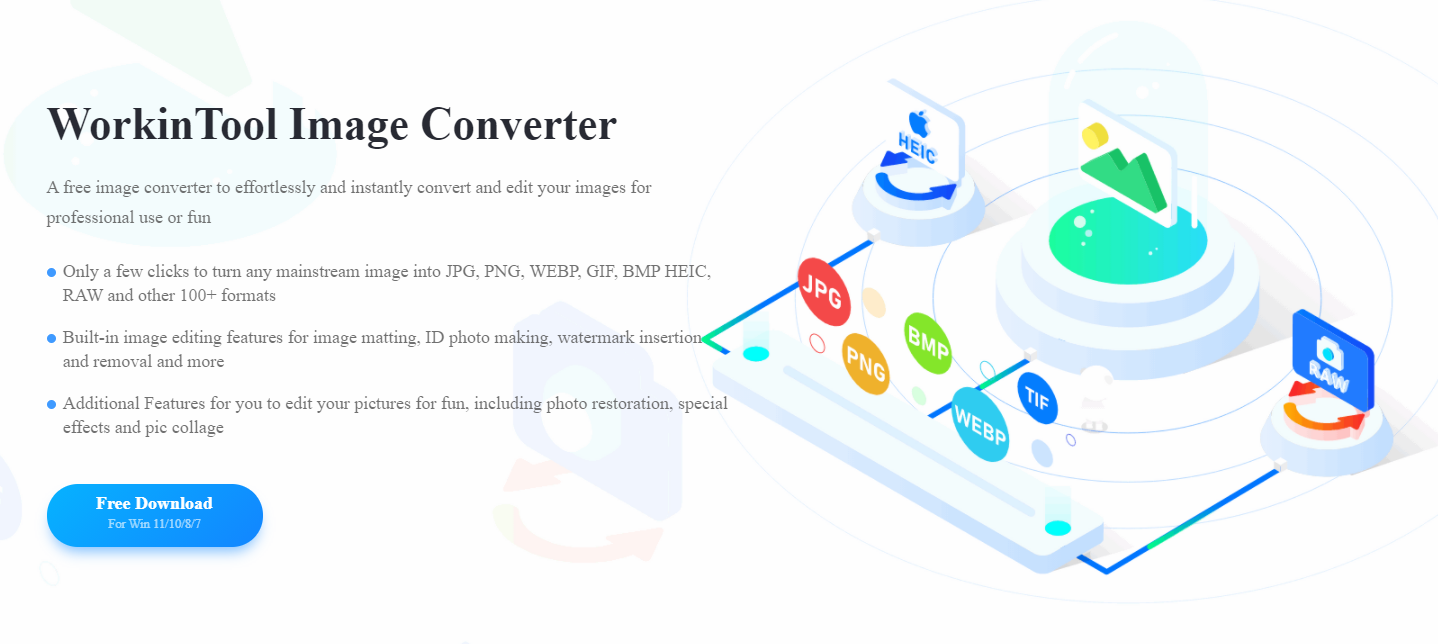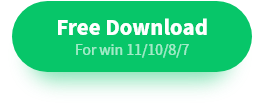 WorkinTool Image Converter is a versatile, efficient, and powerful tool that offers numerous advantages beyond simply resizing images for Instagram. In order to make the perfect fit on Instagram, this tool mainly provides users with two ways to deal with it. For one, you can directly input and adjust the exact image resolution. In another way, it offers all four mentioned aspect ratio options for an Instagram photo. Users can apply any one of them to the image. Most of all, this tool is so much easier and cheaper than any other image editing software. Whether you're a professional photographer or need to optimize your images for a project or social media account, WorkinTool Image Converter is a great tool to have in your arsenal.
How to Make a Picture Fit on Instagram: Resize Images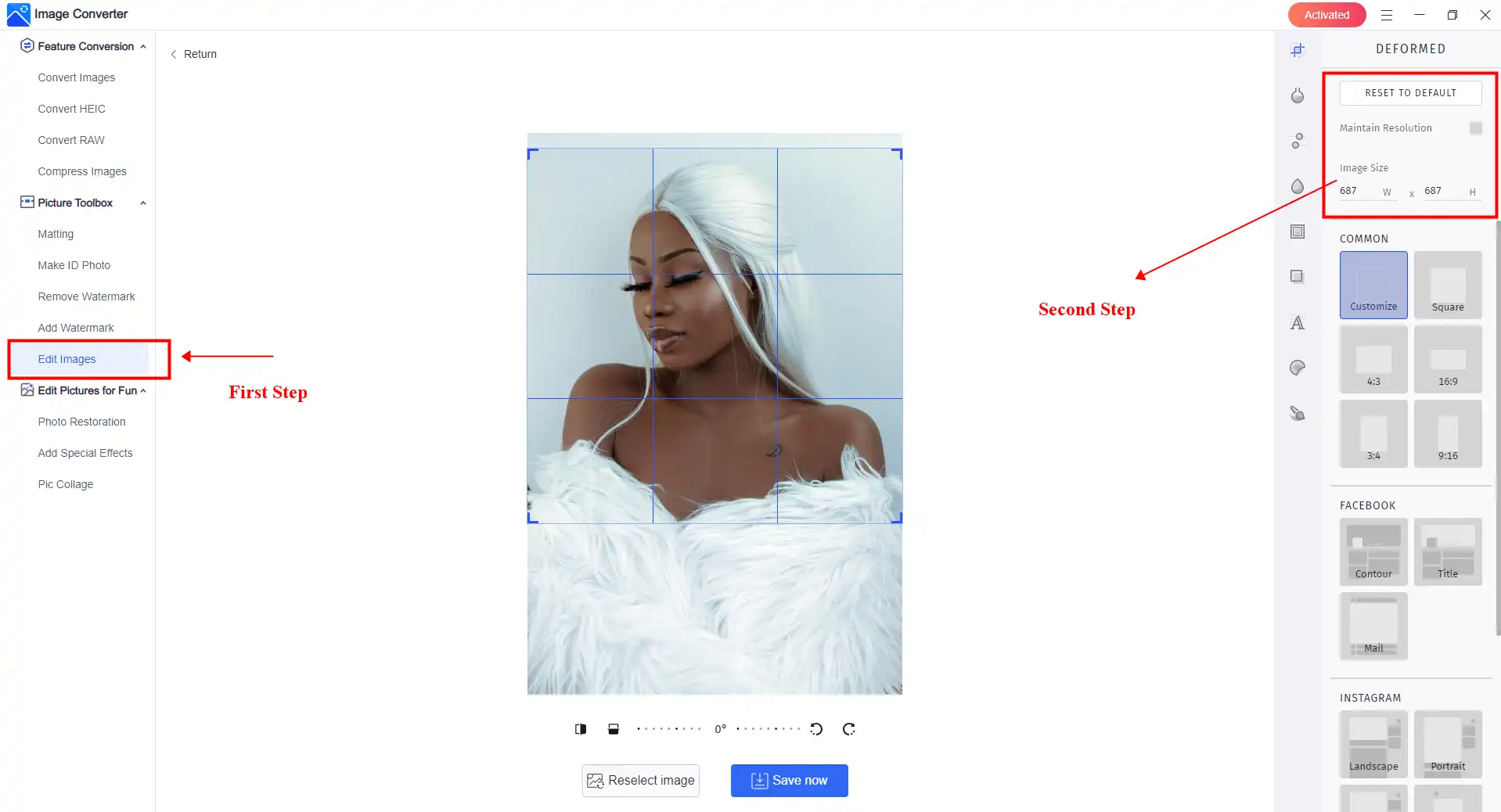 Step 1: Open this tool and click Edit Images to add your Instagram image.
Step 2: There is a box for users to resize images. Input the exact resolution to adjust the weight and height of the picture. 
Step 3: After adjusting the size, tap Save now and upload this image to your Instagram account.
How to Make a Picture Fit on Instagram: Crop Images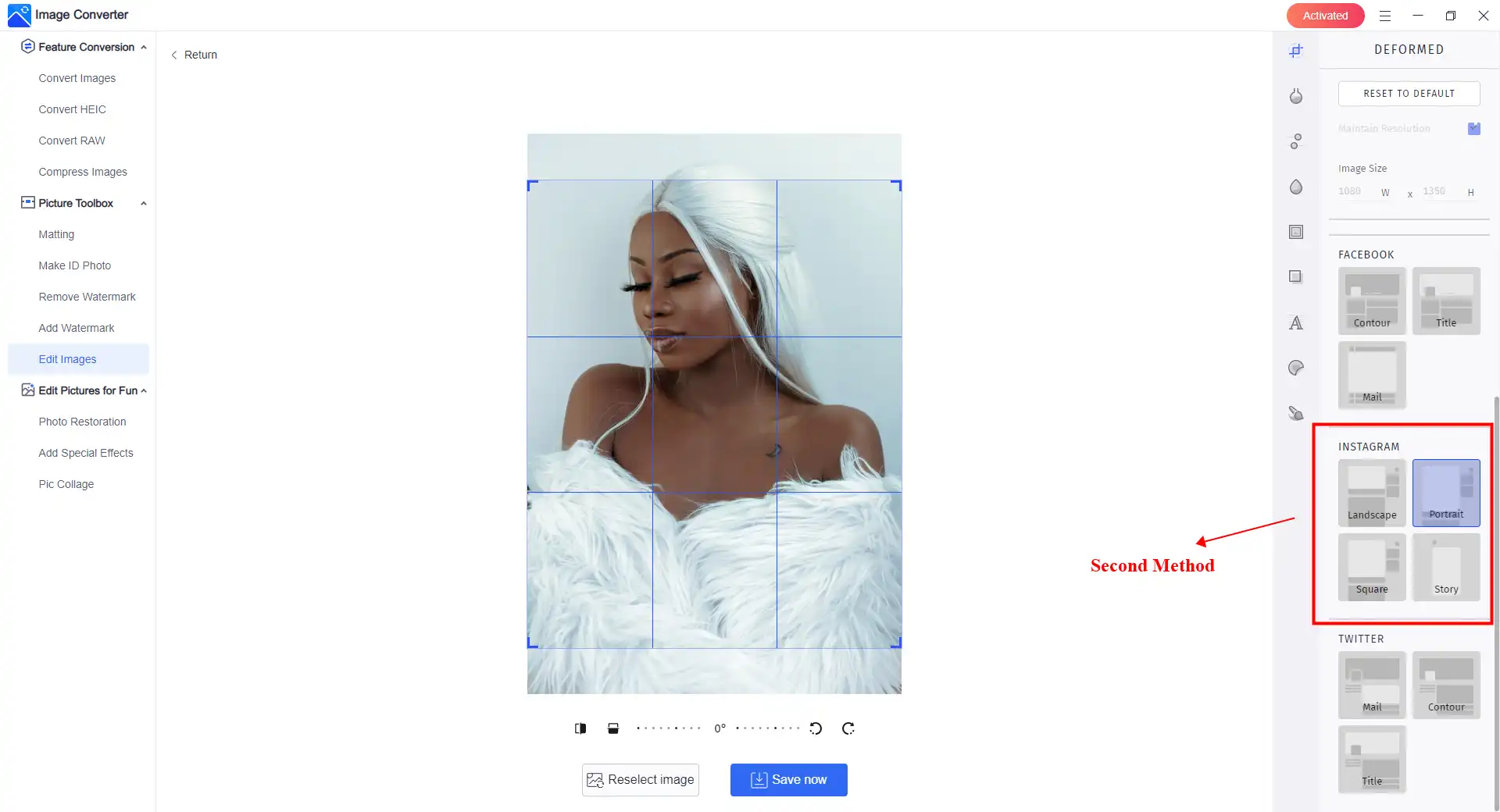 If your image is originally smaller than 1080 pixels in weight and height, you cannot put numbers bigger than 1080 on the Image size option. Therefore, you can scroll down this page, and you will find there are four options for Instagram aspect ratios. You can directly apply any one of them to your picture. And move to fit the perfect spot in the photo. Then, same as before. Click Save now and upload this photo to your Instagram account.
💖 More Additional Features for WorkinTool Image Converter 💖
---
How to Resize Instagram Photo Online
If you are in a hurry and need more time to edit images on a desktop PC, there is an alternative you can try out. WorkinTool also comes with an Online Image Resizer. It is totally free to try without downloading anything. All you have to do is to open this online tool, put your Instagram in it, and then adjust the width and height. It should be the best replacement for the desktop WorkinTool Image Converter.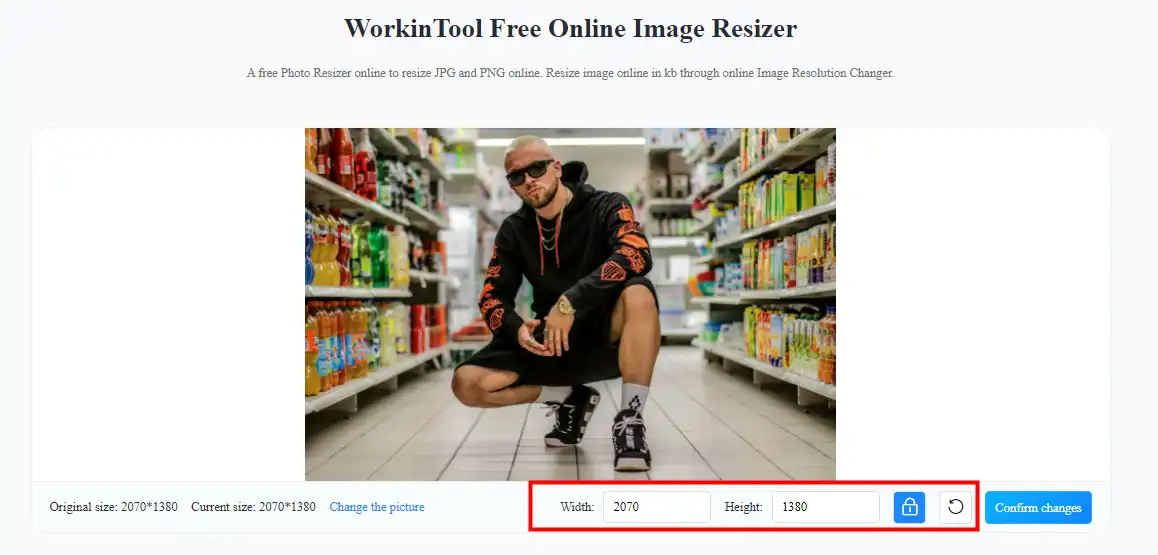 ---
Why Choose WorkinTool Image Converter
In conclusion, if you want to make a picture fit on Instagram, it's possible to do so using any of these methods. With these tips, you can post your images to Instagram efficiently and effectively, irrespective of the original aspect ratio. Remember always to make sure that your image's resolution is in the recommended 1080 by 1080 ratio, and follow these methods to make it fit according to your preference. Do not limit your creativity; keep experimenting with different techniques until you find the one that suits your taste. Happy Instagramming!
With the above-listed methods and tips, you can post your images to Instagram efficiently and effectively. So now, unleash your creativity and post pictures that take Instagram by storm.