How to Easily Lock PDF from Editing or Copying
If you have problems like locking PDF from editing, we highly recommend you to try the recently published software – WorkinTool PDF Converter. Locking PDF doesn't have to be that experience. With this light-weighted desktop PDF tool, you can easily put a lock on PDF files for free. Moreover, all functions of it are butch process supported, which saves users time and effort to important affairs. Users matter to us, we always believe service comes first. And that is the reason we have made this amazingly user-friendly tool to share with you.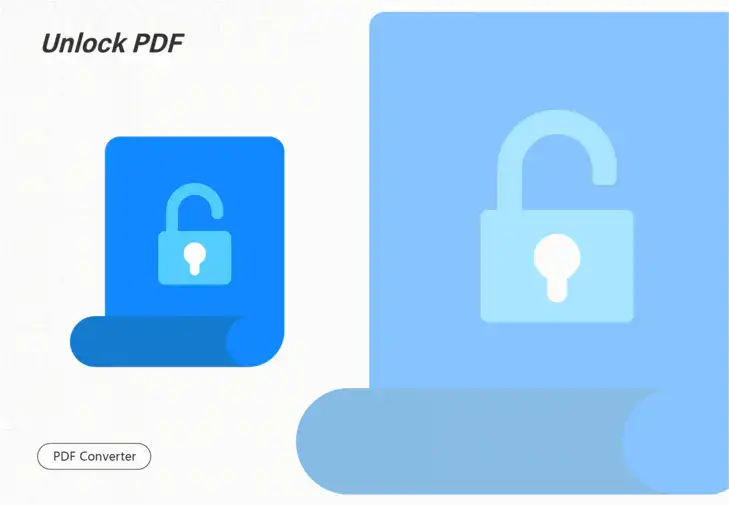 Whether you are from a big company or just an individual business, Eventually at some point you will need to find ways of how to lock PDF from editing or copying. Maybe you have drafted some content that needs to share with some outsiders, a legal document, a confidential company contract, or clients' personal information. No matter in which case, it is of vital importance for you to authorize the specific ones who can have permission to open and view the content of your file.
In this post, we will provide you with three methods of locking your PDF files. However, not each of the approaches is equally secure. Here, with two different PDF software, we give you free methods to lock PDF and Adobe Acrobat DC – a pay-for-use version. All of these will cover how to make PDF files read-only and the practice of locking them with a password to restrict them from opening.
---
Lock PDF from Editing for Free
Export It into An Image File
The first method I'm going to introduce is using WorkinTool PDF Converter. This tool is a great option in the list of light-weighted software. With a clear navigation bar and interface, it is highly friendly with any beginners. But more importantly, it is totally free of charge, perfect for users who don't have a budget.
Here is how it works: We use the WorkinTool PDF tool to convert the PDF document to image format, and then turn it back to PDF. In this way, people who get to view the PDF file will find that they receive a bunch of images in the PDF document, rather than editable content. Everything in the PDF file will look visually identical. But as you know, images are way more difficult to edit if you don't have specific software. This is one way of getting people's hands off your PDF file from modifying.
Open up the PDF converter and go to the "PDF to JPG" option.
Select or drag your PDF file into the area and choose "Page to JPG".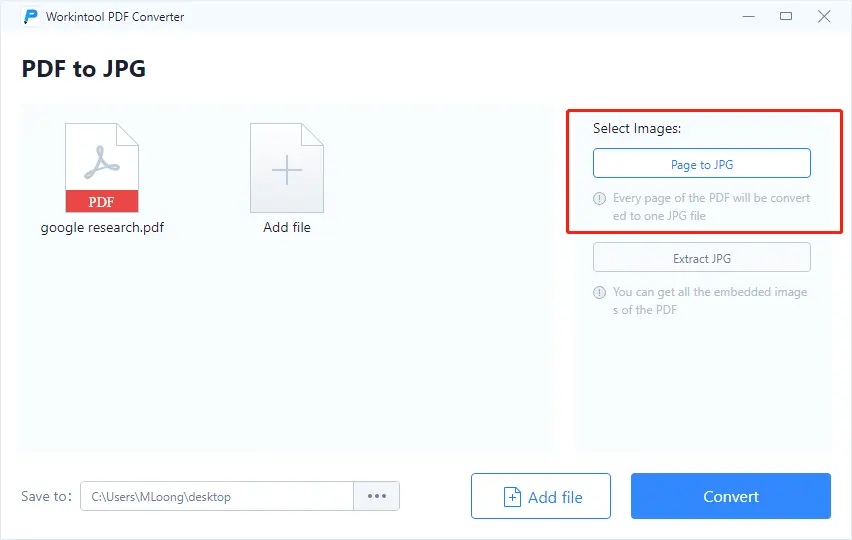 🚨 Notice: All of your pages will be converted to one image file.
Hit "Convert" to get your graphical files.
Normally, after turning PDF files into images, the content in them won't get easily altered. If you don't have to use PDF format, you can stop right here. However, if PDF format is a must for commercial purposes, you may need to transform them back to PDF.
Step 2: Turn It back if Necessary
Put your images into the area of "Image of PDF".
Opt to the options below to customize your imaged PDF file.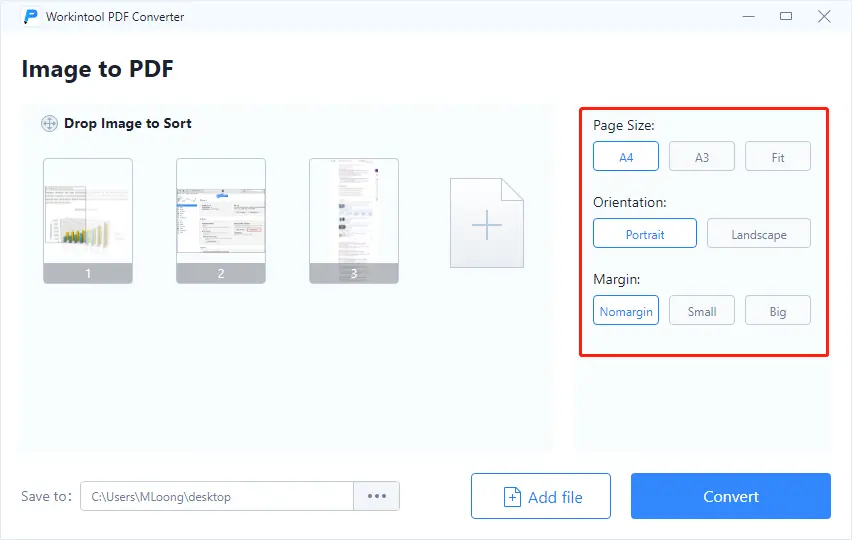 Page Size: Normally A4 is the best PDF size by default.
Orientation: Decide how you want the pictures to show in PDF.
Margin: See if you want margin in it.
Hit "Convert" to finish the process.
---
Encrypt It with Password
If you are still worried about the imaged PDF file isn't safe enough, you can put another lock on it. The second option is to encrypt your PDF document with a password. Use WorkinTool PDF Converter to create more heavy encryption on your classified file. It will restrict viewing to people who don't have access to the password you set.
Go to the "Protect PDF" in the PDF tool.
Put your PDF file in it and set your password. (you can show password if you need to)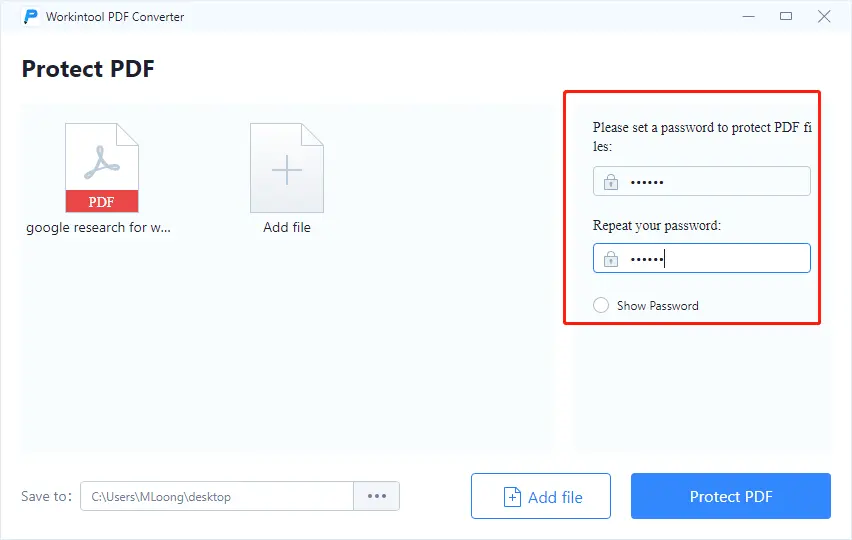 Finally, hit "Protect PDF" to lock it.
---
Lock PDF from Editing: Extra Security
If you wanna further PDF protection, you have to pay some bills to achieve that. Therefore, I'm going to introduce the method by using Adobe Acrobat to create extra security on your PDF file. As people know, Adobe has invented PDF format. So, when speaking to how to make PDF safe, Adobe must have its place.
First, open your PDF file with Adobe Acrobat.
Then, go to the "Protect" option in the Toolbar.
Choose Encrypt with Password and you will get a popped window like this.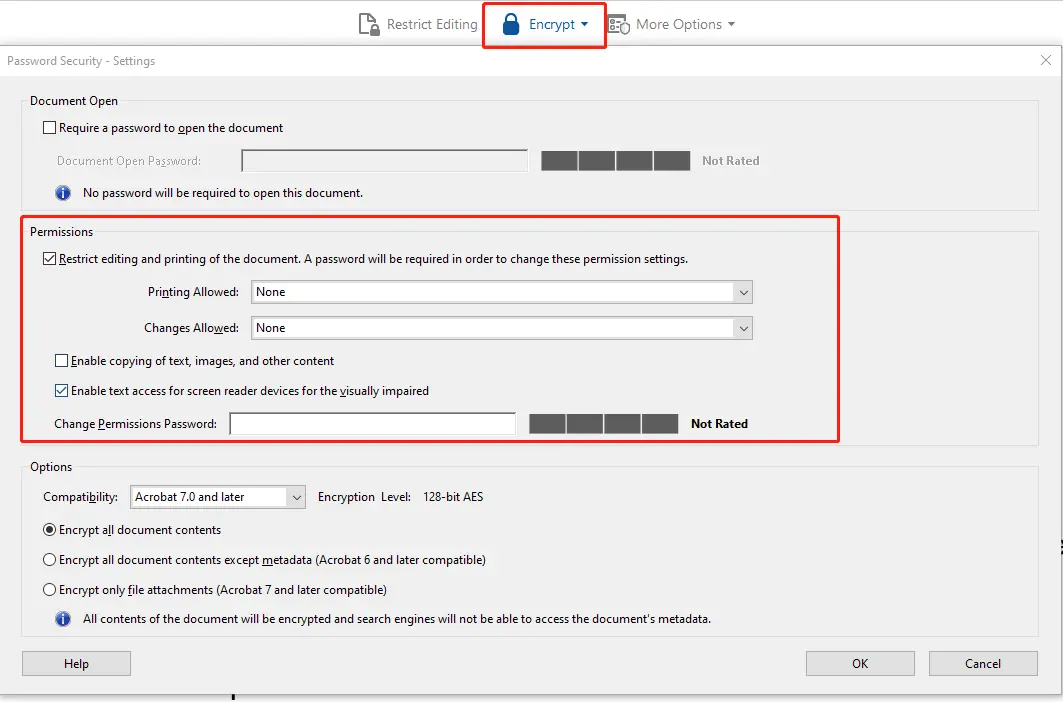 After you have set it, just click "OK".
Except for setting an opening password like WorkinTool, you can also set a permission password. That is something worthy of your money. This password is to prevent others to use similar software to edit the content in it. You can set whether you want others to copy the content, image or just to print. Of course, you can see other buttons on the window too for you to experience the magic of Adobe.
---
FAQs about How to Lock PDF from Editing
Can I Make the PDF Editable Again?
Actually, yes. There is another way to make the PDF editable again. Our WorkinTool PDF Converter also supports the "PDF to Word" function. With this function, now you may make your imaged PDF back to editable Word again. And after you have completed the editing process, you can still turn the Word document back to the original PDF format with all the format and layout reserved.
Can I Lock Multiple PDFs from Editing at the Same Time?
Although this feature is not yet available for Adobe Acrobat, you can still use WorkinTool to make that happen. Every converting and management function including locking PDF supports batch processing. So, not to mention locking multiple PDFs, you even can use our "Unlock PDF" function to remove your password of PDFs only if they share the same code.
Which Tool Should I Choose?
Well, that really depends on your needs and current circumstance. If you just need to lock your PDF right in a hurry and do not want to pay the price of Adobe only for one-time use, the all-in-one WorkinTool PDF Converter is your perfect choice, As you can see in the article, it is totally free of charge and every handy even for beginners. However, if you are from a big enterprise and every single file is highly classified, we will recommend you to use Adobe Acrobat.
I'm sure you must have known how to lock your PDF files from editing after reading this post. I hope that whatever PDF software you choose, you can get your PDF protected as you wish. If you have any suggestions that you want to share, please contact us anytime.
💝 May all the fortunes can be with you.