How to Add Text to GIF for FREE on Windows | 3 Ways
If you are eager for a costless solution about how to add suitable text to GIF images, this post may provide you with several original and practical ideas. I will introduce three effective and FREE ways:
🎯How to Add Text to GIF on Windows with Video Editing Software – WorkinTool VidClipper
🎯How to Insert Text into GIF with a Built-in Program – Microsoft Photos
🎯How to Place Text on GIF Online – Flixier
All the methods are at your disposal. However, it is strongly advisable to try WorkinTool VidClipper since it is easy, convenient, powerful and 100% free. Please continue your reading to learn about specific solutions. Hope you find them helpful for you.
How to Add Text to GIF for FREE on Windows | 3 Ways [With(out) Third-Party Tools and Online]
Do you know how to add text to GIF for FREE on Windows? If not, please refer to this article that discusses this topic. It will be enlightening even if you have knowledge of text addition to GIF as new ways will be introduced. So, let's start our discussion now.
If you have this kind of request, please read it with patience. It will cost you about 15 minutes to read. Hope you can find it out.
---
🧐 Why Add Text to GIF?
Animated GIF is a format of image that can express emotions. It is widely used in daily life. When chatting with friends, you can use GIFs to convey your thought, or when editing articles, you can also add GIFs to improve the article effect. The current GIF animation is not limited to a single-picture dynamic. In order to make the picture more interesting, many friends add a lot of funny elements. Generally, people prefer to add text or picture materials to the GIF during the production process to make the GIF more vivid.
However, there are still a number of GIFs produced without any words. These animated images may not achieve the effect that you want. Then you need to add text to GIF images to convey more information that you need.
---
💡How to Add Text to GIF on Windows with Video Editing Software
Video editing software will undoubtedly be the quickest and most efficient way to insert text into GIF. Here, I'll show you a handy and free video editor–WorkinTool VidClipper.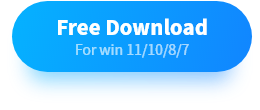 WorkinTool VidClipper is dedicated to dealing with all kinds of video editing processes. It is a powerful video editor that was released recently by WorkinTool, an experienced and professional office software company. It combines many mainstream video operations into one. For instance, it can realize video editing, video splitting, and merging, video converting, watermark removal, etc. As for video editing, it achieves adding text, transition, background music, and filters to videos. With its help, you can easily edit your video. You don't have to worry about the cost, for it is completely free for a long while. There are no limits to all its functions as well.
✅ Key Features
WorkinTool VidClipper is a powerful video processing tool that is bound with numerous benefits. Here is a list of the reasons to use it.
| | |
| --- | --- |
| ⭐Completely Free  | This advantage makes it outstanding. It has quite a long-term free trial period. So, you don't have to be concerned about the cost. |
| ⭐Powerful | It is an all-in-one video editor, which has dozens of functions. With it, you can deal with 90% of video editing problems. |
| ⭐Clear | With its clear interface without any ads, even new users can use it without any effort. |
| ⭐Professional | It is explored by a professional company that has over ten years experience of in office software. It is reliable and efficient. |
| ⭐Safe | Security is our business, hidden viruses? File leak? It doesn't exist at all here. It promises to guarantee your data privacy and personal information. Unlike other software, it asks for no registration. You don't have to sign in account. |
| ⭐Effective | It accomplishes high-quality output results with less time cost. Furthermore, it determines to become a considerate video editing assistant for office workers. |
🎉How to Add Text to GIF with WorkinTool VidClipper
Now, let's figure out how to add text to GIF with VidClipper. Only in a few steps can you successfully get what you require. Here is a detailed tutorial in the following text. In addition, here is a step-by-step video about how to add text to GIF made for you.
Step 1. Open the software, then choose "+New Project" to create a new task.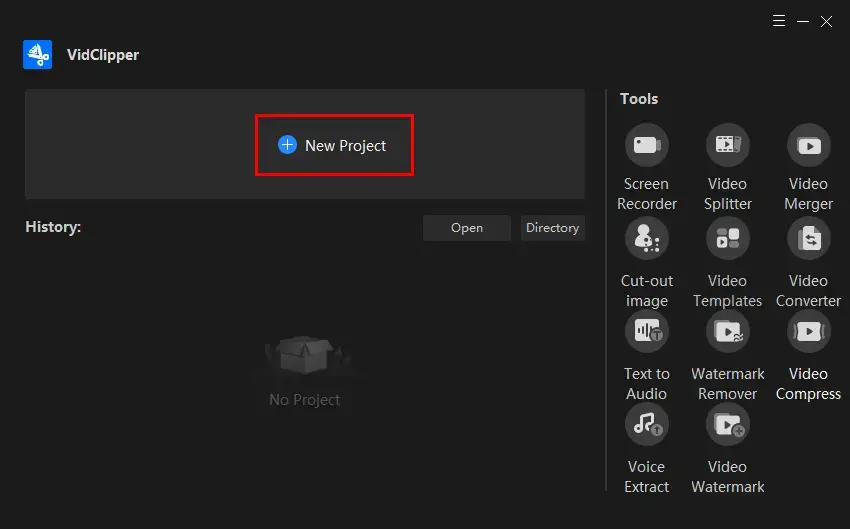 Step 2. Upload your GIF file by clicking Import or dragging it directly. Then tap the plus button to add it to the video editing track.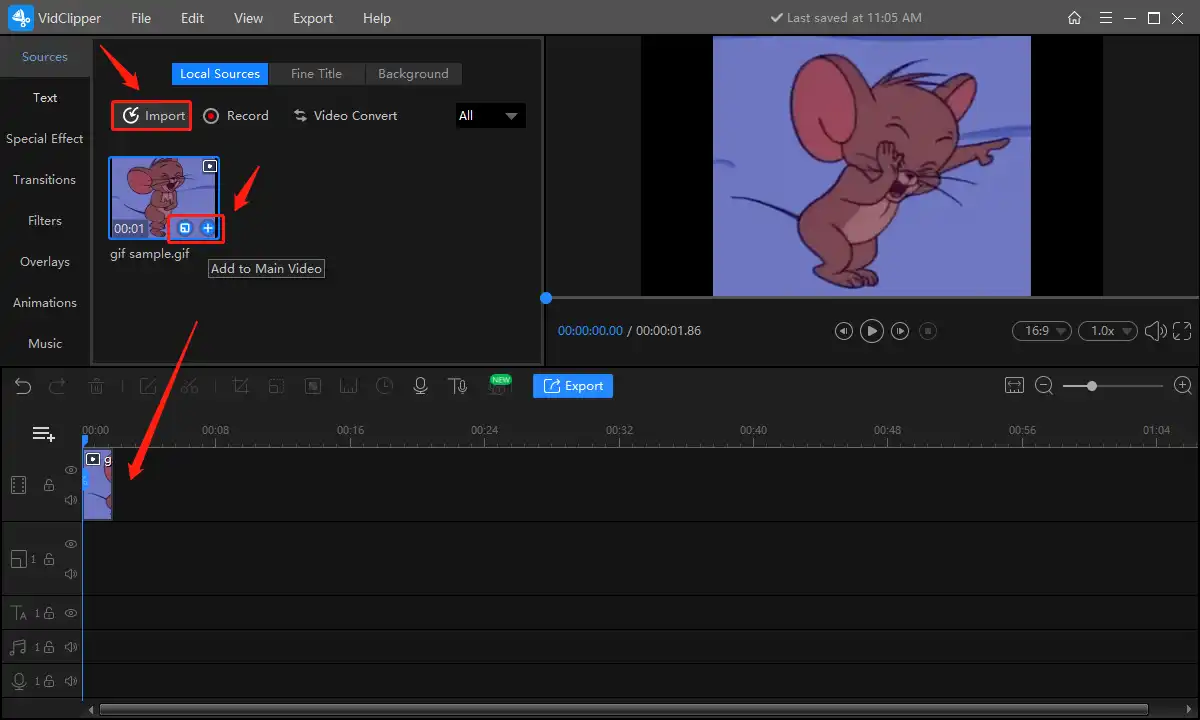 Step 3. Select "Text" on the left column, then pick a model you like by clicking the plus sign.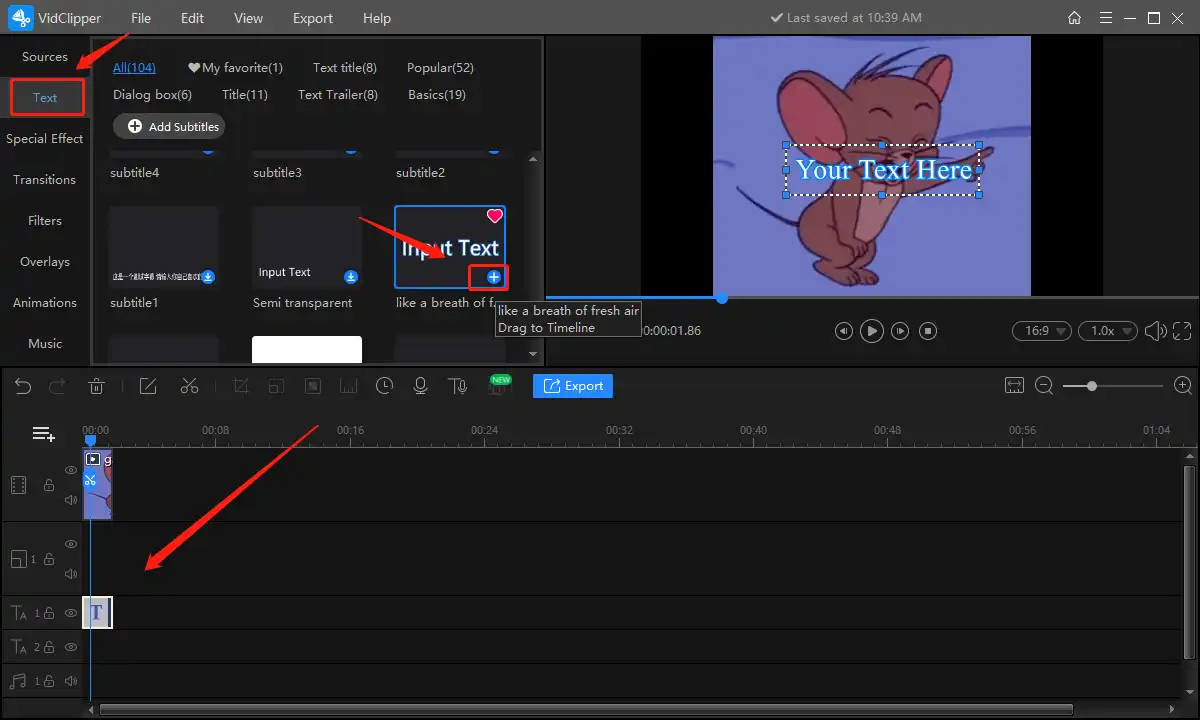 📝PS: Type words you want to add. It is available to change the color, size, opacity, and other features of the text. After the setting, adjust the location and duration of the text. You can drag the box to alter its location and size. And as for its duration, you can drag both handles of the progress bar of the text.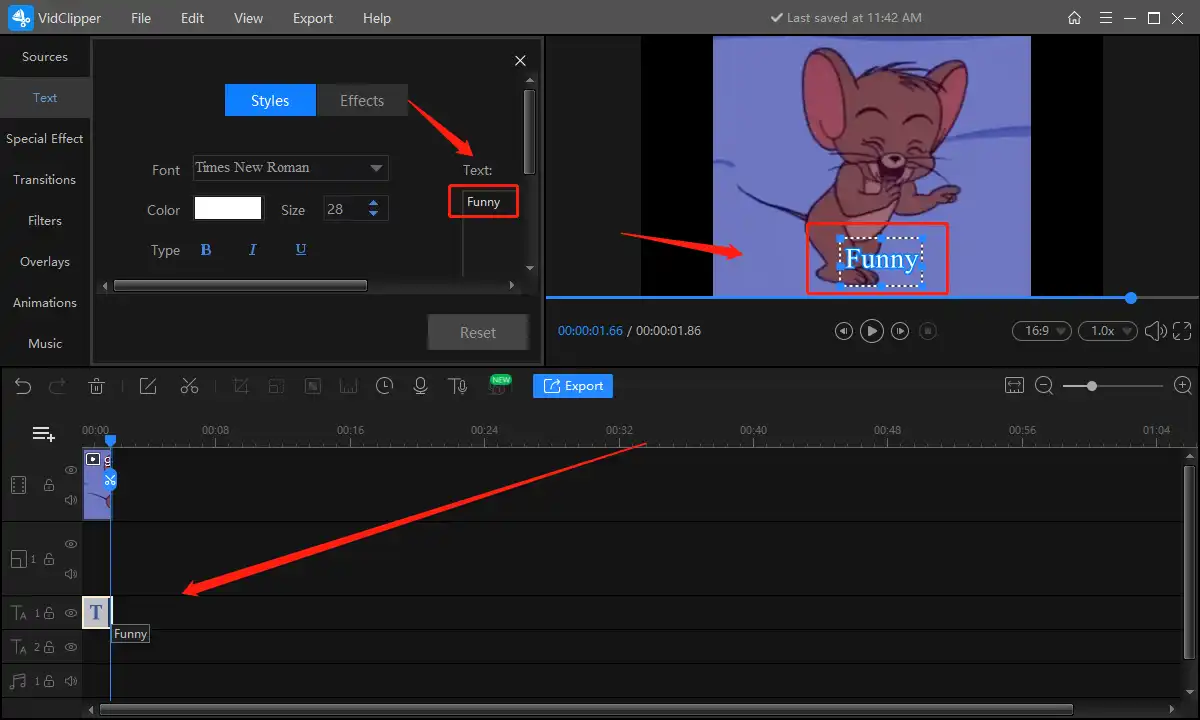 Step 4. You can preview it by tapping the Play button. After that, just press "Export" to obtain the new file. Please make sure to select the output format as GIF. You can rename the video, select the saving path and decide its quality before you press the final "Export".
You can check the length and estimated file size, too. If it is too large to send to chatting platforms, you can choose to output in normal quality. It's optional.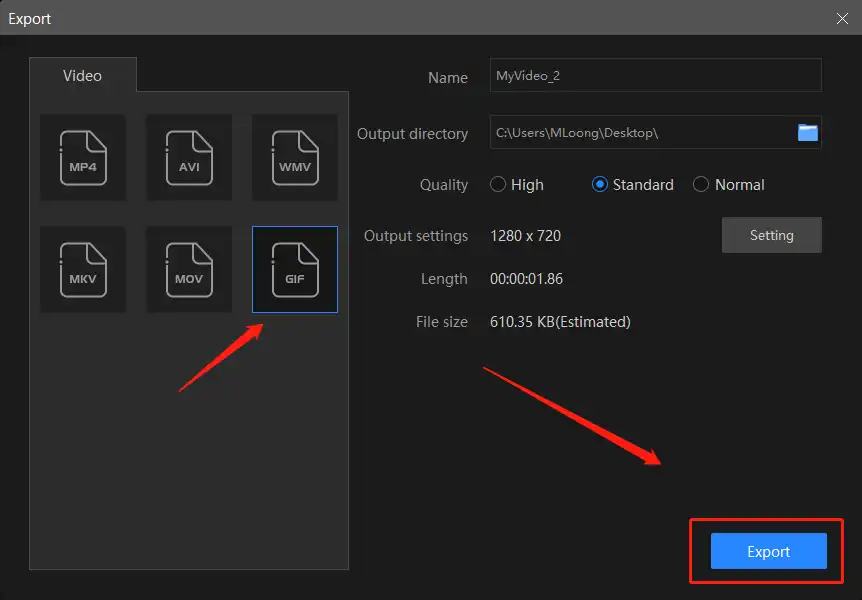 💡 Tips: As you can see above, it can also realize converting GIF to MP4, and vice versa, so you can make a GIF from a video as you like.
📢 More to Share About WorkinTool VidClipper
Not only can WorkinTool VidClipper add text to a GIF, but it can also add subtitles, music, and animations to videos, audios, and images in other formats. The following part includes the elements that it supports adding to your material. You can have a look if you have this kind of need.
✨Our Advice 
😎WoW
😒Oops

100% FREE without compulsory signup
User-friendly interface
Simple and convenient
100+ style texts
Custom text settings and motion effects
Smooth text-addition process
Fast video importing speed
No output watermark
Virus-free, secure and green
---
🌍How to Insert Text into GIF with a Built-in Program
If you find it cumbersome to find a third-party tool or not a frequent social media sharer, you can definitely turn to some built-in programs on Windows for help. Here, you can pay attention to Microsoft Photos if you are using a PC powered by Windows 10 or higher.
Microsoft Photos, more than just a photo viewer and video player, is now upgraded to a basic image and video editor. With a clear interface, it provides users with an easy video-editing experience, including text insertion. Besides, it supports animated texts, which will add a vivid sense to your GIF. Here is the tutorial below:
🔑How to Insert Text into GIF in Microsoft Photos?
1. Open your .gif file with Microsoft Photos.
2. Then, navigate to the three-dot icon > Edit more > Add animated text.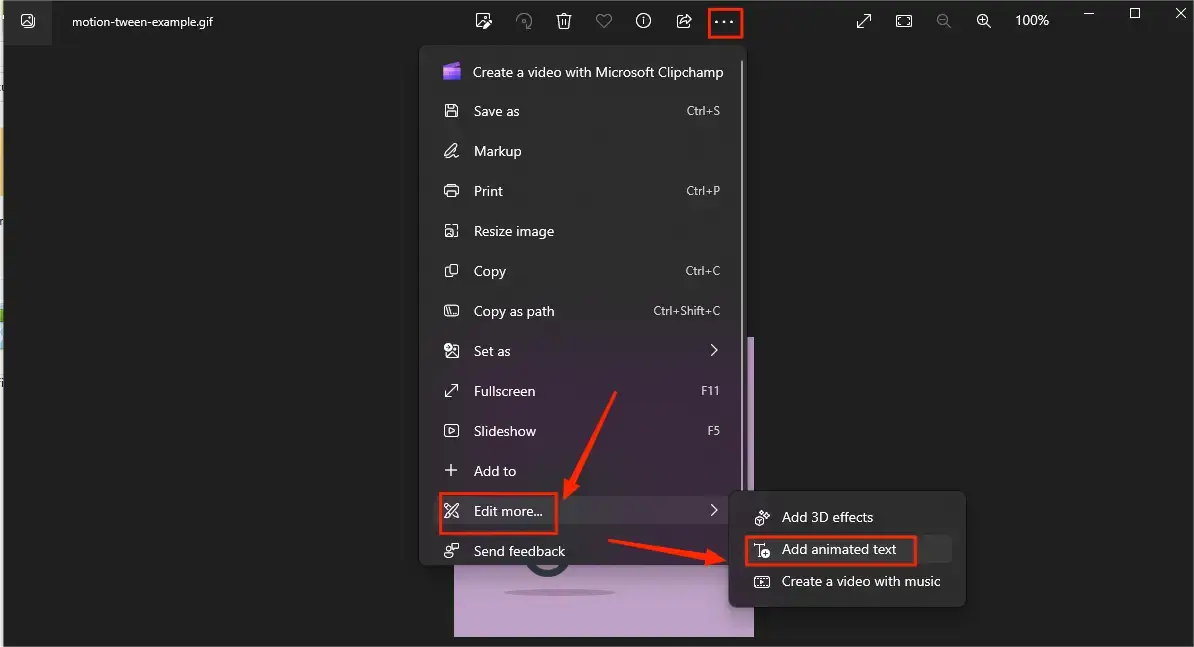 3. Choose a text type, enter your text in the blank column, adjust the layout and duration and then hit Done.
(Drag the handles on each side of the blue progress bar to set the duration of your text.)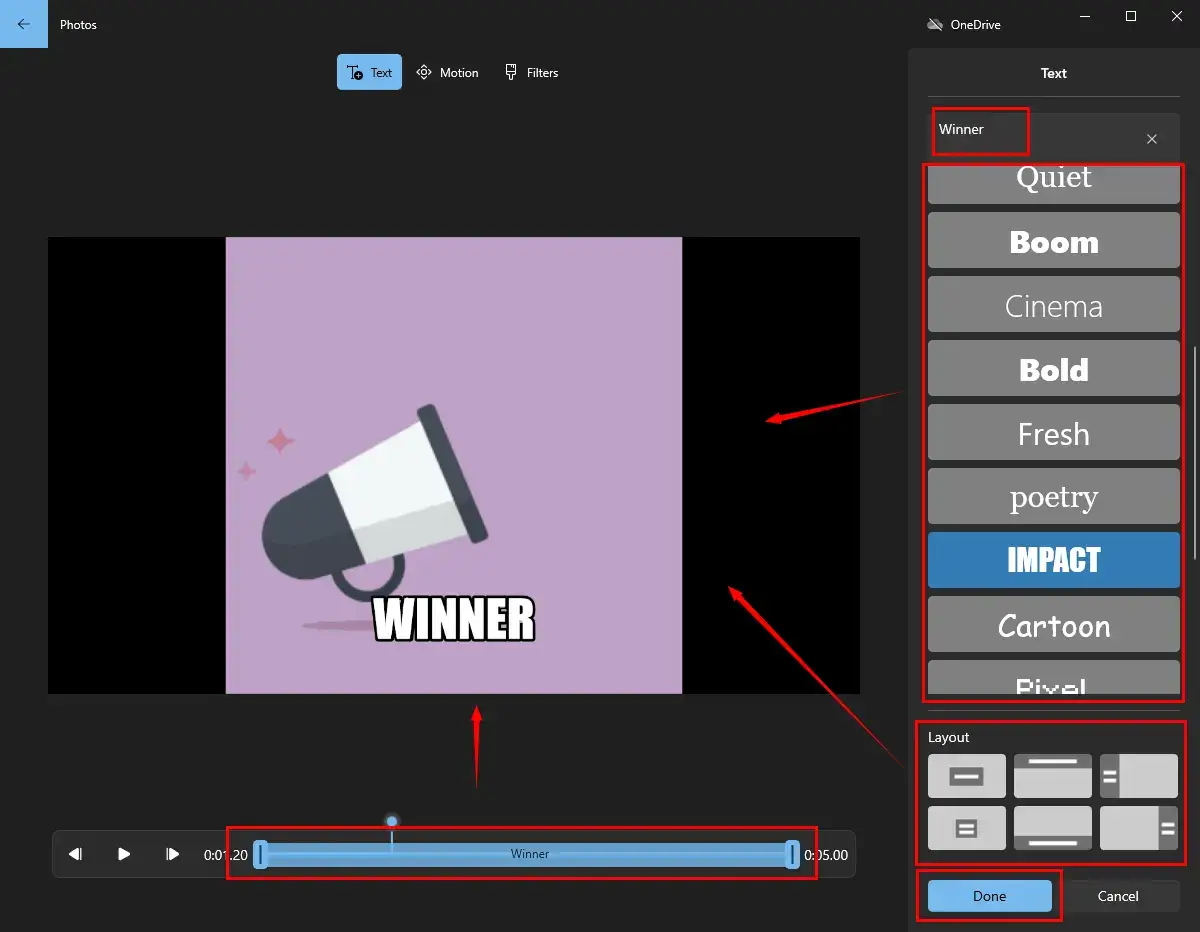 4. Select the video quality and then press Export.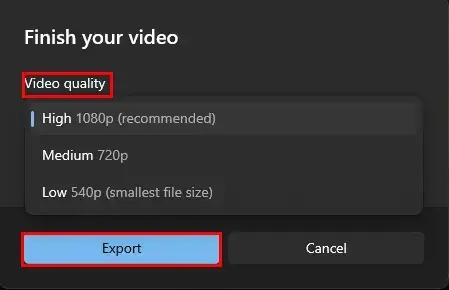 ✨Our Advice 
😎WoW
😒Oops

A pre-installed program
Completely free
Pre-set animated effects
Easy text addition process

Windows OS version only
No custom text settings
---
💻How to Place Text on GIF Online
This chapter is extremely suitable for those unwilling to use any desktop software since a useful and free online video editor will be shown to you.
Flixier is one of the acclaimed online video solution providers.  It boasts a range of practical online video editing tools, like video image adder, subtitle adder, cutter, cropper, trimmer, speed changer, etc. With its assistance, you can expect a GIF file with text within a few clicks. Besides, it possesses different text styles and supports various custom text settings, including color, font, size, stroke, shadow and so on. However, limitations apply to its free version, such as output watermark, limited video quality, project storage numbers, filters and more. Please read the instructions below:
📕How to Place Text on GIF Online with Flixier?
1). Open Filixer's tool–Add Text to GIF and then click Choose Video to import your GIF.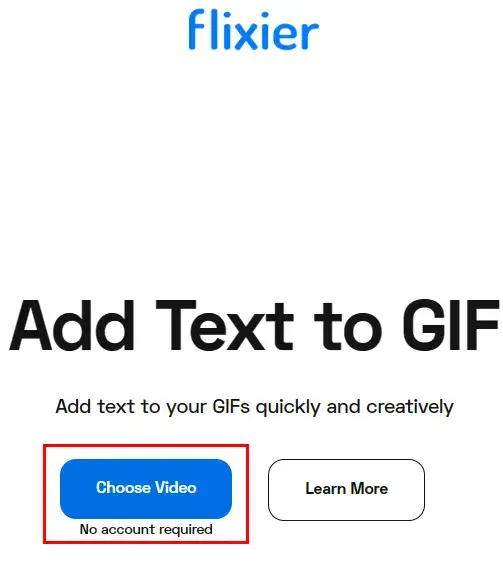 2). Sign in to your account if necessary.
3). Create a new project to upload your GIF.
4). Find Text, choose a category (Body Text is recommended.), tap the text and change it directly to your own words, adjust the settings and duration and then hit Export.
(Drag the two sliders to determine the duration of your text.)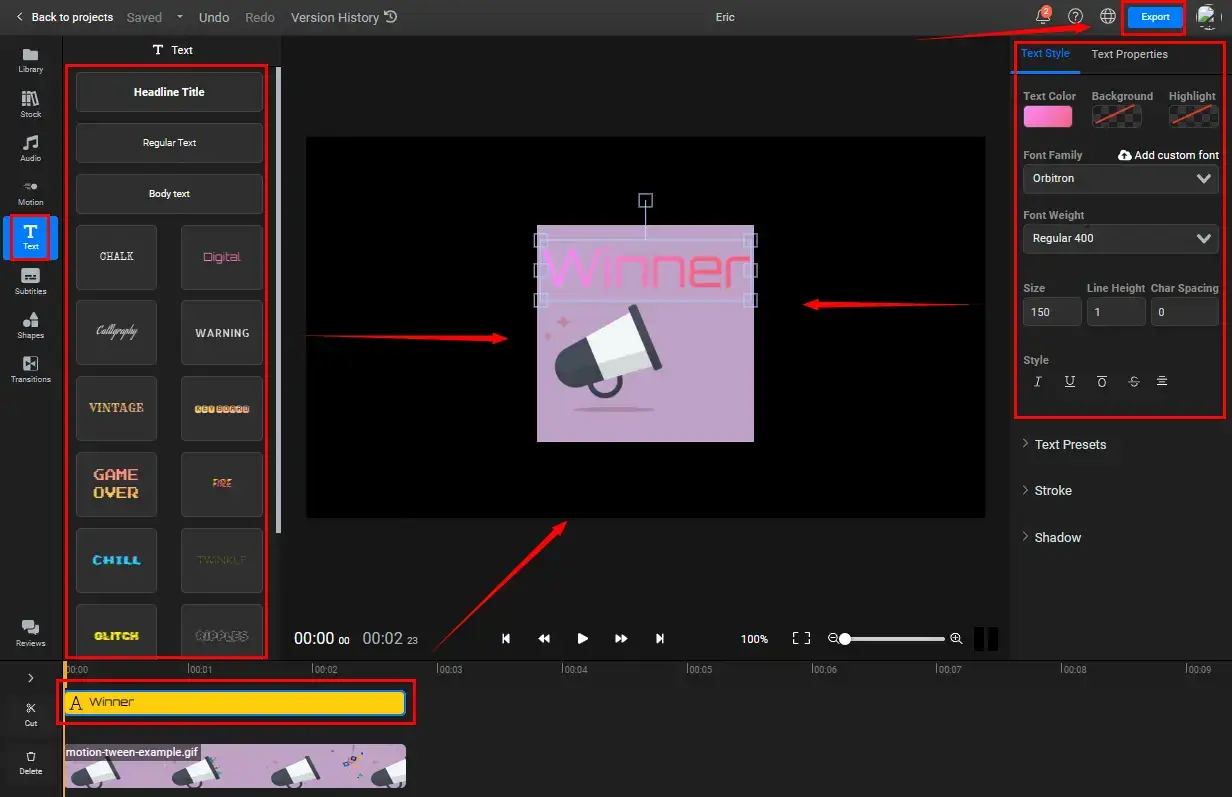 5). Preview the output and then click Export Video.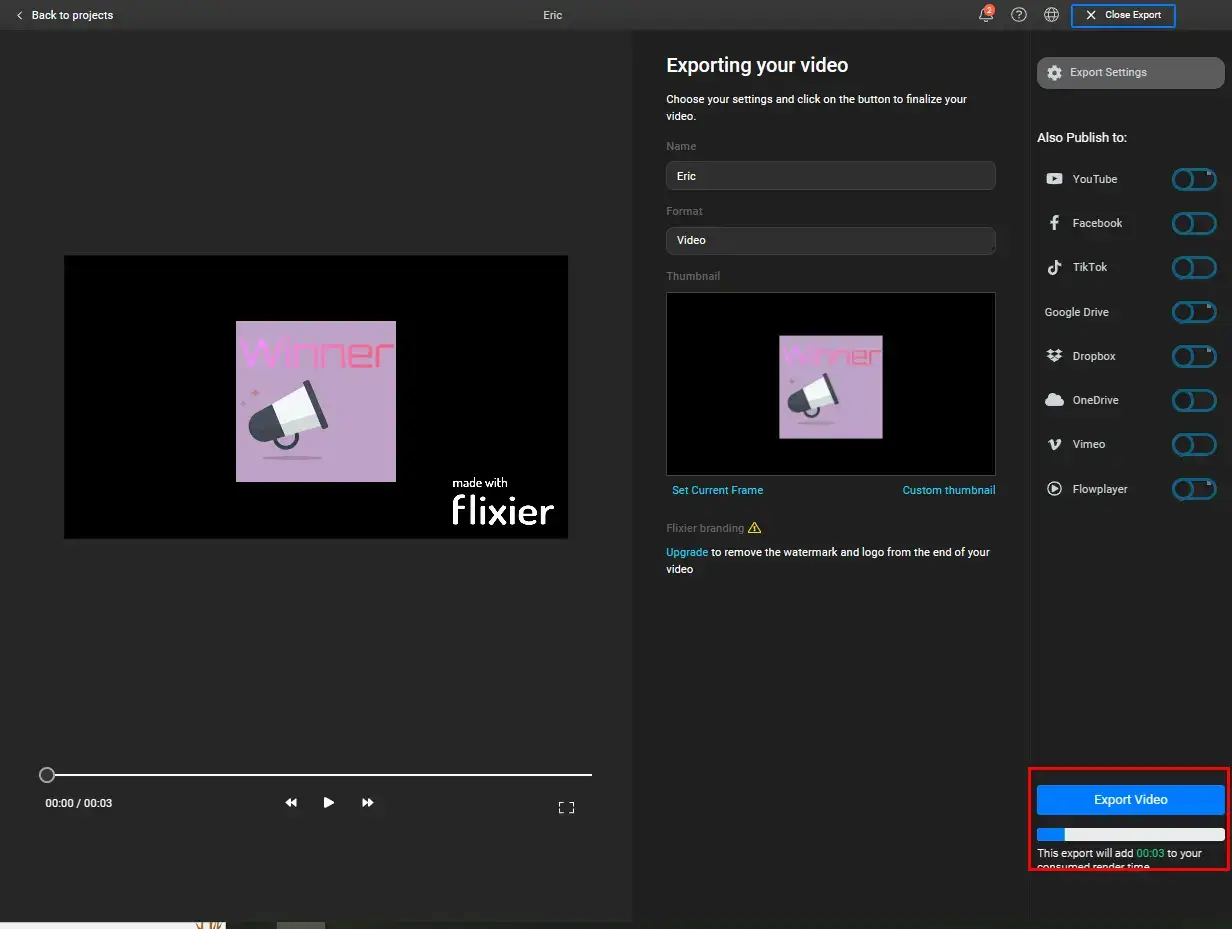 ✨Our Advice 
😎WoW
😒Oops

Modern UI design
Professional and clear interface
Multiple text templates
Various custom text settings
Free and easy to use
Compatible with all devices with internet access

Compulsory internet access
Watermarked output
Limited export quality-720p
Limited video length-10 minutes
Signup required to save your projects
Limited storage size-2 GB
---
🌟 Wrapping Up
How to add text to GIF on Windows? We hope it will be a less challenging question to answer after we show you three free ways. You are welcome to try all of them until you pinpoint an ideal solution. However, please pay particular attention to WorkinTool VidClipper.
WorkinTool VidClipper is one of the best video editing desktop tools available for windows. Follow these simple steps: launch the software, upload a GIF, then you can easily add text to GIF. What's more, as I mentioned, presenting high-quality output, it will not take a bad toll on your GIF image at all. It also provides numerous video-making materials and functions. VidClipper makes it feasible to do more original operations on GIF animation by yourself. 
If downloading software is a hassle for you, don't worry about that, it is lightweight and costs little room for your computer. Furthermore, its online version is exploring and will be updated soon. You can look forward to it. I will be grateful if you have figured out your trouble after your careful reading.
Hope this tool can be helpful to you.