How to Add Text to GIF on Windows(Fast & Free)
If you are eager for a costless solution about how to add suitable text to GIF images, this post may provide you with several original and practical ideas. I will introduce an effective tool – WorkinTool VidClipper to you, including a brief introduction of it, how to use it, and its key features. Hope it is helpful for you.
How to Add Text to GIF on Windows(Fast & Free)
This article will mainly talk about how to add text to GIF on Windows for FREE through a detailed tutorial. I will show you an effective, powerful, and free tool – WorkinTool VidClipper. If you have this kind of request, please read it with patience. It will cost you about 15 minutes to read. Hope you can find it out.
🧐 Why Add Text to GIF?
Animated GIF is a format of image that can express emotions. It is widely used in daily life. When chatting with friends, you can use GIFs to convey your thought, or when editing articles, you can also add GIFs to improve the article effect. The current GIF animation is not limited to a single picture dynamic. In order to make the picture more interesting, many friends add a lot of funny elements. Generally, people prefer to add text or picture materials to the GIF during producing process to make the GIF more vivid. However, there are still a number of GIFs produced without any words. These animated images may not achieve the effect that you want. Then you need to add text to GIF images to convey more information that you need.
🎊 Add Text to GIF with WorkinTool VidClipper
WorkinTool VidClipper is dedicated to dealing with all kinds of video editing processes. It is a powerful video editor that was released recently by WorkinTool, an experienced and professional office software company. It combines many mainstream video operations into one. For instance, it can realize video editing, video splitting, and merging, video converting, watermark removal, etc. As for video editing, it achieves to add text, transition, background music, and filter to videos. With it, you can edit your video with ease. You don't have to worry about the cost, for it is completely free for a long while. There are no limits for all its functions as well.
📌 How to Use It
Now, let's figure out how to add text to GIF with VidClipper. Only in a few steps can you successfully get what you require. Here is a detailed tutorial in the following text. In addition, there is a step-by-step video about how to add text to GIF made for you.
Step1. Open the software, then choose "New" to create a new task.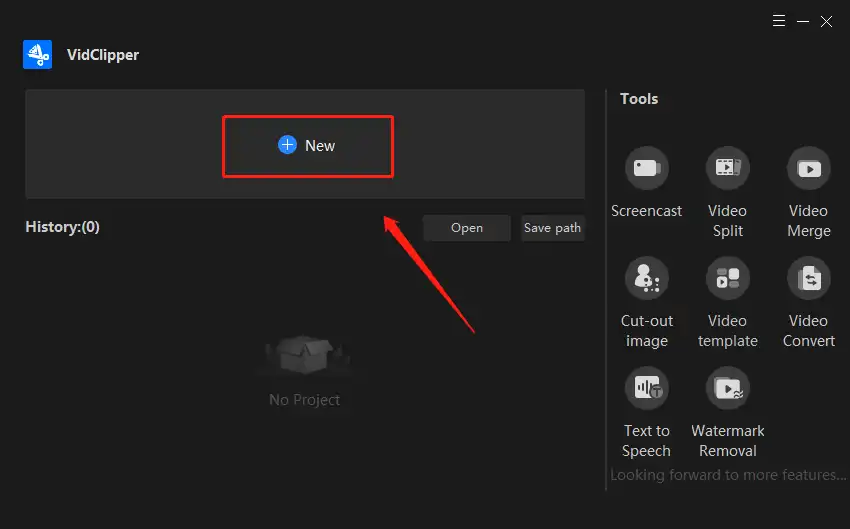 Step2. Upload your GIF file by clicking Import or dragging it directly. Then tap the plus button to add it to the video editing track.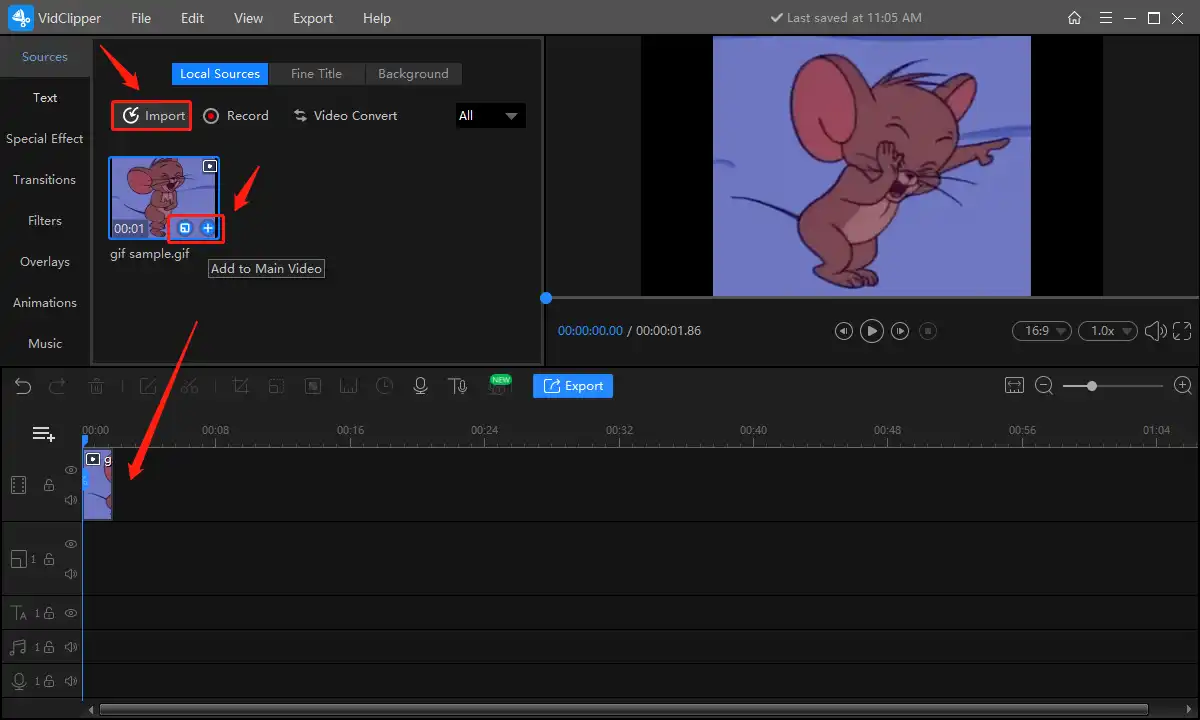 Step3. Select "Text" on the left column, then pick a model you like by clicking the plus sign.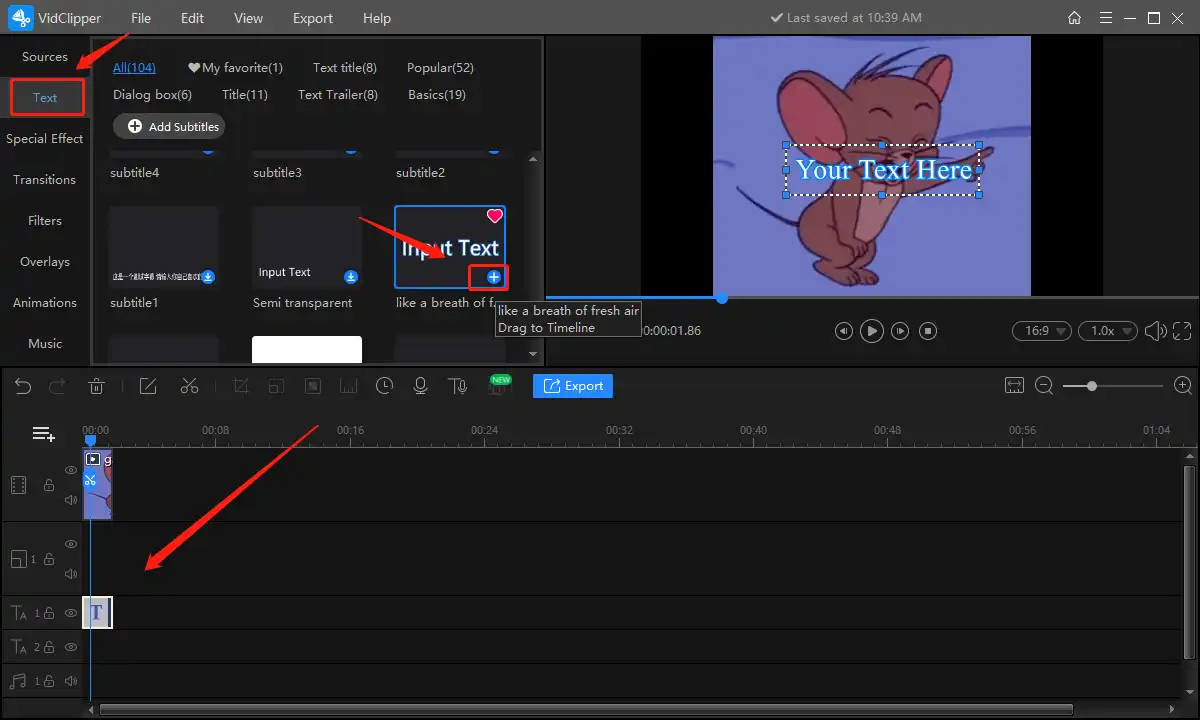 Type words you want to add. It is available to change the color, size, opacity, and other features of the text. After the setting, adjust the location and duration of the text. You can drag the box to alter its location and size. And as for its duration, you can drag both sides of the progress bar of the text.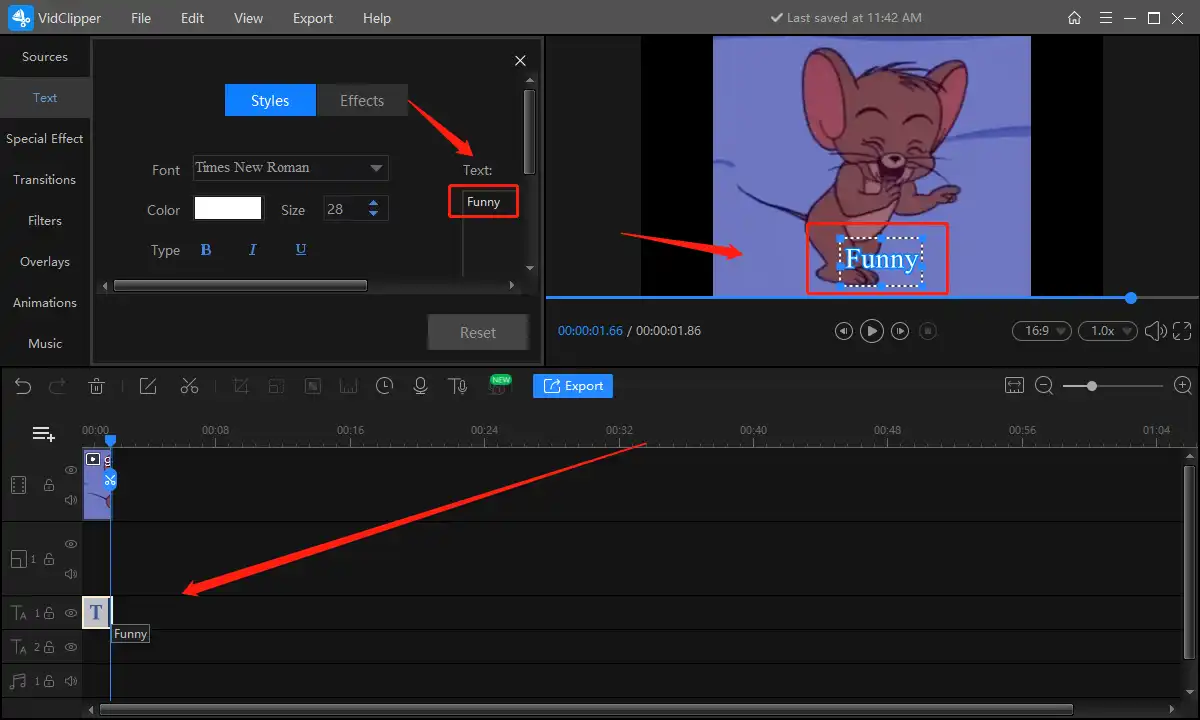 Step4. You can preview it by tapping the playing button. After that, just press "Export" to obtain the new file. Please make sure to select the output format as GIF. You can rename the video, select the saving path and decide its quality before you press the final "Export".
You can check the length and estimated file size, too. If it is too large to send to chatting platforms, you can choose to output in normal quality. It's optional.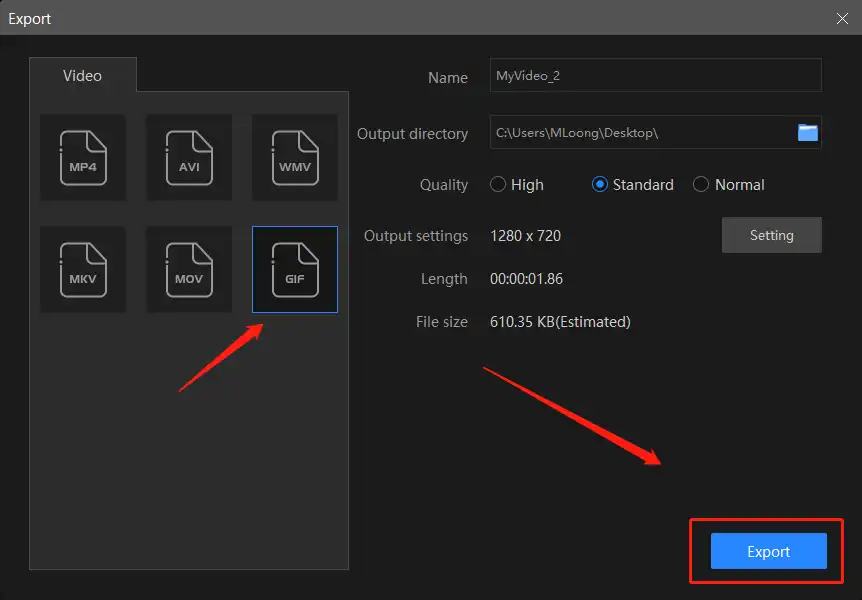 💡 Tips: As you can see above, it can also realize converting GIF to MP4, and vice versa, so you can make a GIF from a video as you like.
✅ Key Features
WorkinTool VidClipper is a powerful video processing tool that is bound with numerous benefits. Here is a list of the reasons to use it.
| | |
| --- | --- |
| Completely Free  | This advantage makes it outstanding. It has quite a long term for a free trial. So, you don't have to be concerned about the cost. |
| Powerful | It is an all-in-one video editor, which has dozens of functions. Have it, you can deal with 90% of video editing problems. |
| Clear | With its clear interface without any ads, even new users can use it without any effort. |
| Professional | It is explored by a professional company that has over ten years experience of in office software. It is reliable and efficient. |
| Safe | Security is our business, hidden viruses? File leaks? It doesn't exist at all here. It promises to guarantee your data privacy and personal information. Different from other software, it asks for no registration. You don't have to sign in account. |
| Effective | It accomplishes high-quality output results with less time cost.  Furthermore, it determines to become a considerate video editing assistant for office workers. |
📢 More to Share
Not only can WorkinTool VidClipper add text to a GIF, but it can also add subtitles, music, and animations to videos, audios, and images in other formats. The following part includes the elements that it supports adding to your material. You can have a look if you have this kind of need.
🌟 Wrapping Up
WorkinTool VidClipper is one of the best video editing desktop tools available for windows. Follow the simple steps: launch the software, upload a GIF, then you can easily add text to GIF. What's more, as I mentioned, it fulfills exporting in high quality. It will not take a bad toll on your GIF image at all. It also provides numerous video-making materials and functions. VidClipper makes it feasible to do more original operations on GIF animation by yourself.  If downloading software is a hassle for you, don't worry about that, it is lightweight and costs little room for your computer. Furthermore, its online version is exploring and will be updated soon. You can look forward to it. I will be grateful if you have figured out your trouble after your careful reading. Hope this tool can be helpful to you.