How to Make a GIF from a Video on PC, Mobile and Online
GIF can effectively express our feelings. You can use a GIF maker to create more funny GIF images. WorkinTool VidClipper is the top option that allows you to make vivid GIF from a video. It is:
👑 Totally free to convert and edit videos
🎀 Export high resolution GIFs
🏆 Various useful features accessible
🤩 No watermark and other hidden limits
⭐ Easy for beginners to use
How to Make a GIF from a Video on PC, Mobile, and Online
We often use many vivid and interesting gif emoticons in social chats to express our current mood or status. But sometimes, we may be distressed because we can't find a suitable GIF image. In fact, the method of making gif pictures is simple. You can DIY your exclusive gif library using several practical GIF editing tools. This guide will show you how to make a GIF from a video with the easiest ways on PC, iPhone, Android, and Online. Come and take a look if you are searching for effective methods to create GIFs from video clips.
How to Make a GIF from a Video on Windows for Free
This sophisticated and free video editor for Windows, WorkinTool VidClipper, is highly recommended for making an animated GIF image from a video. It provides nearly all video editing solutions. Prominently, it is currently FREE without any restrictions. In the process of using it, you can find that it has no purchase mechanism, and there are no hidden limits such as use times, watermarks, functions that are only open to pro members, and so on.
By the way, it is suitable for both beginners and professionals. With its clear user navigation, novices with little video editing skills can also operate it and create fabulous GIF files without effort. Within several simple steps, you can create a delicate GIF image of high quality. You can also edit GIFs as you like, such as adding text, making transitions, adding filters, trimming length, etc.
WorkinTool VidClipper

👑 A convenient and FREE video editor & GIF maker for both beginners and professionals.

Comprehensive GIF editing solutions: add text to GIF, crop a GIF, convert to/from GIF, etc.
Make a creative video: put a filter on a video, overlay videos, and add video transitions, text, audio, and other elements.
Post-produce a professional video: video cropping, change video background, change video color, extract audio from video, remove background noise from video, etc.
🎯 How to make a GIF from a video on Windows with WorkinTool VidClipper
Step1. Add Video Clip to WorkinTool VidClipper
Download and install the video editor software on your PC and launch it. Click + New project on the dashboard and import your video clip. Hit the add button to add the clip to the video timeline.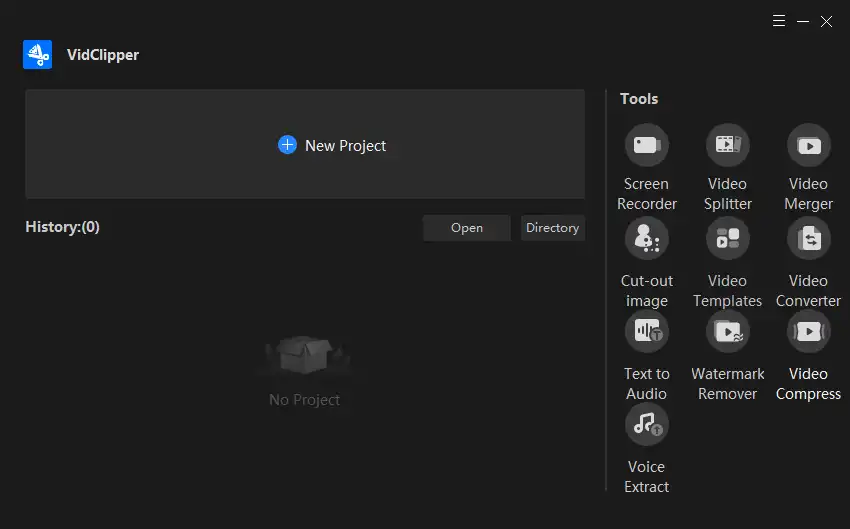 Step2. Edit the Video Clip
Then select the editing tools from the side toolbar. Insert text, filter, animated sticker, etc., into the video clip. Then trim the video length or cut out unnecessary parts.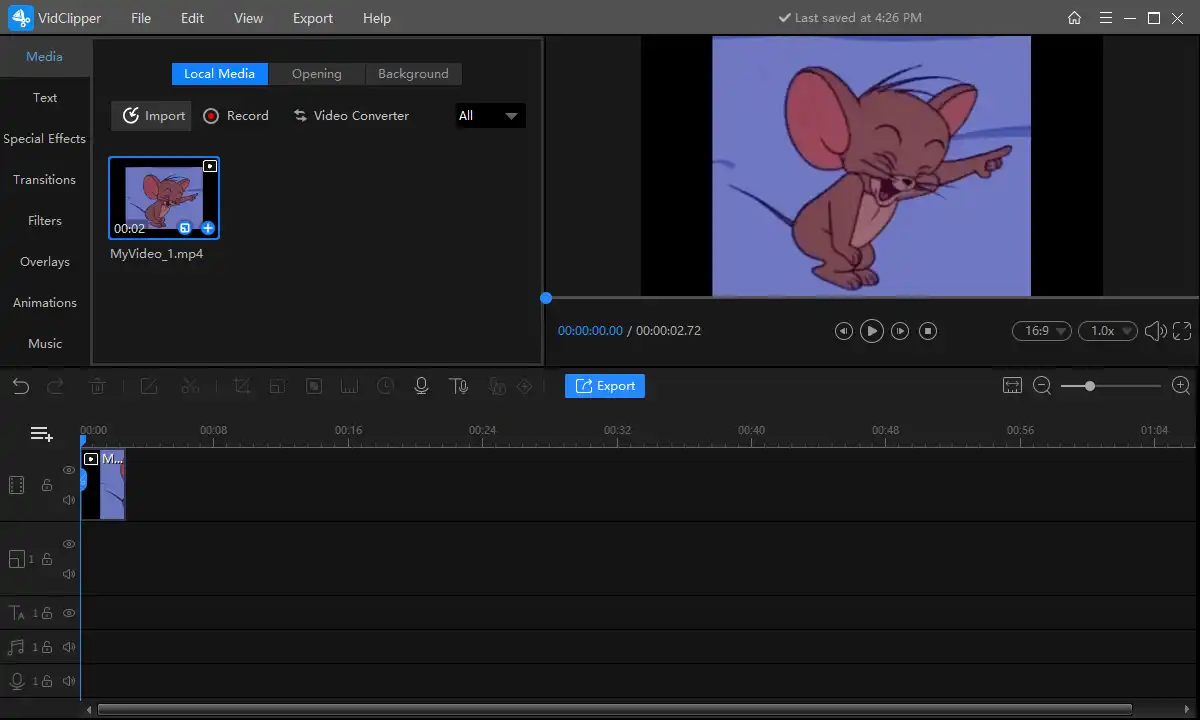 Step3. Export the GIF
After editing, press the play button to preview the result, then paste the blue Export button. Select the GIF as the output format and determine its parameters, including resolution, save path, file name, etc. Then press Export again. The created GIF file will be saved to your computer folder directly.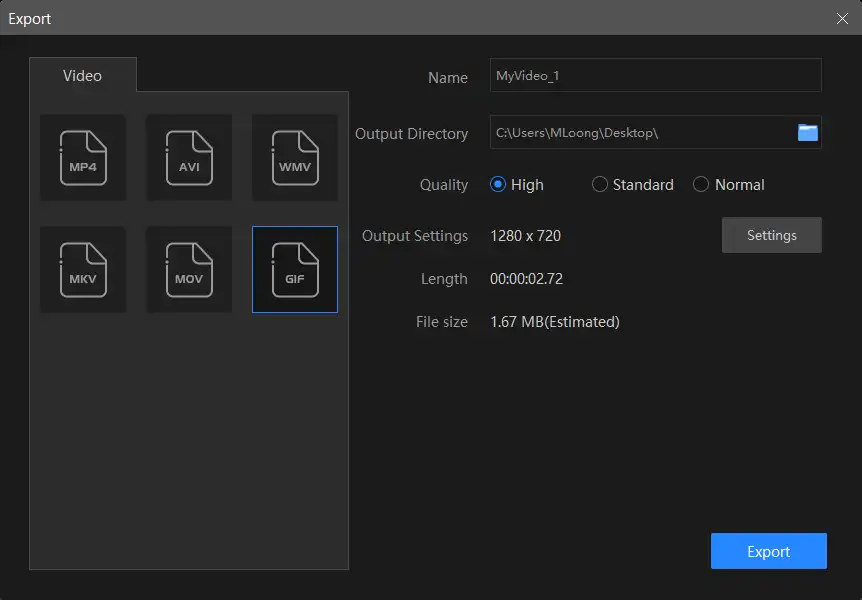 How to Make an Animated GIF from a Video Clip on iPhone and Android
If you are looking for an easy way to make a GIF from a video on mobile phones, like iPhone and Android phones, you can try this CapCut app. Many TikTok users may have heard of it because it is the official video editor app launched by TikTok. It is a free and comprehensive application that can solve most video editing problems. Moreover, it provides various editing elements on TikTok. You can edit and post the video directly on TikTok, Instagram, YouTube, and other social platforms. To make a GIF file, CapCut allows you to export a GIF in high clarity. Most of its features are costless, and there is no watermark on the edited files.
🎯 How to create an animated GIF from a video on iPhone and Android with CapCut
Step1. Download CapCut from App Store or Google Play. Then open it on your phone. Create a new task and import your video clip.
Step2. Cut the video and add text, special effects, etc., by clicking the tools at the bottom of the user interface.
Step3. Select 1080p at the top right corner, choose GIF as the out format, then click the Export button.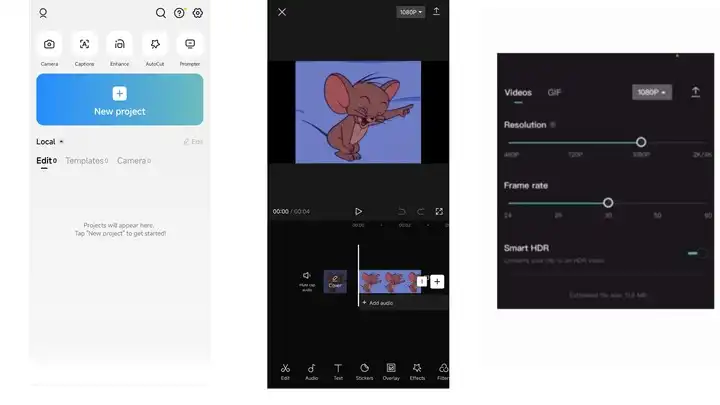 How to Create GIFs from Videos Online
For some users, desktop software and apps are hassles. An online GIF maker couldn't be more favorable if you are one of them. Kapwing GIF maker is an excellent video editor that can help you make a GIF out of a video. It is an easy-to-operate online software compatible with all devices and systems. You can create videos and GIFs anywhere and anytime with a network. Kapwing's GIF maker permits you to make a variety of edits to the video clip and export it to a high-quality GIF image. Significantly, it allows you to add the link to the video. This way, you can make a GIF from a YouTube video without downloading it.
But one downside is that it will generate its brand watermark on the edited GIF if you don't pay for its premium plan. Check how to make a GIF from a video online with it.
🎯 How to make a GIF from a video online with Kapwing
Step1. Go to the Kapwing online GIF maker, add your video clip, or paste the URL.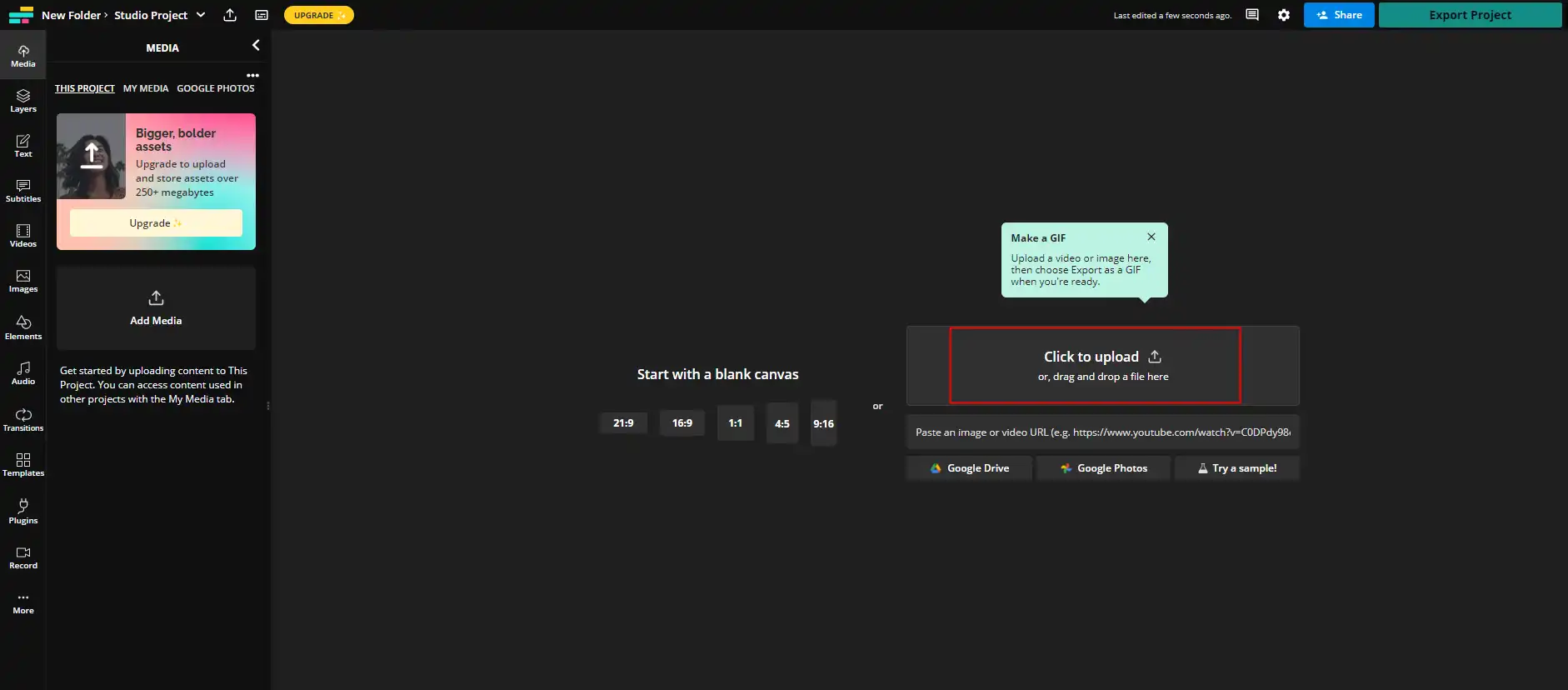 Step2. Add the video to the editing timeline. You can insert texts, filters, emojis, etc. Trimming, cropping, rotating, and other operations are also permitted.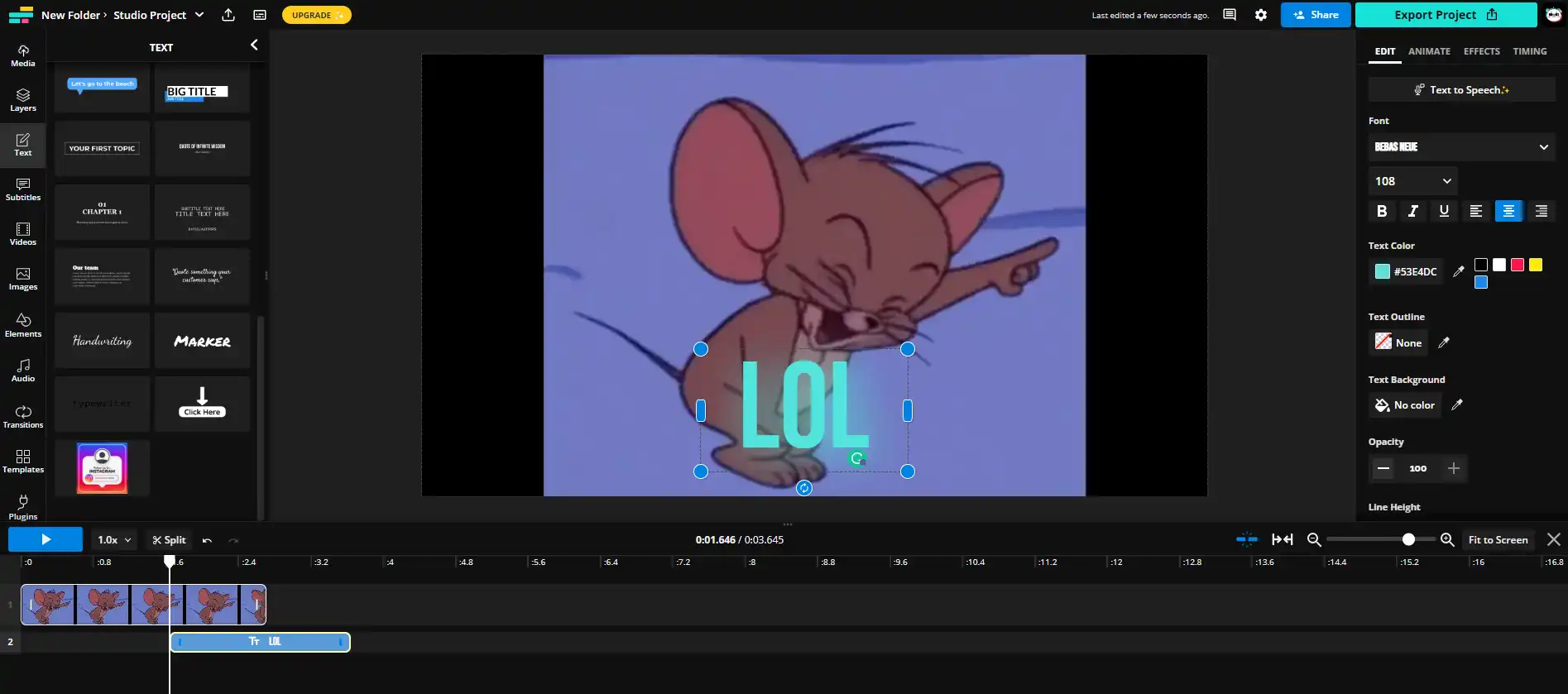 Step3. After adjusting, click Export Project and select GIF format to export.
🤨 FAQs on How to Make a GIF from a Video
🧾 What is the easiest way to make a GIF?
Actually, you can make a GIF from images with an image converter and create GIFs from videos with a video editor. In comparison, the latter is a better option if you need to make creative GIF files. Video editors allow you to add many vivid elements to the GIF file.
🧾 How do I make a GIF from a video for free?
Free video editors, like WorkinTool VidClipper, can help you make GIFs without any penny. Just add your video clip, and edit it with text, filter, sticker, etc. Then export it as a GIF file.
🧾 How to make a GIF from a YouTube Video?
Suppose you need to make a GIF from others' YouTube videos; you must download the video first. And then edit it and export it with a video editor. Refer to this guide: how to make a GIF from a YouTube video to get detailed instructions.
The Final Words
This post mainly discussed how to make a GIF from a video. It is a piece of cake using the above video editing tools. Refer to those steps and create your own GIF images. Moreover, if you need to edit videos frequently in your daily life, these video editors are also practical.