How to Make a Lyric Video Free for YouTube, TikTok, IG
WorkinTool VidClipper is a free, easy-to-use, and all-featured video editor that can help you make fabulous lyric videos for YouTube, TikTok, and other social platforms. You can download it on Windows. The desktop software is:
🟢 100% free to make and edit videos
🟣 Export videos in high-resolution
🔵 Make a lyric video without restrictions on video length
🟡 Easy to operate for both beginners and professionals
🟠 Free of watermarks, ads, and other limits
How to Make a Lyric Video Free for YouTube, TikTok, IG
Now, the lyric video is a prevalent form on various social platforms. A lyric video is usually composed of songs, lyrics, and an artist's image. Although the structure of the lyric video is simple, it can give the audience the most intuitive visual and auditory experience. According to statistics, the number of views of lyric videos is generally higher than that of standard music videos. You are on the right page if you are also searching for how to make a lyric video for YouTube, TikTok, Instagram, etc. Free solutions for multiple platforms, such as Windows, Mac, Online, and YouTube, will be introduced here. Go on scanning to create gorgeous lyric videos yourself.
👀 Quick Access How to make a lyric video
On Windows: WorkinTool VidClipper (a 100% free and easy-to-use video editor software).
On Mac and iPhone: iMovie (an inbuilt free video editor on the Mac and iOS system).
Online: VEED (an easy-to-access online video editor, free version available but has several limits).
Windows Solution: How to Make a Song Lyrics Video with Free Movie Maker
Video editors for Windows can make things easier. But to find an all-featured while entirely free video editing software is time-consuming. After comparing dozens of video editors for the Windows system, this WorkinTool VidClipper is outstanding in many aspects. Primarily, it is 100% free to edit and export videos without restrictions like watermarks, video length, usage times, etc. Moreover, it provides nearly all helpful video editing tools that allow you to make brilliant and high-resolution videos for YouTube, TikTok, Instagram, etc. Furthermore, unlike complicated video-making tools, the VidClipper is super easy to operate. Beginners can handle it quickly without referring to those tech supports. Many reasons are accountable for picking it to create lyric videos.
WorkinTool VidClipper

A convenient and FREE video editor for both beginners and professionals.

Comprehensive video editing solutions: screen recorder, video converter, text-to-audio converter, and more.
Make a creative video: put a filter on a video, overlay videos, and add video transitions, text, audio, and other elements.
Post-produce a professional video: video cropping, change video background, change video color, extract audio from video, remove background noise from video, etc.
🔵 How to make a lyric video with WorkinTool VidClipper
Step1. Install Video Editor Software
Download and install the WorkinTool VidClipper software on your computer. Then launch it and select + New Project on the dashboard.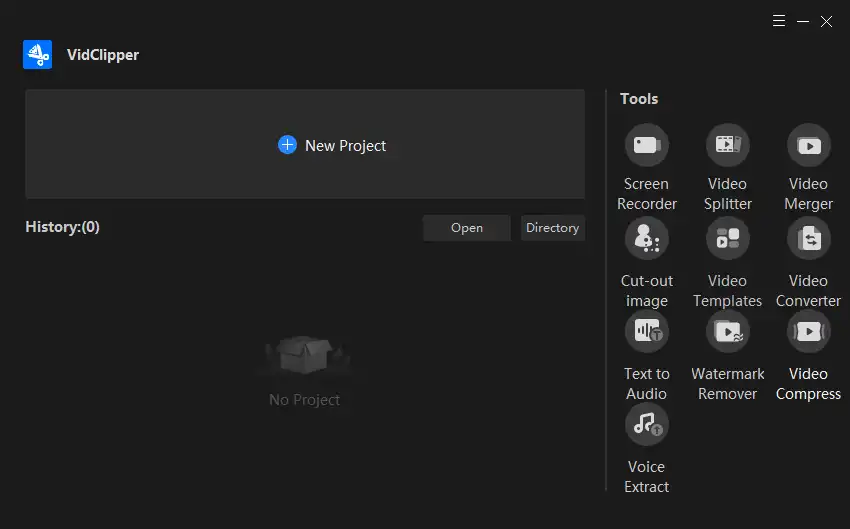 Step2. Add Video Materials
Import your lyric video materials, like background images and the music file. Then add them to the video-making timeline.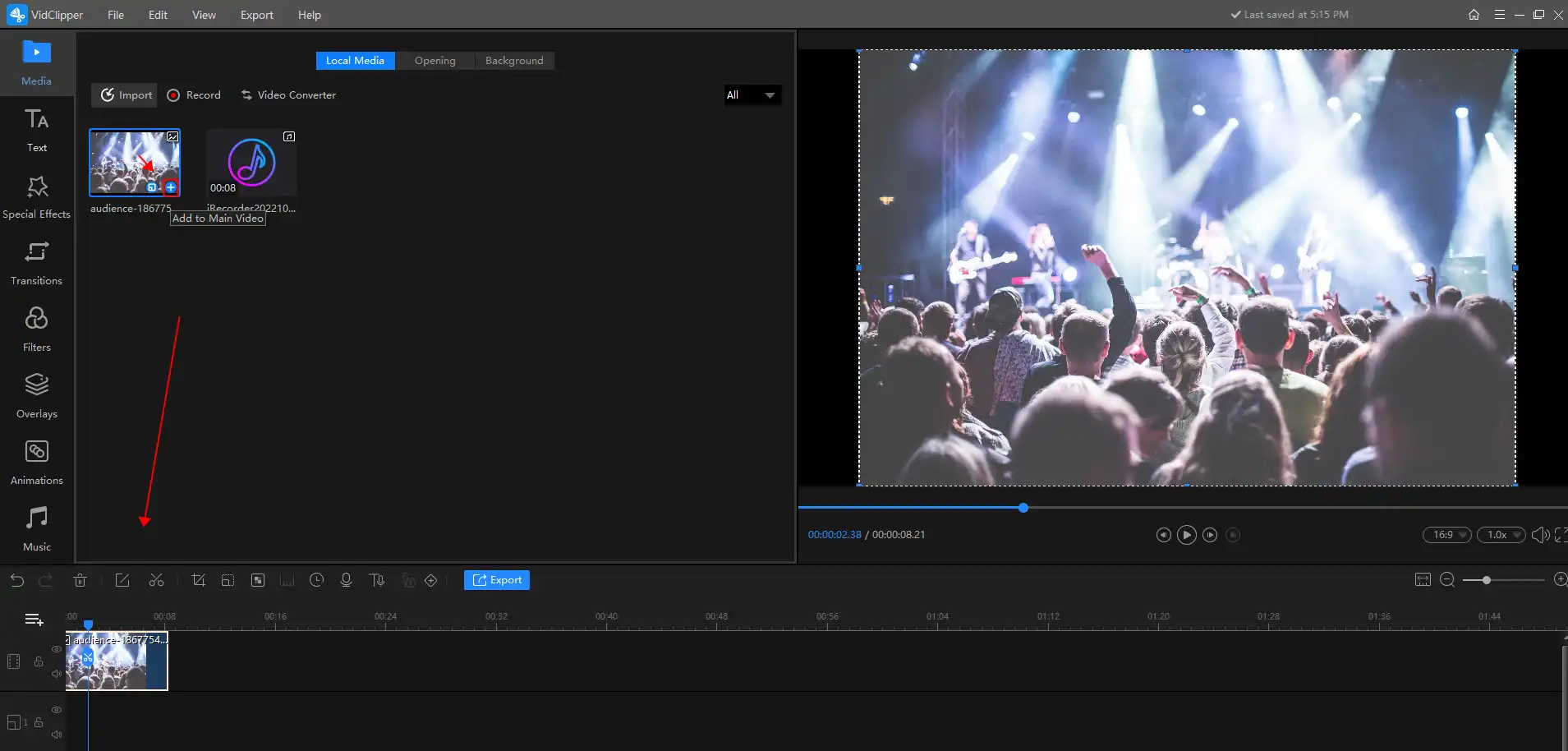 Step3. Make a Lyric Video and Export It
Click the Text tool on the panel and, choose a text template to add to the timeline, then paste the lyric. Design the text and drag it to match the music. After editing, press the Export button and decide the exported video's format, quality, name, etc., then hit the Export button again.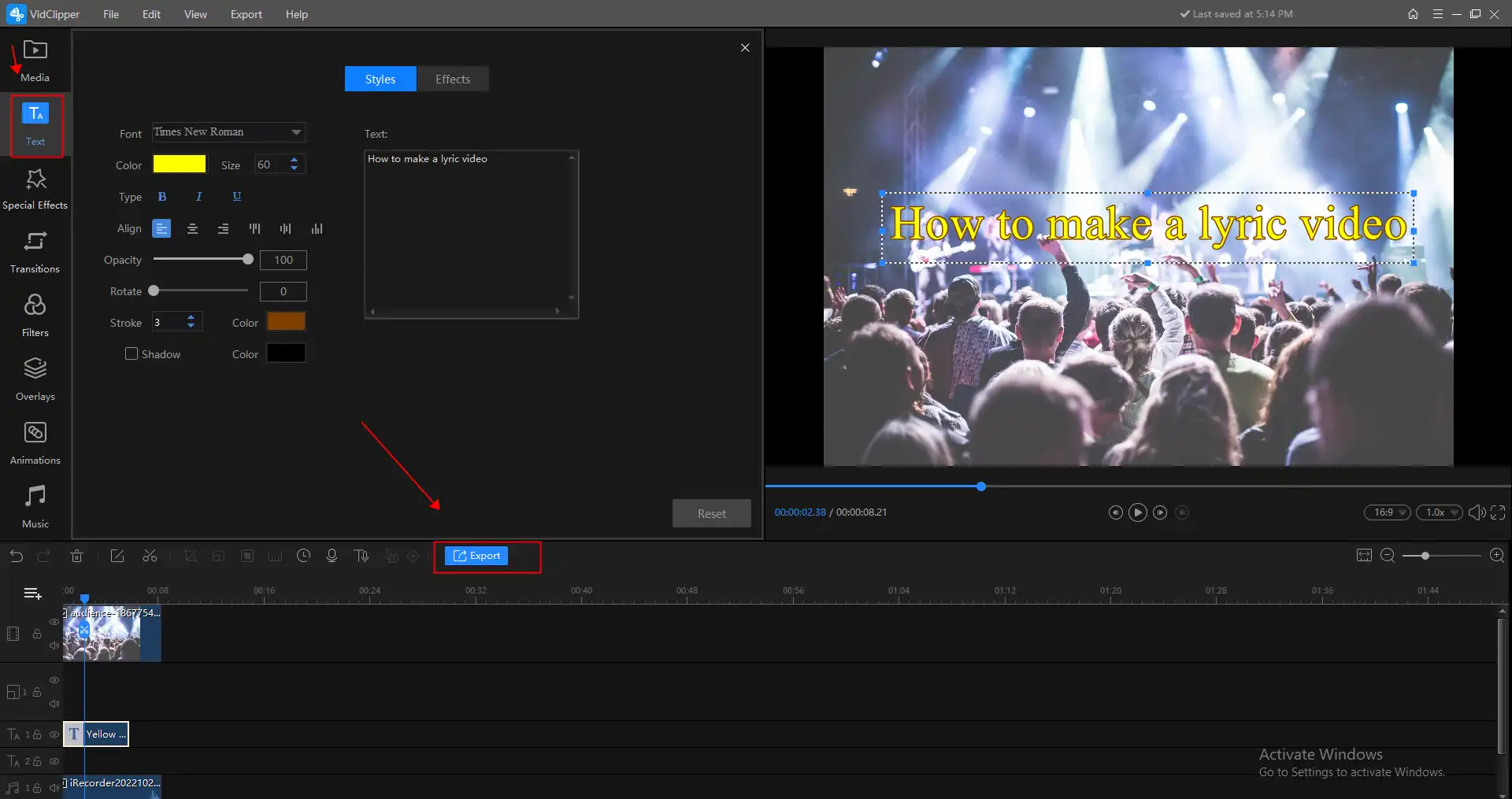 Mac and iPhone Solution: How to Make a Lyric Video on iMovie
In the case that you need to make lyric videos on Mac and iPhone, the default video maker software, iMovie, is the best option. The iMovie is a free video editor with Apple-related devices, such as Mac, iPhone, and iPad. It is powerful to make and edit awesome videos. It permits you to insert video clips, images, texts, subtitles, background music, animated effects, etc. With these elements, you can effortlessly make lyric videos for YouTube and other social platforms. What's more, iMovie helps you export the video in 4K. It is indeed a fabulous gift for Apple users who requires to create videos themselves.
🔵 How to make a lyric video on Mac or iPhone with iMovie
Step1. Open the iMovie on your computer or iPhone. Then create a new project. Add your audio clips and the background photo.
Step2. Choose the Text icon on the top menu bar and input the lyrics . Adjust the lyric style, duration, etc.
Step3. Press the Export button in the top right corner, then determine the video resolution, name, etc. Lastly, you can publish the edited lyric video on YouTube, TikTok, etc.

Online Solution: How to Create a Lyric Video Using Online Video Editor
Online video editors are also effective in creating lyric videos. Suppose you want to make a lyric video on YouTube; you can try the online VEED, which has an in-built subtitle feature. It allows you to add text to the uploaded image and help you automatically match the text content with the music file. VEED provides a free version for you to make lyric videos. However, there are several restrictions to its free trial version:
The edited video is watermarked with a VEED brand
You can add auto subtitles for up to 30 mins
The uploaded video size is limited to 250 MB
You can export a 10-minute video at most
If you want to bypass these restrictions, you have to activate its premium version, which costs from $12 to $59. Suppose you don't mind these limits on the free VEED; check the following steps to create a lyric video online.
🔵 How to make a lyric video online with VEED
Step1. Go to the VEED video editor online webpage. Then upload the prepared image and music file.
Step2. Click Text on the side toolbar and select a template to add to the timeline.
Step3. Add the song lyric and adjust the size, effect, position, duration, etc. Then press the Export button to download the edited lyric video. And then, you can post the lyric video on YouTube, TikTok, Instagram, and other platforms.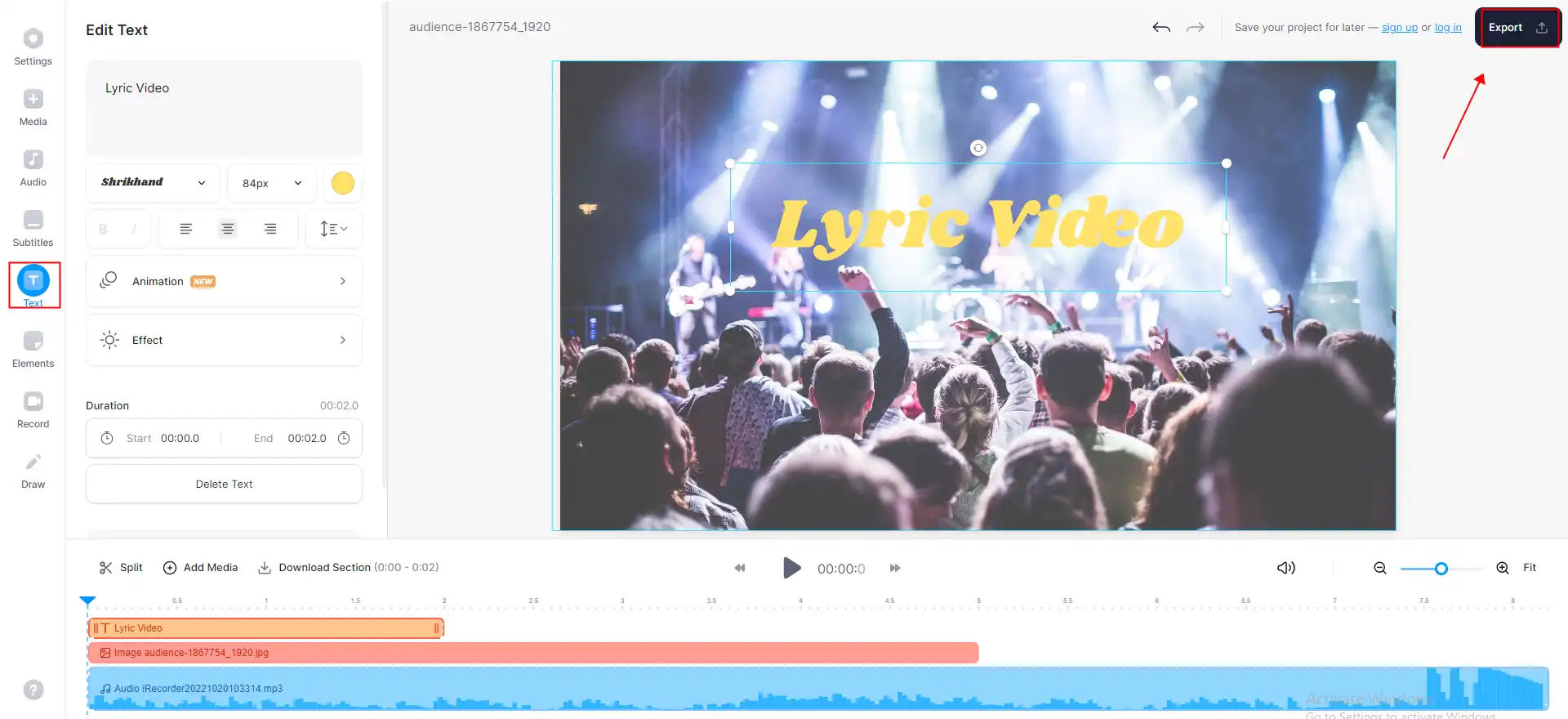 FAQs on Lyric Video Making
🧐 How can I make a video with a song?
To make a music video or a lyric video, you just need to prepare a related image, a music file, and professional video editing software.
🤔 How to make a lyric video on iPhone?
iMovie is enough to use if you want to make a lyric video on your iPhone. It defaults to the iOS system, allowing you not to install other video editor apps. Just create a new project in iMovie, upload your image and song file, then match the lyric texts with them.
🤨 How to make a professional lyric video?
To make a professional lyric video, proficient video editing skill is not the most necessary thing. With professional and easy-to-use video editing software and apps, you can easily create excellent lyric videos. For Windows, you can use the free WorkinTool VidClipper. For Mac and iPhone, you can try the default iMovie.
Wrapping Up
After scanning the step-by-step tutorials above, you may have an idea of how to make a lyric video for free for YouTube, TikTok, Instagram, and other social platforms. The mentioned lyric video makers can help you produce high-quality videos. All of them are easy to operate, especially for novices in video-making. Give them a try and start to make magic and professional lyric videos.