How to Overlay Videos for Free on Any Device in 2023
Need to add overlays to your videos like pictures, videos, stickers, etc.? WorkinTool would be an ideal pick. It is a powerful video editor that helps you add overlays to a video as you like. It supports various video formats and can export videos in high resolution. Furthermore, it is totally free to use and won't put watermarks on the edited video. Free download it to make brilliant videos.
How to Overlay Videos for Free on Any Device in 2023
Video overlay is a technique that is often used in video editing, allowing you to add pictures or videos over the existing video. Your video will get more vivid with these interesting picture-in-picture effects. To achieve this effect, you need a powerful video editor that can add overlays to the video. This article will introduce helpful video editors on various platforms, including Windows, Mac, iPhone, and Android. I will also teach you the detailed steps on how to overlay videos. Even if you are a novice, you can quickly produce delicate videos after browsing the following content.
How to Overlay Videos for Free on Windows
Numerous video editors are available on the Windows system. However, obtaining a genuinely effective and 100% free one is challenging. Some may provide you with a short-term free trial, while others offer their advanced features to pro users only. After trying dozens of video editors in the market, I'd love to recommend this WorkinTool VidClipper.
About WorkinTool VidClipper
WorkinTool VidClipper is an all-in-one video editor that was launched this year. New to the market, it provides a long-term free trial for all users without restrictions. All its functions, basic or advanced, are entirely free to use. It also can be said to be one of the most comprehensive video editing software in the field. You can effortlessly edit videos with text, subtitles, background music, filters, overlays, stickers, etc. It is also endowed with advanced video processing features, like compressing videos, recording screens, converting video formats, extracting voice from video, etc.
As for adding overlays to a video, it brings excellent results. It supports overlay videos with pictures and video clips. You can also edit picture-in-picture videos separately. Moreover, it enables you to export the edited video in high resolution. In a word, it is indeed a better choice if you need to make brilliant videos. Here are some of its main benefits:
Utterly free to use without watermarks and other limits
Supports nearly all video formats
Easily & quickly add overlays to a video
Export videos in HD
Safe to install and use
Free of ads and pop-ups
🌟 How to Overlay Videos with WorkinTool VidClipper
Step1. Download and install the video editor program from the WorkinTool official website. Then, open the software and select + New Project to upload your video.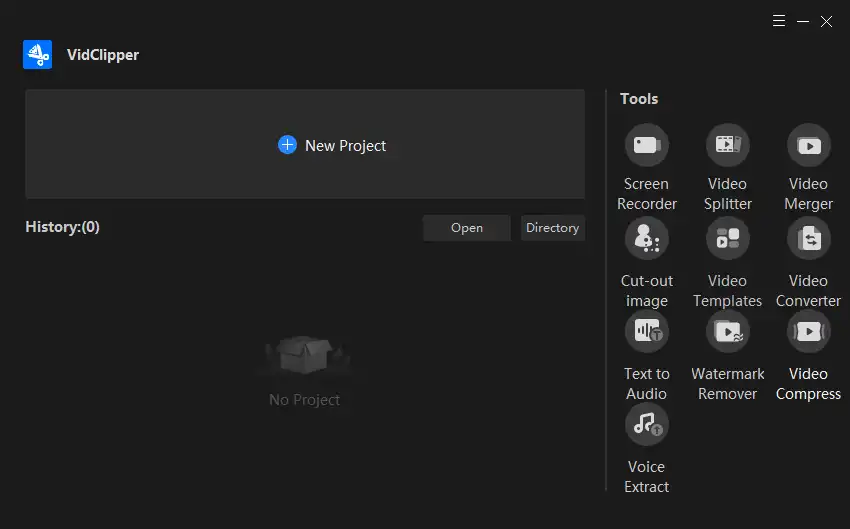 Step2. Drag another video clip or a picture to the picture in the picture timeline. Adjust the size, location, duration, effect, speed, etc.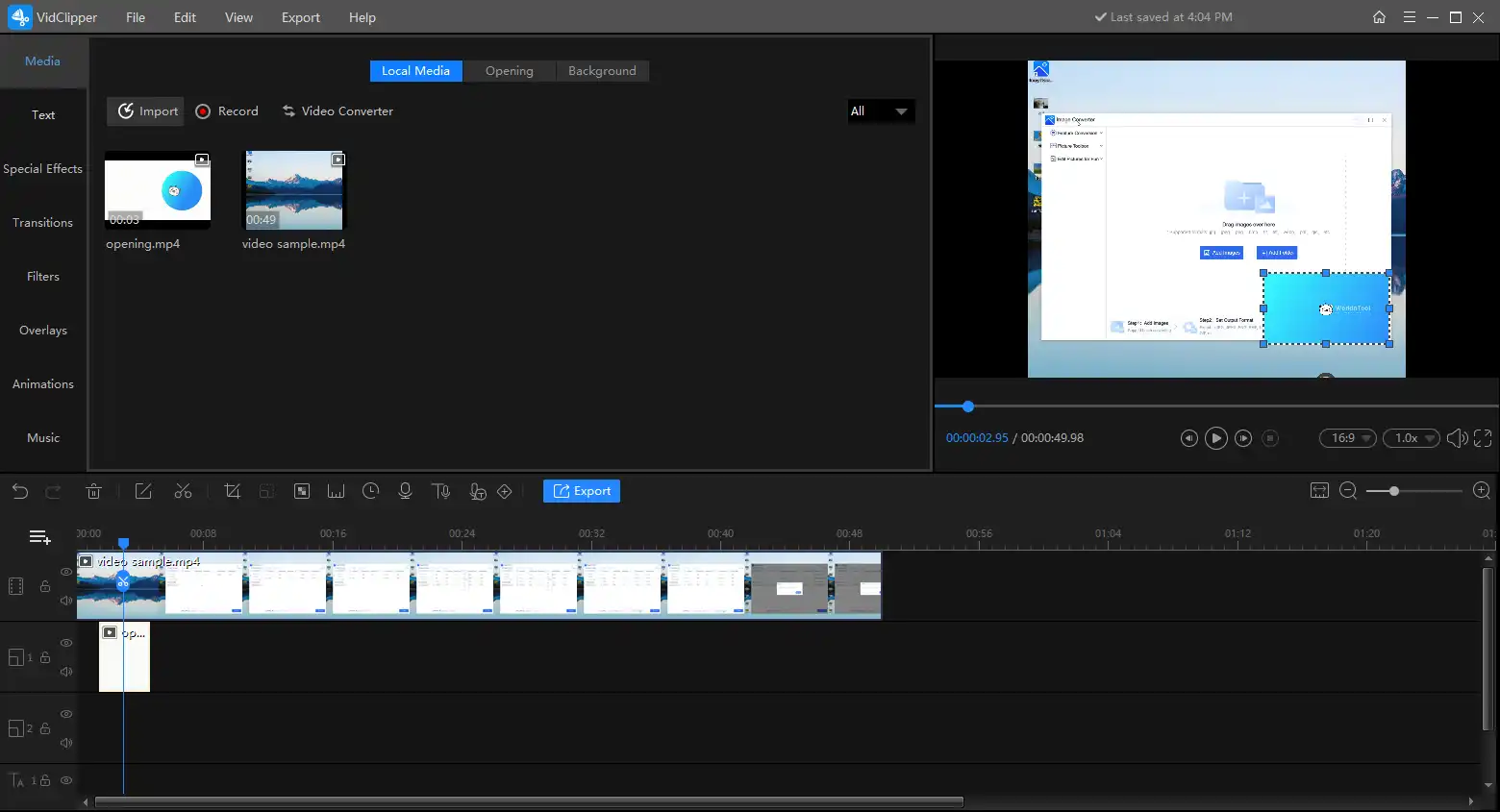 Step3. After adjusting, press Export to save the edited video. You can determine the video quality, location, and file format before downloading the video to your folder.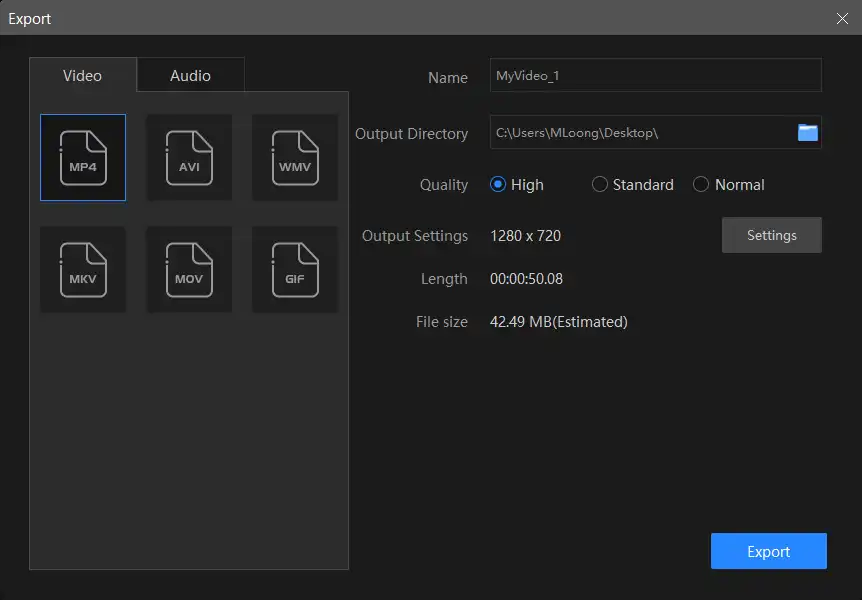 Other Helpful Editing Tools
How to Overlay Videos for Free on Mac
If users on the Mac side want to edit videos, then it will be less troublesome. iMovie is a free video editing tool for the Mac system. So many Mac users will use it to solve several video editing problems. iMovie is fully capable of overlaying a picture on top of a video or overlaying another video via its picture-in-picture settings. And it can bring sound video effects. Besides, iMovie can also help you remove video backgrounds, split screens, add background music, and more. Although iMovie is free, it still has powerful video editing functions, which is undoubtedly a fabulous boon for Apple users. Unfortunately, it does not support any other system. Windows and Android users can refer to other tutorials.
How to overlay videos on Mac with iMovie
Step1. Open iMovie and add your video to it to edit.
Step2. Select the Picture-in-picture feature in the top menu bar. Add a picture or a new video from your folder. Then adjust the size, position, effect, etc.
Step3. Press the Export button to save the edited video. iMovie allows you to export videos in 4K resolution.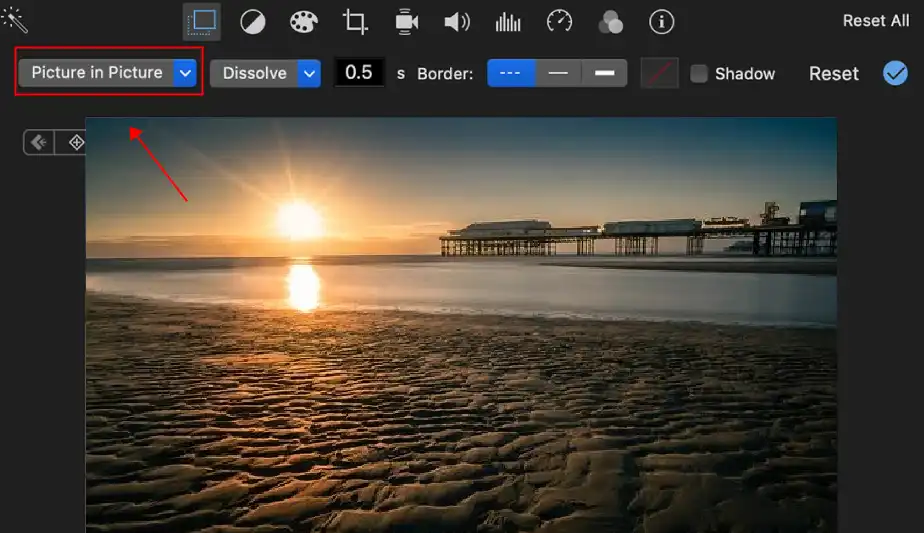 How to Add Video Overlays for Free on iPhone & Android
If you want to add video overlays on your iPhone, you can also have a trial of the in-built iMovie. Suppose you need to overlay videos on other mobile phones; various helpful video editing apps can effortlessly do that. To add video overlays, I'd love to introduce Kinemaster to you. Kinemaster is a professional video editing application for Android and iPhone. It provides a variety of layers, so you can easily add overlays to your videos, such as text, stickers, videos, and more. But one downside of this app is that it runs slower. Exporting video may take a while if you add many layers. Furthermore, it will generate a brand watermark for the edited video. If you don't mind these flaws, you can download it for free from Google Play and have a trial.
How to overlay videos on iPhone & Android with Kinemaster
Step1. Install Kinemaster and open it. Click Create on the first user interface and add your video clip.
Step2. Add the clip to the video track and import another overlay video or picture. Pick the overlay and click the More button on the top left, then select "duplicate as a layer."
Step3. Click the Export button in the top right corner, then choose a player to check the result.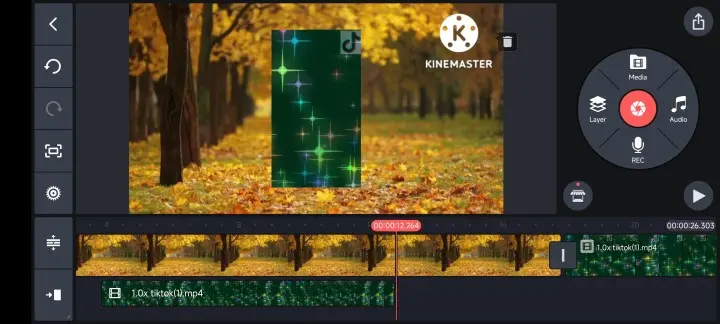 Wrapping Up
In this guide, I have shown you how to overlay videos for free on Windows, Mac, iPhone, and Android with effective video editing software and applications. Overlays can make your video more appealing. Don't worry that it is too hard to operate if you are a novice at video editing. Video editors recommended here are pretty easy to use and friendly to new beginners. Might as well have a trial of them right now.