How to Extract Audio from Video Free in 2022
Want to extract audio from video without losing formatting? Just download this free video and audio editor – WorkinTool VidClipper. It is available in numerous video and audio formats. With just a simple drag-and-drop, you can get audio from a video. Conveniently, you can decide the clarity, format, and other parameters of the output audio. It is powerful beyond your imagination. Despite converting, you can use it to edit video and audio, record screens, transform text to speech, etc. Have a free trial right now.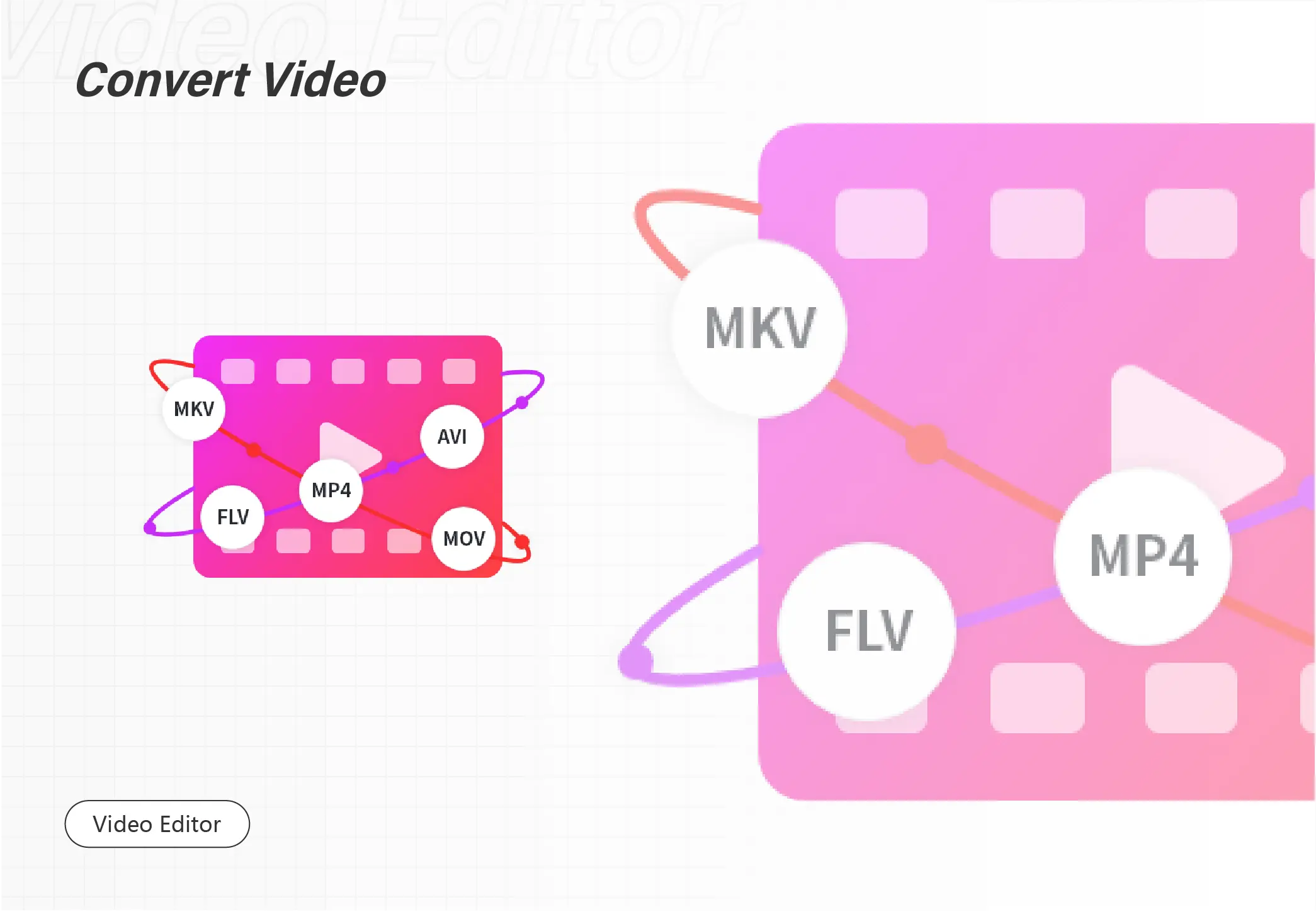 How to Extract Audio from Video Free in 2022
In movies or other videos, the background music and the video content are together, and the background music cannot be played alone. If you want the background music only, you need to get the audio from the video, that is, to achieve the separation of audio and video. While, in this post, I'll mainly talk about how to extract audio from video for free without losing quality.
Generally speaking, a video combines a video stream and audio stream, and sometimes subtitles, chapters, and other content may be added, and then packaged into MKV, MP4, and other formats. The encoding of the audio stream of the video can be MP3, AAC, or other formats. So, we don't need to recompress these audios, as long as they are converted from video to MP3, AAC, and other audio formats that are suitable for playing. WorkinTool VidClipper can convert video to audio automatically and maintain sound quality at the same time.
✅ How to Extract Audio from Video with WorkinTool VidClipper
WorkinTool VidClipper is a professional and powerful video editor, which is in favor of the Windows system. It fulfills converting video and audio from/to numerous file formats. With it, you can extract high-quality audio from a video in any format. It supports nearly all mainstream video formats, like MP4, MOV, AVI, MKV, etc. As for the audio format, you can select to export to MP3 and AAC. The conversion process won't take a bad toll on the quality and attributes of the audio. It is also feasible to decide the clarity of the output voice as high quality, standard, and normal quality. What's more, not only is it can realize splitting audio from video, but it also combines other video processing functions, like:
Now let's see how to split the audio from the video with WorkinTool VidClipper on Windows 10.
Step1. Open the software, then click Add New to create a new task.
Step2. Import the video file from the folder or drag it to upload directly.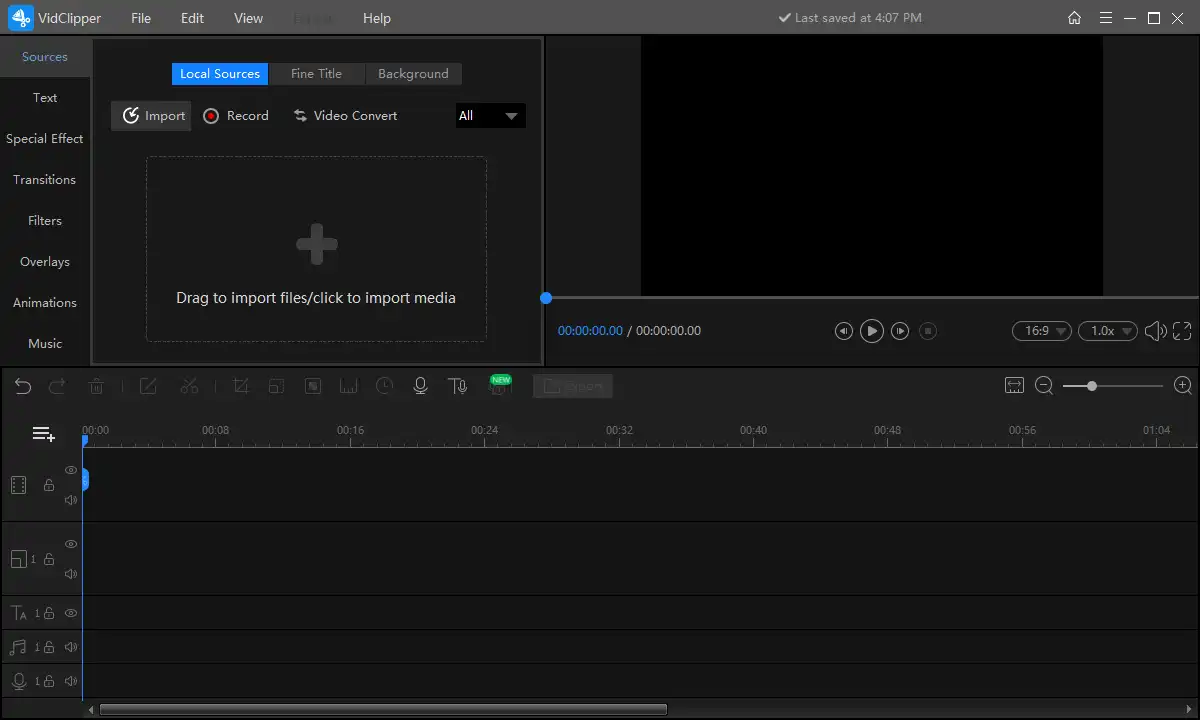 Step3. Add the video file to the operating bar, then press Export to convert the video to MP3/AAC format.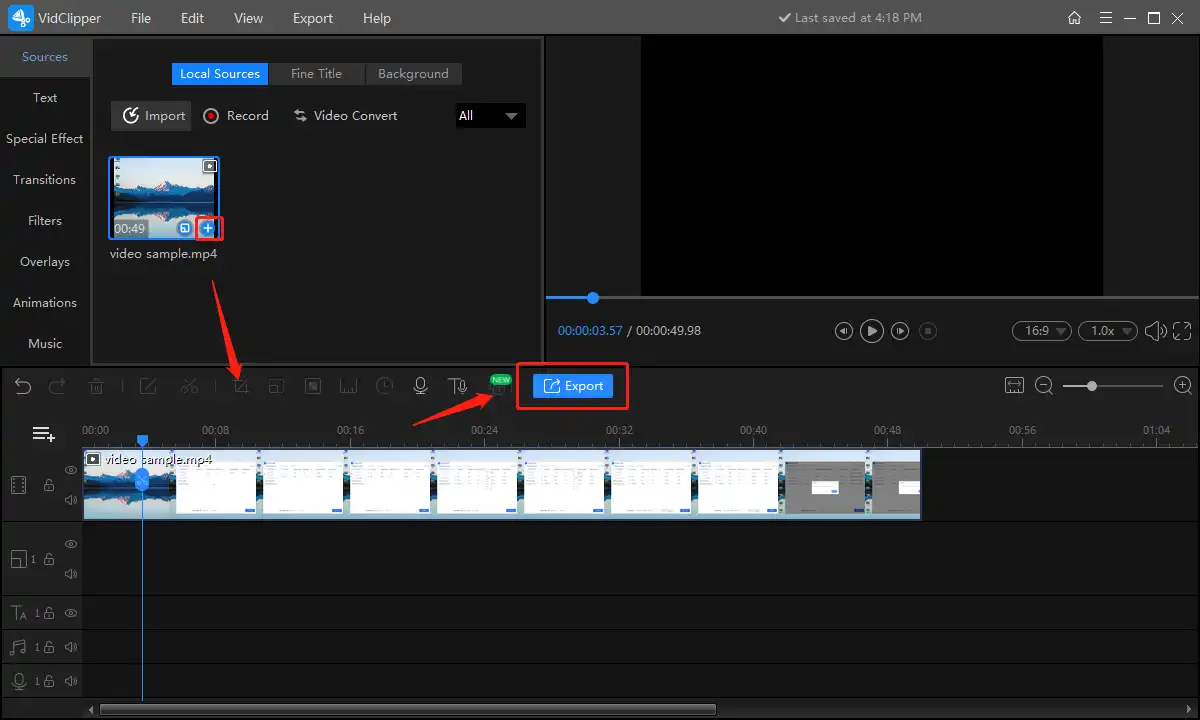 Step4. Set the attributes of the output audio file, like name, clarity, saving path, and adjust more professional parameters if needed. Then press Convert.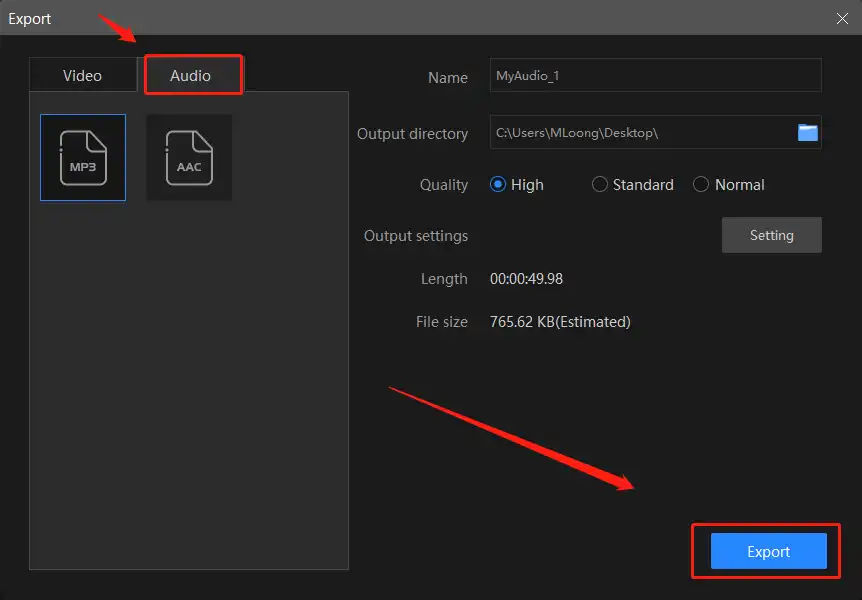 The new audio file will be saved directly to your folder, so you can check it after conversion. Here is a sample of extracting audio from video. As you can see, with WorkinTool VidClipper, you can separate audio from a video within seconds.
Key Advantages of WorkinTool VidClipper
In short, the reasons why you can pick it from the numerous audio extractors in the market are various:
Quick and easy to operate. It can extract audio automatically at a fast speed. And the operation is beginner-friendly so that even new users can use it without any effort.
Multiple functions. It is an all-in-one video and editor. You can make use of it to convert file formats, split and merge videos, record screens, speed up video and audio, etc.
High-quality output. It accomplishes exporting the audio in HQ. MP3 and AAC formats are optional, so don't worry if the converted audio is unavailable to play.
Backup provided. The converted file will be saved directly in your folder. Meanwhile, you can also find it in the history tasks, so don't worry you will lose the file you have edited if you accidentally delete it.
100% free to use. WorkinTool VidClipper is designed for free with no limits for all users. You can convert whatever how many times with it.
✅ How to Extract Audio from Video with VLC
VLC Media Player is a professional and free media player. It supports Windows, macOS, and Linux, and it is also available for mobile platforms, like Android and IOS. The reason it is widely used is that it is suitable for numerous formats. Videos in MP4, MKV, WebM, WMV, DivX, DVD/VCD, and audio in MP3, can be played in VLC smoothly. With it, you can play videos in nearly all formats, with no need to install the decoding package. It can automatically set the decoding method. Moreover, it is utterly free for all devices and all users. It is really powerful as a video and audio player, but other functions are relatively simple.
Here is a detailed tutorial on how to separate audio from video in VLC Media Player.
Step1. Launch the VLC Media Player, and then click Media>Convert/Save.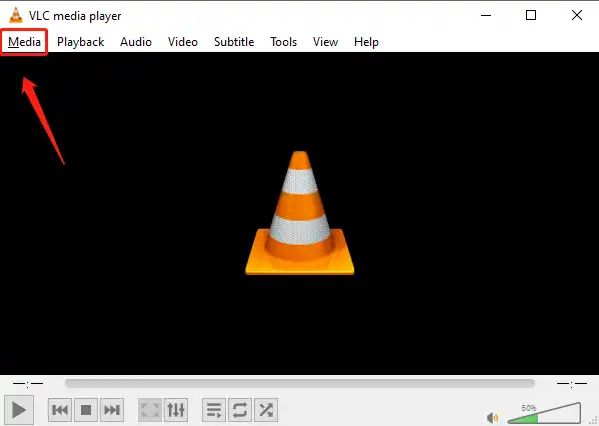 Step2. Add a video from the folder, then press Convert/Save.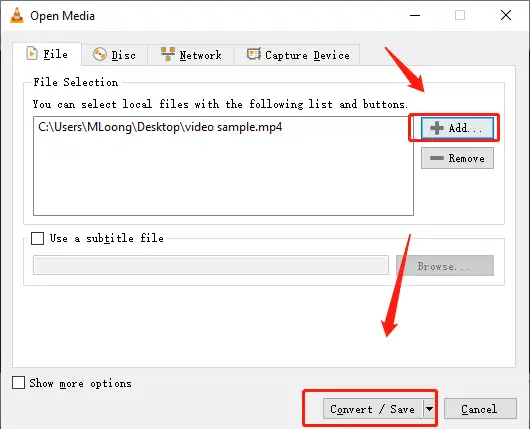 Step3. Select the output format as audio. MP3, OGG, CD, and FLAC are available in it. Then decide where to save it. Lastly, press Start to extract audio from the video.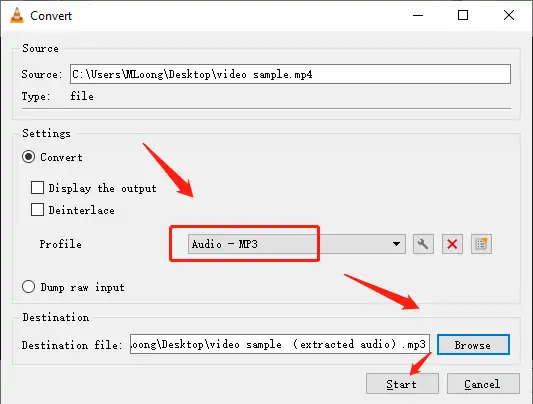 Contrast for Two Tools
Here are the concluded features of the two audio extractors that I have recommended. You can decide which to use according to your practical needs.
| | | |
| --- | --- | --- |
| Features/Tools | WorkinTool VidClipper | VLC Media Player |
| Cost | Free | Free |
| Output format | MP3, AAC | MP3, OGG, CD, FLAC |
| Compatible system | Windows | Windows, macOS, Linux |
| Output quality | High/standard/normal | Not optional |
| Program size | Less than 2 MB | 40 MB |
| Utilities | Multiple for video and audio editing | Simple for video and audio playing |
Wrapping Up
In this post, I mainly focus on extracting audio from video by converting video format to audio format, like MP4 to MP3. There are still many other ways you can save audio from video for free, like recording the audio part with a free audio recorder, splitting the audio with a professional music processor, etc. But in comparison, our WorkinTool video-to-audio converter is more efficient and available. Don't worry about the audio quality being damaged during the conversion process. The output quality of WorkinTool VidClipper is pretty good. It is free for download and provides a long-term free trial right now. Just have it to figure out all kinds of video and audio problems.
Products Reviews:
TrustScore
4
|
323
reviews