Easiest Ways to Watermark YouTube Video in 2022
This easy-to-use watermark processor helps you add watermarks to your YouTube videos effortlessly. You can decide to insert text or image watermark. The transparency, size, and location of the watermark are optional. You can use it to make a transparent watermark for YouTube. Furthermore, tools like video trimmer, video cropper, and image editor, are accessible here.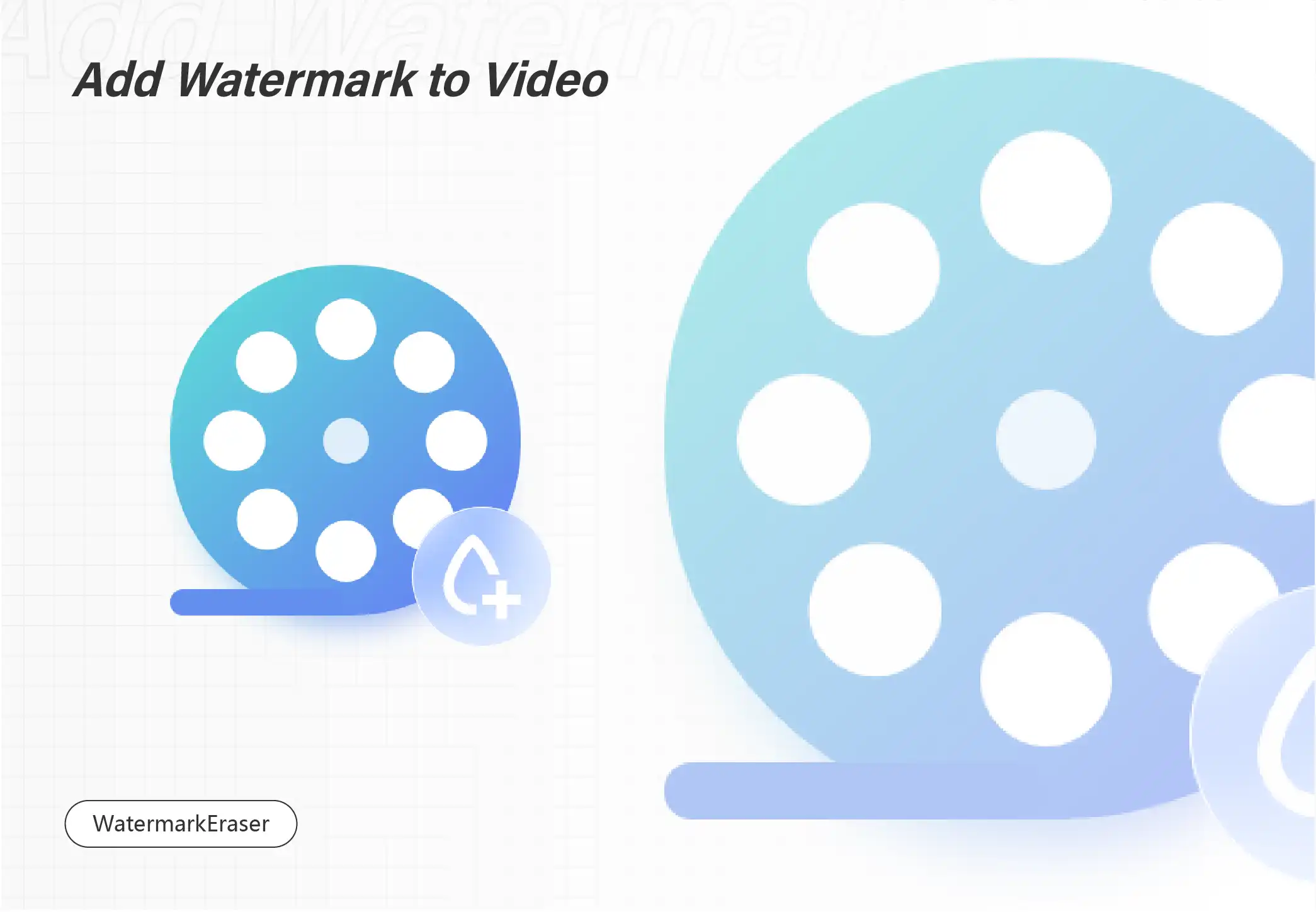 Easiest Ways to Watermark YouTube Video in 2022
YouTube is now one of the most popular video streaming on-demand websites, and hundreds of millions of users enjoy the wonderful audio-visual experience that YouTube brings them every day. Suppose you are a YouTuber, or you frequently share your videos on it; you must pay attention to the copyright security of your video. The easiest way to brand your work is to add exclusive watermarks. In this guide, I'll walk you through the easiest ways to watermark YouTube video. You can find professional YouTube watermark makers for PC and Android here.
How to Watermark YouTube Video on PC
There are two ways to add a watermark to a YouTube video on a PC. The direct way is to set it to generate a brand automatically on your YouTube Channel. This way, you can watermark your video without relying on third-party software. But the logo style is relatively single. You can use a professional YouTube watermark maker if you need to add a custom logo. Here are the step-by-step tutorials for both methods.
🎯 Create Logo for YouTube with Desktop Software
Adding watermarks to YouTube videos is easy with WorkinTool Watermark Eraser. Though it is designed for watermark removal, it does brilliant work in inserting watermarks into videos and photos. Now it is compatible with Windows, so users on the Windows system can access it effortlessly.
There are multiple modes of the stamp to select. You can use the text watermark and adjust the size, font, opacity, and position. As for adding image stamps, you can upload your image and set its size, transparency, and location. With it, you can also make a transparent watermark for YouTube. In that case, you can improve the copyright security, meanwhile, take care of the view's watching experience. Adding multiple brand logos at a time is also feasible in this YouTube watermark maker. Apart from dealing with watermarks on videos and images, you can also use it to trim video length, crop video size, edit images, rotate pictures, etc.
How to watermark YouTube video with WorkinTool Watermark Eraser
Note: if you haven't yet imported the work to your YouTube channel, you can use this software directly to generate your branding for the video and then upload it. If you have already published your video on YouTube and are eager to put watermarks on it, you need to download it first and then add your brand to it. After downloading the YouTube video, you can add it to WorkinTool Watermark Eraser to operate.
Step1. Get Desktop Software
Go to WorkinTool's official website and select Utilities> Watermark Eraser to free download it and install the program.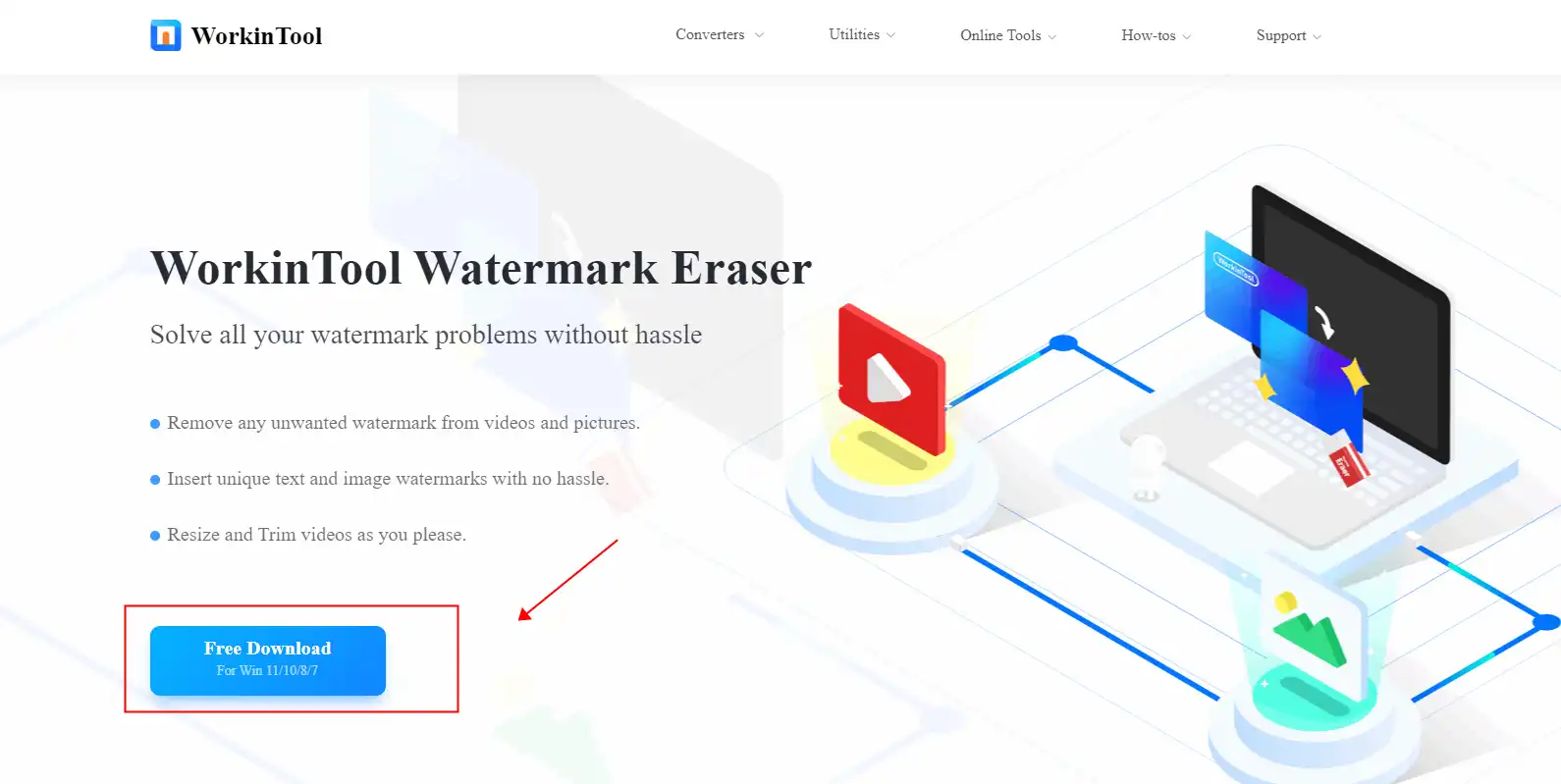 Step2. Add Watermark to YouTube Video
Select Add watermark to video on the main user interface and drag your video to upload.
Choose to add a text watermark or an image watermark.
Adjust the parameters of the watermark, such as size, font, color, transparency, and position. Then select the video duration that you want to put on the logo by dragging both sides of the timeline bar.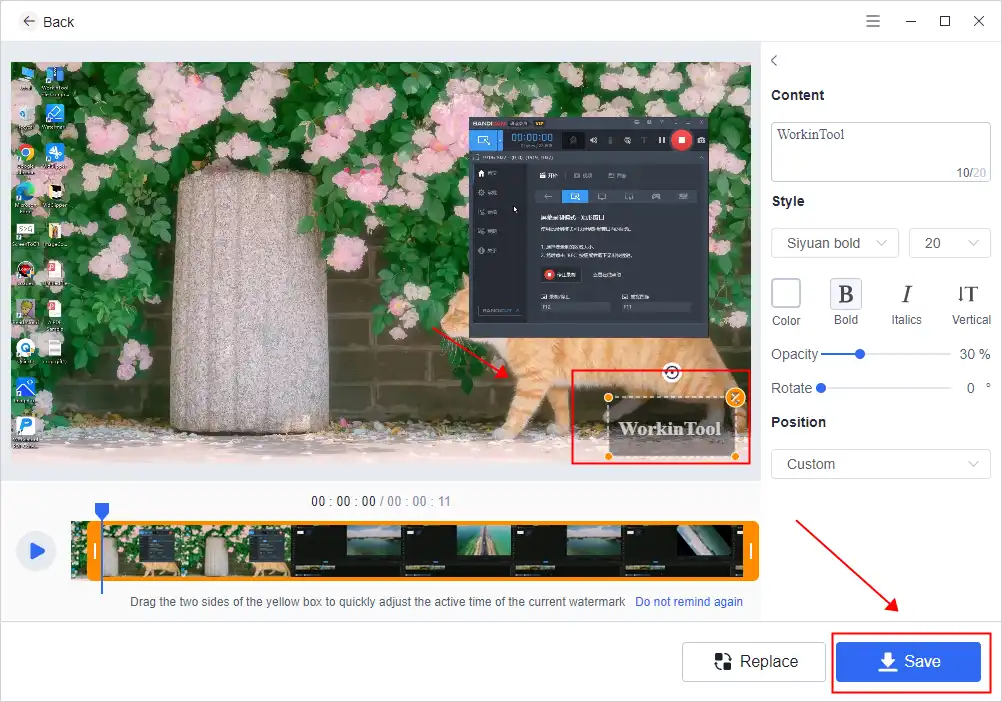 Step3. Save and check the Converting Results
Press Save to download the converted video. Click Open to check the results of watermarking a YouTube video. Then, upload the video to your YouTube channel.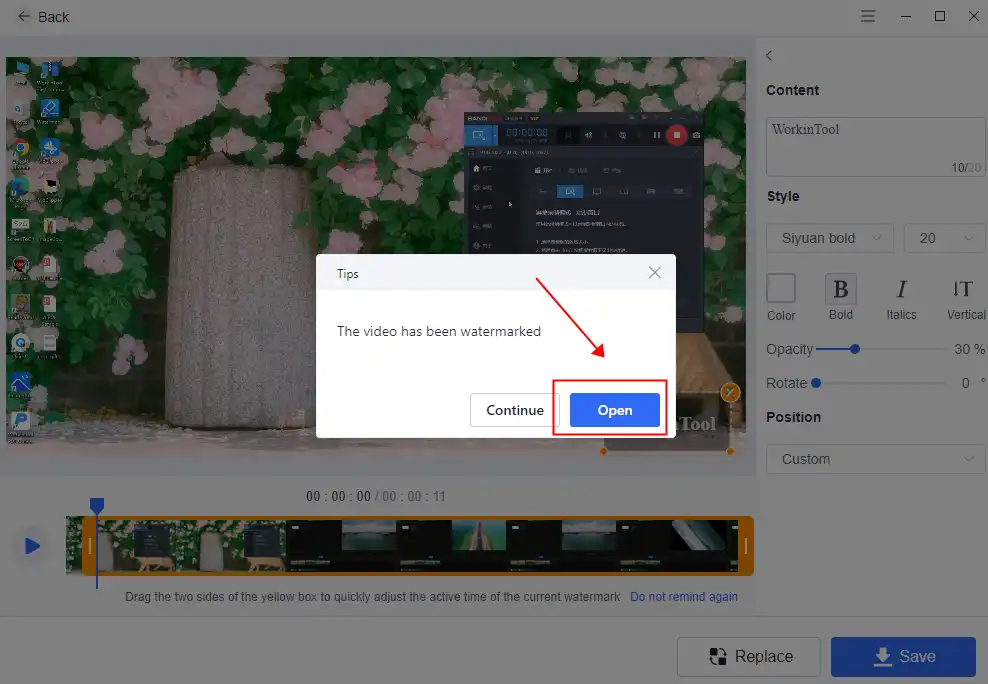 In this way, you can watermark a YouTube video as you wish.
Other Helpful Articles
🎯 Brand Your Video in YouTube Studio
In YouTube Studio, you can set to add watermarks to all your uploaded work by default. It allows you to generate brands to the video automatically. However, the watermark's style, opacity, and position are fixed. It will directly set your account name as the watermark. You cannot change the content of the logo as well. If you have no requirements for the watermark style, you can try to create the watermark directly on the YouTube channel.
Step1. Go to YouTube Studio and select Customizing> Branding.
Step2. Choose to set an image or text logo. You can review the result after setting.
Step3. Click View Channel to check the watermarked video.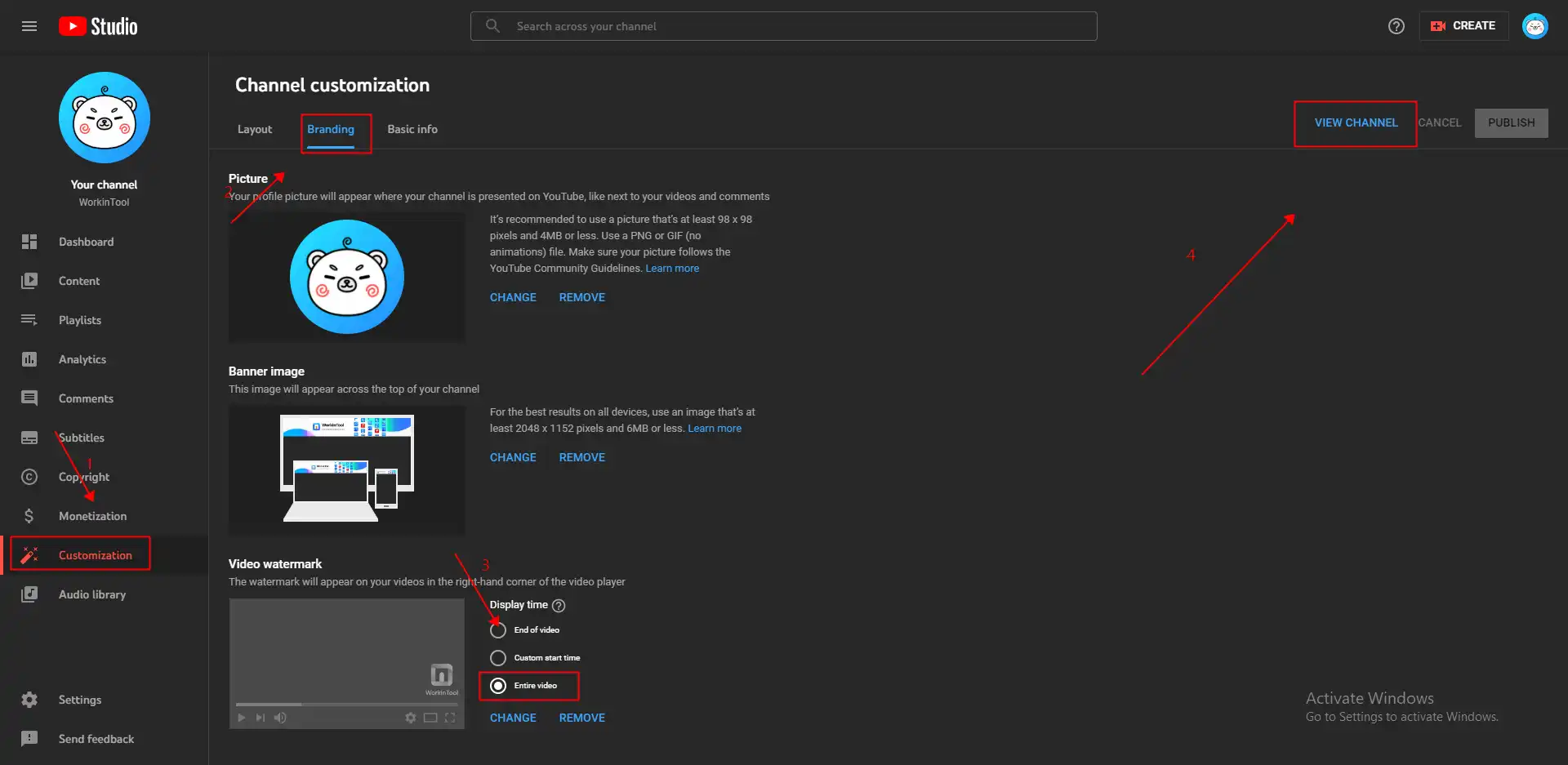 How to Add Watermarks to YouTube Video on Mobile Phones
If you prefer to watermark YouTube video on your mobile phone, you can have a trial of the Watermark Eraser App. The watermark remover app also makes it easier to watermark YouTube videos. It provides many photo and video editing tools, which are free to use. As for some advanced features, it also gives you daily free trials to access. As for its watermark maker tool, it can also make a transparent watermark for YouTube. You can adjust the size and position as you like. There are concluded reasons to pick this app that you can refer to:
Multiple watermark styles to choose
Batch operations are supported
Clear and straightforward toolboxes
Fast input and output speed
Daily free trial for all users
Plentiful photo and video editing tools
Check out how to watermark YouTube videos on Android step by step:
Step1. Download the application from Google Play and open it. Click Add watermark.
Step2. Select the target video and pick the text, image, or brush watermark to add to it. You can also change the branding logo's color, size, transparency, and position. It also supports adding multiple logos at a time.
Step3. Click Done in the top right corner and save it to your album.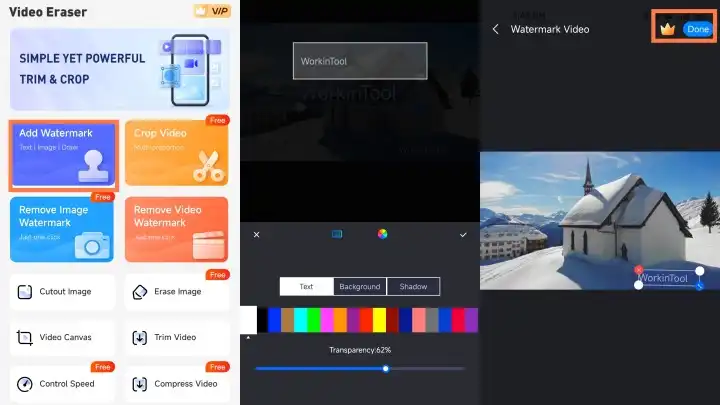 Wrapping Up
This guide explains easy and quick ways to watermark YouTube video on Windows and Android. Creating a branding logo for your YouTube video can make your work safer and enhance brand recall. However, you must ensure not to overuse watermarks on your video. Generally, two or three logos on your video are suitable for viewers. Suppose you want to customize the watermark, then a professional YouTube watermark maker may be better.
Products Reviews:
TrustScore
4
|
323
reviews