How to Recover Deleted Screenshots on PC and Mobile
Screenshots always contain vital information. We prefer to capture the screen when we attend meetings, have courses, and record data. It is troublesome if the screenshot disappears. You can search for the recycle bin or the backup if you accidentally deleted a crucial screenshot. If the picture is permanently removed from your computer, try using WorkinTool Data Recovery to find it back. It is:
✨ 100% free to recover photos from a PC
✨ Supports nearly all photo formats
✨ Fast and deep scan the screenshot folders
✨ Batch recover screenshots and export them with no limits
How to Recover Deleted Screenshots on PC and Mobile
Screenshot refers to cutting the display area from the computer screen and saving it as a picture format. Screenshots make it possible for us to record crucial information, share screen content with others, etc. With the prevalence of online meetings and courses, screenshots are also increasing. Tools that can take screenshots vary. Sometimes, we may encounter that the taken screenshot is missing or deleted. This guide will target how to recover deleted screenshots on a PC or a mobile phone. Read and follow these tutorials if you are looking for one.
👀 Navigate Quickly:
| | |
| --- | --- |
| I can't find the image after taking a screenshot. ➡ | Part1. Where are screenshots saved |
| I just deleted the vital screenshot. How can I restore it? ➡ | Part2. How to recover recently deleted screenshots |
| The screenshot is permanently removed from my computer/phone. ➡ | Part3. How to recover permanently deleted screenshots |
| How can I take screenshots on my computer? ➡ | Part4. How to take screenshots on Windows |
Part1. Where are Screenshots Saved
Generally, there are two ways to take screenshots. One is to use the screenshot tool built into your device, like some hotkeys.
If you use this tool to take screenshots, you can find the images in the local folder. For computers, you can check File Explore and search for Screenshots to check the file. Go to Pictures> Screenshots to view. For mobile phones, you can view the Photo library or check the File Manager tool.
Another way to take screenshots is to use a third-party software or application. To do so, screenshots will be saved in the software or app library.
Part2. How to Recover Recently Deleted Screenshots
If you accidentally removed the screenshots, there is a great chance to recover them on your device.
How to recover recently deleted screenshots on Windows
Click on the Recycle Bin icon on your computer. Check the recently deleted files. Pick the target screenshot and right-click it, then press Restore to recover it to your desktop. You can find the recently removed screenshots if you haven't cleaned up the Recycle Bin.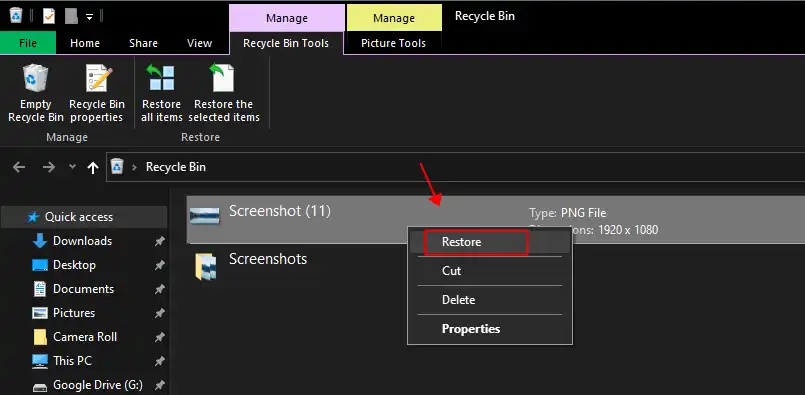 How to recover recently deleted screenshots on mobile
iPhone: The Photos default on iPhones will back up the recently deleted photos within 30 days. You can find the screenshots if you didn't clean the backup. If you have backed up your photo in iCloud, it is also an effective way to see deleted screenshots in iCloud.
Android: Some Android phones also offer a Trash tool that contains recently deleted photos. You can check whether your screenshot is in it.
Part3. How to Recover Permanently Deleted Screenshots
The permanently deleted file no longer exists on your device. You can try specialized data recovery software or an app to recover it. Below, we pick an entirely free photo recovery software for Windows and a data recovery app for Android and iPhone. You can use them to recover the permanently deleted screenshot.
💡 How to Recover Permanently Deleted Screenshots on Windows
WorkinTool Data Recovery efficiently retrieves deleted files like photos, videos, office documents, etc. It allows you to recover files from hard drives like HDD, SSD, USB, SD card, etc. No matter if the deleted, lost or formatted documents, WorkinTool can retrieve them without effort. Most importantly, the software is 100% free to download and use, having no extra limits on recovery times and data. The program is safe to use. We recommend downloading and installing it from the official website to avoid malicious viruses and programs. It is quick to scan and recover deleted files; no login is required throughout the recovery process. In seconds, you can get the permanently deleted screenshots back.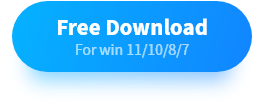 How to recover deleted screenshots with WorkinTool Data Recovery.
Step1. Download and install WorkinTool Data Recovery on your computer. Launch it and select Deletion Recovery on the main user interface.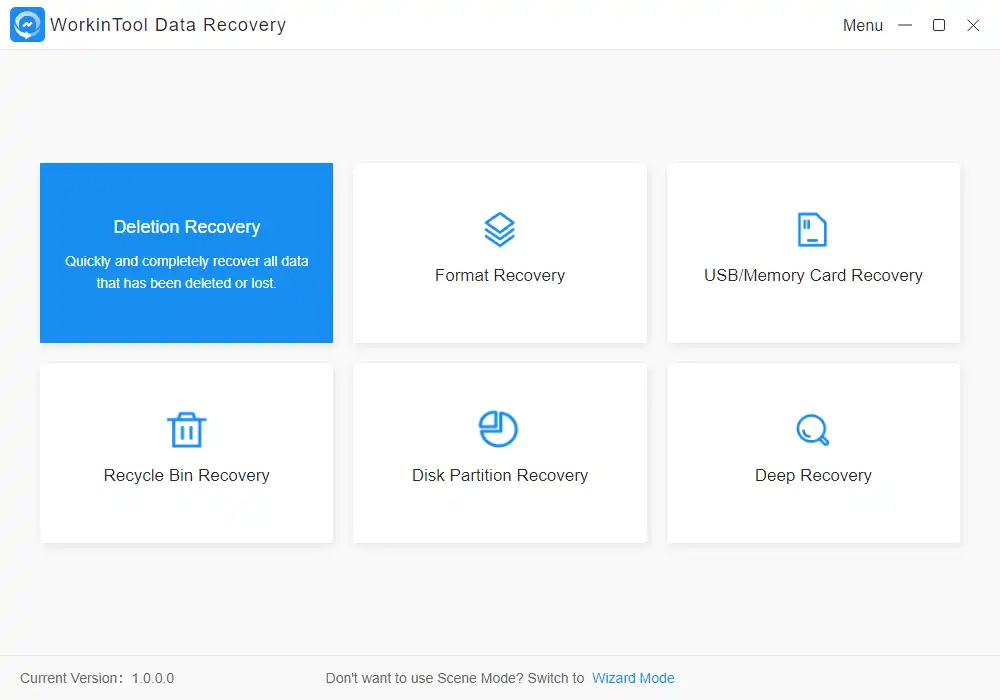 Step2. Scan the drive you used to save the screenshot to scan. The default screenshot folder is in the center hard drive.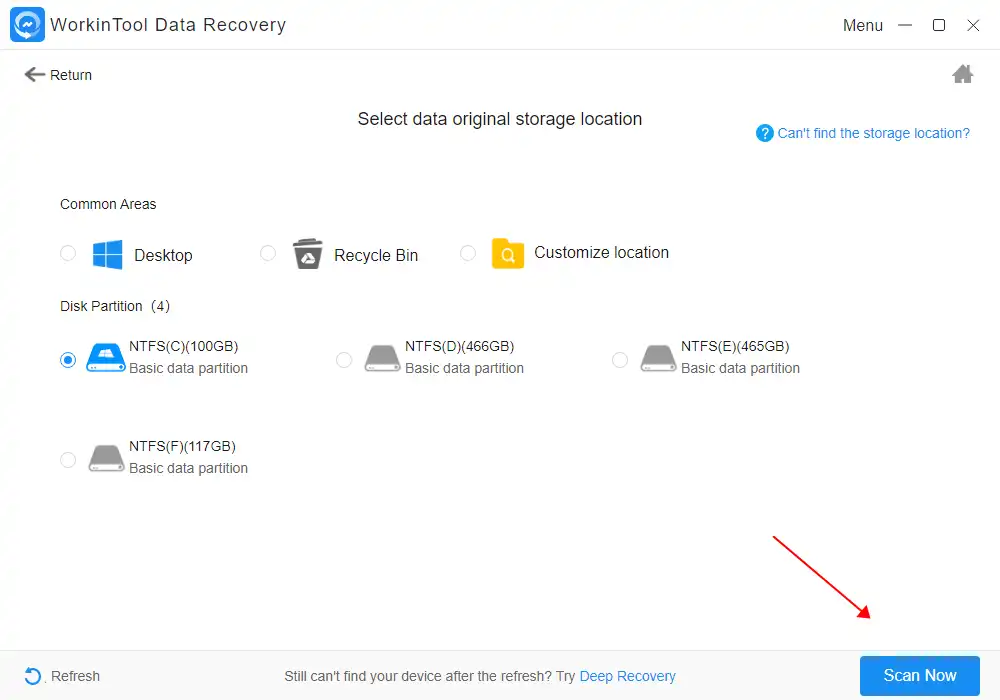 Step3. Click the Picture category and search for the screenshot. Pick the images you need to recover, then hit the blue Recover button and preserve them in a new folder. It is in favor of batch photo recovery. You can also restore the whole folder directly.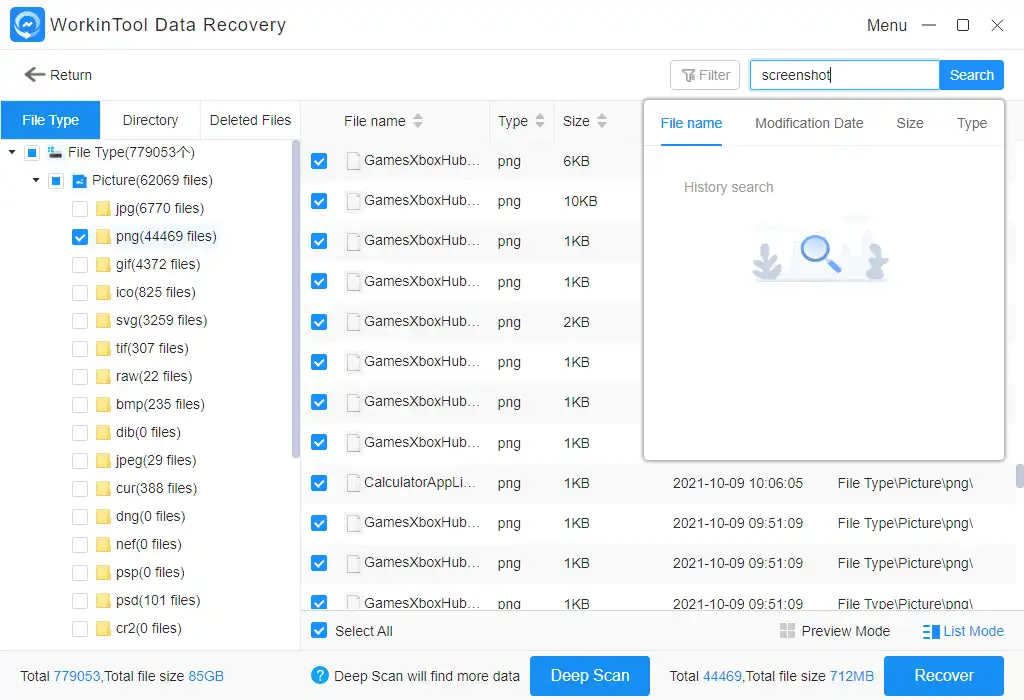 More Solutions for WorinTool Data Recovery
💡 How to Recover Permanently Deleted Screenshots on Android and iPhone
Unfortunately, there are seldom free data recovery apps for Android and iPhone. Most of them charge to save recovered files or have several hidden catches. After testing dozens, we'd like to recommend this Dr.Fone Data Recovery App. It provides a high success rate of recovering deleted photos from your phone. Also, it is easy to operate, particularly for new beginners. The free version lets you preview the recovered file, but cannot help you download it for free. You can have a trial if this flaw isn't a matter to you.
How to recover deleted screenshots on Android and iPhone with Dr.Fone.
Step1. Install Dr.Fone on your phone from Google Play or Apple Store.
Step2. Select the Photos category to scan on the dashboard.
Step3. Pick the scanned screenshot and press the Recover button to retrieve it.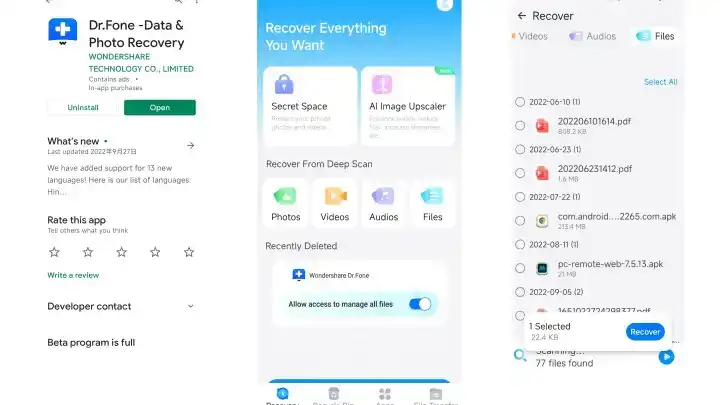 Bonus: How to Take Screenshots on Windows
🧐 Method1. Take Screenshots with hotkey
Press the Print Screen button on your keyboard or Windows + R to take a screenshot randomly.
Press the Windows + Print Screen button to capture the screen.
Paste Alt + the Print Screen button to take a screenshot and copy it to your clipboard.
🧐 Method2. Use the Game Bar
The Xbox Game Bar default in the Windows system allows you to take screenshots and record screens. Press Windows + G to arouse it, then press the capture button to take a screenshot.
🧐 Method3. Use the Snipping Tool
The Snipping Tool in the Windows system can also capture your screen as a picture. Press Windows+ Shift+ S to open it, then choose snip mode, like rectangular, freedom, full-screen snip, etc., and take a screenshot.
Wrapping Up
Here, we thoroughly discuss how to take a screenshot, find it, and recover deleted screenshots on Windows and mobile phones. If you lose a crucial screenshot, try the solutions above to fix this issue.