How to Recover Permanently Deleted Emails in 2023
Delete the crucial email by mistake and clean the trash folder? Don't worry, there are still effective ways to recover permanently deleted emails. Suppose you log into email accounts such as Gmail, Yahoo, Microsoft 365, etc. to the desktop Outlook on your PC; then you can use data recovery software to scan your hard drives and recover deleted emails. WorkinTool Data Recovery can easily do that. It allows you to:
⭐ Recover emails and re-download it for FREE
⭐ Batch Restore multiple emails simultaneously
⭐ Fast scan and recover permanently deleted and old emails
⭐ Recover no matter how much data at a time
How to Recover Permanently Deleted Emails in 2023
An E-mail has irreplaceable advantages compared with instant messaging software. Especially in the working environment, email has inherent business attributes. It has a stronger notification effect, a more complete and richer information-bearing ability, and it is more convenient for long-term retention and review. Therefore, e-mail is widely used in business, trade, and other occasions.
It is tricky if you delete an essential email file by mistake. In this case, you can get it back from the trash folder. However, your email will also be cleaned if you clean the trash. Don't annoy about that. This guide will show you how to recover permanently deleted emails on PC, iPhone, and Android. Keep scanning and find the solution.
When Will the Email Be Permanently Deleted
Many mailboxes exist, like Gmail, Outlook, Yahoo, Microsoft 365, etc. They may be different in user interfaces and operations, but the general functions are similar. Generally speaking, the accidentally deleted email files will be first preserved in the mailbox's trash folder. You can easily restore them from the trash. However, the storage time is limited (30 days as usual). After the deadline or if you clear the trash folder, your email file will be permanently removed from your email account.
However, if you log in to your email account on your desktop Outlook mail, there will be a local folder saving these emails. The deleted email will also exist in the Recycle Bin on your PC. Meanwhile, the email will be permanently deleted if you clear the Recycle Bin.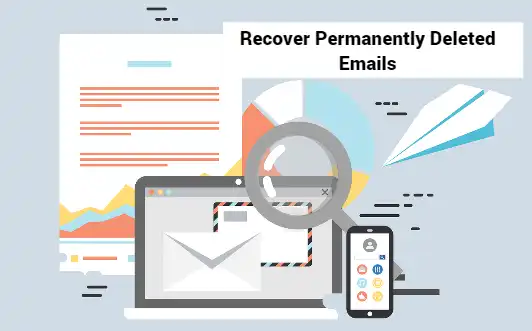 🔎 Can I Recover Permanently Deleted Emails from Gmail, Yahoo, Outlook, etc.?
The answer varies according to different situations. If you used to send and receive emails online, and don't back up your email in the cloud, then there is no way to recover permanently deleted emails from Gmail, Yahoo, etc. However, since Outlook is the default tool in the Windows system, your computer will back up these email files in local folders. Therefore, you can recover permanently deleted emails with data recovery tools under the premise that you transmitted emails in the desktop Outlook. Desktop Outlook allows you to add multiple email accounts, including Microsoft 365, Gmail, Yahoo, iCloud, and Exchange accounts. If so, you have a great chance to recover deleted emails from Outlook, Gmail, Yahoo, Microsoft 365, etc.
📢 How to Recover Permanently Deleted Emails on Windows
WorkinTool Data Recovery is at the top of the recommended list if you require data recovery in Windows. The primary reason for selecting it is the price factor. It is FREE to recover and save 500MB of restored files with no additional restrictions. It is dedicated to recovering various files from internal hard drives and external devices, like videos, photos, emails, and office documents. We have listed several of its outstanding features below, which you can use as a reference:
Recover files for free within 500MB

Supports recovering various email file formats
Quick and deep scan to find as many files as possible
Batch recovers multiple files at a time
Preview the scanned files
Fast scanning and recovery course
No watermarks or other limits to saving the recovered emails

How to recover permanently deleted emails with WorkinTool Data Recovery
◽ Step1. Open the WorkinTool Data Recovery software on your computer, then choose the hard drive you used to save Outlook files. Normally, the emails are saved in C:\Users\<username>\AppData\Local\Microsoft\Outlook.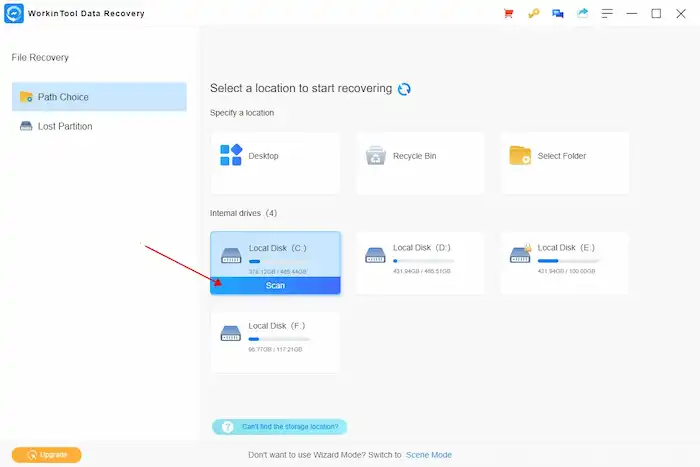 ◽ Step2. Select a scan method from the pop-up window and press Scan Now.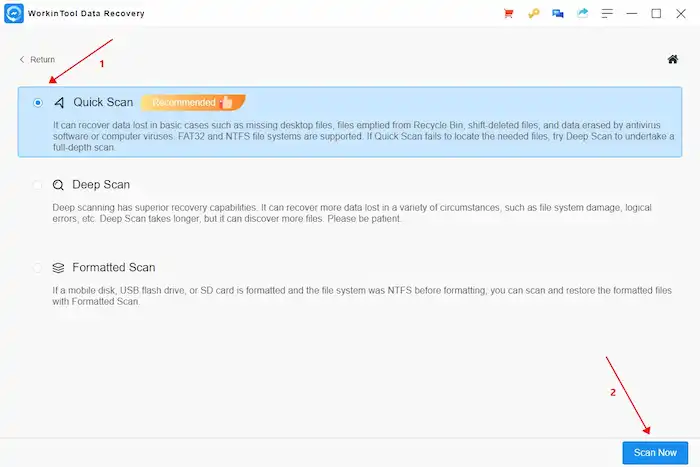 ◽ Step3. Filter the scanned files by file type, original saving path, name, size, etc. Then pick the target email file and press Recover to retrieve it to your computer.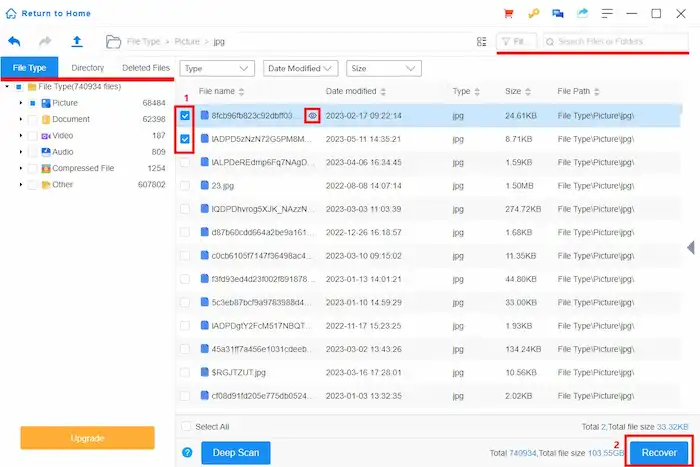 More Data Recovery Solutions for WorkinTool
📢 How to Retrieve Deleted Emails on iPhone and Android
Suppose you are accustomed to using email apps on your iPhone and Android; you can recover permanently deleted emails using data recovery applications, for there will be a local folder on your phone preserving the email files. Among the numerous data recovery apps available on Google Play and the App Store, you can select Dr.Fone. It is explored by a proficient company that deals with office software. It is relatively authoritative and trustworthy. Furthermore, Dr.Fone gives you a high success rate in recovering deleted emails. However, it is not free to download the recovered files to your phone. You can preview the recovered file at no cost, but you have to pay for its premium version to download it.
How to recover permanently deleted emails on iPhone and Android using Dr.Fone
Step1.

 Install the data recovery app and open it. Select the file type to scan on the user interface.

Step2.

 Pick the email file you need to recover and press the Recover button to re-download it to your phone.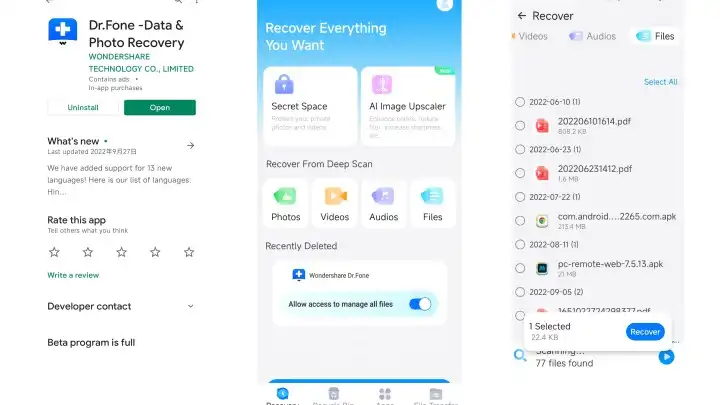 FAQs on Deleted Email Recovery 
🔎 Does Gmail delete emails after years?
Gmail won't automatically delete old emails. Gmail archives your emails indefinitely or until you delete them. But if you put your email in the trash folder, Gmail will clean it up after 30 days.
🔎 How can I recover permanently deleted emails after years?
Sometimes, we may need to check old emails. Data recovery tools work on those old files as well. Take WorkinTool Data Recovery as an example; its deep scan feature permits you to recover old emails after years.
🔎 How to recover deleted emails after 30 days? 
You can check the Recycle Bin if you have used the desktop mailbox. If it fails, use data recovery software to recover those permanently deleted emails.
The Bottom Line
Email always contains critical information and files. It is a hassle if you permanently delete an email file and are eager to find it back. Thanks to data recovery software and apps, you have a success rate of retrieving those deleted email files. But you'd better think twice when cleaning up emails, and back up essential files in the cloud if possible.