How to Recover Ransomware Encrypted Files in Windows 10
Ransomware infection happens every day worldwide. It usually causes severe data, financial, and reputation loss. Do you know how to recover a file that is encrypted and infected by ransomware? Read on,1. and you will find the answer. In this article, we share:
1. The innovative meaning of ransomware encryption
2. Fixes to recover files from ransomware encryption
3. Preventive tips for future ransomware attacks
4. Some frequently asked questions
Read the following text to find whatever you need!
How to Recover Ransomware Encrypted Files in Windows 10
Do you know how many ransomware attacks have occurred in 2022? According to Statista, 236.1 million ransomware attacks have been detected all around the world. That is to say, about one in ten people with computers has been attacked by ransomware. It is hard to imagine how many businesses and personal information have been victimized. There are numerous cases in that a customer opens a file attachment, and then her PC is infected with ransomware. As a result, files become inaccessible, the operation unresponsive, and the computer unbootable.
Therefore, this post shares part of a series of network security. You will know What does ransomware do, how to recover ransomware-infected files, and how to prevent ransomware attacks in the future. Read on to learn more!
Quick Look
What is a Ransomware Attack?

How to Recover Ransomware Encrypted Files?

How to Protect Against Ransomware?

FAQs
---
What Is a Ransomware Attack?
Ransomware is a kind of malware that encrypt files on a computer and make them inaccessible to the user. A ransom note will appear on the victim's computer screen, asking for ransom in exchange for the decryption key. Only by obtaining the decryption key can the user regain access to his files. However, paying the ransom does not guarantee the victim will obtain the decryption password. Instead, the attacker may ask for additional ransom or not provide the decryption key, leaving the files to remain unreadable and unusable.
Ransomware usually attacks a system through phishing emails, software vulnerabilities, or malicious websites. Once the malware invades the victim's computer, it will encrypt the files using complicated algorithms. As a result, files could become inaccessible or irretrievable. In addition, some ransomware will encrypt the MBR (Master Boot Record) of the victim's computer. Users then can't boot up the computer properly.
Is it Possible to Recover Ransomware Encrypted Data?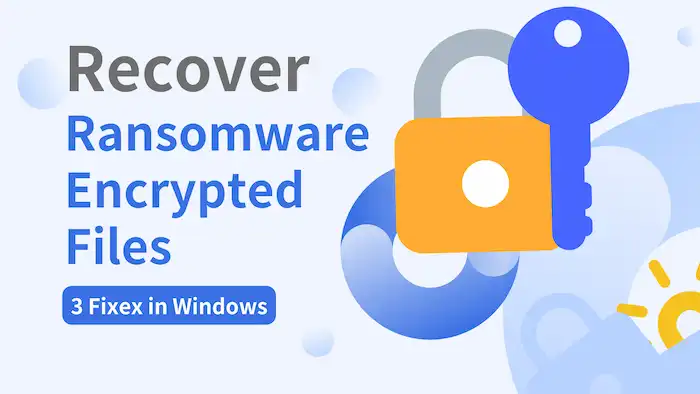 Can ransomware data be recovered? Well, in some cases, it is possible to recover ransomware-encrypted data. But the possibility varies based on a number of factors. For example, the complexity of the encryption, the type of ransomware, and the availability of backups. If you have a backup of the encrypted files, you can restore them without downloading additional tools. If not, you can try a decryption tool, use data recovery software, or seek help from a professional service to decrypt the drive and recover data from your computer.
However, if none of these solutions work, you may need to pay the ransom. But it is not recommended. because doing this might encourage the attacker to continue their blackmail. Anyway, if you want to learn how to recover ransomware encrypted files in Windows 10 without paying, use the following ransomware recovery solutions first.
---
How to Recover Ransomware Encrypted Files?
This section shares several solutions to recover encrypted files from ransomware for free. Read on, and you will know which solution you should choose, how to decrypt a file, and how to restore files encrypted by ransomware.
Fix 1 Perform Ransomware Data Recovery via Backup
If you have created shadow copies or System Restore points for the encrypted files, you can recover ransomware-encrypted files for free in the shortest time. Common backup solutions on Windows include System Restore, File History, and cloud backup. For this method, you must ensure the previous data, system files, or applications do not contain the ransomware viruses you are currently infected with. Therefore, ensure that you have cleaned the ransomware viruses. You can do so by restoring your systems to factory settings. Let's see how to recover ransomware encrypted files via File History and System Restore.
1. File History
Windows provides a built-in backup feature for users to create specific backups for individual files or folders. It will periodically snapshot and back up the specified files. When losing files, users can directly restore the file or folder to one of its previous states if they have enabled File History backup for the files before. To restore previous file versions via File History: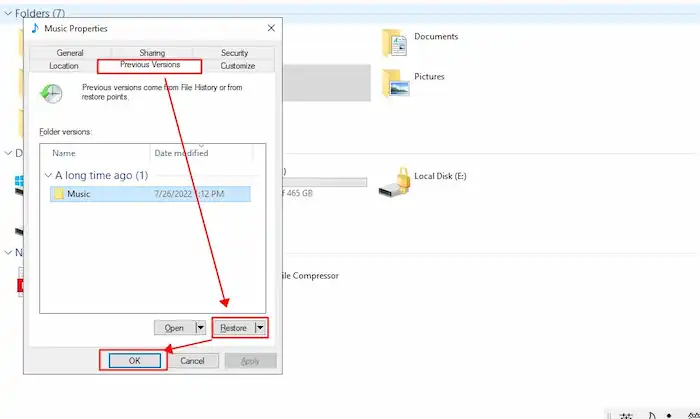 Select the file, folder, or drive that you want to restore, right-click on it, and select

 Properties

.

Go to 

the Previous Versions

 tab, and confirm the file version your want to restore. You can verify the file version by clicking 

Open

 from the bottom.

Press 

Restore

 and 

OK 

to convert the encrypted file to a nonencrypted state.
2. System Restore
As an alternative to File History, Windows provides the ability to restore the whole computer to its previous state. The System Restore tool regularly stores backup points. You can undo unwanted system changes by reverting your computer to a previous restore point. To remove ransomware encryption via System Restore: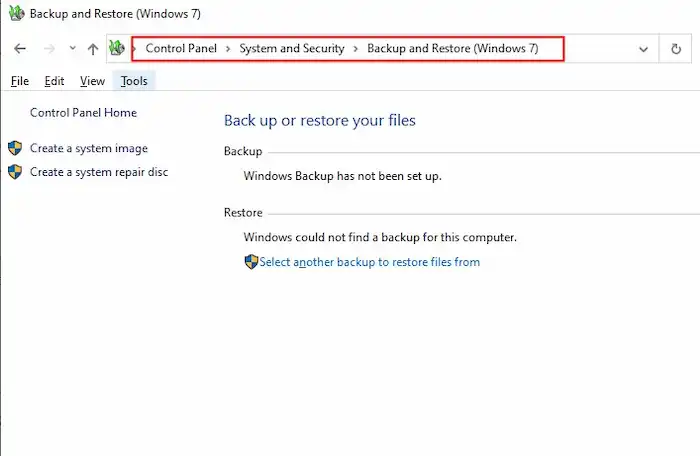 Type 

Control Panel

 in the Windows search box and open this program.

Navigate to 

System and Security

 > 

Backup and Restore 

> 

Restore files from backup

.

Follow the wizard to complete the decryption process.
However, if you have neither enabled a File History backup nor created a System Restore point, you can't adopt the two solutions. Refer to the other fixes for help.
Fix 2 Use Encrypted File Recovery Software
You may feel frustrated if no backups are available. However, sometimes you can use ransomware file recovery tools to fix the encryption issue. Part of ransomware encrypts files by deleting the original files and putting encryption on the copied ones. In this case, you can use ransomware data recovery tools to solve the troublesome problem easily. 
WorkinTool Data Recovery Software is a reliable one. In addition, it is worth mentioning that you don't have to create a backup when using encrypted file recovery software like WorkinTool. Why do we say so? Refer to the following features.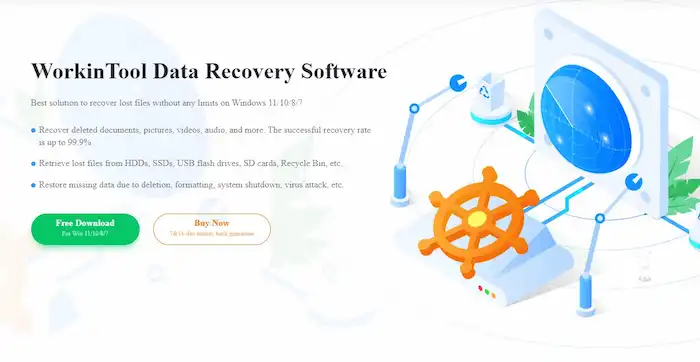 WorkinTool Data Recovery Features
Recover 

BitLocker-encrypted

, 

ransomware-encrypted

, deleted, formatted, and inaccessible data with 

a high success rate

.

Support the recovery of videos, images, documents, compressed files, and more than

 500

 types.

Restore files from HDDs, SSDs, USB drives, flash drives, memory cards, cameras, and more storage media.

Combine fast scanning and recovery speed via AI scanning technology. Users can preview detected files as well.

Offer 

500MB

 of free recovery capacity and cost-effective advanced plans (as low as 

$23.99/month

, limited-time 20% off)

📝How to Recover Ransomware Encrypted Files Via WorkinTool
1. Make sure that the ransomware-encrypted drive is connected to a Windows computer. Launch WorkinTool Data Recovery Software, move your cursor to the encrypted drive, and then click the pop-up Scan button.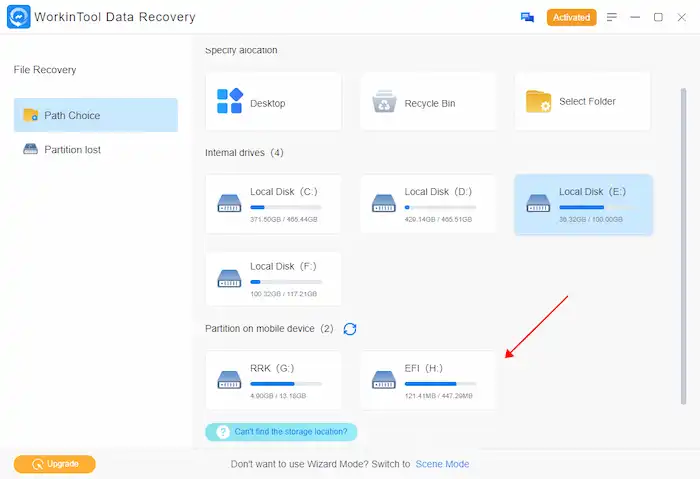 2. Select a scan & recovery method from Quick/Deep/Formatted Recovery. You can refer to the brief introduction under each method to confirm your choice. Then press Scan Now to start scanning.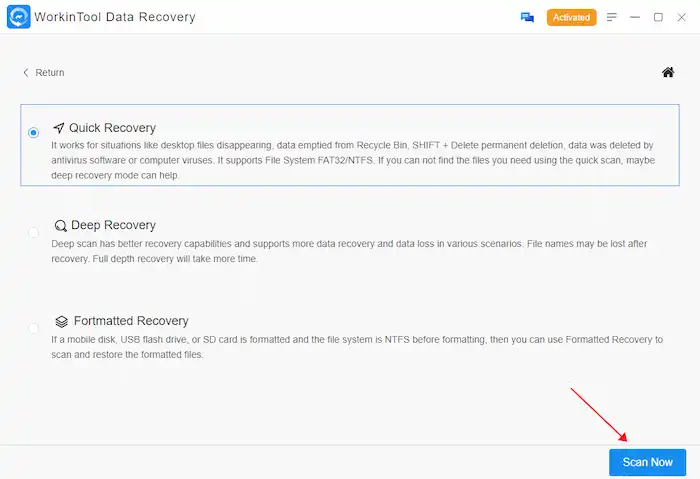 3. After that, click the left navigation pane or use the Filter feature to locate the files you wish to recover, select them, and then press Recover to save them in a different location. It is advisable to save them on a different drive to avoid overwriting the remaining files.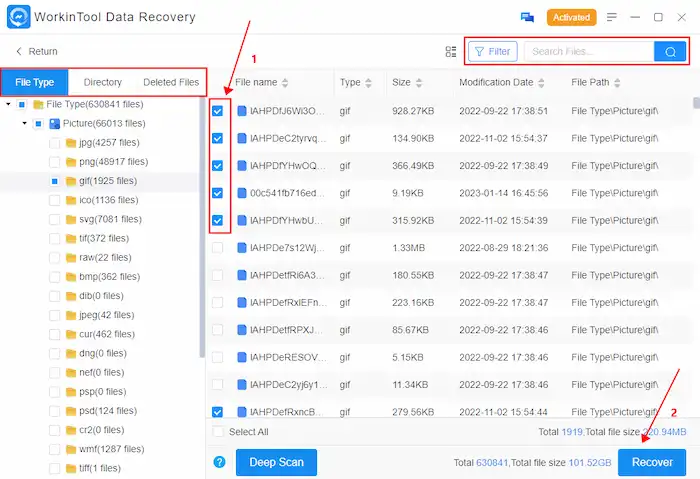 This is how to recover files from a ransomware attack via the WorkinTool ransomware data recovery tool. It is simple to use for anyone. However, if you fail to remove the encryption, skip to the next fix.
Fix 3 Recover Ransomware Encrypted Files via Decryption Tool
How to recover ransomware encrypted files without backups or software? Well, there are many ransomware decryptors in the market. By discovering the vulnerabilities in the ransomware's encryption method, decryption tools can decrypt files easily. However, recommending an all-in-one decryption tool is challenging. Since different ransomware uses different encryption methods, not all ransomware encryption can be removed using the same decryption tools. And some encryption algorithms are much more sophisticated than others.
Famous decryption tools include GandCrab, WannaCry, TeslaCrypt, Shade Decryptor, and No More Ransom. They are used for different ransomware encryption methods. However, some decryption tools may be fraudulent or contain viruses. It is important to download ransomware decryptors from reputable sources. Using malicious ransomware decryptors may fail to break ransomware encryption. On the contrary, it may result in further data loss or damage to your system.
Fix 4
Ask for
Professional Recovery Assistance
If none of the solutions work, you can only ask for help from professional recovery assistance. It is the last resort you can try to avoid paying ransom to the attacker. They may have advanced tools and expertise to break ransomware encryption and restore data from encrypted sources. However, you need to know that professional recovery services may be expensive and unsuccessful in some cases. It also can cause more severe damage or data loss.
---
How to Protect Against Ransomware?
After learning how to recover ransomware encrypted files, you may be interested in ways to prevent future ransomware attacks. As you can imagine, ransomware encryption can have a severe impact on individuals and businesses. Preventing ransomware attacks is necessary for data safety, financial security, and business continuity. Therefore, we provide some suggestions for preventing ransomware attacks.
⚡Use reliable antivirus software.

 You can download antivirus software like Malwarebytes ransomware to perform ransomware detection. It can detect and prevent ransomware attacks.

⭐Maintain regular backups.

 It is advisable to back up your valuable data to the cloud storage, external drive, or other safe location. This can also provide ransomware attack protection to your files.

🌙Use strong passwords.

 Apply strong passwords and enable two-factor authentication to protect unauthorized access from ransomware.

🌕Be careful of suspicious websites and emails

. Be cautious of emails, links, and attachments from unknown senders. Do not download unsolicited attachments easily.

📁Update software in time.

 Keep your operating system, software, and security programs up to date to offer the best ransomware protection.
---
FAQs
📝How to remove ransomware viruses and restore the files?
In summary, you can try the following measures to get rid of ransomware and restore the files. In the beginning, you should isolate the infected computer from the network.
Recover files from backups via File History, System Restore, and Cloud drives.

Use data recovery software like WorkinTool.

Identify the type of ransomware and use the corresponding decryption tool.

Download antivirus software to do ransomware removal.

Ask for professional assistance.

Pay the ransom (the last resort).
📝How to decrypt a file?
You can decrypt a file by:
Entering the password or key to decrypt a file.

Decrypt your files

 via CMD, System Restore, File History, or Windows Defender.

Use a decryption tool.

Seek professional decryption service.
---
Conclusion
Here comes the end of this post. You must know how to recover ransomware encrypted files and how to prevent future ransomware infections. Now pick one solution that suits you most and begin ransomware file recovery!
You May Also Need