Nikon Photo Recovery – How to Recover Deleted Photos from Nikon
Feel anxious and frustrated due to accidental data loss on your Nikon camera? No panic! This post offers free and reliable solutions to get deleted or formatted photos and videos back from your Nikon camera. There is a built-in system tool and free Nikon photo recovery software. The latter is highly recommended for the following highlights:
🧿 100% free with no premium edition.
🧿 Cover nearly all kinds of storage devices like SD, SDHC, SDXC, CF, USB, etc.
🧿 Easy to use. No industry insider techniques are required.
🧿 Able to recover files from formatted drives.
🧿 Super fast scan speed and high recovery rate.
Nikon Photo Recovery – How to Recover Deleted Photos from Nikon
"Help! My wedding photos and videos are suddenly all gone from my Nikon camera! How could it happen? I spend months preparing for the wedding and want to capture my precious moment! Can I recover deleted photos from my Nikon camera? I'm so desperate!"
These years, quick a few state-of-the-art cameras and DSLRs have come into creation and updates to catch up with the trend of social sharing and urban lifestyle. People like to take high-resolution photos along with the technology innovations. However, on the flip side of this innovation in a camera, Nikon or not, is a hidden risk in terms of—will the preserved photos and videos in DSLR get deleted, lost, or corrupted?
Nikon is one of the most widely-used camera brands in the world, and its users keep growing. But its users, even professional photographers that use the most advanced devices, are sometimes victims of unexpected data loss. If you have sunk into this trap, you need immediate action and effective Nikon photo recovery software to get a way out.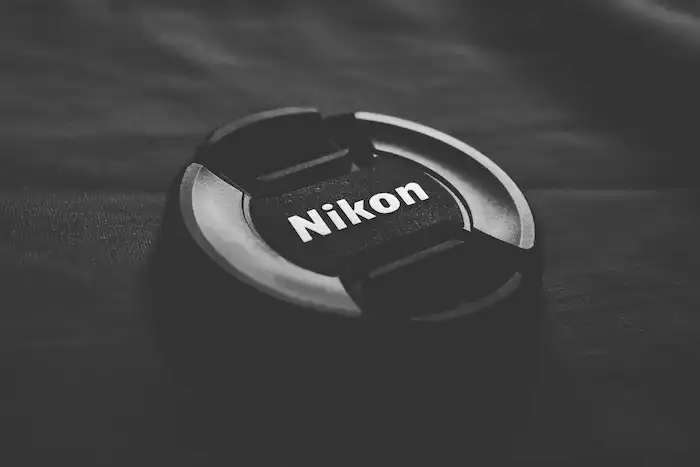 In this blog, we will show you possible reasons that may cause a Nikon photo loss and guide you through how to recover deleted photos and videos from Nikon for free without backups. Precaution tips are also outlined. The solutions herein are suitable for Nikon DSLRs, CoolPix models, and other cameras and camcorders.
---
Reasons for Nikon Photo Loss
Here are possible reasons that might lead to Nikon photo loss.
Delete the photos from your Nikon SD card inadvertently in a hurry.

Reset the device with the battery abruptly removed, or it runs out of power.

Improperly plug in or remove an SD card from the computer.

An interruption happens when transferring your Nikon photos to a computer 

(such as a power outage, software crash, and system crash).

Accidentally format the SD card when plugging it into other devices without backups.
If you are experiencing these situations, you should immediately stop using the SD card and rescue the lost photos using Nikon photo recovery software or make use of computer command tools (more details below).
---
How to Perform Nikon Photo Recovery on Windows
Although Nikon cameras like DSLRs and CoolPix have a Trash feature, it is not the same as a computer recycle bin, from which you can restore deleted photos, videos, and other media files. If you want to recover deleted photos and videos from Nikon camera SD cards, a 3rd-party photo recovery tool is essential. After comparing and selecting, we finally found a photo recovery tool that is entirely free as advertised.
Nikon Photo Recovery with Software – WorkinTool
This free photo recovery software is called WorkinTool Data Recovery, which is completely FREE to download and unlock all of its features. Its sophisticated algorithms make it practical for SD card recovery and micro SD card restoration. In addition, it is also workable as SDXC/SDHC card recovery software. So users can use WorkinTool to handle Nikon SD cards without any hassle.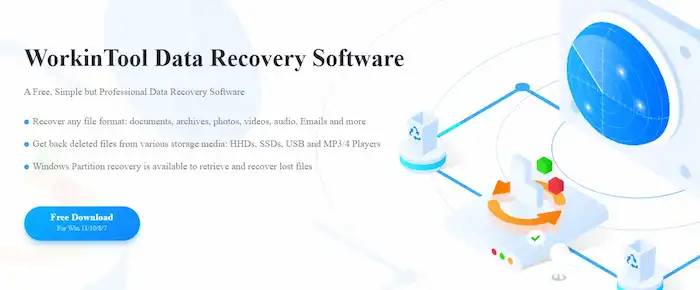 Apart from external storage cards, WorkinTool is also compatible with USB flash drives, internal computer disks, and solid-state drives (SSDs). It covers every corner that needs data recovery. For more detailed features, review the information below.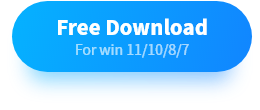 Features in Use
See the easy steps to learn how to recover deleted and formatted photos from a Nikon camera SD card with WorkinTool. It just takes you a few seconds to have a try.
Step 1: Install and launch this Nikon photo recovery software. Then select USB/Memory Card Recovery. It helps you retrieve lost data from mobile devices like USB drives, disks, memory cards, etc.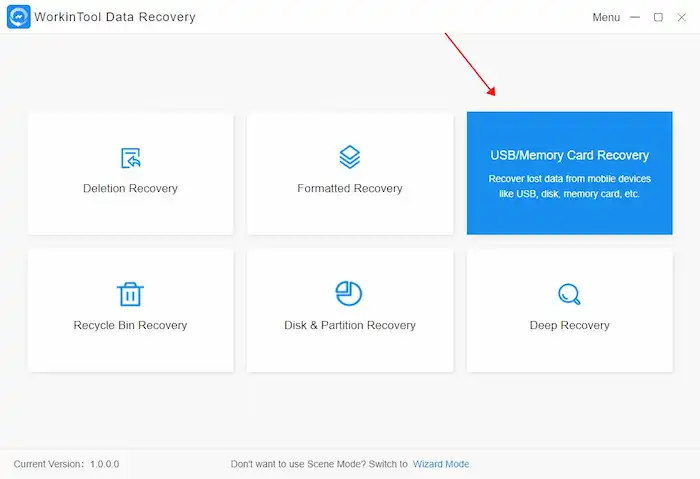 Step 2: Connect your SD card, which used to contain the lost photos, to the computer, select the SD card in the pop-up window and click Start Scanning.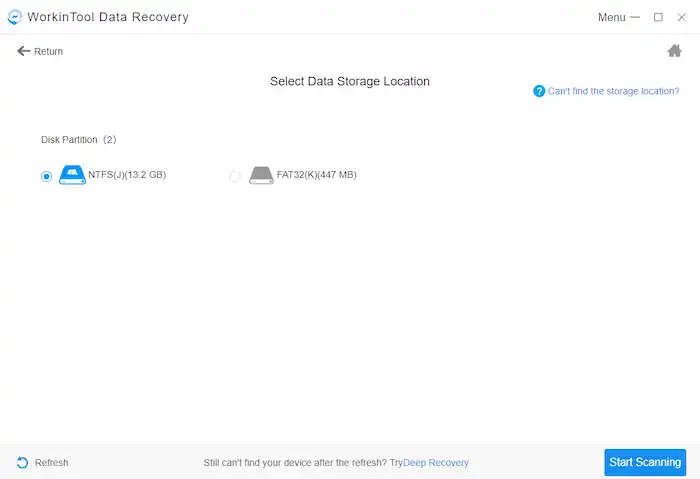 Step 3: Wait for a while till the scanning is finished. Then you will see a File Type menu that recognizes and reconstructs all the data in the camera SD card. You can find your deleted files by file type, name, date, size, and directory, or use the filter option to locate the deleted files precisely.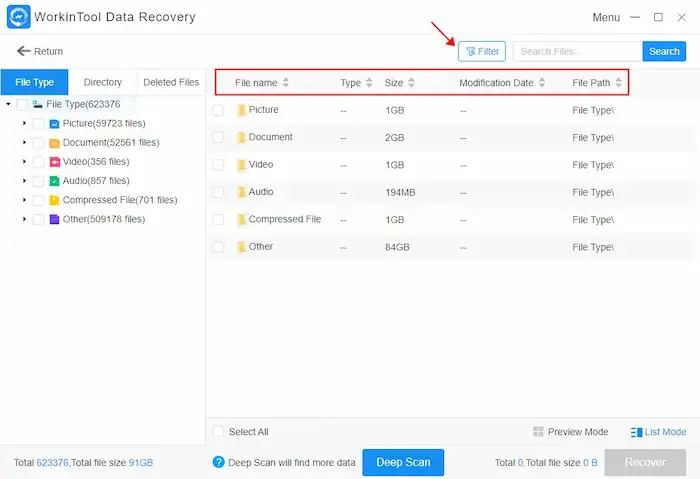 Step 4: In the Deleted Files menu, you can also find all the deleted files being separately displayed from other existing data. After finding the deleted files, tick them, hit the Recover button, and set a path to bring them back.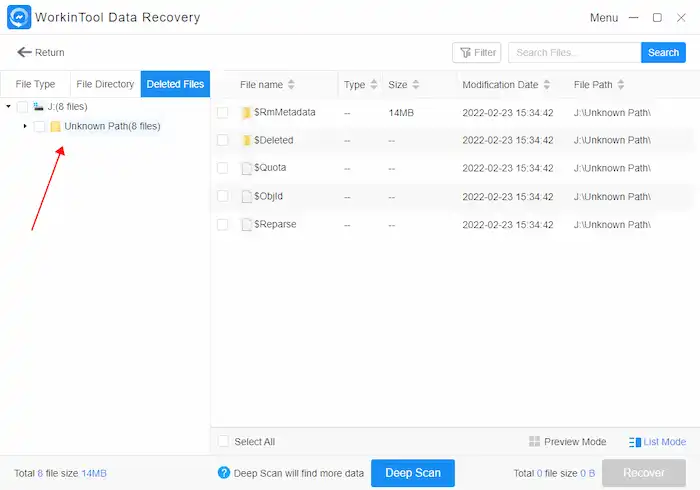 Recover Deleted Nikon Photos with Command – CHKDSK
Except for the free Nikon photo recovery software, a built-in computer tool—Command Prompt, is also worth a shot. It can scan the bad sectors in an SD card and quickly repair logical issues. This method is a bit more complicated than WorkinTool Data Recovery and is not always workable for all Nikon cameras. But you can try it anyway, which does not cost you a penny.
Follow the steps below to perform the CHKDSK command.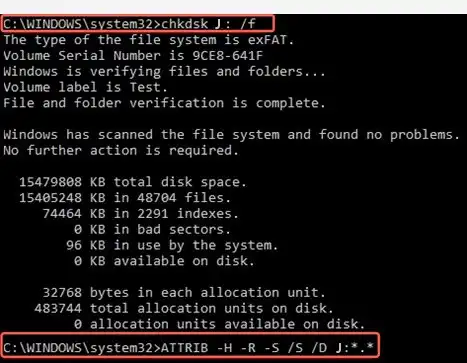 Type 

CMD

 in the desktop search field and select 

Run as administrator

 to open Command Prompt.

Type 

chkdsk C: /f

 

(or replace the drive letter C with your SD card letter) 

and press 

Enter

 to scan and repair the drive.

Once the process finishes, check whether the deleted or corrupted files can be opened.
---
Extra Tips: How to Avoid Nikon Photos from Corruption
Do not take photos/videos on low battery in case of a sudden power outage.

Protect the SD card from physical damage.

Safely plug and eject the SD card from any device. 

(Remove the SD card after turning off your camera.)

Keep a copy before formatting your SD card.

Avoid using an SD card on multiple devices.

Maintain a regular backup of SD card files.

Stop using your camera card immediately once you realize something is wrong with the card.