How to Add Emoji to Photos: Tips and Tricks for Android, iPhone, and PC
Emoji can be a great way to convey emotions such as happiness, sadness, and anger. Photos happen to be the best carriers for your feelings since all humans are visual animals. So, this article will detail how to add emoji to photos. You will find the best solutions on PC Windows, Android, and iPhone. If you have the habit to edit pictures on desktop devices, we strongly advise that you try WorkinTool Image Converter. It is a powerful image editing tool with a great sticker feature. You will enjoy every second using it.
😍 1. More than 30 templates of emojis and shapes.
🤩 3. Easy interface for users to edit with THREE STEPS.
😎 4. Custom to add your own emojis and adjust details.
🥳 5. Cover all the features that you can on the market and exciting filters.
😊 6. Available for image conversion, compression, matting, watermark, and more.
How to Add Emoji to Photos: Tips and Tricks for Android, iPhone, and PC
Emojis, also known as emoticons, have revolutionized the world of digital communication by providing a more personal and expressive way to convey emotions and ideas. In recent years, people have found new and creative ways to use emojis, even in their photos. Whether it's a selfie with a funny caption or a picture of a cute pet accompanied by a heart-eyes emoji, adding emojis to images has become a popular trend. If you're someone who wants to hop on the bandwagon and learn how to add emojis to your photos, you're in the right place. In this article, we will guide you through step-by-step instructions on how to add emojis on different devices and platforms, ranging from Android and iPhone to PC. With our tips and tricks, you'll be able to take your photos to the next level. So, let's get started!
---
What is Emoji and Why Add Them to Photos

An emoji is a small digital image or icon that represents an emotion, concept, object, or idea. Emojis are often used to convey emotions such as happiness, sadness, and anger or to indicate a thing or action. They can help add a layer of personality and expressiveness to your text messages or social media posts.
There are a number of benefits to adding emoji to photos on Instagram:
How to Add Emoji to Photos on a PC
Do you want to add a little fun and humor to your photos? Do you need to add emojis to your pictures but need to know how? You don't have to be a graphic designer to do this. Now you can use image editing software on your PC to add your desired emojis to your photos quickly and easily. With this method, your photos will have a unique and entertaining touch. Among all the image editing tools on the market, we recommend WorkinTool Image Converter as the best.
🎉 WorkinTool Image Converter 🎉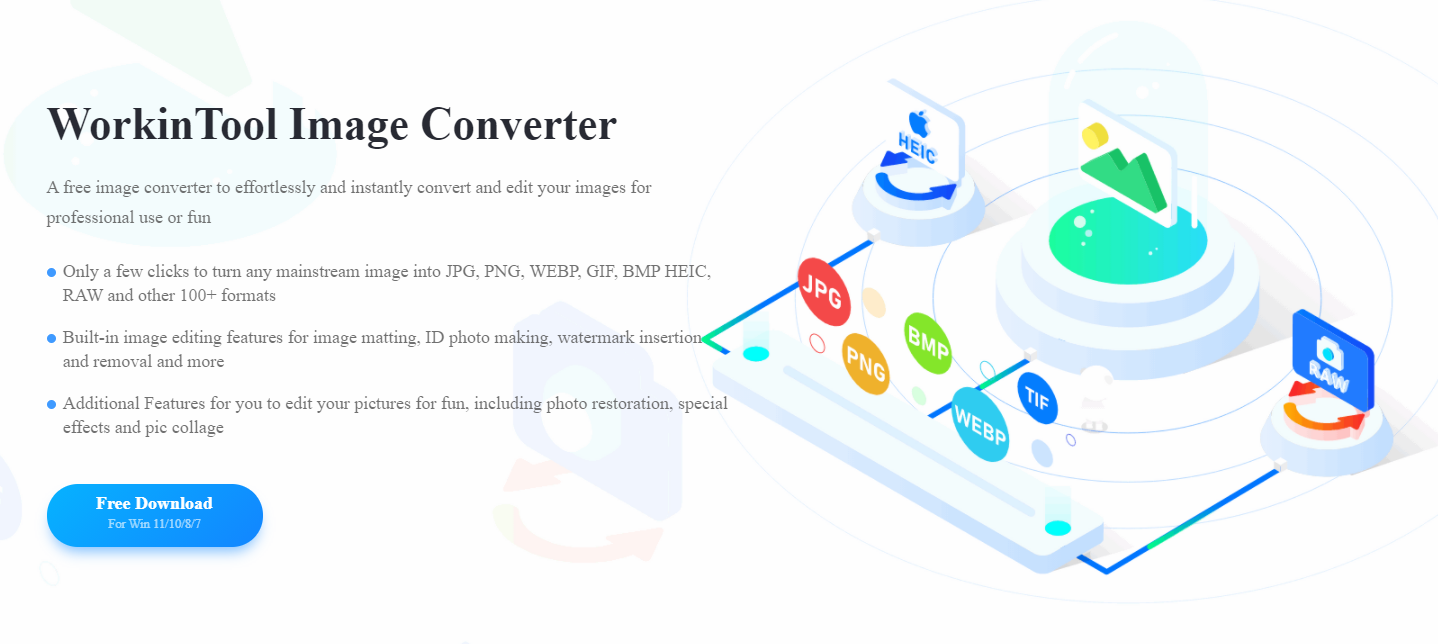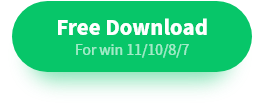 WorkinTool Image Converter is a powerful software solution that can help you handle all your image-related tasks without breaking a sweat. This lightweight tool comes with an intuitive interface so that even beginners can use it with ease. Many valuable features can help you convert, compress, resize, and edit your images quickly and efficiently. You will always feel clear and confident with clear instructions on each feature page.
Additionally, WorkinTool Image Converter offers over 30 templates, including emojis and shapes, to help you add stickers to your images. You can also customize your own pictures with ease. The converter is known for maintaining image quality even after conversion. Finally, all the editing features you could need are available, making it an all-in-one solution to your image needs.
100 +image formats conversion available

Customize to enlarge or compress images

Add or remove photo watermarks

Change or remove the image background

More than 65 image filters to apply
📕 How to add emoji to photos with WorkinTool
1. Launch WorkinTool Image Converter and click on the Edit Images button.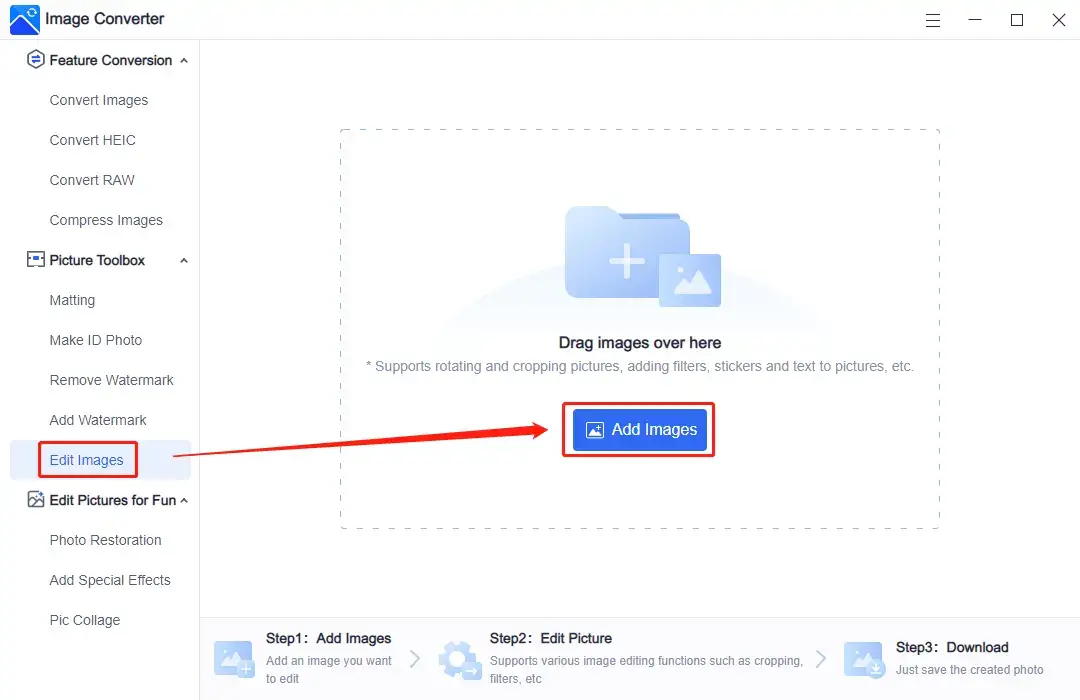 2. Add your picture and select the Sticker option to add all the emojis. (You can also customize to flip, copy, and adjust the color and transparency.)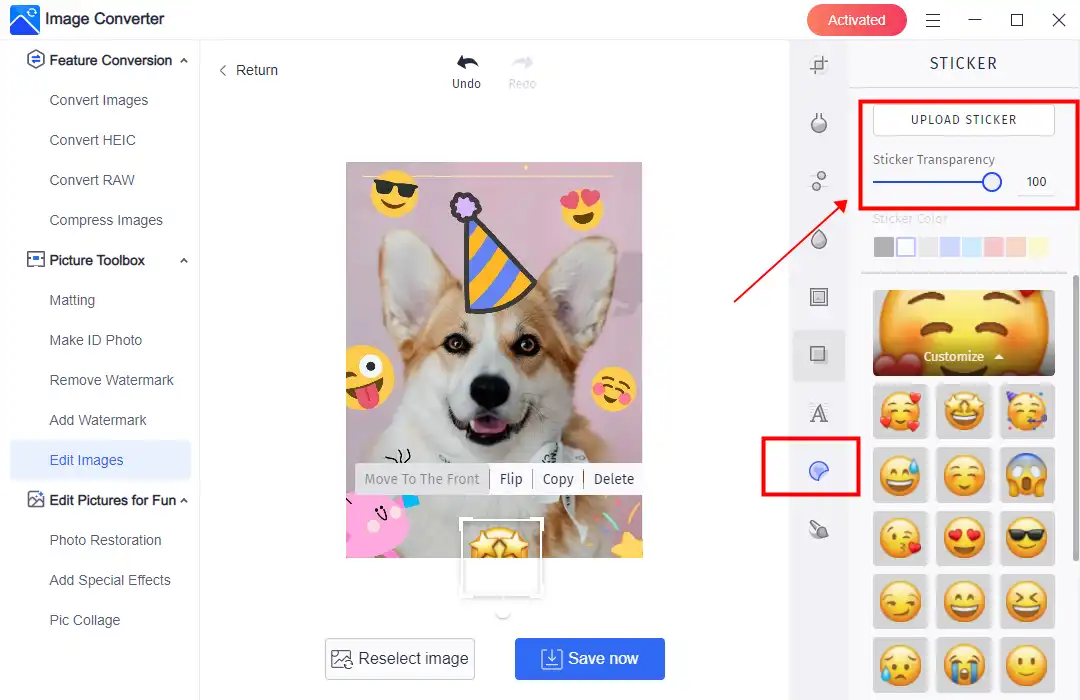 3. After you have made all the adjustments, click Save now to finish it.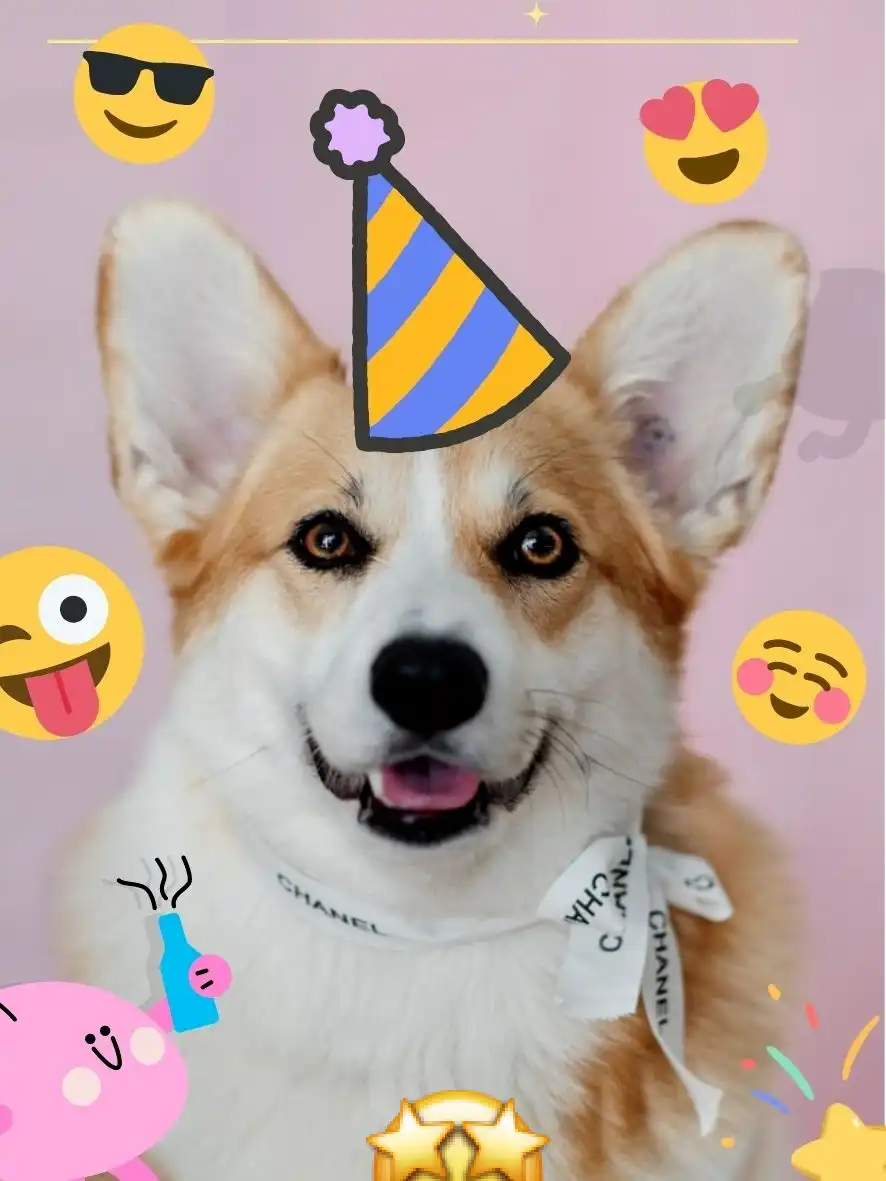 (Here is the final result)
💖 More Additional Features for WorkinTool Image Converter 💖
---
How to Add Emoji to Photos on Android
Do you find yourself constantly downloading and juggling different photo editing apps on your phone? It may be time to go back to basics and try a more traditional approach. Most people know that you can add text to photos directly in your phone's album, but did you know that you can also add emoji stickers to your pictures in the same way? Emojis are a fun and easy way to add a unique pop to your images. Here we will walk you through the easiest way to add emojis to photos on Android. Follow these simple steps below and get ready to make your photos stand out like never before.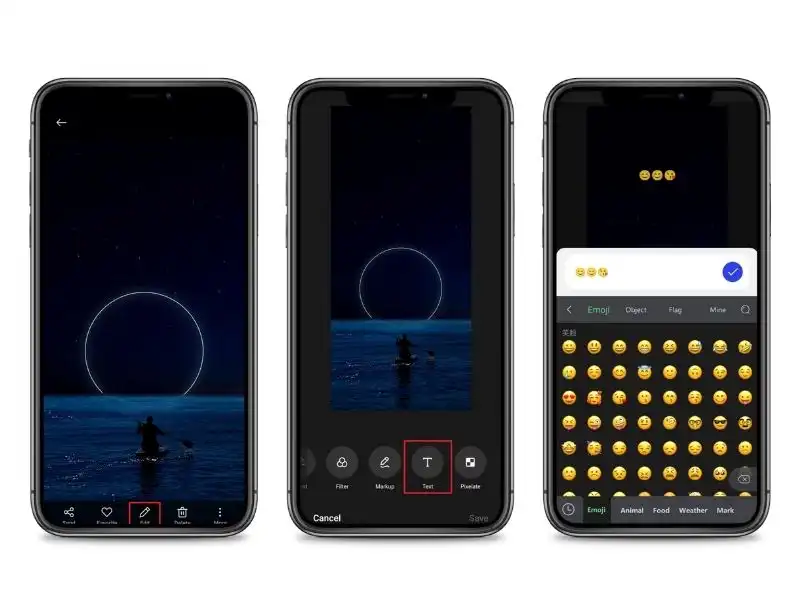 ---
Put Emoji into Photos on iPhone
Similar to the method on Android, users can also do the same trouble-free Emoji-adding operation on iPhones. While many people know that they can add text directly to their iPhone's photo album, they may need to learn that they can also add fun emoji stickers. Adding emojis to your photos is an easy and enjoyable way to make your photos stand out. Here I am going to show you how to use iPhone built-in album to create images with emojis without any costs.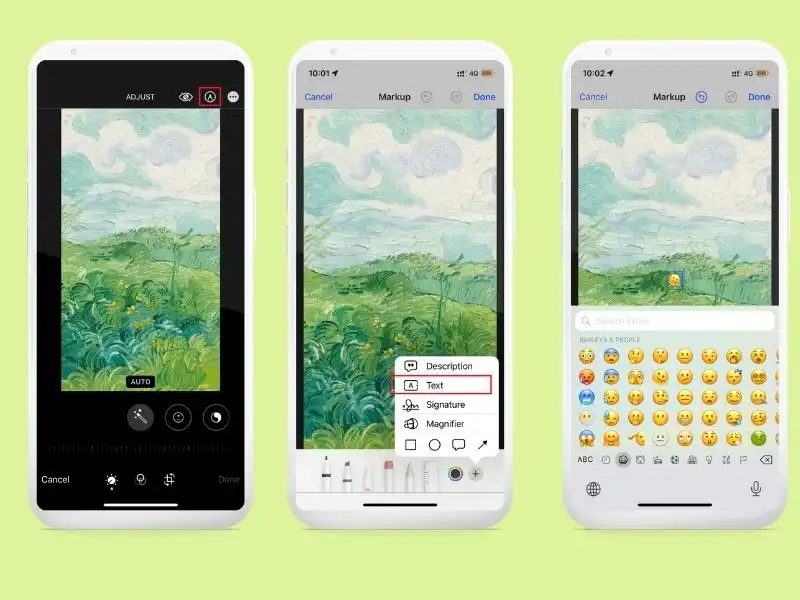 ---
Use Instagram to Do the Trick
Well, if you are familiar with Instagram, you must know that there is also an innovative feature that can help users add emojis to photos. If you don't use Instagram, please know that Instagram is a powerful tool for sharing photos and videos, connecting with friends and family, and showcasing your creativity to the world. If you can post pictures with emojis, you can express emotions, enhance your message, and add a fun touch to your photos. In this guide, you will learn how to use Instagram to add emojis to your photos, whether you are posting to your personal account or using Instagram for business purposes. So, let's get started and take your pictures to the next level with emojis!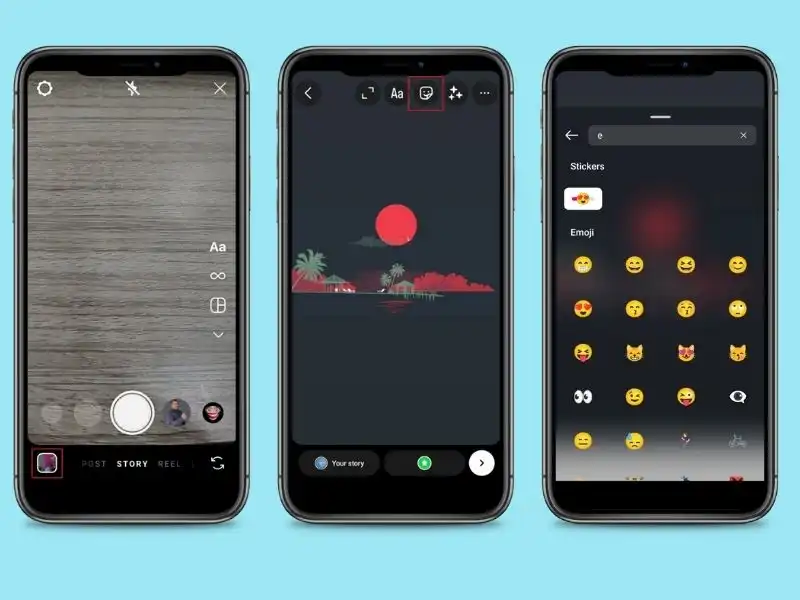 ---
Conclusion
Emojis have become a familiar and essential tool to express emotions and intentions. Over time, they have evolved from static and straightforward sets of images to more dynamic and personalized forms, giving users the freedom to express themselves more effectively. Adding emojis to photos has also become a popular trend in recent times. It offers new and exciting ways to express yourself and makes your photos stand out from the crowd.
As discussed earlier, adding emojis on Android, iPhone, or PC is easy and straightforward. It requires minimal effort and offers a significant advantage in enhancing your communication skills. By following our tips and tricks, you will be able to add and customize emojis with ease. So, add those emojis and have some fun!