How to Blur the Background of a Picture | Free Ways
Image blurring can do a lot of impact on the viewing experience. A picture with its background blurred can concentrate more on the main subject. Here we will provide you with the detailed methods to do that. Three different ways on three platforms to blur the picture, and we want you to at least find one that fits you. Of these three, the WorkinTool Image Converter works best on the Windows system. It is professional and user-friendly. More importantly, it is 100% free to use its functions. Come and experience all the magic.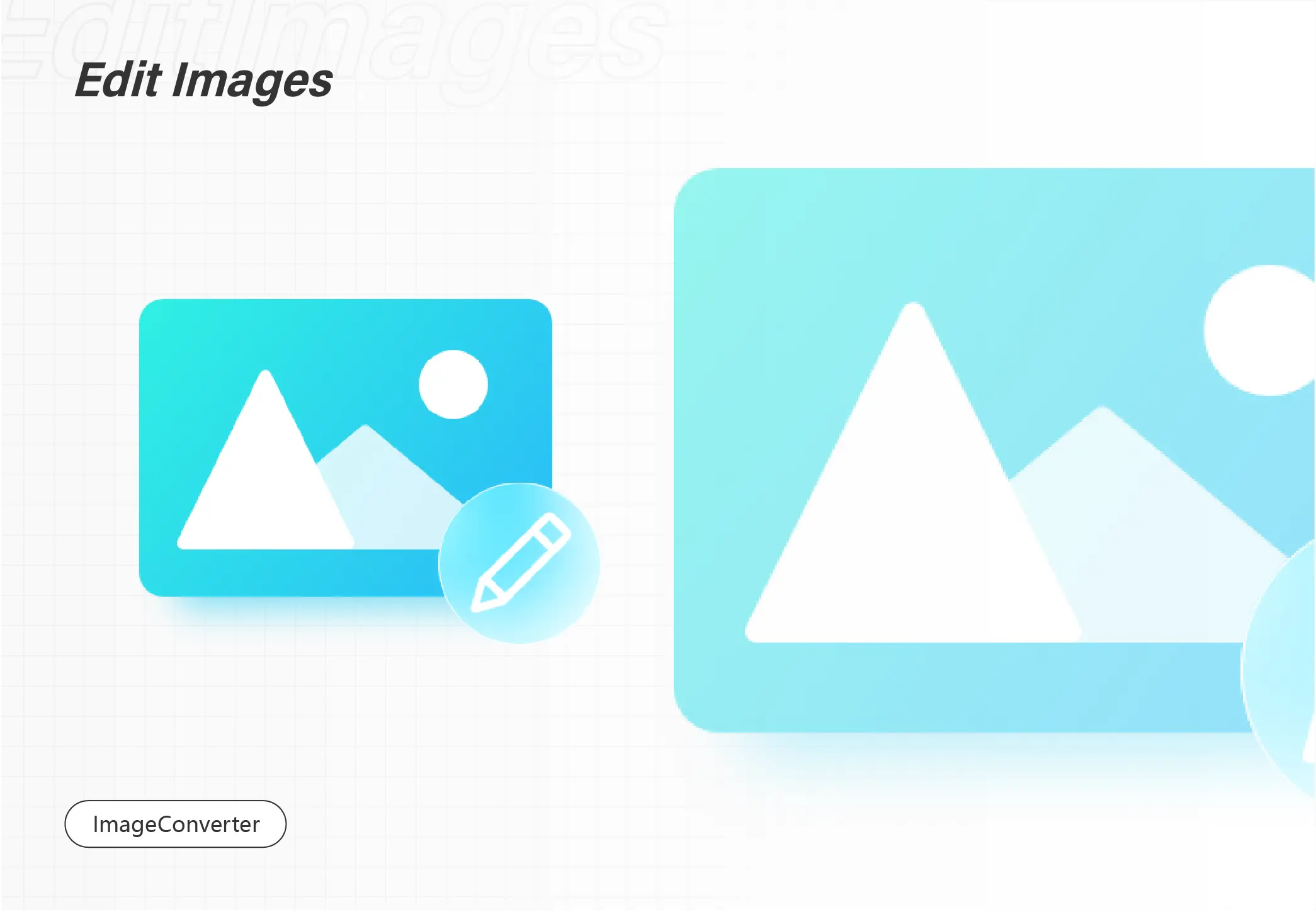 How to Blur the Background of a Picture | Free Ways
There is no doubt that now and then you will see some stunning Instagram pictures that blur the background to emphasize the main subjects. With basic aesthetic knowledge, you should know that a picture with too much information on the background will not only drag the attention out of the subject but also make the entire photo look like a mess. So, what will you do? I believe most of you will try to figure out the method of how to blur the background of a picture and apply the same effect in your own photos. Well, lucky you, with swift technological advancement, you don't have to be a professional photographer with high-end photographic equipment to achieve that. By using a blur effect called Bokeh, you will be able to 100% reproduction of the background blur pattern produced by professional photography.
Here in this post, we will guide you to walk through the detailed methods of how to blur the background of a picture. All the approaches that we will mention in this article are totally free to use on Windows, iPhone, and Android. Now, let's dive into the steps.
How to Blur the Background of a Picture on Windows
Let's be honest, blurring a picture can be such a challenging job if you don't have the right tool that suits you. First, not to mention professional image editing software like Photoshop can consume a load of precious time and assets, not everyone can be an image editor pro that can use Photoshop skillfully you know. Its tedious and complicated learning curve alone has been boring enough to shut people out. That is why so many people would choose to ask for help from professional photographers rather than do it by themselves. Well, that situation is about to change. Here I want to introduce this easy-to-use image editing tool, WorkinTool Image Converter – the perfect substitute for Photoshop.
WorkinTool Image Converter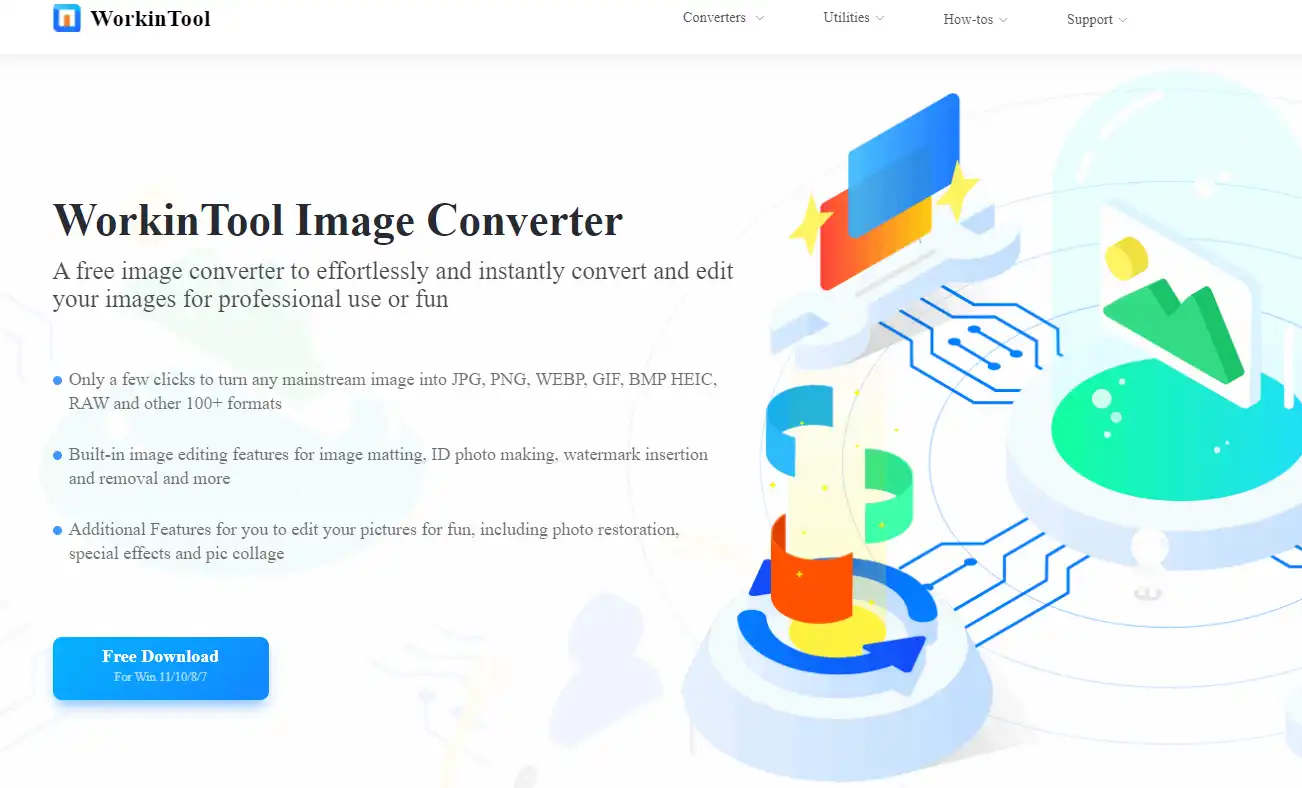 WorkinTool Image Converter is a super user-friendly image processing software. Unlike other image tools, WorkinTool doesn't use black as the software tone, and for each feature other than the name, it gives an explanation and a brief step-by-step procedure. This design avoids the need to be like any other image processor, leaving first-time download users unsure of how to use those features.
Except for the clean navigation interface, it contains a variety of image processing features, including those you have seen on the market and other exclusive content. For example, there are image format conversions, image size compression, picture parameter adjustment, and fun image filters to apply. More than 100 different image formats are supported for editing, making it the most compatible image editor.
Now, let's see how to use this amazing image tool to blur a picture's background.

1. First, open this tool and click on the Edit Image to upload the picture you want to blur.
2. Then find the waterdrop icon and select one blur effect out of four.
Radial Blur: A gradual blurring effect that radiates outward from the center.
Mirror Blur: Making a blurry effect using the middle line as the division.
Linear Blur: Blur the image content by two lines.
Gaussian Blur: A blurring effect that radiates to the whole image.
3. Move the scope of the blurring area and adjust the intensity.
4. Once it is done, tap Save now to keep this blurred image on your computer to check.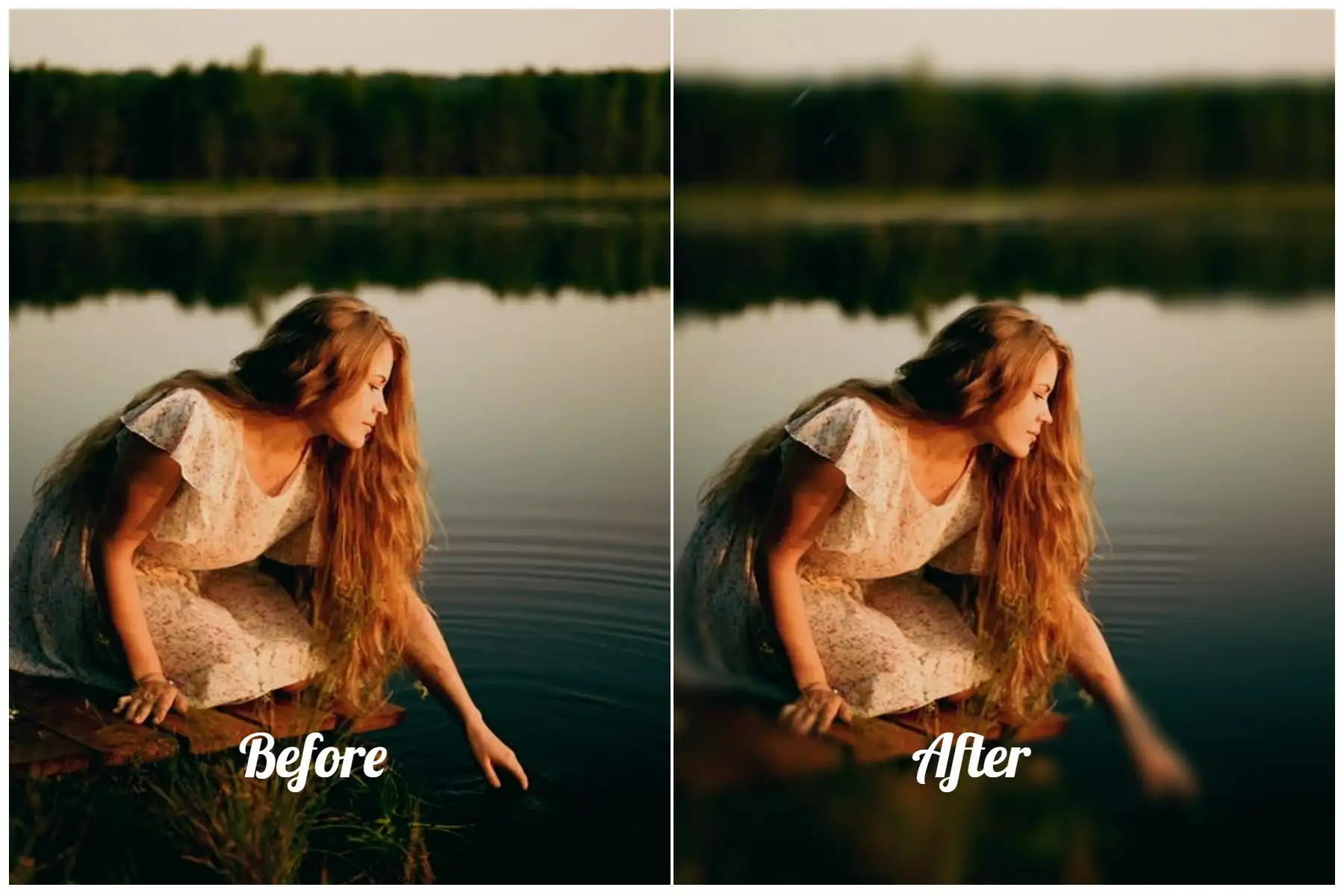 Also, you can use this blurring effect, combined with other editing features, to create some stunning ad posts. Here is a picture that I made. I used the Gaussian Blur effect and added some text to make it more artistic. And those are just some random features that I use to create it. I am sure you would make pictures so much better than I did.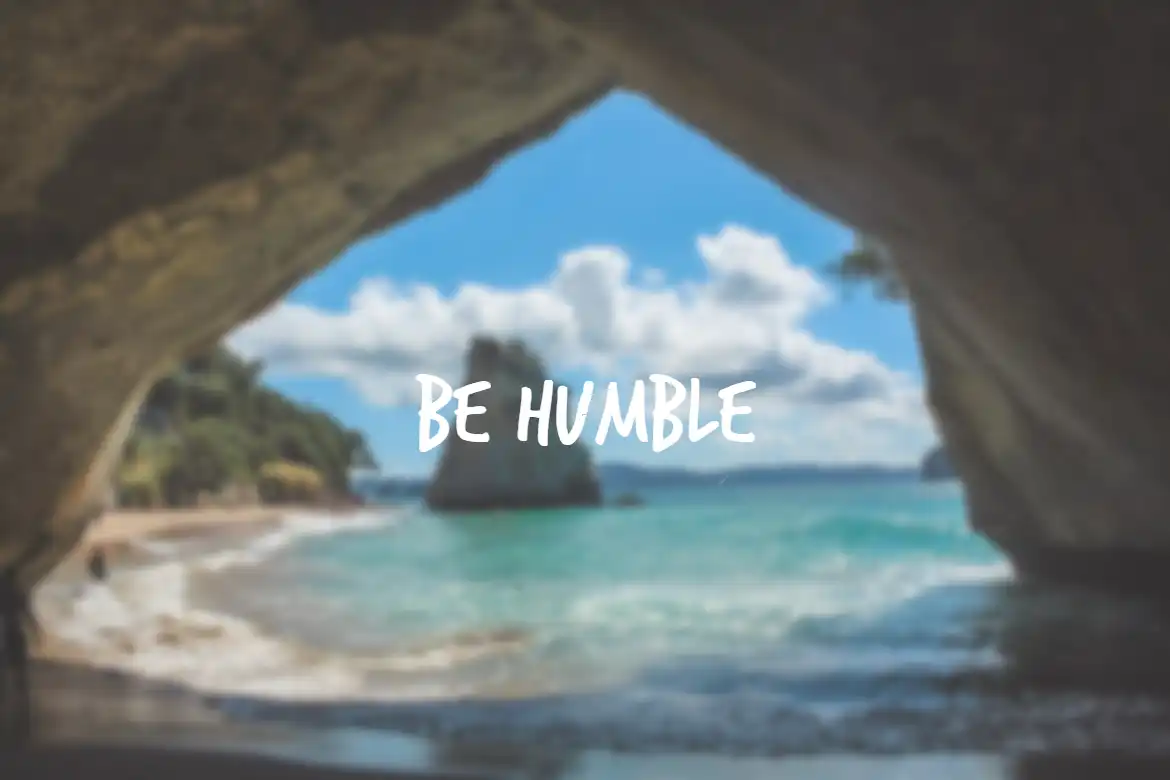 💖 Additional WorkinTool Image features 💖
---
How to Blur Background on iPhone
On iPhone, the simplest way to blur the background of a picture, or shall we say the bokeh effect is to use the Portrait mode.
iPhone Portrait Mode
① If you haven't taken your photograph yet, you can use Portrait Mode to automatically blur the background. Though you can use it to apply to other subjects' shooting. But the best condition is still to take a photo of people.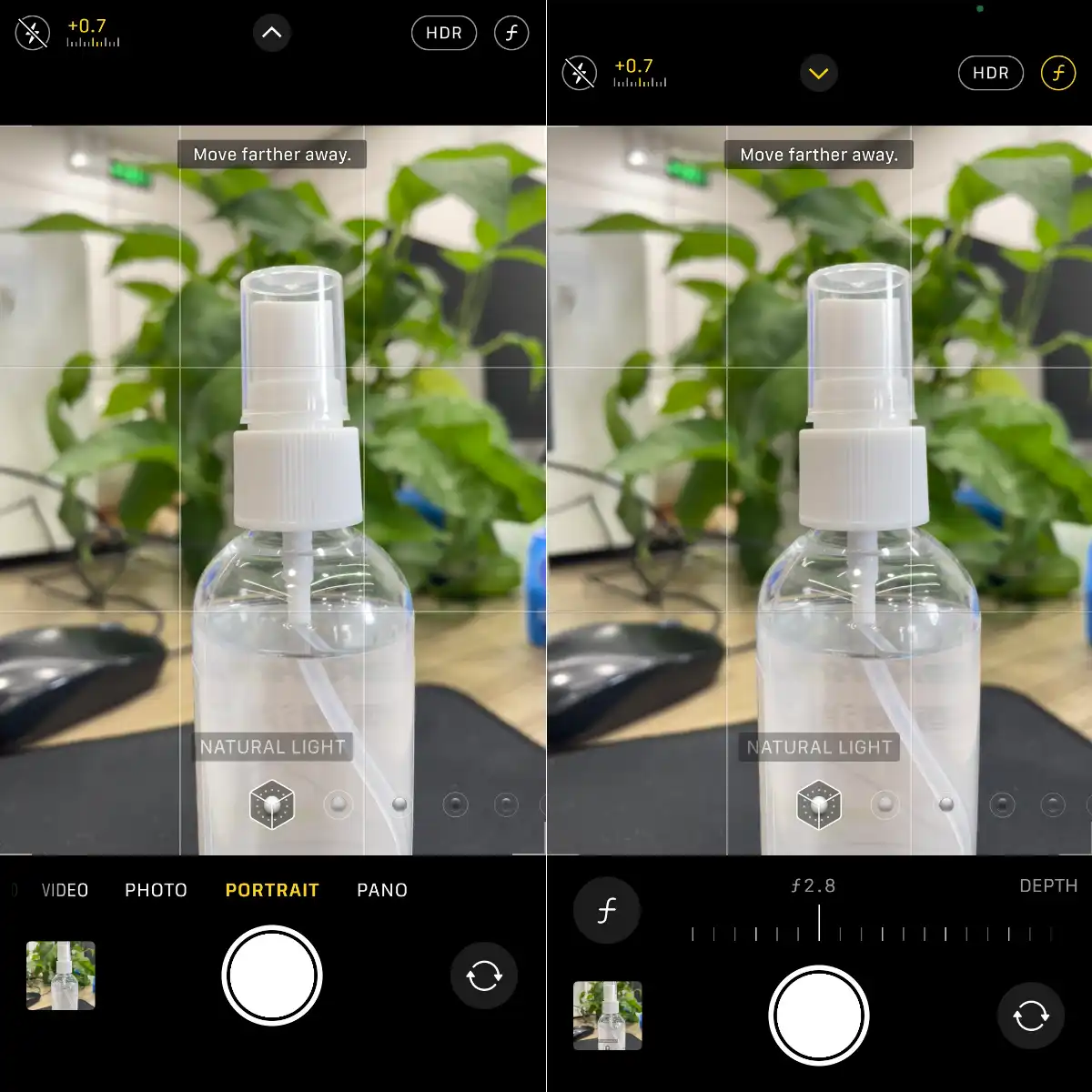 Open your iPhone Camera and swipe the mode to Portrait.
Select one type of portrait lighting here.
Follow the instructions to take the picture.
Once you have funded the right angle, press the white button to take the background-blurred picture.
② What if you have finished the photo but didn't use the portrait mode? Well, don't worry, there is also an editing function that can help you blur the background of your photo.
First, open the picture in the Photos app, and tap the top right Edit button.
Find the f/number icon at the top left and use the Depth slider to adjust the blurring feature.
Remember, a lower f/number gives a stronger blurring effect, and a stronger f/number shows more background details.
Lastly, after you have blurred the picture, you can save the photo again with a blurry effect.
How to Blur a Photo on Android
Most Android phones, like Samsung Galaxy, already offer Portrait Mode in the camera app. So normally you just need to follow the steps we have provided you in the iPhone section so you can get an auto-blurred picture. What is different is how to adjust the blurring effect of the picture in the photo viewer app. Here's a look at how the Android phone works.
Open the Photos app on Android and find the Edit button.
Select the Blur option and picture the blurring mode.
Adjust the area that you want to blur and the intensity.
Click the tick icon to finish blurring and save it to the original location.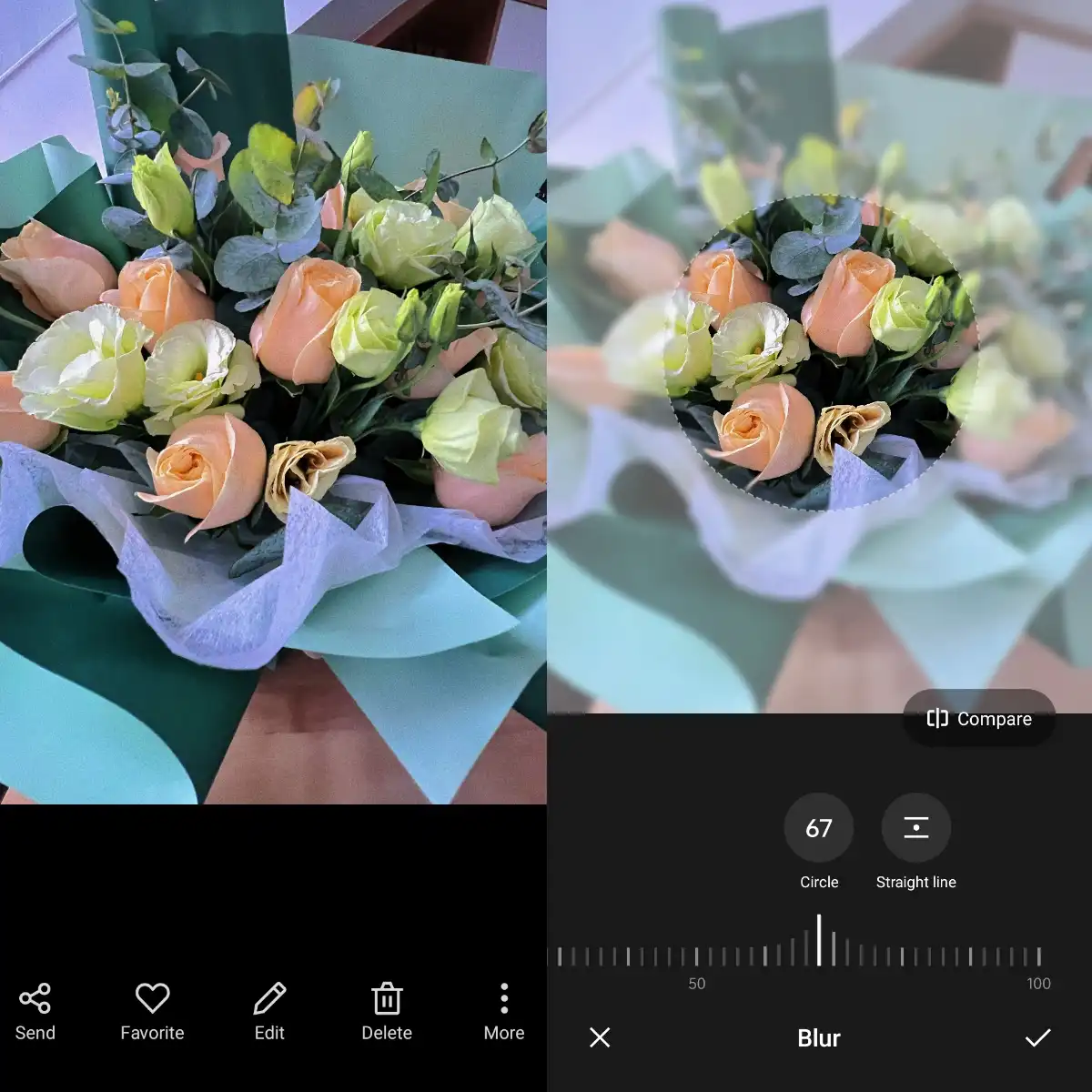 ---
More to Share
In conclusion, blurring the background of a picture can contribute so much to the people viewing experience. Here we list three different methods on three platforms, including Windows, iPhone, and Android. And all three of them are totally free of charge. For mobile phones, we recommend that you use the built-in function to deal with them. In terms of Windows PC, we highly suggest you to try WorkinTool Image Converter. Though a third-party application as it is, we believe you will love it once you have used it to operate image editing. Give it a chance, you won't regret it.
If you have any suggestions or problems, please feel free to contact us.
Products Reviews:
TrustScore
4
|
323
reviews