How to Convert AVIF to PNG on Windows and Mac FREE | 4 Solutions
As AI technologies are increasingly applied to various fields, it becomes increasingly vital for us to learn how to store and convert various file formats. In this article, we will provide you with four solutions for dealing with the problem of converting AVIF to PNG on Windows and Mac using AI-powered applications. Among all, WorkinTool Image Converter performs best with its text and art generator. You can check it out for more details.
😍 1. Up to FREE 5 image batch conversions and compression try-out.
🤩 3. Easy operating steps with AI technology.
😎 4. Support more than 100 different image formats to operate.
🥳 5. Cover all the features that you can on the market and interesting filters.
😊 6. Available for image conversion, compression, matting, watermark, and more.
How to Convert AVIF to PNG on Windows and Mac FREE | 4 Solutions
The AVIF (Advanced Video Encoding Format) has become increasingly popular for encoding and streaming video content in recent years. However, if you need to save an AVIF image file for later use, you may want to convert it to a more commonly used image format, such as PNG. This article will explore how to convert AVIF to PNG and improve image quality.
Later you will know four solutions to convert AVIF files to PNG on Windows and Mac for free.
---
Things to Know Before the Conversion
🤔 What is an AVIF file?
AVIF stands for AV1 Image File Format, and it is a new image format that uses the AV1 video codec to compress images. AV1 is an open and royalty-free video codec that offers better compression and Quality than other video codecs like HEVC and VP9. According to Wikipedia, AVIF can achieve much higher compression ratios than JPEG and PNG while preserving more details and colors. For example, an AVIF image can be 50% smaller than a JPEG image of the same Quality or 10% smaller than a PNG image of the exact resolution.
📄

Benefits

of Converting

AVIF

to

PNG

:

Compatibility

, Transparency, and Quality
---
How to Convert AVIF to PNG on Windows For FREE
To quickly and easily convert your AVIF images into PNG files that you can use right away, you need a professional image conversion tool on your Windows desktop. Windows tools cannot open and edit AVIF files, so we recommend AI-powered WorkinTool Image Converter for Windows as a helpful tool to simplify the process for you.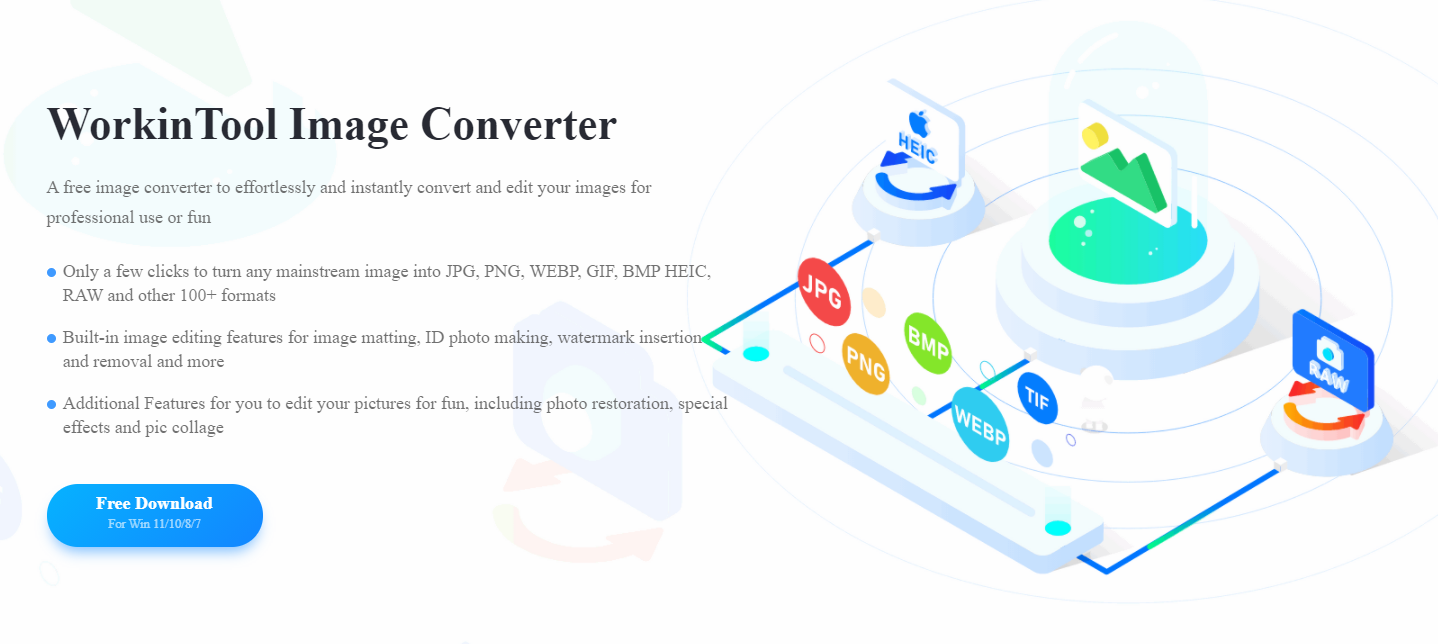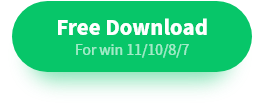 WorkinTool Image Converter is an AI-powered desktop image conversion package that offers over 100 image formats for users to perform conversions. It covers all the formats that users may need in their daily and work lives, including AVIF and PNG. The software uses AI technology to convert AVIF to PNG with high quality and speed. It can preserve the original image's details and colors and optimize the output image's compression and transparency. Another important feature of image conversion is batch conversion, and WorkinTool Image Converter can do that too. It lets users convert up to five images at a time for free in batches.
Besides, users should know that the software is an image conversion tool and supports many image processing functions. Moreover, it is the best and simplest image tool for Windows. The detailed steps for each function can be clearly seen on the home page, and users can quickly finish image processing regardless of their experience level.
100 +image formats conversion available

Customize to enlarge or compress images

Add or remove photo watermarks

Change or remove the image background

More than 65 image filters to apply
📒 Look how it works with WorkinTool:
Step 1. First, open this tool and select Convert Images on the home page to add your AVIF files.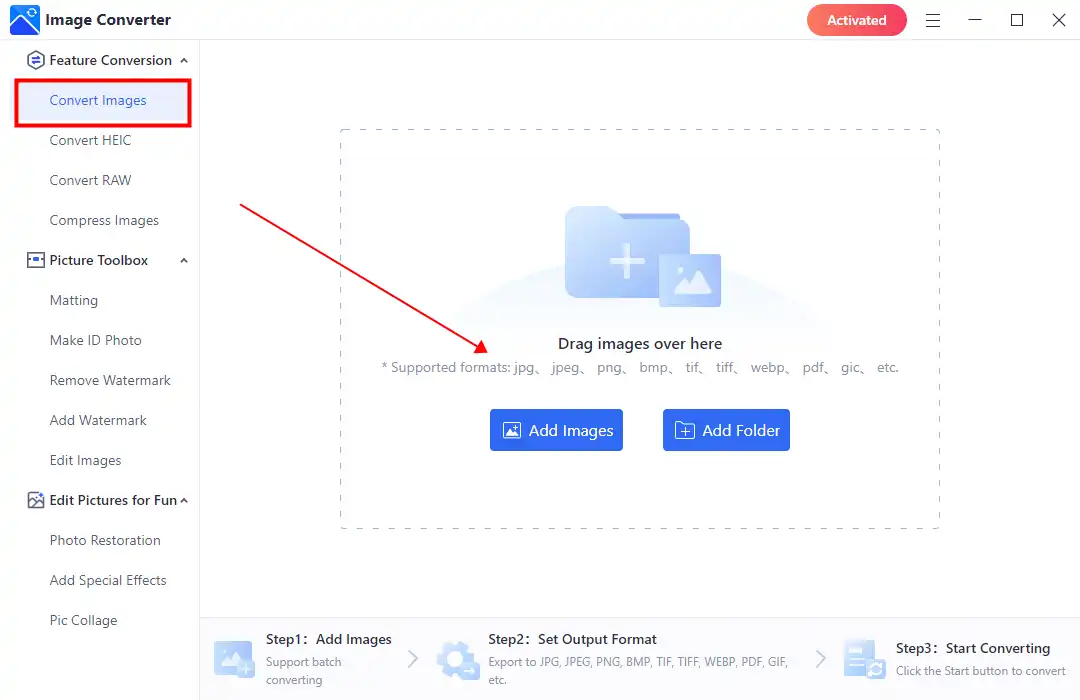 Step 2. Find PNG from the drop-out menu on the Output Format. Then click Start to make it convert.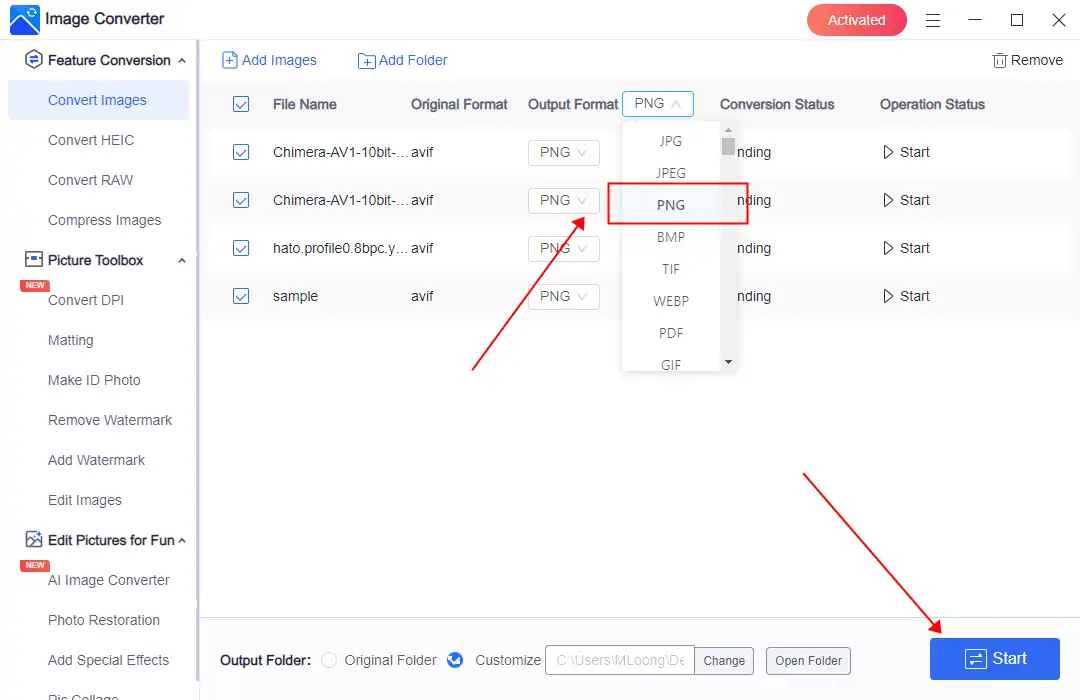 Step 3. Please wait for it to finish the conversion, then click View Now to see the result.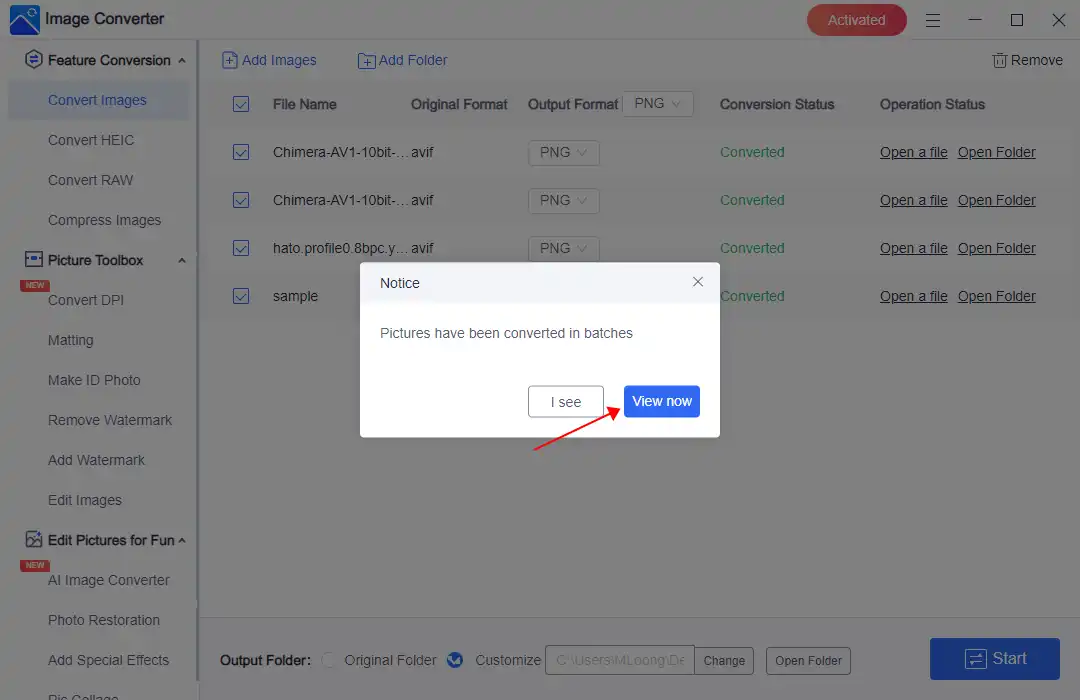 💖 More Additional Features for WorkinTool Image Converter 💖
---
Save AVIF as PNG-An Alternative Way
There are always multiple ways to solve a problem, and AVIF-to-JPG conversion is no exception. In this chapter, we will show you another FREE method to help you achieve this goal–Microsoft Photos.
Microsoft Photos can't open AVIF with its default settings but can view and edit it after installing an AVIF extension feature. So, this built-in program on Windows will become a great image editor when upgraded. After installing this plug-in tool, you should be able to open AVIF files using MS Photos.

📕 How to Change AVIF to JPG via Microsoft Photos?
1. Install the AVIF extension and open your AVIF images with MS Photos.
2. Click the three-dot icon (…) > Save as.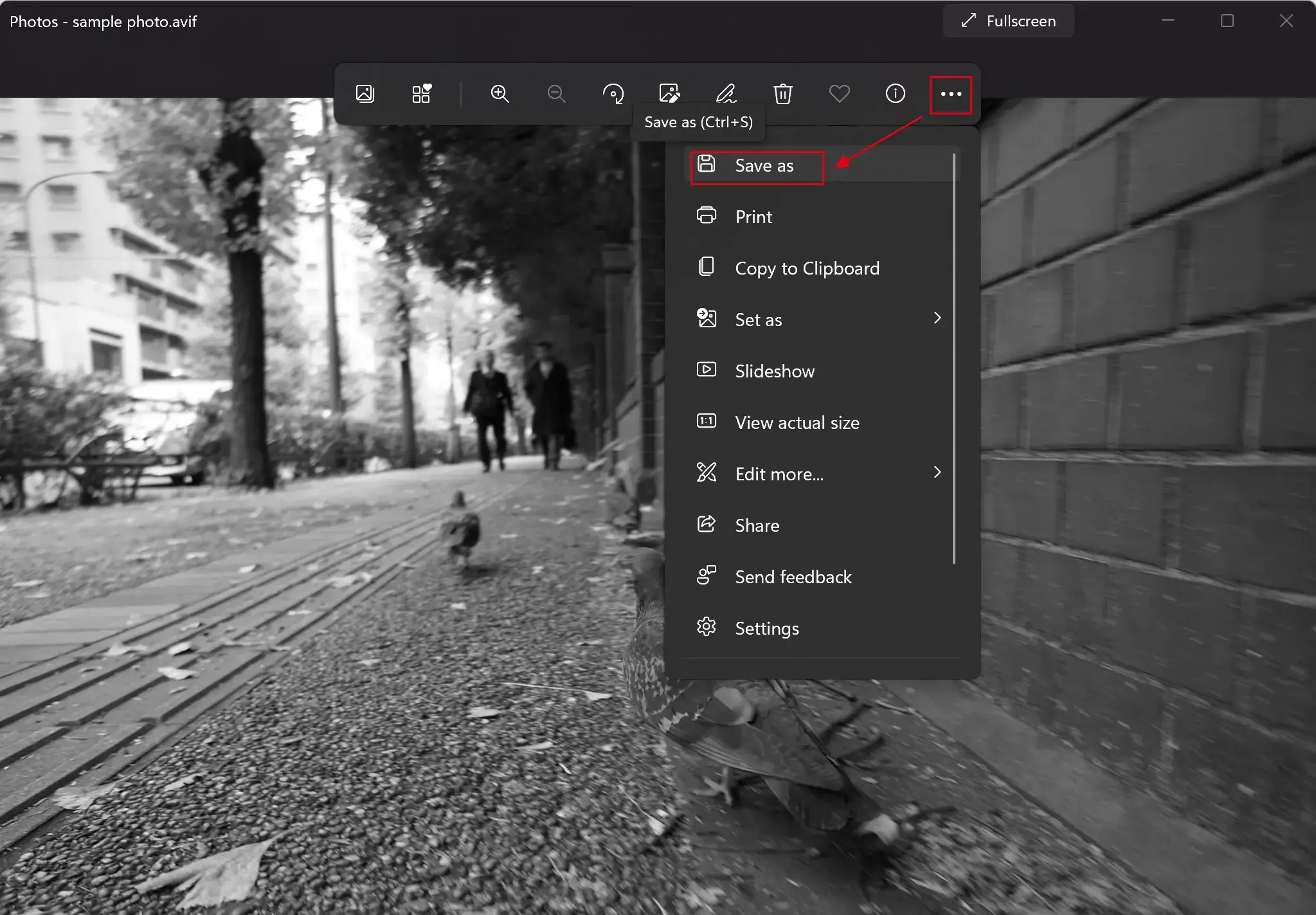 3. Find .jpg in the drop-down menu in Save as type and hit Save.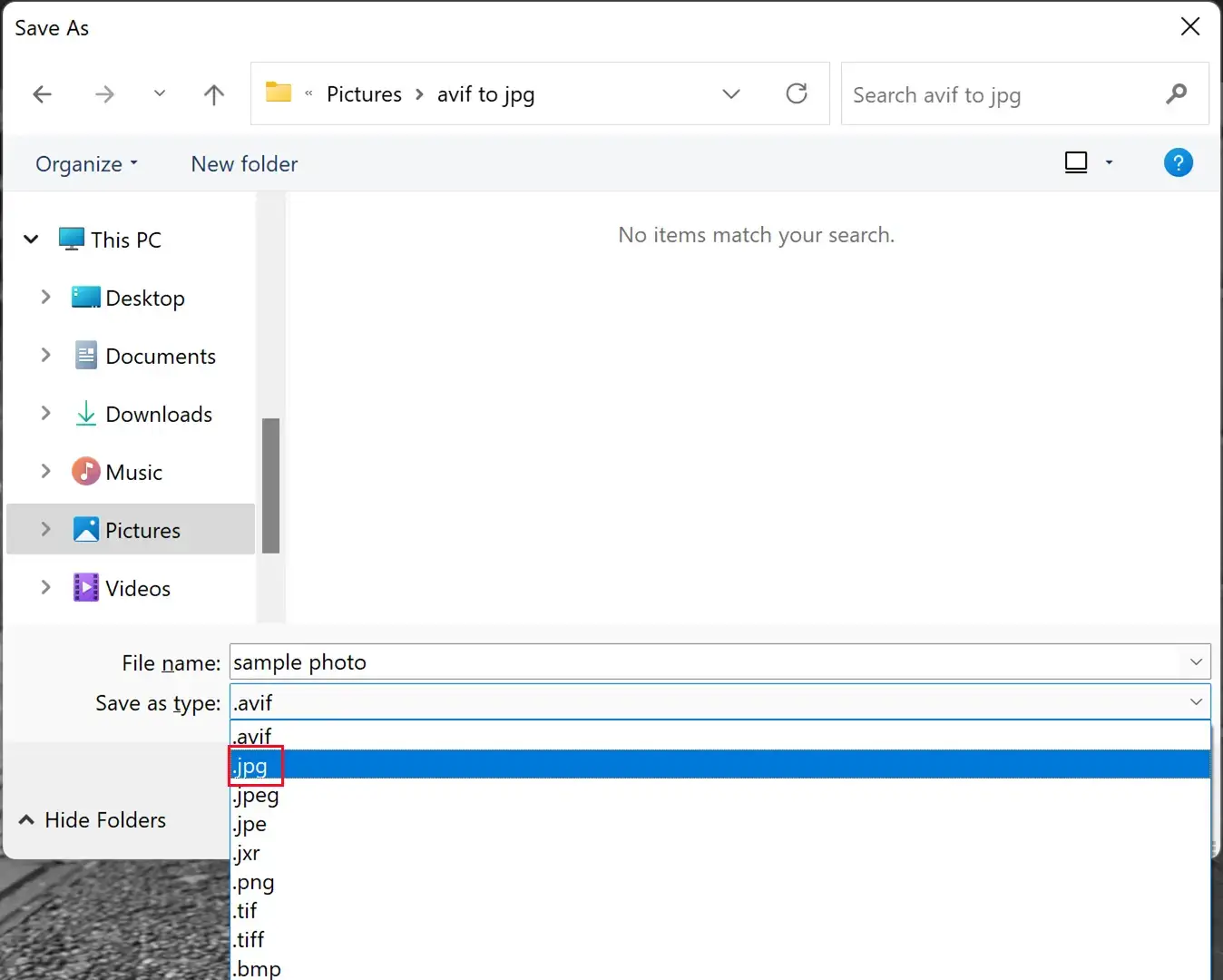 Please see the outcome.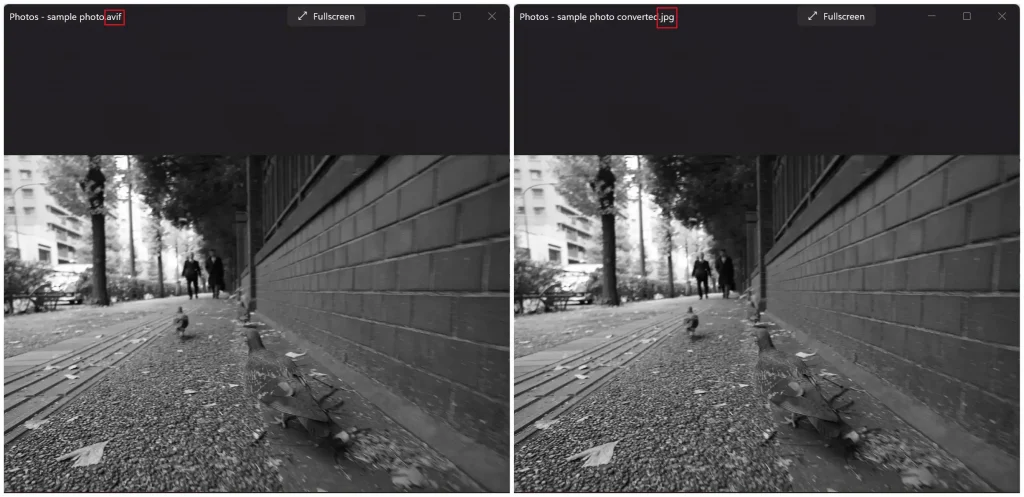 ---
Use Mac Preview to Convert AVIF to PNG Images
While it may be difficult for Windows users to open AVIF files with built-in software, you don't need to download any plug-ins to handle AVIF images if you're a MAC user. The built-in Mac Preview app is perfectly compatible with this format. The Preview is a macOS tool that enables you to edit and preview documents in various forms. It has a user-friendly interface and a function that allows you to convert AVIF files to PNG. Furthermore, it's completely free, making it an ideal choice for you to use.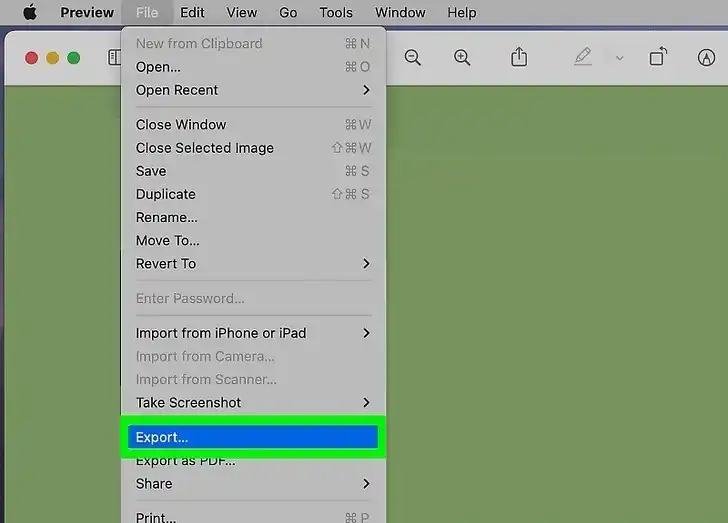 Step 1. Right-click to open your AVIF images with Preview.
Step 2. Tap File > Export… and select PNG as the output format.
Step 3. Finally, go to the saving folder to check the result.
---
Online AVIF to PNG Converter
However, you can try out online image conversion tools to avoid having to download desktop image converters. These online services can also perform good format conversions. But you should know that since they are all online tools, you need to upload AVIF online. Therefore, it is safer to upload images that do not contain sensitive information. In terms of effectiveness, we recommend that users try out the online image conversion tool: Convertio AVIF to PNG.
Convertio is an online file converter that supports more than 300 formats for videos, images, audio files, and e-books. You can use it to convert files quickly and easily without downloading or installing any program on your device. Convertio is cloud-based and works on any platform and browser. It also uses AI technology to recognize and convert your images in batches.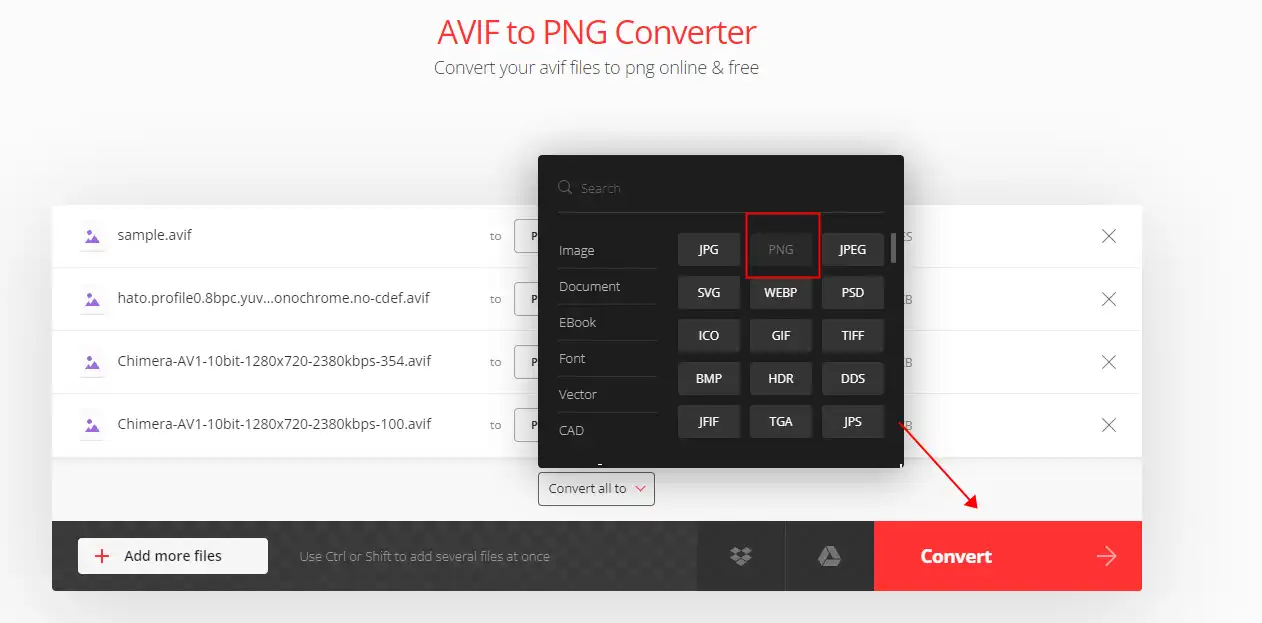 📙 Convert AVIF to PNG using Convertio:
1: First, use your website explorer to visit Convertio.
2: Input AVIF picture(s) and select PNG as the converting format.
3: Finally, click Convert and wait for it to finish. Then you can download those converted PNG images.
---
More to Share
Converting AVIF files to PNG format can be very useful for users who use AI-powered applications. If users choose to convert AVIF formats, they will gain a more compatible format to be used in a variety of AI-powered applications. Since AI technology is used more and more often in various fields, it is crucial for users to get more access to increase their AI virtual assets.
If you want a Windows converter that can make the process easier and handle many formats for batch conversion, WorkinTool Image Converter is a good choice. It can work with AVIF and PNG and more than 100 standard and rare formats and has many image editing features. It can do any imaging task you need. And the best part is it's totally free for image batch conversion. If you are looking for a trustworthy and powerful AI image converter, WorkinTool Image Converter is a great option.