How to Remove Highlight from PDF Free Online and Offline
Wondering how to remove the annoying highlight from PDF for free? Online and offline solutions are available here. With the free and effective WorkinTool PDF Converter, nearly 95% of PDF issues can be figured out in seconds. Just upload your PDF file to remove the highlighted part.
1️⃣ Entirely free to use PDF Edit and PDF Reader tools
2️⃣ Easy for beginners to use
3️⃣ Comprehensive PDF solutions
4️⃣ Export a new PDF without losing clarity or formatting
5️⃣ No watermarks or ads
How to Remove Highlight from PDF Free Online and Offline
The method of adding highlights to a PDF can sometimes highlight the key content well, but sometimes the highlights may not be what we want. And too many highlights will not only stand out the key points but also cause visual fatigue. If you have this kind of trouble, then you need to remove the highlight from the PDF. However, as we all know, PDF is an unchangeable file format. If you want to edit PDF documents, then you need to rely on extra PDF editing software. This guide covers how to remove highlight from PDF with free online and desktop PDF editors. Hope it can give you some aid.
📌 How to Remove Highlight from PDF for Free on Desktop 
Unhighlight in PDF with WorkinTool PDF Converter
WorkinTool PDF Converter is a technical, free PDF processor that combines all helpful PDF editing tools into one. With its clear and comfortable interface, even new users can use it to cope with PDF issues without any effort. It is a multi-functional PDF editing software with multiple functions such as PDF reading, PDF document editing, format conversion, compressing PDF document size, deleting/rotating pages, merging PDF documents, and PDF document annotation. To use it, you don't have to fill in your privacy and contact information. All your uploaded files will be deleted directly from its server, guaranteeing your data security extremely. As a PDF editor, it proceeds countless merits, such as:
Bound with multiple editing tools such as notes, highlighters, lines, erasers, page manager, signature, text, etc
100% free to use PDF Edit and PDF Reader tools without restrictions
Virus-free with a highly secure server
Quick upload speed
Clear operating interface and easy to use
No watermark and ad
Now let's check how to remove highlight from PDF with WorkinTool PDF Converter.
Step1. Launch the software, and then find the PDF Edit under the View & Edit column. Then upload a PDF file with highlights in it.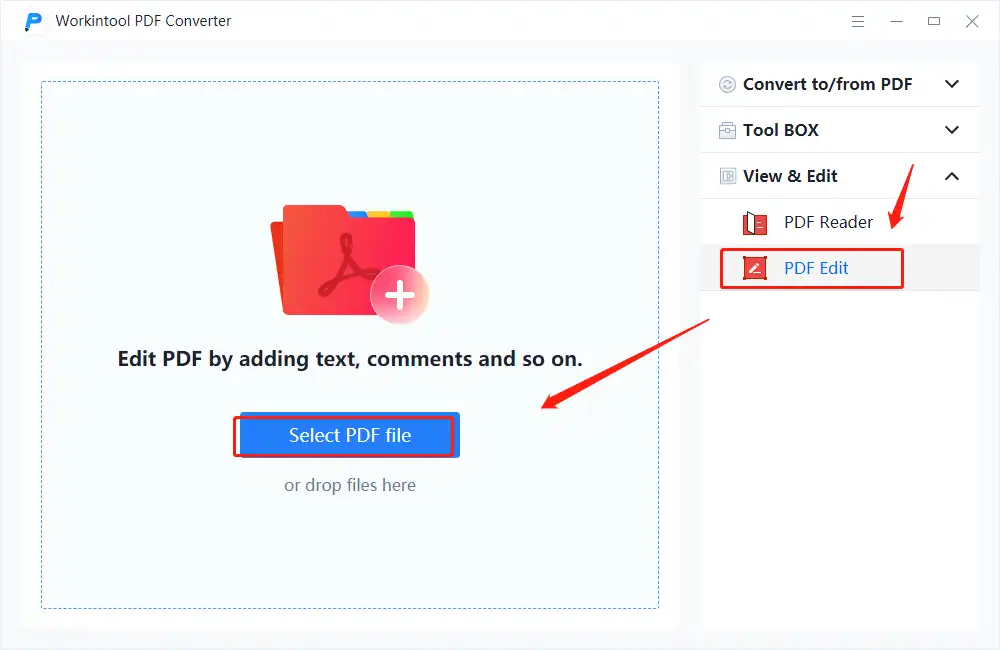 Step2. Pick the highlighted part, then click the delete icon on the top right. Then a pop-up window will prompt you to confirm the deletion.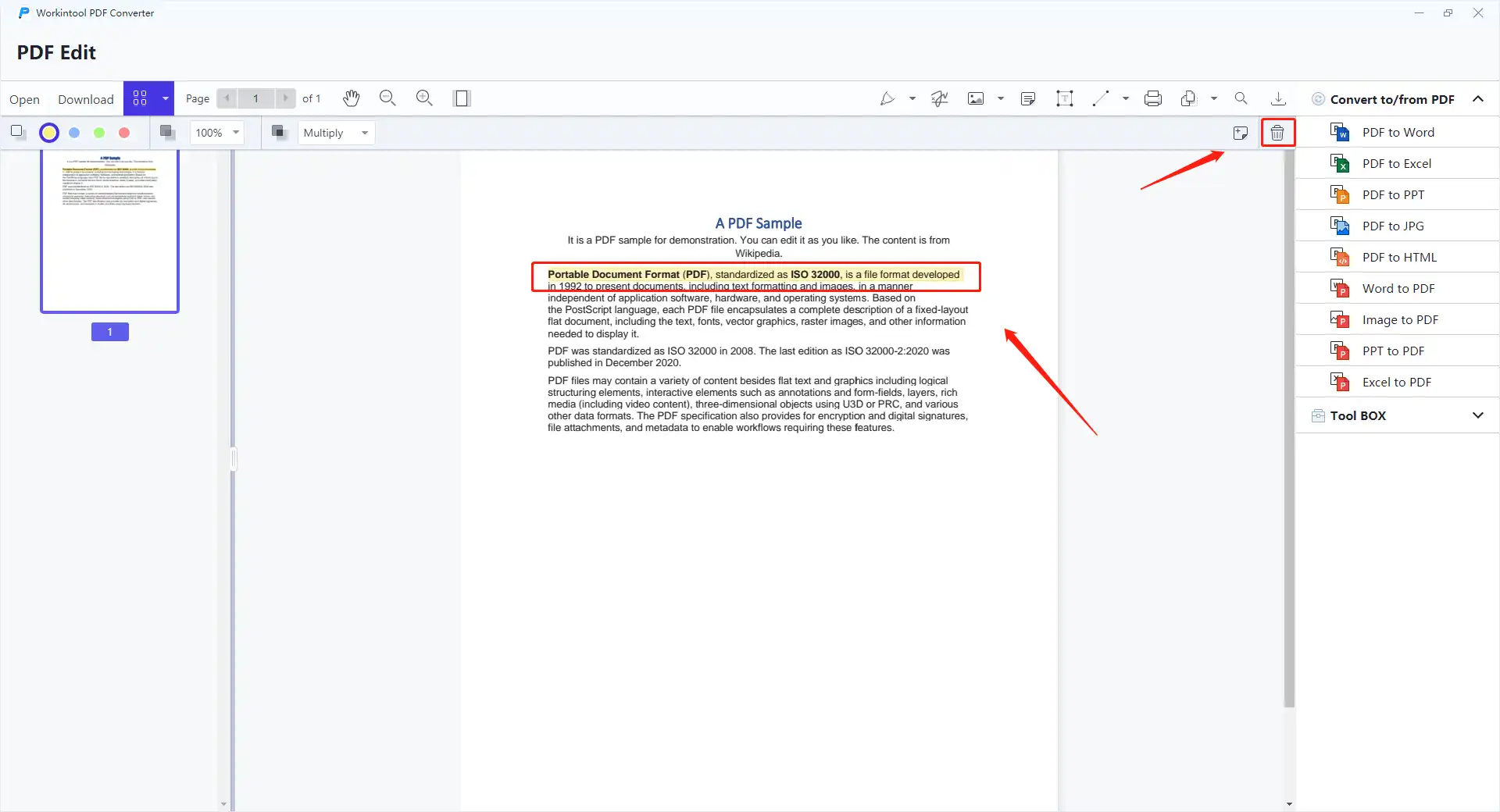 Step3. After unhighlighting the text, press download to save the edited PDF.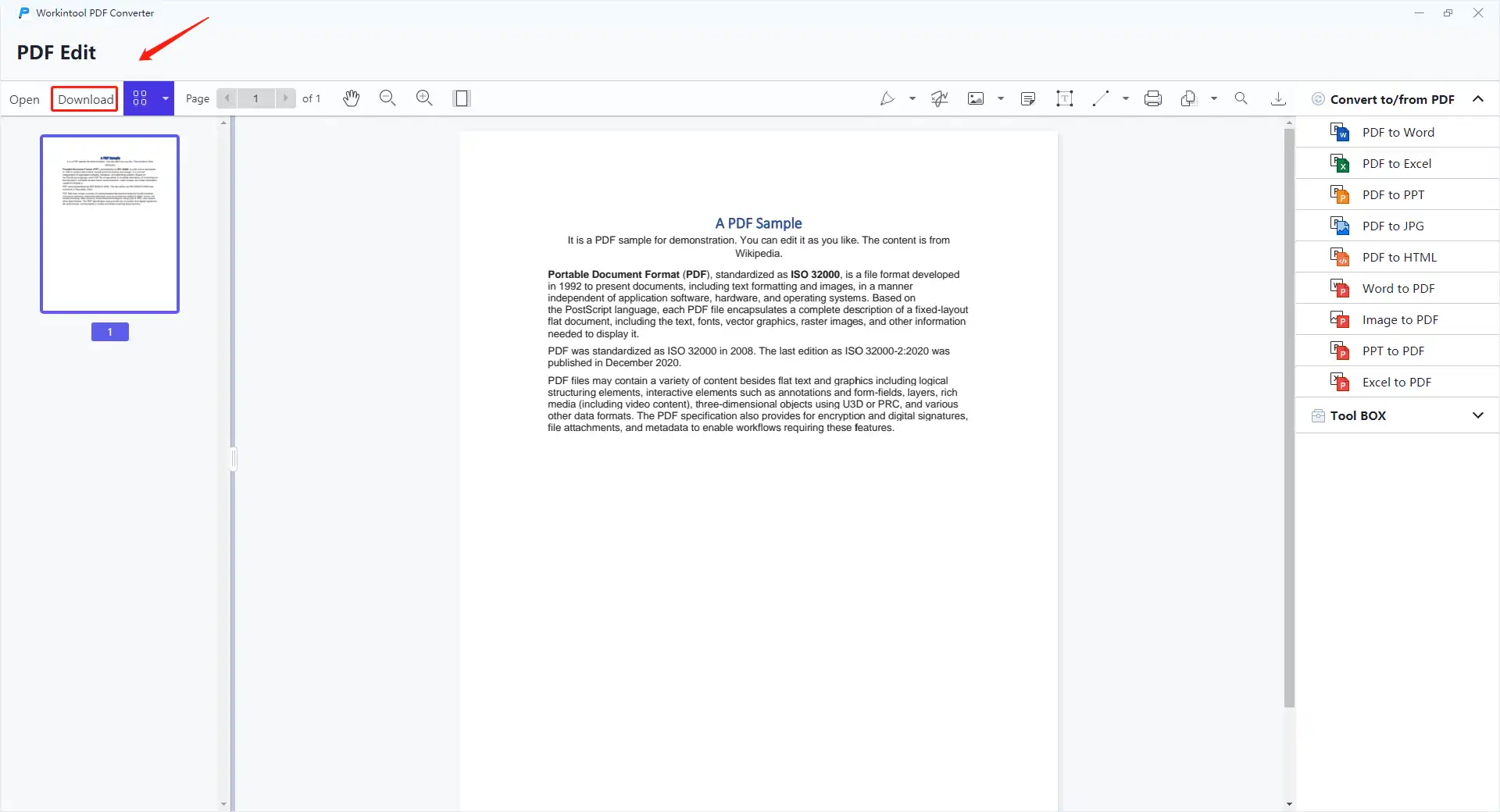 Other PDF Editing Usages of WorkinTool PDF Converter
Remove PDF Highlights by PDFelement
Wondershare PDFelement is another easy-to-use, comprehensive and powerful PDF editing tool. It is suitable for Windows, Mac, and mobile phones. One of its outstanding advantages is its OCR function, which can directly scan the text on the file and convert it into an editable state. In addition, it can automatically recognize creating forms, adding text fields, creating interactive PDF forms, etc. However, not all its functions are designed for free. If you want to compress PDF, OCR PDF, or save the edited PDF without its brand watermark, then you need to subscribe to it. If you don't mind the problem of watermarks, it's indeed a good choice to use it to deal with PDF issues.
The following tutorial covers how to remove highlight from PDF with PDFelement.
Step1. Open the software, then select Open File to upload the PDF file.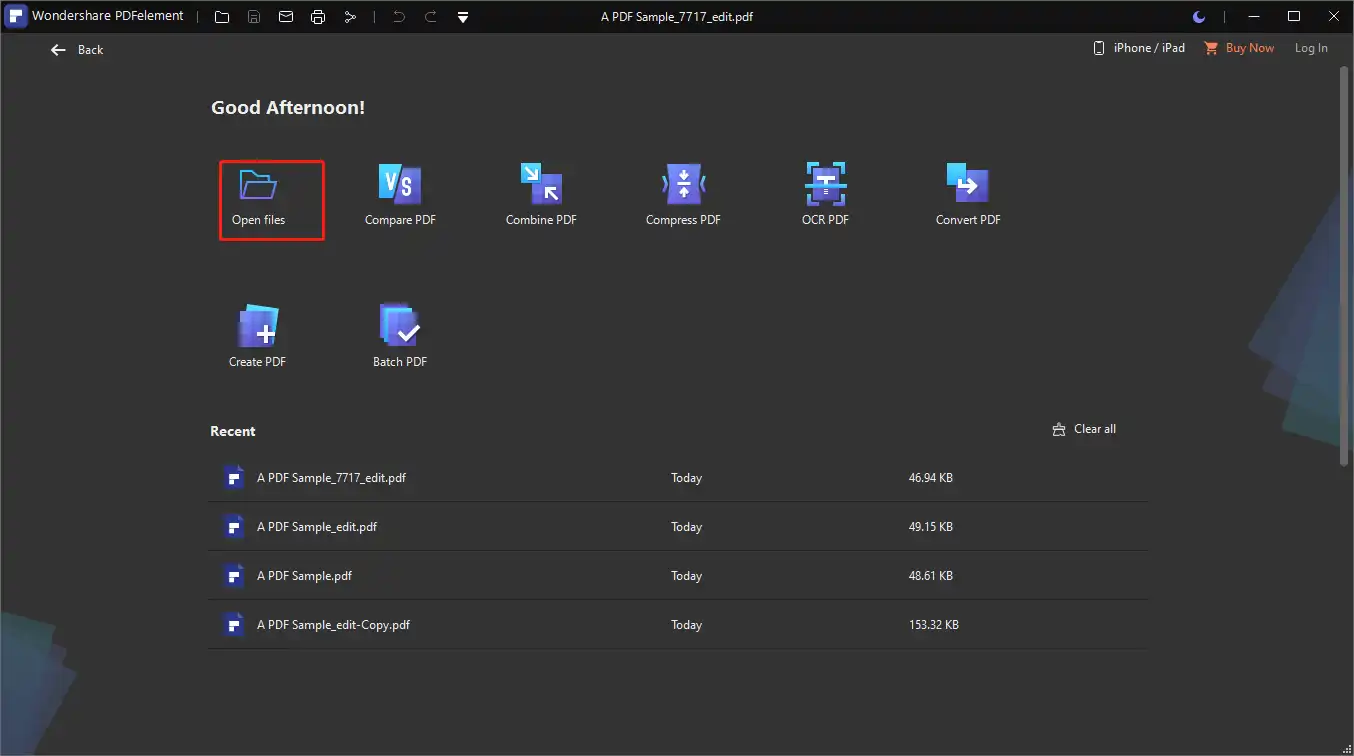 Step2. Right-click the highlighted text to pick, then paste Delete.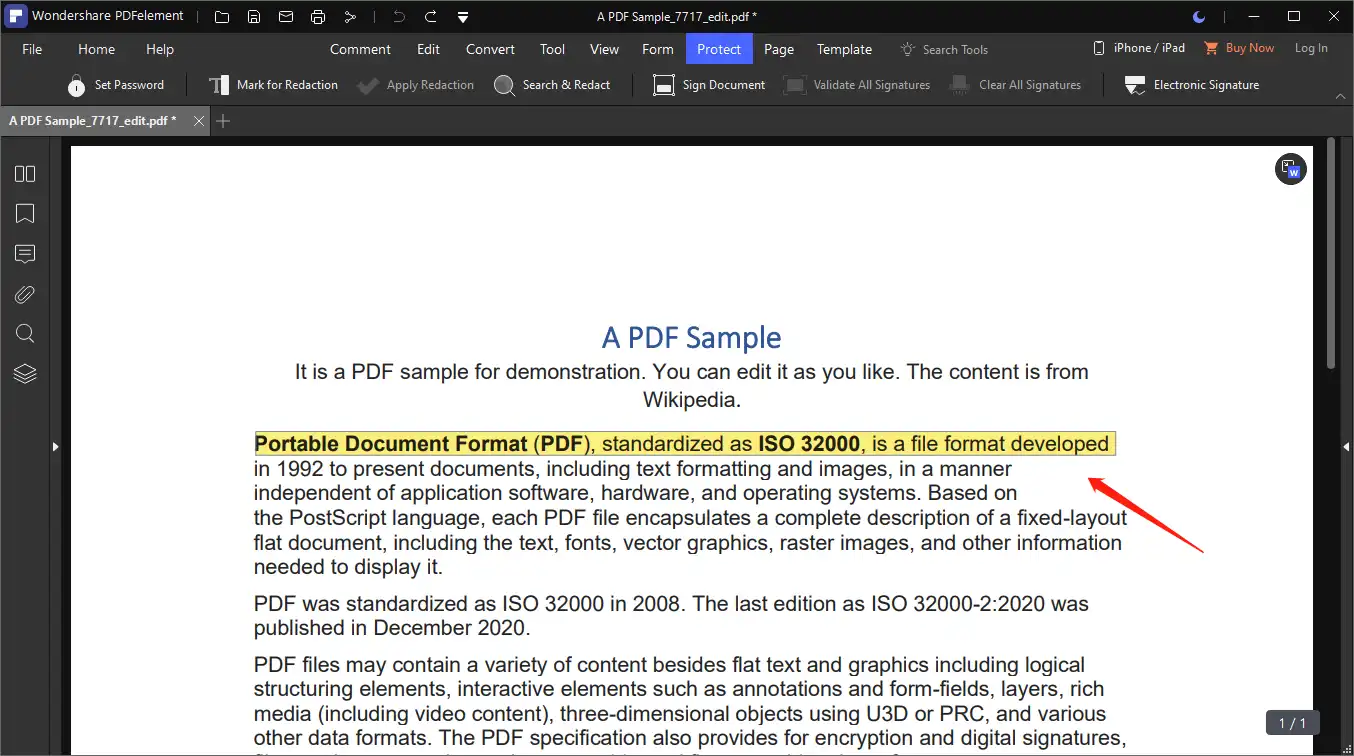 Step3. Select File> Save As> Continue Trial to download the edited PDF file.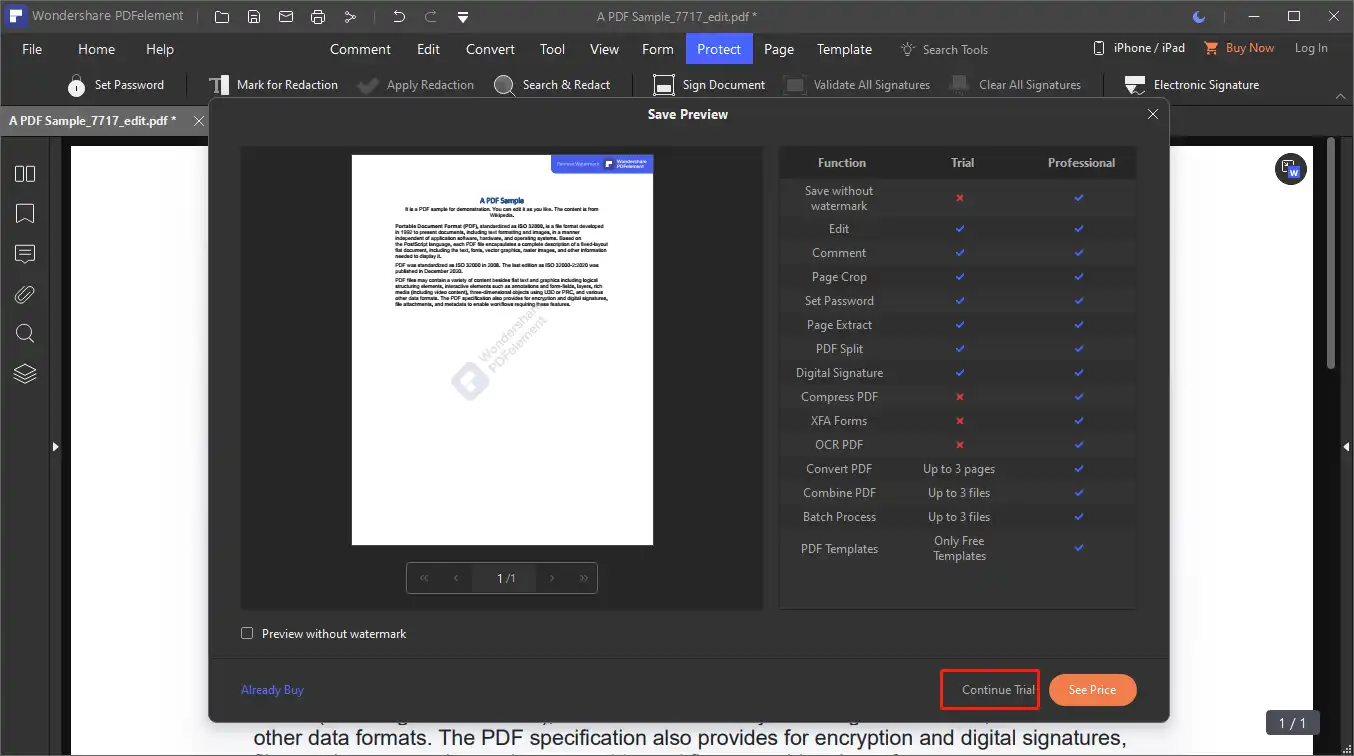 Note: If you want to remove highlight from PDF without any cost with PDFelement, then there will be watermarks on the edited PDF. It only provides an edited PDF without a watermark for pro users. And its subscription fee is high.
📌 How to Remove Highlight from PDF Online for Free
WorkinTool also explores its online version for the PDF converter. It is available for all systems and devices, like Windows, Mac, Android, and iOS. In comparison, it is more convenient than desktop software and doesn't have to be installed. Only with the network, you can edit the PDF document anywhere and anytime. However, to protect from affecting page upload speed, there are some limits on the number and size of the uploaded file. You can import up to four files within 8 MB. Meanwhile, its function is rather simple. Some PDF editing tools for the online version are still exploring.
Here is the way to remove highlight from PDF online for free with WorkinTool Online PDF Editor.
Step1. Open the WorkinTool Online PDF Editor web page. Then import a PDF file by choosing from the folder or dragging it.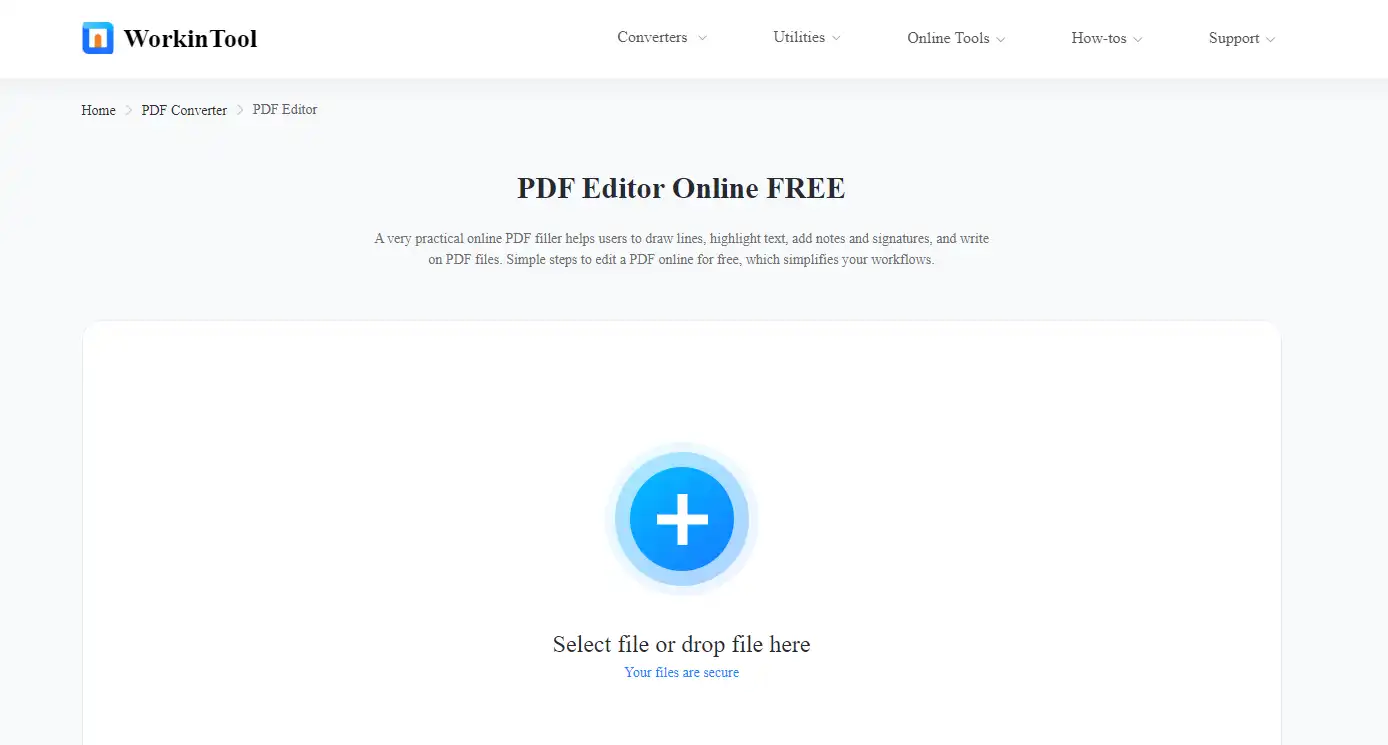 Step2. Left-click the part you want to unhighlight, then press the remove icon. Then press the download icon to save it.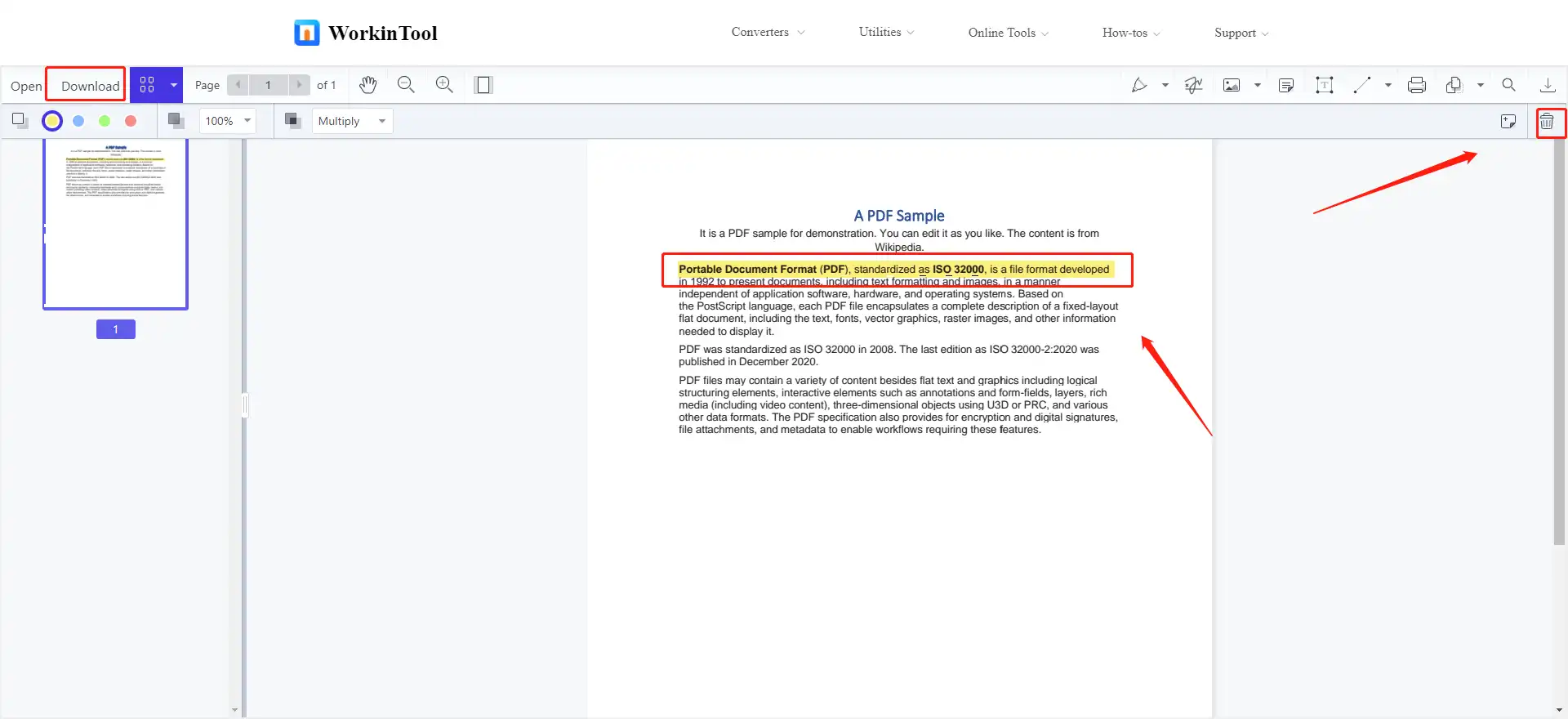 Comparison of Three Ways
If you still don't know how to choose a suitable PDF processor to unhighlight in PDF, then you can refer to the following comparison form:
| | | | |
| --- | --- | --- | --- |
| Features/Tools | WorkinTool PDF Converter | PDFelement | Online PDF Converter |
| Cost | Free for PDF Edit and PDF Reader tools | Several limits for free users | Completely free |
| Operations | Easy to use | Easy | Simple and no installation needed |
| Compatibility | Windows | Windows, Mac, iOS, Android | All devices |
| Watermark | No | Yes | No |
| Functionality | Multiple | Multiple | Simple |
| Limits of files | No limit in PDF Edit and PDF Reader tools | Up to 3 files at a time | Four files at a time within 50 MB |
Summary
Sometimes, the highlight in a PDF file is a hassle, especially when it is overused. Since the PDF document is not as editable as Word docs, to make some changes to it, you have to use an extra PDF editor. There are plenty of PDF editors in the market. The most famous is Adobe Acrobat. However, it is not free software. If you are looking for free solutions, you are in the right place. All the methods provided here are free for all users. But there are still some different focuses of the three tools I have recommended today. You can pick one of them to remove highlight from PDF after your comparison.