How to Spell Check PDF Document Free [4 Proven Methods]
How to spell check a PDF effectively? You may ask Adobe for help. However, Adobe can only check comments, sticky notes, forms, etc. It can't spell check the existing words in PDF. To do that for free, you can try to convert PDF to Word with WorkinTool PDF Converter, spell check it in Microsoft Word, and modify and then convert it back to PDF with WorkinTool. This PDF Converter is:
✅ Free to convert single file within 2MB
✅ Batch convert PDFs without number limits
✅ Main file formatting when converting
✅ Free of watermarks, ads, pop-ups, etc.
How to Spell Check PDF Document for Free [4 Proven Methods]
PDF is an excellent electronic format for graphic and text storage, and many users will use this format for packaging some documents. However, when editing document materials, for some occasions where the content of the text is strictly regulated, we often need to check the spelling of the content of the document to avoid wrong words and sentences. Be aware that PDF is not an editable file type like a word file. You need special tools if you want to spell check and correct the text in PDF. This guide will elaborate on how to spell check PDF files using effective tools. These four practical methods will be introduced in the following.
Method 1. Spell Check PDF Document by Converting (Free)

Method 2. Use Online Spelling Checker (Limited Trial)

Method 3. Spell Check a PDF in Grammarly (Free, but you need to convert PDF to Word first)

Method 4. Check PDF File Spelling in Adobe (Only check comments, etc.)
🔎 1. How to Spell Check PDF by Converting to Word
An effective and free solution to spell check PDF is converting it to a Microsoft Word document and then checking the spelling in Word. This method is more accurate in finding the wrong contents in your PDF file. If you directly open the PDF in Word, the original file formatting may be lost. Therefore, you can use this free WorkinTool PDF Converter to transform the PDF to Word in high quality. It is a rare, cheap pdf converter and editor on the market. It also allows you to convert the modified file back to Word. And it is not complicated to operate. The whole spell-checking process will be within minutes. Also, you can use it to batch convert PDF documents at a time. Check out how to convert PDFs in it.
😘 Pros:
More accurate in PDF spell checking

Unlimited times to use all features and easy to use

Spell check a PDF without losing document formatting

Support batch convertsion
😟 Cons:
For Windows users only

Free to process each file within 2MB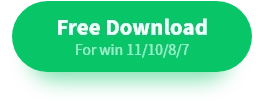 How to spell check PDF by converting with WorkinTool PDF Converter 
📌 Step1. Convert PDF to Word with WorkinTool 
Download and install WorkinTool PDF Converter. Launch the software and select Convert to/from PDF to Word> PDF to Word, then import your PDF files. You can add multiple PDFs to convert in bulk with one click. Then hit the Convert button to start converting.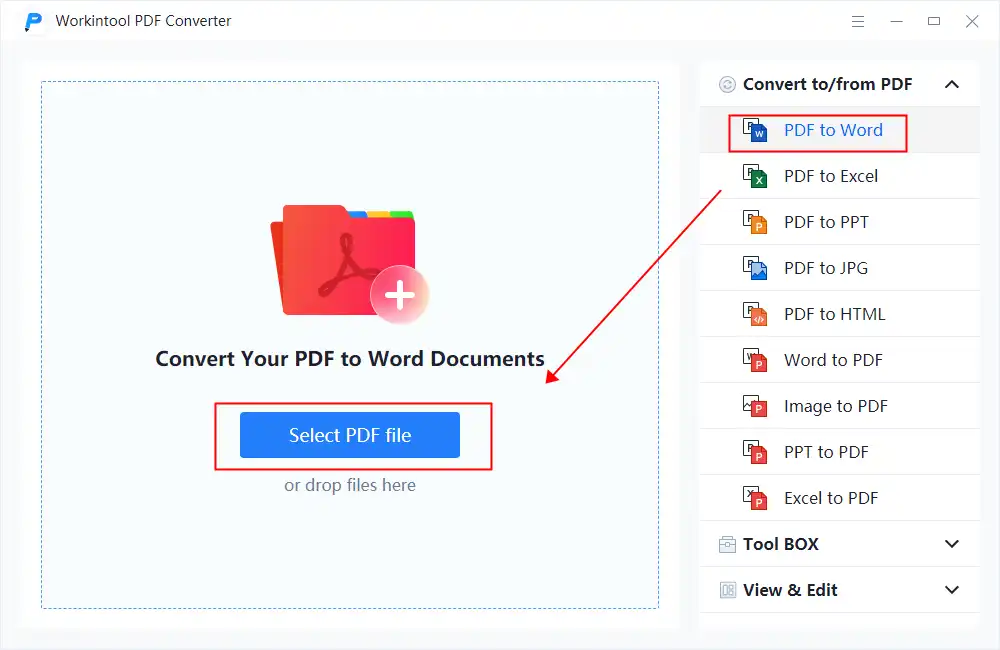 📌 Step2. Spell Check PDFs in Microsoft Word
Open the converted file in Microsoft Word. Click Home> Editor> Spelling to spell check the PDF file. Then correct the wrong content directly and press the save button to save the edited document.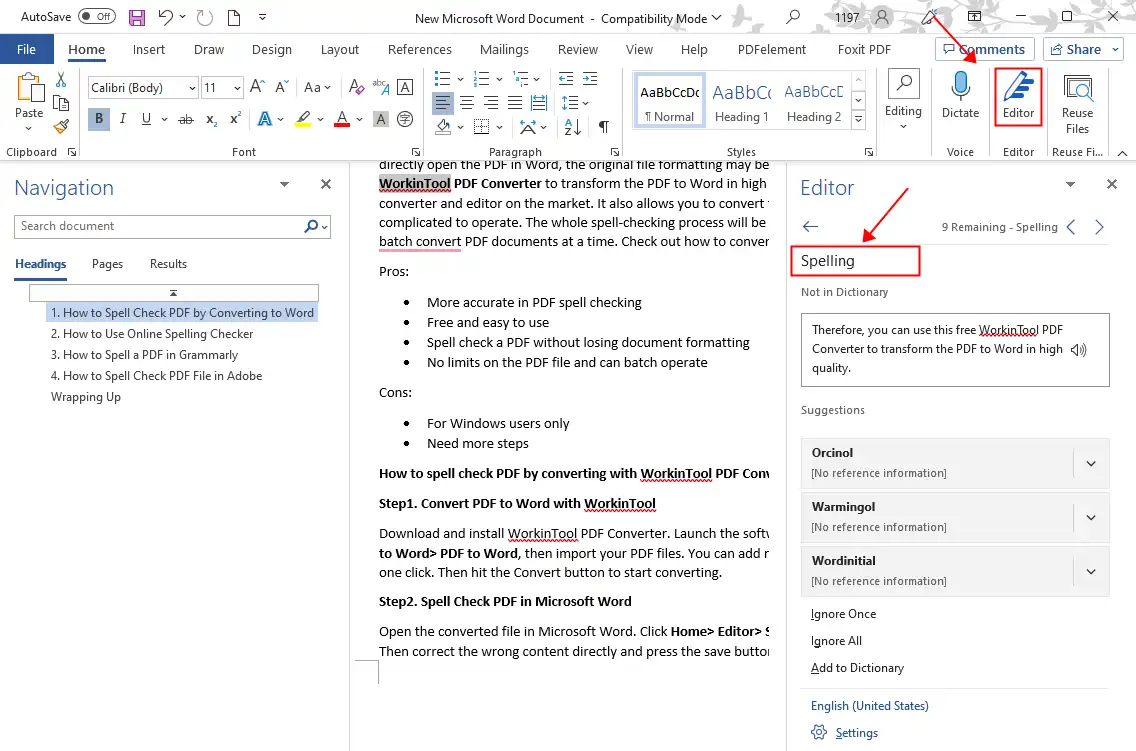 📌 Step3. Convert Modified Word to PDF with WorkinTool 
Open WorkinTool again, then select Convert to/from PDF> Word to PDF to change the edited file into PDF.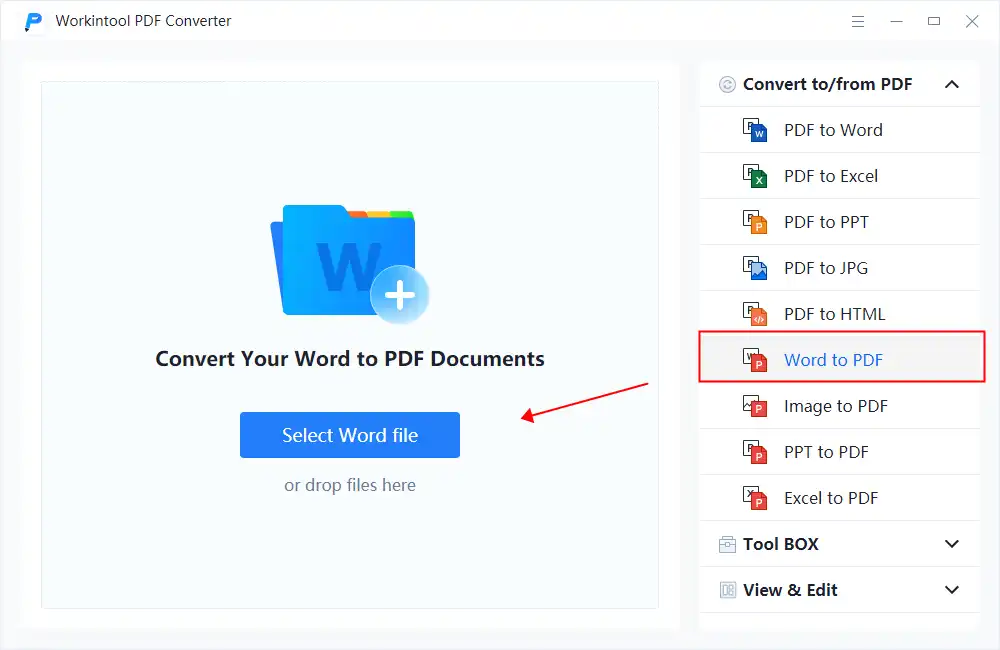 More Tutorials for WorkinTool PDF Converter 
🔎 2. How to Use an Online Spelling Checker
Another practical way to check the PDF is using a specific online spelling checker. In comparison, it prevents you from installing a third-party desktop tool, and users on any device can access it with a network connection.
Artworkflow offers an effective online spelling checker to help you ensure your PDF document is error-free. It has a free trial version that can check PDFs written in English. But the free version also has several limits. For example, you can upload up to 50 MB of PDF, and the total storage space is within 10 GB. In addition, this easy-to-use online spelling checker also possesses several downsides. On the one hand, it does not support modifying the wrong words in a PDF directly. On the other hand, some apparently wrong words could not be detected during several tests.
😘 Pros:
Spell check PDFs without installation

Available on any system

Free version accessible
😟 Cons:
Limit the PDF file size to 50 MB

Detection accuracy needs to be improved

Unable to modify PDF directly
How to use the online PDF spell checker – Artworkflow
Step1. Go to the Artworkflow online page and click Try Now.
Step2. Upload your PDF and run the spell checker. View the wrong part of your PDF document.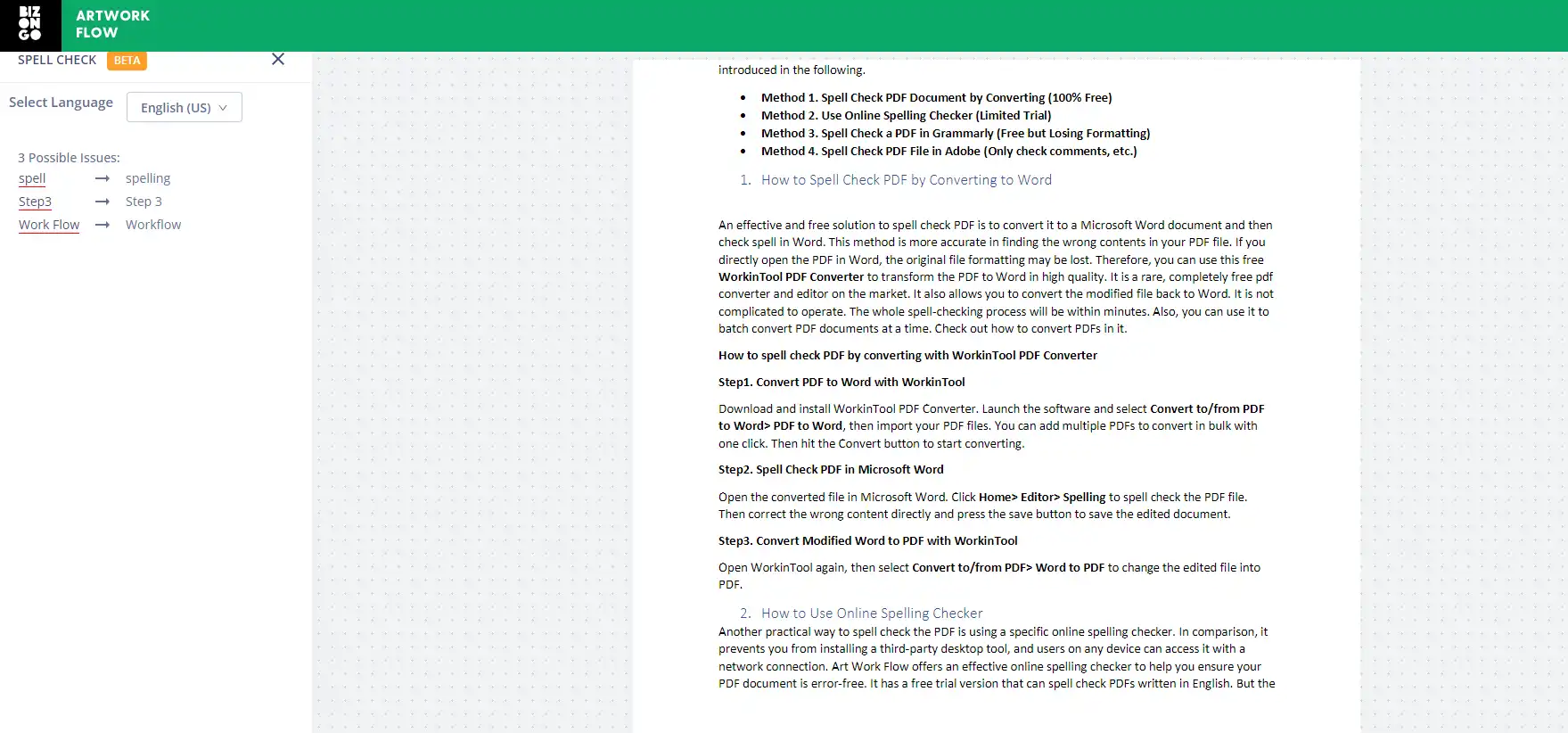 🔎 3. How to Spell a PDF in Grammarly
Grammarly is an authoritative software for checking the text content of a file. It provides a free version to use. One of the most prominent advantages of Grammarly is that it can also check the grammar of your file. But the default file formats it supports are .dox, .dot, .text, and .rtf. To check text spelling in a PDF, you have to convert the file to Word or other open office formats. You can try to use the free WorkinTool PDF Converter to fulfill that.
😘 Pros:
Check both grammar and spelling

Online and desktop software available

Add-ins can be used in Word
😟 Cons:
Requires log-in

Doesn't support opening a PDF directly
How to spell check a PDF document in Grammarly
Step1. Convert the PDF to Word. Download Grammarly or go to the Grammarly webpage and log in with your Google account. Click the Menu button in the top left corner and select New Document to upload your file.
Step2. Check the grammar and spelling of your document and correct it according to its suggestions.
Step3. Convert the edited Word file to PDF again.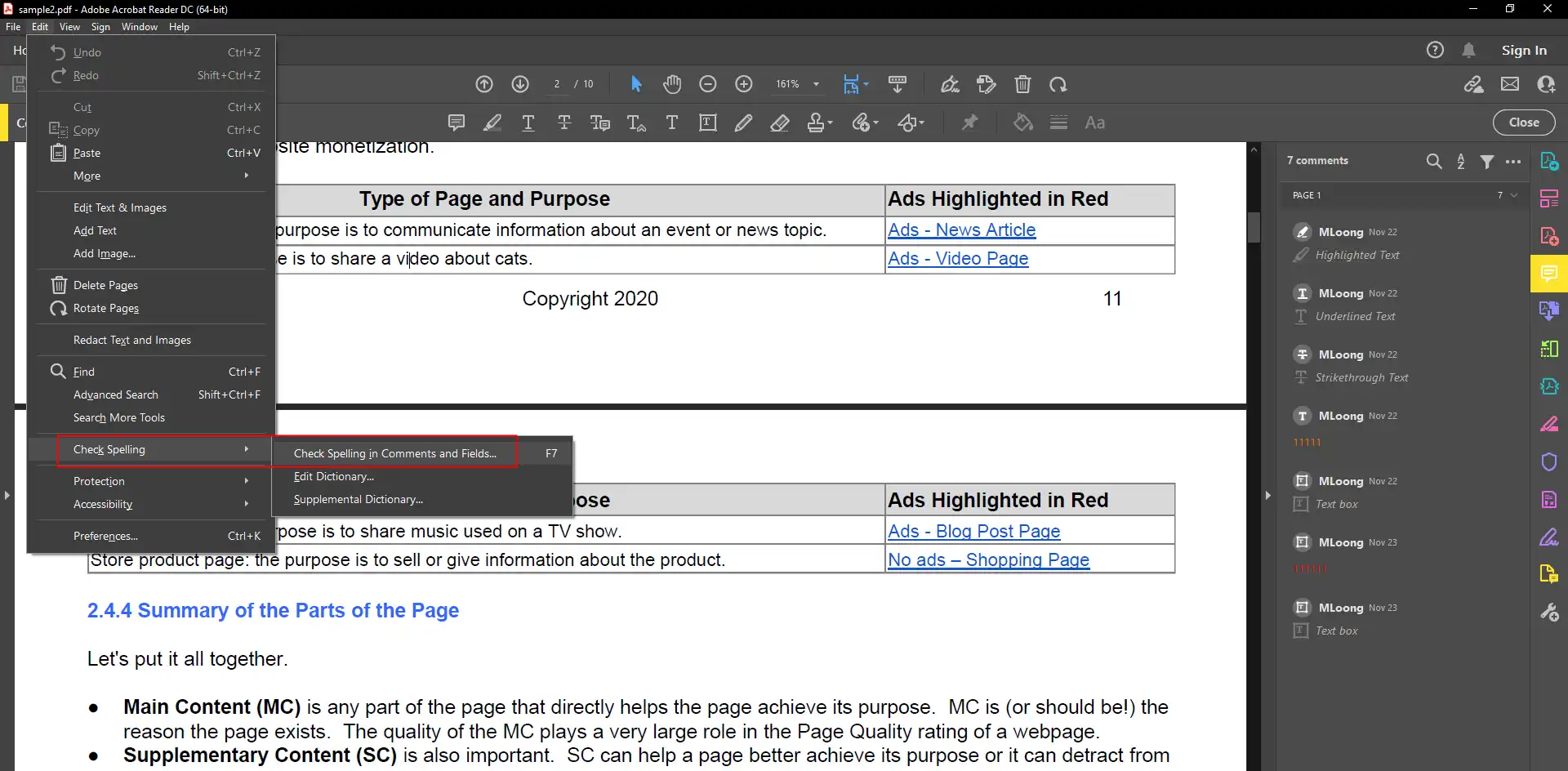 🔎 4. How to Spell Check PDF File in Adobe
Adobe Acrobat is the most powerful and comprehensive PDF editor in the field. It has an inbuilt spell check that allows you to spell check your PDF file directly. Acrobat's spell checker currently checks comments, sticky notes, form fields, and editable text boxes. However, content written in other programs or created with the Add Text tool cannot be inspected. If you have already subscribed to Adobe Acrobat or want to check the comments, sticky notes in a PDF, and more, you can refer to the below-detailed steps.
😘 Pros:
A reliable PDF processor for all platforms

Spell check feature is free to access
😟 Cons:
Only for checking comments, sticky notes, forms, etc.
How to spell check PDF in Adobe Acrobat
Step1. Open Adobe Acrobat on your device and select File> Open to import your PDF file.
Step2. Click Edit> Check Spelling> Select In Comments, Fields, & Editable Text. Then press Start to spell-check the content in your PDF document.
Wrapping Up
Here are the four efficient ways to spell-check PDF files. You can refer to the above pros and cons of those recommended methods and select one to perform. In comparison, converting PDF to Word and check in more precise tools, like Microsoft Word and Grammarly, is the most recommended way.