[2023 New Way]How to Record Minecraft Gameplay
Minecraft is popular with people of all ages all over the world. You can even say it is comparable to Warcraft, Mario series. So naturally there will be a lot of video teaching about it, interesting video, even racing and so on. How to record Minecraft gameplay like a professional game blogger? Here in this post we have thoroughly introduced the best way to use WorkinTool VidClipper to complete recording. It is an all-in-one video recording software, with it, you can capture everything you want without hassle. Plus, it is 100% free without limits or watermarks. Come and experience it yourself now!
[2023 New Way]How to Record Minecraft Gameplay
Minecraft is already one of the most popular games in history. From kids to seniors, people play the game regardless of age, making it a phenomenon-level game that grew beyond a decade. Millions of copies were sold across multiple platforms. There is even a film studio ready to make independent films based on it. I believe it will have the same impact on people in the future as the World of Warcraft, the Pokémon series, and the Mario Series. Such a popular game naturally has a large number of players who record Minecraft Gameplay videos and upload them to public video channels such as YouTube. Today we will be discussing the best way to capture the highlight moment you want.
Why Record Minecraft Gameplay?
First, we need to know if there are a few Minecraft modes:
Survival Mode is one of the most classic modes in MC, and each survival archive can be played for a long time.
Creative Mode: In this mode, there is no HP, no hunger, and no monsters attacking you. You are free to create something of your own with your imagination.
Hardcore Mode: It is much more difficult than the survival mode. In this mode, you only have one chance, once the death archive is invalid.
Adventure Mode looks similar to survival, with little change. In this mode, you can't break or place the box. You're running around trying to make a living.
Spectator Mode is an interesting model in which you are invisible, can fly and pass through any object, entering any object to see the world from their point of view.
Story Mode is more like a movie or an animated series. In this mode, more attention is paid to the built-in story so that the player can be involved.
Speedrun: The player completes the game as quickly as possible. It's not a game mode, but a competitive event organized by the player community. This includes killing a specific boss or completing a specific pattern. People from all over the world keep track of their races on Speedrun for learning purposes.

Reasons Could Be Diverse for Different Players
With so many modes, the reasons for recording Minecraft gameplay are even more varied. It doesn't matter if you're trying to record Minecraft gameplay from beginning to end, show the world what you've created, how to survive in the hardcore mode, how to break the world record at Speedrun, or experience adventures in Minecraft Adventure Mode. It's only worth it to document the amazing process, the moment of victory, and show it to players with the same interests on the Internet.
But how exactly do you record the Minecraft Gameplay? What is the best game recorder on PC? What recorders do YouTubers use? Well, it depends on you to define the term best. But in order to even all users, here I recommend a very easy and handy video recording software – WorkinTool VidClipper.
How to Record Minecraft Gameplay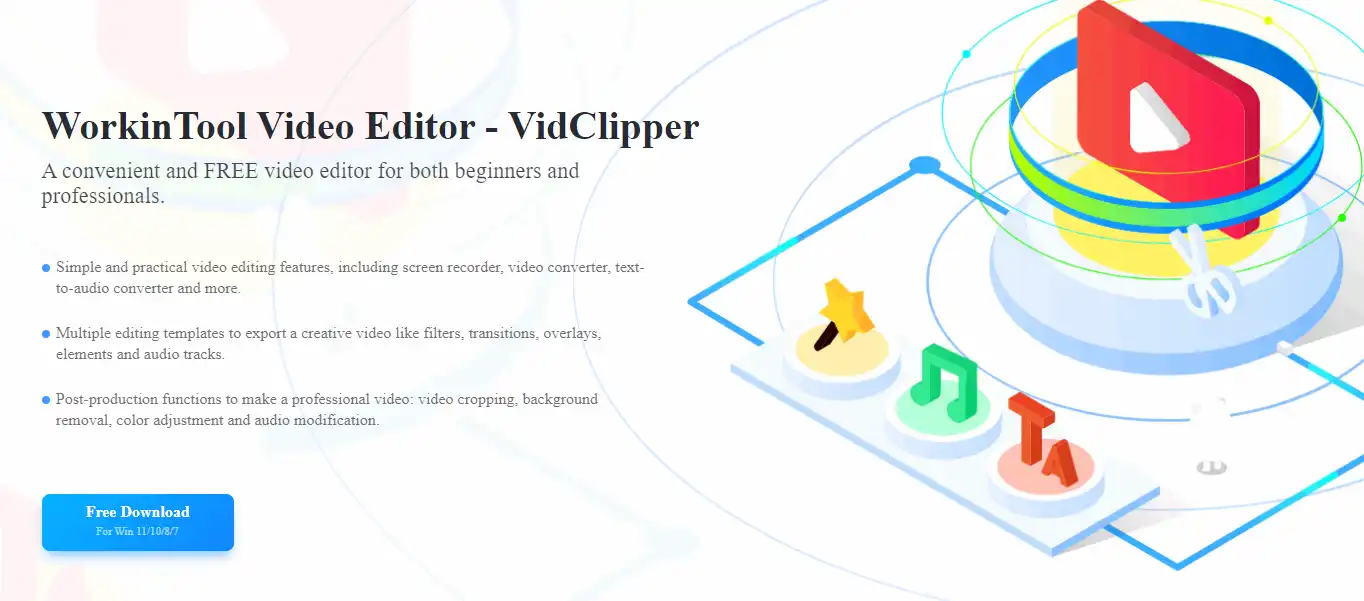 WorkinTool Video Editor – VidClipper is a very professional video editing software. It provides users with the best service to record Minecraft gameplay. This Bravo Minecraft recording software can record all the elements that are on your screen. of course, you can adjust several simple settings to make it more suitable for your demand.
For example, you can decide if you want to record a full screen or just a part of your computer. And for audio, it also offers you a couple of options to select from the computer system sound, microphone voice, or mute for good. Apart from that, you are allowed to modify the frame rate, output format, mouse tracker, and hotkeys as well. This way, you will have the best game recording software that is totally made for you. More importantly, it is a free screen recorder. No charges are needed.
💖 See how to use WorkinTool VidClipper
1. Go launch it and clip Screencast to open the video recording page.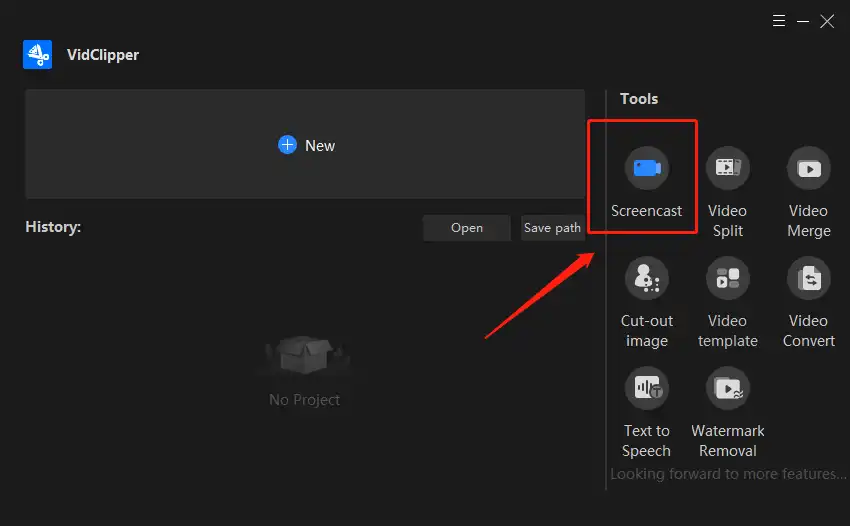 2. Configure your recording screen custom buttons. You can adjust the recording settings according to your needs. It includes four different sections for users to decide on: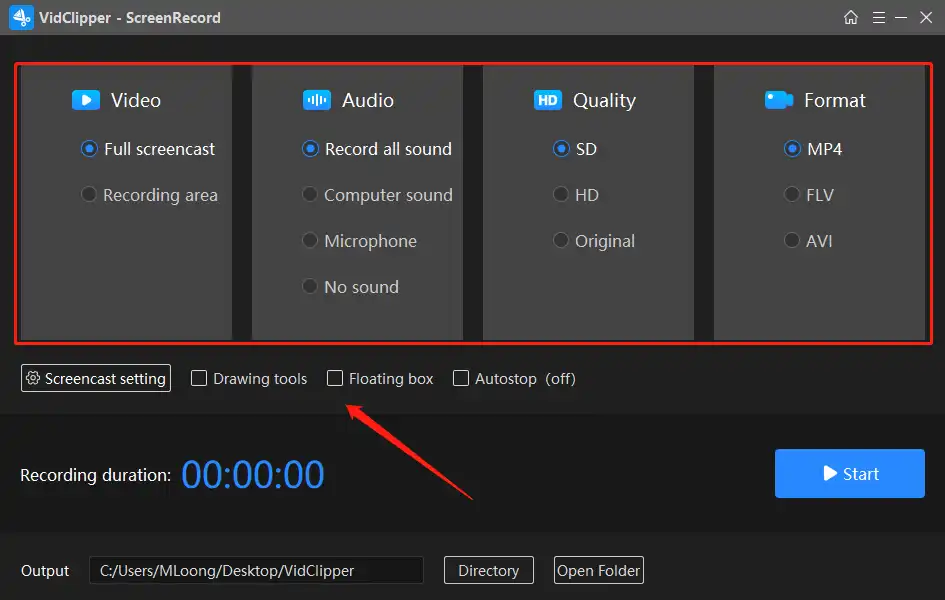 🎉 Basic Recording Options 🎉
Video 

Full Screencast: You will get a fullscreen recording once after clicking this button. This will include the entire screen of your computer.

Recording Area: A certain part of your screen will be recorded according to your selection. If you select this mode, you will be noted to set a rectangle and only the content inside the rectangle will be recorded.

Audio

Record all sound: All the audio that your computer has input and output will be recorded together. There could be sound from your computer system, gameplay sound from Minecraft, your microphone, and others.

Computer sound: Only computer sound will be recorded in the video. The peripheral equipment won't be a part of it

Microphone: No gameplay sound effects or computer hints will be recorded other than your microphone voice. More suitable for the use of teaching video broadcast recording

No Sound: Your recorded video will be muted for the whole video. It is more suitable for post-dubbing video production.

Quality

SD: A standard video definition for 720P. AKA 1280X720.(fewer than one million pixels when multiplied)

HD: A higher definition for video exportation. 1080P AKA 1920×1080. (about 2 million pixels)

Original: You can keep the exact aspect ratio of your original video by choosing this option.

Format

MP4: Set your output video format as MP4, suitable for lossy videos.

FLV: Make the exported video recording in FLV format, good for short clips.

AVI: Convert screen recording video with audio to AVI format, fit for large and lossless videos.
3. Once you have set up these buttons, hit Start to record right now.
(Or you can directly use the hotkey ALT+F1, ALT+F2 to start/suspend/stop the recording.)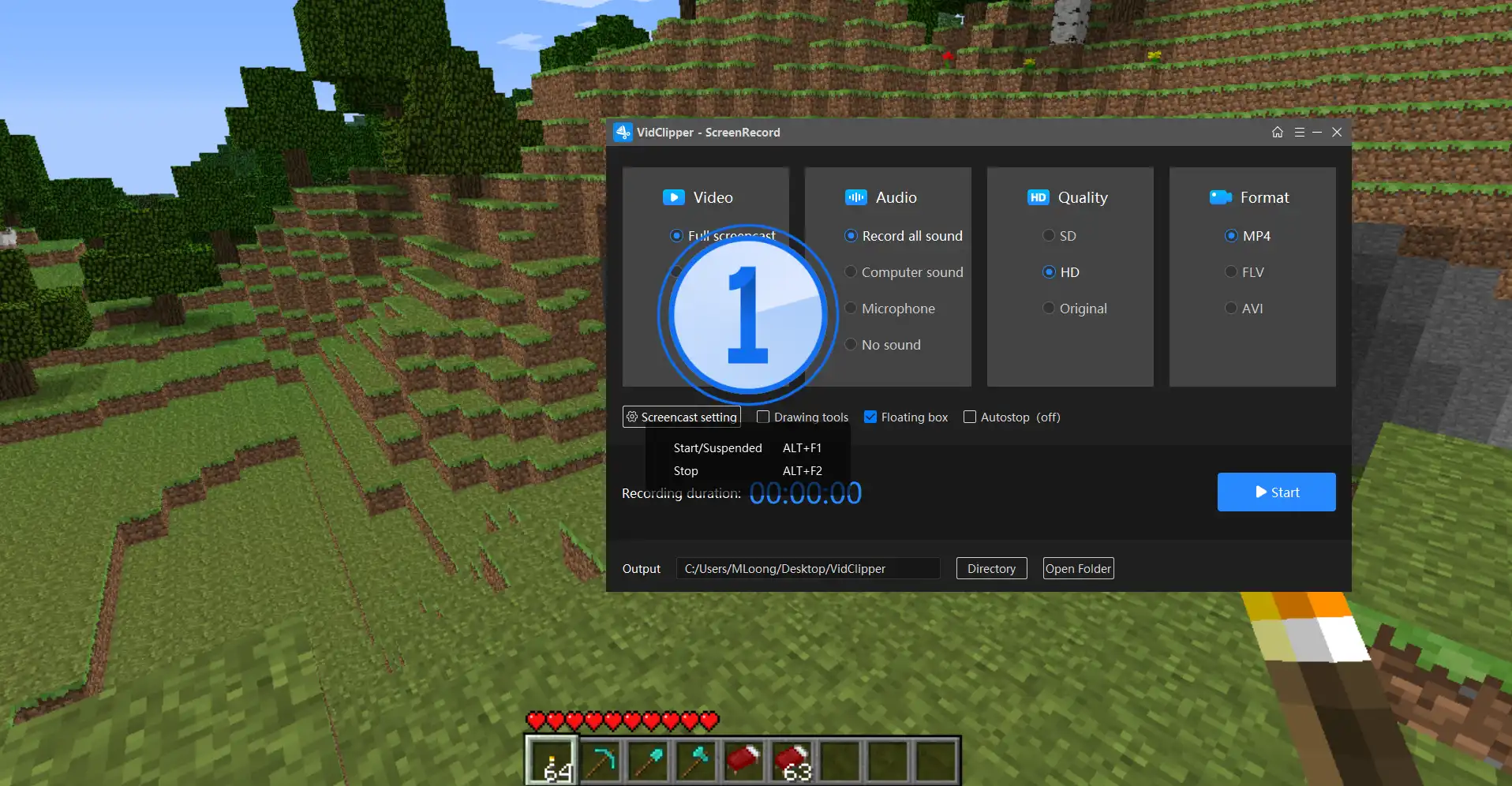 4. When you have finished recording Minecraft gameplay, you can click the button or use the button to stop recording.
Additional Options
In addition to the four basic features mentioned above, here are some additional video options you can try out. All of these features will give you excellent recording convenience and effects when you record Minecraft videos.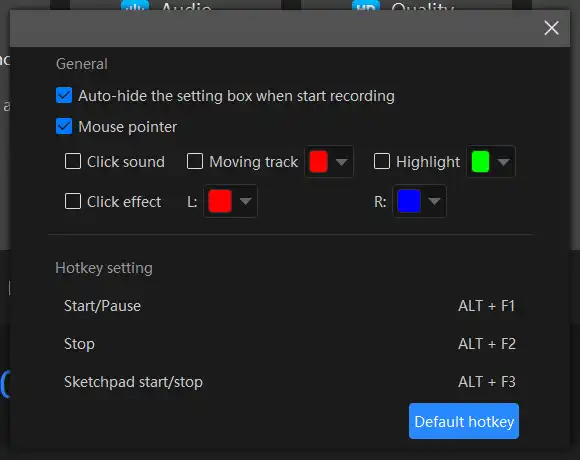 Mouse Tracking

Auto-Hide: You can hide the setting box by selecting this option.
Mouse Pointer: This section allows you to control the mouse point settings so that you can add clicking sound, add color to the moving trance and highlight the mouse pointer.
Click Effect: Set a color effect when you left-click or right-click your mouse during the recording.

Automatically Stop

Duration: You can make a duration time, and when the time has come, the recording will stop automatically.
Recording Complete: A simple setting to control your computer to "Do nothing", "Exit program", "PC sleep" and "PC shut down" when the recording is over.
Recording Frequency: You are allowed to make it a regular setting for recording, there are "Only one time" and "Every time".

Drawing Tool

Save Image: You can screenshot a fullscreen image or just a partial screenshot of Windows.
Fill Color: Add colors to certain parts of your screen.
Draw lines and shapes: Users can add lines or shapes to emphasize what's important in the video recording.
Add text: Write on the screen during the recording. More suitable for lecture videos.
Magnifier: Enlarge the contents of a specific section on your screen.
---
Why You Should Use WorkinTool
Workintool VidClipper is a collection of video processing tools. After you have finished recording the video, the video at this time is still rough. Don't you want to have a great intro like any other game blogger, where you have to edit the video before you upload it to YouTube? Add content, delete unnecessary parts of the process, and so on. This can be implemented directly with the VidClipper. You don't have to switch to another video editor. It is convenient for users to use. And it's completely free with no restrictions or to put a watermark on the output video software. You're welcome to use it.
🎉 More VidClipper Features 🎉
What is Minecraft?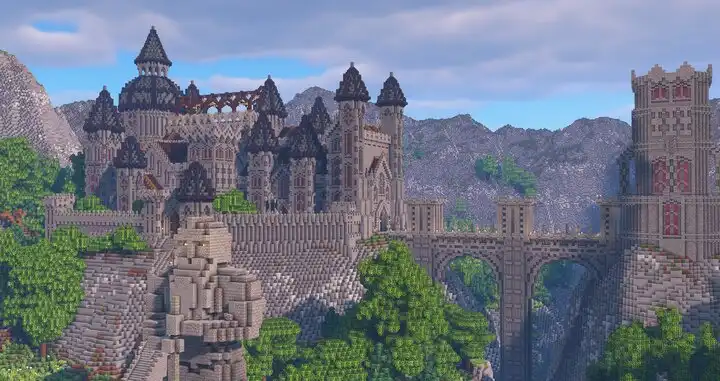 Minecraft is a 3D first-person sandbox game. Players are free to create and destroy different types of squares in 3D, creating and exploring a world of their own with their imaginations. Unique gaming style, main building block mosaic style. Players can destroy or create squares in single or multiplayer mode to create stunning buildings and art, collect objects and explore maps to complete the main task of the game, and experience the feeling of God through their own creations. There are also huge biomes, temperature systems, and weather systems. They affect each other in ways that test the player's ability to respond to different situations. One of the most popular attractions in this creative world is the downloadable Minecraft mods. creating and sharing from all over the world makes this square game so fascinating.
Five Basic Editions of Minecraft:
Minecraft Java Edition: the original platform version of the MC is the fastest, most Orthodox version of Minecraft. The Java edition is also known as the PC version by MC Players. The Java edition has been available since 2009, while the full version was released in 2011.
Minecraft Education Edition: An educational version of Minecraft, designed specifically for classroom use. Contains features that make my world easier to use in a classroom setting. The full version was released in 2016. The Education Edition is available free to millions of educators and learners who have Office 365 Education accounts. There is even a Minecraft Education website.
Minecraft Bedrock Edition: The bedrock edition is understood to be a development platform. The developers have said that the ultimate goal of the bedrock version and Java version will be to achieve exactly the same. Because of the different development platforms, Players find that the mobile version of the archive and the PC version of the MC archive are not interoperable.
Minecraft's new Nintendo 3DS Edition, a smaller version of Minecraft called the "New Nintendo 3DS," was originally a bedrock-based version. But it's a completely new version, separate from the bedrock version and the Java version. So there are differences in some characteristics. This version was released in 2017, and it's worth noting that this version of MC is the most expensive.
Minecraft Legacy Console Edition: The original console version is the version played on each major gaming console. While the game console has the advantage of being the first to play on most single machines, in Minecraft here, the console version isn't even as good as the bedrock version. The PC side of the game experience, from picture quality optimization to easy-to-operate features, has a natural advantage.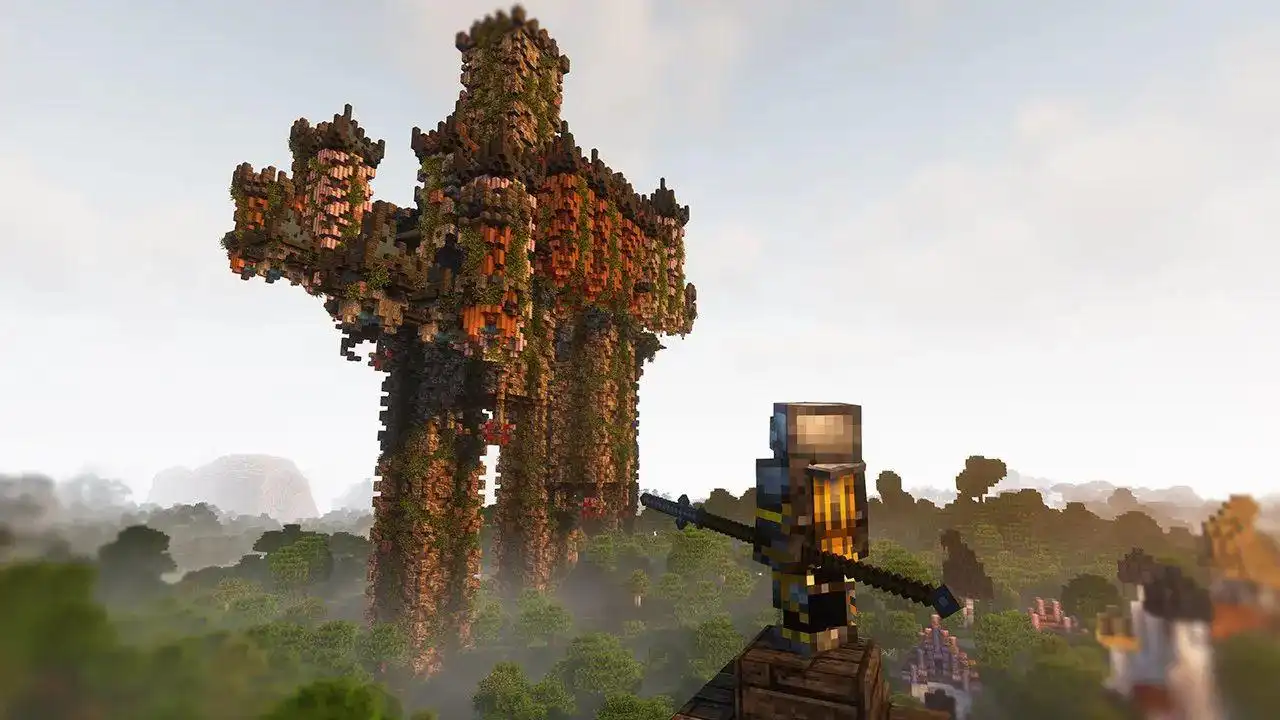 (Elden Ring mod in Minecraft)
Extra Question:
How to Make a Time-lapse Record Video in Minecraft?
It could be a little tricky but as long as you follow my steps, I'm sure you will get the decent video you want.
You have to prepare something first before recording:
Two Minecraft accounts to complete the time-lapse video recording. One is to play and the other is to record.
A qualified computer that is sufficient to play and record the game at the same time.
Minecraft recorders like WorkinTool VidClipper.
Start to Record:
Go record the Minecraft gameplay as we have mentioned in the steps above. You may keep the recording settings as your original ones so that the video quality stays the same.
We suggest that you start and stop the video clip every 60 mins. Later you can edit them together and it won't affect the ultimate effect.
When you finish recording, go and edit your recorded videos. To create a time-lapse video, you need to speed it up.
Then you will have a time-lapse Minecraft video.
More to Share
Now that you know how to record great Minecraft video footage, is it time to try it out? Maybe it is your turn to be the next Minecraft YouTuber. All you need to do is capture your outstanding gameplay and share it with everyone. Come on and make your Minecraft kingdom.