How to Convert RMVB to MP4 on Windows for FREE
With the development of technology, there are more and more kinds of video formats. By contrast, some old video formats are slowly becoming obsolete. Which includes RMVB. Since an increasing number of media players are no longer compatible with this old video format, people are looking for ways to convert RMVB to MP4. In order to save your time, we have covered two FREE but equally brilliant video format conversion methods for you. And One of them is to use WorkinTool VidClipper. With it, you can customize any format you want. And there are video parameters for you to adjust by yourself. Come and try it out.
How to Convert RMVB to MP4 with Ease
RealMedia Variable Bitrate, aka RMVB, is a video format designed for videos that can be played by RealPlayer. It is also a multimedia container for various data of video, audio, and text. People used this video format in animated films and TV episodes as a carrier back then. For a long time, it was widely popular for its smaller file size and superior quality. But as streaming media has become more common, the format of old-fashioned TV series has been updated. Many media players may have trouble opening files in this format. Though it is no longer popular, there are still many people who have stored a lot of RMVB videos. So, these guys need the best way to convert RMVB to MP4 to renew their videos once again.
Truth be told, finding a video format converter is not as hard as in the old days. With today's Internet, all you have to do is to Google what you want, and immediately there are hundreds of websites that offer you all kinds of ways to convert video from RMVB to MP4. Although the quantity is great, you can't tell which is good or bad at the same time as well. Online converters are convenient, but your file information security cannot be guaranteed. Desktop converters need to be downloaded, and if you want to try them one by one, it will take too much time and effort. In order to save you unnecessary time waste, in this article, we will provide you with the best solution. Let us take a look.
---
The Best Solution to Convert RMVB to MP4
WorkinTool Video Editor – VidClipper is the first tool that we want to recommend to you. As a professional video processing software, it proves to be the best choice for users to convert RMVB to MP4 compared with other video converters. With its simple and clear navigation interface, anyone who needs to make a conversion can realize his goal in three steps. Besides that, the conversion function is very complete as well. There are six popular video formats and three audio formats to choose from. More customizable video parameters allow users to adjust the details more precisely.
More importantly, it is totally FREE for users to use all the functions within. Check out how it works.
📖
How to Use WorkinTool VidClipper
1. First, download and launch WorkinTool VidClipper. Click +New to get into the video editing page.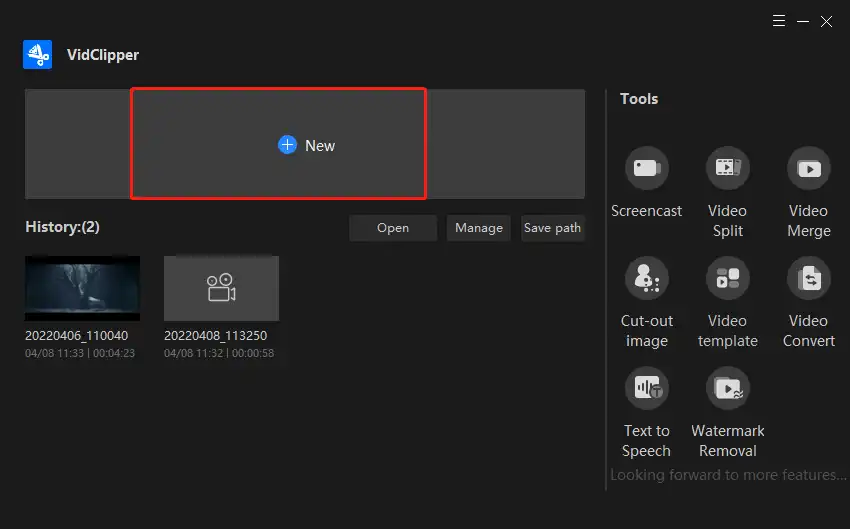 2. Second, import your prepared RMVB videos and drag them to the timeline. Next, tap Export in the conversion window.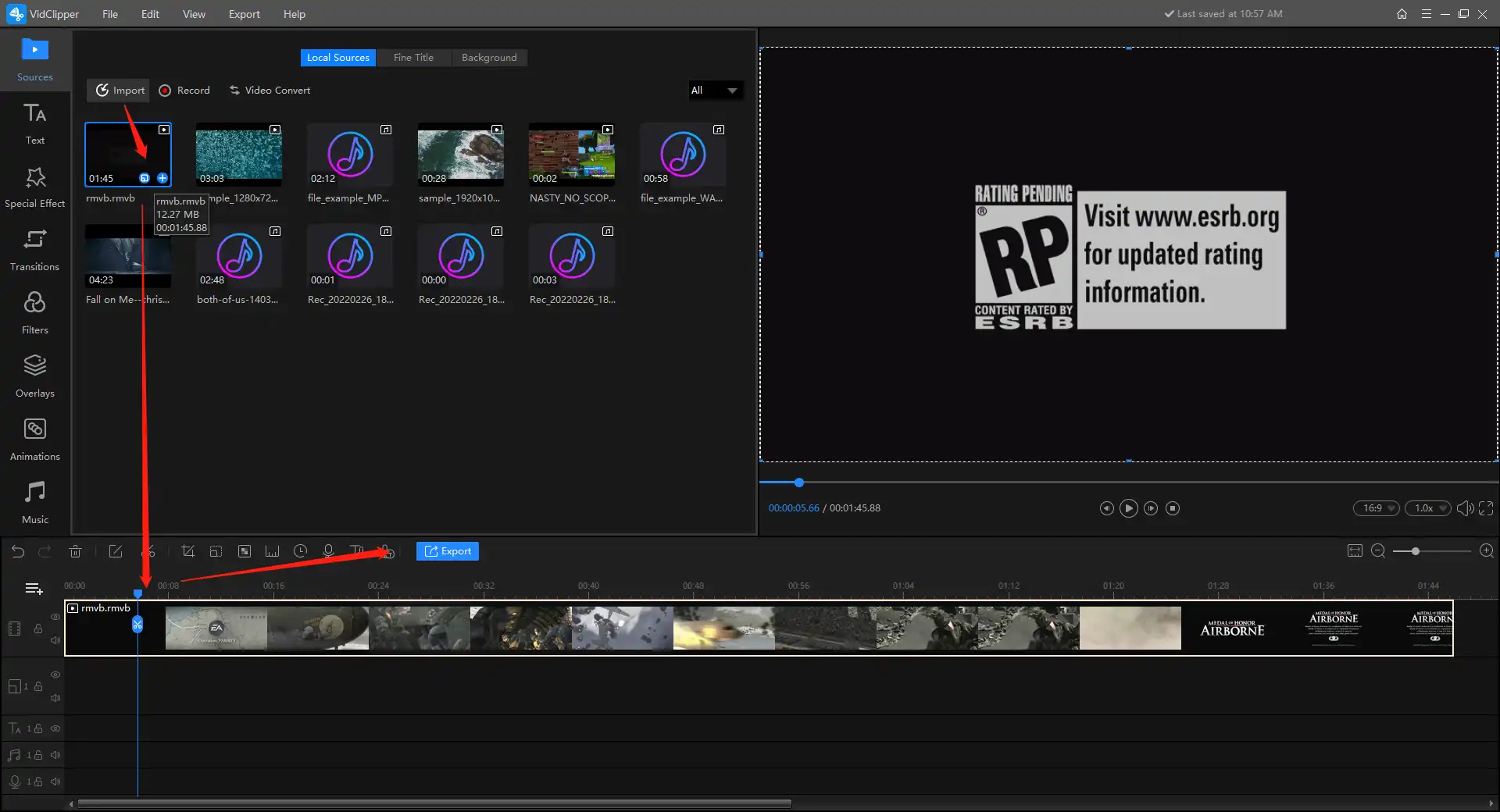 3. Finally, here select the MP4 format and check your video information on the right side of the window. Once exported to start the conversion.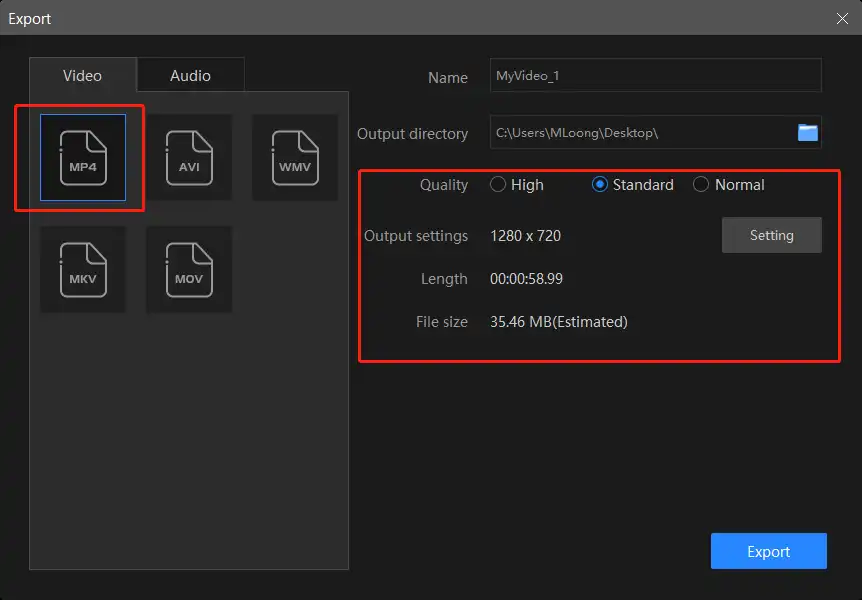 📢 Notice:
As you can see above the Export window, there is another setting button. This is for users who want to go further and set specific parameters for the video. In the Settings menu, WorkinTool VidClipper offers advanced adjustments such as video encoder, frame rate, resolution rate, and bit rate.  There are also options to set up a dedicated audio file like encoder, sample rate, channel, and bit rate. Users can adjust the details according to their own needs to achieve the goal.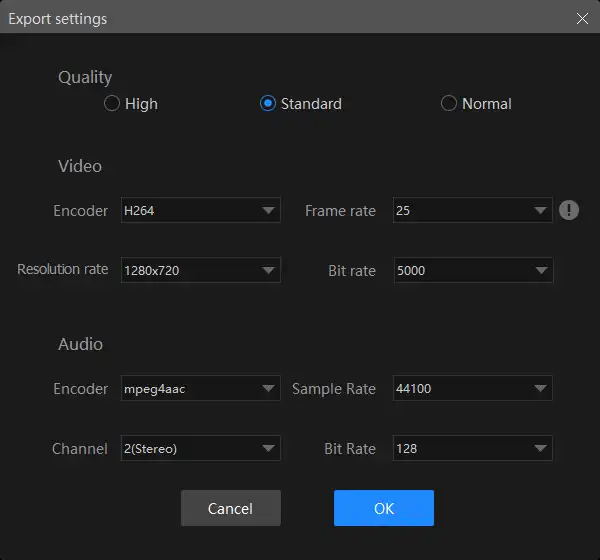 🎉 Why Choose WorkinTool Video Editor – VidClipper 🎉
VidClipper is an all-in-one video process freeware. In addition to video conversion, you can use it to perform many other video-related operations as well. Here's a list of some features you can use, but there's more waiting for you to explore.
---
An Alternative Way to Alter RMVB to MP4 Format
In addition to a professional video converter, there is an alternative method that you can apply to turn videos from RMVB to MP4 format. And it would be VLC Media Player.
VLC Media Player is a free open-source multimedia player. Due to its powerful format compatibility, VLC is very popular and widely used among office workers and school teachers. But while most people only know it's good for playing video, few realize that it also has a hidden video format conversion function in VLC. It's not technically a hidden feature, it's just deep in the settings, and few people know how to use it. Now follow the instructions and see how to use it.
📚
Step-by-Step Instructions
1. First, Media > Convert / Save…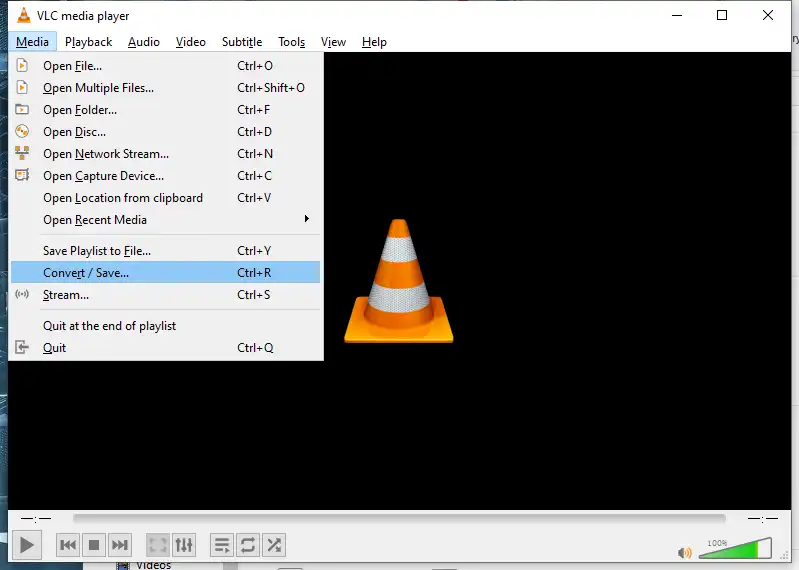 2. Next, go +Add… to import your RMVB videos and find Convert / Save on the button.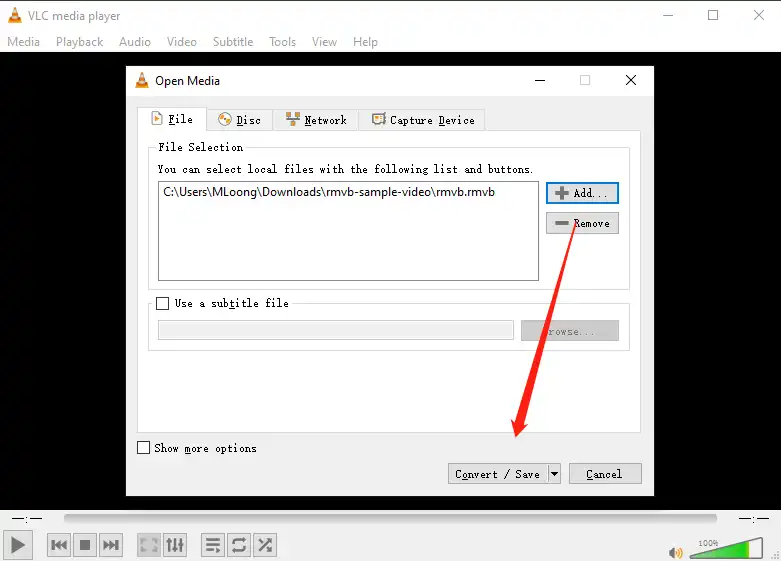 3. Lastly, select Video – H. 264 + MP3 (MP4) in the Profile Settings. Click Start to convert your RMVB to MP4 immediately.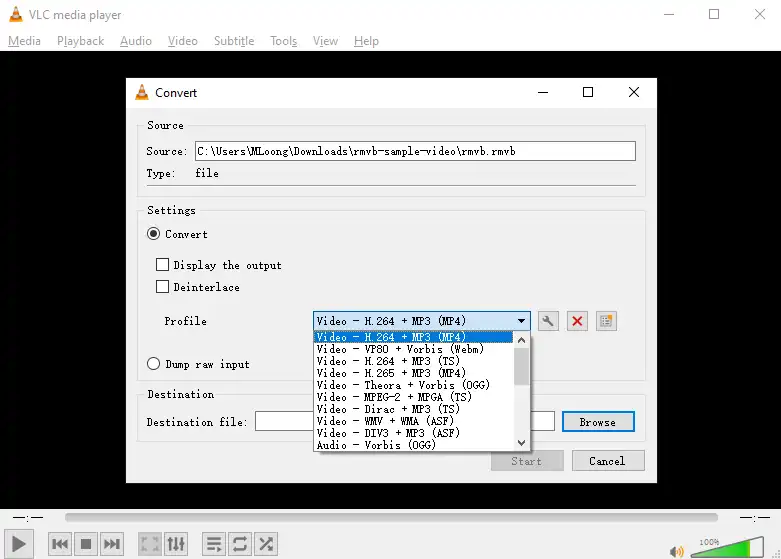 ---
More You Want to Know
💬
What is RMVB
RMVB is the abbreviation of RealMedia Variable Bitrate. It is a multimedia container format designed by RealNetwork. It was used to contain video data for the home player. So, its media encoder is quite different from the normal video format that we use. And it is a very old video format, and basically, people only use this type of video format to store media content locally. So, few people use this format anymore.
💬
What is MP4
MP4 is a very popular video format. It is also a multimedia container for video, audio, and text content. Because it's a lossy video format, it takes up less space than other formats for the same content. The most powerful thing is that it's compatible with virtually all media players. No matter what system you use, whether you have a computer or a cell phone, MP4 video can be played at any time.
💬
Why Do You Need to Convert RMVB to MP4
It is pretty obvious now. RMVB is an old video format and it is no longer commonly used in our daily lives. The main reason is that there is now a better video format, and most media players are no longer compatible with RMVB videos. In order for them to be played again, converting them to the most commonly used MP4 seems to be the best option.
---
Conclusion
As you can see from this article, it is very easy to convert an RMVB video to MP4. The hard part is finding yourself a great conversion tool that is simple to use and affordable. So, from these two aspects, we have found you two FREE and convenient video converters. Both can satisfy every requirement that you might need when converting video formats.
Now, it is time for you to pick one and try to convert your videos. I promise you won't regret your decision.