How to Convert Mono to Stereo on Android & Online
Want to make mono audio more dynamic and engaging? You are on the right page. This post compares mono audio with stereo audio and shares two physical solutions to convert mono to stereo. You can do it either on Android or online by following the step-by-step instructions in this post. Now read on to pick one mono-to-stereo audio converter to create a more dynamic, engaging, and immersive listening experience!
How to Convert Mono to Stereo on Android & Online
If you want to make mono audio more dynamic and engaging, converting it to stereo can be a great option. Several solutions in this article can facilitate transferring mono audio to stereo with a few clicks. You can do it on mobile with apps and online via easy audio converters. Want to find a portable and easy-to-use audio converter on Android and online instead of on a computer via Audition or Audacity? Fortunately, we provide detailed introductions and step-by-step instructions to help you change mono into stereo and improve the quality of your audio files on Android apps and online.
Page Content
Mono VS. Stereo: Why Convert?

How to Convert Mono to Stereo on

Android

How to Convert Mono Audio to Stereo

Online

Tips for Optimizing the Conversion Quality

Conclusion
---
Mono VS. Stereo: Why Convert?
Both mono and stereo are ways to record and playback audio files. But they differ greatly in the channel, usage, and listening experience.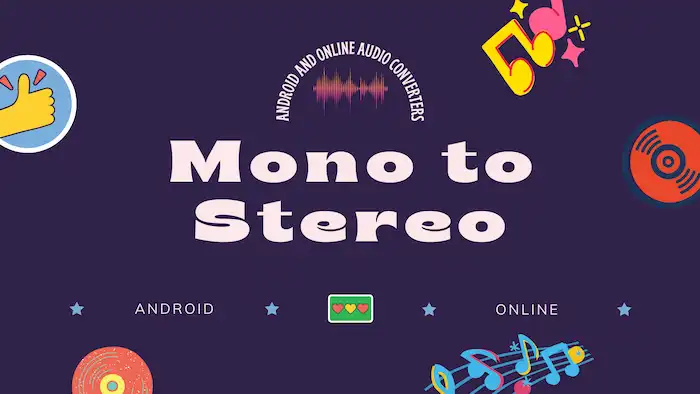 🌙Mono represents a single audio channel. All sounds are mixed and played through a single speaker. It is normally used for voice recordings, podcasts, broadcasts, or music that are meant to be played in a small space. Listeners, in general, feel plain and ordinary with the static mono audio files.
🌕Stereo refers to two audio channels. Consequently, stereo audio is played through two separate speakers. It is more common for movies, music, or entertainment that benefit from a more realistic and dynamic sound. It offers users a more immersive audio-listening experience and is able to evoke emotional resonance to a large extent.
The choice between mono and stereo sound generally depends on the types of audio files and their suitable playback environment. Converting audio from mono to stereo is a great choice if you desire a dynamic, engaging, and immersive listening effect.
---
How to Convert Mono to Stereo on Android
Speaking of Android mono audio converters, no built-in app allows users to complete the conversion. But plenty of audio editing and converting tools are available in Google Play. TransVoice is an app that packs multiple features into a tiny interface. TransVoice can convert mono to stereo in several seconds and vice versa. Users can get two audio files into one synthesized audio with separate playing tracks. In addition, it is able able to trim, transcribe, or even translate the audio file. Both the audio file and text content can be easily shared.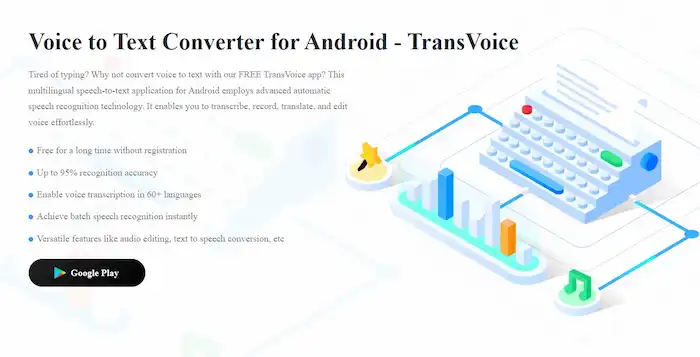 Although it is tiny and delicate, like a sparrow, it is complete with all its vital organs and has a full range of features. It is initially designed as a voice-to-text transcriber. With the passage of time and version iterations, its designers add more features like video/image to text and video/image/web to audio conversions.
More Reasons for Picking TransVoice
Simple and easy

: All operations can be finished within a few steps.

Multifunctional features

: TransVoices is a multifeatured program, playing as a voice translator, audio editor/converter/trimmer/splitter/merger/extractor/reverser/mixer,

High speed

: Its fast processing and exporting speed can bring users a perfect experience.

Multiple formats

: MP3, AAC, FLAC, OGG, WMA, WAV, and more are available.

Multilingual

: Various interface, translation, and transcription languages are changeable.

Cost-effective

: Free trial and competitive license fees, starting at $3.99/mo.

📝Steps to Turn Mono into Stereo via TransVoice
1. Open TransVoice and go to the Tools tab, tap Stereo Synthesis to pick two audio files on your phone, and then press Next.
2. Click the 🔄 icon to switch audio between the left and right channels, and drag the slider to adjust the length if desired.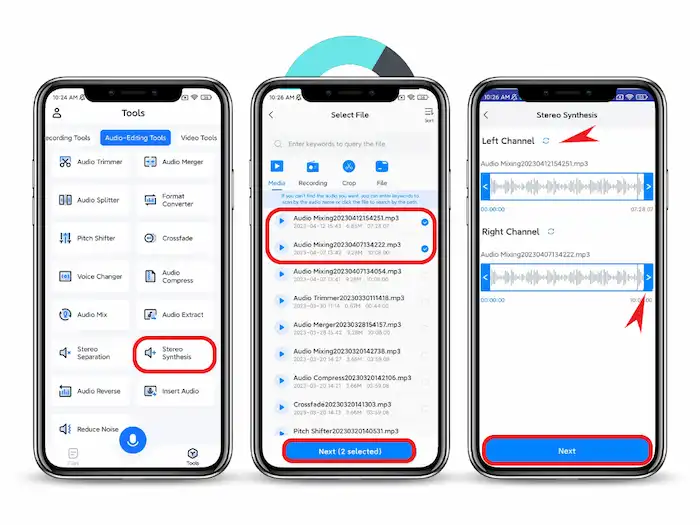 3. Tap Next and wait patiently for synthesizing. After that, you can translate the audio to text, copy the transcribed content, trim the audio length, or directly share or save the synthesized stereo audio file.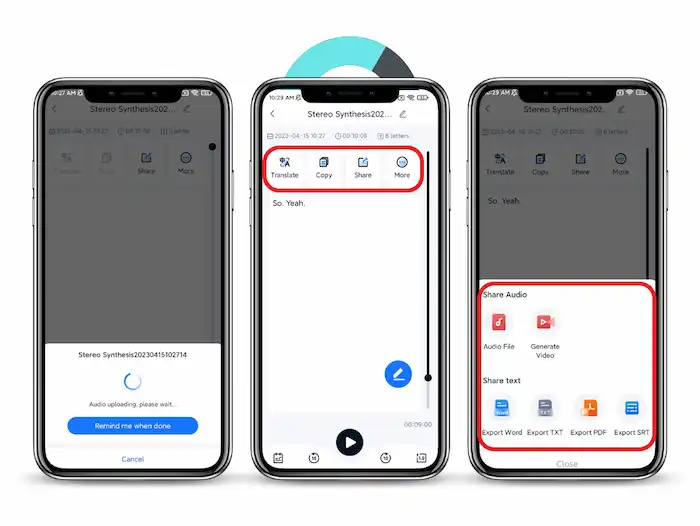 More Tools You May Need
---
How to Convert Mono Audio to Stereo Online
If you don't want to download a third-party app to your phone or are seeking online mono-to-stereo audio converters with advanced features, try fConvert's free online audio converter. Different from the TransVoice tool, this online converter specializes in audio and video format conversion. Users can customize multiple professional options and parameters, like kbps quality, sample rate, channel, and output format. As long as your phone has a stable connection, you can upload and make mono audio files stereo without pressure via fConvert.
The only downside is the safety assurance of online converters is not good as that of downloaded apps. Therefore, it is not advisable to upload private audio files that contain critical information to online converters. But if you need it, see how to convert mono audio to stereo below.
More Reasons for Picking fConvert
Simple and easy

: All operations can be finished within a few steps.

Multiple formats

: MP3, AAC, AC3, AMR, FLAC, OGG, WMA, WAV, and more are available. Users can upload both video and audio files.

Completely free

: No ads, hidden costs, or advanced plans.

No size limitation

: fConvert doesn't set any limits on the size of the audio file, but the larger the file, the more conversion time it will take.

Local or online input

: You can either upload local files or paste the URL of online audio files to convert.

Convenient export

: You can download the output file directly to your local or online storage device. It also supports downloading through QR scanning or link clicking.
📝Steps to Transform Mono Audio to Stereo Online
1. Go to this online audio converter, select a local audio file, or paste an URL to convert.
2. Configure the target format, sample rate, and audio quality, and choose Stereo under the Channel tab.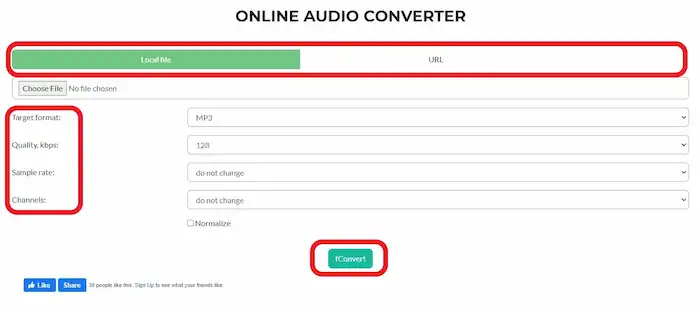 3. Press fConvert and wait till it completes. After that, you can click the file name under the Success convert bar to download it.

4. Or click the ⬇️ icon to upload the converted file to Dropbox, Google Drive, or other devices.

---
Tips for Optimizing The Conversion Quality
Use noise reduction tools to improve the audio quality.

Add stereo processing techniques such as shifting, delay, fading in, or fading out.

Use panning to place elements in different positions within the stereo field to create a dynamic and spatial sense.
---
Conclusion
In this post, we introduce two mono-to-stereo converters that enable you to make mono audio stereo on Android and online. In summary, the Android audio converter offers multiple practical features related to audio converting, editing, recording, and transcribing. The online one specializes in advanced audio editing features. You can pick one according to your needs and habits, Anyway, hope you know how to convert mono to stereo after reading this post. Now pick one tool and create a more immersive listening experience!