How to Convert Video to Audio on Android | 2 Methods
This post provides practical methods to convert a video file to an audio file on Android. After reading, you can easily convert video songs to audio in a few steps. You can extract audio from video with or without apps as desired. We also answered some questions about video-to-audio conversion, like YouTube video conversion, ways to change a video into audio on iPhone, and solutions to convert video into MP3 on Android, Windows, Mac, and iPhone, etc. Read on to learn more!
How to Convert Video to Audio on Android | 2 Methods
Converting video to audio is a common practice when we want to save storage space and reduce data usage. Compared with videos, audio files are more convenient to use when you are driving, working out, or doing other tasks where you cannot watch a video. If you need the background voice from a video, converting it to an audio file will make it easier to edit, manipulate, and adjust the details without dealing with the video file. It also improves accessibility for people with visual impairments.
Considering there are many well-known video-to-audio converters on computers, this post will focus on how to convert video to audio on Android on mobile. You will get an all-in-one audio processor after reading. Let's dive into the details.
Quick Look
How to Convert Video to Audio on Android?

Convert Video to Audio Manually
Use a Video-to-Audio Converter

What Else Can TransVoice Do?
FAQs
How to Convert Video to Audio on Android?
No more nonsense. Let's see the steps directly.
Convert Video to Audio Manually
This is the first, and also the quickest solution you can consider—changing video format on Android without apps. If your Android phone is able to share video in audio formats, you can select "Save as Audio" or "Export audio" from the sharing options and choose a location to save the audio file. However, whether this method is available depends on your device. If it doesn't work, try the method mellow.
📝How to Convert Video to Audio without App on Android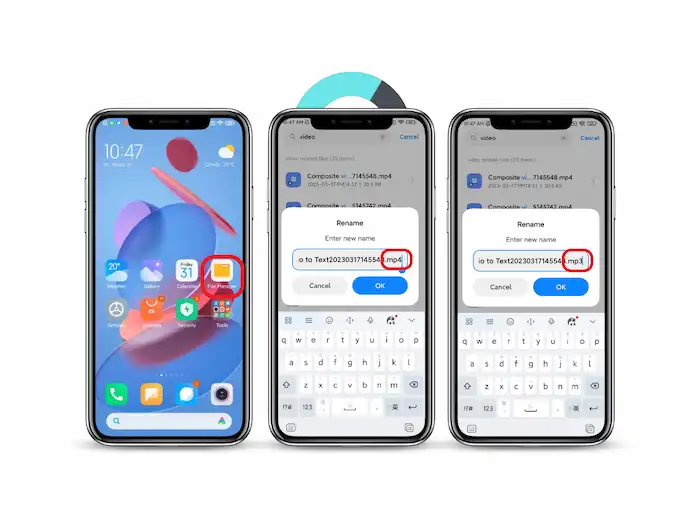 Open the File Manager app on your Android phone.
Search for and find the video you need to convert.
Long-press the video and click the Rename option (Or long-press the video > More > Remane).
Change the original video file extension into .mp3 or other

required audio formats.

Then press OK to save the changes.
This is how to change the audio format of a video on Android by renaming it. Please note that this method is not the right way to convert files. It may lead to accidental file corruption, and this operation can't be retrieved. In addition, the file size will not be changed.
Use a Video-to-Audio Converter
What if you can't find a File Manager or a built-in Share & Convert feature on your Android phone? Never mind. There are always third-party apps that can help you turn video into audio files without obstacles. TransVoice is one of them. This app, as its name shows, focuses on voice conversion. There are plenty of convert-to-audio tools on this app, such as converting video to audio, picture to audio, web to audio, and text to audio.
Moreover, the dubbing features make it more friendly to users. You can choose single, multiplayer, or dialogue dubbing as desired, pretty convenient when talking with people with speaking problems.

📝How to Convert Video to Audio with TransVoice on Android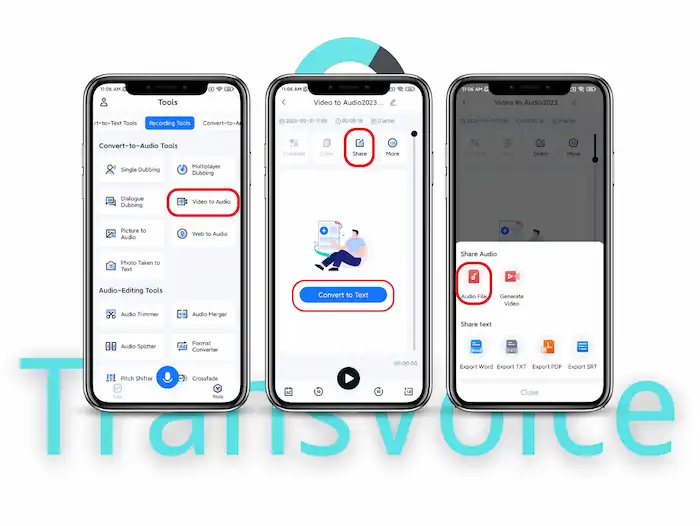 1. Free download this app from Google Play and launch it. Then go to Tools > Convert to Audio Tools > Video to Audio.
2. Select a video from your Gallery, File Manager, Video files, or somewhere else containing video files. Then the video will be converted to audio automatically (You can also convert the voice to text, translate, or copy it as desired).
3. Tap the Share button on the top > Audio File > Export the audio files to wherever you want. The default audio-sharing file format is MP3 (The transcribed text is sharable as well, available in Word, TXT, PDF, and SRT format).
In this way, your video files can be turned into audio files in seconds. The original files will not be replaced. You don't need to worry about file corruption or any data loss. And the audio becomes smaller in size. The audio-to-text feature also facilitates your work to a large extent.
---
What Else Can TransVoice Do?
As we mentioned, TransVoice is an audio converter and an audio dubbing tool. However, it packs all-around features more than you can imagine. It combines an audio recorder, trimmer, merger, splitter, format converter, compressor, reverser, mixer, extractor, and more into a clean and intuitive interface. More tools like noise reducer, pitch shifter, voice changer, voice translator, stereo separator & Synthesizer are also available.
With this all-in-one app on your Android, you can do whatever you want regarding to audio and video editing. You can not only use the practical audio editing and converting features in this tool but also enjoy it for fun. It offers a 3-day free trial. And the Pro versions, starting at $3.99/month, are competitive among so many products of the same kind.

You May Also Need
---
FAQs
How to convert a YouTube video to an audio file?
You can either use the URL of the YouTube video to convert it into an audio format or record the video using voice recorders. There are a number of online YouTube video converters, desktop software, and browser extensions. You can get the converted audio file easily by copying and pasting the URL using these YouTube audio downloaders. You can also use TransVoice to extract audio from downloaded YouTube videos.
How to convert video to audio on iPhone?
There is no native app that allows users to convert video to audio files. This capability is available on the Mac via iMovie but not on the iPhone. As a result, in order to convert video to audio, you must first acquire a professional tool. You can accomplish this by using programs such as Media Converter.
How to convert video into MP3 on Android?
The above two solutions enable you to convert video to MP3 formats on Android easily. You can manually change the file extension in File Manager or use TransVoice to export the video in MP3 format. In addition, you can refer to how to convert a video into audio on Windows, Mac, and iPhone for solutions on other platforms.