How to Add Text to Reels on Instagram at Different Times 2023
Eager to know how to add text to reels at different times? Instagram Reels are short entertaining videos where you can express your ideas. Sometimes people want to add lyrics, instructions, and eye-catching text to an Instagram reel but find it troublesome to operate, and the text may be distorted accidentally.
No worries! this article explains how to put text on Instagram Reels using free video editing software and the Instagram app. Head further and you will know how to make text appear and disappear on reels at different times.
How to Add Text to Reels on Instagram at Different Times 2023
Instagram Reels is a short entertaining video that can incorporate text, effects, and other creative tools. You can share your reel with followers and the public. Before posting reels on Instagram, it is essential to make some edits to optimize the quality. You can achieve this by adding subtitles, stickers, and other effects. Eager to know how to add text to Instagram Reels? Head further into this article! It explains how to add text to reels on Instagram and how to make a reel with words at different times using a free video editor.
How to Add Text on Instagram Reels Via Free Video Editor
If you can't add text to reels or find it troublesome to edit Instagram Reels text on a small phone screen. It is recommended to edit the text using a third-party tool. After trying editing videos using various tools, WorkinTool VidClipper is believed to be a good choice.
WorkinTool Video Editor—VidClipper is a multifunctional video editing program based on the Windows system. What sets it apart from other similar offerings is that it is completely free video editing software. It presents you with all of its various features including video editing, video converting, voice extracting, screen recording, text to audio converting, etc.
Based entirely on the features, it comes with a lightweight and clean interface. Other than that, the videos you export from VidClipper are without watermarks covered. It is a surprisingly capable application that deserves to be our top pick to edit Instagram Reels. Once you get the hang of the operation, you will know how to add words to Instagram Reels in no time.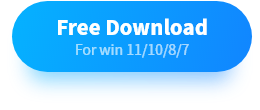 Step-by-step guide of adding text to Instagram Reels by VidClipper
1. Create a new project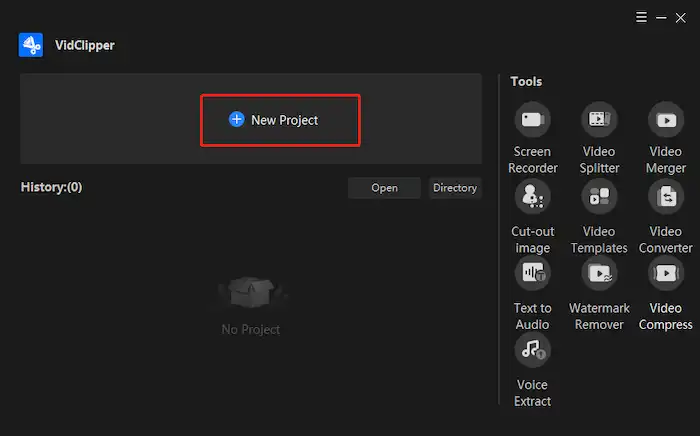 Open WorkinTool VidClipper and click on the blue New Project button. You'll enter the video editing panel after that. Then, upload your reel video to VidClipper media and drag it to the timeline, waiting for editing.
2. Add text to a reel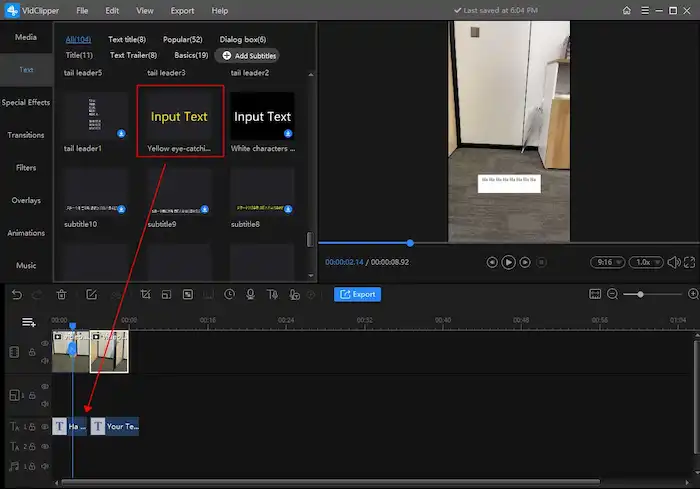 You can find a list of tools at the left of the editing panel, including text, special effects, transitions, filters, overlays, animations, and music. Click on Text to select a text template. There are 100+ free text templates available, allowing you to add subtitles, titles, animated text, dialog boxes, and basic text at your disposal.
Click to download the one you prefer and drag it to the timeline. How to add text to a reel at different times? Well, just drag multiple text templates to the timeline, and adjust their showing time by dragging each text box's side edges to fit the video clips.
3. Adjust text styles and effects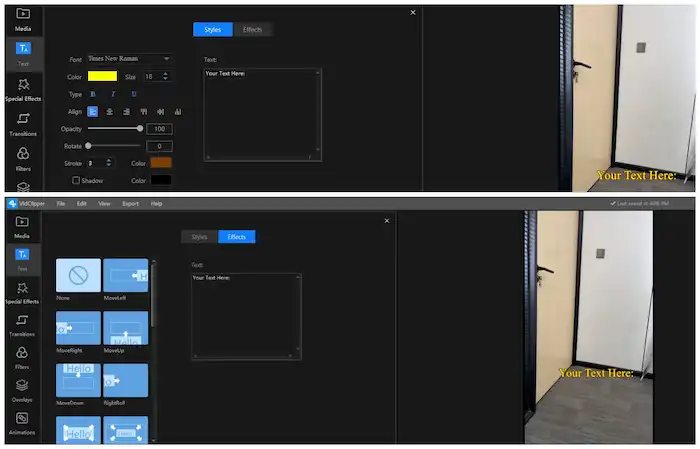 After dragging a text template to the timeline, click on the text box to type what you want to put on reels. Then, move the text to an ideal displaying place and drag the text edge to adjust its size.
For sophisticated edits, you can click on the text box to adjust reels font, color, type, alignment, opacity, rotation, shadow, blending mode, and so on. One of my favorite points is that it allows you to make animated text with different effects such as expanding and scrolling.
4. Export videos and share them on Instagram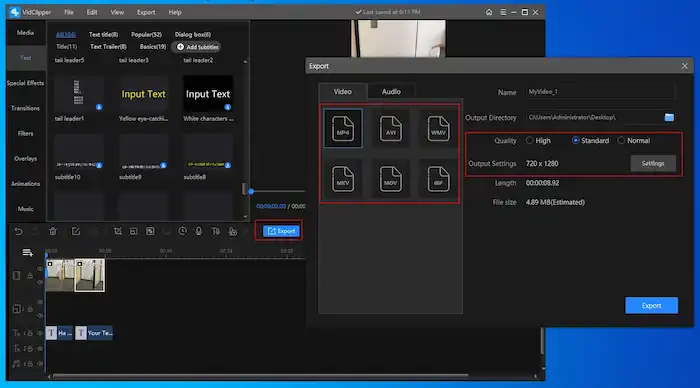 After adding text to reels, click the blue Export button to save the video. You can save your reels in MP4, AVI, WMV, MKV, MOV, and GIF format with no hassle. If you want to make the video smaller for downloading and transmitting, VidClipper also offers choices to compress videos at different levels. Before exporting, you can also try the following features to improve your reel quality:
---
How to Add Text to Reels on Instagram at Different Times
Wanted to add Instagram Reel text? You can easily do it on Instagram itself, which allows you to add music, audio, special effects, stickers, text, and so on. Follow the steps below to add pop-up words to reels.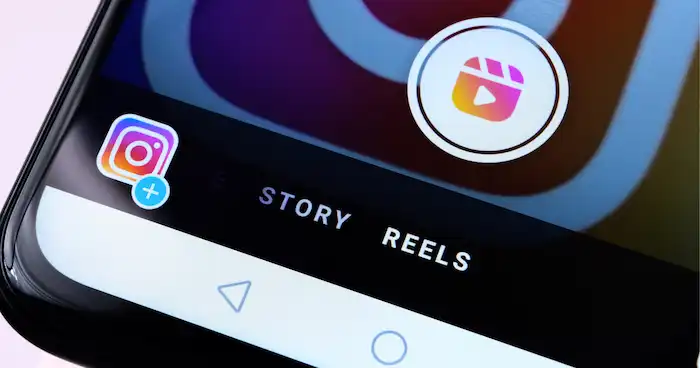 Launch the Instagram app and create a new reel.
Click on the Preview button in the lower right corner to edit the reel.
Tap on the Aa button in the upper right corner to add animated text to your reel.
Type in your text and adjust the text font and style by tapping on the icons at the top of your screen.
Click Done to save the text (You can move the text around and make the reel text stretched or enlarged by dragging it with your fingers).
Repeat the same steps to add different text.
How to make text appear and disappear on reels at different times?
After adding multiple texts to the reel, you will see multiple text blocks appear at the bottom of the screen. You can set the duration of text on reels by selecting one of the text blocks and dragging the side handles to adjust its start and ending point. Repeat the same operations to adjust the showing time of each text block. Then you can add disappearing text on reels easily. Different texts will pop up as the video is playing.
---
FAQs on How to Add Text to Reels
How to add disappearing text on reels?
You need to manually set the duration of text on reels. Whether on Instagram or on VidClipper, you can click on the text blocks and drag the side edges of the text block to make each text fit in the video clips. As the reel plays, the text will appear and disappear chronologically.
The difference is, in VidClipper, there will be a blue vertical line to remind you that you've perfectly fit the text with the video clip, thus making the fitting process more convenient.
How to make words pop up on reels?
In WorkinTool VidClipper, you can add effects to text when editing. All text effects are free to use, including but not limited to expanding and scrolling. You can make text pop up on Instagram reel easily using VidClipper.
---
Bottom Line
Many people need to add text like lyrics, explanations, and guides to reels. I believe you are clear in mind on how to add text to reels now. You can easily achieve this on the Instagram app, or you can make a better video output using VidClipper. Both of them are free to use.
If you want to share a reel immediately, Instagram can meet your basic needs. However, the Instagram Reels text may be distorted if you make an accidental mistake. If you find it is not convenient to put words on reels using Instagram and want to make videos more delicate, WorkinTool VidClipper will be better. Now pick the one that suits you the most and start editing!