How to Post a YouTube Video on Instagram 2023
Sharing YouTube videos on Instagram is not a straightforward process. You need to ask for copyright if you're not the creator, download the video to your computers or phones, and edit it according to Instagram's requirements before posting it on IG. In this case, you need to make use of a YouTube video downloader and a video editor. Lucky you are! This article shares an easy-to-use and all-in-one video editor that makes video downloading and editing a piece of cake.
🙋‍♂️Read on to learn how to do that and experience it by yourself.
How to Post a YouTube Video on Instagram in 2023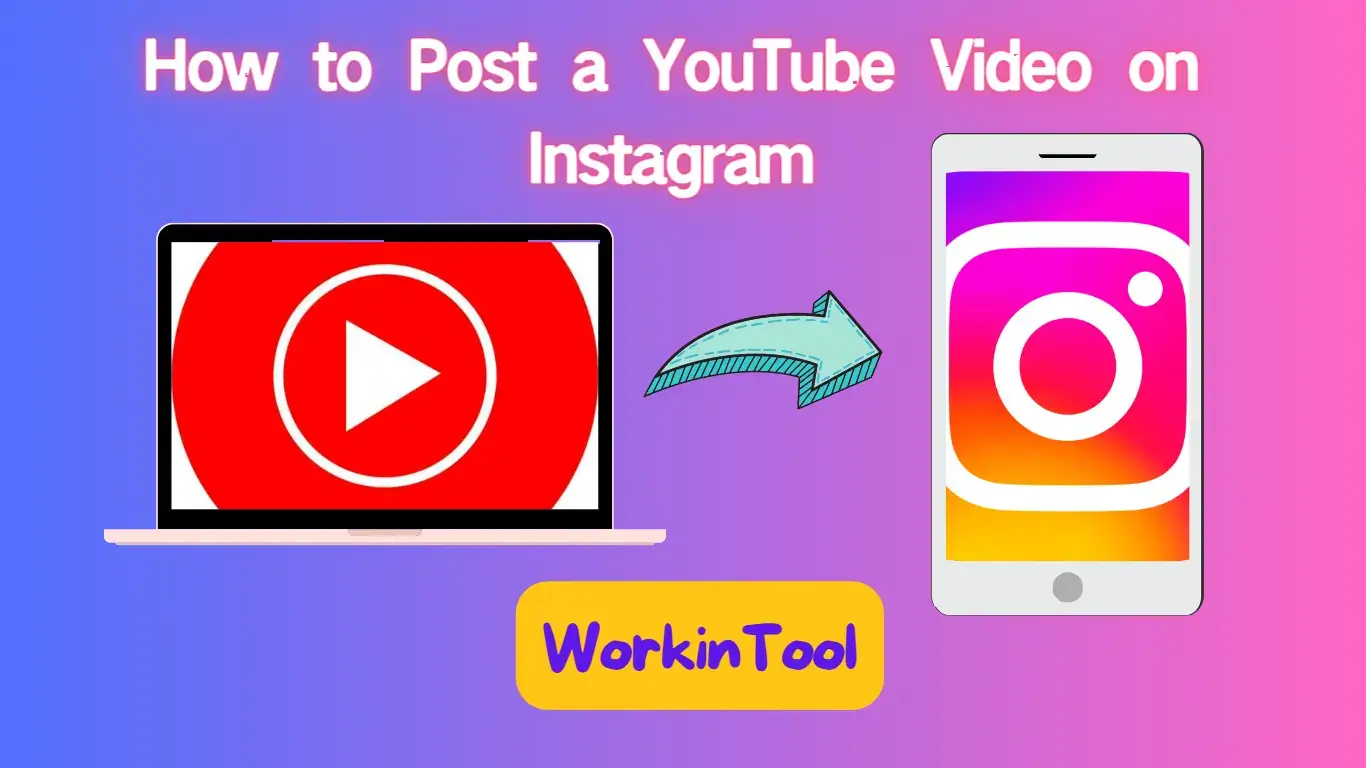 Have fun with the hilarious videos on YouTube? Ever wished you could share YouTube videos on Instagram so that more audiences could view them? Many video creators like posting videos on different platforms like YouTube and Instagram to drive traffic. Audiences also often share YouTube videos with friends or post tidbits for Instagram viewers. However, YouTube has no native way to directly share content to Instagram at the moment, which means you have to download the video first, edit it, then can you upload it to an Instagram post, story, or reel.
Luckily, in this article, we'll illustrate how to post a YouTube video on Instagram and share the tools you should use to make the process simpler and more efficient. You will learn how to share a YouTube video on Instagram or any other social media without copyright restrictions, as long as you've installed WorkinTool VidClipper and WorkinTool Video Downloader on your PC.
---
Why Post YouTube Videos to Instagram?
Before learning how to share a YouTube video on Instagram without copyright, it is essential to know why you would want to. YouTube and Instagram are two of the best video-sharing platforms. If you're willing to go through the trouble of asking for the permission of YouTubers, installing a YouTube video downloader, and editing videos according to Instagram's requirements, you can post content on Instagram and achieve the following things. Here are a few:
Share funny videos you find on YouTube with friends and YouTube Audiences.
Download YouTube clips to add them to your videos and recreate content, improving the possibilities of your creation.
Make marsh-ups, tease trailers, and compilations for videos you post on YouTube and post them on Instagram to drive traffic for both of your accounts.
Save time by using the same video content if you've created a video for YouTube before.
---
How to Post a YouTube Video on Instagram
Since Facebook limits Instagram to user-generated content, getting YouTube videos onto Instagram is not straightforward and easy. The only method is downloading a YouTube video to your PC, and editing it according to Instagram video upload requirements, like the aspect ratio and duration. To achieve this goal, you need to:
Get a Video from YouTube
Edit the Video for Instagram Use
Upload the Edited Video to Instgram
All the steps are mandatory, but with user-friendly and easy-to-use WorkinTool VidClipper, the whole process will become smooth sailing. Please follow the step-by-step tutorial below.
1️⃣Get a Video from YouTube
✅Download a Video from YouTube
YouTube does not allow viewers to download videos directly for copyright protection unless they have bought YouTube Premiere. But you can get unrestricted YouTube videos using a third-party tool like WorkinTool Video Downloader, which allows you to download a YouTube video and music for free in seconds by pasting a link. You just need to open a YouTube video, copy its link and this Downloader will recognize it intelligently and allow you to download the video in no time.
✅Record a YouTube video
As a multi-functional program, WorkinTool VidClipper offers you plenty of useful tools, including a screen recorder. Therefore, you can record YouTube videos using VidClipper's tool. In addition to screen recording with voice, it enables you to draw lines/shapes or type text directly on your recording with its drawing toolbar. Also, you can then add your recording directly to VidClipper's editing console for further editing.
(To learn how to post a YouTube video on Instagram without copyright, again, you need to keep in mind that you should obey the copyright protection law and not use YouTube videos for commercial purposes if you have no permission from the poster.)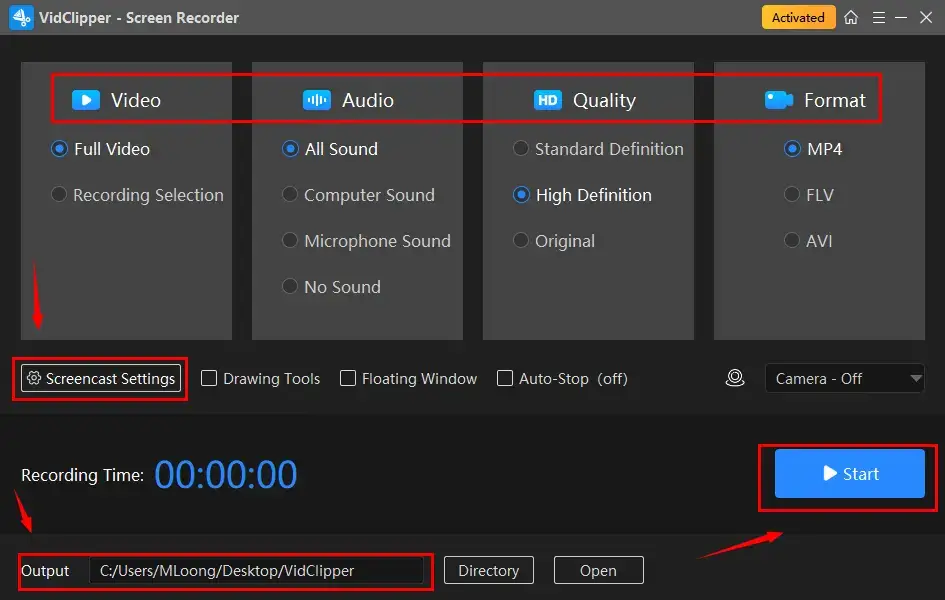 2️⃣Edit the Video for Instagram Use
As we mentioned, Instagram has unique requirements for posts, stories, and reels, which are not in line with that of YouTube. So you have to do some editing before sharing your YouTube videos on Instagram. In this case, WorkinTool VidClipper video editor comes into play.
Therefore, please feel free to enjoy a wide range of features packed together in WorkinTool VidClipper. The most important thing to do is to resize YouTube videos for Instagram (the normal aspect ratio is 9:16). You should:
Step 1. Launch WorkinTool VidClipper and then click + New Project.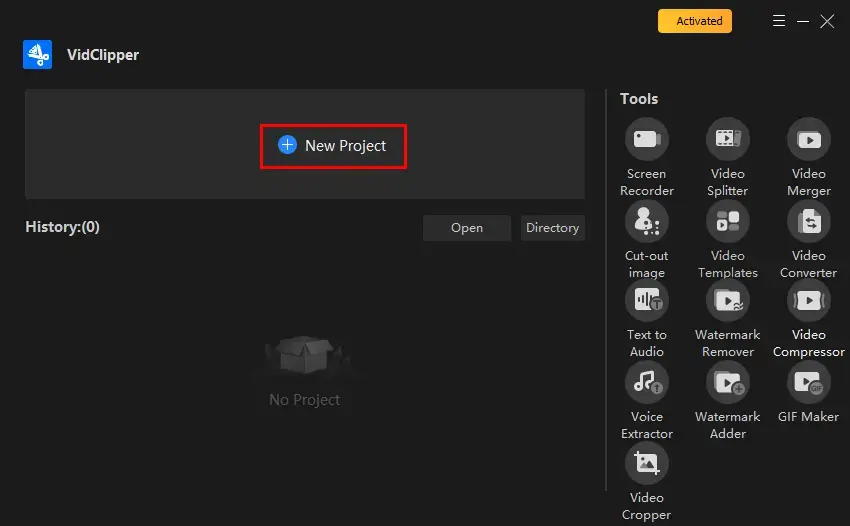 Step 2. Hit Import to upload your video and then drag it to the timeline below.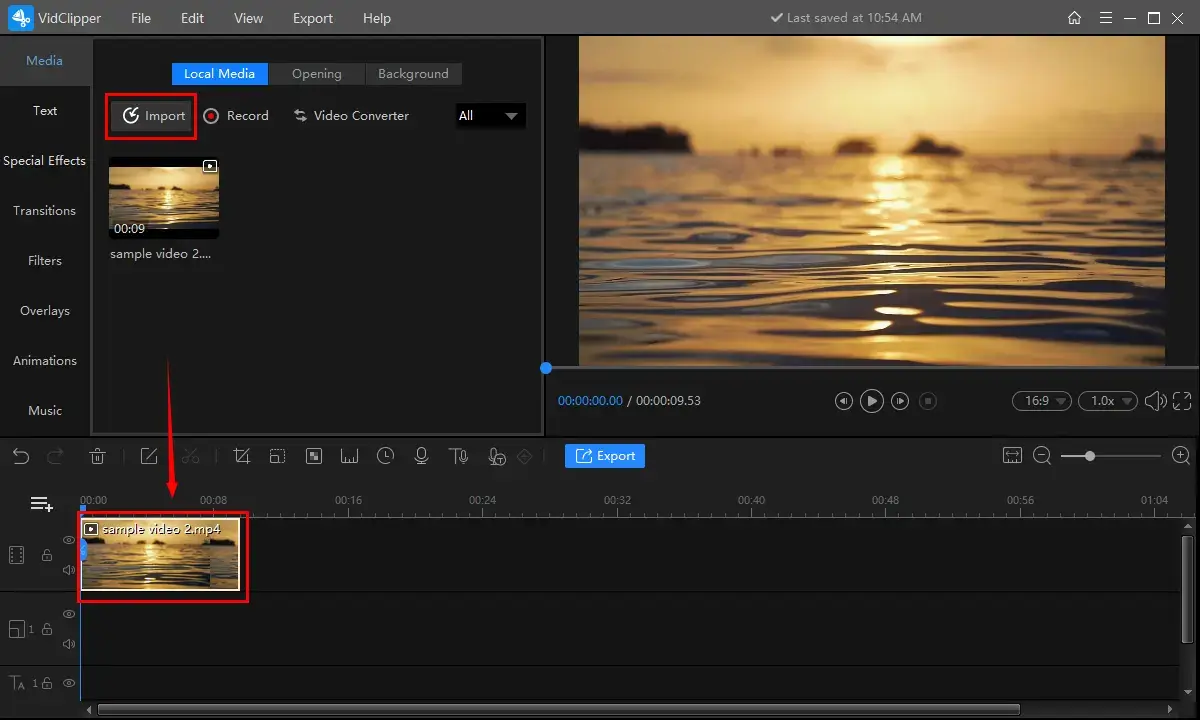 Step 3. Find the drop-down box concerning the aspect ratio and then choose 9:16.
(You can adjust the frames, rotate a video or flip a video here to edit it further.)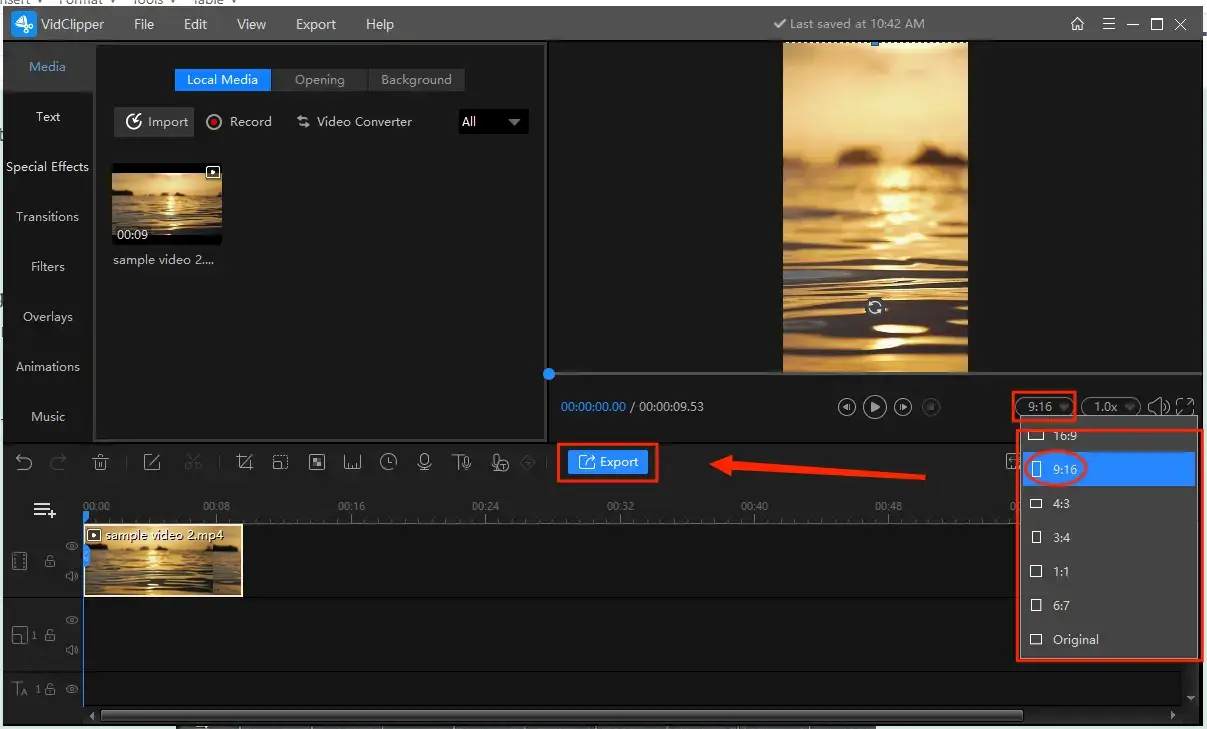 Step 4. Click Export, select the video format, adjust the settings (such as, change video resolution) and then press Export.

📝Notes of WorkinTool VidClipper Settings
Video Formats: there are six formats, including .mp4, .avi, .wmv, .mov, .mkv and .gif.
Video Quality: Three modes are available–High, Standard and Normal.
Additional Output Settings: On top of the default modes for video quality, you can further decide both the video and audio qualities with the help of these settings–Video (Encoder, Frame Rate, Resolution Rate and Bit Rate) and Audio (Encoder, Sample Rate, Channel and Bit Rate).
✅Edit the Resized Video Clip with Other Editing Tools
Feel free to rely on WorkinTool VidClipper to edit your video.
3. How to Post a YouTube Video on Instagram?
Here comes the last step–Upload the edited video to Instagram. The final step is to decide which section you want to share the edited video on Instagram. You can upload it as a Post, Reels or Story. Once you figure that out, you can follow the instructions below: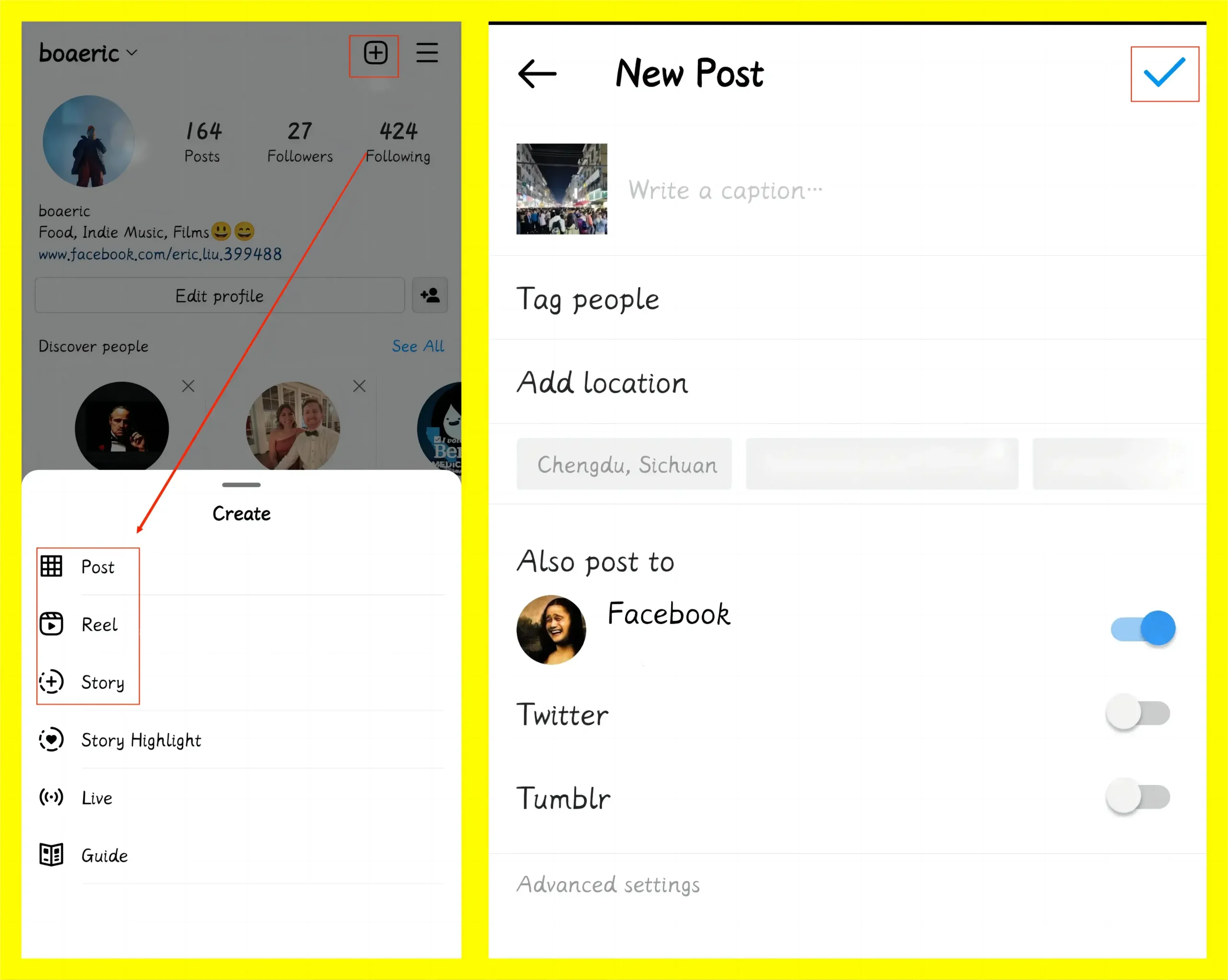 Open the Instagram app and then tap the + icon at the top.
Opt for the ideal video-sharing mode—Post, Reels or Story.
Adjust your videos, including filter addition or video resizing, and then hit the blue arrow icon.
Type your copy if you want and then click the ✔ icon to post it.
Both Android and iPhone users can resort to the same method to share their videos on Instagram easily.
---
FAQs: How to Share YouTube Link on Instagram Story
If you fail to ask for copyright permissions from the poster, don't want to share the video with all, or just want a quick sharing for traffic driving, the best way is to share the YouTube video as a link in Instagram Story. You can easily post a YouTube link on Instagram with the Swipe-up feature. How to post a YouTube video on Instagram as a link? Well, you can do that easily whether on iPhone or Android. Here is the detailed tutorial.
📌How to share a YouTube link in Instagram Story using Swipe-up?
Run Instagram and tap the plus button at the top.
Press the chain button and select the URL.
After pasting the URL, click Done to share your story.
📌How to post a YouTube video on Instagram as a link without 10K followers?
Launch Instagram and tap the top plus button to create a story.
Select an image where the URL will be shared together.
Tap the face icon at the top to paste the link.
Click Done to share the story.
---
More to Say
Sharing YouTube videos on Instagram isn't as difficult as you think. All you need is a reliable video downloader and editor. We have shared detailed steps of how to post a YouTube video on Instagram using
WorkinTool VidClipper
, which allows you to download and fine-tune YouTube videos without switching software around. You can also download YouTube videos with WorkinTool Video Downloader.
If you want to post a YouTube video on Instagram on iPhone or Android, just visit an online YouTube downloader and crop the downloaded video on the default gallery apps. There are many YouTube downloaders you can use for free.