How to Convert M4A to MP3 on Windows(Free Solutions)
If you are searching for how to convert M4a to MP3 on Windows in a free approach, read this post and find it out. It will present you with detailed tutorials to figure out your trouble. There are two effective tools available for you – WorkinTool VidClipper and iTunes. iTunes is a well-known music player. WorkinTool is a powerful desktop tool that can fulfill almost all video and audio formats conversion. And the operation is simple, just upload an M4A file and then export it to MP3. Hope you can get helpful information from this post.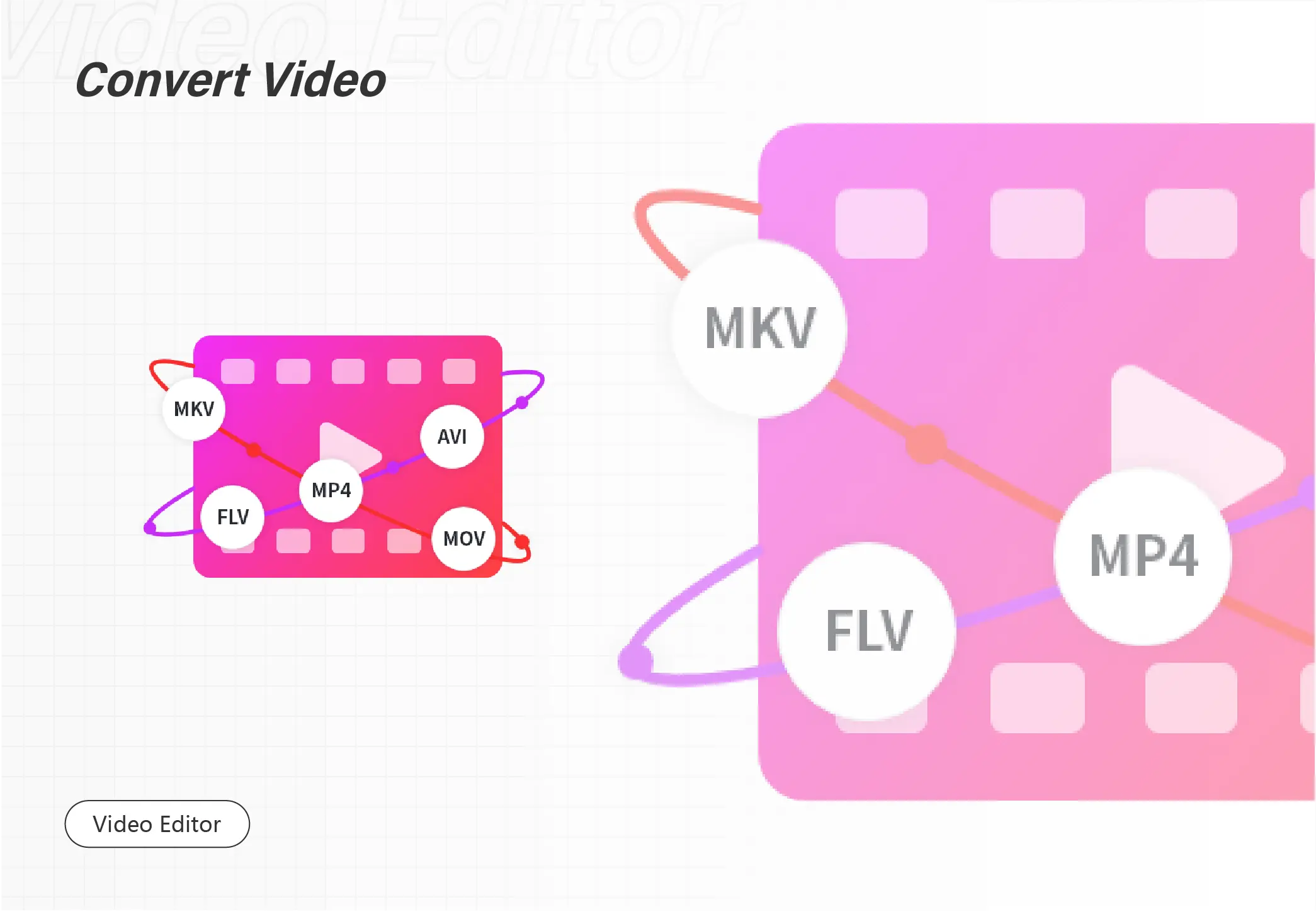 How to Convert M4A to MP3 on Windows (New and Free Solutions)
If you are wondering how to convert M4A to MP3 on Windows for FREE, this post may give you a hand. M4A format is a common audio format on Apple-branded devices. However, it is usually incompatible with other devices. If you have this kind of trouble, you have to convert it to a more compatible format – MP3. In this article, I'll show you how to convert M4A to MP3 with two effective tools – WorkinTool VidClipper and iTunes. It may cost you about 15 minutes to read, hope it is helpful for you.
🌟 What is M4A Format?
M4A is the file extension of the MP4 format. The ".m4a" extension has become popular since Apple started using ".m4a" in its iTunes and iPods to distinguish MP4 video and audio files. Compared with MP3, the advantage of the M4A format is that it can compress the file smaller while maintaining the same bit rate. What's more, although M4A is relatively popular, there are still many players that do not support this format. The MP3 format undoubtedly occupies the first place in the audio market of compatibility, and almost all software and hardware can play MP3 files. However, M4A is relatively limited and can only be used on Apple-branded computers, iPods, iTunes, and other software/hardware. If you want to play audio in M4a format on other incompatible devices, you have to convert M4A to MP3 format.
💡 How to Convert M4A to MP3 with WorkinTool Vidclipper
WorkinTool VidClipper is a professional and powerful video and audio editor, which is designed for both beginners and professionals. It is easy to operate, even new users can use it without any effort. Furthermore, It can accomplish the conversion of video and audio format in just a few seconds and a great result. And it won't affect the quality of your original file at all. Most importantly, it is free for every function of it. You can use it with ease. In addition to video and audio format conversion, it can also fulfill video editing like splitting and merging videos, converting text to speech, screencasting, adding elements, such as background music, text, filter, stickers to videos, etc. If you are or want to be a professional video maker, this tool is quite helpful for you.
How to Use It
Here is a step-by-step tutorial provided for you about how to convert M4A toMP3 with WorkinTool VidClipper.
Step1. Launch the software, then click new to upload the M4A file.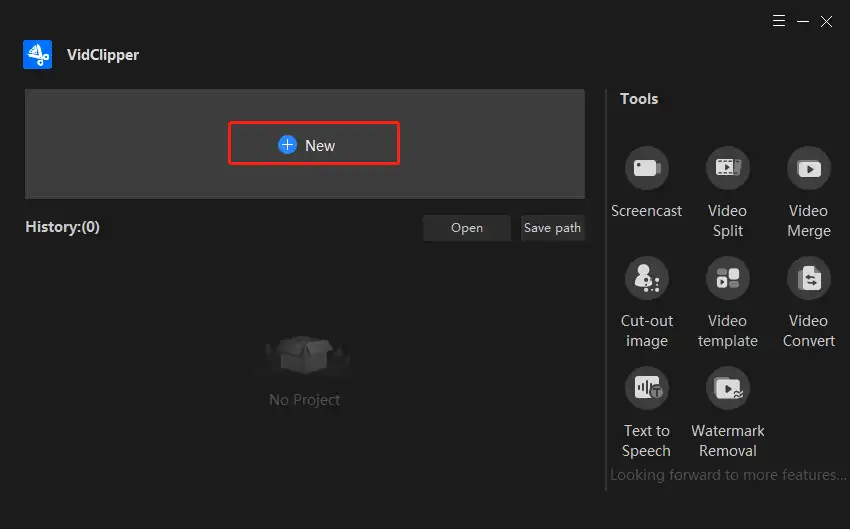 Step2. Drag the file or click import to upload it. Then tap the plus button to add it to the audio track. After that, click "Export".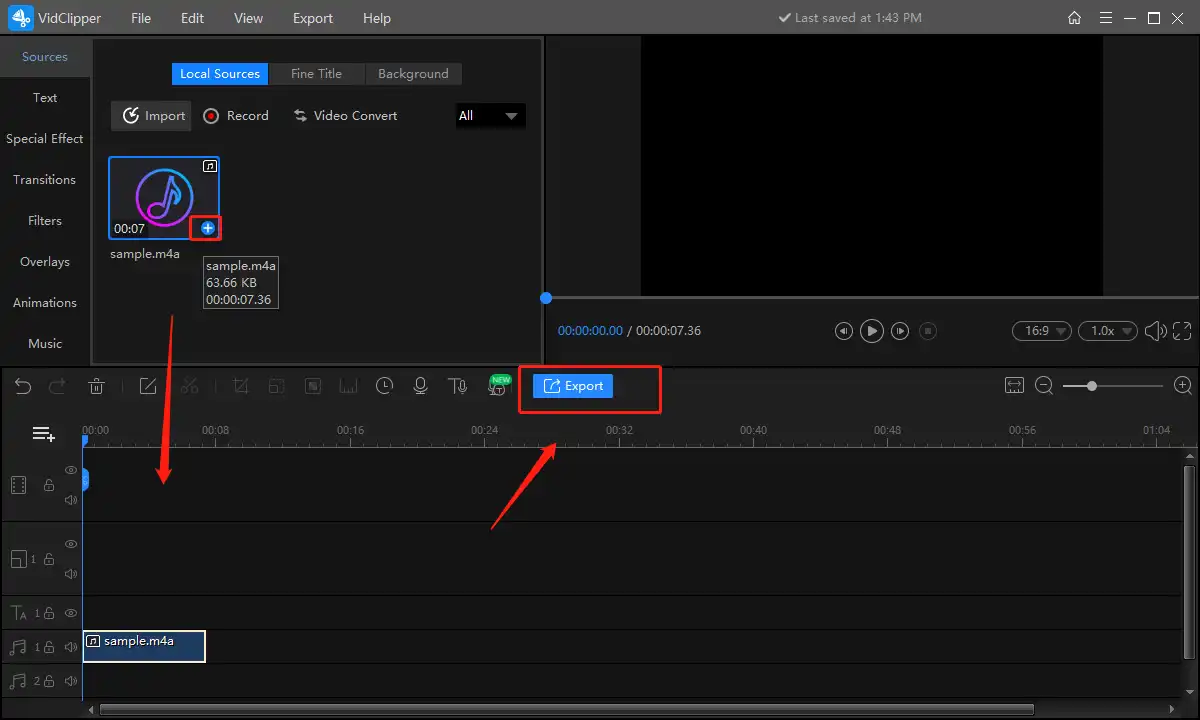 Step3. Choose the output form as MP3 in the audio column. It is feasible to change the name, saving path, and quality of the new file. As for the high quality, you can get MP4 audio without losing quality. As for the standard and normal quality, you will obtain a file in a smaller size.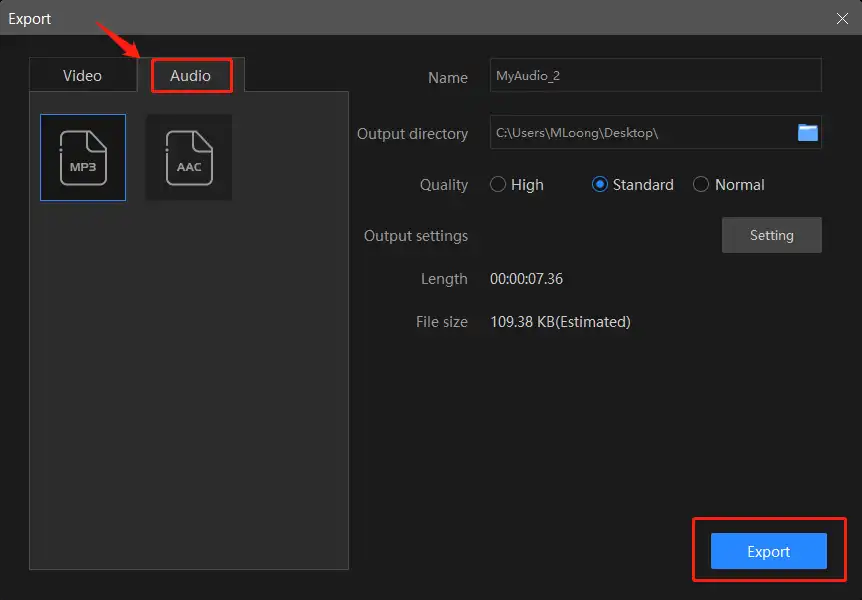 If you are proficient in audio production and not satisfied with the default mood, you can select Setting to design the parameters by yourself. After your setting, just paste the "OK" button to save it.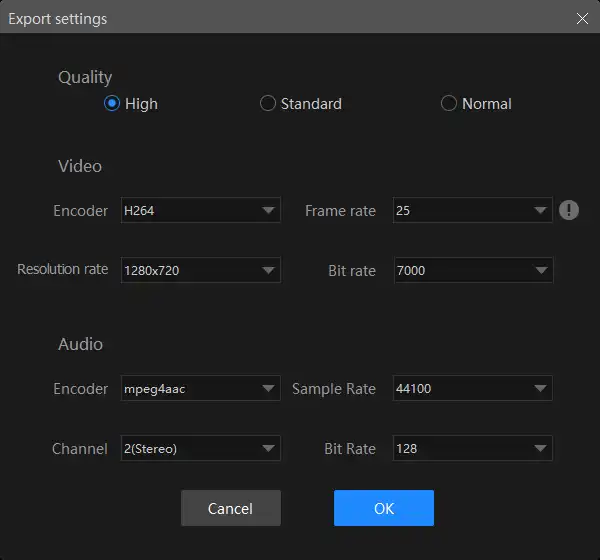 As you can see, you can also convert video to audio formats or convert videos to other formats, for example, convert MP4 to MP3, MP4 to MOV, MP4 to AVI, and vice versa. Its converting function is prominent in the market.
Why Choose It
1️⃣ It has a long-term free trial. And all functions and elements it provided are completely free without any request.
2️⃣ It will guarantee your privacy and data information. It won't save your file to its database, and it asks for no registration.
3️⃣ It is powerful, and supports the conversion of video and audio to many formats, like MP4, MP3, AVI, WMV, MKV, MOV, AAC, etc.
4️⃣ The operation is easy, and the converting speed is fast. Only in seconds and a few steps, you can transform your file into what you want.
5️⃣ There are no ads on its page and operating interfaces. You don't have to watch ads to get the free trial.
💡 How to Convert M4a to MP3 in iTunes
iTunes is a music and video player developed by Apple that can be used on Macs and PCs. It has many functions. On one hand, since iTunes is a music and video player, of course, it can play music and videos. On the other hand, Apple users should often hear the terms iTunes backup or iCloud backup. We can back up iPhone data with iTunes on Mac or PC. If you lose the iPhone data, you can retrieve the data through iTunes backup. Moreover, iTunes can sync music, video, and other data from your computer to your iPhone or iPad. We only need to authorize the device to the computer, then we can import the music and video from the computer to the Apple device. 
How to Transform M4A to MP3 with It
Now, it's time to figure out how to convert an M4A file to MP3 with iTunes.
Step1. Open iTunes, and choose Edit>Preference in the operating column.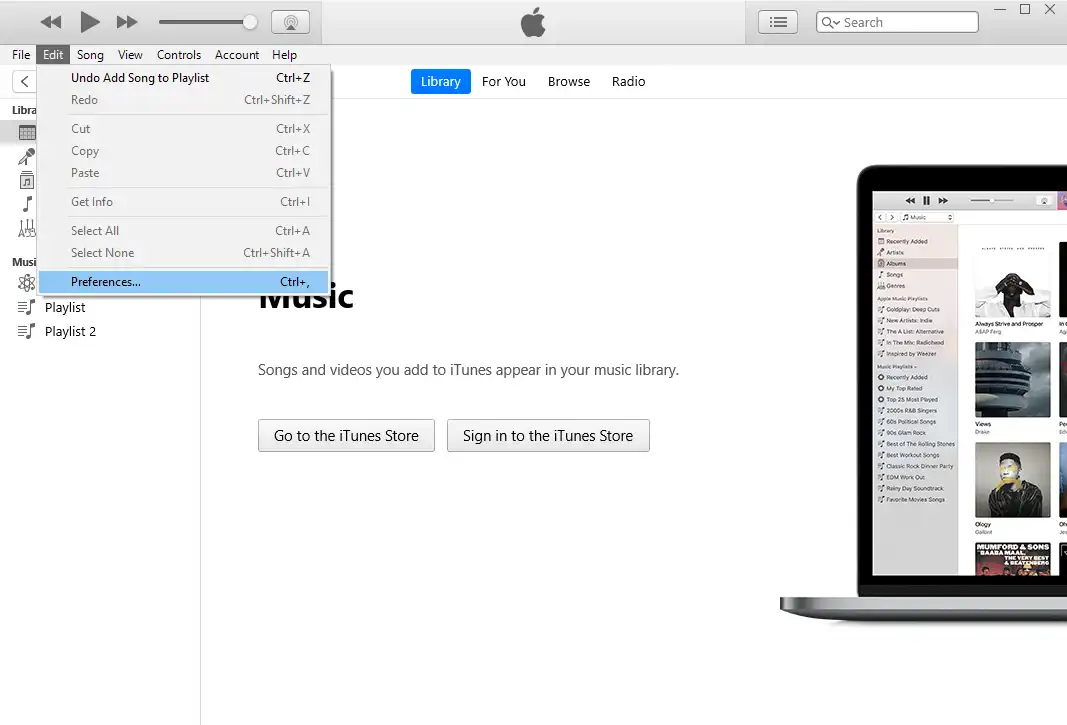 Step2. Select Import Settings under the General column. Then pick the import format as MP3.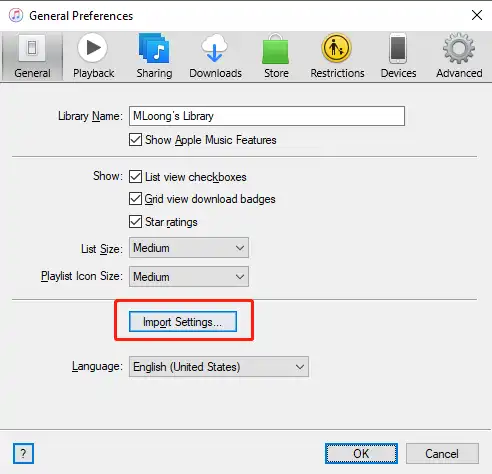 Step3. Add your M4A file to the music library, then click File> Convert to transform it to MP3 format.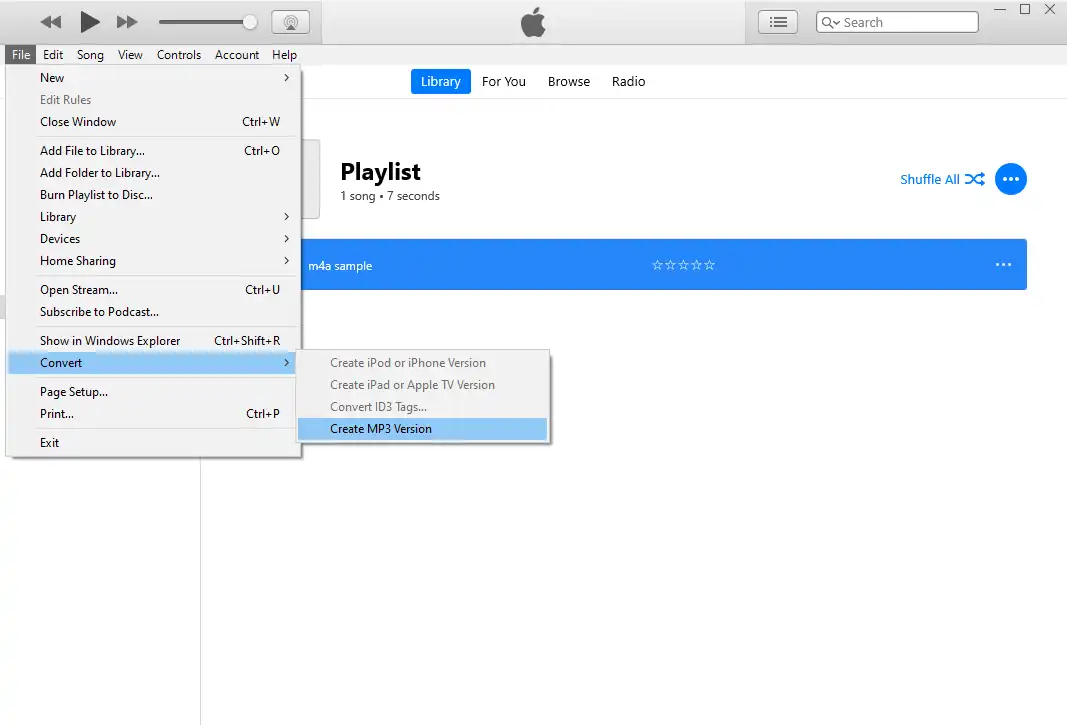 Why Pick It
Reliable. It is explored by Apple, which you can rely on.
Free. It is free for converting audio formats.
Backup data. If you have other Apple devices, you can share your data.
🌟 Summing Up
Now, you may have figured out how to convert M4A to MP3 files on Windows in costless ways. In this article, I have recommended two effective tools to convert audio. As for WorkinTool VidClipper, it is more powerful and professional in video and audio editing. As for iTunes, it is also a great music downloader and player. Personally speaking, I prefer the WorkinTool converter, for it is bound with numerous merits. It has multiple functions than iTunes, and it supports the conversion of video and audio in much more formats. Furthermore, its operation is easier and faster, as well. It has a long-term free trial, you can have a try first. Eager for more video and audio editing information, you can visit WorkinTool.
Products Reviews:
TrustScore
4
|
323
reviews