AAC to MP3 | How to Convert AAC to MP3 in 2023 | 3 Ways
In this article, I'll help you figure out how to convert AAC files to MP3 Free. I will present you with three effective audio professors helpful in different PC platforms.
🎯Windows–WorkinTool VidClipper
🎯Mac–iTunes
🎯Online–AAC to MP3 Converter (WorkinTool VidClipper Online)
Please feel free to try all the aforementioned methods. However, it is strongly advisable to use WorkinTool VidClipper. It can help you to convert AAC to MP3 without losing quality within seconds. Its operation is quite simple; just upload an AAC file and then export it to MP3. In addition, it is also a professional and all-sided video editor that can be used to split and combine videos, turn text into speech, make delicate videos, etc. With it, you can cope with nearly 90% of video and audio editing problems. Try it right now.
How to Convert AAC to MP3 on Windows, Mac and Online in 2023
AAC, though gradually becoming a mainstream audio format, still has less compatibility with the universal one–MP3. In this article, we will help you figure out how to convert AAC files to MP3. I will present you with three effective audio professors helpful on different PC platforms.
💻Online

💡Online AAC-to-MP3 Converter (WorkinTool VidClipper Online)

💻Desktop
💡Windows–WorkinTool VidClipper [⭐

Hot

]

💡Mac–iTunes
I'll show you how to use them. Hope it can bring helpful information to you.
---
Before AAC-to-MP3 Conversion
📌What Is AAC File?
AAC, short for Advanced Audio Coding, is an audio compression format specially designed for sound data. Similar to the MP3 format, but greatly improved in performance, AAC uses a completely new algorithm for encoding, which is more efficient and more cost-effective. Moreover, it can maintain a quality that is almost indistinguishable from the original audio source. AAC is becoming popular, and more and more music players on the computer support AAC, such as Apple iTunes.
📌Why Transform AAC into MP3?
Compared with MP3 format, AAC audio has better sound quality and can save about 30% storage space and bandwidth. Although AAC audio file is much better than MP3 audio files to some extent, it is still not as widespread as MP3 audio files. I believe you may not have heard of the AAC format, but you must have known something about MP3. What's more, MP3 is far more compatible than AAC on older devices. It can be opened and played on almost all cell phones, music players, and car entertainment centers, while AAC is in favor of far fewer devices.
Then, please read on to learn about specific solutions to AAc-to-MP3 conversion.
---
How to Turn AAC into MP3 Online
A free online AAC to MP3 converter is definitely helpful for users unwilling to download and use any desktop software. As there are various options in the market presently, which one should I choose? Here, to save time, we will directly introduce you to WorkinTool Free Online AAC to MP3 Converter.
✅ WorkinTool Free Online AAC to MP3 Converter
WorkinTool VidClipper online is designed to provide users with a free and easy file conversion experience online. It captures users' minds owing to its support of the mutual conversion of multi-formatted files, including audio music and videos. It boasts a modern interface and an easy conversion process. Besides, it is totally free to use without signup and supports batch conversion. However, only four AAC files within 20 MB are convertible each time. Used as an online AAC to MP3 converter, you need only three steps to complete your conversion, which is effortless and instant.
Here is a summary of the reasons why you should pick WorkinTool VidClipper's online AAC-to-MP3 converter:
| | | |
| --- | --- | --- |
| Modern and simple interface  | Easy conversion process | Batch conversion |
| 100% free | Super secure | No output watermark |
📕How to Export AAC to MP3 via WokrinTool Free Online AAC to MP3 Converter?
Step 1. Open WorkinTool VidClipper's online tool–AAC-to-MP3 Converter and then click the orange + icon to upload your AAC file.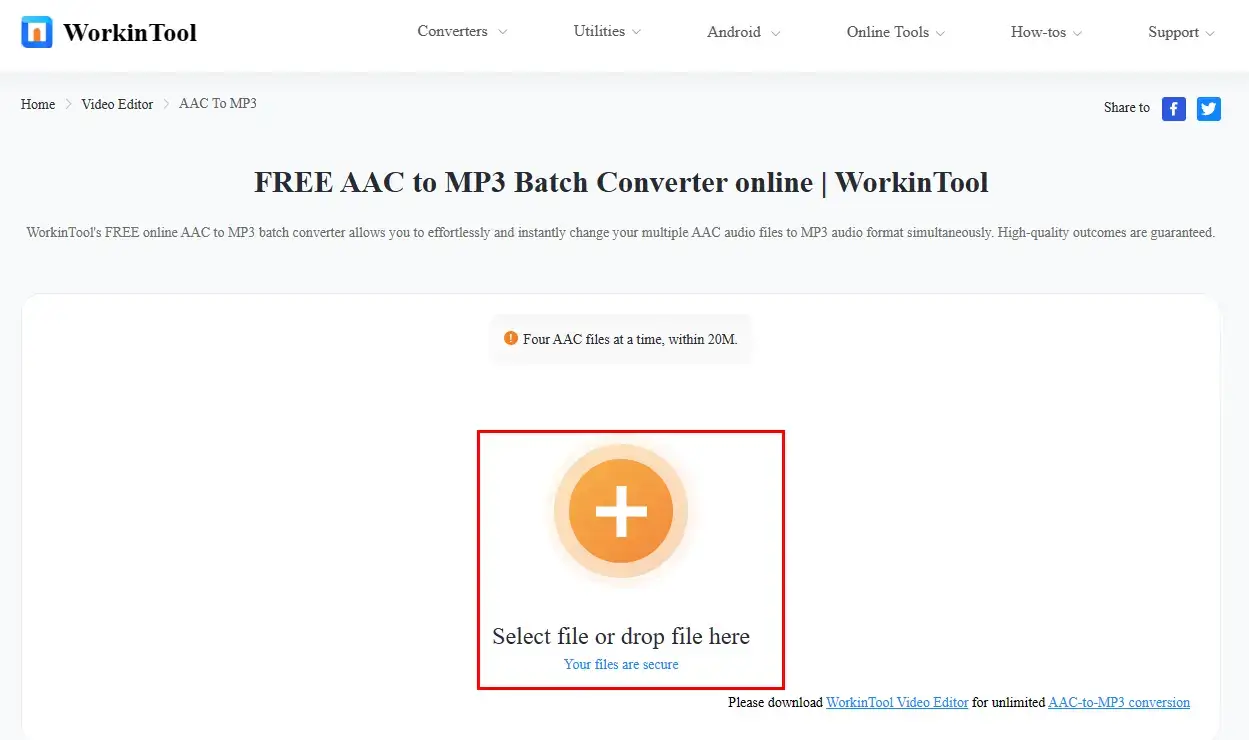 Step 2. Tap Convert to start your AAC-to-MP3 conversion.
(Click + to add more files to convert them in bulk if you want to.)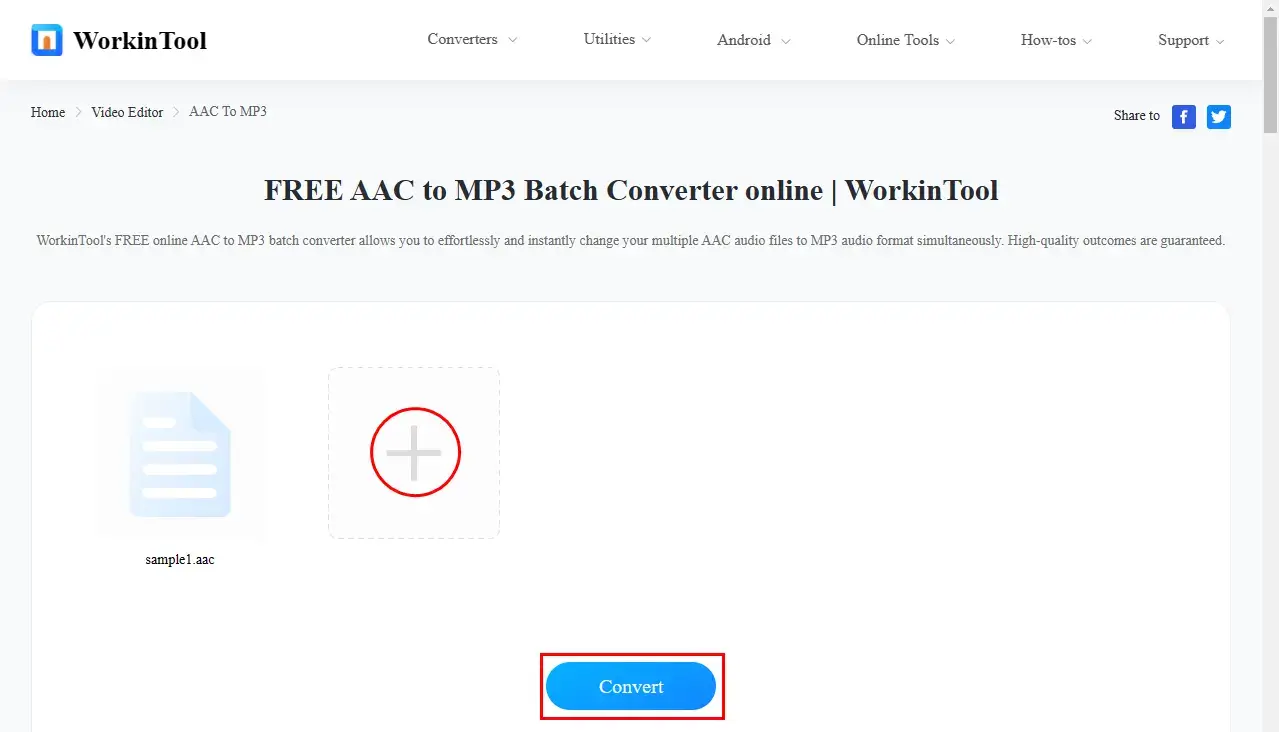 Step 3. Hit Download to get your MP3 audio.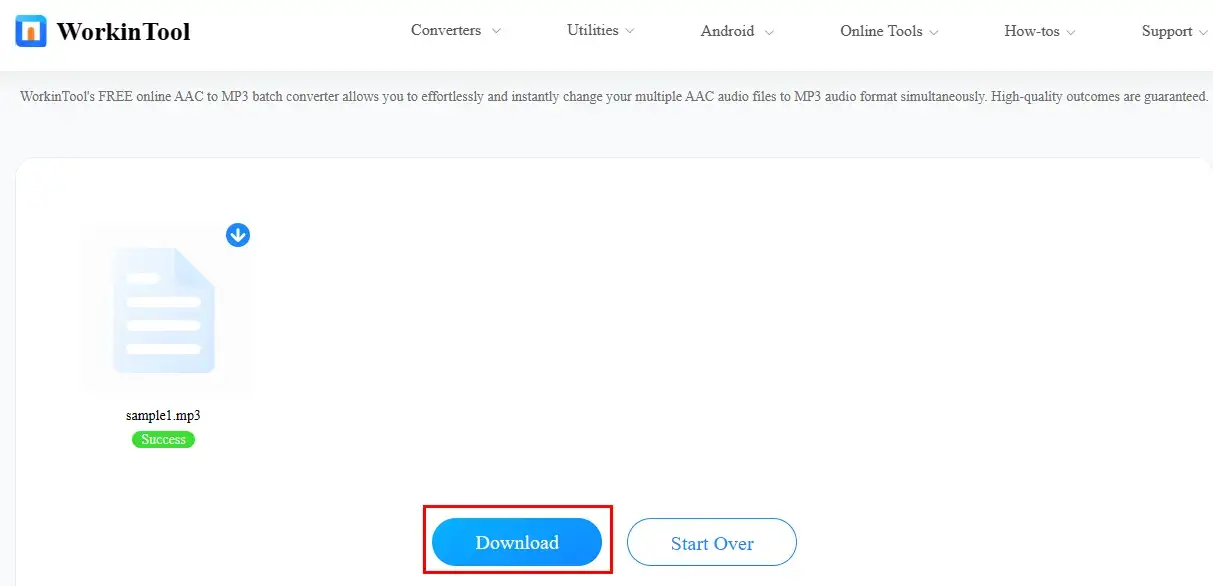 📢PS: if you intend to break all the limitations, you can use its desktop version–WorkinTool VidClipper and read the next chapter carefully to learn about how to use it.
🧐More Free Online Editing Tools from WorkinTool
✨The Verdict
---
How to Convert AAC to MP3 on Windows
If you are using a Windows laptop or computer, we will recommend a handy video converter–WorkinTool VidClipper to you.
✅ WorkinTool VidClipper
WorkinTool VidClipper was initially designed as a video editor. However, after several rounds of upgrading, it has now become a multi-functional program able to solve many of your problems. Therefore, installing it on your PC will enable you to have the following tools, including:
All its tools are equipped with a simple and convenient interface which will facilitate beginners, so they will find it far from overwhelming to use them. For professionals, they will be satisfied when using VidClipper's editing console. They can create professional-looking or movie-like videos with all the features in it, such as transcribing audio into text, adding text, background music, transitions, effects and animations, putting filters to videos, etc.
Also, WorkinTool VidClipper is an all-around audio and video file format converter. It offers free trial for all functions and elements. Most importantly, it accomplishes the mutual conversion of nearly all mainstream audio formats. For AAC-to-MP3 conversion, with just a simple drag-and-drop, you can easily convert AAC to MP3 without losing the original quality. Furthermore, you can expect multiple outputs simultaneously with the assistance of its batch conversion ability. And there are even more:
🙋‍♀️Why you shouldn't miss WorkinTool VidClipper
📕How to Convert AAC to MP3 Using WorkinTool VidClipper?
Step 1. Launch the tool and then click "Video Converter" on the main page.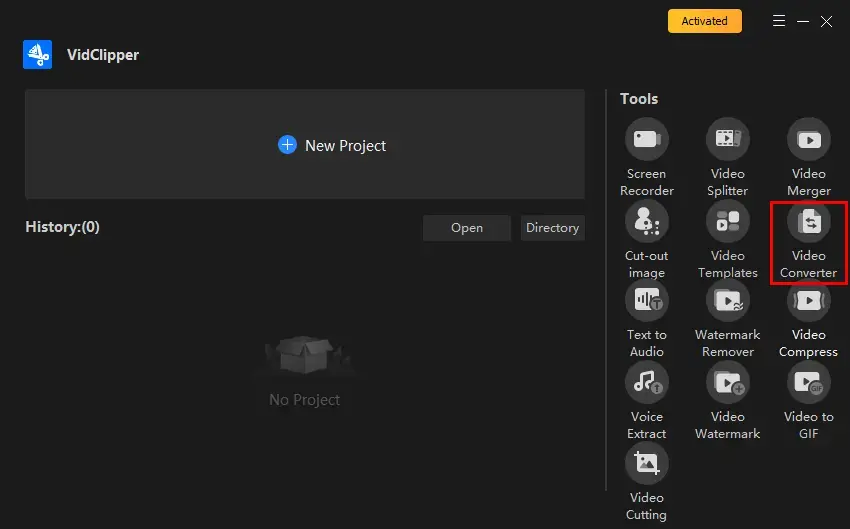 Step 2. Hit "+Add files" or "+Add folders" to upload your AAC files.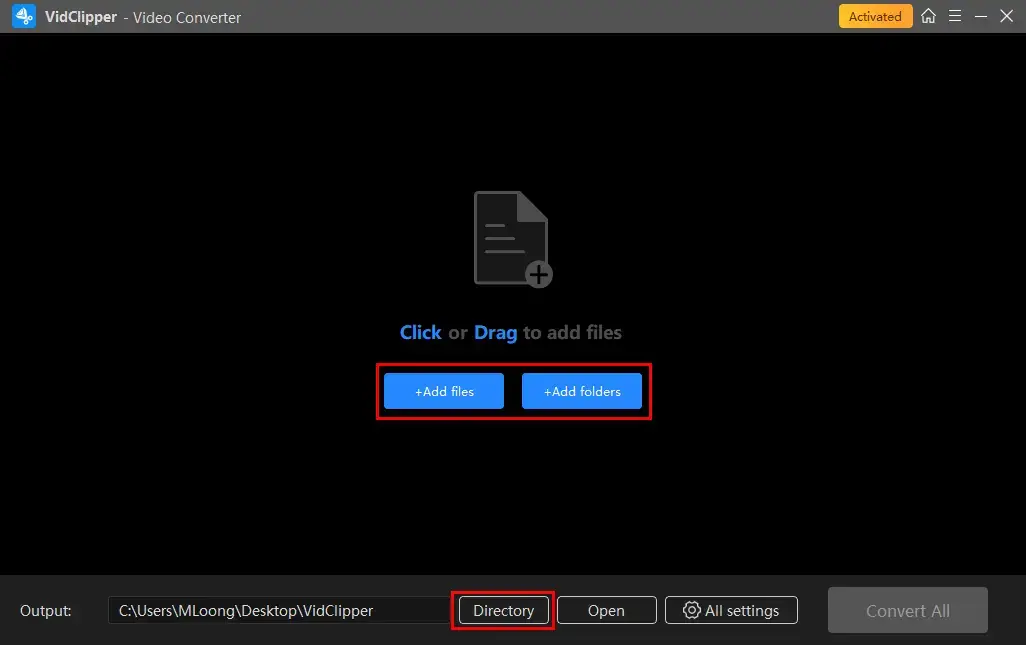 Step 3. Change AAC to MP3.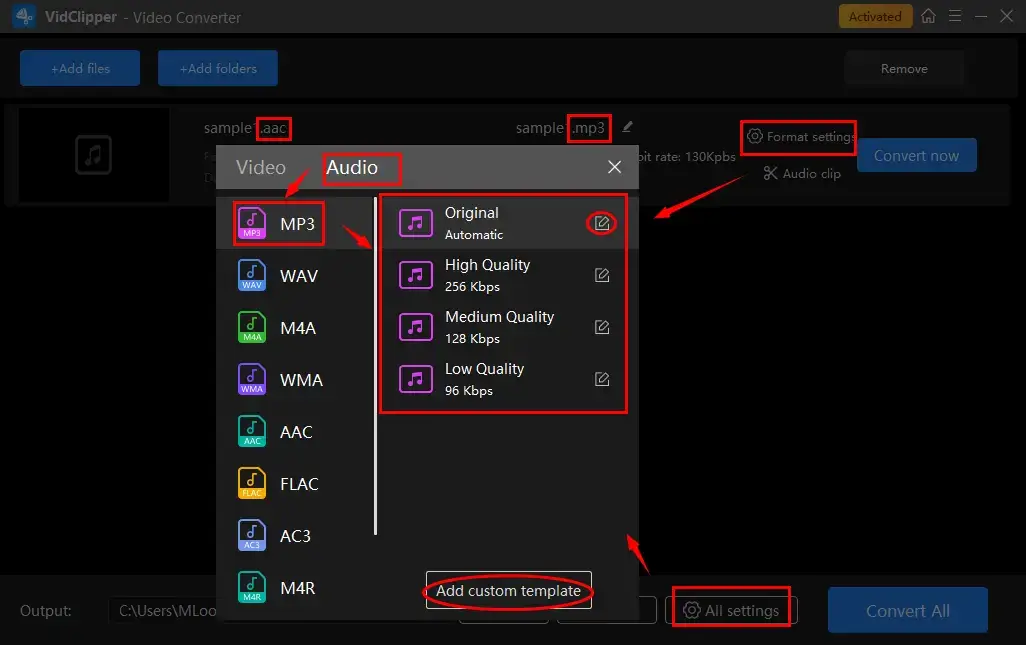 Hit Format settings (single file) or All settings (multiple files) to activate the format window.
Select Audio > MP3 and the desired audio quality.
(Not necessary) Adjust the settings to export custom results by clicking the pencil icon beside each quality option (single-file settings) or Add custom template (multiple-file settings).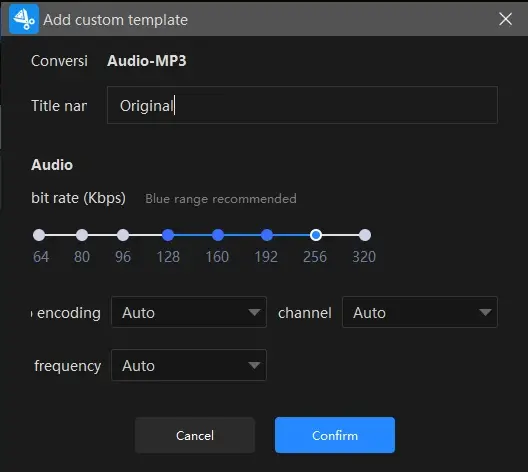 🧐Explanation of Audio Settings in WorkinTool VidClipper Video Converter
| | |
| --- | --- |
| Encoder | An algorithm that compresses and decompresses digital audio data according to a given audio file format or streaming audio format. Auto and MP3 |
| Frequency | Also known as sample rate. A measurement of the samples per second taken by the system from a continuous digital signal. It determines the range of frequencies captured in digital audio. Auto, 44100 and 48000 |
| Channel  |  A representation of sound coming from or going to a single point. Auto, 1 (Mono) and 2 (Stereo) |
| Bit rate | The amount of data transferred into audio. From 64 to 320 |
Step 4. Click Convert now (single conversion) or Convert All (batch conversion) to complete your file conversion.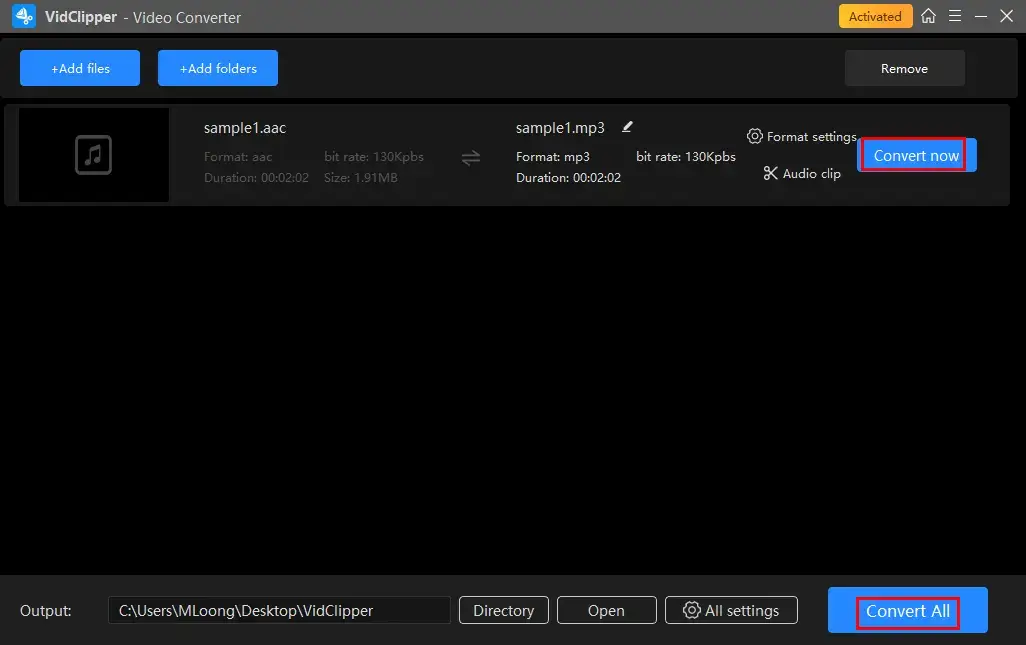 Step 5. Choose your next move.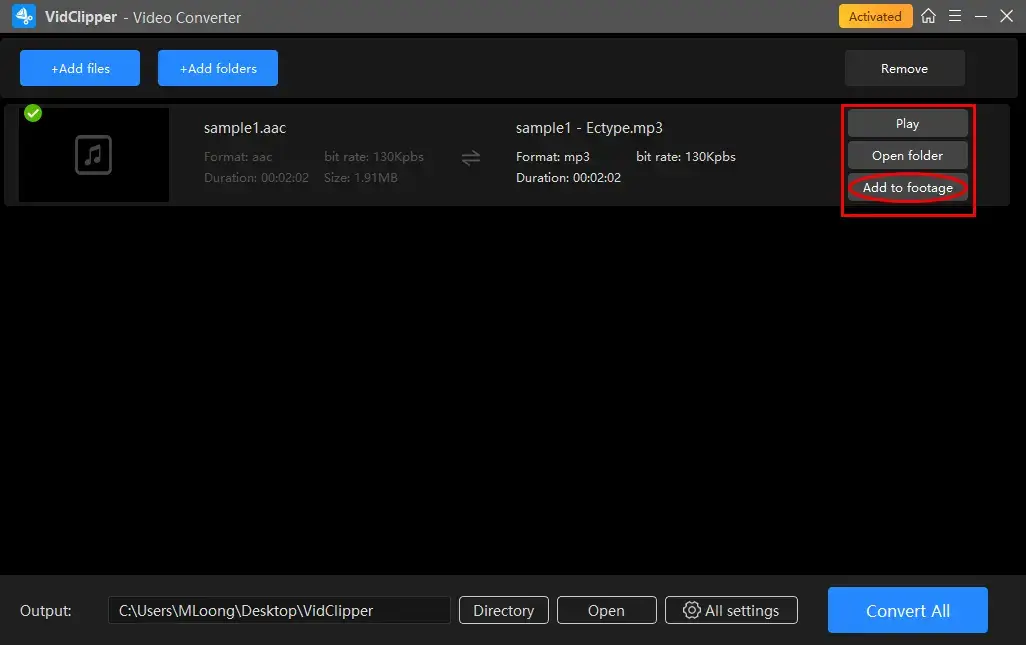 *Add to footage is a useful feature that helps you move your converted .mp3 audio files to VidClipper's editing console for further editing, including removing background noise from audio, changing audio bitrate, extracting voice from audio and more.
Here is the converting result by WorkinTool VidClipper.

🙋‍♂️More to Share About WorkinTool VidClipper Video Editor
🎯Quick Audio Editing: Audio Clip
This section enables you to quickly edit your converted MP3 file, including audio trimming, speed changing and volume adjustment.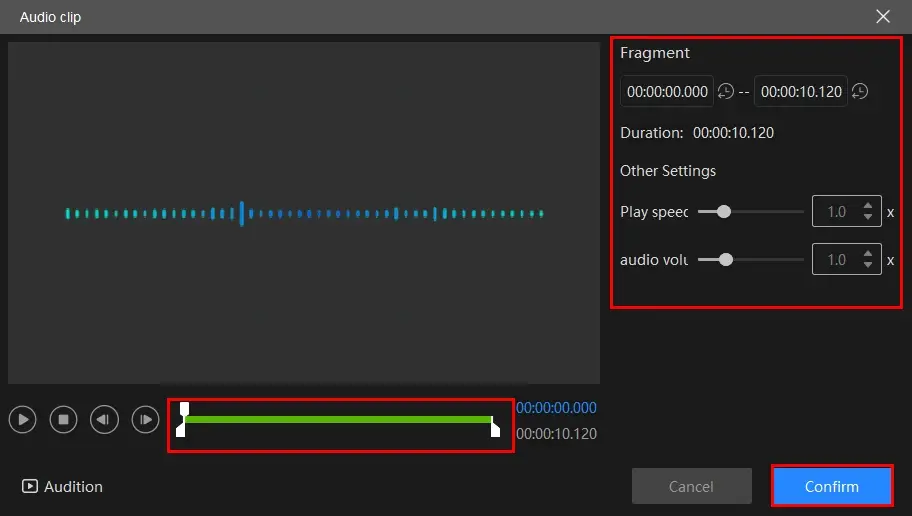 Audio Trimming: Move the white square sliders to determine the beginning and ending points of your audio.
Play speed: Move the white round slider to change audio speed without changing pitch.
Audio Volume: Increase or lower the volume of your audio file by moving the white round slider forward or backward.
🌟
What can WorkinTool VidClipper do with audio conversion?
In addition to transforming AAC into MP3, WorkinTool VidClipper supports many format conversions, for instance, converting video to MP4, AVI, WMV, MOV, MKV, and altering audio to MP3, AAC. It can also realize the conversion between audio and video, like converting MP4 to MP3. Here is a summary of its other usages that you can refer to.
✨The Verdict
---
How to Change AAC to MP3 on Mac
If you are a Mac user, the easiest way to realize this goal is using its built-in app–iTunes.
✅ iTunes
iTunes is the official music and video player of Apple, which plays the role of music and video player and manager. It is in favor of converting music files to MP3, AAC, WAV, and AIFF. Moreover, it also realizes transferring audio and video data on the iPhone to computers. Backing up iPhone data with iTunes is a more commonly used function of it. You can retrieve your lost data through iTunes backup.
📕How to Save AAC as MP3 with iTunes? 
Step 1. Launch iTunes, and choose Edit > Preference.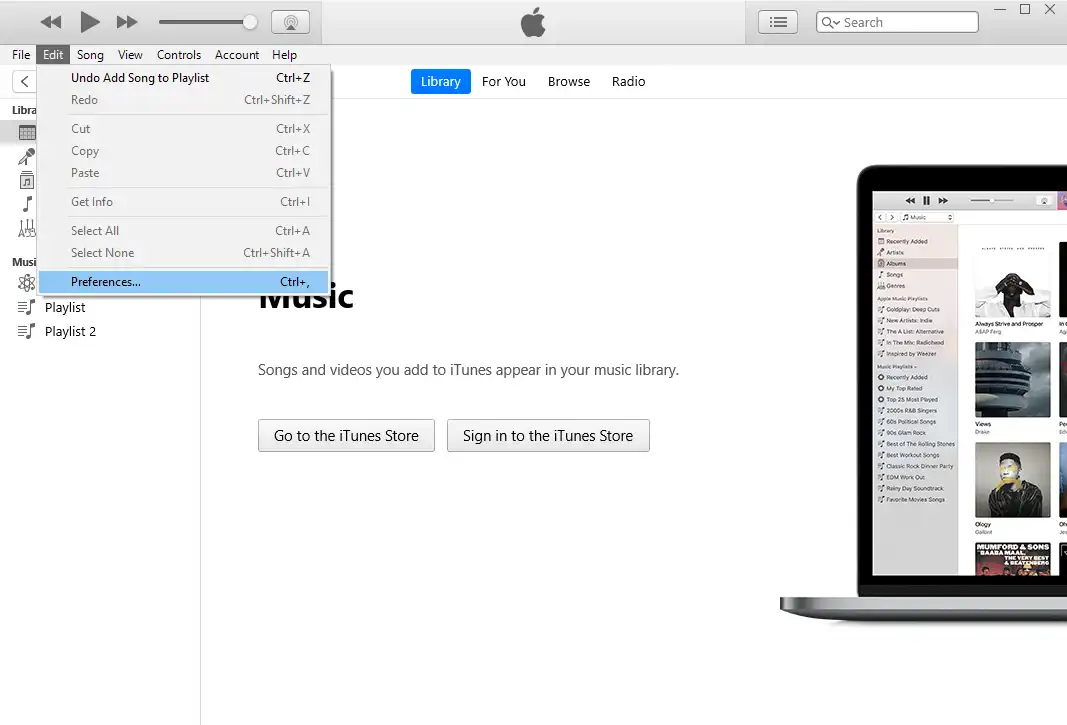 Step 2. Select the Import Settings button. Then decide on the import format as MP3.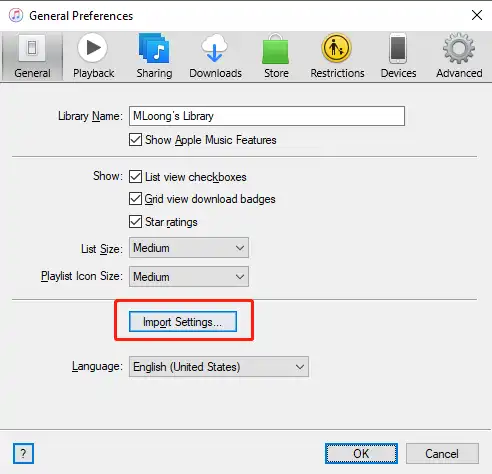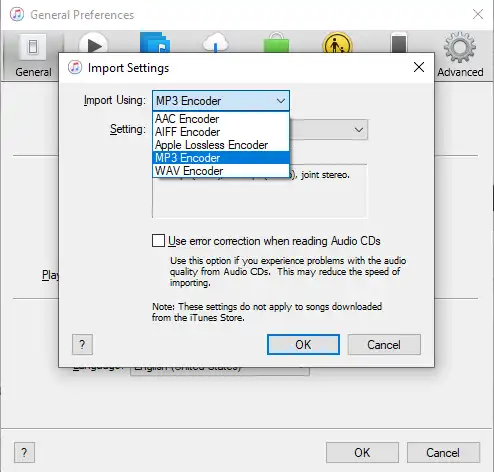 Step 3. Add your AAC file to the playlist by dragging it or selecting it from the folder, then click File > Convert to turn it into MP3.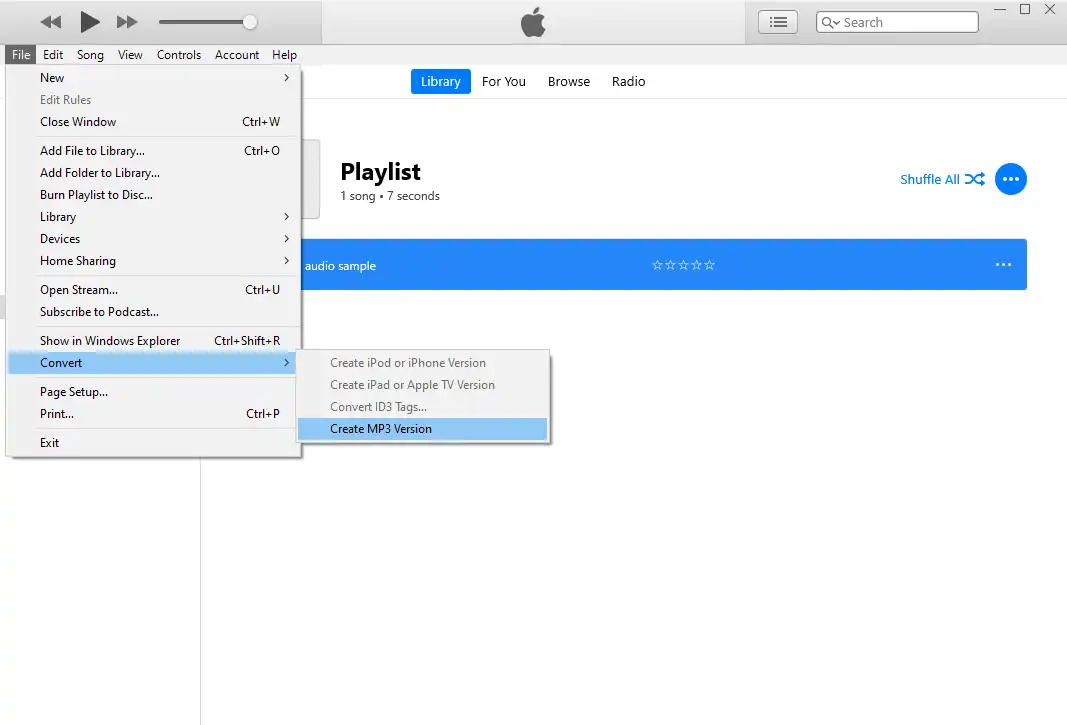 ✨The Verdict
---
Additional Words
Comparison of Three Ways
All the aforementioned methods are able to convert AAC to MP3 for free effectively. However, when comparing the three ways, you will notice that there are still some differences. Please refer to the concluded comparison below.
Features/Tools
WorkinTool VidClipper
iTunes
WorkinTool VidClipper Online
Operations
Quite Easy. Just upload, then export.
A little complicated
Simple. With three clicks
Functionality
Powerful

It supports the conversion of more file formats and has many other video editing functions.

Simple

It can only convert specific formats.

Practical

It targets the mutual conversion of multi-formatted files.

Conversion Speed
Fast, and save to folder directly
Fast, but have to find it in the music library.
Unstable, dependent on file size and internet access status
Data Security
Safe

It doesn't save and send your data.

Ensured

It is launched by Apple; data privacy is safe.

Secure

It is generally secure. However, your data privacy may be subjected to unexpected exposure as a result of technical issues.
---
Wrapping Up
Now, you may figure out how to convert AAC to MP3 on multiple platforms like Windows, Mac and online. All three tools can deal with it easily. However, judging by all the information based on my personal trial, I highly recommend WorkinTool VidClipper, for it is easier to use and bound with more functions. If downloading the program is a hassle for you, don't worry, please turn to WorkinTool free online AAC to MP3 converter for help. You can also try all of them first, then decide which one to pick.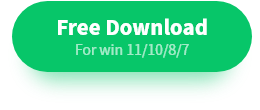 Want to know more details about other audio and video editing functions, please visit WorkinTool.