SSD Data Recovery – Retrieve Data from SSD Hard Drive
It is troublesome if the SSD hard drive is corrupted or the data on it is lost. WorkinTool SSD recovery software allows you to recover data from it at no cost. It is feasible to undelete lost data from an SSD or recover data from logically damaged and formatted SSD hard drives. WorkinTool Data Recovery is:
1️⃣ 100% free to retrieve data and save it
2️⃣ Easy and fast to scan and recover files
3️⃣ Recognizes various SSD disks
4️⃣ High data recovery success rate
5️⃣ No watermarks or other limits to download recovered files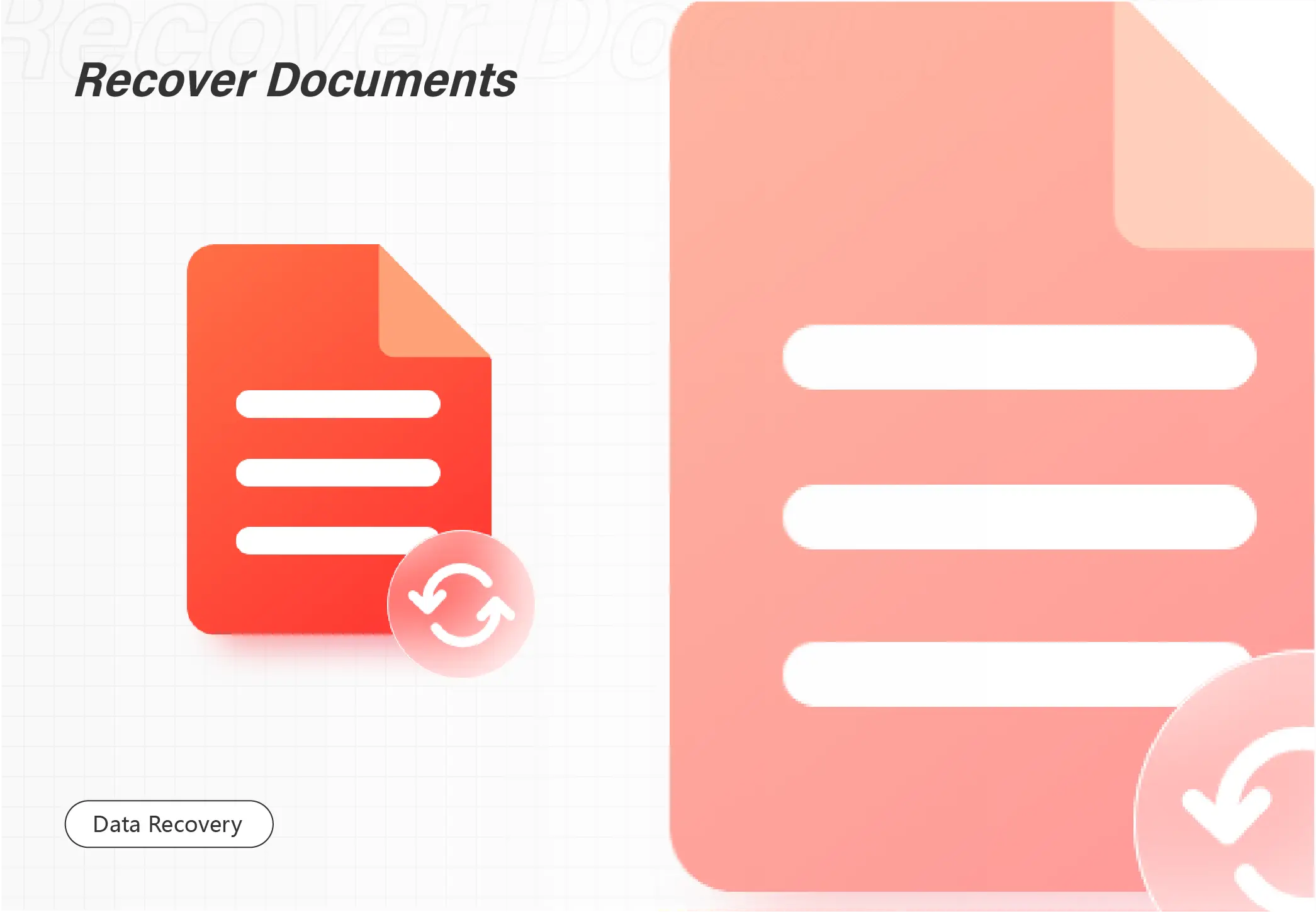 SSD Data Recovery – Retrieve Data from SSD Hard Drive
"My SSD hard drive is failing! But I have preserved crucial files in it. How can I recover data from this SSD hard drive?"
Don't panic if you are having the same trouble. SSD data recovery is feasible with several data recovery software. Generally, with data recovery software, you can retrieve data from an SSD with logical errors and a formatted SSD hard drive. Meanwhile, they are also helpful in restoring accidentally deleted files from SSD. We will demonstrate the specific tutorials on SSD data recovery in the following. Scan and follow the solutions here to tackle your issues.
What is an SSD Hard Drive
SSD refers to Solid State Drives (Solid State Drives). It is a computer storage device made of integrated circuits. SSD hard drives have faster reading speeds, but they are better than ordinary mobile hard drives in terms of price and capacity. In addition, it also has the advantages of low power consumption, good shock and drop resistance, and low heat generation. So, it is loved by people greatly. SSD hard drives have a TRIM command which will erase unused files, referring to the order of the operating system. This is also why the files in an SSD drive will be lost or deleted.
How to Fulfill SSD Data Recovery
Is SSD data recovery possible? The answer varies according to different situations. Many reasons may cause an SSD hard drive to fail. We will talk about some common conditions and provide related recovery solutions in the following.
Logical errors: logical damage such as file system error, sudden circuit shutdown, improper plug-in, and plug-out will cause a hard drive to fail to work. To fix this kind of SSD hard drive, you can reconnect it. If the system fails to recognize it, choose data recovery software to back up critical data and then format the hard drive to normal status.
Formatted SSD disk: If you format an SSD disk or accidentally delete some crucial files, file recovery software can help you find back files in it.
Physical damage: physical damage like external breakage, dust pollution, and circuit damage may cause an SSD drive to be unreadable. If your system and several data recovery software fail to recognize and recover files, you need to ask professional data recovery services for help.
📌 How to Recover Data from an SSD Drive on Windows
WorkinTool Data Recovery is one of the greatest choices to undelete data lost from an SSD drive on Windows. It is a versatile file recovery software that is feasible to restore office documents, photos, videos, app data, etc., from SSD, HDD, USB, SD card, Memory card, etc. The key reason to select it to fulfill SSD data recovery among various data recovery tools is that it is entirely FREE with no restrictions. Since the software is new to the field, its provider offers a long-term free trial for users to recover files. This software has no hidden catches, whether to scan, recover or save the files.
Furthermore, the software is easy to use, providing intuitive data recovery scenarios. Beginners and new users can operate it without any effort. It also has a rapid scanning and recovery course. During the test, it can scan and recover a hard drive of nearly 500GB within seconds. It supports batch recovery, and with its customized filtering function, you can navigate to the target file straightforwardly.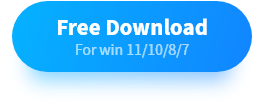 How to recover data from an SSD drive with WorkinTool Data Recovery Software
Step1. Download and install the software and open it on your computer. Select Disk & Partition Recovery on the dashboard.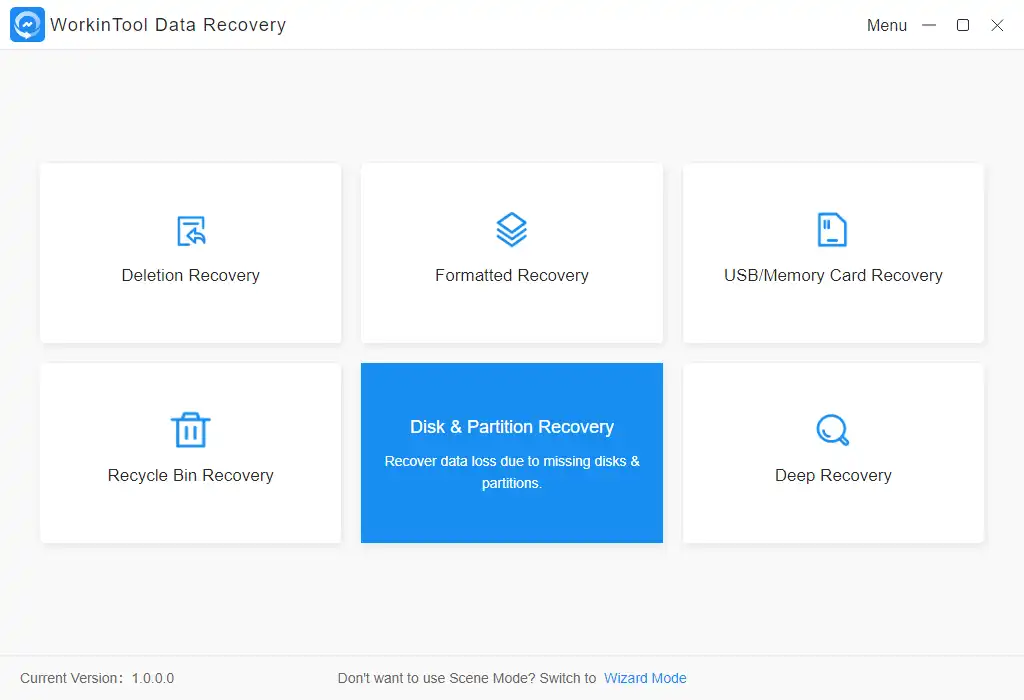 Step2. Select your SSD drive to scan, then pick the scanned files by filtering the file name, size, format, deletion time, etc.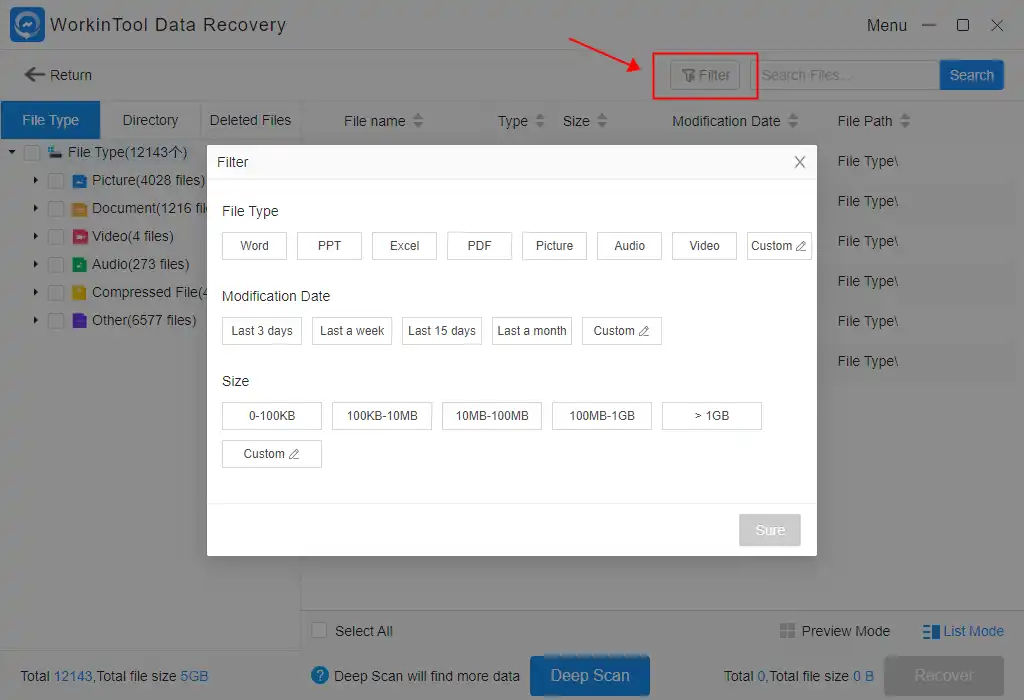 Step3. Pick the file you want to recover or pick all the files to back up. Press the Recover button and choose a new folder to save the recovered files.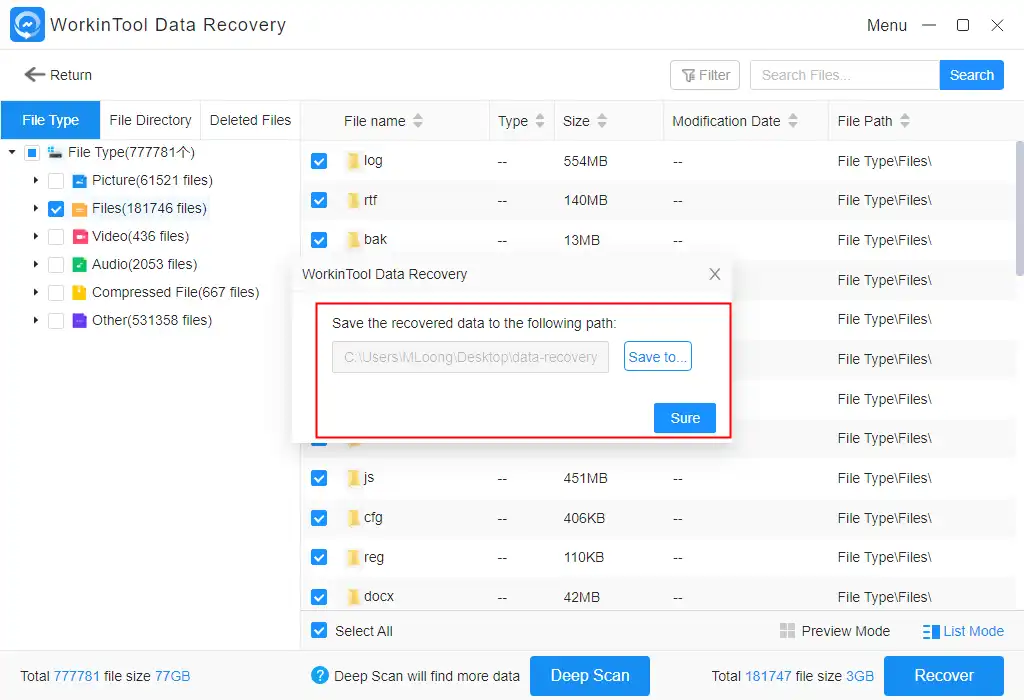 Other Solutions for WorkinTool Data Recovery
📌 How to Retrieve Files from an SSD Drive on Mac
To recover files from an SSD drive, you can give this iBoysoft Data Recovery a try. It is dedicated to data recovery on the Mac system, which is able to retrieve deleted and lost data from HDD, SSD, USB, SD card, etc. It supports macOS, M1, M1 Pro, M1 Max, T2 chip, etc. Apart from recovering deleted files, this software can also retrieve lost data from unreadable disks on Mac. Therefore, you can also use it to recover data from formatted or corrupted removable storage devices, like SSD, HDD, etc. iBoysoft provides users with multiple versions, and a free version is accessible.
However, the free version has limits on the recovered data. The allowed data is within 1 GB. Need to recover more, you have to update to its pro version, which costs $89.95per month and $99.95 per year. It permits you to preview the file before recovering it; then, you can filter files to avoid unnecessary recovery.
How to recover data from an SSD drive with iBoysoft
Step1. Download iBoysoft from the official channel. Install and launch it on your Mac computer. Select the SSD disk and click Search for lost data to scan it.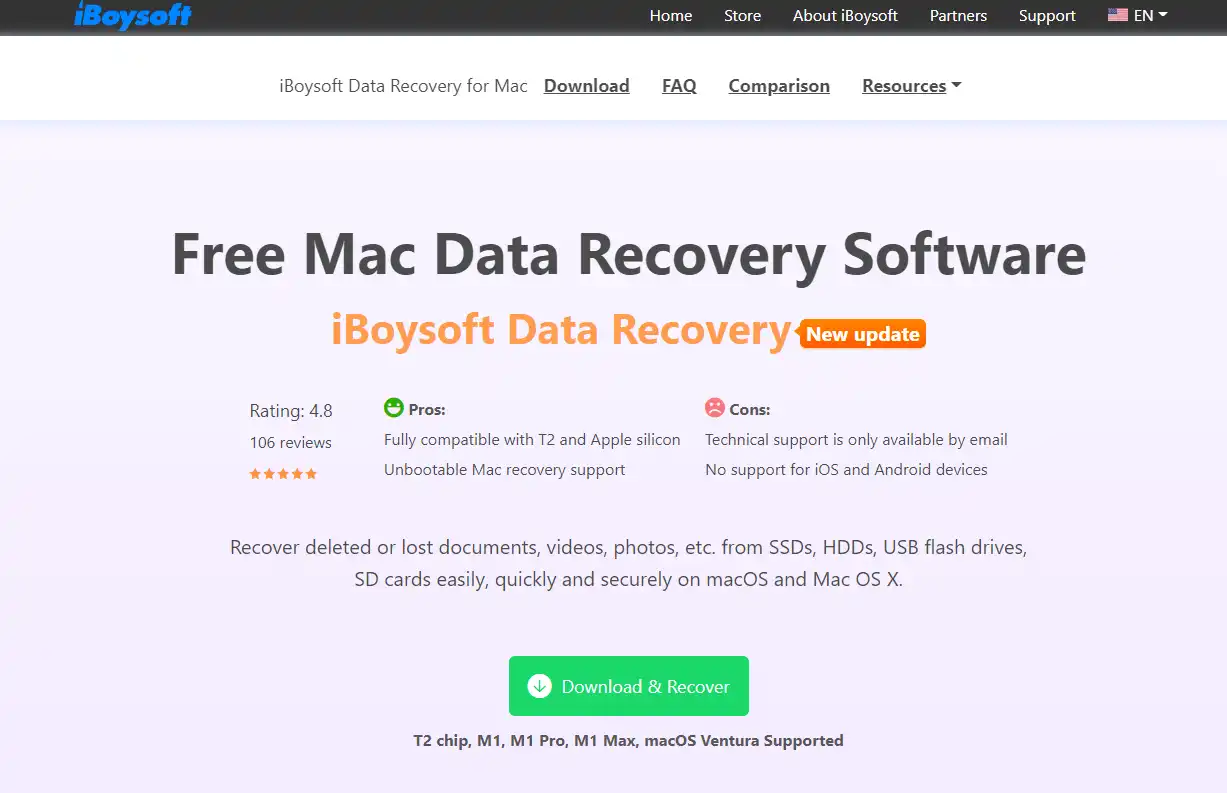 Step2.   Filter the scanned files from various categories and preview the files you need to recover. Then press the Recover button to save the recovered files to a local folder.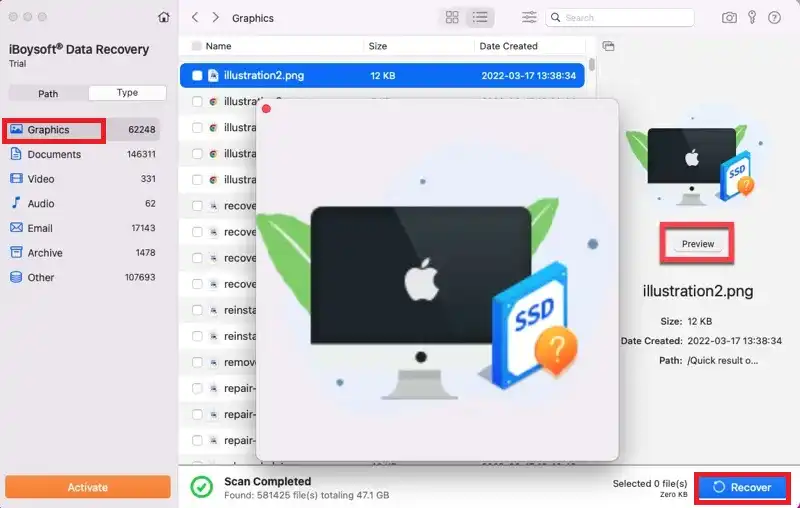 FAQs on SSD Data Recovery
🎉 How to fix a failed SSD?
You can reconnect it to check whether there are power cable problems. Also, you can try to connect it to a different computer to target the error first. After confirming that the SSD is failing, try to install the latest version of it. If it still fails, use the file recovery software to back up your files and format the SSD.
🎉 How to recover data from a failed SSD.
Data Recovery Software is a good choice to recover data from a dead SSD and undelete data lost from an SSD. For logical errors, you can use a data recovery tool to retrieve files.
🎉 Can I recover files from a formatted SSD?
Yes. Some data recovery tools are also helpful in recovering data from formatted hard drives.
Wrapping Up
In this guide, we mentioned different SSD data recovery cases and introduced solutions for those cases. Usually, file recovery software is feasible to recover files from a logically damaged and formatted SSD. Like physical damage, you can depend on data recovery services. Hope you can successfully retrieve crucial data back with the above methods.
Products Reviews:
TrustScore
4
|
323
reviews