How to Retrieve AOL Mail on PC and Mobile 2023
It is feasible to retrieve recently deleted AOL emails within seven days. But if your email is older than seven days, it will be permanently removed from the AOL server. To recover it, you can use WorkinTool Data Recovery software, which is at the top tier in the lost data recovery field. It is:
⭐ 100% free to recover and save deleted emails
⭐ Easy and quick to use for beginners
⭐ Retrieve files without making them broken
⭐ No watermarks and other restrictions for free users
How to Retrieve AOL Mail on PC and Mobile 2023
E-mail is an essential office tool in the world today. Work and study are inseparable from registering an account, sending, and receiving emails, etc. AOL Mail has various features to help organize, customize, and use your mail. Its most prominent feature allows users to set up a personalized mailbox experience to the greatest extent possible. Since emails always contain critical information and notices, it is indeed a hassle if you accidentally delete the critical AOL mail or clean it up by mistake. Is there a way to get the deleted one back? Don't be anxious. This post will elaborate on how to retrieve AOL mail on PCs and mobile phones. Effective and Efficient AOL mail recovery solutions will be provided here.
How to Retrieve AOL mail on Windows
📌 How to Recover Deleted AOL Mail from Trash Folder
If you just deleted the AOL emails, don't regret it. Fortunately, AOL mail will preserve the recently deleted files in its trash folder within seven days. Therefore, you can easily retrieve them back from the AOL trash. However, after seven days, the deleted files will be permanently removed from AOL mail. You have to use professional email recovery software to find emails back.
How to recover deleted AOL mail within seven days in AOL Trash Folder
Step1. Open the AOL mail webpage and log in to your AOL account.
Step2. Click the Trash icon on the dashboard. Here, you can check all deleted AOL emails within seven days.
Step3. Pick the email you need to retrieve and paste the Action on the top toolbar. Then choose Move to Inbox.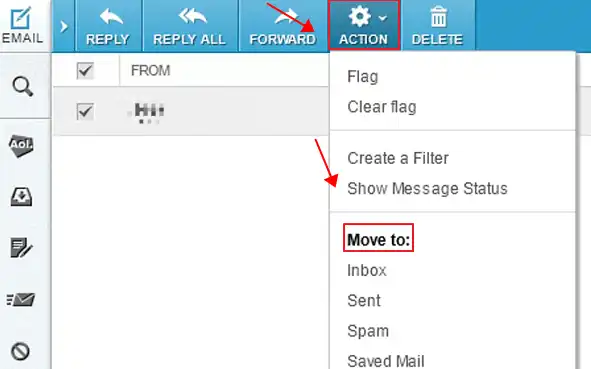 📌 How to Retrieve Permanently Deleted Emails from AOL
If you used to work with AOL mail online, there is a minimal chance of retrieving it back if it is cleaned from the trash folder. But if you have ever added AOL to Outlook on your Windows computer, there will be a local folder to save those email files. It is advisable to check the File Manager on your PC. If it is also permanently removed from your computer, you can seek email recovery software for help.
WorkinTool Data Recovery Software allows you to recover deleted and lost files, including photos, emails, videos, and other office documents. Unlike those essentially charged data recovery software and services, WorkinTool provides a relatively long-term free trial version. It has a comprehensive data privacy policy. It won't save any of your data to its server. You don't have to log in to an account to use it. WorkinTool gives you two data recovery options. For a quick scan, you can navigate to the deleted files within seconds. The deep scan allows you to further explore lost files from your device. Its customized filtering feature permits you to target AOL emails without any effort. In short, WorkinTool Data Recovery is free, safe, easy, and quick to recover AOL mail on Windows.
How to retrieve AOL mail on Windows 10/11 with WorkinTool Data Recovery
Step1. Install WorkinTool Data Recovery software and choose Deletion Recovery on the dashboard.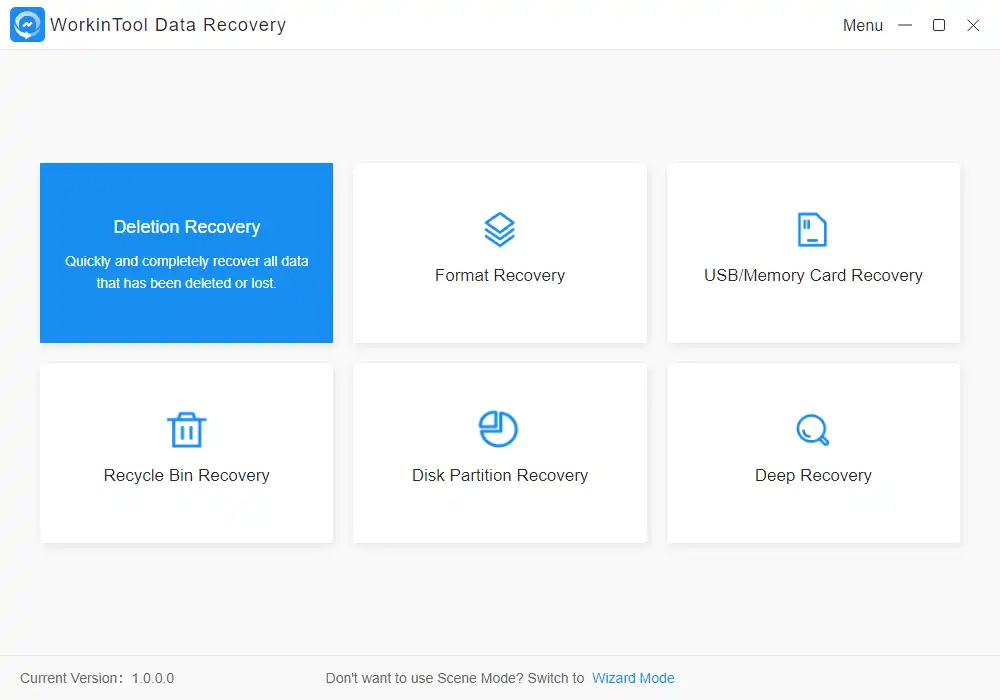 Step2. Select the drive you save the AOL mail program and files to scan. Then filter the files by file name, size, format, deletion time, etc. Typically, AOL email files are stored in formats such as PST, MSG, EML, EMLX, etc.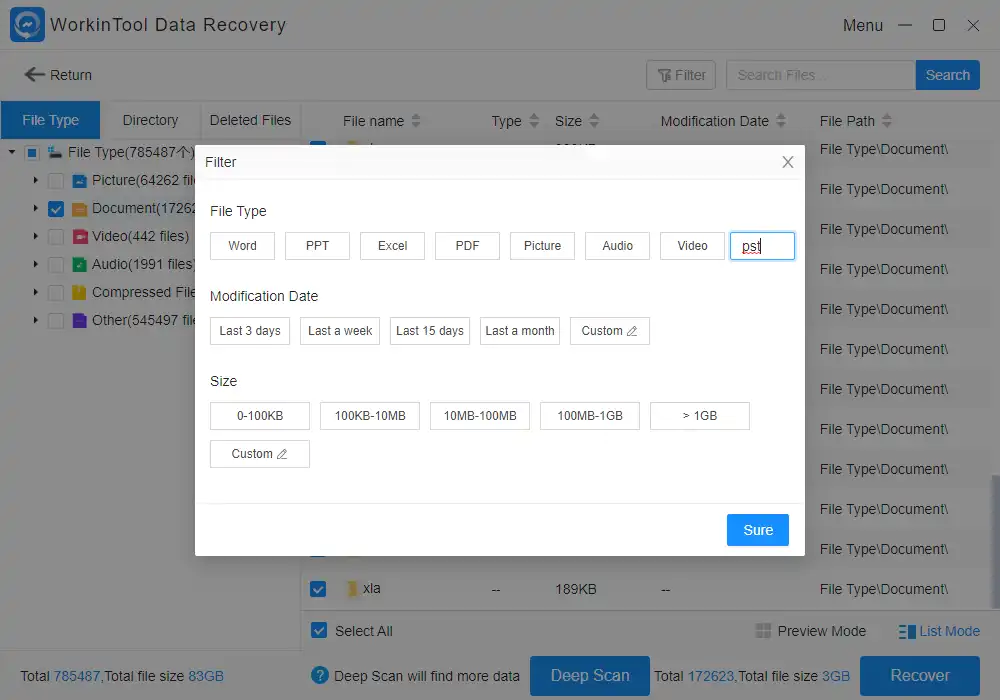 Step3. Pick the AOL mail files you want to retrieve and paste Recover. Select a new folder to save these recovered files and press Sure to start recovering.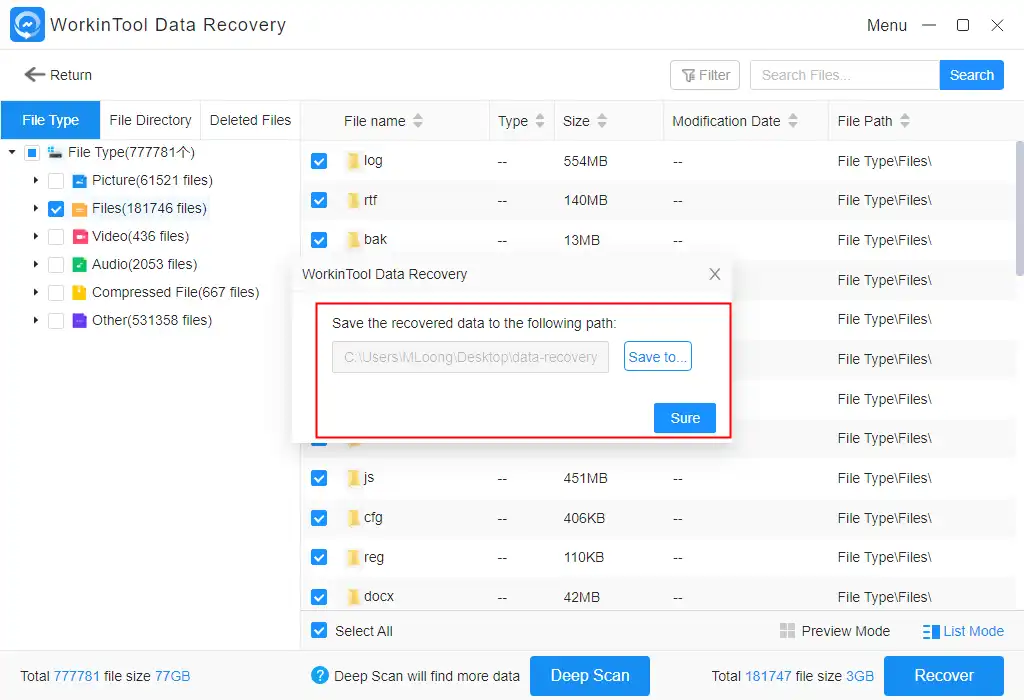 Other Tutorials for WorkinTool Data Recovery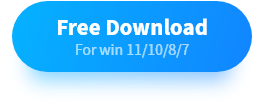 How to Retrieve AOL mail on Mobile
Apart from the desktop and web versions, AOL also provides a mobile version for phone users. It is compatible with both Android and iPhone. If you usually receive and send emails using AOL mails, retrieving the deleted emails on your Android phone and iPhone is not challenging.
Method1. Search Deleted AOL Emails in the Local File Manager
Basically, files generated from all applications on your phone will be automatically saved in the default file manager. That way, you can check the file manager on your phone after accidentally deleting the email file. Just open it and choose the AOL mail folder and check the emails in it.
Method2. Use Email Recovery App for Android and iPhone.
In case the email you want to find back doesn't exist in your phone file manager, you can use the email recovery app to retrieve the deleted AOL email. Drfone is one of the best data recovery applications for Android and iPhone. It can quickly scan all the files created on your phone to help you recover them. It is efficient in recovering deleted email files. But it is not free. The free version allows you to preview the file but not to save the file to your local folder.
How to retrieve AOL mail on Android and iPhone with Drfone.
Step1. Download and install the Drfone data recovery app from Google Play or the Apple Store.
Step2. Open the app and allow it to access your files. Then select the file format you want to recover. Click Files if you need to restore emails.
Step3. If there is no email you want to recover, choose Deep Scan to search further. Select the scanned email file and press Recover.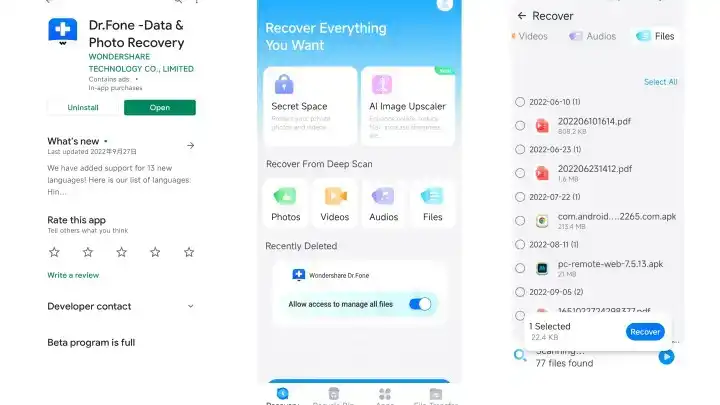 FAQs for Retrieving AOL Mail 
1. Can I retrieve permanently deleted AOL mail from the web version?
If you have ever backed up the email on your computer, it is feasible to restore it. Otherwise, it is impossible to recover emails on the AOL web version after seven days after you delete them.
2. How do I recover deleted AOL emails older than seven days?
Since the AOL server will preserve deleted emails within seven days, the older emails will be permanently removed from the server. A local folder will save the AOL emails if you use them in Outlook. You can check the file manager on your device or use data recovery software to find it back.
3. How to add AOL email to Outlook?
Outlook is the default email software for Microsoft. You can back up emails to your cloud and local PC folders. To add an AOL mail to outlook, just open Outlook, select File > Info > Add Account > Connect > enter AOL email account info > Connect > Done.
Wrapping Up
As mentioned, if you use desktop AOL mail on a PC or the AOL mail app on your phone, you will likely retrieve deleted AOL emails with data recovery tools. To avoid this issue, you'd better back up critical files in your local database or iCloud. WorkinTool Data Recovery is at the top list of free data recovery software. Refer to the above solutions to retrieve AOL mail back to your computer.