NTFS File Recovery: How to Recover Data From NTFS Hard Drives
Not sure how to recover data from NTFS hard drives? Don't worry. Check out this post for the best solution and get the WorkinTool Data Recovery tool to spare you extra time on data recovery.
😍 1. Up to 500 MB FREE Data Recovery.
😝 2. The cheapest data recovery software of its kind.
🤩 3. Easy interface for users to recover in THREE STEPS.
😎 4. Quick scan and recover files the same as the original.
🥳 5. Cover all file types of pictures, documents, videos, audio, etc.
😊 6. Available for all external storage devices like USB flash drives and SD cards.
NTFS File Recovery: How to Recover Data From NTFS Hard Drives
It is our custom to store all written content on the hard disk. But there are better solutions than this. You never know when the accident will come. When you turn on your computer, open the folder where you stored the files and find them empty. So you start to search folder by folder, eager to find your file, but can't find it anywhere, only to realize that your file may be lost. It's the last thing anyone wants to do when work hours come undone. Do you have any ways to perform NTFS file recovery?
When your NTFS file system fails, it's not just that you can't correctly read the files stored on your hard drive. It's that you need to know when and how did it fail. If you haven't backed up your files elsewhere, you may have to search the internet for answers to recover NTFS file system data. There is a solution you are looking for right here in this article. To restore a file promptly, let's look at some of the possible causes of its error and solutions for repairing the file and fixing it.
---
Possible Causes of NTFS File Corruption
There are actually a number of reasons why files on NTFS-formatted drives can be lost and deleted. While we can't predict the possibility of NTFS format drive failure, understanding the cause can help determine the best approach to data recovery:
---
NTFS file recovery
In the following sections, we will show you several possible solutions for NTFS file recovery. You can try one method at a time, depending on your situation. Each technique has practical value.
Method 1:  Data Recovery Software
If it is deleted data recovery, it is actually the best recovery problem. When you delete the data, it does not actually disappear. The knowledge of the deletion gives the user a sign of access. This time as long as you do not write new data over it, retrieving it is still elementary. For NTFS file recovery, you can use data recovery software. Most of the network's data recovery software can do this. But if you want to save as much time as possible on this matter, we suggest you try WorkinTool Data Recovery Software.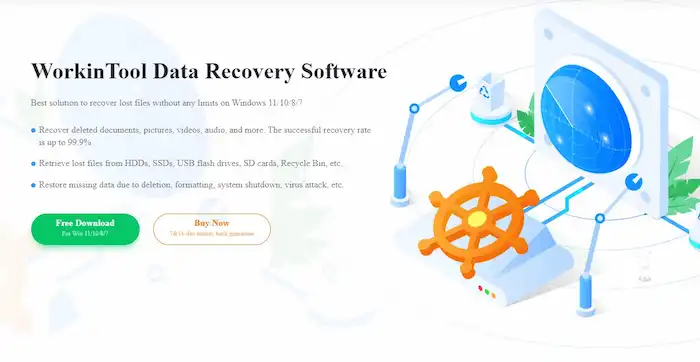 WorkinTool Data Recovery Software
This is the preferred recovery tool for the all-in-one. It can quickly deal with various data loss situations and help users from multiple storage devices retrieve lost or unreadable data. It includes a simplified user interface without any complex technical barriers or interaction processes. You can operate it on any computer. It can identify and scan up to 500 different types of files and recover them to the selected target location in one step. Of course, the most attractive aspect to users is that WorkinTool data recovery software can recover up to 500MB of files for free. If the recovery results meet your requirements, then you can always upgrade to a senior member for complete recovery services.
For a variety of different data loss scenarios, there are six corresponding recovery models. The user can choose the correct one according to the situation and follow the instructions:

See how it works:
1. Open WorkinTool Data Recovery and select Format Recovery. Then, select the NTFS file partition and click Scan Now.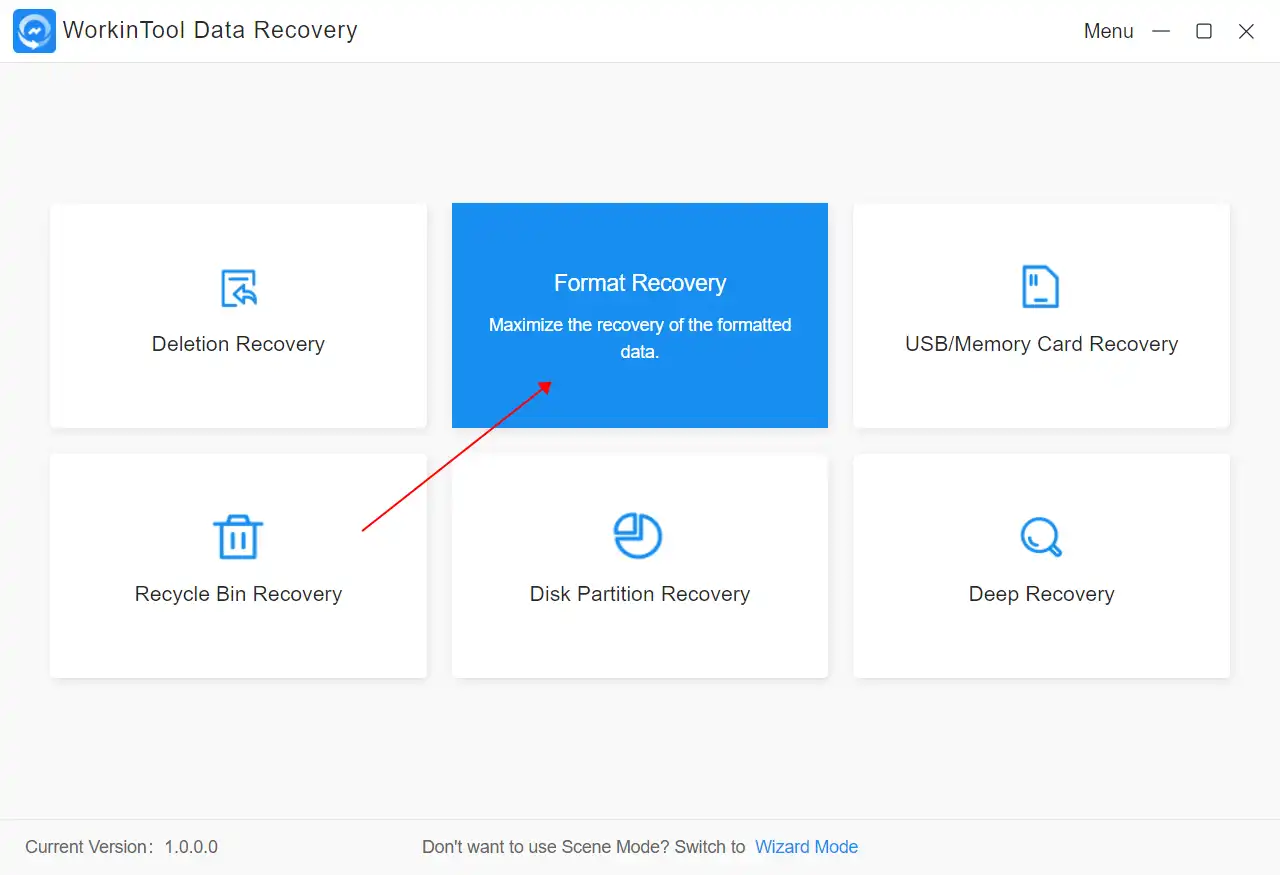 Notice: After clicking, you should see the pop window telling you to select the file system.
2. After scanning the NTFS file hard drive, find your lost files using the Filter feature and the File Type function.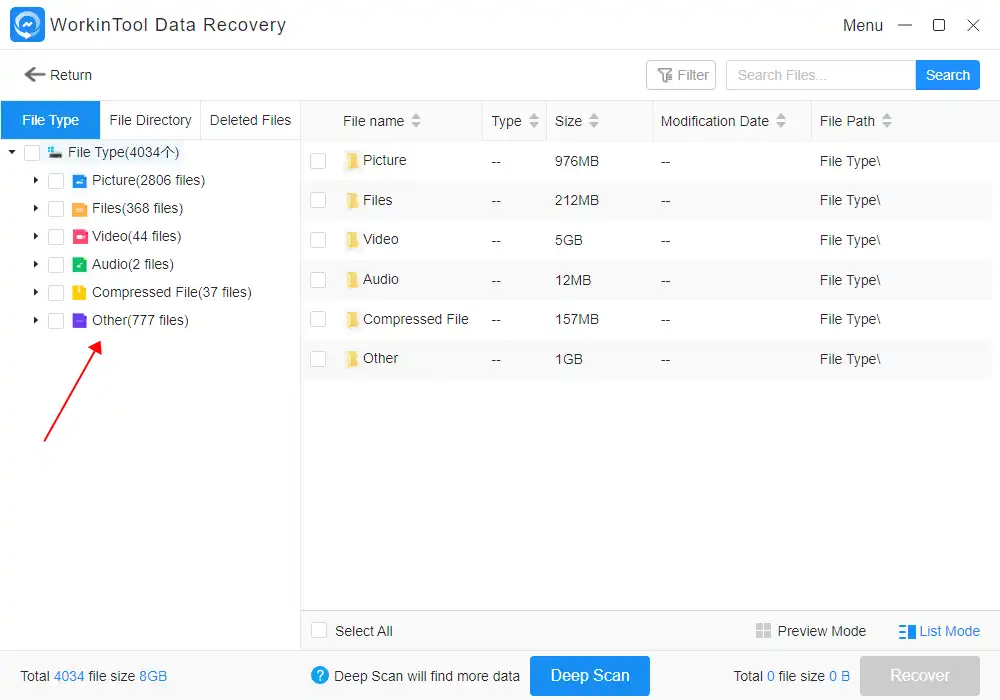 3. Finally, click Recover and wait for the recovery to complete.
---
Method 2:

 File History
The second way to recover deleted data from NTFS is to use File History. Use the File History feature to quickly save files from being backed up. And after you turn on this feature, you can make regular backups of selected areas or files, often with complete version history. This way, even if you encounter the problem of file loss, you can also choose to restore the version of the file, and a key will be your file back.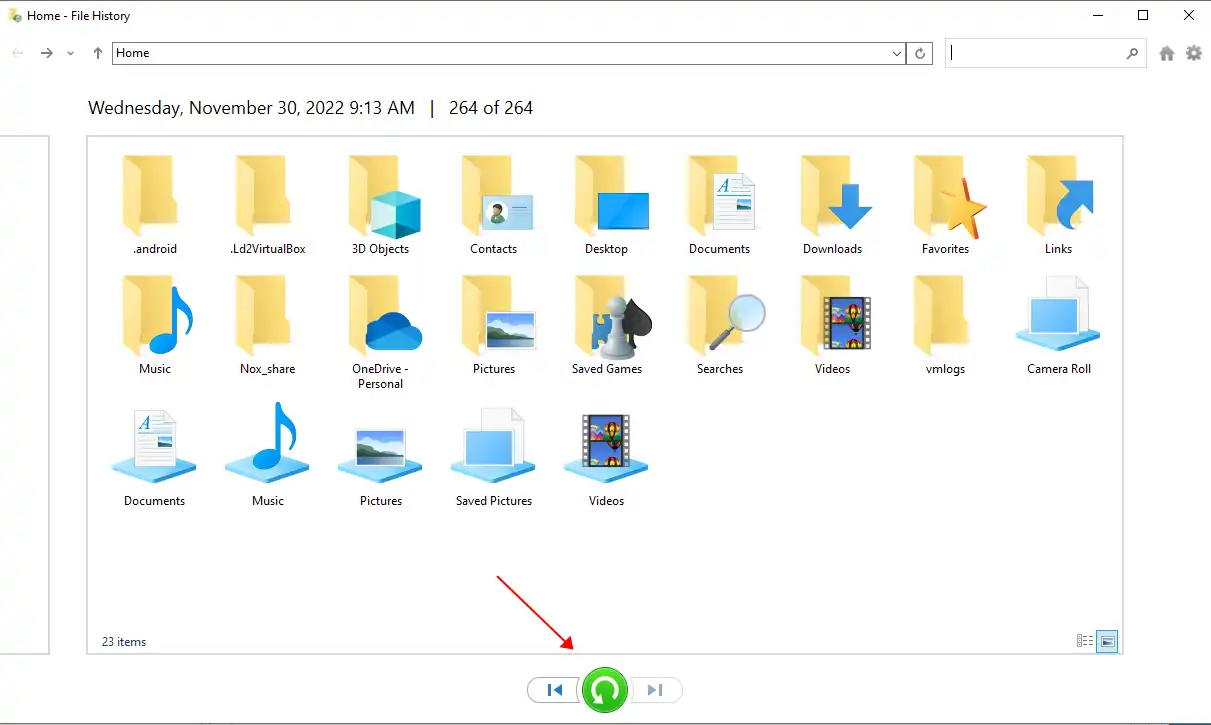 Open the folder that contained the lost files before. Tap the History button.
Select the files and right-click on them to view the version to see if it is the right one. Press the green Restore option to recover your files when you are done.
Then, your file will be restored to the previous version.
---
Bottom Line
As you can see, performing NFTS file recovery is not hard. You only need a simple data recovery software that can be quickly done. Whether it's an inadvertent deletion that causes a file to be lost or some other non-human cause that causes your essential files to be lost, you can quickly get them back. We have also provided you with our favorite WorkinTool data recovery software and explained its advantages. The rest is up to you to explore.
If you have any questions or better suggestions, don't hesitate to contact us.