How to Show Hidden Files in USB Drives or SD Cards
Sometimes, files stored in your USB flash drives, pen drives, SD memory cards or other external hard drives will unexpectedly vanish even if you did not delete them or format your device. Then, one possible reason for their disappearance is that they may go hidden on your device like a USB drive. So how to show hidden files in USB drives or SD cards in Windows? Please read on to know the answers in the following topics:
💡How to Unhide Files in USB Drives or SD cards Without Software–File Ribbon, CMD and Control Panel
💡How to Show Hidden Files in USB Drives or SD Cards with Software-Data Recovery Software-WorkinTool Data Recovery
It is strongly advisable to try the software-based solution since it is:
💖FREE trial plan to recover 500-MB files
🧡Temporarily and permanently deleted data recoverable
💛High recovery rate
💚Easy to use and green
💙Multiple file formats supported
💜Batch recovery available
💝Partition recovery possible
How to Show Hidden Files in USB Drives or SD Cards in Windows [4 Proven Ways in 2023]
Where are my files? I saved my PowerPoint file for a business meeting in my USB drive yesterday, but I find no trace of it today. What can I do? My presentation will begin in a few minutes. Please HELP!
It is definitely a nervous-breakdown moment. Sometimes, files stored in your USB flash drives, pen drives, SD memory cards or other external hard drives will unexpectedly vanish even if you did not delete them or format your device. Then, one possible reason for their disappearance is that they may go hidden on your device like a USB drive. So how to show hidden files in USB drives or SD cards in Windows? Please read on to know the answers.
---
Words Before Unhiding Files in USB Drives or SD Cards
📌Why are my files hidden on my computer and flash drives?
These are the general reasons why your files go hidden on your PC or devices:
Virus attacks or Malware

Viruses may attack your USB flash drives and turn your files hidden to prevent you from accessing the data, especially when you see a great deal of your space taken up even though there is no single file in it.

Accidental Operation

Your files can accidentally be changed to hidden due to misuse of the attrib command or messing around with file properties. Your operating system will likely not remind you of this change since the action doesn't harm your PC or system.

System update/Program installation

When you complete the updating of your system or the installation of some new programs, your files may be invisible and inaccessible because of the changes made by these actions.

RAW Drive

Your flash drives may be subjected to severe damage and give rise to a RAW disk, particularly after its formatting. It means that a file system is absent in your pen drives and they can no longer store any files.
So how can I unhide my files on my USB flash drives or SD memory cards? Please continue your reading to learn the specific solutions in the following topics:
How to Unhide Files in USB Drives or SD cards Without Software?

How to Show Hidden Files in USB Drives or SD Cards with Software?
Now, let's move on to the central theme.
---
How to Unhide Files in USB Drives or SD cards Without Software
This chapter will inform you of three practical ways to unhide your files in USB drives or SD cards. All the solutions in this section are suitable for temporary missing files in your flash drives or memory cards. Now, please connect your devices to your computer and then follow these steps of each method.
1. Show Hidden Files in USB Drives or SD cards by File Ribbon
The quickest way to unhide your files in a flash drive is to try file ribbon. Here is what you need to do:
1). Click the downward arrow icon beside the yellow file folder symbol and untick the notice-Minimize the Ribbon.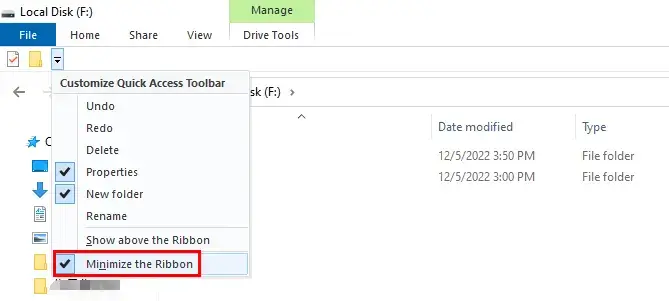 2). Navigate to View > Hidden Items and then tick it.

2. Unhide Files in USB Drives or SD Cards Through CMD
Command Prompt (CMD or cmd.exe) is the default command-line interpreter for an OS like Microsoft Windows. With the help of the attrib command, you can forcefully normalize your files even when a virus is actively trying to keep them hidden. Therefore, it is another choice to display vanished data in a USB drive or SD card. Please read the following guidance:
1). Type cmd in the search box beside the Windows icon at the bottom.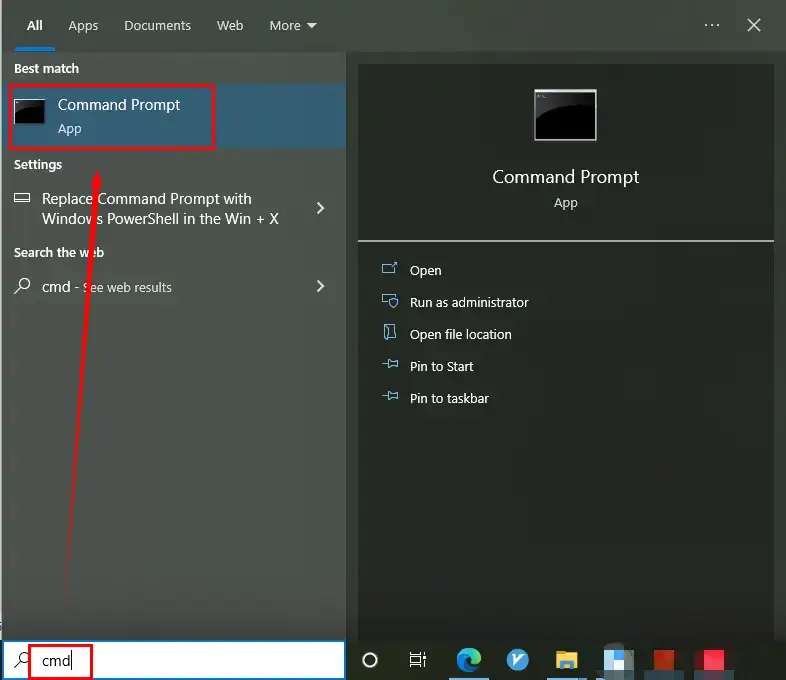 2). Click Command Prompt.
3). Then enter the command: attrib -h -r -s /s /d X:\*.* (X represents the letter on behalf of your flash drives or memory cards.) and press the Enter tab.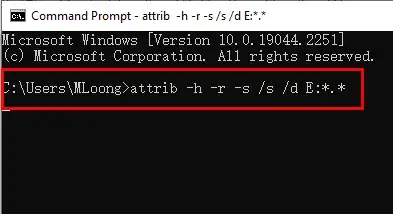 3. Display Hidden Files in USB Drives or SD Cards Using Control Panel
The settings in Windows Control Panel can make your hidden files visible and accessible again; for example, file explorer. Please follow the instructions below:
Click Control Panel > Appearance and Personalization.
Navigate to File Explorer Options > Show hidden files and folders.
Mark the option–Show hidden files, folders and drives.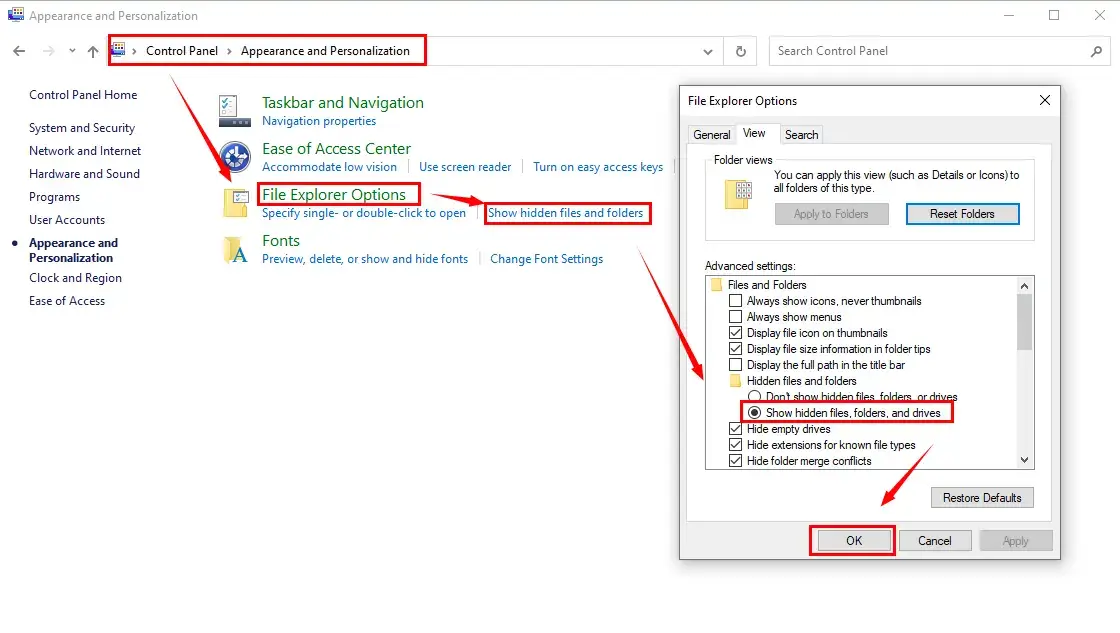 What if all these approaches become invalid, particularly if my files are indeed missing rather than hidden? Please refer to the information in the next chapter.
---
How to Show Hidden Files in USB Drives or SD Cards with Software
Data recovery software can be an effective and helpful tool to show your hidden files and recover your missing documents. Besides, these programs are now easy to operate, making data recovery less challenging even if you are a green-hand IT user. Here, it is strongly advisable to try WorkinTool Data Recovery.

📕How to show Hidden Files in USB Drives or SD Cards with WorkinTool Data Recovery?
Step 1. Activate the tool and then select USB/Memory Card Recovery.
(This is Scene Mode of WorkinTool Data Recovery. You can switch to it by clicking the command at the bottom if your opening interface is Wizard Mode.)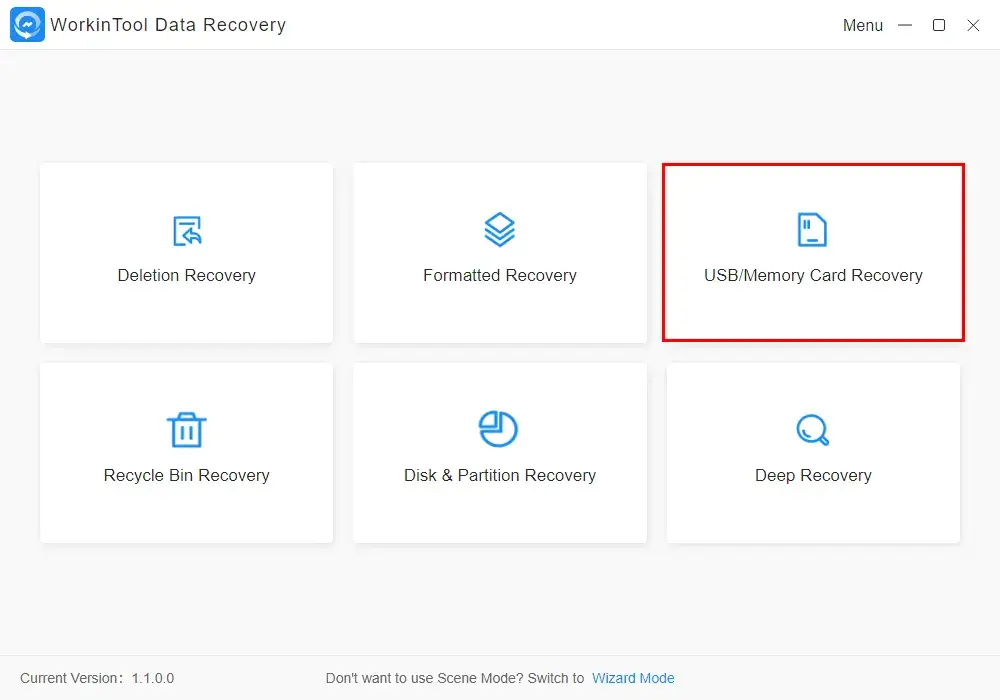 Deletion Recovery

It aims at the recovery of the missing files from where they were deleted or lost.

Format Recovery

It is designed to retrieve deleted files from formatted disks or devices like SD cards.

USB/Memory Card Recovery

It helps to show hidden files in and restore lost files from mobile devices like HDD, pen drives, memory cards, etc.

Recycle Bin Recovery

Precisely and quickly recover files emptied in the Recycle Bin.

Disk Partition Recovery

Revert file loss as a consequence of missing disk partitions.

Deep Recovery

A more complete and time-consuming search mode will be adopted to bring back the deleted or lost files in order to maximize the recovery effect.
Step 2. Locate your USB drive or SD card and then click Start Scanning.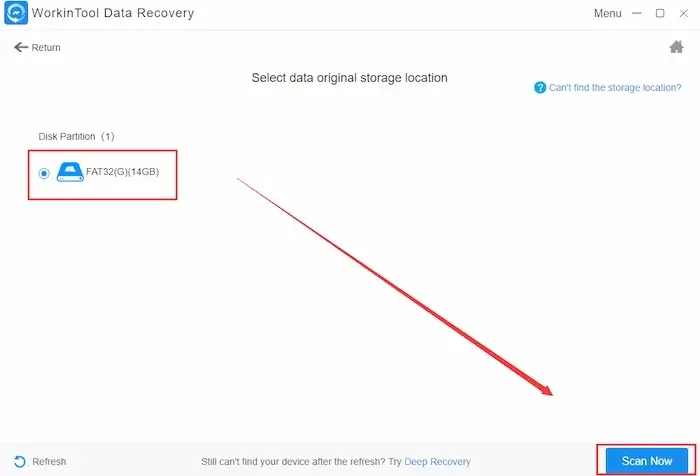 Step 3. Two methods are optional when the scanning finishes:
Method 1: Navigate to Filter > File Type > Sure > Recover.
Method 2: Find File Type, tick all the formats that apply and then click Recover.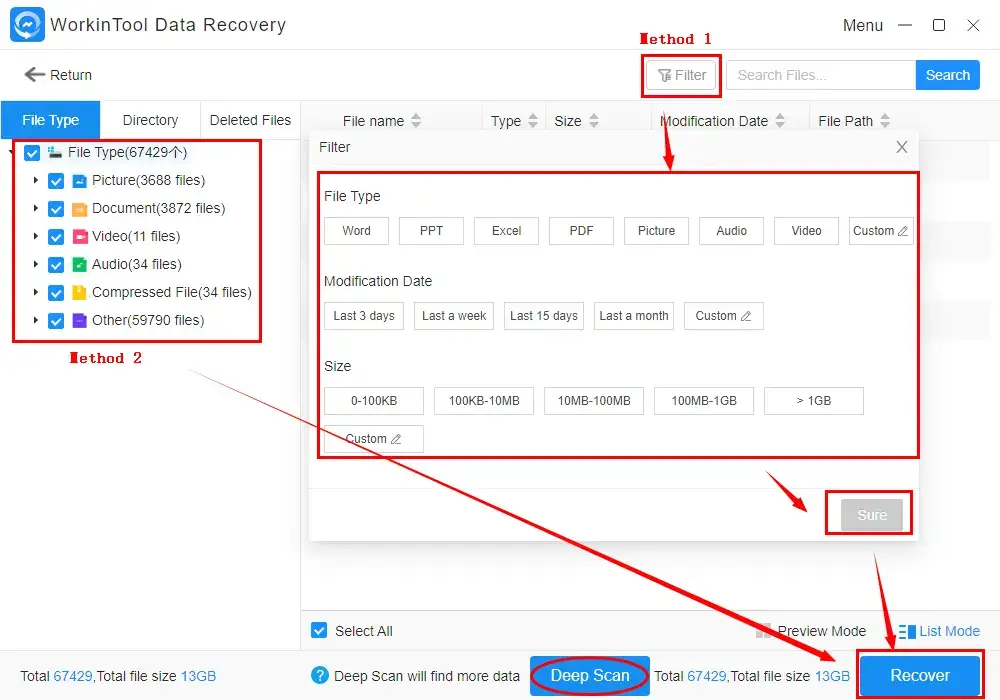 📣PS:
A Deep scan is available to maximize the recovered data if you are unsatisfied with the outcomes presented by quick scan. It aims at a deeper scanning of your computer to find more missing data, which will be more time-consuming. Please be patient when you opt for this mode.
WorkinTool Data Recovery allows you to recover large permanently deleted files and retrieve deleted data by date as well.
Step 4. Select all the hidden or wanted files (a step required for method 1 only), hit Recover, set your save path and then click Sure.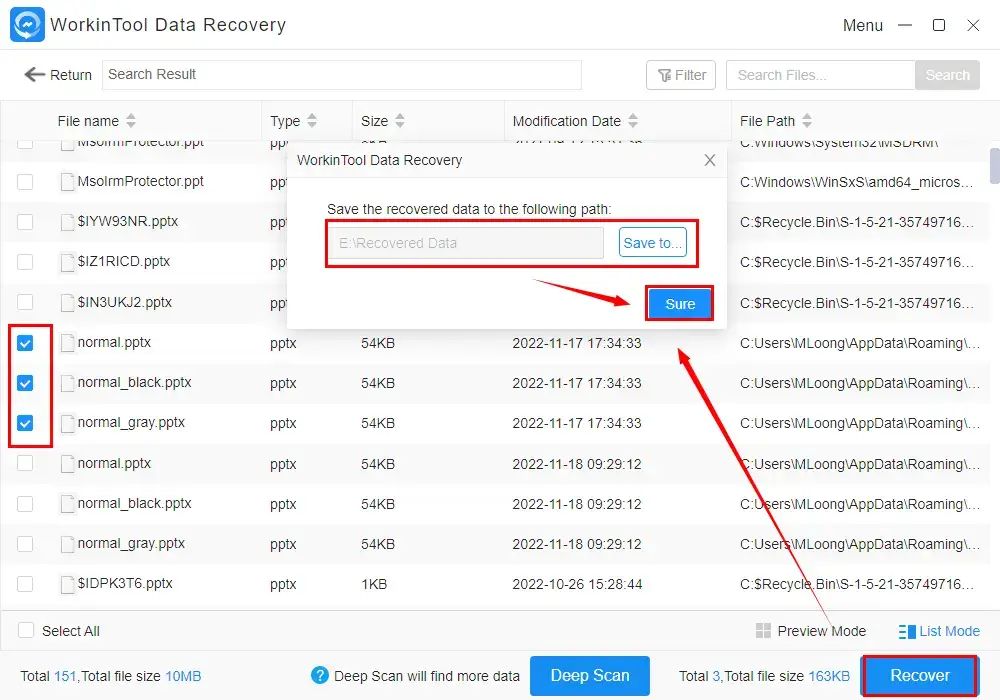 Step 5. Press the Open tab to lead you to the shown or recovered hidden files.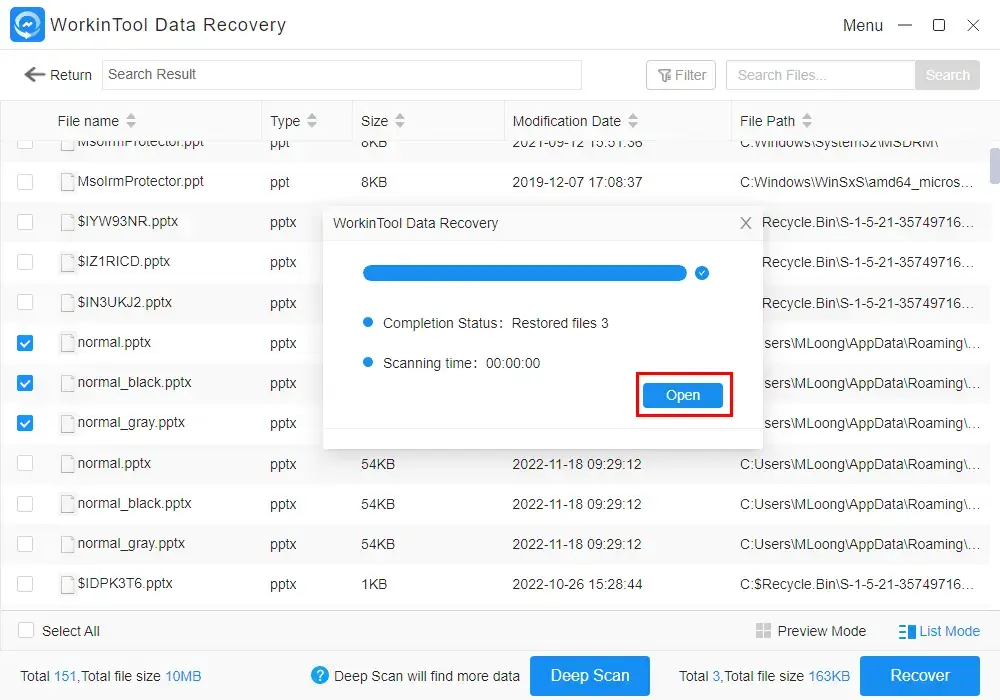 📢Notes
WorkinTool Data Recovery enables you to cope with the issues concerning USB drives and SD cards as follows:
---
Additional Words for Unhiding Files in USB Drives or SD Cards
💡Why is WorkinTool Data Recovery an ideal choice?
WorkinTool Data Recovery is another crucial member of the WorkinTool product family. It draws the users' attention instantly through the following features:
Easy to Use: For most of its recovery features, approximately five steps are needed to show all the hidden files or recover all the deleted data from USB drives or SD cards.
Multiple Formats: WorkinTool targets the recovery of all the common files or data in your computer, including office documents (Word, Excel and PowerPoint), photos, PDF files, audio, videos, emails, ZIP files and other essential ones.
Batch Recovery: WorkinTool aims to recover unlimited data in batches, effectively enhancing your working efficiency.
Partition Recovery: As a piece of free partition recovery software, it is effortless to bring back the deleted files due to missing disk partitions.
Currently FREE: 500-MB files are recoverable within its free-trial plan and no compulsory registration is required to enjoy its features.
Cheaper Price: The license fee of WorkinTool Data Recovery is much less expensive than other tools in the market.
Green: No ads will be involved in your data recovery, whether you choose its free trial or premium plan.

💡What other devices can WorkinTool Data Recovery unhide files or retrieve data from?
You can depend on WorkinTool Data Recovery to
---
Final Words
It will be much simpler to show hidden files in USB drives or SD cards after you finish this article. You are welcome to try all the aforementioned solutions. However, it is highly recommended to pick WorkinTool Data Recovery.
Now, are you ready to unhide hidden files in your USB flash drives or SD memory cards?