How to Turn a Video into an Audio File | 4 Free Ways
Do you want to convert a singing video to pure music? Do you want to remove visuals shot at an awful angle but keep the audio data? This page covers everything you need! You can learn how to turn a video into an audio file for free on Windows, Mac, iPhone, and online quickly! We also answer some frequently asked questions about video-to-audio conversion. Read on to learn more! You will get a versatile and completely free video-to-audio converter on Windows! This freeware also wins popularity for the following features.
💙 User-friendly to beginners
🤍 Versatile features
💙 Clean and intuitive interface
🤍 No limitations
💙 Safety ensured
How to Turn a Video into an Audio File for Free 
In most cases, video plays a better role than audio in eliciting emotion and reaction from audiences. But you cannot deny that sometimes extracting audio from video files is necessary. For example, if you have recorded a singing video, but only the sound has all the meat, you might need to remove the visuals captured at an awful angle. Or maybe it is a video of a speech that you want to be able to play while walking on the road. Or more simply, you want to save space on your storage media.
Whatever the reason, it is essential to know how to turn a video into an audio file. There are lots of audio converters in the market. We should know which tools are appropriate for such conversion on Windows, Mac, iPhone, and even online so that you can easily convert video to audio on any device. No worries! This post covers everything you need. We provide 4 effective video-to-audio converters and answer some frequently asked questions you may be interested in. Read further to learn more!
---
How to Turn a Video into an Audio File on Windows
There are many audio converters in Windows systems. But when we speak of the most practical and reliable program, WorkinTool VidClipper must be one you can't miss. This full-featured video editor can extract audio from video, convert text to audio, convert any format video to MP4 or MP3, transform audio to text, etc.
More importantly, all the features are FREE to use. It is compatible with Windows 11/10/8/7. So you can make a quick video-to-audio conversion on any Windows system without obstacles. This professional audio converter also wins popularity for the following features.
💎Key Features💎

📝

How to Turn a Video into an Audio File with WorkinTool
Step 1

. Download WorkinTool VidClipper through the blue button above. Install and launch WorkinTool VidClipper, click 

New Project

 to upload your video(s), and drag the video to the timeline.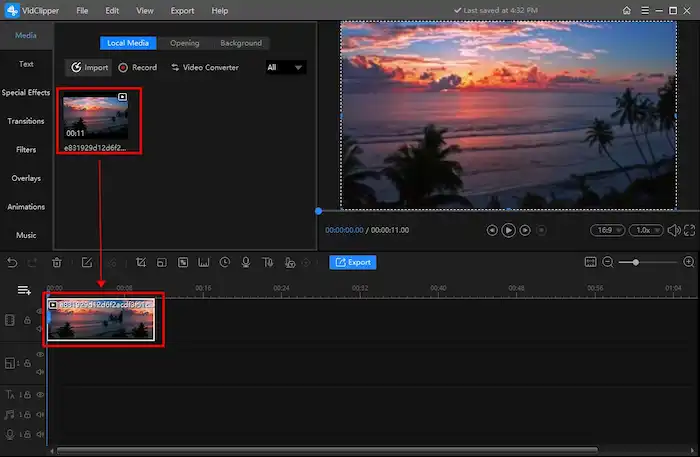 Step 2

. Edit the video using the toolbar in the middle or the media resources on your left-hand side if you need. Here are some features you might like to use.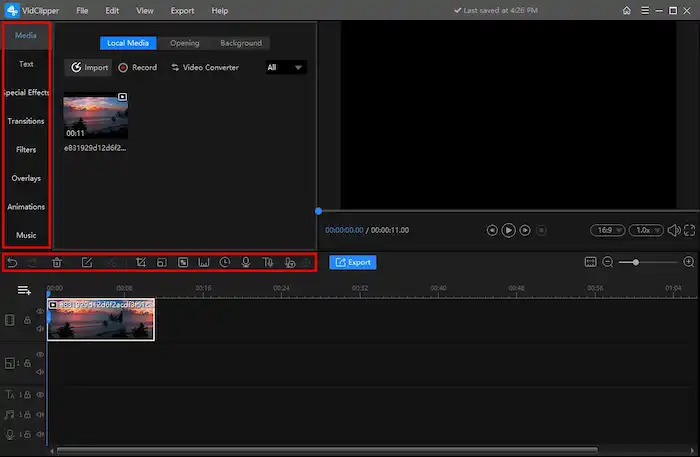 Step 3

. Click the blue 

Export

 button. In the pop-up window, Click 

Audio

, select an output format and click 

Settings

 to control the audio quality. Then press 

Export

 again to save the audio file.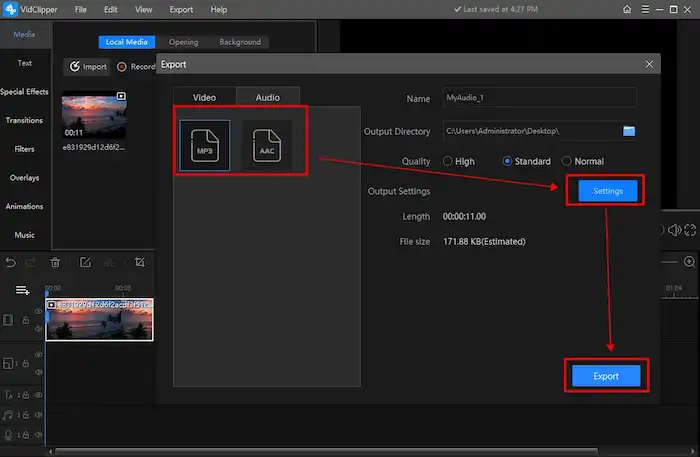 ---
How to Convert Video to Audio File on Mac
Mac users can use the built-in media encoding functionality right in Finder. It lets users convert video to audio without downloading 3rd-party software. It is simple and quick to use. The only downside is that you can't determine what the output audio file format will be. Because it generates an M4A file by default.
But don't worry about it. M4A is also a widespread audio format. If you have particular requirements about output audio format, you can try an online audio converter to change its format.
📝

How to Turn a Video into an Audio File in Finder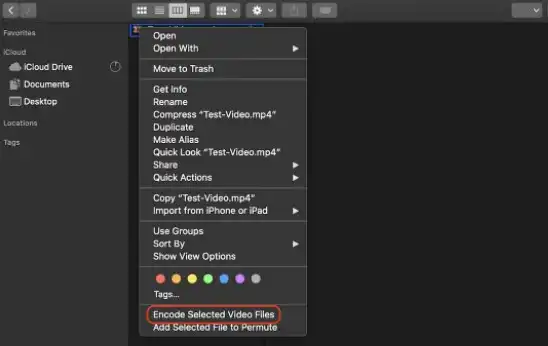 Step 1

. Open Finder on your Mac computer and locate the video file you want to convert.

Step 2

. Right-click on the file and select Encode Selected Video Files.

Step 3

. Then navigate to Settings > Audio Only > Continue to generate M4A audio.
A separate M4A file will be created and stored in the same place as your video file.
---
How to Turn a Video into an Audio File on iPhone
There is no native app that enables users to transform video into audio files, nor is iMovie (feasible on Mac but not on iPhone). Therefore, it is necessary to download a professional app to do that. You can download apps like Media Converter to do that.
This app contains ads and in-app purchases for some features like removing ads, compressing/unzipping files, customizing video size and frame rate, etc. But you can extract audio from video without limitations.
📝

How to Extract Audio From Video in Media Converter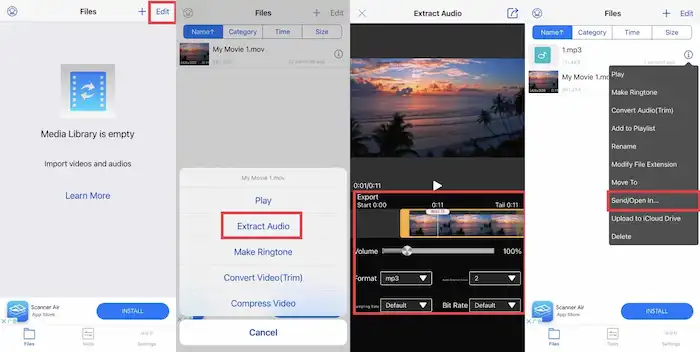 Step 1

. Download Media Converter from the App Store and launch it on your iPhone. Tap 

Edit

in the top-right.

Step 2

. Allow the app to access your phone and upload a video. Then click the video you added and press 

Extract Audio

in the pop-up window.

Step 3

. Edit the audio volume, format, channel, sampling rate, and bitrate as desired. Then click the upper right 

Share

icon to generate an audio file.

Step 4

. Click the information icon on the audio file and select 

Send/Open in

 to save it to your iPhone's Files or share it with your friends.
---
FAQs
😀

How to turn a YouTube video into an audio file?
YouTube Downloader

. There are many YouTube Downloaders in the market. WorkinTool 

YouTube audio downloader

 is a tool that enables users to download YouTube videos and convert YouTube videos to MP3 files for free.

Audio Recorder

: 

WorkinTool Audio Recorder allows you to record any voice on a Windows computer and on your microphone. It is free to record audio from YouTube

 as well.
😊

Is there a video-to-audio converter online?
Yes! You can access FreeConvert's Video to MP3 Converter to save video as audio files for free. It supports free online conversion for videos smaller than 1GB.
😉

How to turn screen recording into MP3?
WorkinTool VidClipper is a versatile tool. It offers various features such as screen recording, video converting, and audio converting for free. You can use it to convert MP4 to MP3, turn other videos into MP4 format, Change audio format into MP3, and more without pressure. The detailed tutorial above shows you how to turn a video into an audio file.