How to Convert M4V to MP4 FREE Without VLC in Windows
When it comes to M4V-to-MP4 conversion, the VLC media player is definitely a good choice. However, are there any additional options helpful to complete this task? The answer is affirmative. Please check out this blog post on how to convert M4V to MP4 without VLC in Windows. The methods mentioned here prove to be simple, convenient, practical and FREE. You will be introduced to two ways:
💡Offline Video Editor-WorkinTool VidClipper
💡Online Video Converter–Cloud Convert
However, it is strongly advisable to try the fist approach since it is
💖Lightweight and Simple
🧡Powerful Editing Features to cope with professional and non-professional issues
💛Batch Conversion and Custom Video Settings
💚High-Quality Outcome Guarantee
💙100% FREE
💜Green and virus free
💝Secure and User-Oriented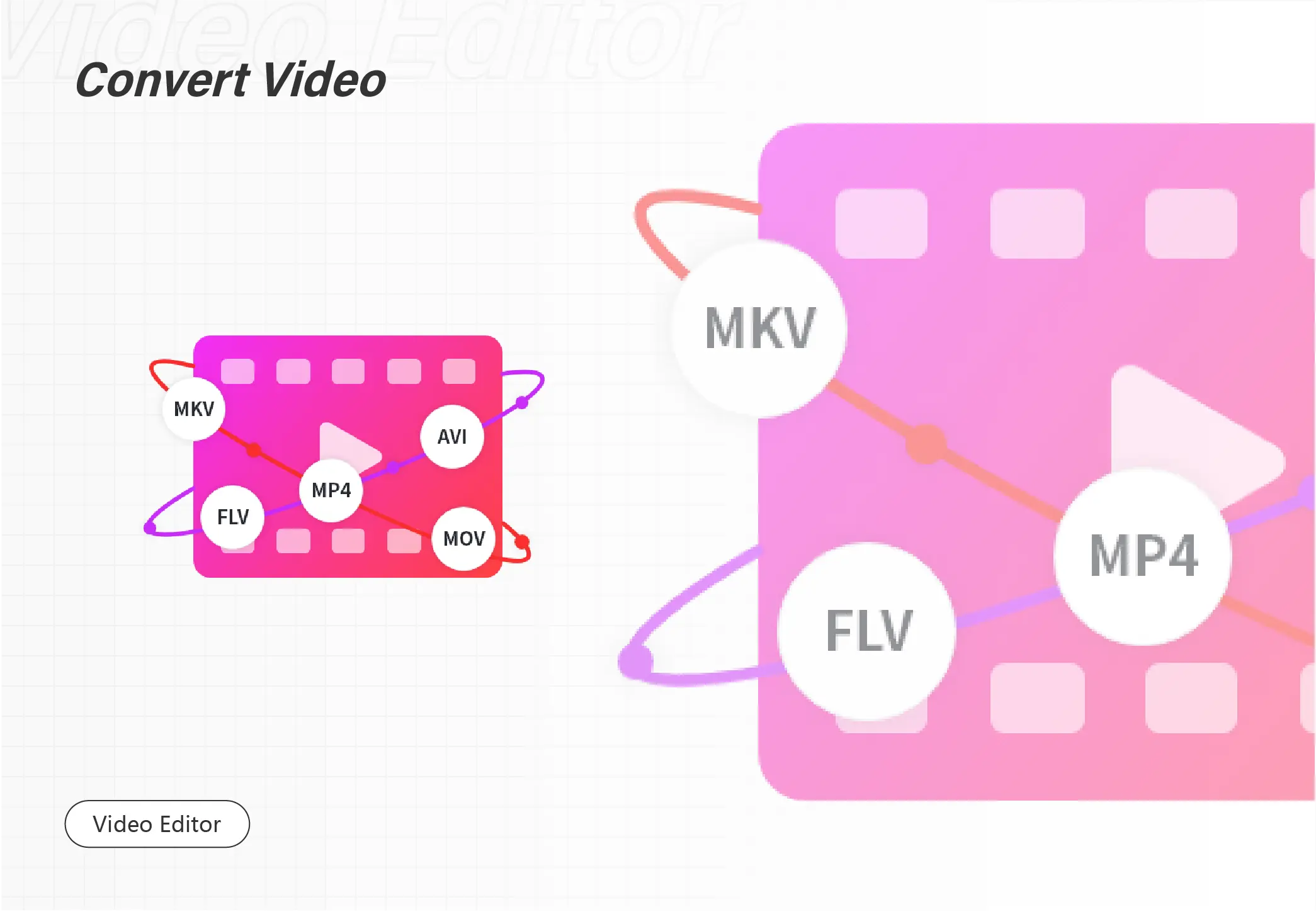 How to Convert M4V to MP4 FREE Without VLC in Windows [Offline and Online]
M4V, a video file format developed by Apple, gains gradual prevalence worldwide with the public's increasing preference for its electronic devices like iPhone, Macbook or iPad. However, for most devices other than Apple's, MP4 is still a mainstream video format. Therefore, you probably want to change your M4V files to MP4 videos if you are using a computer powered by Windows OS. The VLC media player is definitely a good choice; however, are there any additional options helpful to complete M4V-to-MP4 conversion? The answer is affirmative. Please check out this blog post on how to convert M4V to MP4 without VLC in Windows. The methods mentioned here prove to be simple, convenient, practical and FREE.
You will be introduced to two ways:
Offline Video Editor-WorkinTool VidClipper
Online Video Converter–Cloud Convert
Besides, more useful information will be available in the section of Additional Words for M4V-to-MP4 Conversion.
Now, let's start our journey.
---
Words Before M4V-to-MP4 Conversion
📌What is M4V?
M4V, identical to MP4, is a video format presented by Apple. Therefore, it is also called the iTunes video. With the file extension of .m4v, it is also a MPEG-4 video file generally used for downloadable music videos, movies and TV series in the iTunes Store.
Apple's creation of M4V is out of its concern for security. Each M4V is branded with Apple's FairPlay DRM protection, which prevents anyone from attempting to view or copy these files on a device beyond Apple.
📌How to open an M4V video?
For Windows users, as M4V is similar to MP4, it can be played by the built-in apps in Windows like Movies & TV or Windows Media Player, though it may be displayed as unplayable on your PC. Besides, you can open an M4V video with a third-party tool like VLC media player or Miro.
For Apple users, you can directly open a .m4v file with your Apple devices like iPhone, iPod, iPad, Macbook, etc. It can also be played in the iTunes app or QuickTime.
📌Why should you convert M4V to MP4?
Much as M4V holds a great resemblance to MP4, it is still not supported by several social media platforms. Therefore, you may have difficulty uploading and sharing such a video on them. Additionally, for some extremely protected M4V videos, any alteration will be seriously forbidden, which means you are banned from editing them. Hence, it will be more convenient to edit and share an MP4 video if you are a Windows user.
So how can I change M4V to MP4? Please read on to learn more about specific solutions.
---
How to Convert M4V to MP4 FREE with an Offline Video Editor
Admittedly, a handy video editor will be exceedingly helpful to resolve nearly all your issues regarding video editing, including video conversion. Here, we will present a useful and powerful tool like this–WorkinTool VidClipper.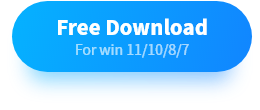 📕How to Save M4V as MP4 in Windows Using WorkinTool VidClipper?
Step 1. Open VidClipper and then locate the Video Converter on the interface.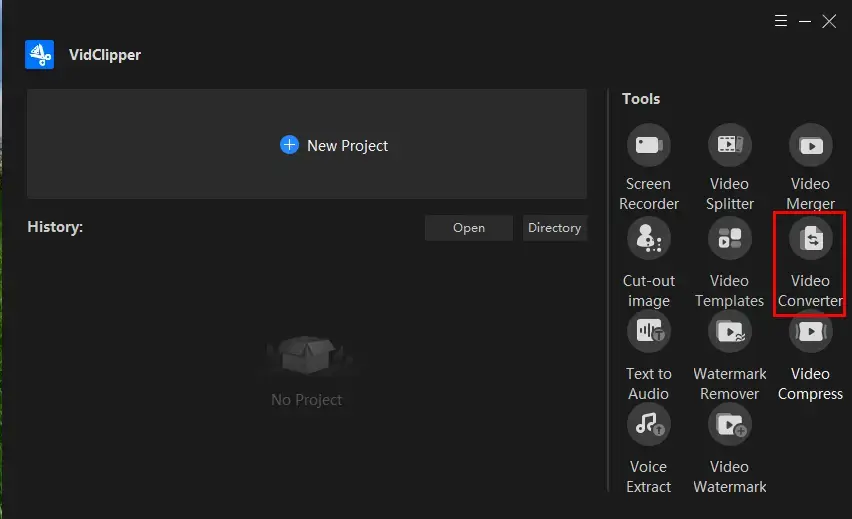 Step 2. Set your save path and then click +Add files or +Add folders to upload your M4V video(s).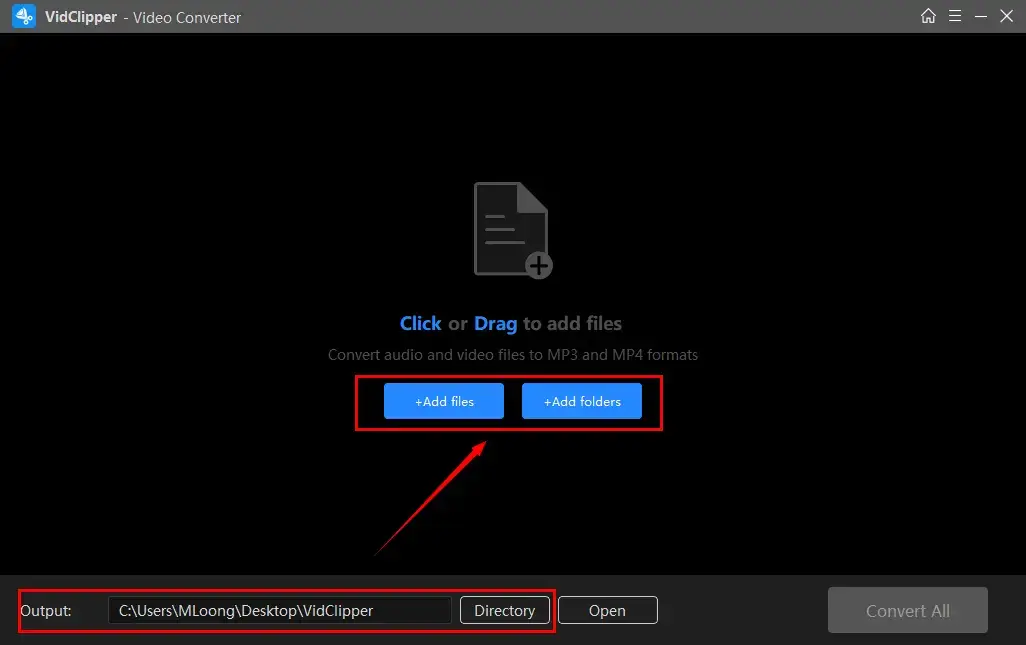 Step 3. Hit Convert now to complete your conversion.
(Press Convert all if you intend to turn multiple M4v videos into MP4 files.)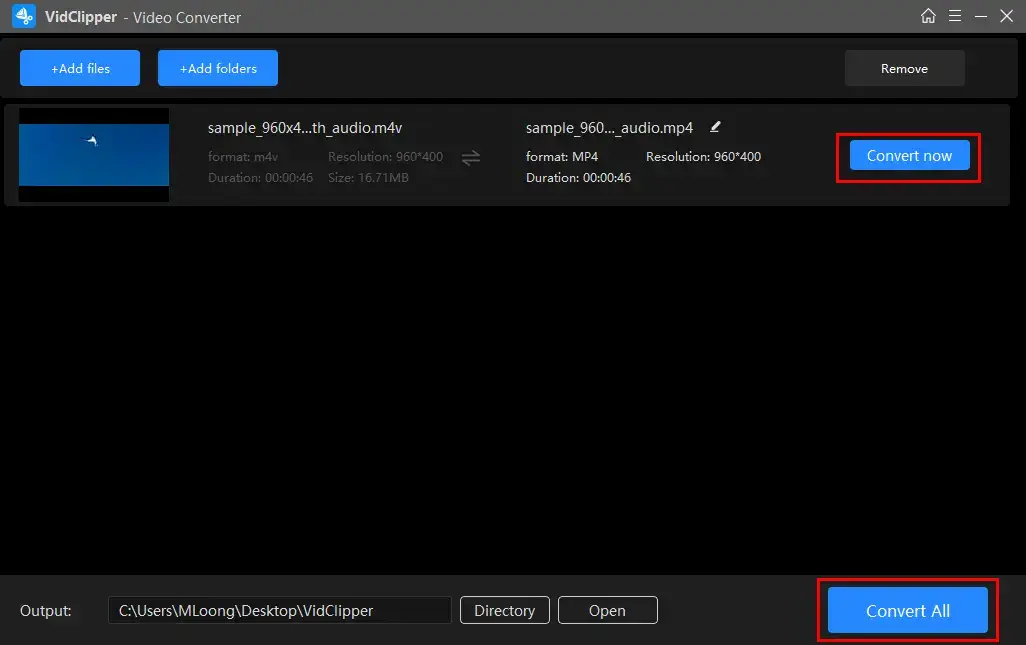 Step 4. Make your choice to deal with your converted video(s).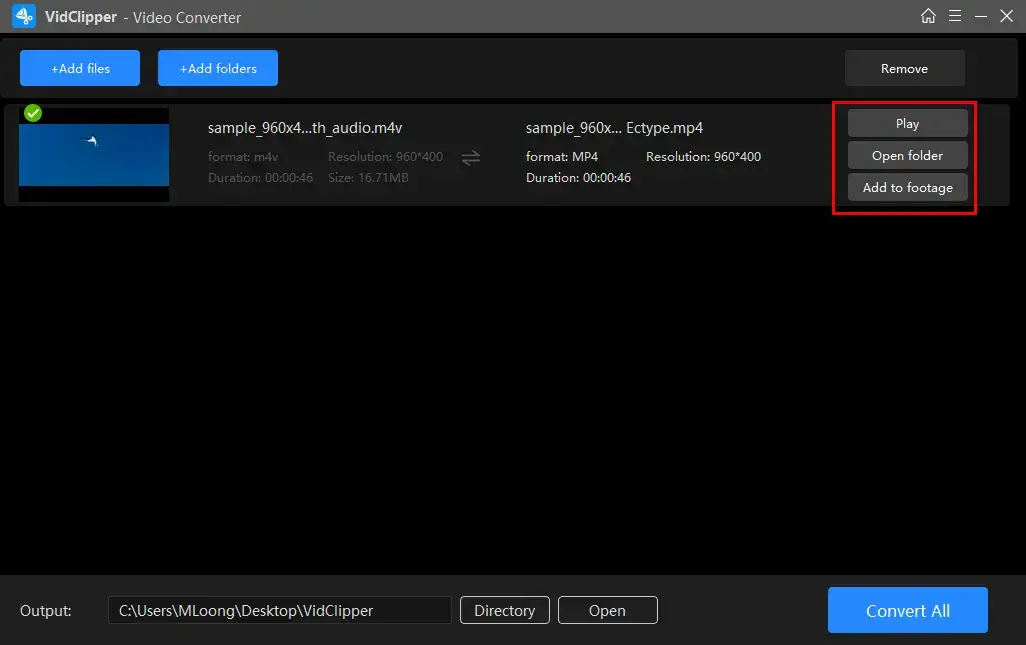 Play: to directly play the transferred videos.
Open folder: to Get down to the folder that contains your changed video(s).
Add to footage: to place your video directly into the editing console of WorkinTool VidClipper for further editing in the future.
If you plan to export your M4V videos to more customized MP4 files, please follow the instructions below:
1. Click +New Project to activate the editing console.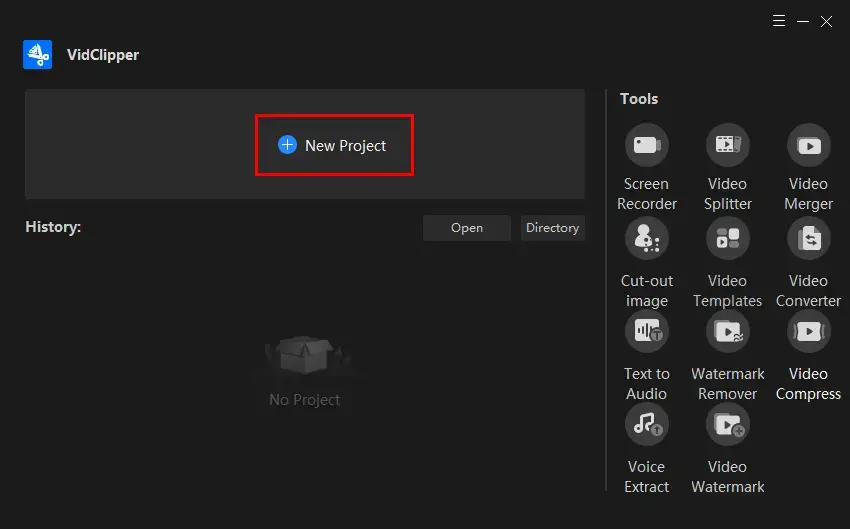 2. Import your M4V video by hitting Import or dragging it to the highlighted area.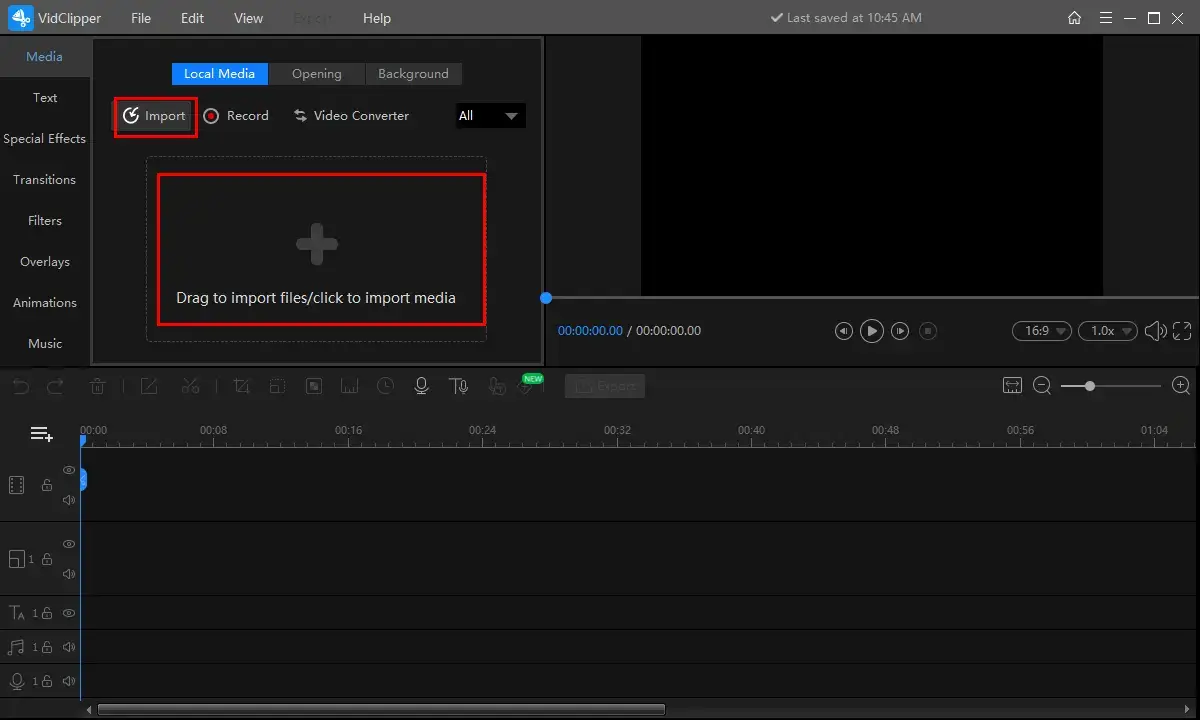 3. Drag your uploaded M4V video to the editing bar and then click Export.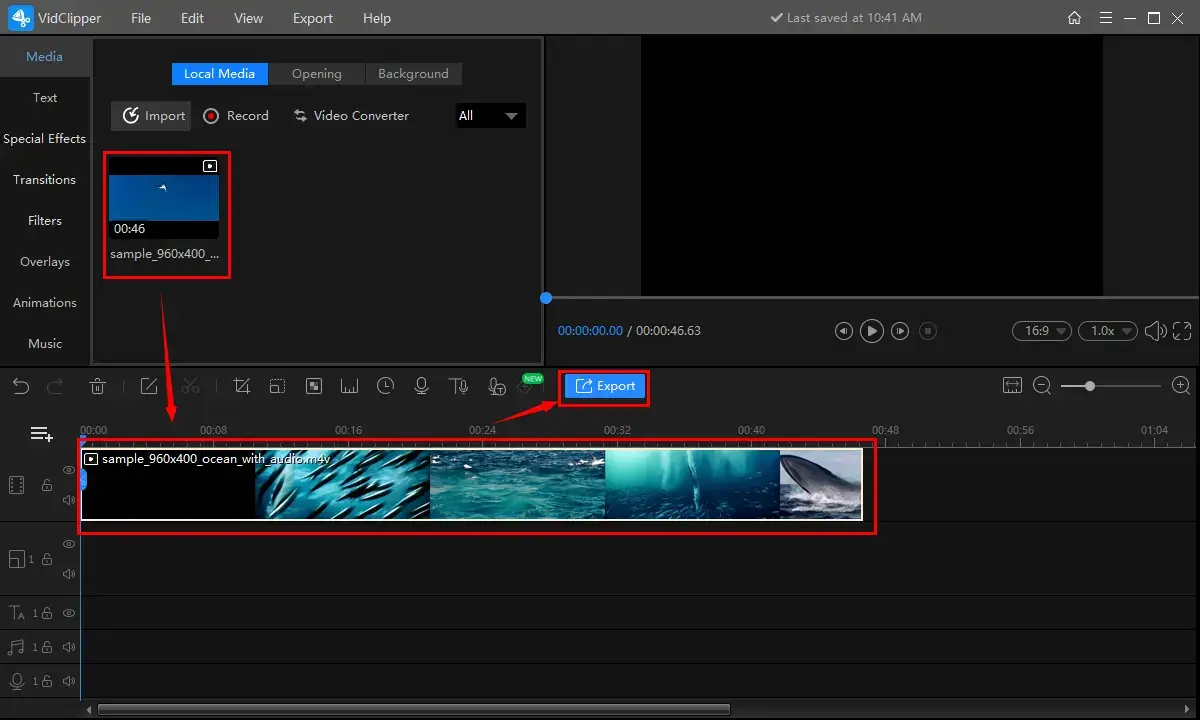 4. Select MP4, set your file name and save path, adjust the settings and then press Export.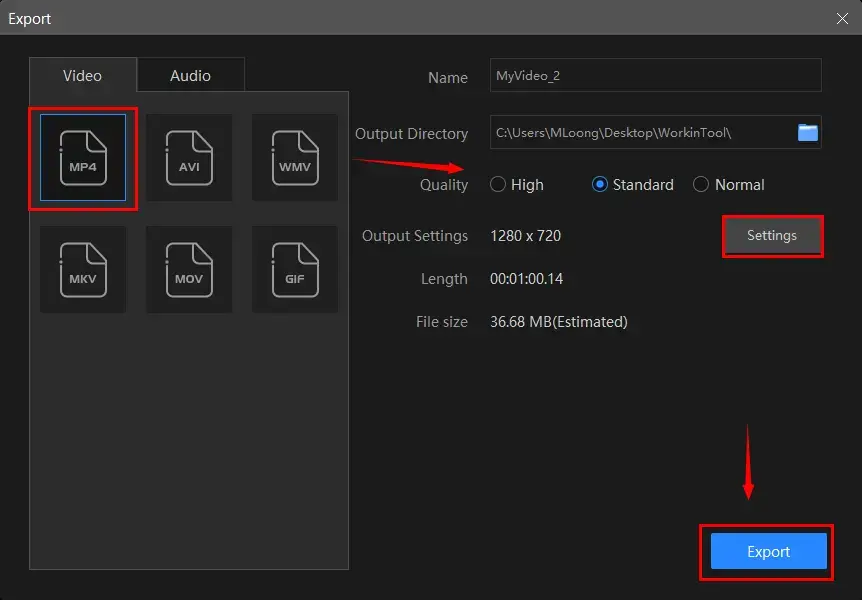 Settings Notes

Video
Quality
High, Standard and Normal (from high definition to low definition)
Video Encoder

It converts digital video to analog video signals. 

H264 and mpeg 4
Resolution Rate

It refers to the number of pixels in each frame, which determines the amount of detail in your video or how realistic and clear the video is displayed.

From 432 x 240 to 1920 x 1080 to custom
Frame Rate

It means the measurement of how quickly a number of frames appear within a second, which is also why called FPS (frames per second).

From 5 to 60 to custom
Bit Rate

It is the measurement of the amount of data used to encode a single second of video.

From 512 to 40000 to custom
Audio

Encoder

It is an algorithm that compresses and decompresses digital audio data according to a given audio file format or streaming audio format.

Mpeg aac
Sample Rate

It means the measurement of the samples per second taken by the system from a continuous digital signal. It determines the range of frequencies captured in digital audio.

From 16000 to 48000
Channel

It is a representation of sound coming from or going to a single point.

1 (Mono) and 2 (Stereo)
Bit Rate

It refers to the amount of data transferred into audio.

From 32 to 320
5. Click Play or Open folder to cope with your converted video.
💡PS: You can personalize the reminder or the post-export status when your M4V is under transformation, including a ringtone reminder, PC shut down and no further operation.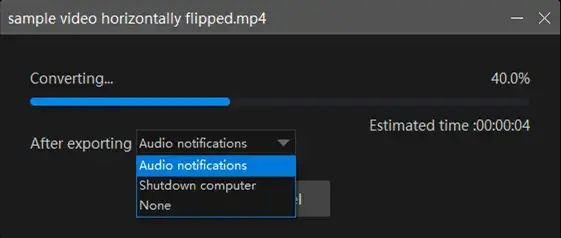 🙋‍♂️More to Share About WorkinTool VidClipper
WorkinTool VidClipper is a powerful and free video editor launched by a promising SaaS provider–WorkinTool. Inspired by lightweight and practical ideas, its designers will endow it with a simple-to-use interface suitable for beginners. These are the specific reasons for picking it:
Powerful Features: WorkinTool VidClipper is designed to offer you an easy experience in both basic and professional video editing.
Simple Editing Process: WorkinTool VidClipper is easy to use and usually takes five steps to complete your video editing.
Abundant Additional Editing Features: On top of video conversion, you can expect a range of various useful editing features, including 100+ stylish texts, 60+ filters, 300+ transitions, 70+ overlay effects, 200+ elements and 600+ sound effects.
Quick Editing Modes: Quick editing modes on the opening page are available to improve your work efficiency, such as screen recorder, video splitter, video merger, video background remover, video templates, text-to-audio converter and watermark remover.
High-Quality Guarantee: WorkinTool VidClipper will present amazing output without losing quality.
100% FREE Currently: All the features of WorkinTool VidClipper are accessible without any license payment and compulsory signup.
Green: No advertisements will pop up during your video editing and no intrusive watermark will be inserted into the outcomes.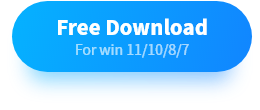 🎯What else can WorkinTool VidClipper do when it comes to video conversion?
---
How to Convert M4V to MP4 FREE through an Online Video Converter
If it truly bothers you to download and install an additional tool, you can resort to some free video converters online. For instance, cloudconvert is such a helpful online program. Its powerful conversion features enable you to turn multi-formatted videos into other formats. More importantly, it is entirely free to use.
📕How to Turn M4V into MP4 in Windows via cloudconvert?
Step 1. Open cloudconvert and then choose M4V in the left box and MP4 in the right box.
Step 2. Adjust the settings and then click Select File to import your .m4v videos.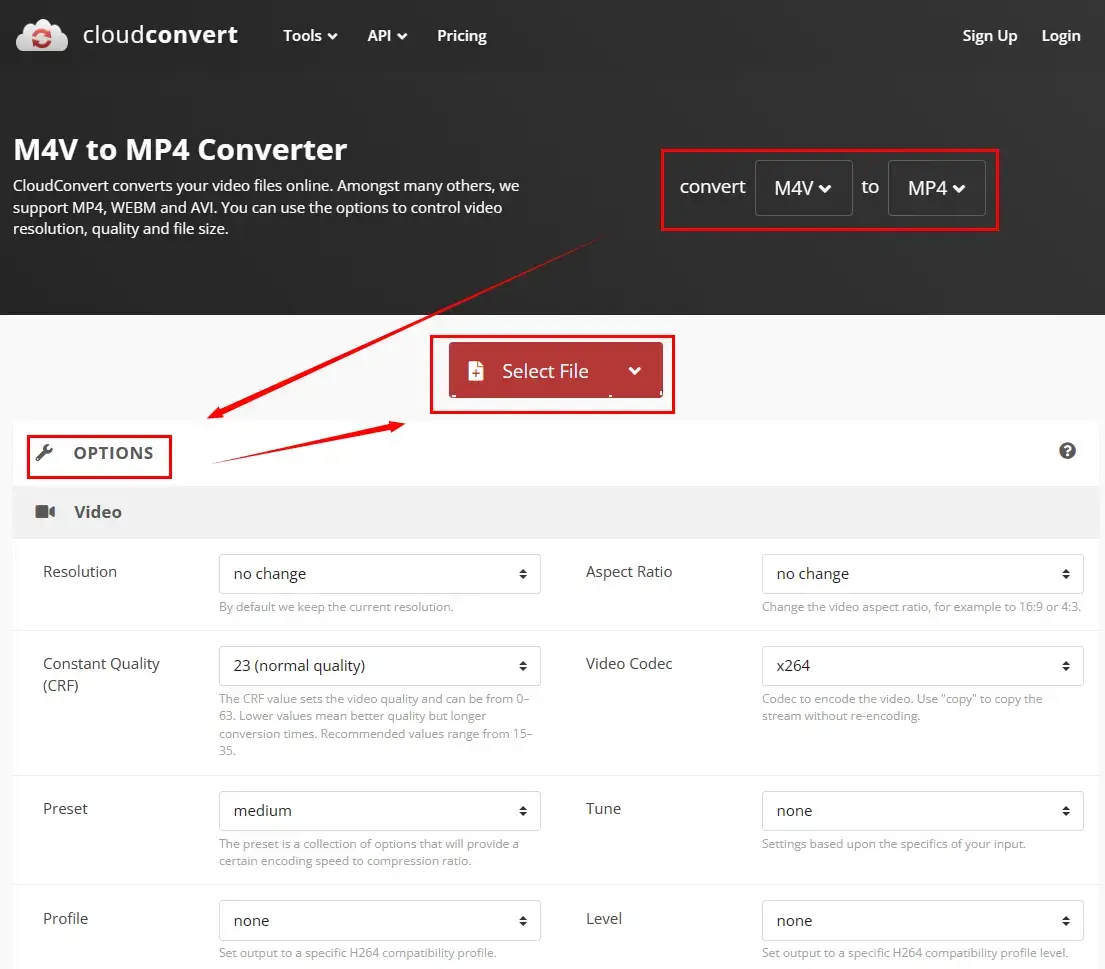 (Settings include video, audio, video trimming, subtitle addition and image watermark insertion)
Step 3. Hit Convert to start your conversion.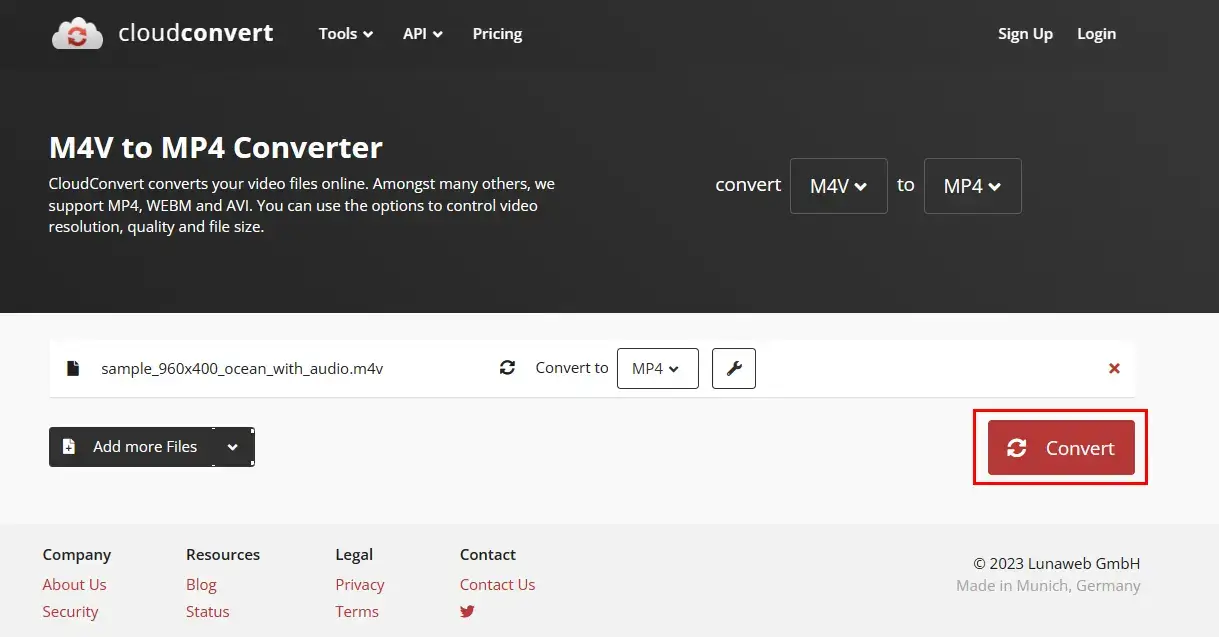 Step 4. Click Download to get the transformed video.
(You can preview the video before downloading it.)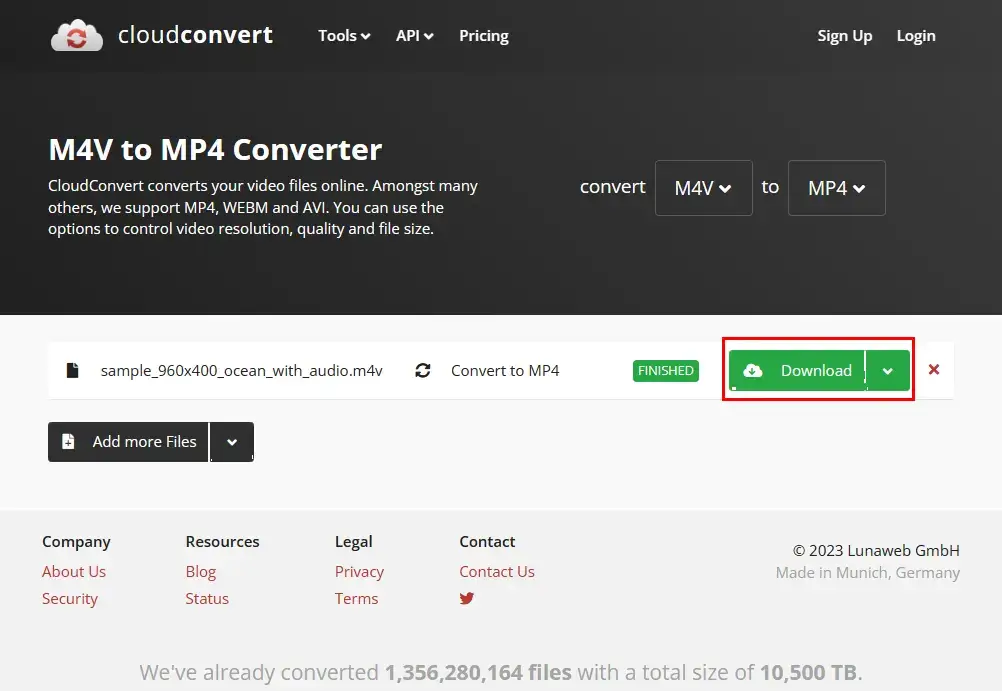 ---
Additional Words for M4V-to-MP4 Conversion
🔔How to convert M4V to MP4 with VLC media player?
VLC media player is a widely recognized video and audio player. Endowed with remarkable video editing features, it can serve as video converter software. If this is still your primary choice for video conversion, please follow the instructions below:
1. Open VLC and then navigate to File > Convert.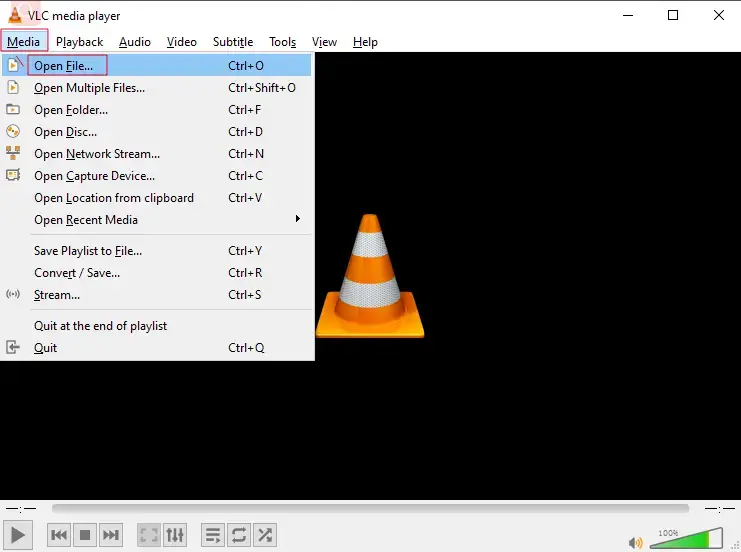 2. Click Add to import your M4V videos.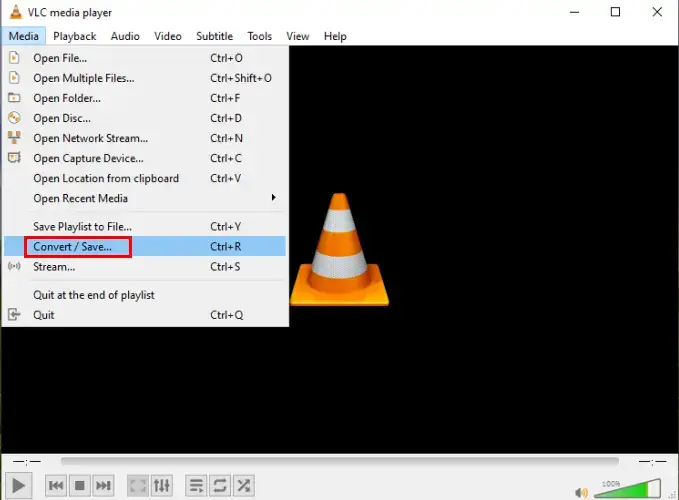 3. Select the targeted video format in the drop-down box beside Profile, pinpoint your file storage location and then hit Start.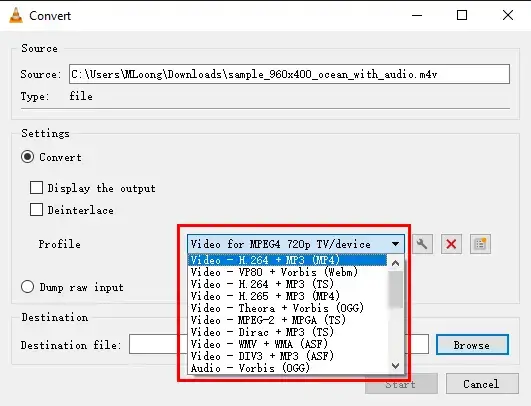 📢Notes: Further settings are available if you click

the wrench-like icon

, including video formats, video codec, audio codec and subtitles.)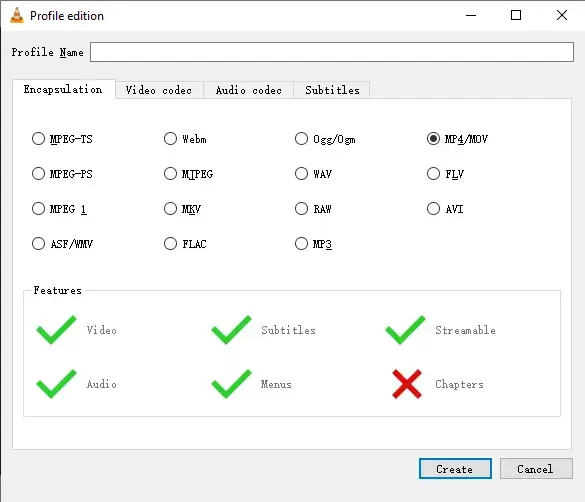 💡Which method suits you well?
Topics
WorkinTool VidClipper
cloudconverter
VLC Media Player
Download & Installation
Yes
No
Yes
Internet Access
No
Yes
No
Interface
Simple and user-friendly
Easy to use
Convenient
Supported Formats
MP4, M4V, MOV, WMV, AVI, RMVB, GIF and more
AVI, M4V, MP4, MOV, WMV, 3PG, OGG, FLV, RMVB and more
MP4, AVI, M4V, MOV, WMV, 3PG, OGG, FLV, RMVB and more
Price
100% FREE
FREE with limitations
Entirely FREE
Supported OS
Windows
Any Device with Internet Access
Windows, Mac, Ubuntu, iOS and Android
Other Features

Image Converter
Audio Converter
MS Office Documents Converter
---
Final Words
We sincerely hope that you find an ideal VLC alternative to convert M4V to MP4 after finishing this article today. However, it is strongly advisable to try WorkinTool VidClipper since it is simple, convenient, powerful, practical and totally free of charge.
Now, are you ready to change your M4V files to MP4 videos?