How to Compress a MOV File on Windows for FREE 2022
Finding a great tool that can export with quality on the Internet which is already full of various compression software is like looking for a needle in a haystack. Especially when you are in a hurry to find a solution to how to compress a MOV file. Luckily for you, we are here to provide the best method you can use at any time. And that is the WorkinTool File Compressor. It is professional compression software. You can use it to compress images, videos, and all kinds of office documents for FREE. I promise you that you won't regret trying it.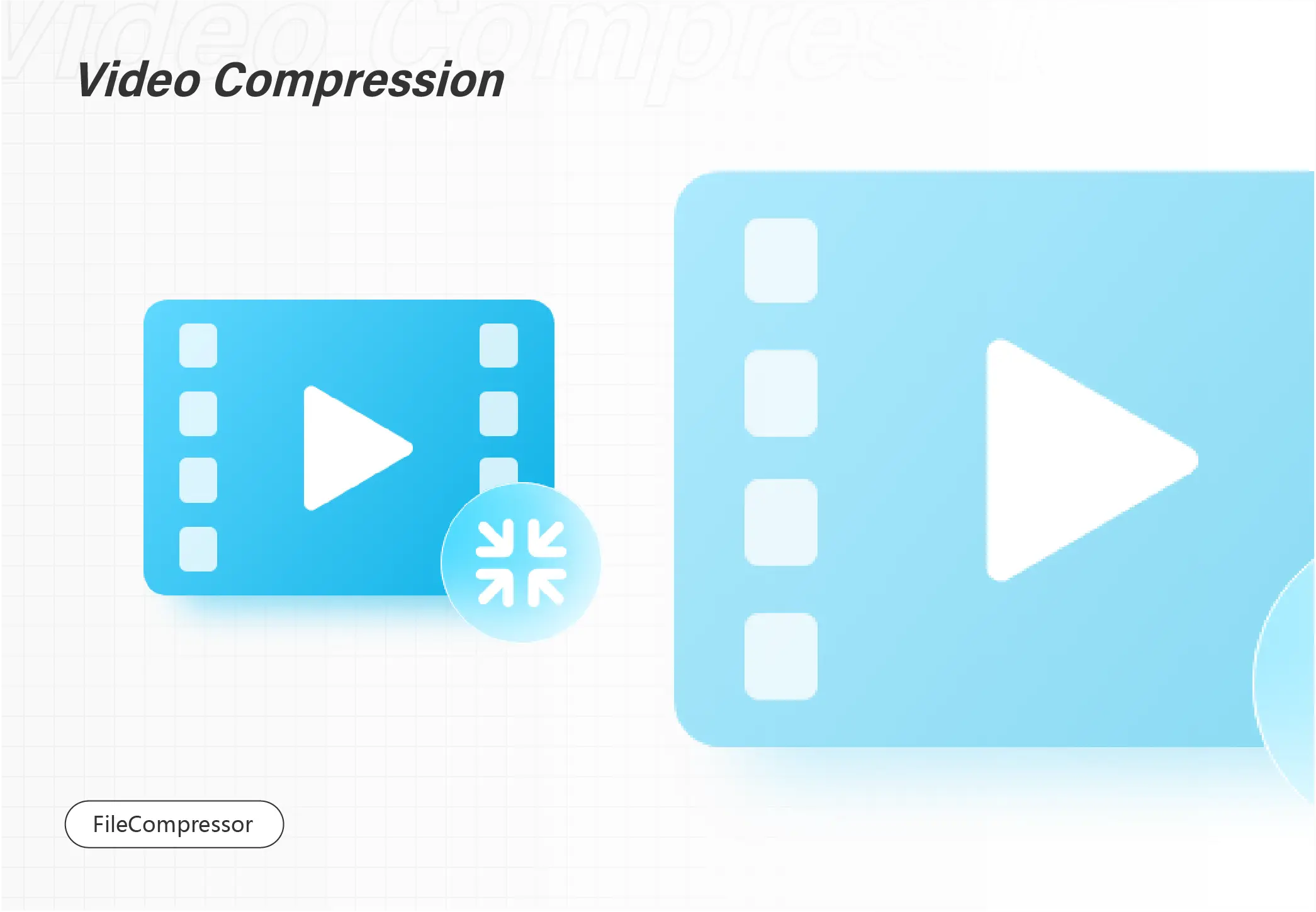 🎉 How to Compress a MOV File
Have you ever experienced that you have a very large MOV file that needs to be compressed but can't find a good solution? In fact, there are many reasons to find out how to compress a MOV file. It might be to save some disk storage space, maybe for a better media playing experience, or to be able to share faster when sending an email. Whatever it is, it is important to know the trick while maintaining the safety of your disk data.
In order to properly compress a MOV file, undoubtedly the easiest method is to find a credible video compressor. But you don't need me to tell you there are how many video compressing tools on the market. Even if, hypothetically, they are all safe to try, it will take years to experience each of them until you find the best tool. Well, Lucky you, my friend. Here, in this article, you will find the best free solution to reduce the size of MOV files. Let's take a look together.
---
How to Compress a MOV File – Free Way
So much for the intro, so I'm going to jump right into here. This is the video compressor that I highly recommend – WorkinTool File Compressor. We both know that, though the MOV format is the most popular video format on Apple devices for video and audio storage, in the meantime, MOV files will take up too much disk space, and cloud storage would cost you another extra expense, which is not worth it. And WorkinTool File Compressor can handle it perfectly.
This compressor will definitely satisfy your needs. Its main page consists of two built-in large settings blocks and a file displaying block. Above you can see the original and compressed size of the file, resolution, and compression ratio. The following compression settings correspond to the basic compression and advanced settings. The infrastructure is divided into compression priority and clarity priority based on user needs. However, the advanced settings allow you to see the video and audio details for yourself. And it completely supports batch compression of video files. Want some more surprises? Sure. It is also a 100% free video compressor.
---
🎊

The Simplest Steps to Get a MOV File Compressed
1. First, go open this amazing tool and find Video Compression when you have downloaded it on your computer.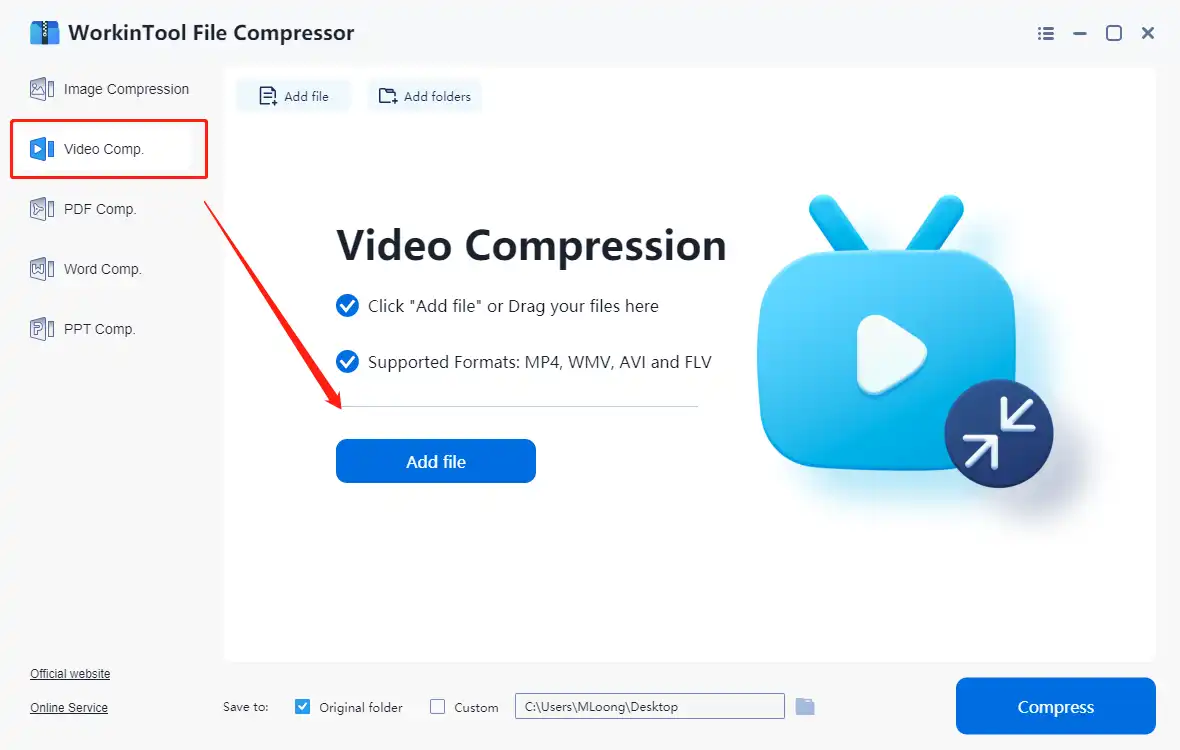 2. Then you need to get your MOV files into this compressing page.
(📣 Notice: Before moving to the final compression, you have to modify some basic settings first. It offers two sections for user modification. The General Settings allow users to control compression priority and output format. And The Additional Settings, on the other hand, give users more freedom to customize the compression, like resolution, bit rate, and frame rate).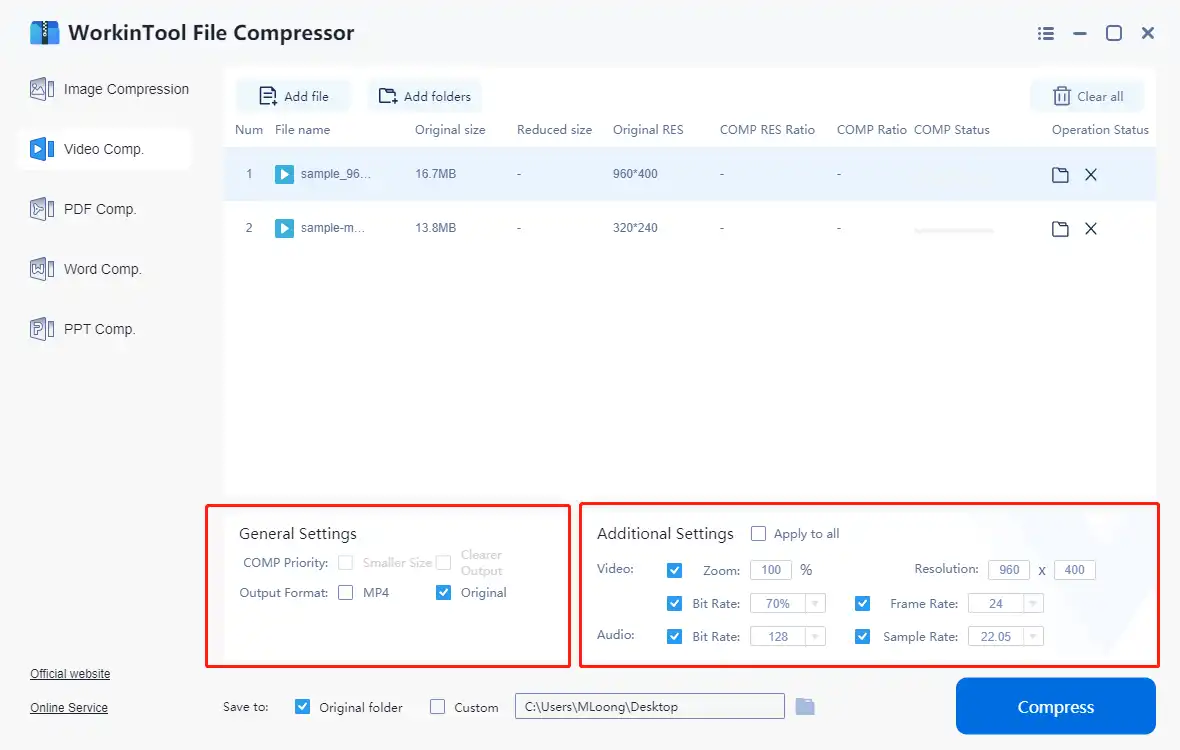 3. After you have made those settings right, you can click Compress to start now. The compression process will be displayed on the status bar panel. Except for the status, actually, you can check other stuff on the bar panel, like the file size, and resolution before and after compression. When it is done, you can choose to open the saving folder to check the result.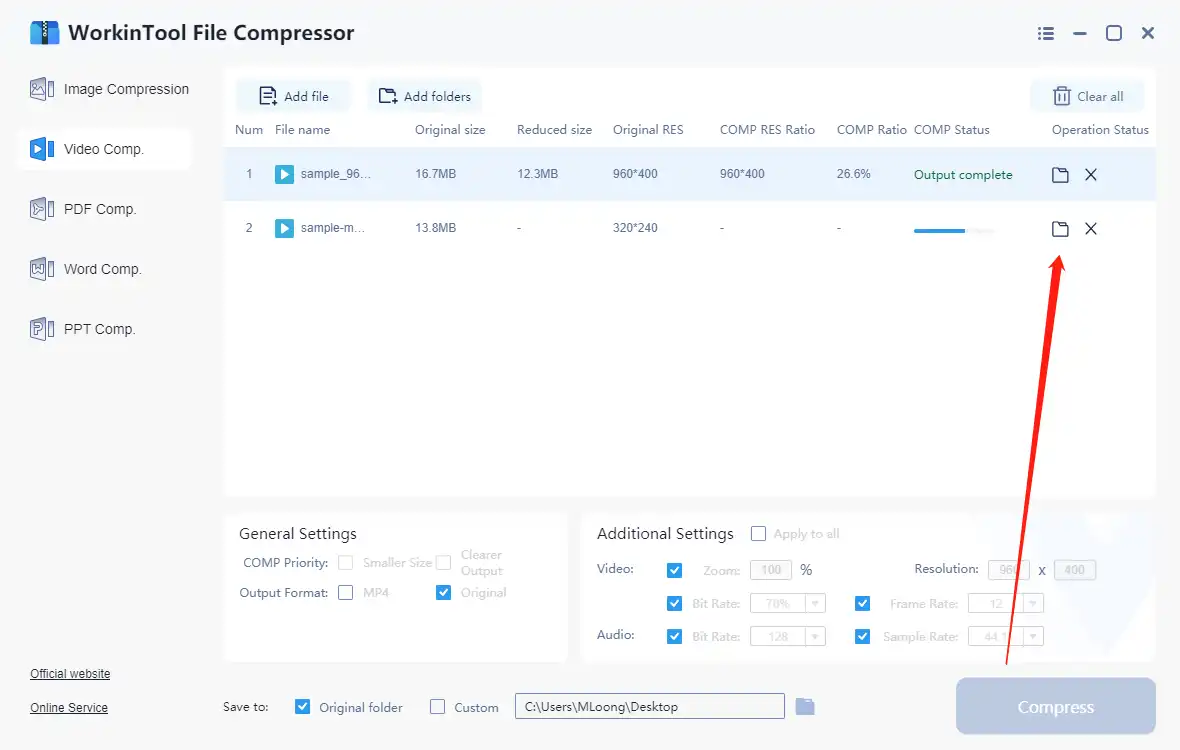 Here I have the comparison picture of the same MOV video before and after compression. As you can see, I didn't touch any resolution or some sort of thing. I simply chose a  "Clearer output" option in the General Settings, and I got this shrunk MOV. It really works you guys.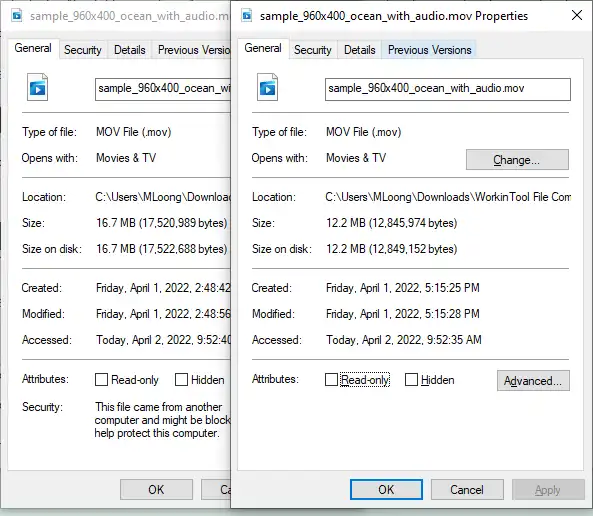 💥 Why Choose WorkinTool File Compressor
Great Output Quality:  No matter what compression mode you choose in the WorkinTool File Compressor, it is promised that the quality is always the best.
Simple to Operate: It is designed to be easy and clear for every user of all ages to try out.
Security Guaranteed: No one has access to your files, and your privacy is 100% guaranteed.
Long-term FREE Trial: You have sufficient chances to practice how to compress PDF documents and try other functions of WorkinTool.
Multiple Compression Functions: Except for the inner settings, you can use this tool to compress images, reduce the size of Word files, squeeze the size of Excel sheets, and so on.
---
How to Reduce a MOV File Size – Alternative Solution
Surely, as the most popular multimedia player, the VLC media player has its own way to compress a MOV file. But because it doesn't compress directly, it does so by adjusting bit rate and resolution. And all those modifying options are right deep in the settings. So it's going to be a little difficult for the newbie.
🎊

The Alternative Solution to Compress a MOV File
1. First, go to Media > Convert/Save…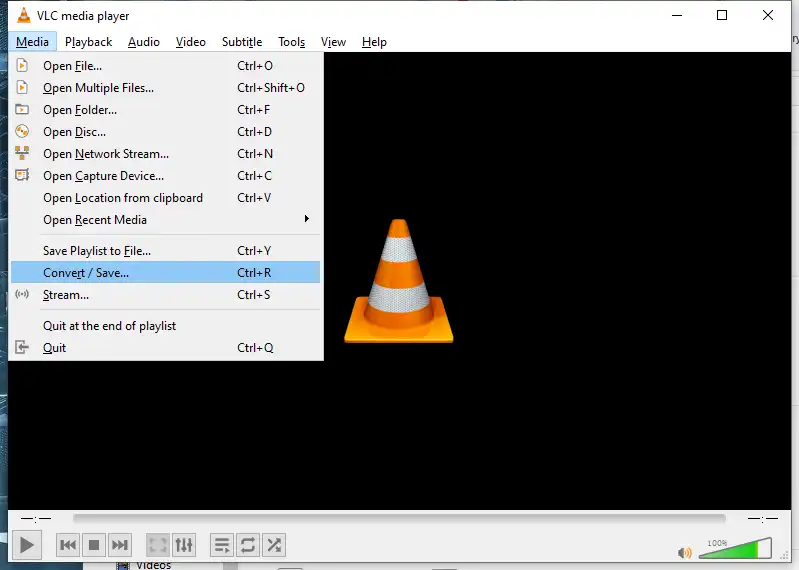 2. Click "+ Add…" > Convert/Save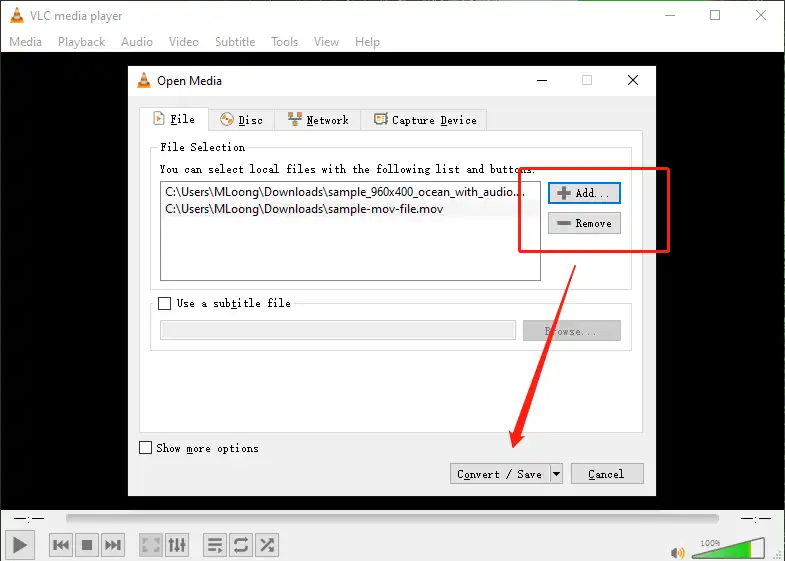 3. Since the MOV is developed for Apple users, we choose Video for iPod HD/iPhone/PSP. Then comes the most important part, HIT the wrench icon.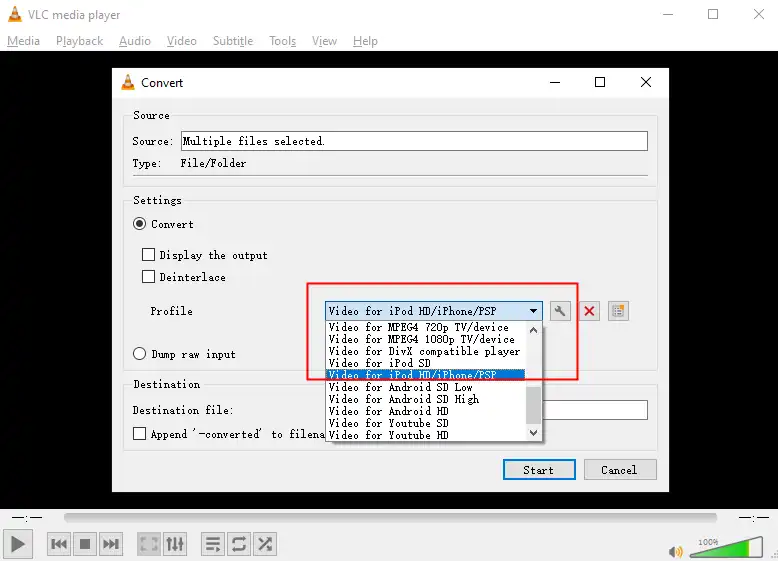 4. In this interface, you can adjust the resolution and bit rate to compress the video. When you are done, click Save and Start to convert.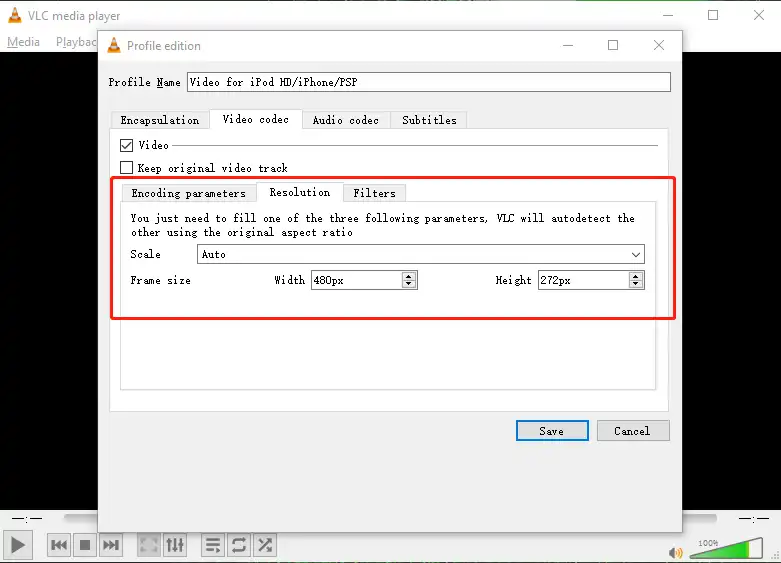 ---
Something You Should Know Before Compressing
🔔

What Is a MOV File?
MOV, also known as QuickTime (or movie format), is an audio and video file wrapper developed by Apple to store commonly used digital media types. It is usually used on iPhones, iPads, and computers with the macOS system.
🔔

Why Is MOV Always Big?
Because the QuickTime code requires a higher rate to compress MOV files without quality loss. And MOV files usually contain more video data.
🔔 Why Do You Need to Compress MOV?
If you continue to have MOV files of a large size, it might be troublesome to work on the computer. And by compressing, you'll be able to use it better in your workflow. And the smaller size also means you can store more video files on your device.
---
More to Share
Good compression tools that are simple to use with great quality are hard to find. Fortunately, you have found this post. I'm sure that you must get the trick of how to compress a MOV file by now. By using WorkinTool File Compressor, you could get the desired compression result you want for free.
It's time for you to experience yourself now. Don't wait and go to explore the magic.
Products Reviews:
TrustScore
4
|
323
reviews