[Available] How to Convert WEBP to JPG on Windows or Mac 2023
Google designed and adopted the WEBP image format to display website images as quickly and efficiently as possible. However, we all know that not all browsers or websites support this image format. So, if you want to convert WEBP to JPG, you must find another way. Use WorkinTool Image Converter to do this job. With its help, you can easily convert any popular format.
😍 1. Up to FREE 5 image batch conversions and compression try-out.
🤩 3. Easy interface for users to edit with 3 STEPS.
😎 4. Support more than 100 different image formats to operate.
🥳 5. Cover all the features that you can on the market and interesting filters.
😊 6. Available for image conversion, compression, matting, watermark, and more.
[Available] How to Convert WEBP to JPG on Windows or Mac 2023
You've probably seen it in many places since Google introduced the WEBP image format policy. Because images in this format display on web pages faster and better than in other formats. It features both JPG and PNG formats. This format compresses the image to half or a third of its original size without degrading too much quality. Also, it can display transparent photos like PNG. The most important thing is that the images are compressed, and at the same time, they keep good quality. It loads up faster and gains more profits for the web, major websites, and apps (such as YouTube, Google Play, and some smartphone apps that use image formats).
Although this image format has been developed and used by Google for many years, it still needs to be supported by many image editing and browsing applications, such as Microsoft's default photo viewer and online forms. Therefore, if the user chooses to copy and paste WEBP format images directly from the network, it may cause a lot of inconvenience to the editor. To make it easier for users to edit such ideas, here are some of the easiest ways to convert WEBP to JPG (the most compatible and versatile image format). Let's find out how to do this now.
---
The Comparison between WEBP and JPG
It's absurd, but it's true. Even today, the WEBP format has existed for over 10 years. Even though it comes to 2023, the Windows Photos app still doesn't support WEBP. But its Paint application can open and edit WEBP images as usual. In contrast, the JPG format continues to be used today and to a vast audience. All image-related software or systems must meet JPG support.
Below is our detailed comparison of the WEBP and JPG image formats, where we can see their most excellent benefits and issues.
As can be seen from this, in general, they are lossless images of small specifications, easy to store and browse. The biggest difference is that the WEBP format is more suitable for web browsing. It sacrifices compatibility and image quality in exchange for the network loading speed. But in JPG format, it is compatible with more devices and applications. So how do we convert WEBP format to JPG format?
---
🏅 How to Convert WEBP to JPG on Windows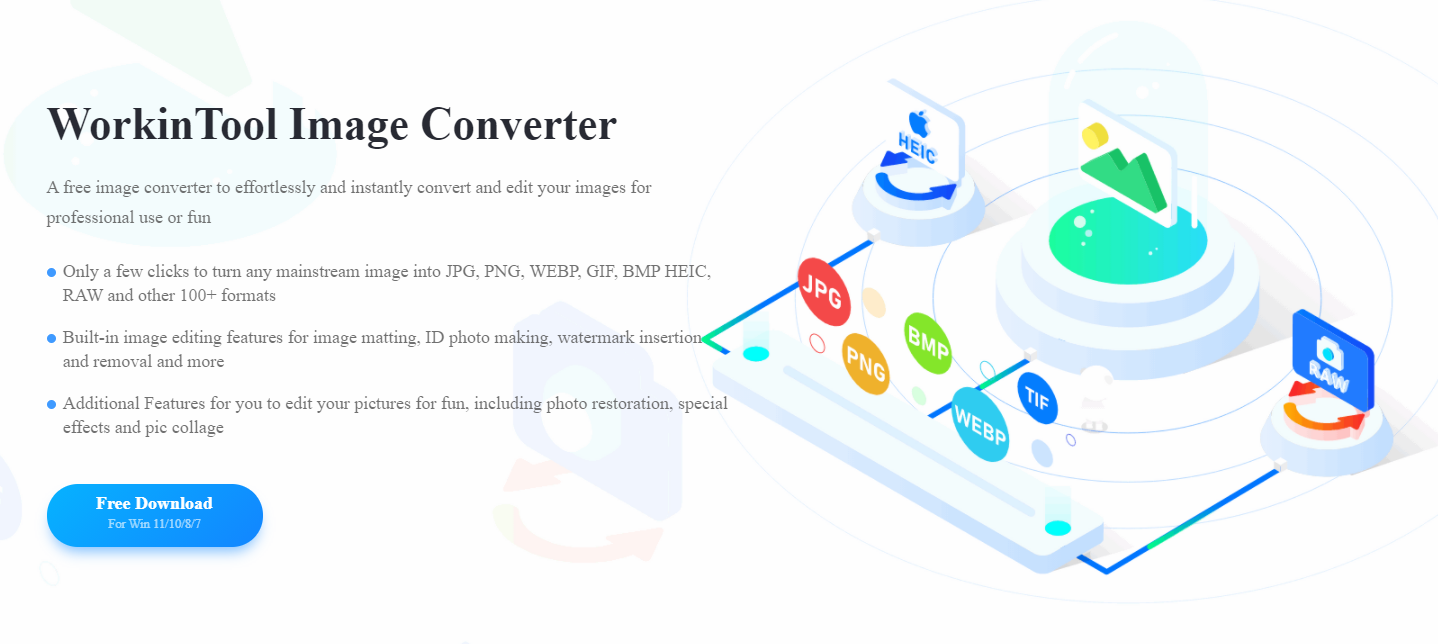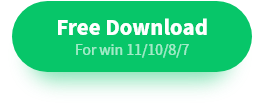 Unfortunately, even in 2023, the Photos app doesn't support WEBP images on Windows. Not to mention the use of this application tool to convert image formats. If you want a better picture conversion effect, the best way is to use an image format converter. WorkinTool Image Converter could be your best choice. This tool is a professional and versatile image editing application. It can support more than 100 image formats for editing and conversion. (including WEBP and JPG). Users can convert at least five images in batches. More importantly, the tool is straightforward to use. You can see detailed instructions on each feature page. Even a beginner editor can get the job done quickly. You can download it and try it out before going for a premium plan, which costs less than half the price of similar software.
Look how it works with WorkinTool:
Step 1. Open WorkinTool Image Converter.
Step 2. Click the Convert Images button and upload your WEBP picture(s).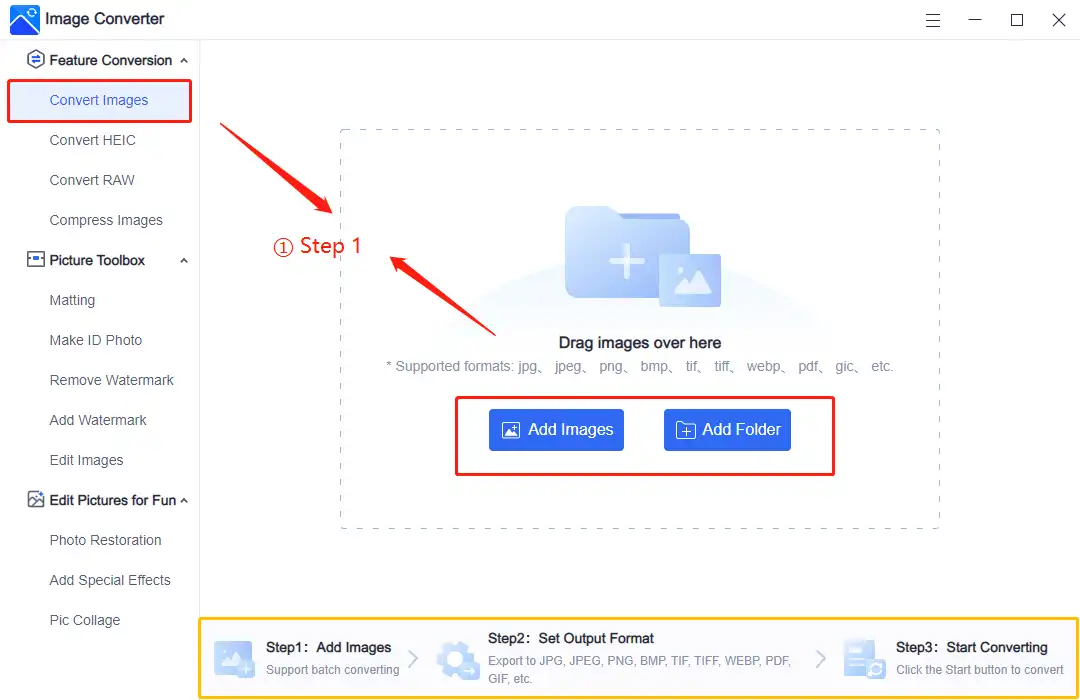 You can totally follow the instruction on the feature page. It is simpler for users to check how every function works.
Step 3. Select JPG from the drop-out menu in Output Format and Start the conversion. (You are allowed to convert uploaded images to multiple formats together.)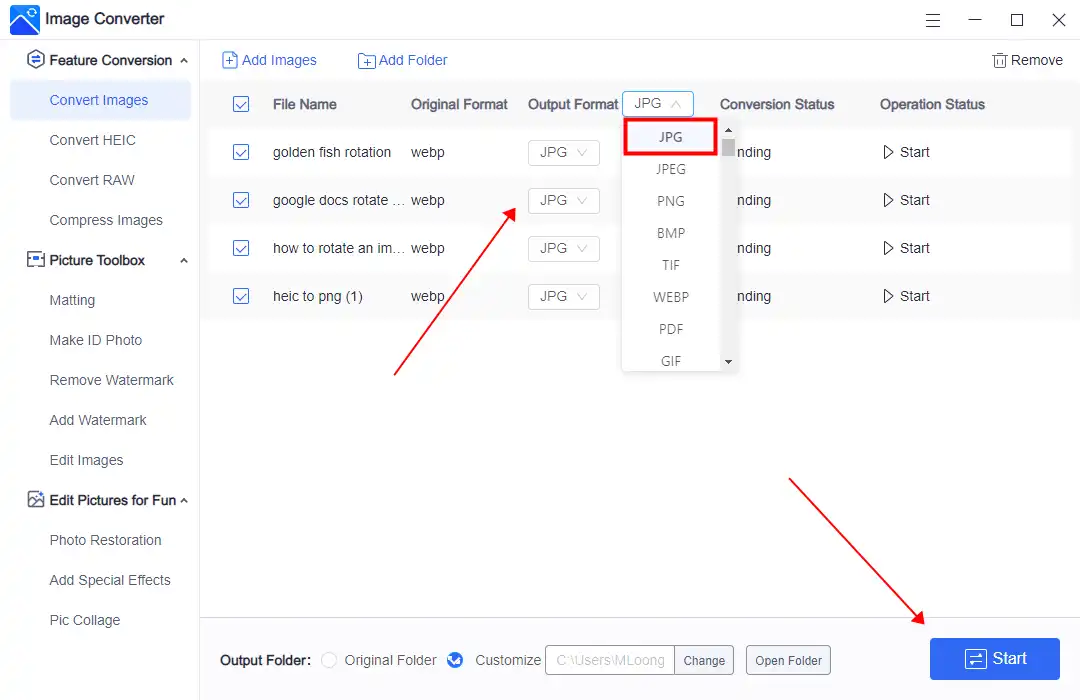 Step 4. After finishing converting, you may go to the saving folders to check your image result.
More Amazing Feature Tutorials for WorkinTool Image Converter
---
🥈 Convert WEBP to JPG in Different Browsers
Except that the WEBP image format is not supported in the Photos app, many browsers also do not support the WEBP image format, for example, Microsoft Internet Explorer. If you are looking at web pages that use WEBP images, they will automatically convert to JPG or PNG for users to browse. Because of this factor, you can easily save JPG files with it. You have to click on the URL of the image you want to keep in the web browser that doesn't support WEBP and then click save to download. Simple as that.
Let's take a look.
Find one web page that contains the WEBP images that you want. Select the URL > Right-click URL > Copy.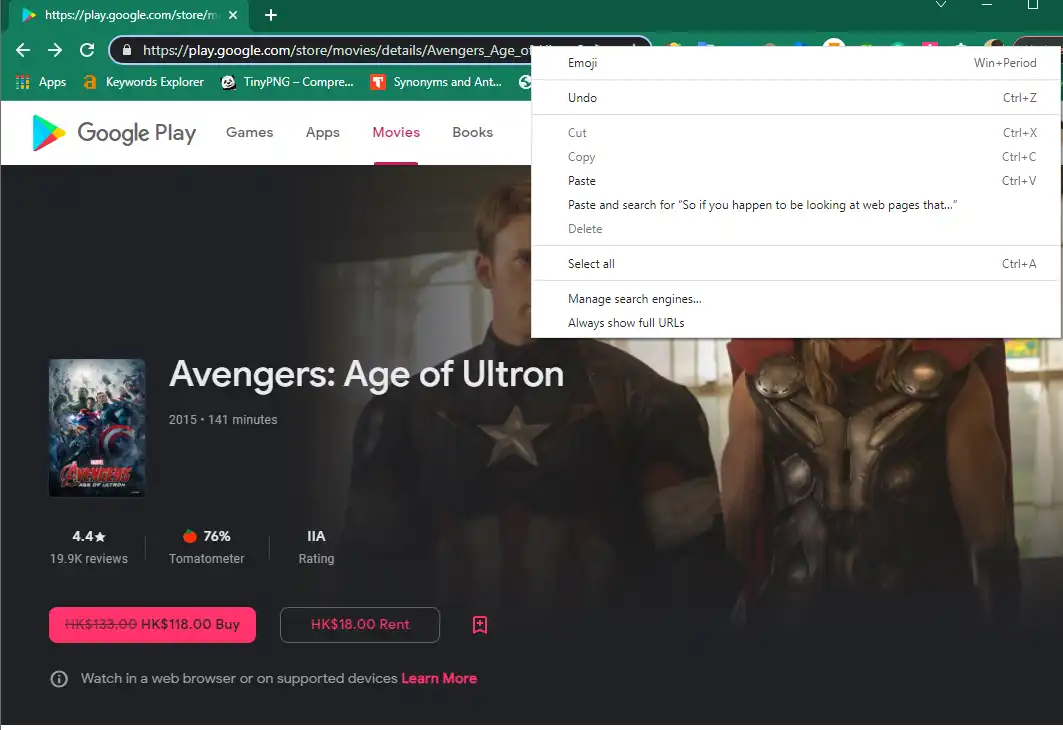 Open another browser that doesn't support WEBP, right-click the address bar > Click "Paste," > Enter.

Then right-click the image > Save Picture As > Designated folder > Save. So that all the downloaded images will be saved there as in JPG or PNG format.
---
🥉 Use Windows Paint or Mac Preview
Even though MS Photos won't be able to open WEBP images, you can still use the MS Paint function to convert image format. This tool supports most image formats and can convert WebP into JPG, GIF, BMP, and TIFF on Windows. However, the same goes for the Preview app if you are in the Mac system.
Check it out now on Windows Paint
Right-click the image > Open With > Paint.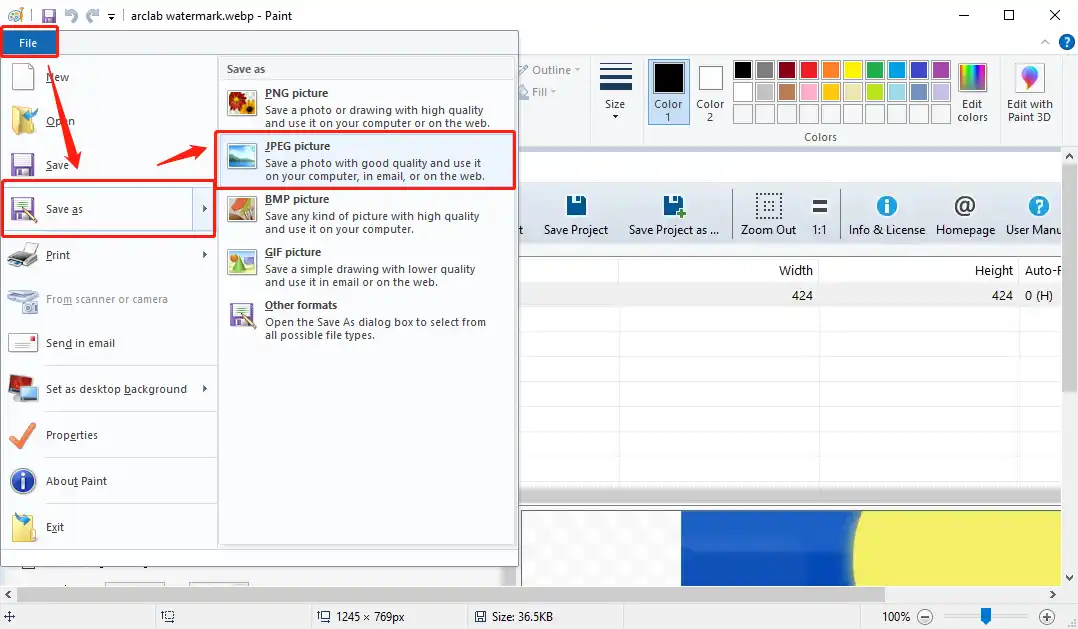 After opening, File > Save as > JPEG picture.
Find a designated folder and hit Save.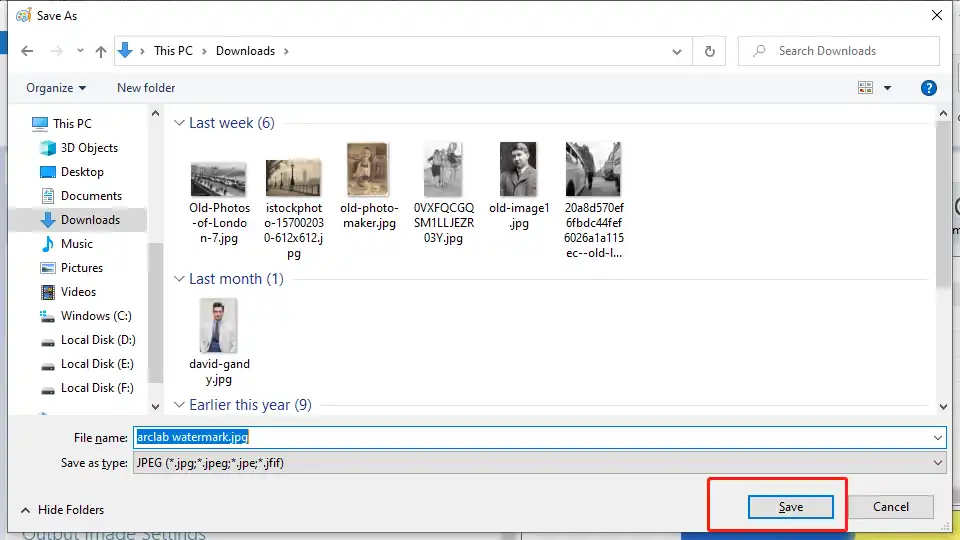 The same method goes to Preview if you use the Mac system.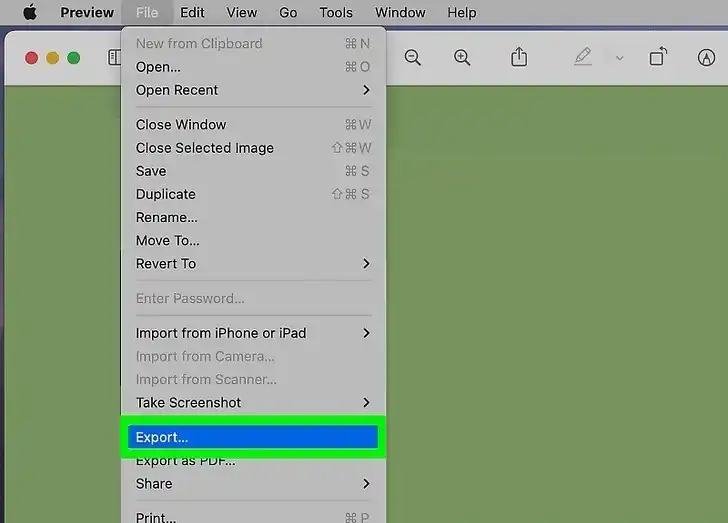 Choose 

JPEG

 in the section of 

Export As

. Click 

Save 

to get the job done.

Click Save.
---
Alternatives: How to Turn WEBP into JPG Online
Another alternative way to change the WEBP format is to use an online image format converter. For example, you can give CloudConvert.a try. It can provide users with a wide range of image format conversion services. Users only need to upload the WEBP image that needs to be converted directly and then debug the format required to convert. For WEBP format conversion only, the user can convert it to 68 different designs. It also supports batch transformations. You can upload multiple images and convert them together.
How you can convert WEBP to JPG using an online Converter:
1: Open your Website explorer and get on Convertio.
2: Upload the WEBP picture(s) and set the converting format. It also supports users in adjusting image details.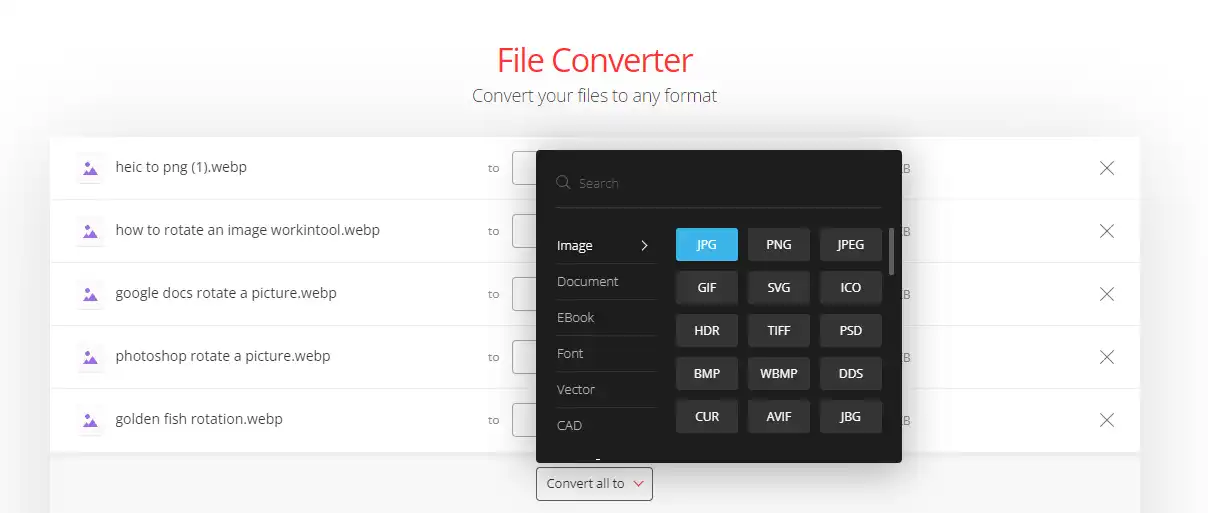 3: Click Convert and wait for the processing. Then you can download images in JPG on your device.
Notice:
Although this online converting tool supports converting images in bulk, users only have ten conversion minutes daily. If you want more time to finish the job, you must sign up for a free account to continue. Moreover, it would help if you got a heads-up. Do not upload your personal or confidential images. Otherwise, the consequences are easier to recover once the data is stolen.
---
More to Share
As you can see from above, we have covered three different methods on how to convert WEBP to JPG image format. Each way has its advantages. However, I have to mention the WorkinTool Image Converter one more time. I know some of you don't want to download anything to the computer. But you have to understand that this tool is professional in image conversion. All the commonly used formats are available here. And editing image is another feature you can count on it. Moreover, users can use up to five image conversions and compression. So, give it a chance and explore yourself right now.