How to Make a Photo Look Old And Elegant
Even though today's high-tech products make the photos clearer and more colorful. But in this age of multimedia, what people seek is simpler and purer. The urge to go back to the past has grown stronger. If you want your photos to go back to the'70s and'80s, the best way is through image editing software. So here I highly recommend you a new image process tool – WorkinTool Image Converter. Unlike Photoshop, it doesn't require any photography knowledge. It is very easy to use. And the final effect is outstanding. Moreover, you can use it with zero charges. Download and try it right now.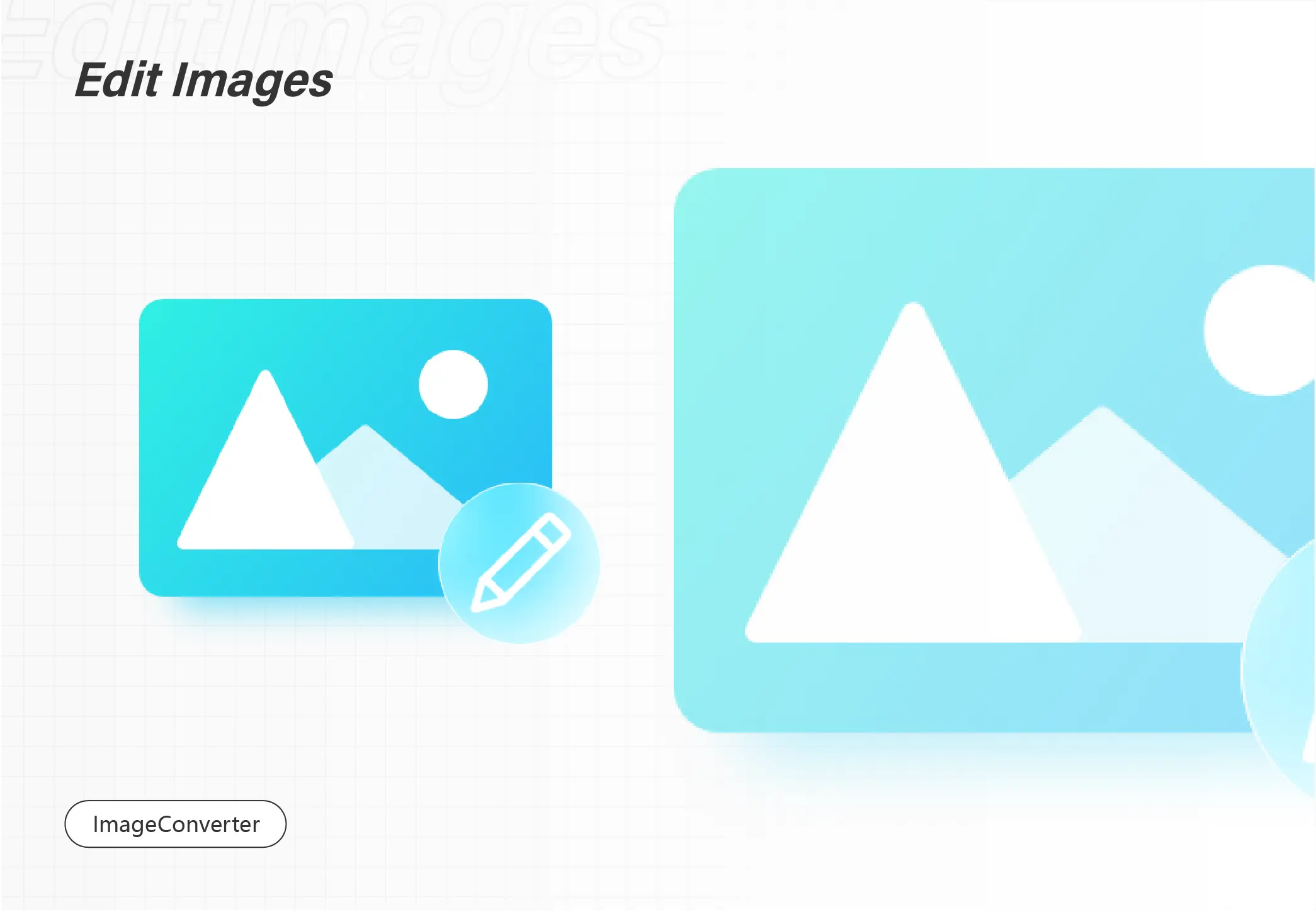 Modern photo-processing technology provides greater room for the transformation of everyday images into works of art. The subtle touches enhance the quality of the image itself and make it look more natural and beautiful. The artistic effect is more for the creation of a special style. For example, people tend to make their photoshoots become oil paintings, crayon drawings, or even a cyberpunk style. A vintage vibe keeps the original style of an image. Learning how to make a photo look old transforms a modern digital photo into a worn and elegant photoshoot.
So, why should we make a brand-new picture that just take look like an aged photo? Because adding age to an image can add another dimension to the richness of the image. It also allows the viewer to look at the art of photography differently. Adding a vintage effect also creates a better version of the story behind the photo. For daily life, it could make you feel the romance and affection back the wedding, family union, new year eve, and so on. For constructions and the natural environment, it could build a nostalgic and sorrowful emotion.
---
How to Make a Photo Look Old – Vintage Style
In order to make a photo look old. You have to own a perfect tool to make it happen. Once when speaking of photo editing, the first image process software that comes to mind must be Photoshop. First, we must admit that as a professional image tool that is well known, It works best in the hands of professional photographers. And there are also detailed tutorials available on the website. However, its overcharged price and overly complex operating procedures have shut many people out. To be fair, would the average user go through all the trouble of paying to learn how to use a piece of software that probably won't be used for six months? I don't think so.
Lucky you, my friend. Here I am going to introduce a very simple and practical image processing software – WorkinTool Image Converter. Since WorkinTool is an all-in-one image program, it can provide all sorts of ways to create a vintage vibe for your photos. It could take pictures back to the '90s, '80s, and even '70s, and '60s to relive that touch at that time. What's more, image processing software is not the only editing function that is easy. In addition, it can also convert the image format and compression image size. You can even change the background of your picture. And what wins Photoshop the most is that this amazing image software is 100 percent free to use. So you can use It whenever and wherever you want.
💡
Basic Photo Editing
First, of course, you need to download and install this image tool. Then open it and go to "Edit Picture" to insert the photo you want to process. In the beginning, before applying actual filters, some small basic photo editing operations are required.
Contrast
Now, the first you need to adjust is the contrast. you can find it in the basic menu. slightly move it to the left to lower the contrast of the photo. I got my picture set about -36. You can make a little bit more if you want it to look much older. This differs from every picture's condition and users' needs.
Brightness
Next, we come to Brightness. If you want to give your picture a little bit "aged" feeling, you need to move the option to the right. Because back then, cameras can be easily overexposed. You will notice that The Brightness button is above the Contrast. But anyhow, it is better for you to set contrast first. Lowering the contrast can make it seem brighter already.
Saturation
Then, the Saturation. Same as contrast, we need to lower it as well. it is below the contrast button. If you want your photo to look a bit like the 80s, you can only lower the saturation to 30 within. However, if you want the picture to look more like the past, you can directly move the button to the end. Saturation can be a very great part of making a photo look old.
Except for the basic adjustments, you can also change the Advanced part to make your photo look more real. Temperature and Sharpness can make your photo more like taken in the past.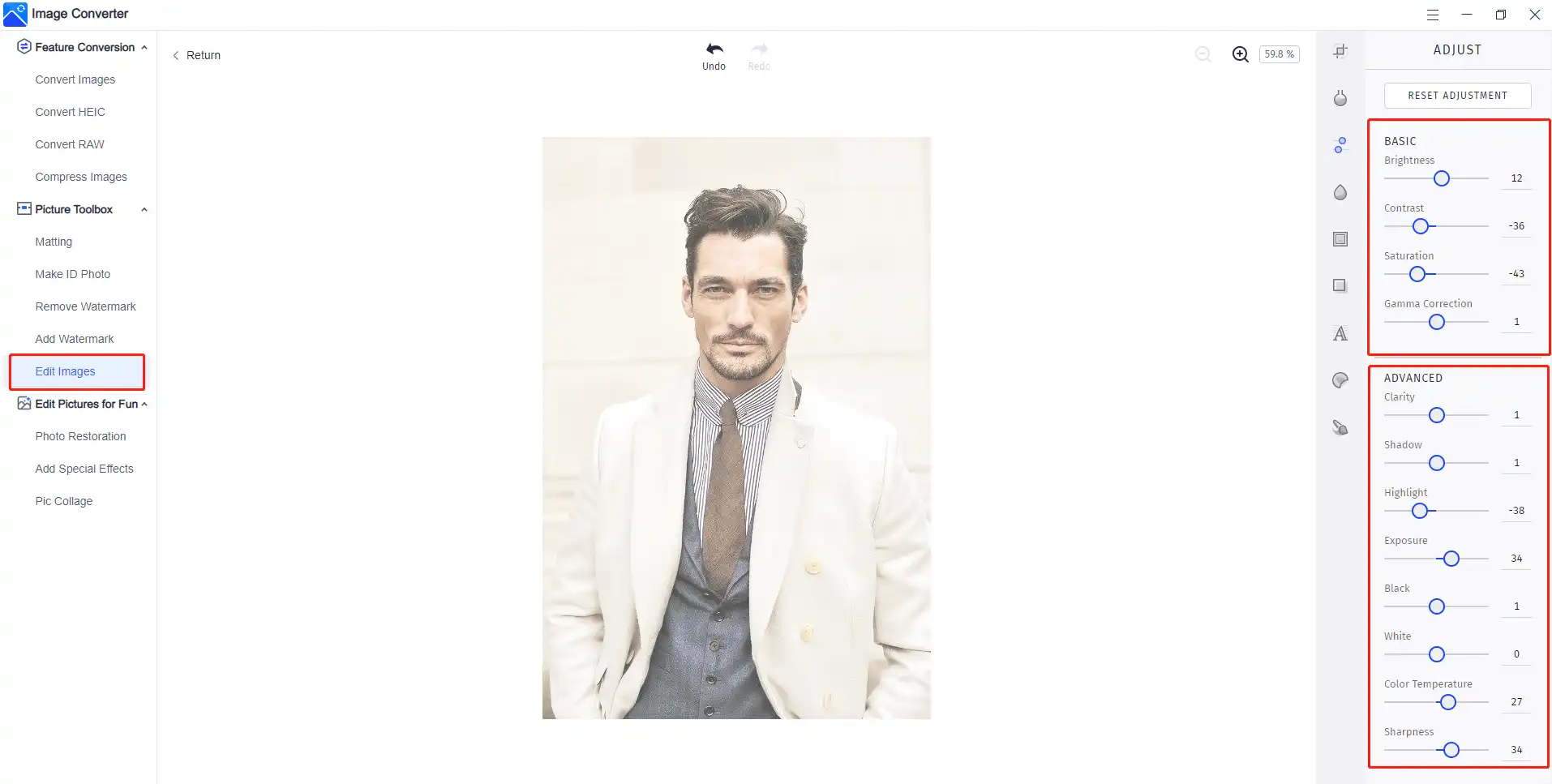 💡
Giving a blurry Effect
Because the technology was not developed in the past, the photos taken by the camera are often not clear, and even can be said to be relatively fuzzy. But today, with the help of high-definition cameras, the quality of the photos is not what it used to be. So, one of the steps we took to recreate the effect was to give the image a hazy texture. Go to the Blur function and here we talked about the last one "Gaussian Blur", set the intensity up to 5. Just giving it a hazy feeling is enough.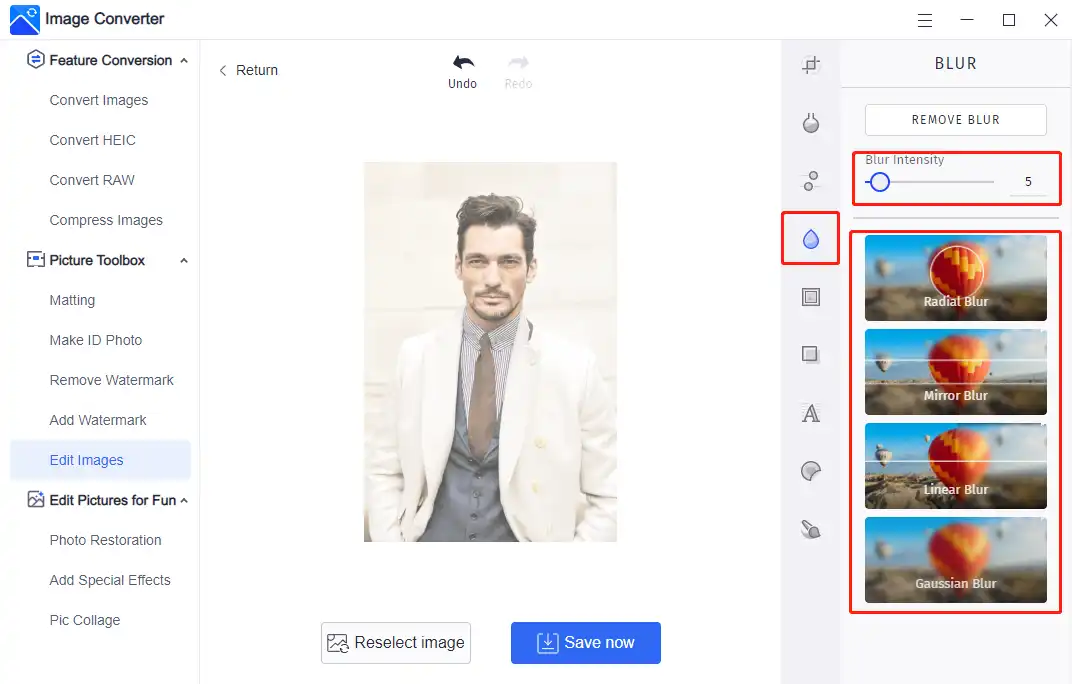 💡
Adding Vintage Vibe
After blurring the picture, here we need to add filters now. We all know that old photographs have a yellow antique feeling. In order to recreate the feeling, we need to find a similar filter. Here in the "Heritage" section, you can find twenty-eight different vintage filters. Pick one and apply it to it. For example, I took the "70s" and moved the intensity to 45.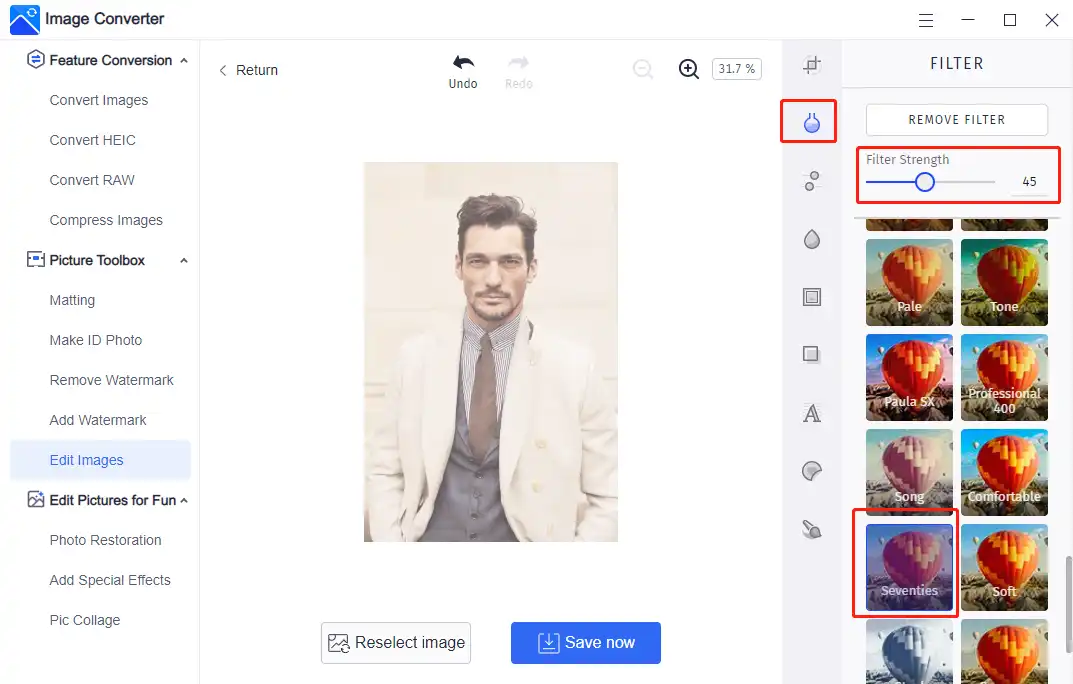 💡
Paper Texture Might Work
What's next, there is possible if you want the picture to look more like in the worn newspaper. You can go to Superimpose, find the "Paper" effect, and set the transparency and blending mode. Then the picture is finally done.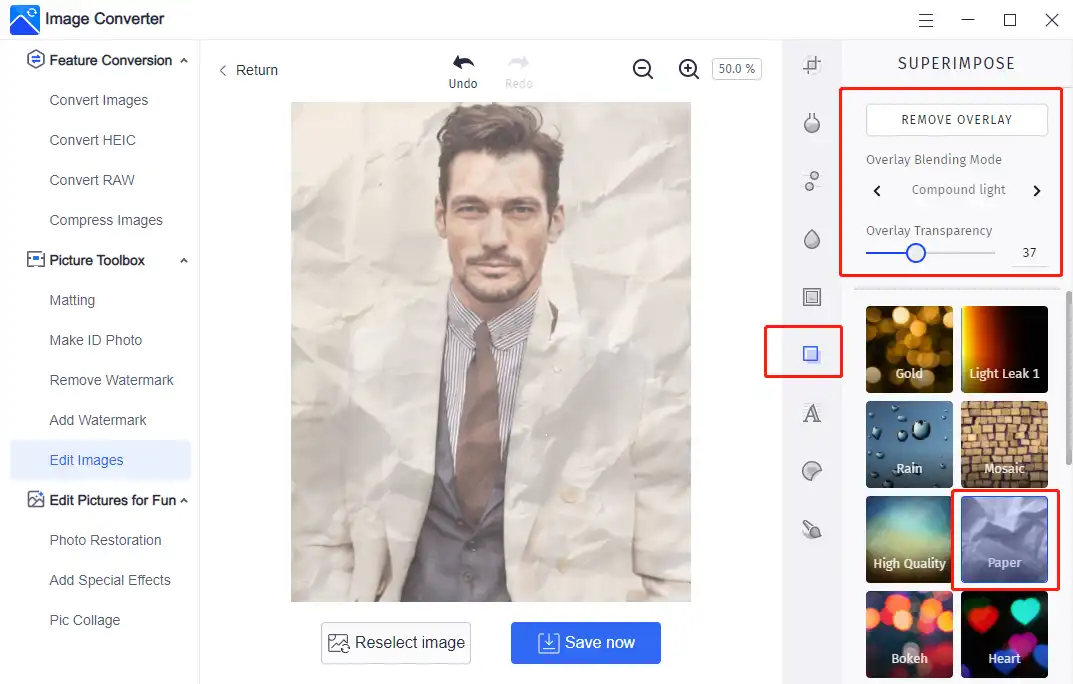 ---
How to Make a Photo Look Old – Black and White
Nonetheless, to make a photo look old. Weren't black and white photographs older before color photography was invented? So how do we do that? Well, for that you only change the filter to "Black and White". I decided the "Weathering" as the main tone. Then move the filter intensity to the fullest.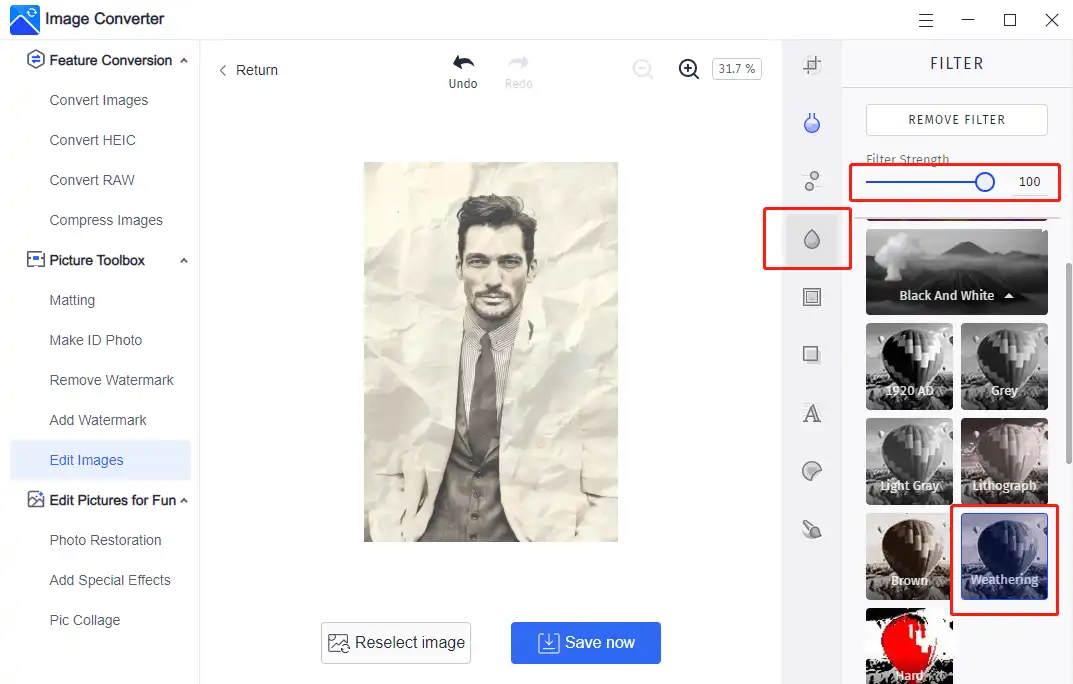 Here you go, a final piece of a work of art that mimics the times. You need to click "Save now" to export the work to your computer before exiting. Otherwise, you have to do it over again.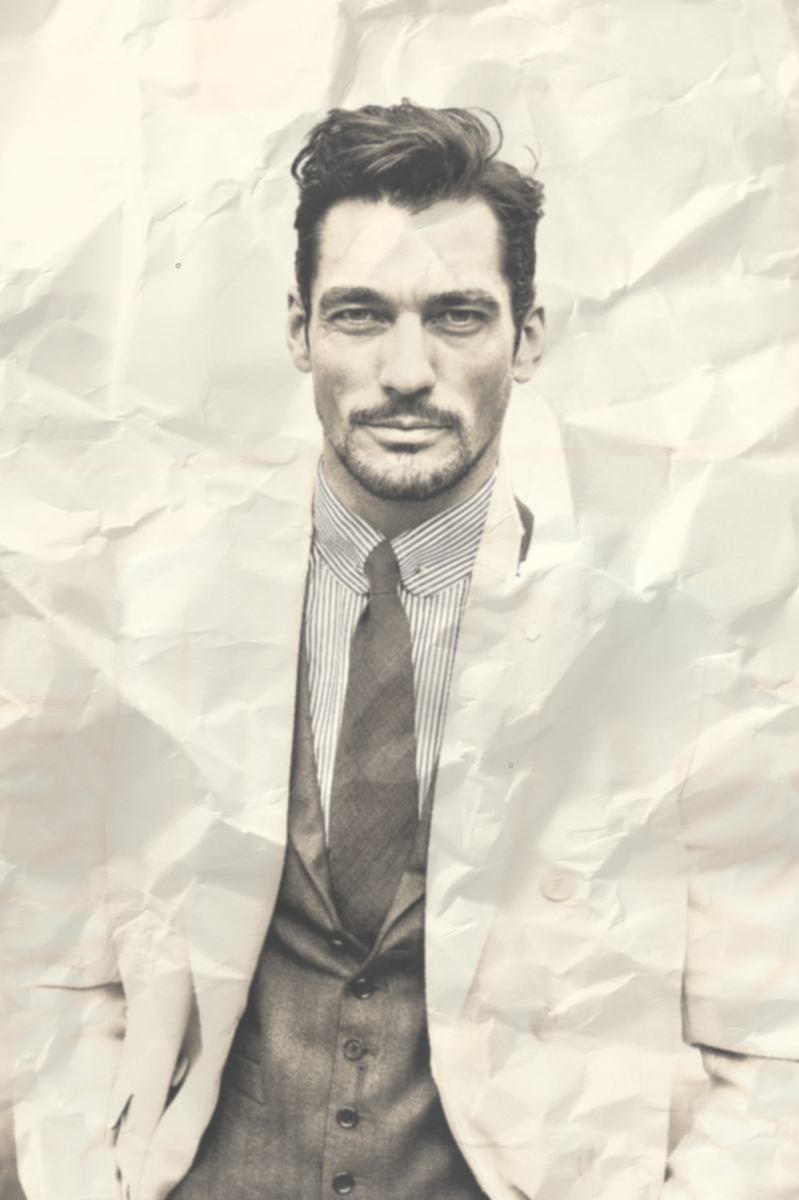 ---
More About Making a Photo Look Old
Creating a vintage look is popular, as it adds meaning and depth to a visual story. It's also easy to achieve, as many photo editors offer presets you can apply in seconds. But to get high-quality results and subtle transformations, you need to choose an editor that works with layers and gives you full control over the editing process. It's good to have smart and automatic tools, but it's even better to fine-tune each adjustment by hand and create your unique effect.
As you can see. It is very easy to achieve making a photo look old. And having your photos applied to the vintage vibe is cool and powerful. It gives a picture a deeper meaning. However, to keep the original photo without losing quality, in the meantime, you need to make sure that the image editor can give you the best result. So, that is why I offer you the best choice – WorkinTool Image Converter. Nothing else, just that it's easy to use, the final effect is outstanding, and it's totally free. What's to stop you from trying? Come and download to experience the magic yourself now.