How to Record a TikTok on PC for FREE
TikTok has definitely been a fast-growing and globally prevalent video social media platform. Since there are so many intriguing short clips, you may want to have some of the videos on your PC. How can you realize this goal when downloading them becomes impossible? You can find the answer by reading this article. In it, we will focus on the topic–how to record a TikTok on PC for FREE in a new way. You can resort to WorkinTool VidClipper to fulfill this task. It is easy to use, convenient, powerful and 100% FREE. Also, there are so many simple settings to customize your output.
How to Record a TikTok on PC for FREE [A New Way]
TikTok has definitely been a fast-growing and globally prevalent video social media platform. Since it will bombard you with tons of funny and fascinating short videos which fit your appetite, you may wonder how you can have them. Today, we will discuss how to record a TikTok on PC for FREE so that you can have all the videos fancied by you on your computer.
This article mainly focuses on a PC with Windows operating system. Now, let's start our journey.
---
Why Do You Need to Record a TikTok
The truth is that only the videos on your own account can be downloadable, while all of them outside your account are normally forbidden to download directly. Much as you can resort to a third-party TikTok downloader to have the videos you want, some of them may still fail to be downloadable as some uploaders will choose to deactivate the Download feature or some contents are copyright protected.
Hence, it is essential to learn how to record a video on TikTok if these hard-to-download videos are your primary purpose. So please continue your reading to know a new way to realize this goal.
📣Attention: If you record a copyright-protected TikTok video, please keep it for your own use instead of commercial use.
---
How to Record a TikTok on PC for FREE
It is indispensable to use a third-party screen recorder if you intend to record a TikTok video. Here, we would like to present you with a new way to complete this task–WorkinTool VidClipper.
WorkinTool VidClipper is a piece of powerful and free video editing software. Much as it boasts a range of useful video editing features (including screen recording), it is still equipped with a lightweight and simple interface, which makes beginners feel convenient to operate. Compared with other video editors, VidClipper provides an easier editing process. More importantly, VidClipper is entirely FREE for users currently, so all the features are accessible without a license payment and compulsory registration. Also, free as it is, VidClipper will never force users to watch any ads and generate a brand logo on the output.
📕How to record a TikTok on PC with WorkinTool VidClipper?
1. Open VidClipper and find Screencast.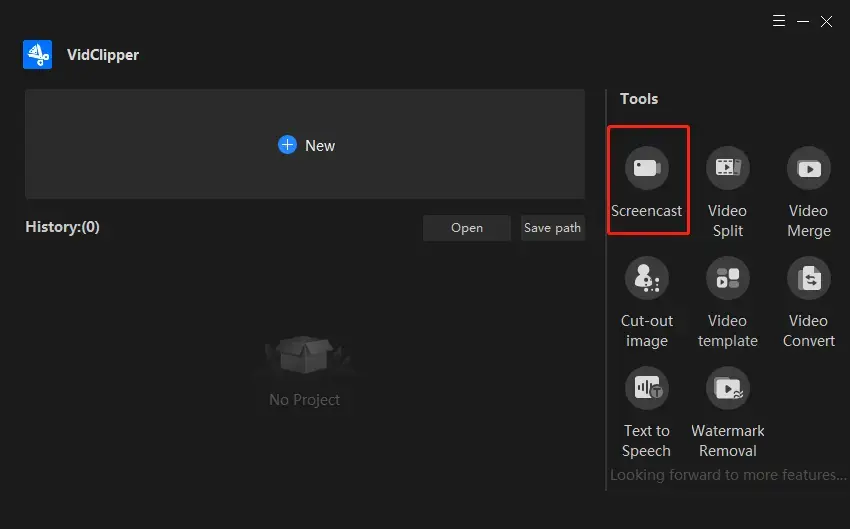 2. Adjust the settings in the recording console and hit Start.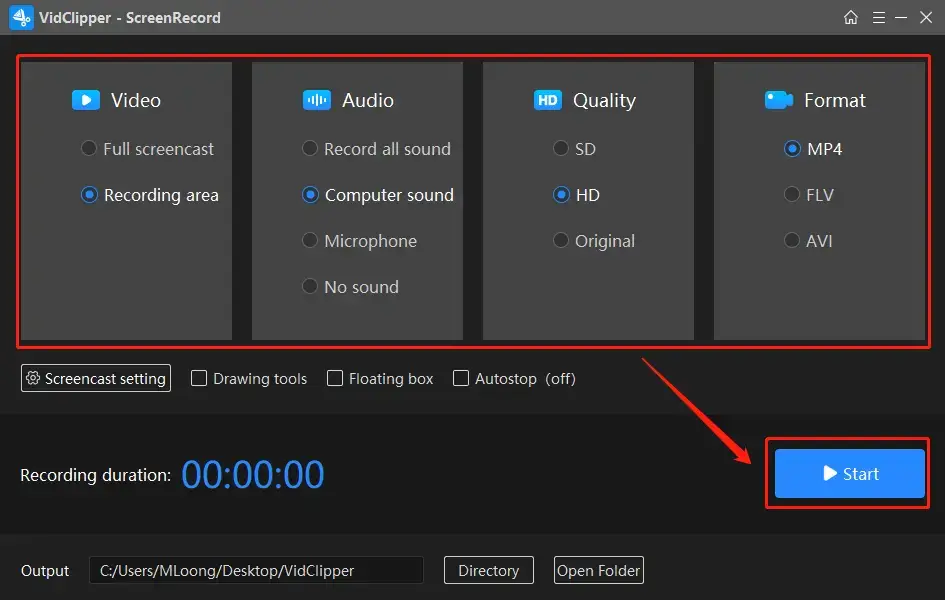 3. Click the Pause icon to stop your recording temporarily or the Stop icon to stop your recording permanently and save it.
(Or use the hotkey: Alt+F1 to start and pause; Alt+F2 to stop and save.)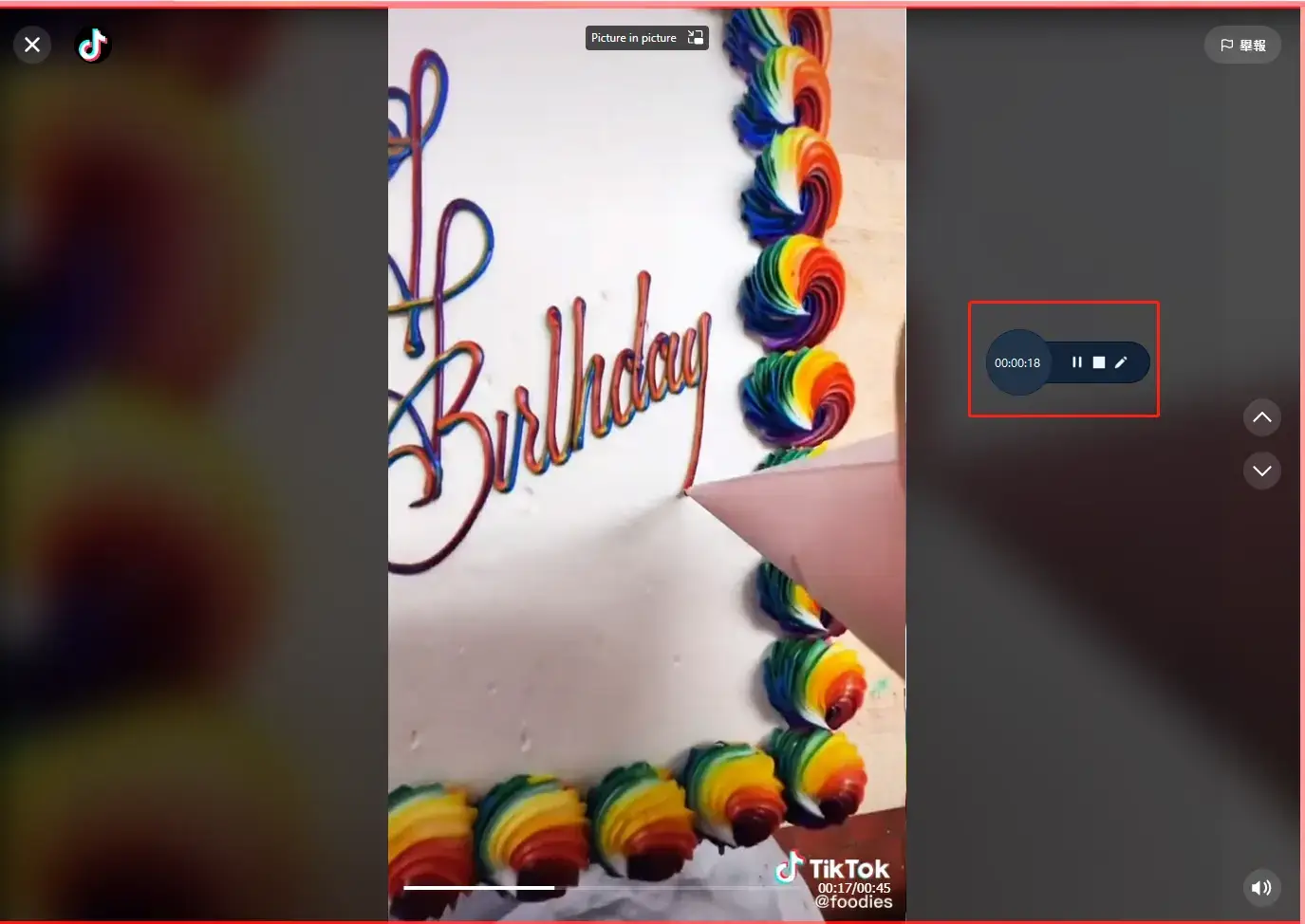 Here is the result.
Full Screencast
Recording Area
📕How to record a TikTok with marks or texts on PC?
VidClippr's helpful feature–Drawing tools allows you to make your marks on your recording. All you need is to
1. Repeat the first step above.
2. Select the pencil-like icon beside the stop icon to activate the drawing tools.
3. Choose the drawing tools you want to make your mark and right-click your mouse to deactivate this function.
4. Press Alt+F2 to stop and save your recording.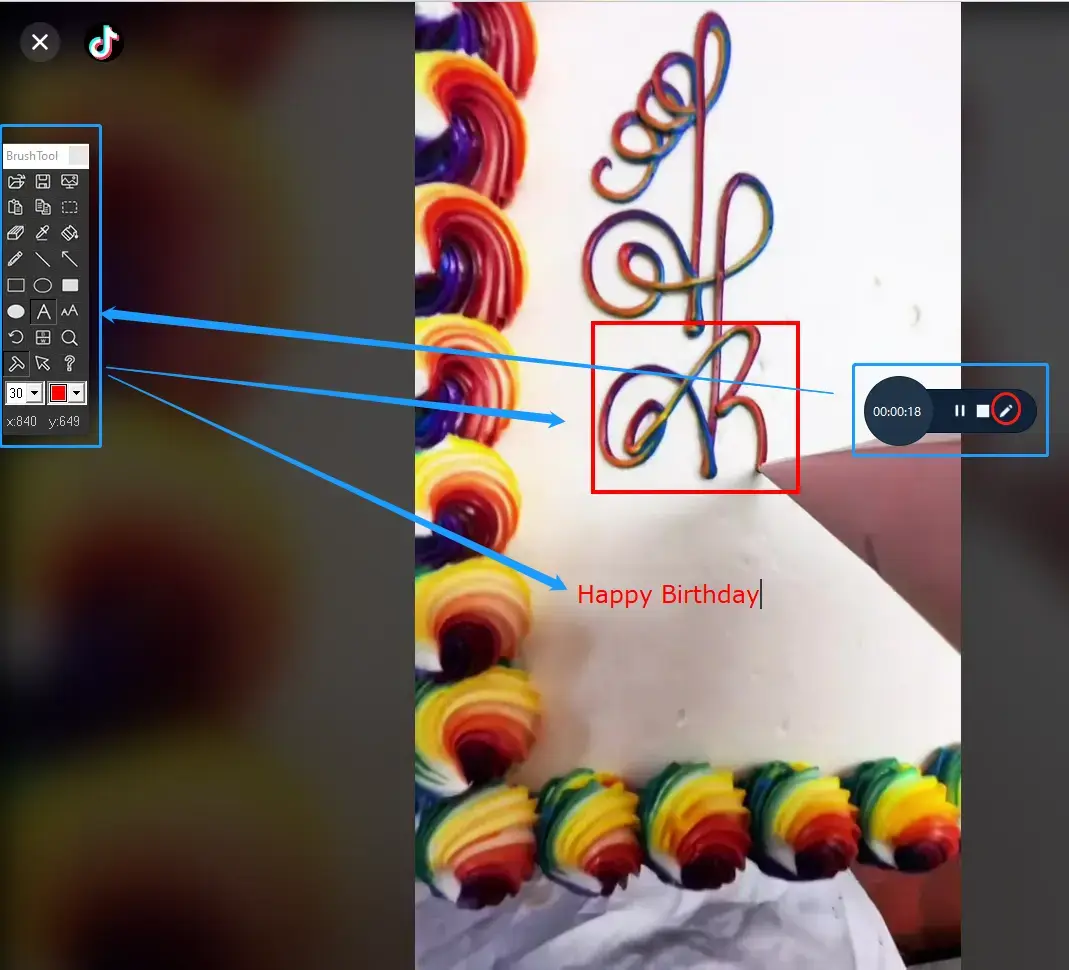 Please see the result.
Notes for Drawing Tools:
1). The content in the video will pause when the drawing tool set is activated. So you can make your marks or leave your texts in this area to highlight.
2). Multiple drawing tools are optional in this tool set, including lines, rectangular and circular graphs and texts. Also, their colors are easily changeable.
📢Specific Tips for All The VidClipper Settings
Additional Screencast Settings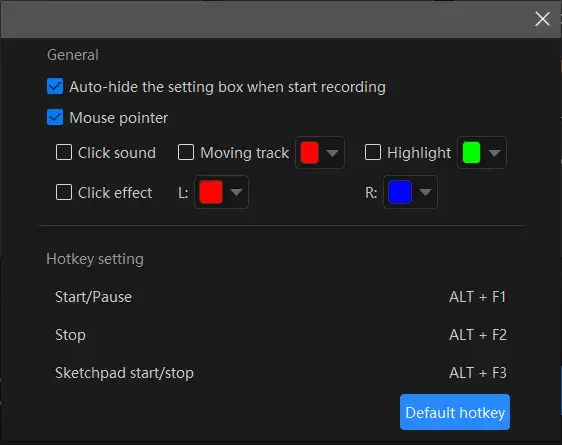 Auto-Hide: You can choose to hide the setting box when your recording starts by ticking it.
Mouse Pointer: By checking this choice, you can customize the color of several operations like Moving track, Highlight and Click effect (left and right click).
Click Sound: You can use it to activate or mute the sound of every click.
Auto-stop Settings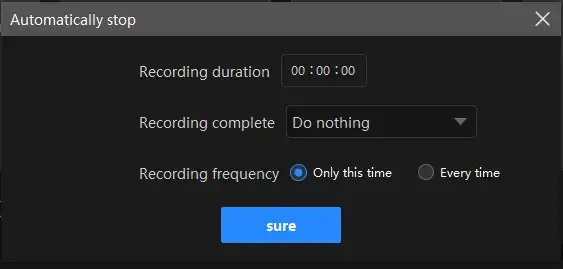 Recording Duration: You can set a duration to cover the whole recording duration so that the recording will automatically stop.
Post-Recording Settings: You can make a custom automatic operation when your recording finishes, including Do nothing, Exit program, PC sleep and PC shutdown.
Recording Frequency: You can make the automatic stop mode a one-time or every-time operation with its help.


---
More to Know About Recording a TikTok
FAQ of TikTok
📌What is TikTok
TikTok is a social media app specializing in short videos (15 seconds). You can use it to view and share popular short clips or create a short video with features like music snippets, filters, transitions, overlay effects and more.
It is initially developed by a Chinese group called Bytedance. In China, a separate program called Douyin is widely used.
📌Why is TikTok addictive globally?
TikTok has one billion monthly active users and become the top 7 global social media in 2022. Therefore, there are so many contents on this platform and the clips that fascinates you the most will come to your sight sooner or later. When you view, like, comment and share a short video, TikTok's algorithm will record and analyze what you fancy based on its big data pool and continuously send similar clips to you so that you can't help watching more and more.
Also, the swift development of video marketing has made video-related social media a crucial part of a marketing strategy. TikTok, as a viral video-sharing platform, becomes an ideal place for an enterprise to promote brand awareness and for an individual to become a KOL in a specific area.
FAQ of WorkinTool VidClipper
💡What are the additional features of WorkinTool VidClipper?
WorkinTool VidClipper is a powerful and practical desktop video editor which boasts various valuable features as follows:
💡Why should you choose WorkinTool VidClipper?
Simple Recording Process: You can complete a recording within four steps.
Multiple Recording Settings: A variety of settings are optional, including recording area, audio choice, video quality and video formats.
Drawing Tools Available: You can export a recording with marks or texts with the help of this tool set.
Quick Editing Modes: On top of the screen recorder, other quick editing modes on the opening page are there for you, such as video splitter, video merger, video background remover, video templates, video converter, text-to-audio converter and watermark remover.
Abundant Additional Editing Features: Your videos can be easily and instantly customizable through our various editing features, including 100+ stylish texts, 60+ filters, 300+ transitions, 70+ overlay effects, 200+ elements and 600+ sound effects.
High-Quality Guarantee: The output via WorkinTool VidClipper will be exported without losing quality.
100% FREE Currently: All the features of WorkinTool VidClipper are accessible without any license payment and compulsory registration.
Green: There will be no advertisements in the course of your video editing and no intrusive watermark added to the outcomes.
---
Wrapping up
Recording a TikTok will be less challenging when you have a handy tool on your PC. WorkinTool VidClipper is a powerful desktop program helpful for you to solve this problem with minimal effort. Therefore, it is strongly advisable to give it a try.
Now, are you ready to use WorkinTool VidClipper and record a TikTok on your PC?