[Free Solutions] How to Record Google Hangout with Audio in 2023
Wondering how to record Google Hangout with audio privately? Here are free solutions for Windows, Mac, Online, Android, and iPhone. Professional Screen recorder software is what I'd like to recommend. WorkinTool VidClipper is a powerful video processor for Windows. It provides multiple recording modes and can import the recorded video to post-editing. With it, you can record meetings and video calls in Google Hangout secretly. Have a trial right now.
[Free Solutions] How to Record Google Hangout with Audio in 2023
[Windows, Mac, online, Android/iPhone]
Google Hangouts is a product that integrates with the previous Google Talk, Google+ Messenger, and Hangouts video chat services. Now, it is called Google Chat. It is available for Android, iOS, and Chrome. You can use it to conduct video meetings with colleagues or exchange messages, share files, photos, and videos, and make video calls with friends in chat rooms. As for the Chrome version, since it is a Chrome browser plug-in, it is very convenient to use, and its cloud computing function can also help you store chat history. So, how can you save Google Hangouts video calls and meetings? In this post, we will provide you with FREE solutions on how to record Google Hangout with audio on Windows, Mac, online Android, and iPhone.
🔍Table of Content
Windows

Screen Recorder – WorkinTool VidClipper [⭐

Hot

]
Google Hangout Built-in Function

Mac
Online

iPhone/Android




Pre-installed Screen Recorder
📌 How to Record Google Hangout with Audio on Windows
⭐ Record Google Hangouts Video Call Privately with WorkinTool VidClipper
Though WorkinTool VidClipper is new to the market, it has already attracted plenty of followers. It is designed as a powerful and all-around video editor that is available on the Windows system, which is also equipped with an effective and free screen recorder. You can record Google Hangout calls and meetings privately and secretly with it. Since it's a third-party screen recording tool, it won't notify your friends or colleagues when screen recording. Multiple recording modes are optional as well. You can select to record system audio, microphone voice, or both. Moreover, it can export the recorded video in HD. You can also determine the format of the file as MP4, FLV, or AVI.
During the recording process, numerous editing tools are available to annotate the recording video. In addition to screen recording, it can also post-produce the recorded video, like converting WMV to MOV, converting MOV to MP4, making a video clip, extracting audio from video, etc. Furthermore, it can be used as a powerful media player to play incompatible video and audio formats, like playing MOV files on Windows.
How to Use it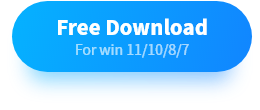 Now let's see how to record Google Hangouts with WorkinTool VidClipper.
Step 1. Launch the software, then select Screen Recorder on the main page.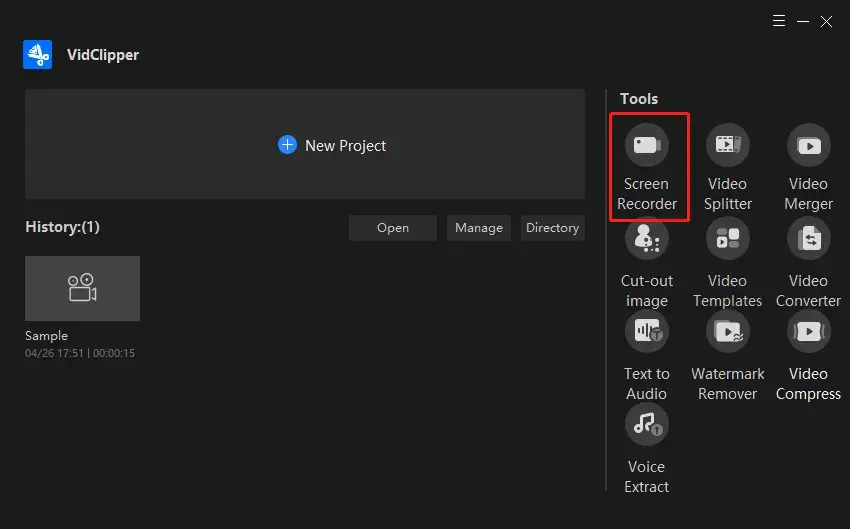 Step 2. Decide on the recording mode. Choose whether to record the full screen or the specific area, record the system sound or the microphone voice. And adjusting the parameters of the recorded video is available. You can output it in high, standard, and normal quality in MP4, FLV, and AVI.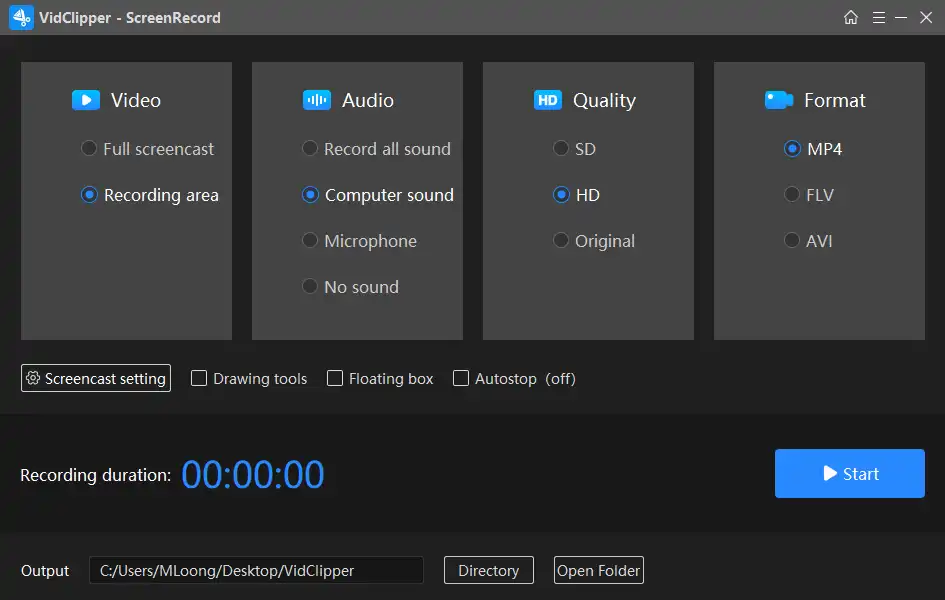 Step 3. Click Start to record Google Hangout video calls or meetings. Then edit the video if necessary by clicking on the editing tool on the flow bar.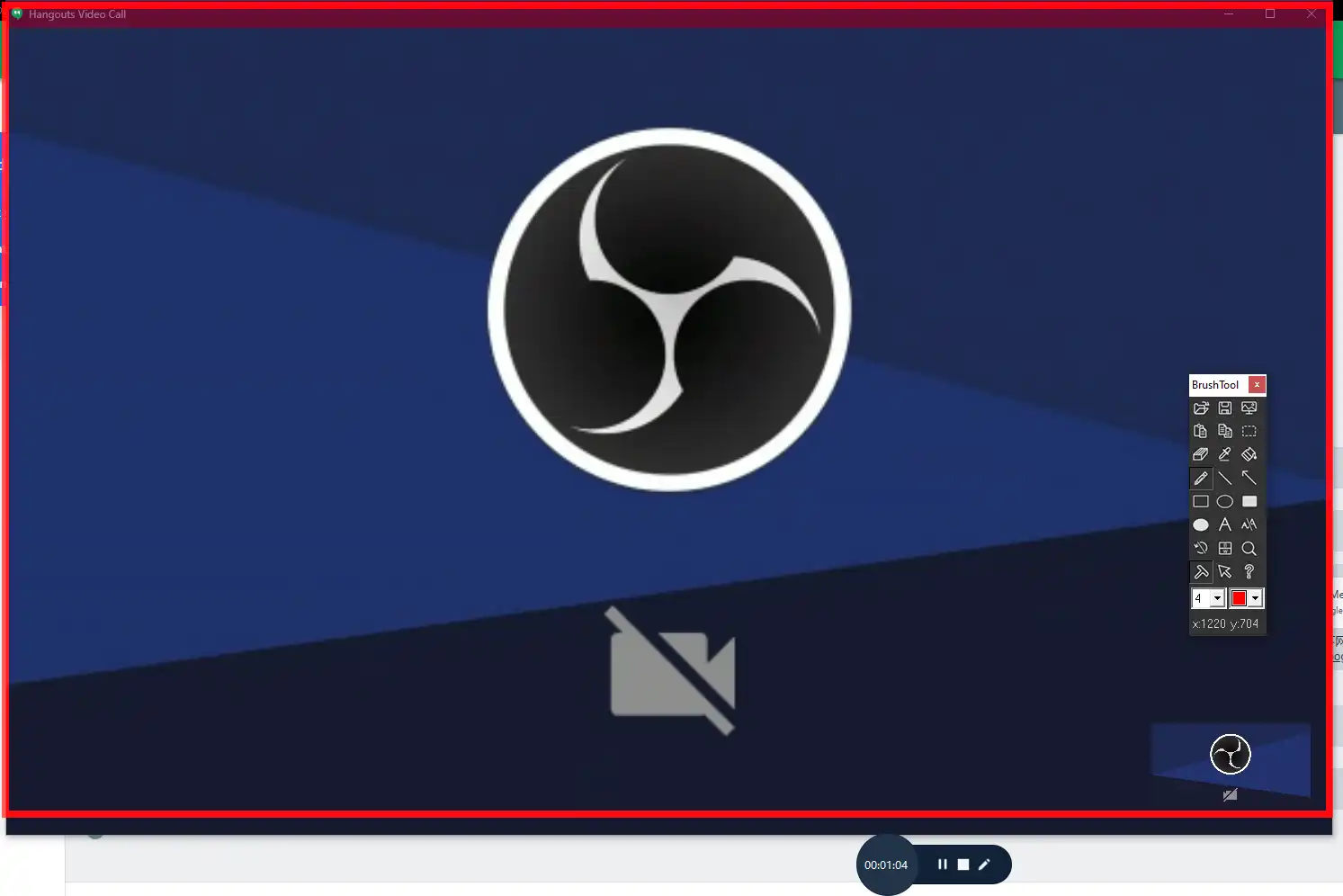 Step 4. Press the stop icon on the flow bar and open it to check, or click Add to Clip to re-edit the recorded video directly.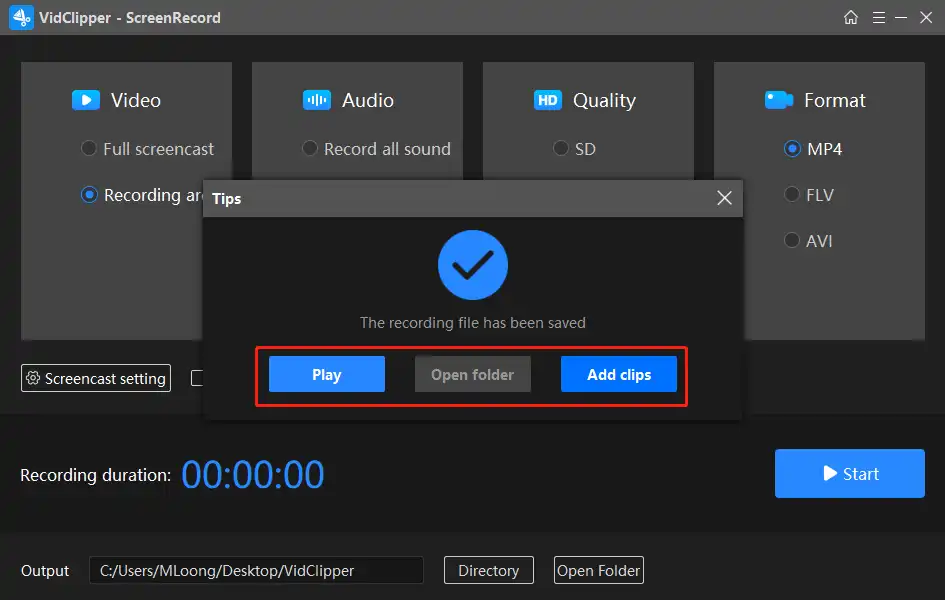 🙋‍♂️More to Share About WorkinTool VidClipper 
🎯Are there any additional recording settings for WorkinTool VidClipper?
Yes. VidClipper has extra screencast and auto-stop settings.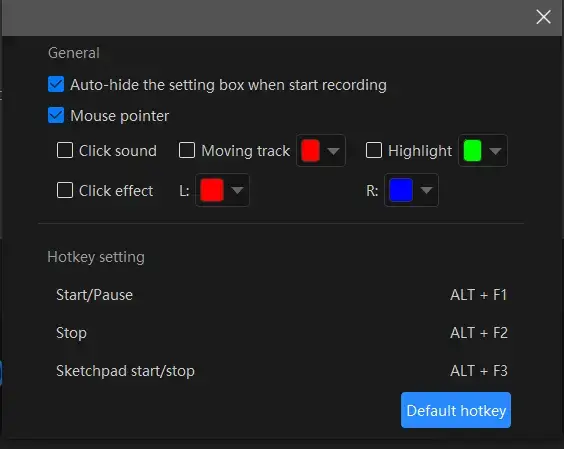 Auto-Hide: Tick it to hide the settings box automatically when your recording starts.
Mouse Pointer: Mark it to determine the color of several operations like Moving track, Highlight and Click effect (left and right click).
Click Sound: To activate or cancel every click sound.
Click Effect: To "add color" to your every click, both left and right.
💡Auto-Stop is a feature that helps to stop your recording automatically even if you are away from your computer.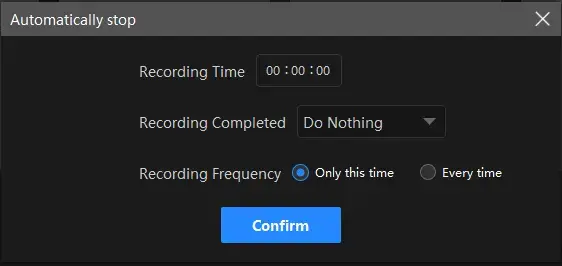 Recording Time: Set your full recording time length in advance to end your recording automatically.
After Recording: Decide on the post-recording status–Do nothing, Exit program, Sleep and Shut down your PC.
Recording Frequency: Determine how often your auto-stop settings are active–One time and Every time.
🎯What else can WorkinTool VidClipper as a screen recorder do?
✨For Your Reference
Save Google Hangouts Session with Built-in Function
Google Hangouts provides a built-in video call and meeting recording function. It is extremely convenient, and after recording, the recorded video will be saved in the meeting organizer's folder directly. However, when you start recording, it will notify other numbers immediately. The recorded video is available in the host's folder. So it is not suitable if you want to record Google Hangout privately and secretly. Now let's have a look at how to record Google Hangout by the default function.
Step 1. Click on the More option, then select Record Meeting. When you start or stop recording, there will be a reminder to the other numbers.
Step 2. When the meeting or video call is over, press More> Stop recording. The recorded session will be saved in the My Drive folder of the meeting organizer.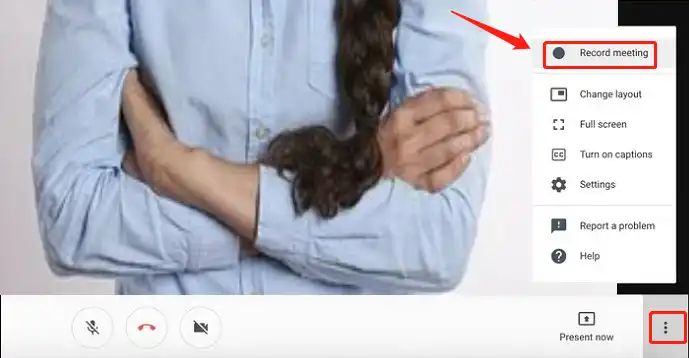 ✨For Your Reference
📌 How to Record Google Hangout with Audio on Mac
Record Google Hangout Video and Audio with QuickTime Player
QuickTime Player is a professional and powerful media player that is developed by Apple.  It can handle a wide range of pictures, video, audio, and panoramic image formats. As for its screen recording function, it is easy and convenient to use. The recorded video is of high quality as well.
The following is a detailed tutorial on how to record Google Hangout on Mac with QuickTime Player.
Step 1. Open QuickTime Player on your computer, then decide on where to save the recorded video, and whether to record with sound or not, etc.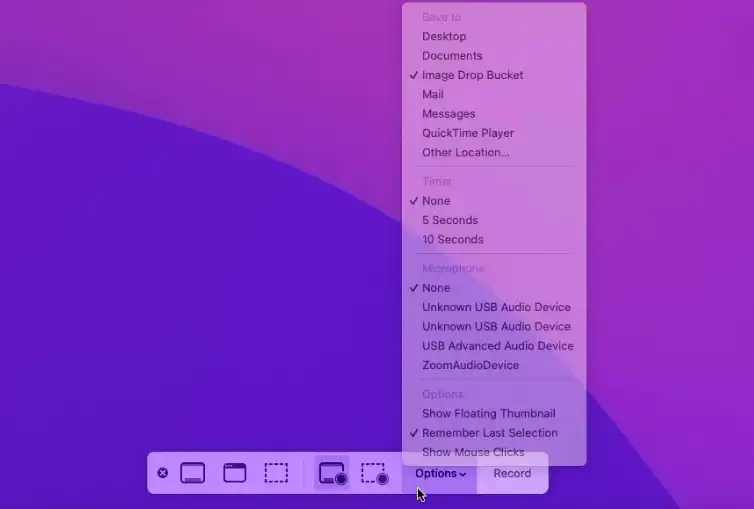 Step 2. Press the screen recording icon in the middle to start capturing Google Hangouts.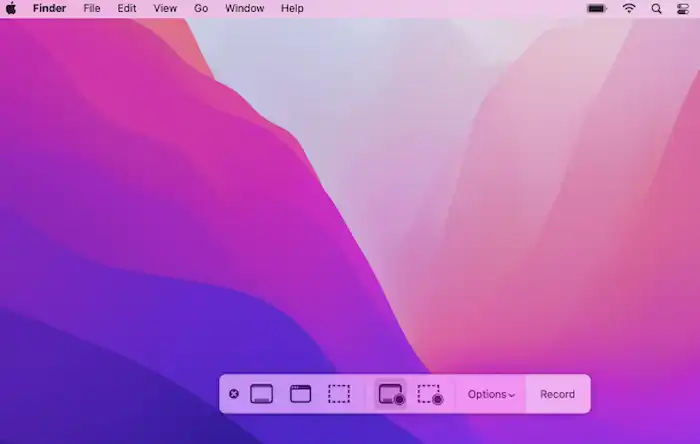 Step 3. Click the recording button again to stop recording, then the recorded video will be saved directly on your local folder. The recorded video will be saved as a MOV file.
✨For Your Reference
How to Capture Google Hangout with Audio Online
Get Google Hangout Video and Audio Through FlexClip
FlexClip is a practical and free online video editor and screen recorder. With the assistance of its screen recording features, you can easily capture every content of your PC screen with(out) audio, be it a desktop window or a website page. The best part is that you will expect an outcome without watermark. However, limitations apply to its free version, including pre-set video quality, project storage number limit and more.
Here are the instructions on capturing Google Hangout with audio via FlexClip.
Step 1. Open FlexClip's tool – Screen Recorder and then click Start Recording.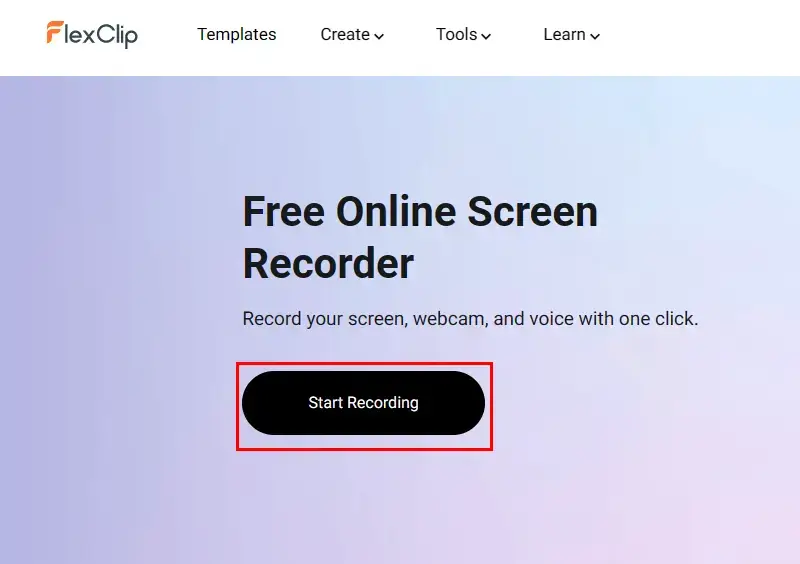 Step 2. Choose a recording mode – Screen+Webcam, Screen Only and Webcam Only.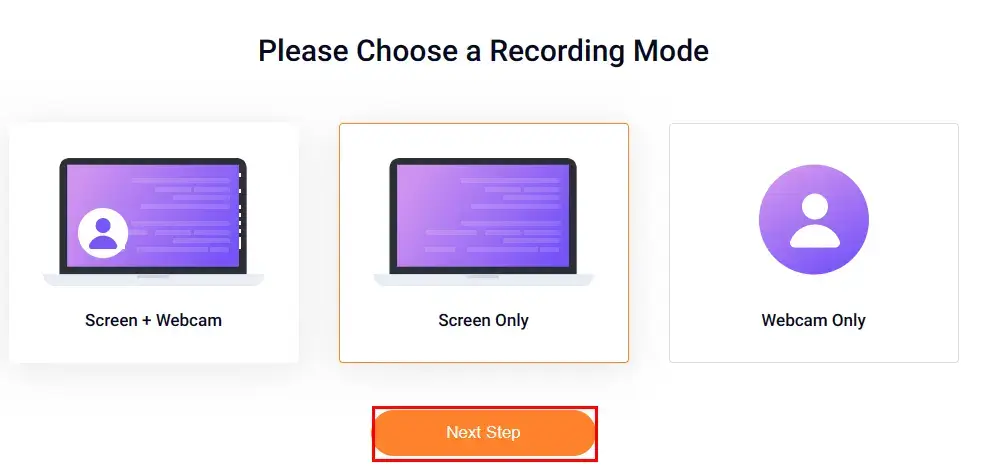 Step 3. Finish your audio recording settings – Microphone+System audio, Microphone, System audio and No audio.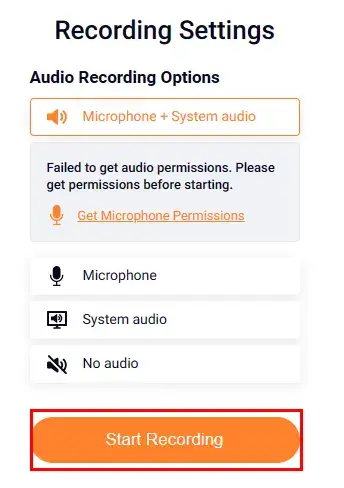 Step 4. Determine the screen content to share with FlexClip and then hit Share to start recording automatically.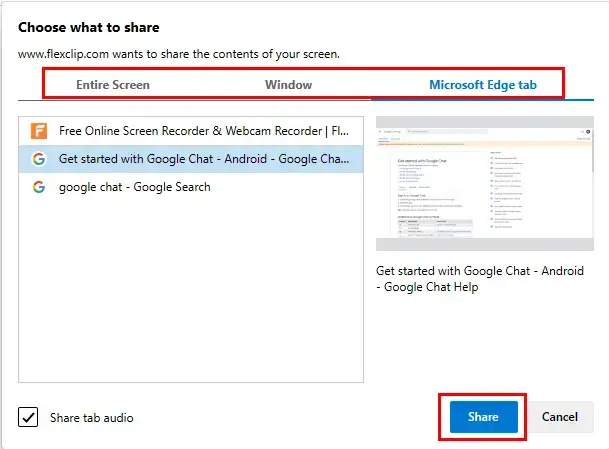 Step 5. Click the big red Recording button or the small gray Pause button to permanently or temporarily stop your recording.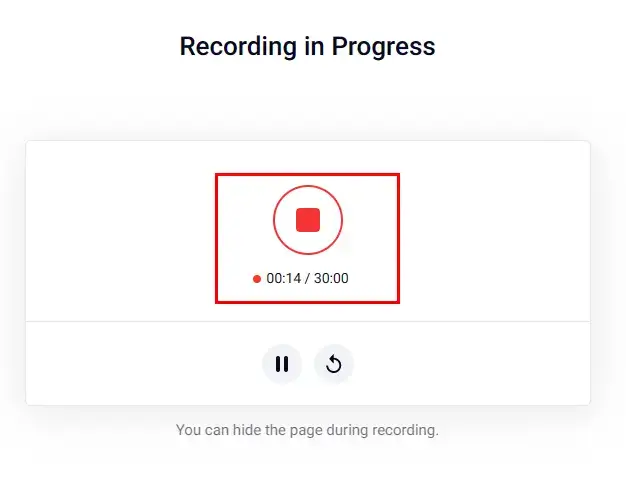 Step 6. Press Download and Edit to export your Google Hangout recording.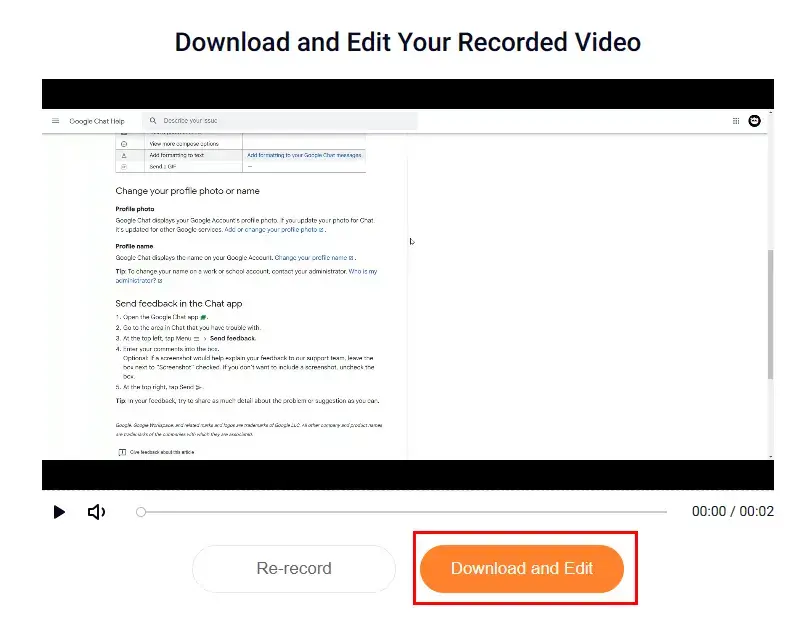 📢PS: Your recording clip will automatically be added to FlexClip's editing console for further editing. Simply close this window if you have no such request.
✨For Your Reference
📌 How to Record Google Hangout App on Android/ iPhone
If you want to record Google Hangout App on your phone, then the built-in recording tool on your phone is a better option for you. iOS 14 and after, and most Android phones now provide a screen recording function, which can also capture audio, and they will save the recorded videos directly on the album. Check how to save meetings and video calls privately on Google Hangout App on Android and iPhones.
Step 1. Pull down the phone's home screen and find the screen recording tool in the toolbar. If not, you can add it to the settings.
Step 2. Click the screen recording button to start recording the screen, and open the microphone if you want to record with your voice, then open the ongoing Google Hangout video session or video call to record.
Step 3. After finishing the meeting or the call, pull down again and press the red record button to end.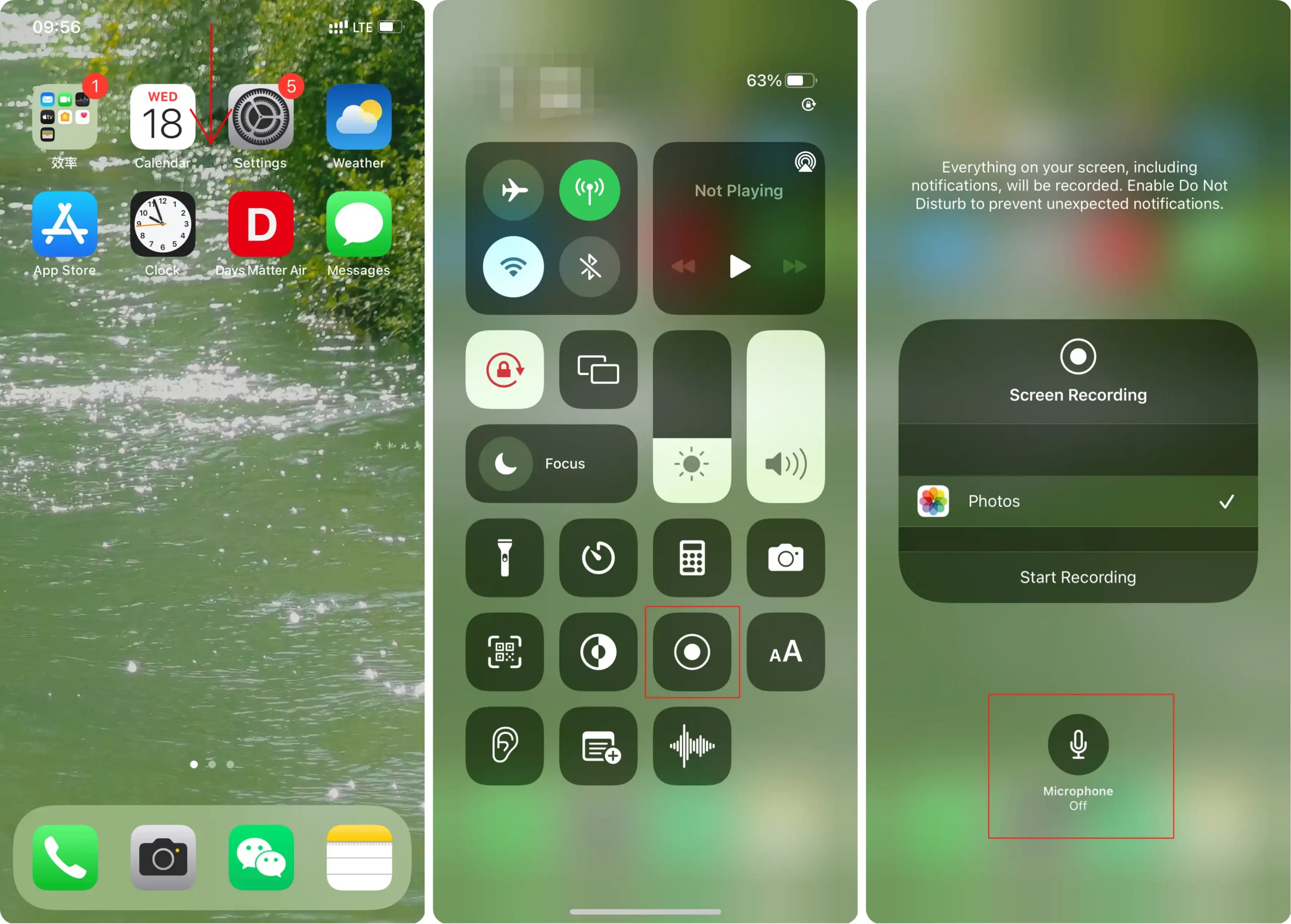 ✨For Your Reference
Wrapping Up
In this post, I have shown you how to record Google Hangouts with audio on Windows and Mac with free screen recording software and online screen recorder, and how to record Google Hangout App on Android and iOS. All the provided solutions are completely free for you. The built-in tool in Google Hangout is easy to use. However, it will notify other numbers and send the recorded video to the organizer only. If you want to record privately and secretly on Windows, then WorkinTool VidClipper works well. Just download it to deal with more video issues.