How to Convert PDF to Word on Mac (Free in 2023)
There are 3 simple ways to convert PDF to Word on the Mac system that will be discussed in the following article, one of them is to use our remarkable WorkinTool PDF converter. Our WorkinTool PDF to Word converter helps users to change any PDF to editable Word documents in seconds. With the high-quality conversion of Word documents, it remains all the contents and layouts of the original PDF file for users' experience.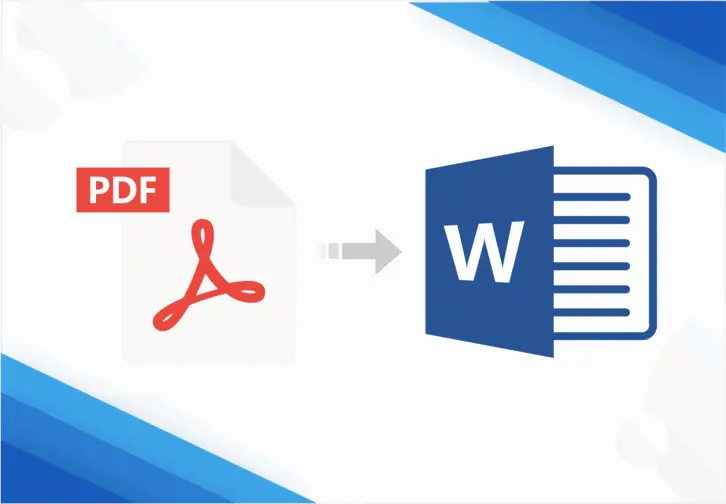 PDF is the most common document format of e-books and instruction manuals. Generally, it is a great way to export and display text and images. It can be viewed, printed, and transmitted by e-mail. But when it comes to changing the content, PDF format is not that useful. Editing a PDF document can be a real challenge unless you know the right way to turn a PDF file into a Word document. With several approaches that have been discussed in the Apple community, this article offers you a step-step guide on how to convert PDF to Word Mac free in 2023.
---
Convert PDF to Word on Mac – By Preview
Admit it, I am sure that you have figured this out. Use Preview to copy and paste the whole PDF file into Word to make it "converted". I know some of you may despise this method, thinking it is way too low-tech. Well, Even though Preview is limited in terms of functionality, it still allows users to annotate, add images, and highlight sections of the text in a PDF file. Of course, it is free for use.
So, when it comes to text-based PDF converting to a Word document. This copy-and-paste approach may give you a big surprise for the final effect.
Just try the following steps to see if it is suitable for your idea:
Double-click your PDF file to open it in Preview (which should be the default app in Mac).
If not, try to right-click your PDF file and find "Open With" to choose Preview.
Frame all the text that you want to copy and press "Command+C".
Go back to create a Microsoft Word file on Mac and paste it into the document with "Command+V".
Last, save it in Word format. Then you will complete the easiest process of converting a PDF file to a Word document.
---
Change PDF to Word on Mac with Google Docs
Google is a very popular online file editing tool that allows you to transform your PDF file into an editable Word document directly using an online PDF file without the need to download it to your computer. However, you can also upload your local PDF file to achieve the conversion of Word format.
Here's how to make the Google Drive settings and export them to Word documents:
Go to choose Settings at the top right symbol in Google Drive.
In the General left bar, check the box of "Convert uploaded files to Google Docs editor format" in "Convert uploads".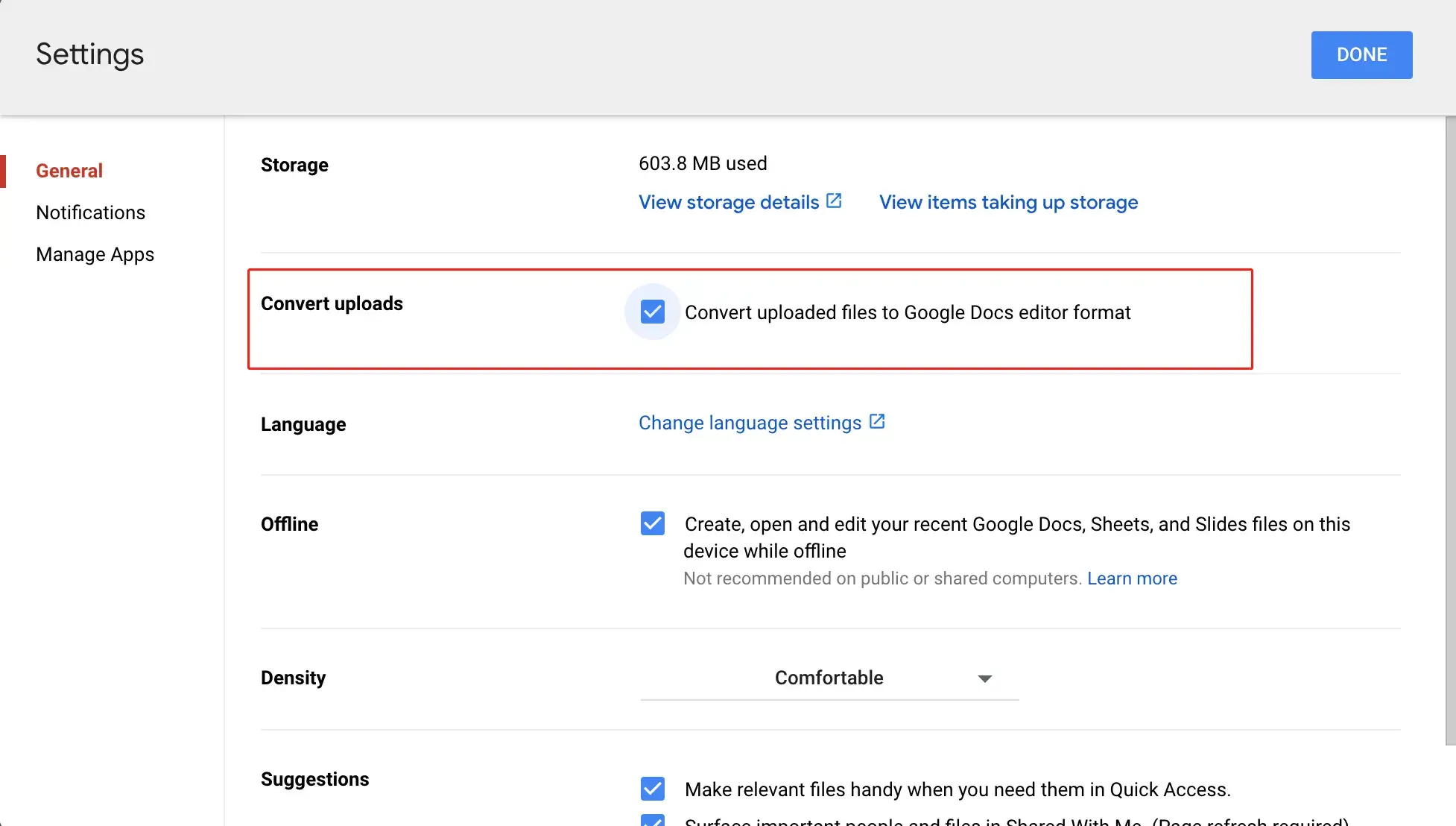 Then we will talk about how to turn your PDF files into Word documents.
Open Google Docs under your account, click "File," then select "Open" from the drop-down menu.
Find the target PDF file that you want to convert, and open it with Google Docs.
When the new Google Docs window with the PDF content opens, click the "File" menu and select Download as Microsoft Word format.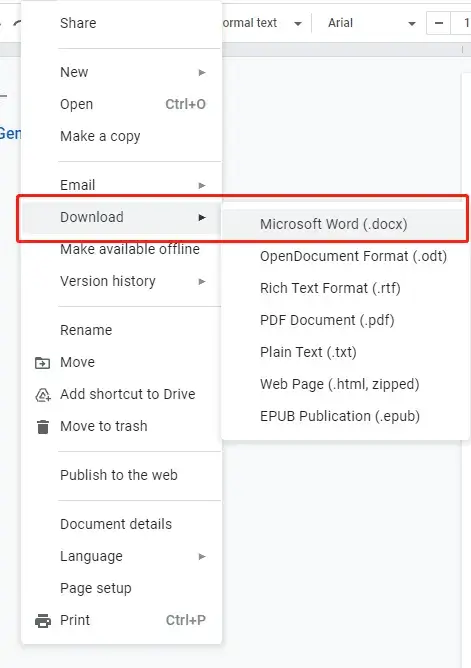 Tips:
With this Google Docs method, you can achieve other format exportation. But same as the method of copy-and-paste with Preview, it only supports image-free PDF files. Because if PDFs you have uploaded include lots of images, Google Drive might remove them in the final document. So you might wanna keep that in mind.
---
Turn PDF to Word Using Automator
Automator is a built-in macOS app that is mainly developed to multitask files in bulk at the same time. For example, if you want to rename many files or reduce the size of images, Automator may be the top choice. However, like Preview, Automator cannot change PDF to Word either. But it is designed to extract the text from the PDF file and put it in a plain or rich text format. So, you can edit it in Word later.
Here is how to use Automator to transform PDF to Word:
 Find "Automator" in the Application folder and open it.
Choose "Workflow" as the type for your document. Then open your PDF file here.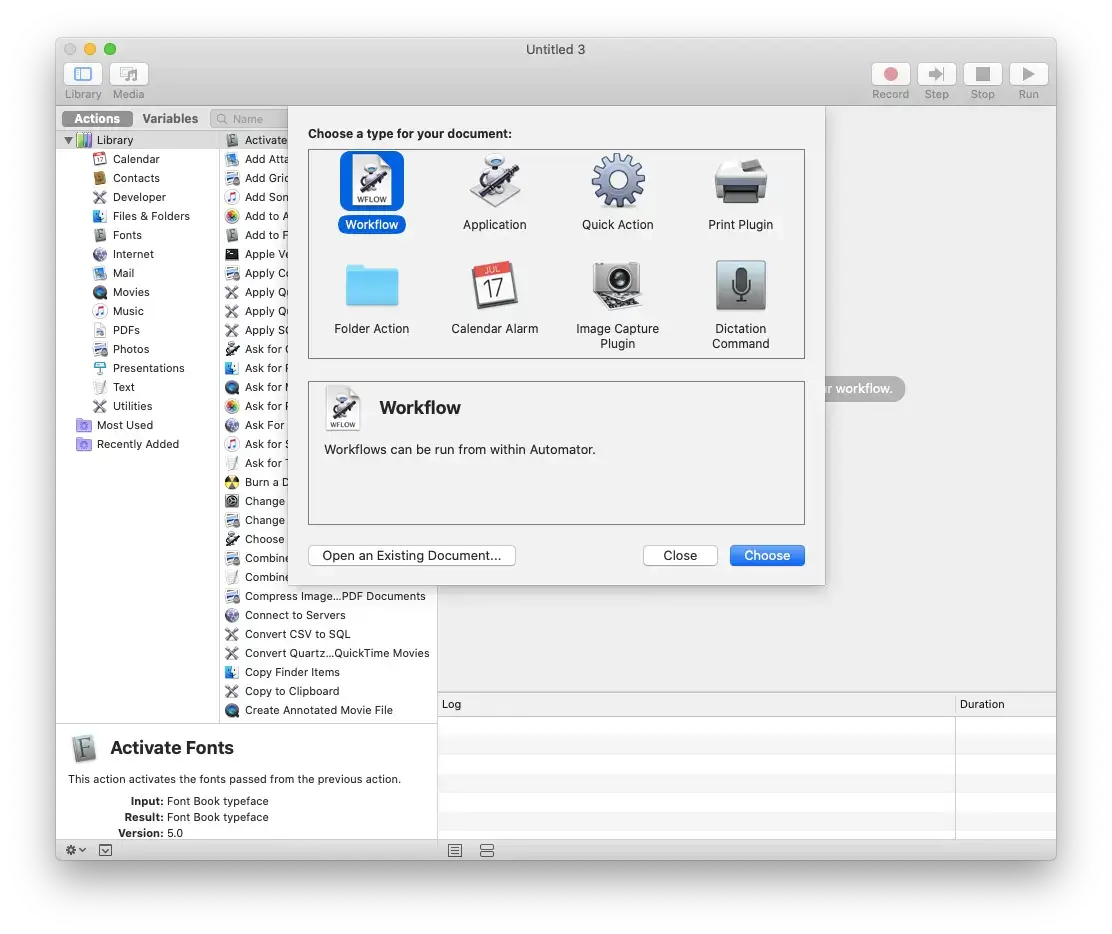 Go to "Extract PDF Text" from the PDFs of Library in the left Action section.
Select Rich Text or Plain Text according to your need (Normally Rich Text is more preferred due to retaining format).
Decide where to put your extracted content file on the computer.
Click the "Run" button and get your PDF file exported to a text document.
---
Convert PDF to Word on Mac via WorkinTool Online Converter
As you can see, even though you can use those methods we have mentioned above, none of them can directly change a PDF file to a professional Word document. Especially when your PDF has lots of images in it, the format may convert to a state that is beyond repair. For problems like that, why not try our WorkinTool Online Converter. Our online tool not only can convert your PDF to Word in a relatively short time but also contain all the contents of your original PDF files in the right format.
Here is what you do:
Go to the WorkinTool PDF to Word Converter online page.

Drag-and-drop your PDF into the toolbox window to upload your file.

Click "Convert" and just wait for the success of converting process.

Then you can download your exported Word document to see the final effect.
WorkinTool is a very professional company that has developed many professional tools, including the PDF converter. Our online tool doesn't need you to install a version of desk software and also supports importing files from Dropbox and Google Drive. Therefore, it is truly a great option if you want your transferred Word document to remain your original images and content layout. Our tool also supports a desktop version to convert Word as well, if you need it.
---
Which Method Should I Choose?
In terms of using which way, it really counts on what effect you want to achieve and what have your PDF contained. At WorkinTool we believe that if you want to convert PDF to Word, you need the fastest and the one that works best. And that is why we continue to simplify our working procedure and improve converting quality to ensure users' experience.
Whether you use the built-in apps or online tools, we genuinely hope that you can find the one that suits your situation best and may all your work turn out successful.