How to Add Shapes to PDF for Free [Windows and Online]
This blog covers everything you need to add shapes to a PDF. You can find three free PDF editors with versatile features. Both online and offline PDF editing tools are attainable. Among the three, the first one is highly recommended for the following features.
💙 A straightforward interface and clearly-labeled features.
🤍 100% Free without additional costs.
💙 Combined versatile features, including PDF editing, converting, protection, etc.
🤍 Batch processing is available.
💙 No watermarks on the edited PDFs.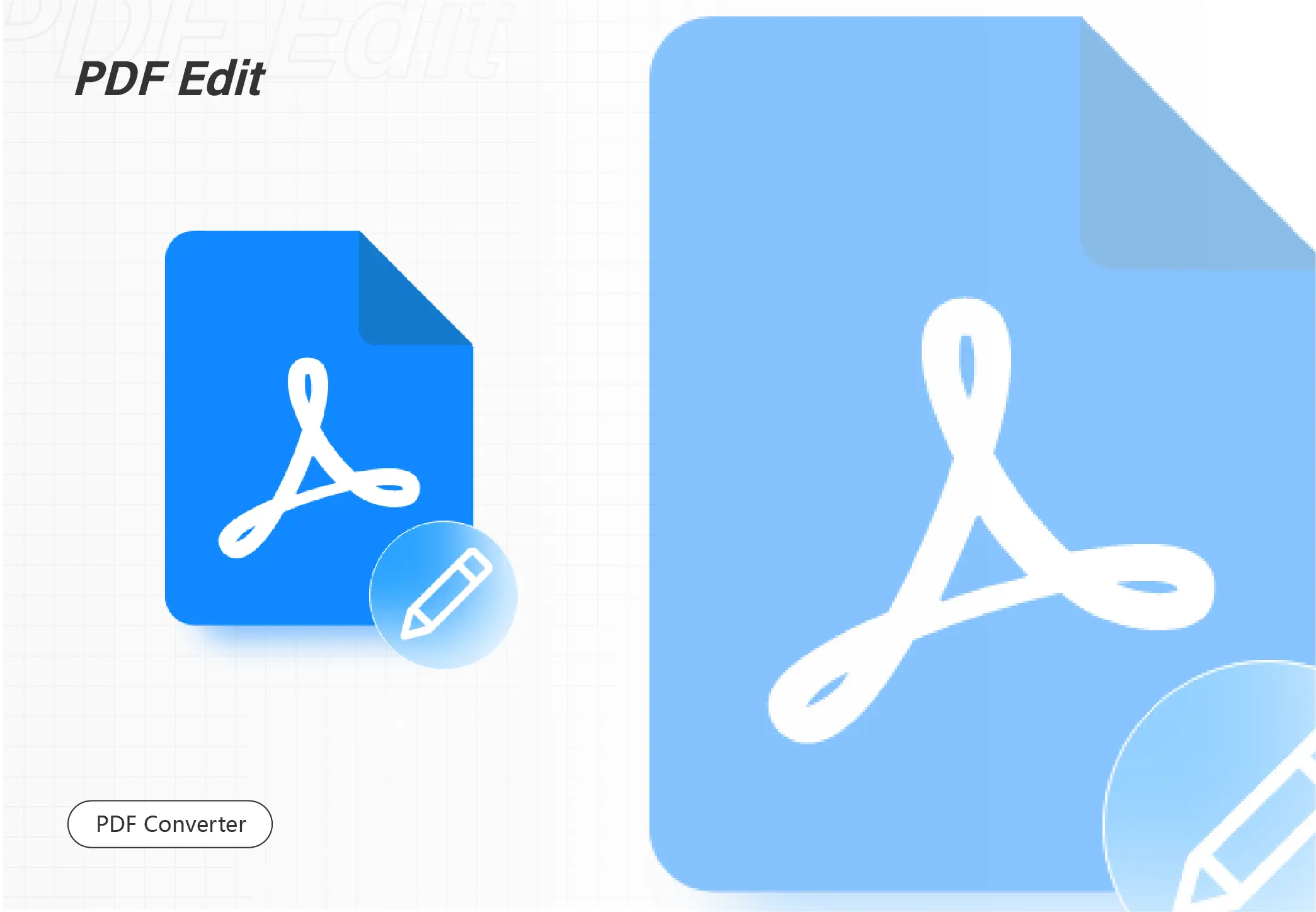 How to Add Shapes to PDF for Free [Windows and Online]
PDF files are commonly used for secure and hard-to-change formats. Governments, schools, and business apartments like to use PDFs to distribute tasks and share information. It is good at presenting data in a well-organized and visually appealing way. And its readers will find it easy to read and access due to the compact and detailed format. Although users can't directly edit the text and change the layout in a PDF file, it is simple to add shapes to PDF files to point out a specific area to draw readers' attention.
Adding shapes to a PDF can enrich your thoughts and ideas, thus providing additional value to a PDF document. You can quickly put different shapes into your file using a reliable PDF tool like WorkinTool PDF Converter. There are many mark-up tools for drawing lines, polygons, arrows, rectangles, ellipses, polylines, circles, etc. In this article, we'll explain various Windows and online PDF file options that you can work with to insert shapes into PDF files for free, with or without Adobe Acrobat.
---
How to Add Shapes to PDF Files on Windows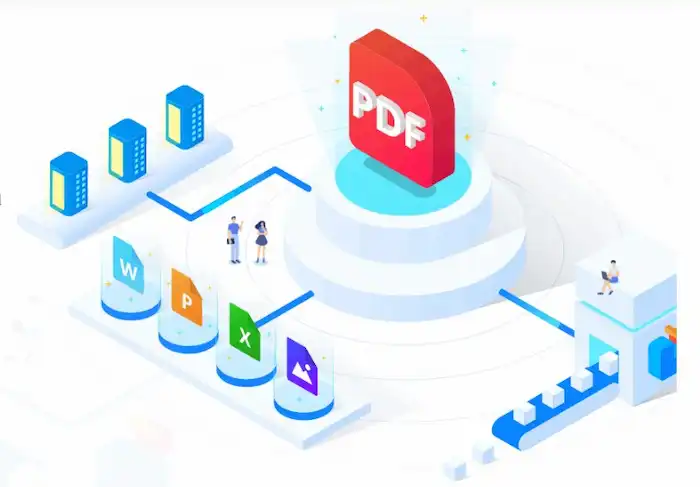 There are numerous PDF tools for Windows in the market. But it might be challenging to find one that provides practical features like Adobe Acrobat. Since Adobe only offers a 7-day free trial, finding a free PDF tool becomes an urgent need for many users. No worries! This section will guide you through a free PDF tool and how to get started. We also explain the step-by-step tutorial for inserting shapes into PDF files via Adobe Acrobat.
Add Shapes to PDF for Free with Adobe Alternative
If you are looking for a free Adobe Alternative, WorkinTool PDF Converter must be an ideal choice. This desktop software can help you add shapes to PDF files without pressure. The best parts about WorkinTool PDF Converter are its free price, rich features, and simplicity. This freeware has and only has a free plan. So users can download, install, and use all its features without limitations. It doesn't even need registration. In addition, it packs a bunch of features into an intuitive and ribbon-style interface. Users can finish their edits with a couple clicks in an uncluttered process.
This software is not as full-featured as Adobe Acrobat. But you still can get all the basic and most advanced features like Adobe. For example, you can convert files to and from PDFs, merge/split/remove/rotate/reorder PDF pages, add watermarks/page numbers/shapes/text/stamps/signatures to PDF, protect and unlock PDF files, etc. With WorkinTool PDF Converter, you can process PDF tasks in minutes.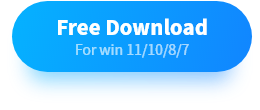 How to Put Shapes on PDF with WorkinTool
Step 1: Download and Install WorkinTool PDF Converter through the button above. Then open it and go to View & Edit > PDF Edit to upload a PDF file.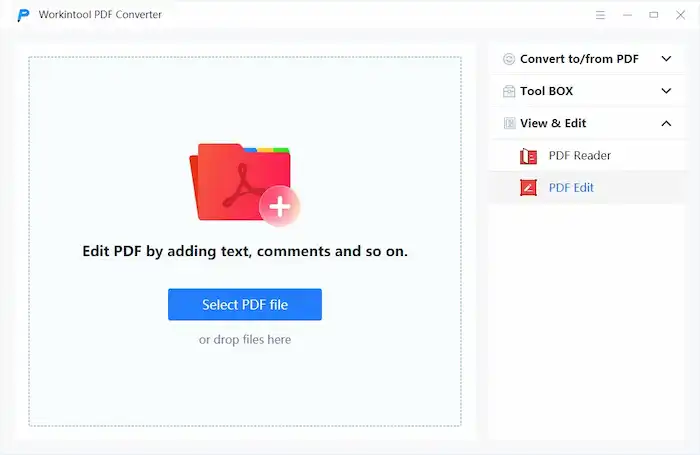 Step 2: Click the downward arrow next to the Line icon and select a pattern you need. You can draw lines, arrows, ellipses, rectangles, circles, polygons, and polylines as desired.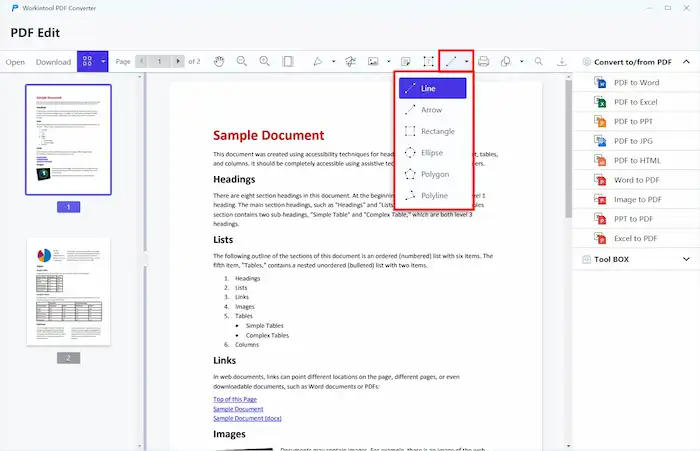 Step 3: Select a place in your PDF files and draw your desired shape. Then click the upper right down arrow to save the edited PDF file. (You can adjust the color, fill color, opacity, thickness, and line patterns according to the situation. This software also allows you to add notes to the shapes.)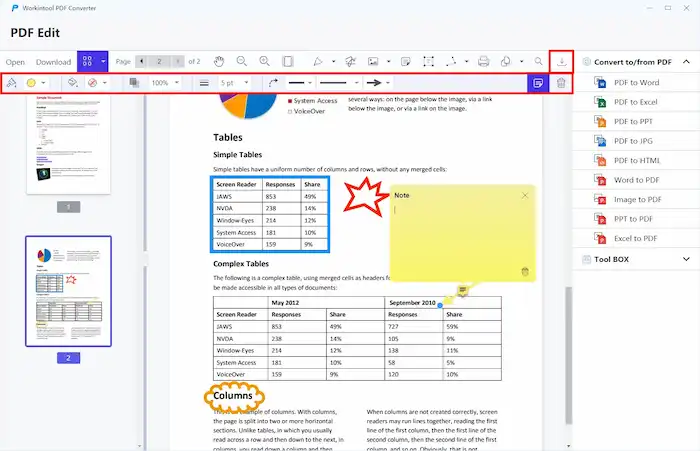 💎You May Also Need💎
Insert Shapes into PDFs with Adobe Acrobat
It is needless to discuss how popular and effective Adobe Acrobat is. This well-known PDF editing software offers a free trial for seven days. Leaving the costs aside, many users would like to download Adobe Acrobat for its versatile features. It can create, edit, fill, sign, protect, stamp, redact PDF files, organize PDF pages, add comments to PDF files, and so much more.
Adding shapes in Adobe PDF can help you communicate thoughts through your files and provide instant feedback. Access the commenting tools in the Comment feature, and you can edit text, add sticky notes, use the drawing tools, sign documents, add shapes to PDF, and on on. In Adobe Acrobat, however, the annotation tabs and drawing tools do not appear by default. It hides deeper than WorkinTool. So follow the detailed steps below to get started.
How to Add Shapes in Adobe PDF
Step 1: Open Adobe Acrobat on your desktop and go to Tools > Comment to upload a PDF file,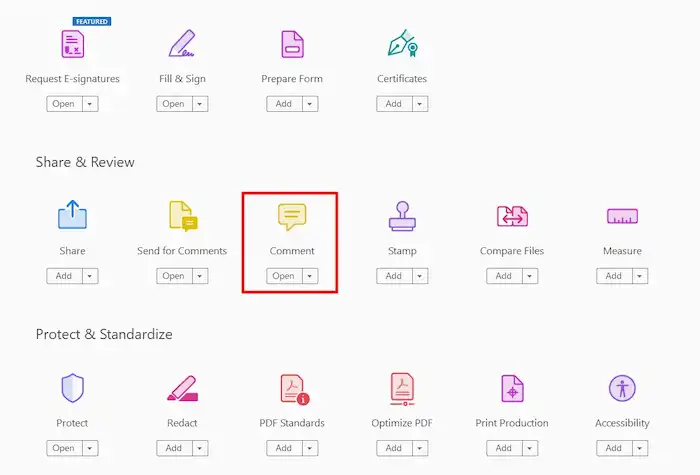 Step 2: Select a drawing format and locate the area on which you want to put the shape. Then adjust the color and opacity and begin to draw shapes.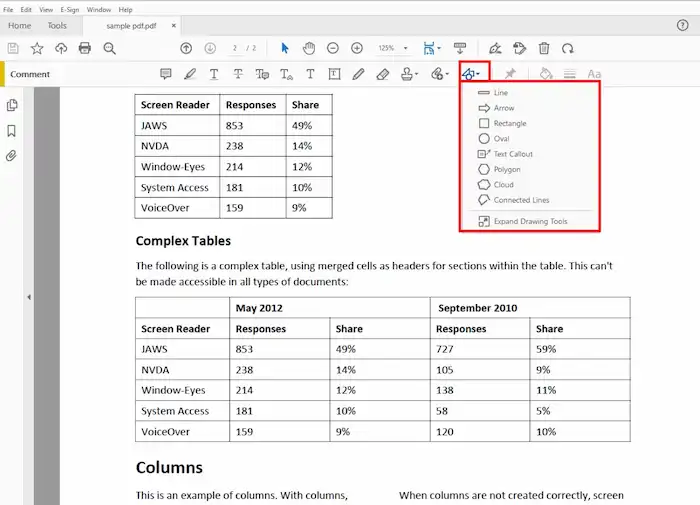 Step 3: Go to File > Save As to save the edited PDF.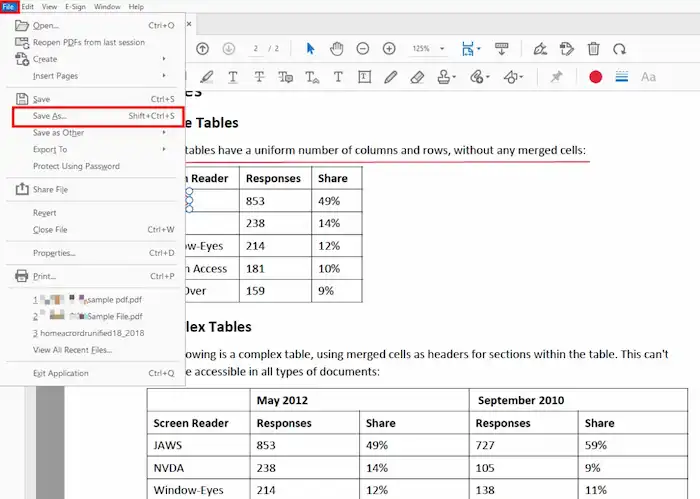 ---
How to Insert Shapes into PDF Files Online
If you don't want to download any 3rd-party software on your device to add shapes to PDFs, WorkinTool online PDF editor can help you easily handle PDF editing tasks. This online PDF editing tool can handle the same tasks as its desktop version. Users just need to navigate this site and upload a PDF file to start a quick edit. Here are the simple steps.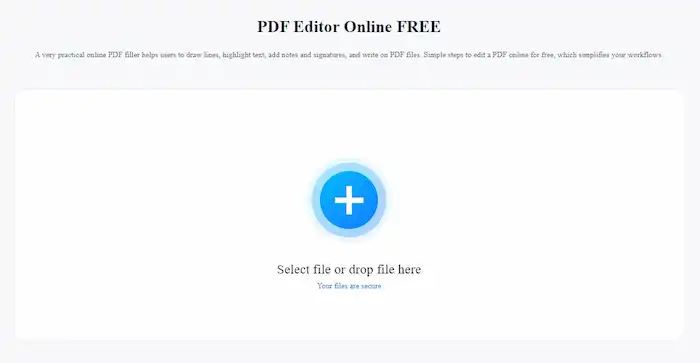 Step 1: Navigate to this online PDF editor and click the blue + button to upload a PDF document.
Step 2: Wait a while for uploading, then click the Line icon to add shapes to the PDF.
Step 3: Click the top right downward arrow icon to export the edited PDF files.
---
Conclusion
Inserting shapes into a PDF file is not rocket science. You can do that task and many other edits in a few seconds if you have a reliable PDF editor. This blog offers three PDF editors that can add shapes to PDF for free. And WorkinTool PDF Converter is truly free, enabling users to use all its features without any limitations. Now, it's time to choose a tool you like and get started.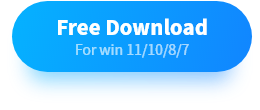 Products Reviews:
TrustScore
4
|
323
reviews