How to Make a PDF Smaller on Windows and Mac for FREE
Do you know how to make a PDF smaller on Windows and Mac for free? Don't worry, check out this post for the best solution and get the WorkinTool PDF Converter to make your PDF job easier than before.
😍 1. 100% FREE to edit and read PDFs with size limits.
🥰 2. Free to select single file with 2MB in Convert to/from PDF and Tool Box.
🤩 3. Easy interface for users to edit and convert PDFs in THREE STEPS.
😎 4. Quickly edit and convert PDF files in the way you want.
🥳 5. Multiple PDF features for users to operate without limit.
😊 6. Available for all office file format conversations.
How to Make a PDF Smaller on Windows and Mac for FREE
As you know, PDF files are used more and more frequently in today's society. But because of this, many places have various file size restrictions regarding PDF submissions. For example, the case management system in the court. In many electronic records courts in the United States, uploading documents requires less than 35 MB. Of course, each state and county court has its own rules. Another example of universities is the need for students to submit documents when there is a specific limit on the document size. If your papers are too large, they may not be filed appropriately, and you may miss out on the College of your choice. So as a file submitter, when you find that your file size doesn't match the rules, do you know how to make a PDF smaller?
Although PDF files are generally manageable if they contain a lot of images or e-books, don't worry too much if you need to shrink the PDF. This article will provide a different PDF reduction method for Windows and Mac users. Are accessible and applicable. In addition, we will provide an online PDF compression tool. It can guide you step by step to complete the operation. Even a 100-page document can be narrowed down to meet your needs.
---
How to Make a PDF Smaller on Windows
When it comes to PDF editing, the first thing that comes to mind is using Adobe software. Indeed, as the creator of PDF documents, Adobe has the most say in this. But as a general user, can you accept Adobe PDF editor's high price and difficult learning curve? If you do not constantly need PDF editing, we highly suggest you use one of the more valuable and free Windows PDF editors below, WorkinTool PDF Converter.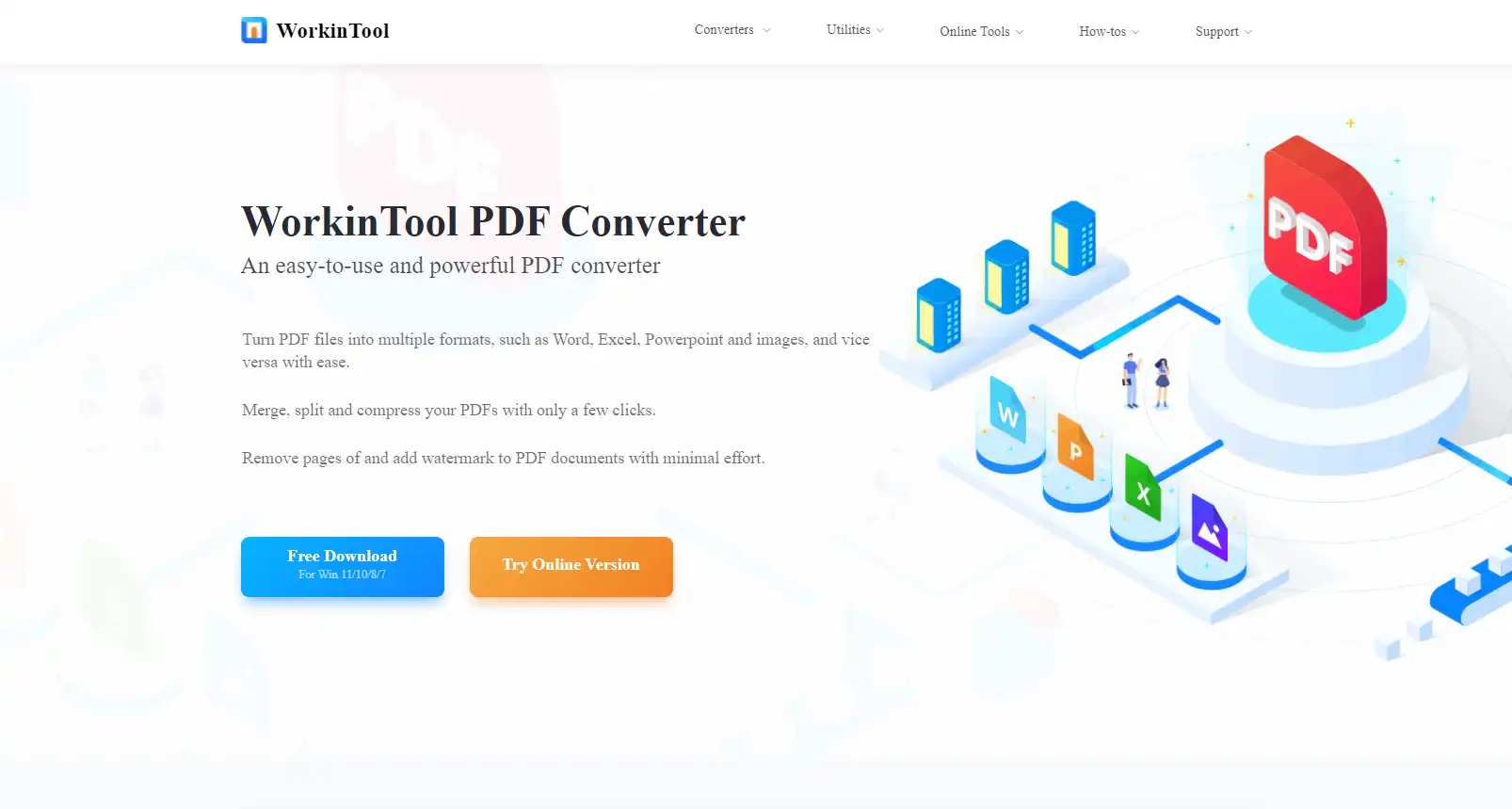 WorkinTool PDF Converter
Just because it's called a converter doesn't mean it can only do PDF conversion. The reality is that it does everything Adobe's PDF editor does. It can completely meet all the needs of users in PDF. But its advantage is that its interface is straightforward to understand, eliminating the complexity of the learning curve. And the best part about it is that it's completely free to edit and read PDF. If you use tools in Convert to/from and Tool Box, you can only select each file within 2 MB for free.
For the function to compress PDF, it is no problem. Three simple steps can help users quickly shrink PDF files to the desired size. It provides two compression modes for users to choose from. Of course, users can continue to edit the PDF file after compression. It allows you to comment on PDF files, add line content, arrows, and comments, highlight sentences, change fonts, and so on.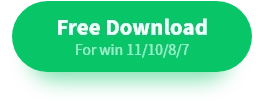 Let's see how to make it work using WorkinTool:
1. Launch WorkinTool PDF Converter and find the Compress PDF button to upload your file.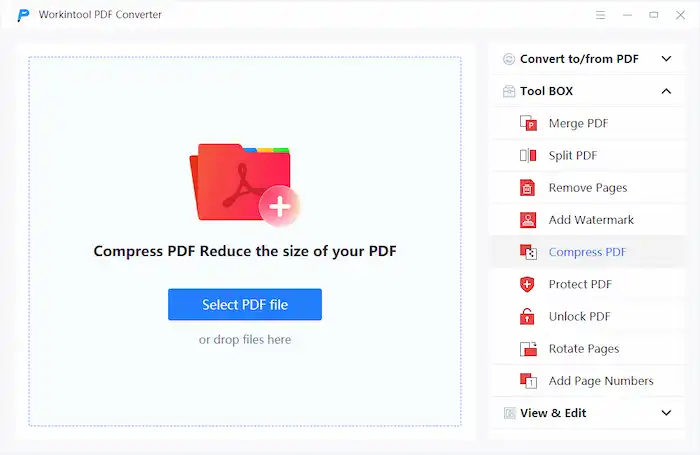 2. Select a compression mode you would like your PDF to convert. (Normal Compression is better daily life file compression. And if you want to compress your file to the best, choose Extreme Compression.)
Notice: This tool also allows you to compress PDF files in batch. So you can put multiple files together and compress them at once.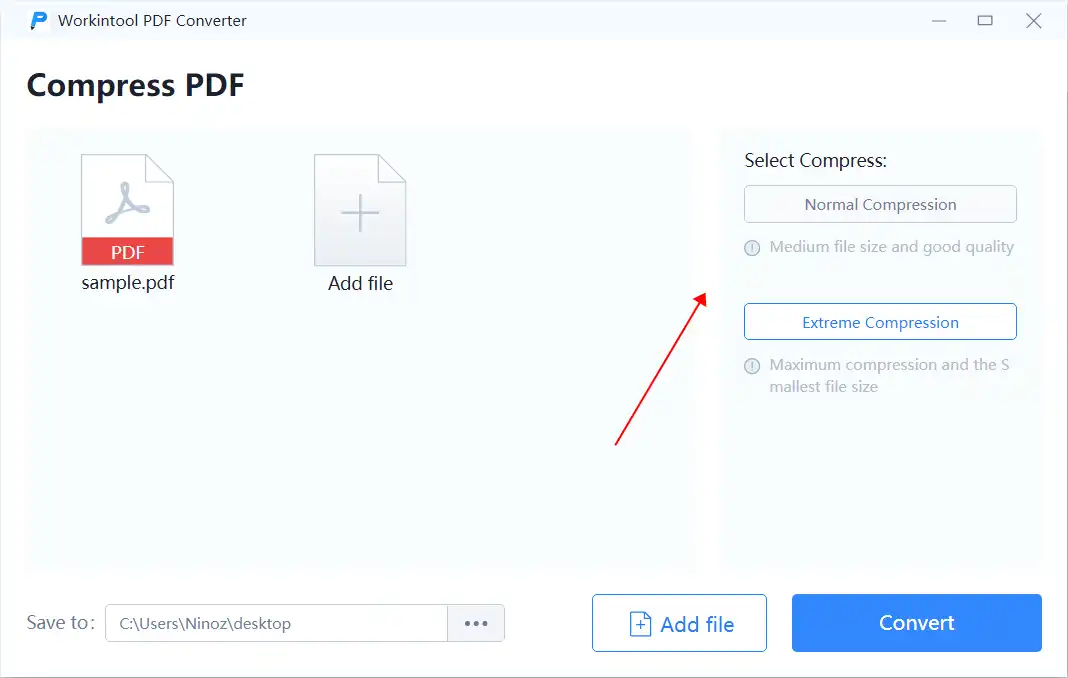 3. When you adjust them, click Convert and wait for the result.
🎯 More features with WorkinTool 🎯
---
How to Make It Smaller on Mac
But if you're on a Mac, it's much easier to compress your files. The Preview software on Mac computers provides the ability to edit PDF documents. The provided application is free to use. Of course, it's less potent than other third-party PDF editors for some editing functions because that doesn't affect the size of the files that users can easily compress with the software. That should be enough. Now let's see how to use it.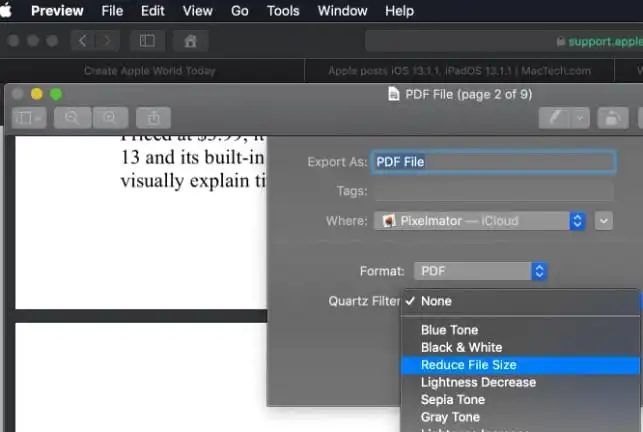 Open your PDF file using the 

Preview

 and click 

File

> 

Export

.

Click the

 "Format" 

menu and select 

PDF.

Click the

 "Quartz Filter" 

menu and choose to

Reduce File Size.
---
Bonus: How to Compress a PDF File Online
Of course, if you travel a lot and need to modify PDF files, using third-party software may sometimes cause inconvenience. Our advice at this point is to check out the online PDF editor. To meet your need for online file size reduction, we recommend that you use the WorkinTool Compress PDF online page. In some cases, it can provide even more user-friendly services.
We also know that file security, processing speed, and possible limitations are the primary concerns of users of online file processing services. We can assure you here. The services provided by WorkinTool are entirely free. You don't have to worry about it limiting the number or size of PDF files you can input or output, etc . The only thing that can affect you is your speed of surfing the Internet. For security reasons, you don't have to worry. All files you upload will be automatically deleted from the background within 24 hours. No one can touch it.
Check this out: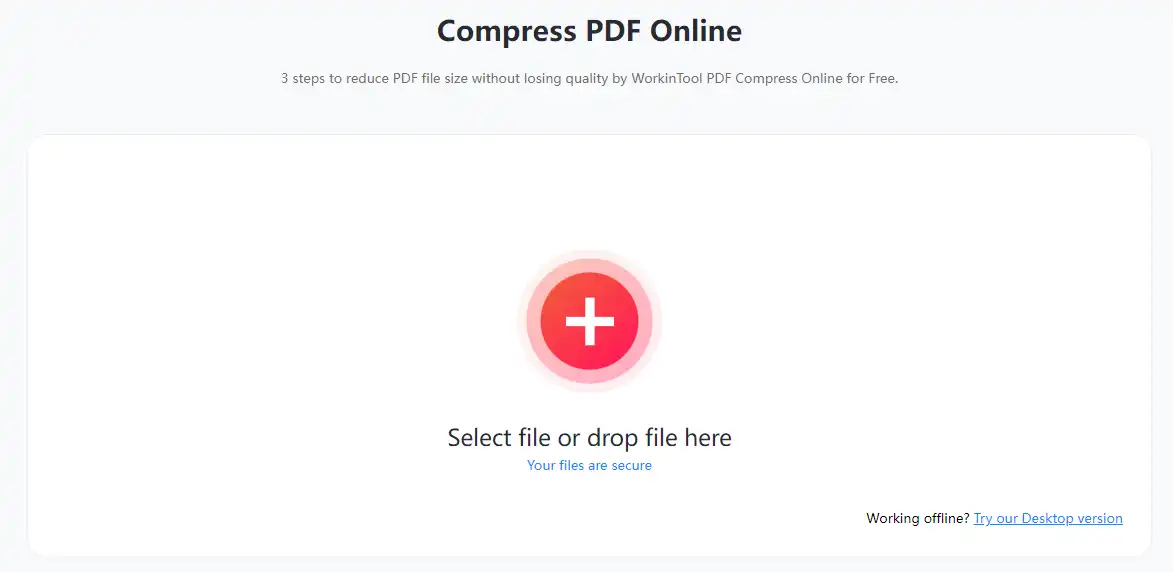 Enter 

the WorkTool Compress PDF

 page and upload your target PDF file.

The built-in page is essentially the same as the software that WorkinTool downloads; you only have to choose one of two ways to compress it.

Once you are done selecting, click 

Convert

 and wait for the result.
---
Bottom Line
This article focuses on making your file smaller and provides a detailed tutorial on making the proper instruction on different devices.
For Mac users, the built-in Preview is enough to reduce the file size in a simple step. For Windows users, WorkinTool PDF Converter is your best bet. It provides the best service to shrink your files in two compression modes. There are also built-in PDF features that users may need. The most important thing is that this tool is free for  uploading single file with 2MB. It's well worth a try.