How to Improve Speech-to-text Accuracy on Android
Confused about errors and mistakes in a transcribed text? Wondering how to improve voice-to-text on Android and Windows? You are on the right page! This post analyzes why speech-to-text software is not always accurate and provides you with reliable and easy-to-use software. Read on, and you will get the following:
1. Factors that affect speech recognition accuracy
2. An reliable and multifunctional transcribing app for Android
3. A transcribing and video-editing tool for Windows
4. Practical suggestions for boosting speech-to-text accuracy
How to Improve Speech-to-text Accuracy on Android
The speech-to-text technology is commonly used in our daily life. By converting spoken words into written text, this technology dramatically facilitates people's life and improves productivity.
However, achieving high speech-to-text accuracy can still be a headache, especially when speaking too fast or with a heavy accent. Whether using voice-to-text technology for personal or professional purposes, boosting speech-to-text API accuracy can be necessary for your productivity. Therefore, this post will explore how to improve speech-to-text accuracy on Android with the best practices.
Quick Navigation
Why is Speech-to-Text Software Not Always Accurate?

How to Improve Speech-to-text Accuracy Android

Use a Reliable Speech-to-Text Converter 🔥
Speak Clearly and Consistently
Environment & Microphone

Conclusion
---
Why is Speech-to-Text Software Not Always Accurate?
Before diving into strategies to improve voice recognition accuracy, it is essential to understand the common causes of inaccuracy. Generally, the common causes come from the environment, speaker, and technical issues.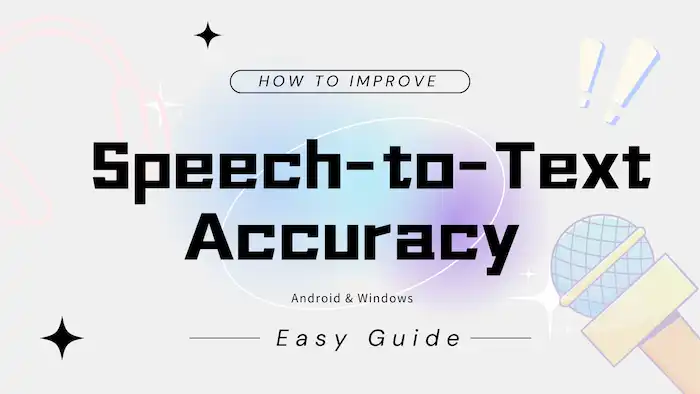 🌐Environmental causes

: Background noise is the most common factor negatively impacting voice-to-text accuracy. If you're recording and transcribing audio in a noisy environment, the software may be confused about distinguishing between the environmental noise and your voice. Therefore, to minimize background noise, you can find a quiet location to speak, use speech-to-text software with noise reduction features, or use noise-canceling headphones & microphones.

📢Speaker factors

: Try to speak clearly, slowly, and accurately at a consistent pace. Your accents, speaking speed, and style will also negatively affect speech-to-text recognition accuracy.

🎤Technical flaws

: Technical factors such as microphone quality can impact accuracy. If your microphone can't filter out noises, the recording and transcribing software may struggle to recognize your voice. Please consider a high-quality microphone if you have high demands for speech-to-text quality or use this feature frequently.

📱App quality

: The speech-to-text accuracy can vary depending on the specific app. Each app has its strengths and weaknesses. The speech-to-text accuracy will be influenced if the app is poor in noise cancellation and language models.
---
How to Improve Speech-to-text Accuracy Android
Now that we've discussed the common factors of inaccuracy, let's explore how to improve speech recognition accuracy on Android.
1. Use a Reliable Speech-to-Text Converter 🔥
A reliable voice transcriber is indispensable for accurate speech-to-text conversion. Speaking of that, TransVoice is a professional speech-to-text transcriber which supports multiple languages and dialects. Powered by AI voice recognition technology, it can precisely identify what you say in real-time. You can add in-time images and marks during the transcribing process. And recorded audio files can be transcribed in a couple of minutes.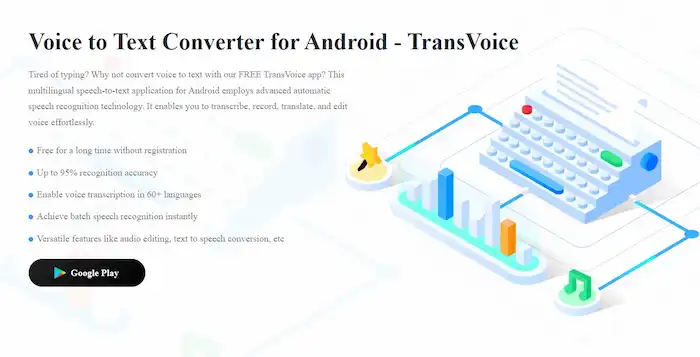 After transcribing, you can trim the audio and edit the transcribed text to review and correct errors. This app's AI machine-learning technology will help it learn from its mistakes and improve accuracy over time. It can record your speaking habits and personalize your needs with more and more practice. It can also translate the transcript into other languages. More than that, users can export the transcripts in different formats, including PDF, TXT, Word, and SRT.
Key Features of TransVoice
30+ 

audio and video editing features include video-to-text conversion, text extraction, 

stereo-to-mono separation

, dialogue dubbing, etc.

Up to 

95%

 

speech recognition accuracy

 powered by AI recognition and transcription

Multiple languages and six standard file export formats

Cost-effective

 price, as low as 

$3.99

/month.

Intuitive interface design, THREE-step operation, and instant speech-to-text conversion speed.

Quick Look: How to Improve Speech-to-Text Accuracy on Android via TransVoice
1. Open the TransVoice app and tap the microphone icon at the bottom. Set the transcription language and select to transcribe real-time speaking words or recorded audio/video files.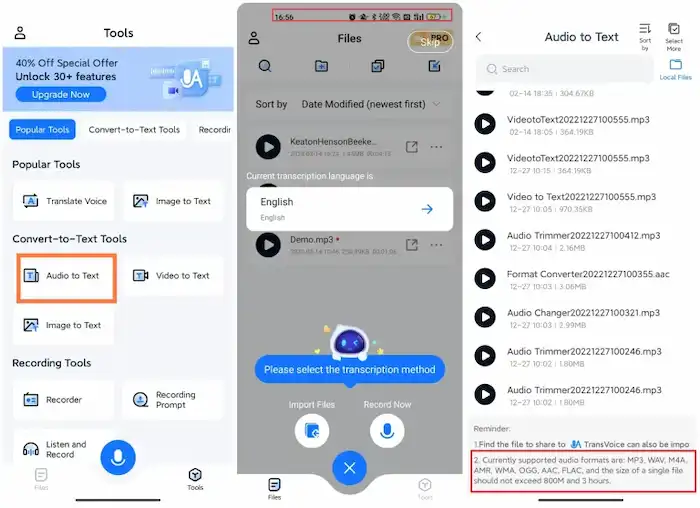 2. It will automatically transcribe then. You can also turn on the noise reduction option to improve speech-to-text quality.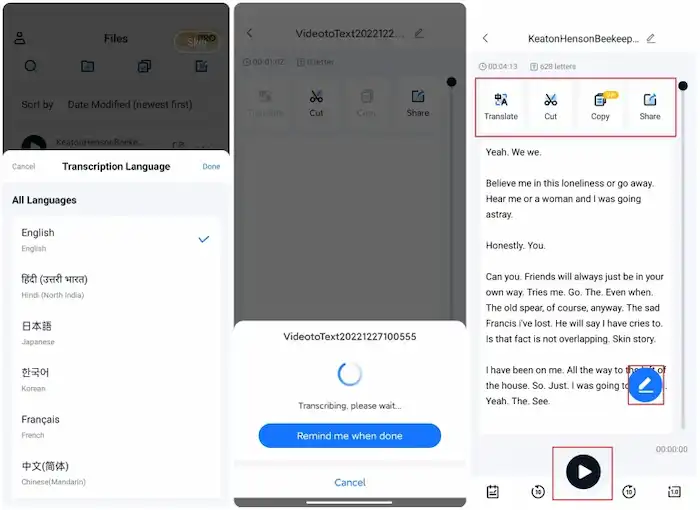 3. After transcribing, you can trim & playback the audio, edit & translate the transcribed text, and share & export the audio and text files in different formats.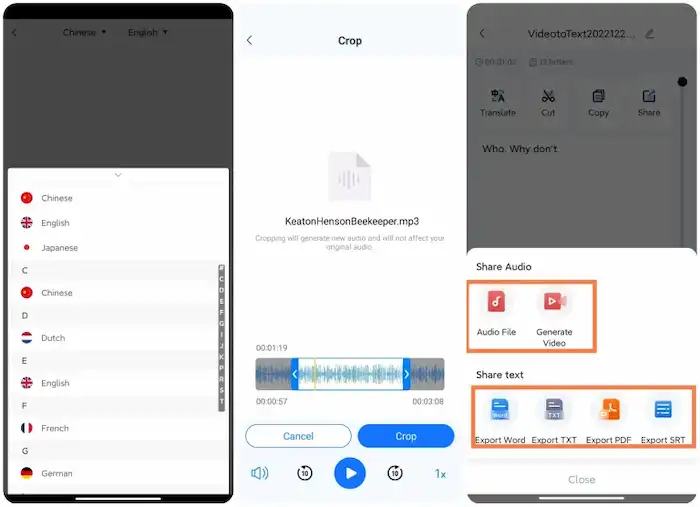 🚨Note that this speech-to-text converter is only available on Android. If you want to improve speech recognition on Windows 10 or other versions, WorkinTool VidClipper might be helpful. It can easily extract audio from videos, convert text to speech, and transcribe speech to text.
2. Speak Clearly and Consistently
The speaker's accent, pronunciation, pace, speed, and style matter greatly for a high-quality speech-to-text conversion. It needs practicing, especially when you transcribe audio for lessons, lectures, meetings, and other formal occasions. When speaking, you should pay attention to these aspects. 
⭐Speaking Clearly
Speaking clearly is a critical factor if you need to improve speech-to-text processing accuracy. So please pay attention to pronunciation and enunciate your words clearly. Try to weaken the presence of accents, minimize colloquial content, and use a standard speaking manner. If your accent is strong, using less slang or regional expression can help the speech-to-text app recognize your words more precisely.
⛄Speak at a Consistent pace
A consistent style can also improve speech-to-text processing accuracy. Try to speak at a consistent pace, and do not change speaking speeds often.
💦Speak in Short Phrases
If you struggle to slow down your speech or control your speed, try speaking in short phrases. You can take breaks between them or add conjunction words for better understanding. It will give the transcription app more time to catch up, thereby making it easier for the software to transcribe your words accurately and boosting Speech-to-Text API accuracy.
3. Environment & Microphone – Improve Speech-to-Text Accuracy
As mentioned, background noises from traffic, construction, HVAC, office, electrical, natural, household, and conversation can negatively impact voice-to-text accuracy. In this regard, try to speak, record, and transcribe in a quiet place. If you're in a noisy environment, consider using noise-canceling headphones or microphones to filter out unwanted noises. A simple desktop microphone may suffice if you are in a quiet place. But if you require higher quality, then the recording device matters a lot.
---
Conclusion
In this article, we have discussed factors that may affect the accuracy of speech-to-text transcription and shared some insights on improving transcription accuracy. You should have learned how to improve speech-to-text accuracy. In summary, a quiet environment, a microphone with noise reduction functionality, a consistent speech style, and accurate pronunciation can all affect accuracy.
However, voice-to-text accuracy can be greatly improved if you have software with advanced speech recognition technology. You can refer to the TransVoice app and the WorkinTool VidClipper software shared in this article. One is for Android, and the other is for Windows. But both are multi-functional and efficient software. The ball is in your court. Now, go to a quiet environment, choose a suitable app and equipment, and start transcribing your audio!

You May Also Need