CF Card Recovery: How to Recover Files From Compact Flash Card
Performing CF card data recovery cannot be easier with WorkinTool data recovery software. Download and enjoy it right now.
1. 500MB of free recovery capacity with NO ads.
2. Easy interface for users to recover in THREE STEPS.
3. Quick scan and recover files the same as the original.
4. Cover all file types of pictures, documents, videos, audio, etc.
5. Available for all external storage devices like USB flash drives and SD cards.
CF Card Recovery: How to Recover Files From a Compact Flash Card
Flashcard has always been a convenient way to store and transfer data since being produced. And in the category of Flashcards, you can see CF cards and SD cards. Unlike big external hard drives, those tiny little flash memory cards can help users instantly transport their wanted data and make the data portable. However, even as great as they have been claimed, the convenience will also diminish when there is something wrong with the CF card, making it unable to read, store, or transfer data. Things then become tricky to get back lost data. If so, do you know how to perform CF Card Recovery?
Don't worry. There are still big shots for you to recover files from a CF card. Here in this post, we will show you what CF cards are, what are the differences between CF cards and SD cards, and the exact methods to initiate compact flash data recovery. Check it out below.
---
What Is a Compact Flash Card (CF Card)?
The Performance of CF Card
Back then, the CF card's distinct advantages made it the best-selling storage media. Of course, one of the most extensive features of compact flash cards is their convenience. Compared with other hard drive solutions, putting a pen-size card with all the data you need is much more attractive. And It works just the same as the system drive of a computer.
However, its victory has slowly passed to SD cards with smaller sizes and larger storage space. Nowadays, It is rare to see some electronics using CF cards as storage cards. They are mainly used in advanced cameras like Canon and Panasonic for stability and endurance. But for other types of electronics, SD cards are much more in use.
---
Compact Flash Card VS. Standard SD Card
Well, both compact flash cards and standard SD cards are the storage devices that are used in the flash storage technique. In fact, overall, both types of these flashcards are similar to each other. Let's look at their specific differences and which devices they are better suited for.
Here are the distinct differences.
---
How to Perform CF Card Recovery
If you have a CF card with all your data that is lost or cannot access, the best way to retrieve deleted files is to seek help from a third-party CF card recovery software. If that's all it is, then you have a vast range of options. Well, if you want to pick one that is functional, well in use, and convenient at the same time, that is not easy then. We recommend that you try WorkinTool Data Recovery Software to perform compact flash recovery.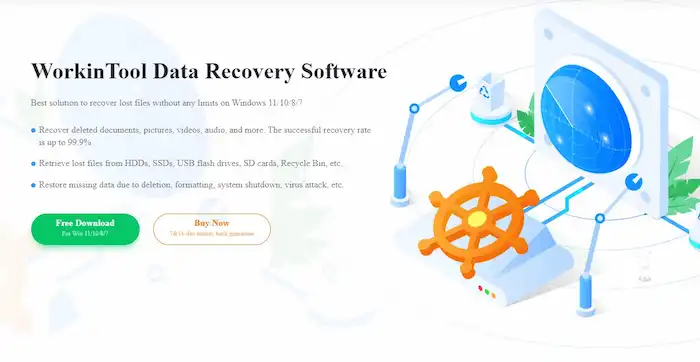 WorkinTool Free CF Card Recovery Software Features
🔰Broad Compatibility: WorkinTool Data Recovery Software is a professional data recovery solution for all kinds of data-loss situations, including formatted recovery, recycle bin recovery, USB/memory card recovery, disk partition recovery, etc. It supports all types of storage devices, including CF cards, SD cards, hard drives, USB flash drives, and more.
📁Quick and Easy

: All users only need to use three steps of launching, scanning, and recovering from retrieving their precious files and documents with a clean interface and single operation in WorkinTool Data Recovery.

📐File Formats Unlimited

: Whether you have ever used a similar data recovery tool before, it allows you to retrieve documents, videos, audio, pictures, files, and other data in no time.

📥Highly Cost-effective

: Most importantly, it is worthwhile to use all the features. This CF card recovery tool, priced at $29.99/month to $49.99/lifetime, is the most cost-effective one among so many competitors in the market. There won't be ADS at all during your use. Come and check this out.
WorkinTool Free CF Card Recovery Software Functions
How to make CF card recovery?
1. Launch WorkinTool Data Recovery and go to the 'Partition on mobile device' menu. Select the CF card you just inserted into the computer. Then click Scan Now.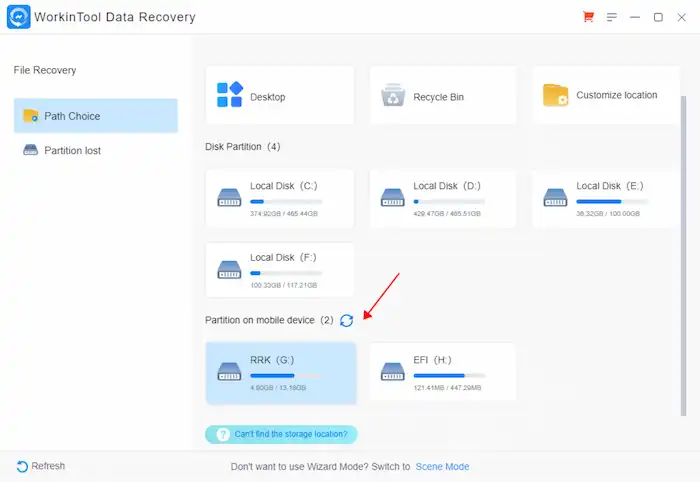 📣 Notice:
Be sure to connect your CF card to the computer and ensure it is accessible (see how to fix corrupted or unreadable CF cards in the next part). Otherwise, this software will not be able to read the data on your card.
2. Select a recovery method from 'Quick/Deep/Formatted Recovery'. Then press 'Scan Now' and wait for WorkinTool to detect files.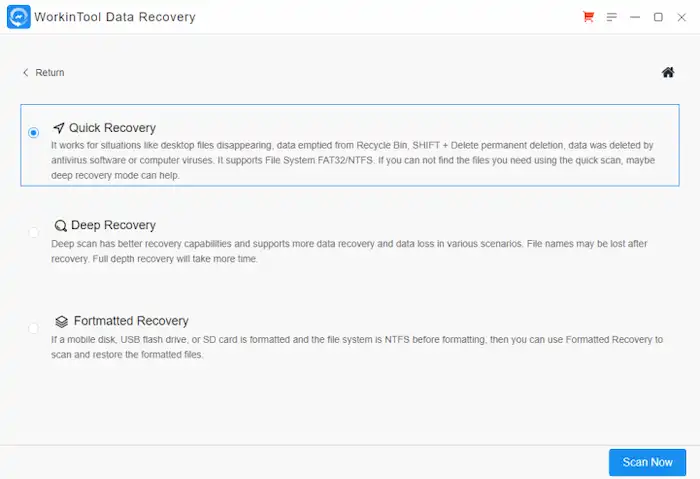 3. Finally, use the 'Filter' feature or the left navigation pane to locate your lost files. Then select the lost data and click 'Recover' to save the desired files to a new path.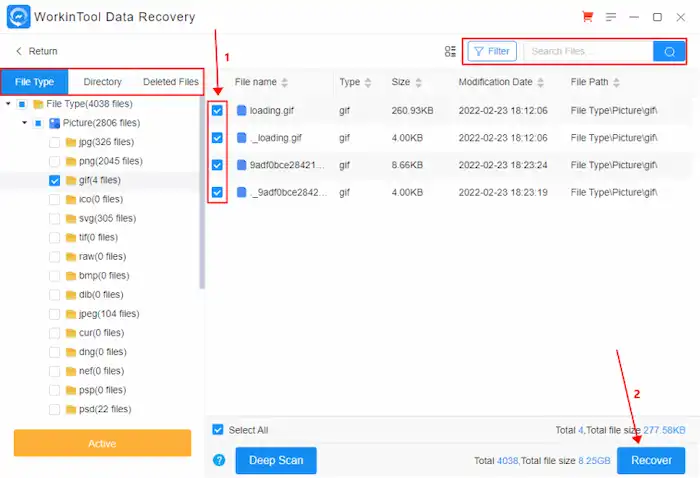 ---
FAQs
1. Why my CF card is inaccessible?
Suppose your computer doesn't recognize your CF card. It could be related to a faulty card reader or USB port. You can try to eject and plug the card into a different port or use a different card reader. During the process, please ensure the port is free from any dust or foreign objects that may prevent a successful reading process.
2. What should I do if my CF card is corrupted, logically damaged, or virus-attacked?
The logical issues of a CF card are easy to fix. If you have encountered problems like the ones below, you can try the following methods to recover the compact flash database.
🚀Make sure your files are visible: If your files are missing but you didn't delete them. You can go to File Explorer to show hidden files, folders, and drives. Turn on the option, and you can successfully access the card.
🌌Assign a drive letter: Windows can't access your CF card if it doesn't have a drive letter. To fix that problem, you can apply the Disk Management tool to change the original drive letter to a new one.
📠Update/reinstall the drives: Corrupted or outdated can also lead to failed recognization between the card and the host device. You can update a drive or uninstall the drive and plug it back in to fix this problem.
📖Fix the file structure: The CHKDSK command can scan the potential issues on a drive and fix it automatically. If your card has drive-related file structure issues, you can apply this tool to fix the file structure issue.
🔩Format the CF Card: This would be the last resort you will consider. Although formatting a drive can fix logical issues, it also leads to a certain data loss.
3. Can I retrieve deleted photos from a CF card?
Of course! As long as the deleted photos are not permanently overwritten, they can be recovered using various options, like compact flash card recovery software, backups, Windows File History tool, etc.
4. What is the best CF card recovery software?
You can try WorkinTool compact flash recovery software to recover 500MB of data for free. During the trial, you will know its cost-effective price, all-around features, broad compatibility, fast running speed, and simple operation steps.
---
Bottom Line
Please know that this method of performing CF card recovery only works for logically damaged CF cards. However, if your CF card is physically damaged and you cannot access it, resulting in data loss, this trick may not stay functional. If it doesn't work after trying it out, you should seek help from a professional compact flash card data recovery service.
However, WorkinTool Data Recovery Software can still fix system damage and corrupt problems. The only thing you need to do is to plug it into the card reader and connect it to a computer with WorkinTool. Then you will get your files back in a flash. That is all. No professional skills, no ads are needed, and three clicks can restore everything. Come on and try for yourself now.