How to Recover Deleted Downloads on Google Chrome
When you see a beautiful picture, a gripping article and a fantastic video or hear some melodious music on Google Chrome, the first thing to do is to have it permanently by downloading it so that you can access it anytime and anywhere, even without an internet connection. However, your downloaded files may be too many to manage, so you sometimes want to delete them all. Therefore, some of your important downloads will be accidentally removed. So is it possible to undo all these deleted downloads in Chrome? Well, yes. Today, we will help you alleviate your worry by focusing on how to recover deleted downloads on Google Chrome. We will introduce you to four proven ways: recovery from Recycle Bin, Re-Downloading, Rery and data recovery software–WorkinTool Data Recovery. It is strongly advisable to try WorkinTool Data Recovery since it is:
✔ FREE Trial available
✔ Easy to operate
✔ Multiple file formats supported
✔Batch recovery possible
✔Deep recovery optional
✔Partition recovery available
How to Recover Deleted Downloads on Google Chrome in 2022 [FREE and Easy]
Google Chrome has definitely been one of the most frequently used global browsers. When you see a beautiful picture, a gripping article and a fantastic video or hear some melodious music, the first thing to do is to have it permanently by downloading it so that you can access it anytime and anywhere, even without an internet connection. However, your downloaded files may be too many to manage, so you sometimes want to delete them all. Therefore, some of your important downloads will be accidentally removed. So is it possible to undo all these deleted downloads in Chrome? Well, yes. Today, we will help you alleviate your worry by focusing on how to recover deleted downloads on Google Chrome.
All the methods recommended prove to be practical, easy and FREE. Please read on to learn all of them.
---
Words Before Your Chrome Downloads Recovery
📌How to see recent downloads in Google Chrome?
It is quite easy to view your files recently downloaded on Google Chrome. They will usually appear on its bottom (as shown below) and continue their existence within a certain deadline (a few minutes) and before you close it.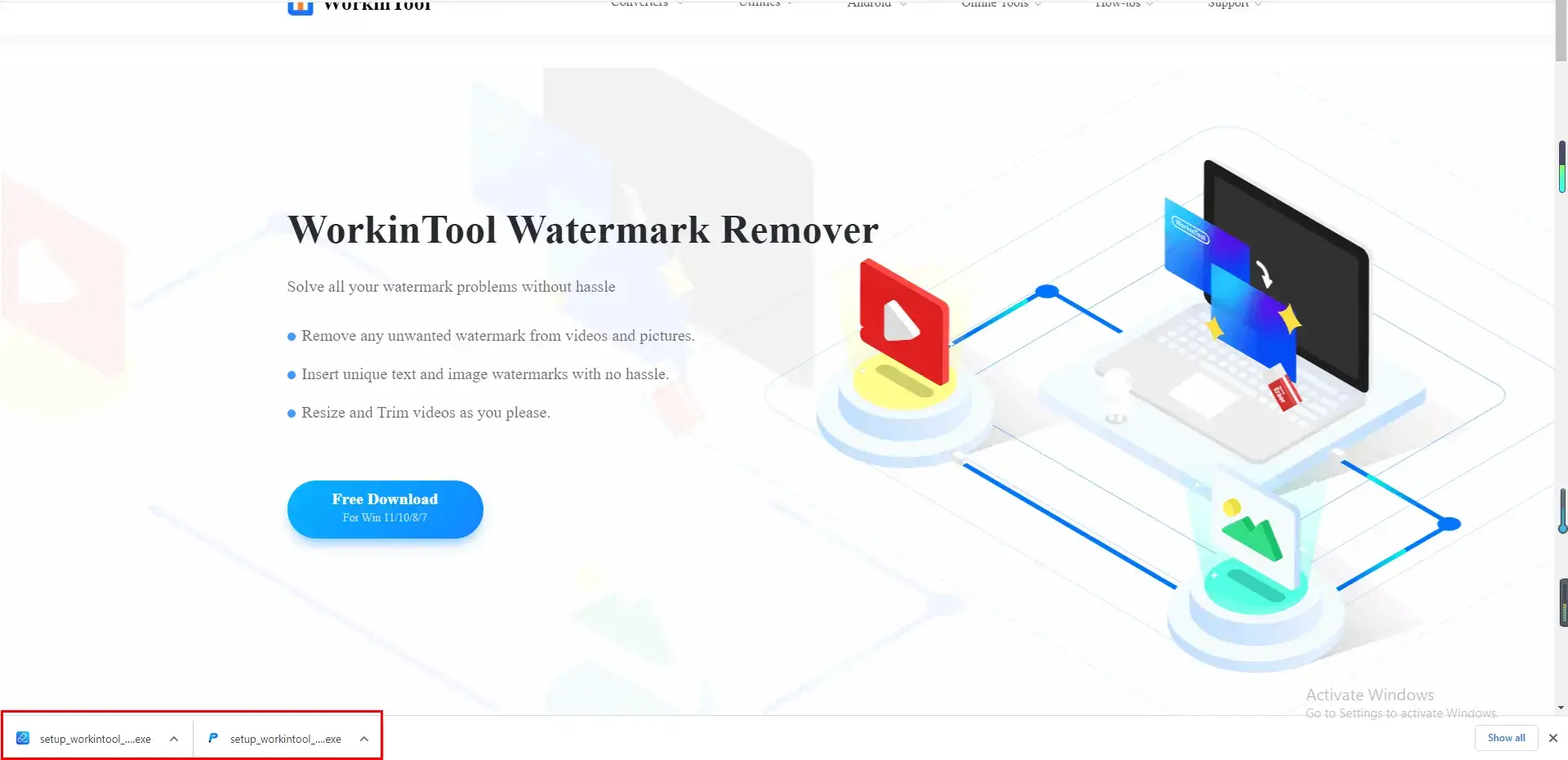 However, if the download records vanish on the browser, here is the way to see them:
Find the horizontal dotted line on the upper right and navigate to Download.
Then you can view all the downloads on your Google Chrome.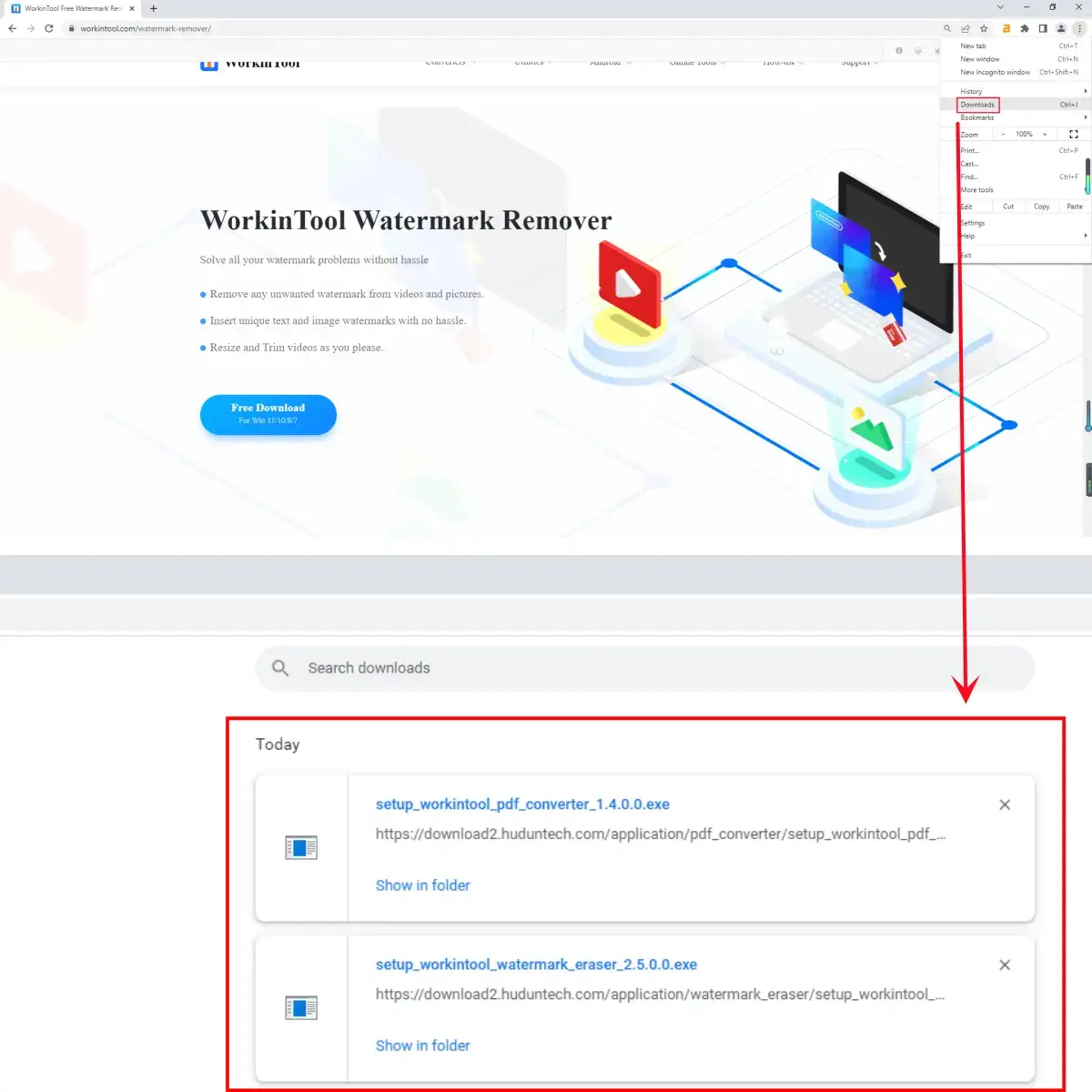 📌Why do you lose your downloads on Google Chrome?
There are some reasons for the disappearance of your downloaded files:
Accidental Deletion: Your downloaded files are unintentionally removed from your PC or laptop.
Change in Original Download Location: if the Chrome downloads are moved from the original folder set on your Google Chrome to another one, the download records will be overwritten in the previous folder. This will lead to the deletion of your Chrome downloads.
Chrome Breakdown: Your Google Chrome is subjected to a breakdown when it is operating. Your download records are highly likely to vanish when such a dire situation occurs.
Internet Connection Failure: Your downloads may be automatically terminated or even erased without notice when your internet connection fails to work.
Viruses Attack: Viruses usually harm the data stored in your PC and virus-infected downloads will be automatically eliminated from it with or without notification.
Hence, how can I recover deleted downloads on Google Chrome? Please don't worry and continue your reading to know the specific solutions.
---
How to Recover Deleted Downloads on Google Chrome Through 4 Proven Ways
Here are 4 proven ways recommended to undo deleted downloads on Google Chrome:
1. Restore Deleted Downloads on Google Chrome in Recycle Bin
A practical suggestion will always be checking your Trash or Recycle Bin when you find your Chrome downloads lost. If they appear there, all you need to do is to restore all of them. This is the instruction:
Double-click your Recycle / Trash Bin and see if your Chrome downloads are there.
Locate the deleted documents and right-click your mouse.
Click Restore to find it back.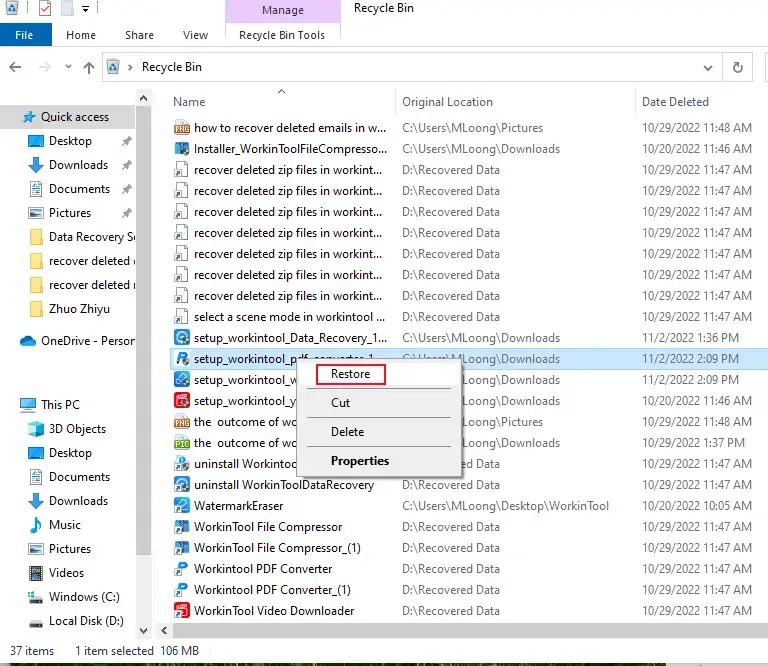 📣Reminder
This method is only helpful if your deleted Chrome downloads are not permanently erased from your PC or laptop.
Even if your removed Chrome downloads appear in the Recycle Bin, it doesn't mean that they will be safe forever. Since the validity there is around 30 days, you risk losing them for good if you forget to restore them within this deadline.
2. Retrieve Removed Downloads on Google Chrome by Re-Downloading Them
Another piece of useful advice can be re-downloading the files previously downloaded on your Google Chrome. The truth is that the download path is saved so that you can get it again later when a file is downloaded from Google Chrome. Even if the Chrome downloads are lost, the download path will still be there. Therefore, re-downloading the files is one possible solution.
Please read the following guidance on how to retrieve removed downloads on Google Chrome.
1). Open Downloads in Google Chrome.
This step can be completed in two ways:
Either click the horizontal dotted line on the upper right of Google Chrome and then hit Downloads.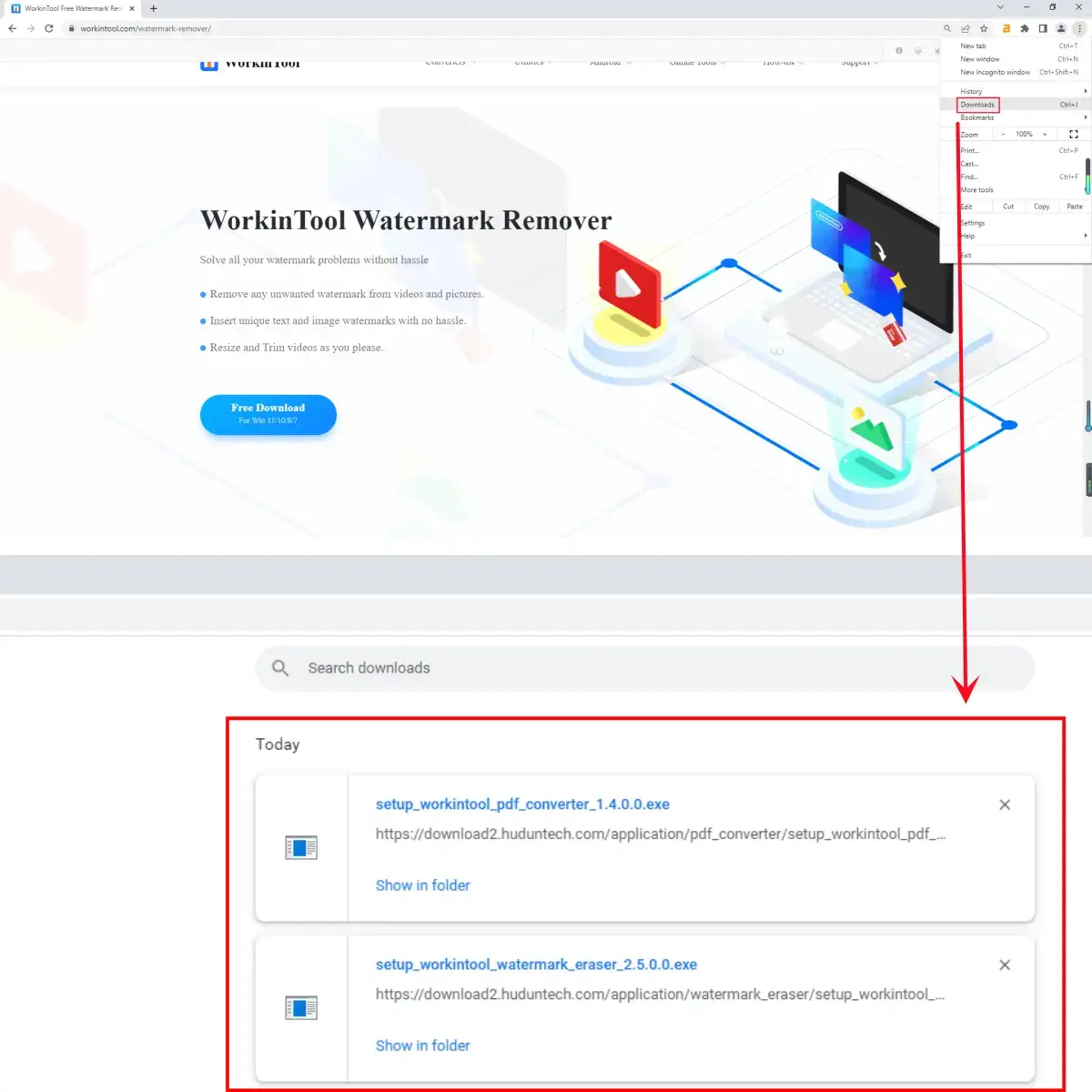 Or type chrome://downloads in the search box and then press Enter to get down to the Downloads page.

2). Retrieve the eliminated downloaded files.
Two methods can help to finish this step as well.
Either double-click the download path below the file name to activate the re-download.


Or right-click your mouse to find Copy link address, move your mouse to the search box, right-click it and then select Paste and go to.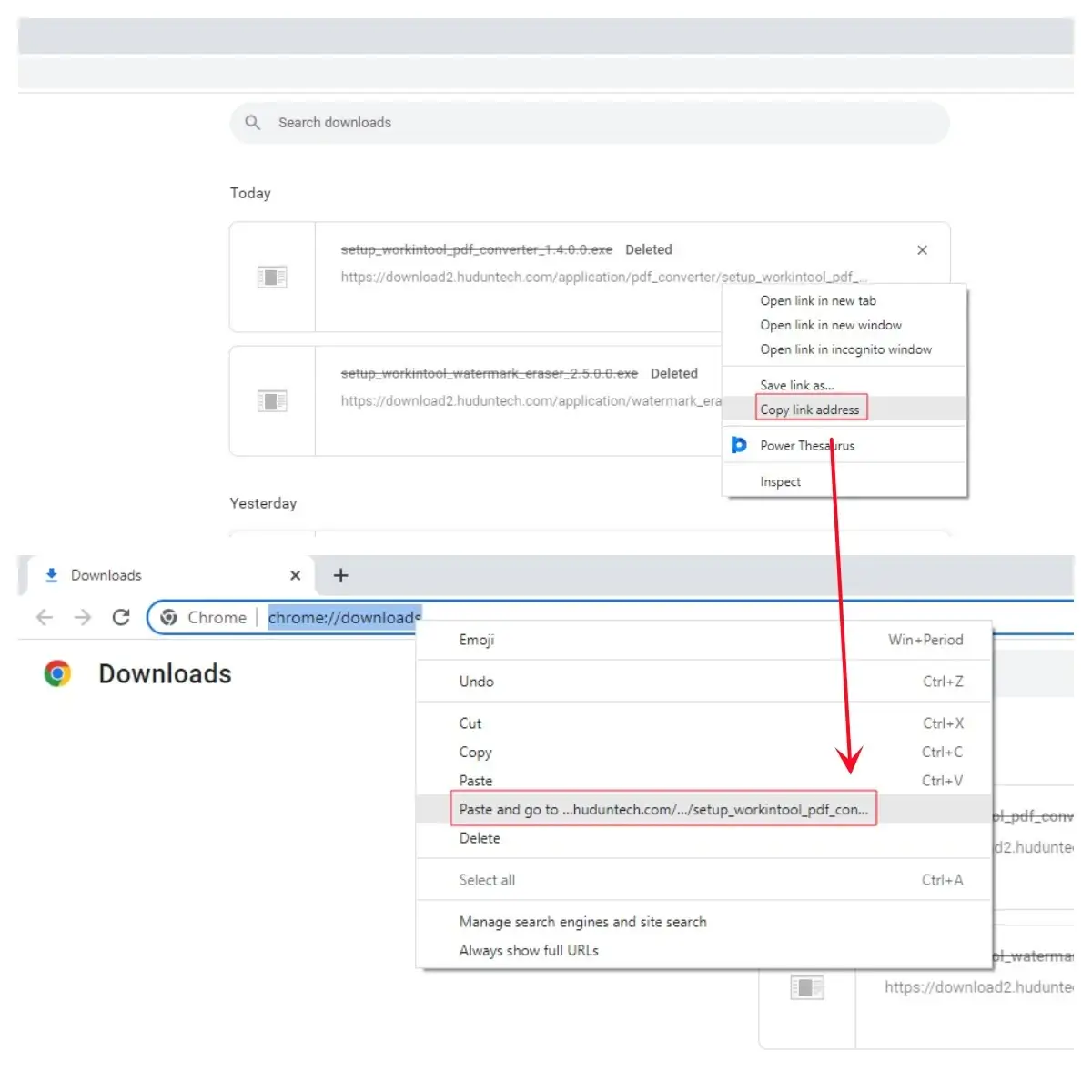 Then this method will bring back your disappeared downloads from Google Chrome.
📣Notice
This approach is unable to help you get all your files back in batches. You have to click the download path one by one.
You have to wait until the re-download completes. The time for re-downloading your files is uncertain and heavily dependent on your internet connection.
This method will be inconvenient if the download records are erased on your Google Chrome.
3. Resume Canceled Downloads on Google Chrome via Retry
If your downloaded files are canceled due to Chrome breakdown, internet connection failure or some inexplicable reasons, this method will be extremely helpful. All you need to do is:
Follow the first step mentioned in the second method to open Downloads in Google Chrome.
Click Retry below the download path.
The canceled downloads will be resumed.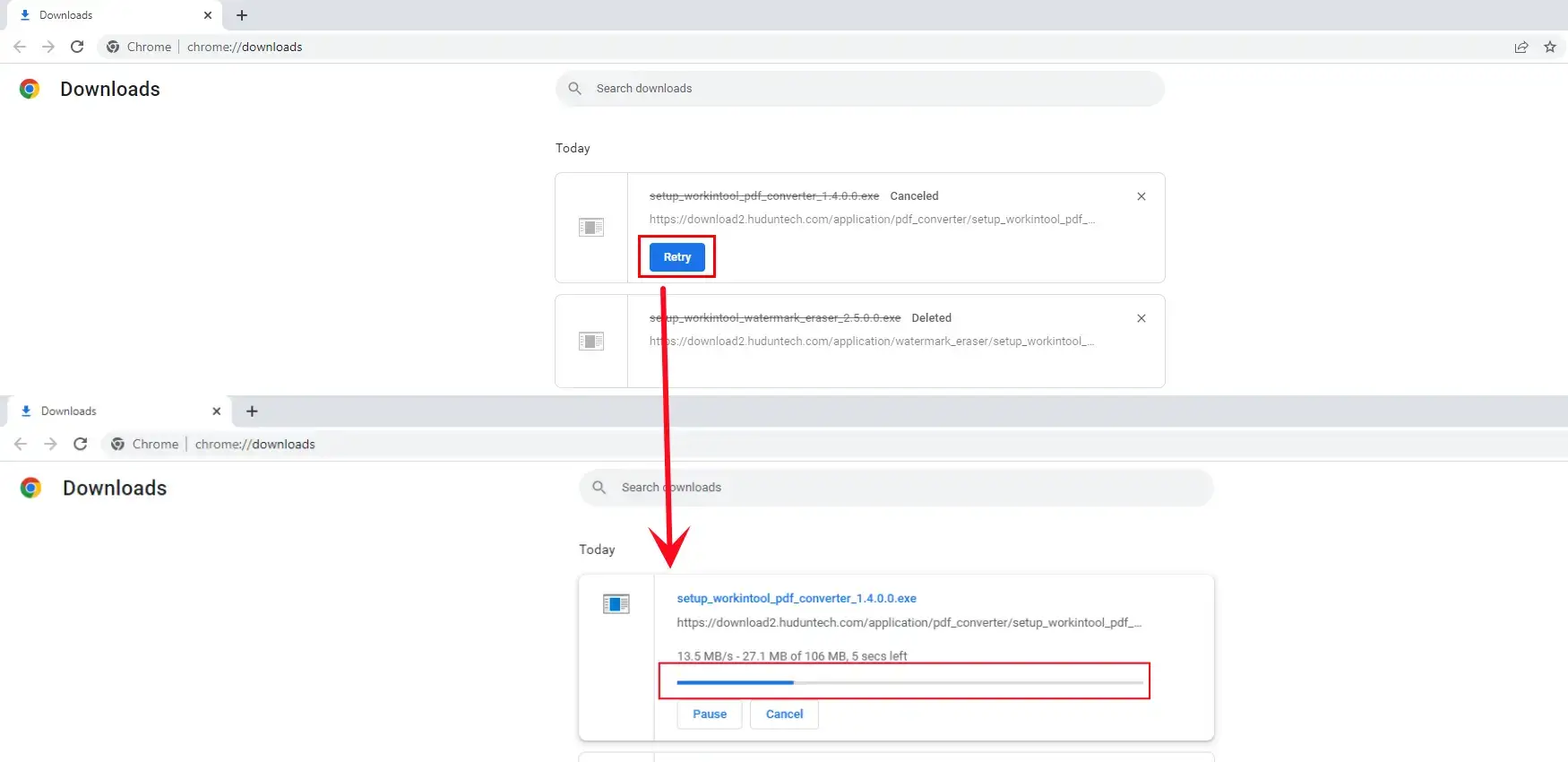 📢Notes
The resume may sometimes be unsuccessful, so the re-download process will start to get your file back.
So is there a solution to recovering all the deleted Chrome downloads without any limitations effortlessly and effectively? Or what else can I do if all the aforementioned approaches fail to work? The answer is affirmative, and its key is data recovery software.
4. Recover Deleted Downloads on Google Chrome with Data Recovery Software
The most guaranteed way to bring back all your deleted Chrome downloads is undoubtedly using data recovery software. There are various options now in the market and you can pick the one you think is the most suitable. But here, we will present you with a useful and effective tool-WorkinTool Data Recovery. It provides six recovery methods for different data loss scenarios, including:
Deletion Recovery: It allows you to recover the files deleted or lost from your Google Chrome.
Format Recovery: It enables you to get back the formatted Chrome downloads from your PC folders, disk partitions, SD cards, etc.
USB/Memory Card Recovery: Bring back the disappeared Chrome downloads from mobile devices like USB, HDD, memory card and more.
Recycle Bin Recovery: Quickly and precisely retrieve and recover the Chrome downloads erased or cleared from the Recycle Bin.
Disk Partition Recovery: Effectively repair Chrome download loss due to missing disk partitions.
Deep Recovery: A more complete and time-consuming search mode will be adopted to find the vanished files downloaded from Google Chrome in order to maximize the recovered data. It is quite suitable for getting permanently deleted Chrome downloads back.

It takes approximately five steps to get back your accidentally or permanently deleted downloads from your Google Chrome.
Please read the following instruction:
Step 1. Open WorkinTool Data Recovery and then select a scene for recovery.
(The default opening interface is scene mode. You can switch it to wizard mode as you want.)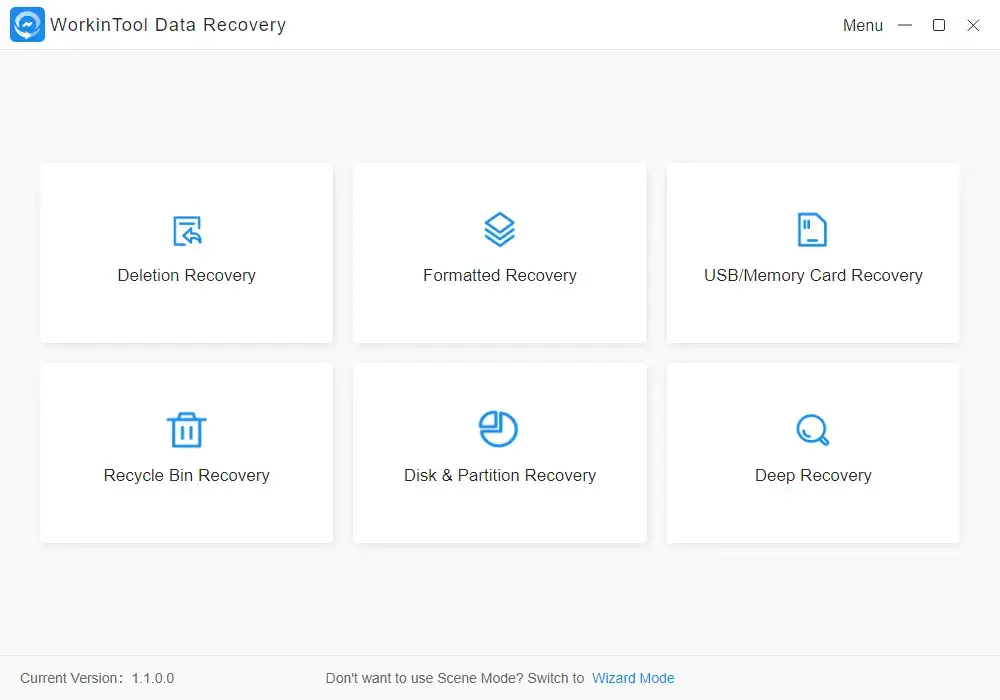 Step 2. Choose a location from which your downloaded files from Google Chrome are lost and then click Next.
(Tick the Recycle Bin or the whole disk one by one if you are unsure where they are missing.)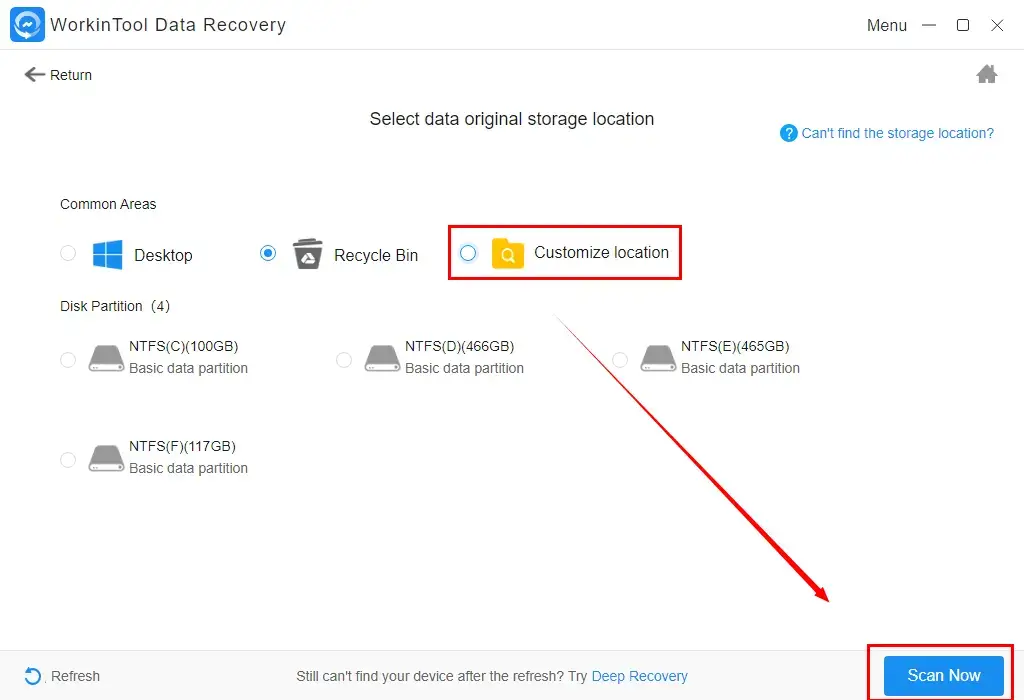 Step 3. Two methods are available in this step:
Method 1: Navigate to Filter, pick all the file types that apply, then click Sure and Recover.
Method 2: Tick all the options that apply under this folder and then press the Recover tab.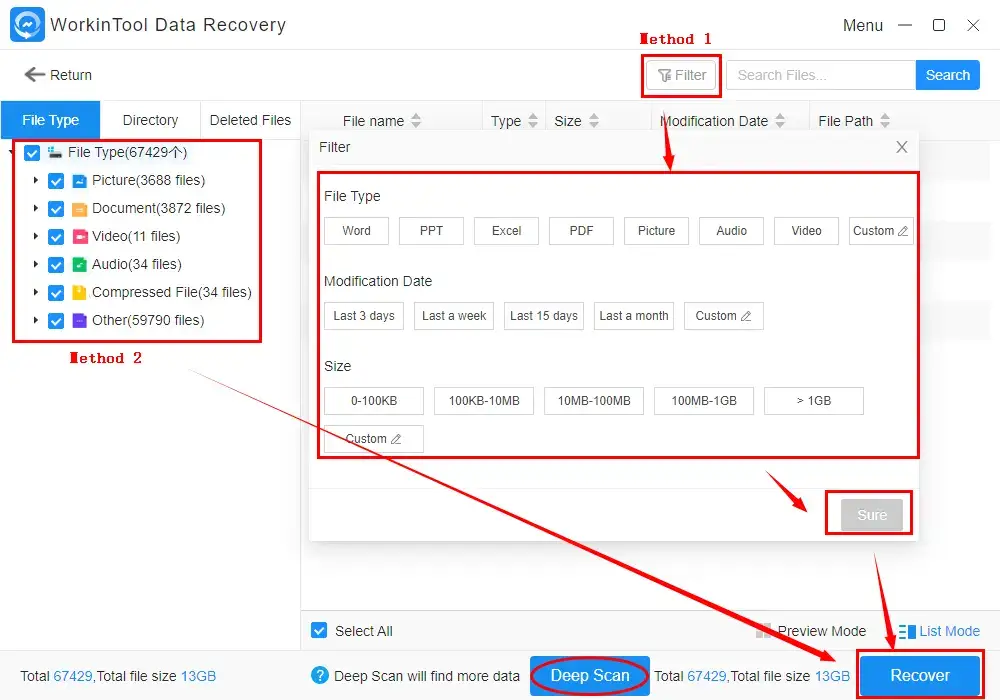 Deep scan is available if you are unsatisfied with the current outcomes. It is exceedingly suitable for retrieving and recovering permanently deleted Chrome downloads on your PC or laptop. This mode will prompt the software to undertake a deeper scanning of your computer and bring back more previously downloaded files from Google Chrome. However, it will be time-consuming, so please be patient.
Step 4. Check all the choices (a process required if you choose Method 1), hit Recover again, set the save path as you like and then click Sure.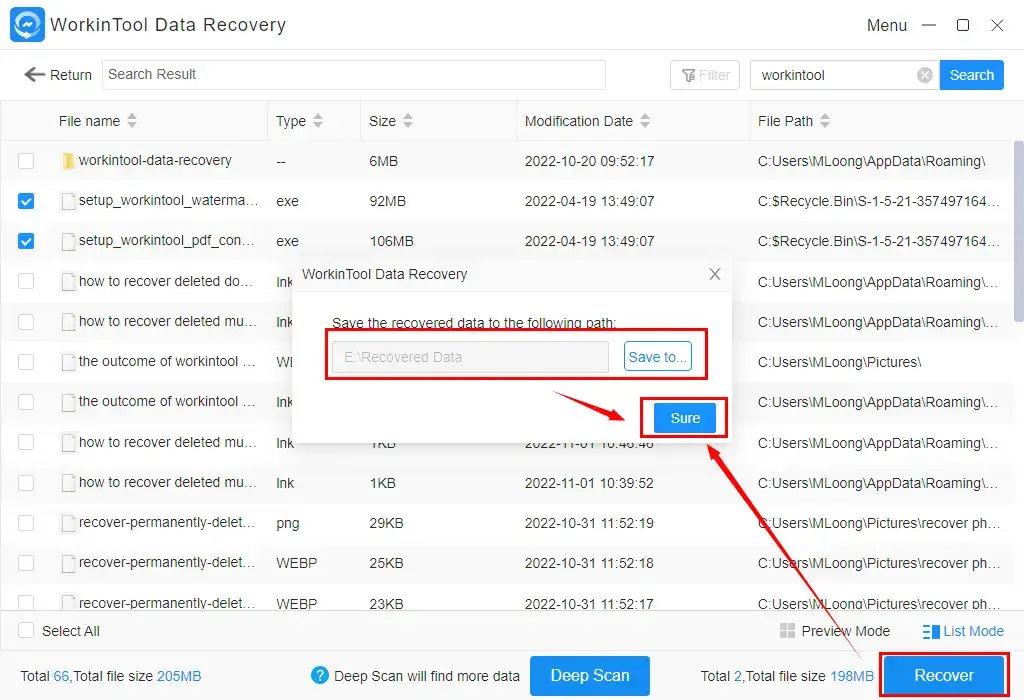 Step 5. Hit Open to lead you to the recovered files downloaded from Google Chrome.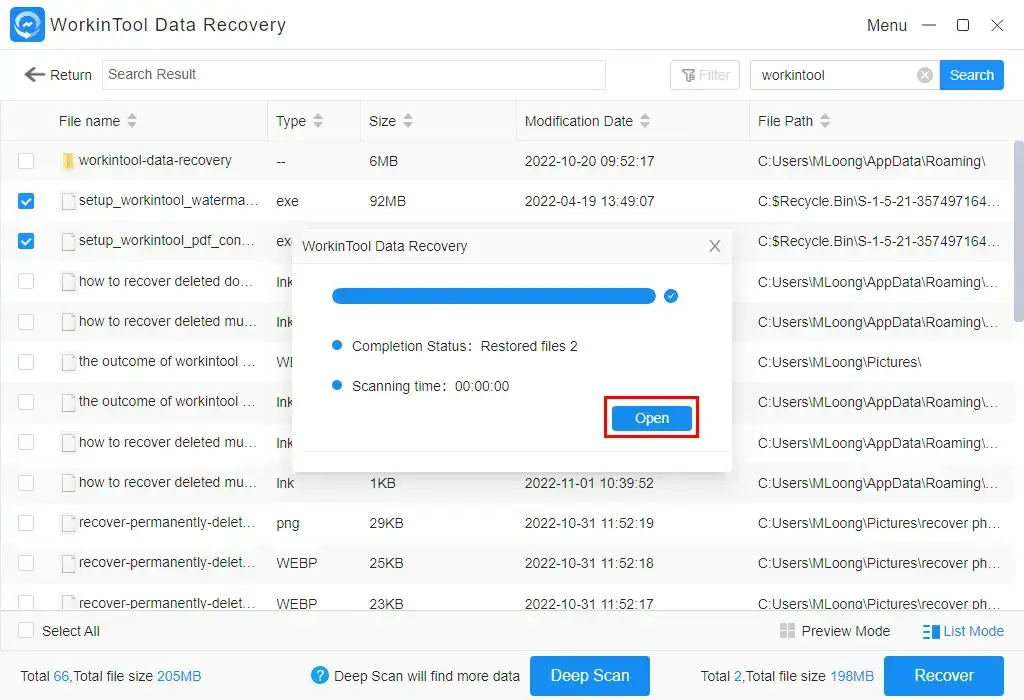 The Outcome

PS: WorkinTool is even able to find back the previous folders and sub-folders to store your deleted Chrome downloads.
Additional Words
🔑Why should you choose WorkinTool Data Recovery?
WorkinTool Data Recovery is a new but crucial member of the WorkinTool product family. It captures the users' minds instantly through the following features:
Cost-effective: It offers 500MB of free recovery capacity and cost-effective plans, starting at $23.99/month (discount price).
Easy to use: For most of its recovery features, WorkinTool takes you approximately five steps to recover all the desired files or data downloaded from Google Chrome.
Multiple Formats: WorkinTool can bring back all the common downloaded files or data from your Google Chrome, including office documents, PDF files, audio, videos, E-mails, archives and other essential files.
Batch Recovery: WorkinTool allows you to restore unlimited data in batches, which effectively enhances your working efficiency.
Missing Partition Recovery: As a piece of free partition recovery software, it is simple and effective for you to get back the deleted files as a result of missing disk partitions.

🔑What can WorkinTool Data Recovery exactly do?
WorkinTool Data Recovery enables you to find and retrieve plenty of data as follows:
---
Bonus Tip for Google Chrome Downloads
📝How to stop Chrome from blocking downloads?
It is far from challenging to unblock downloads on Google Chrome. Here comes the guidance:
1. Click the horizontal dotted line on the upper right of Google Chrome and then find Settings.

2. Navigate to Privacy and security > Security.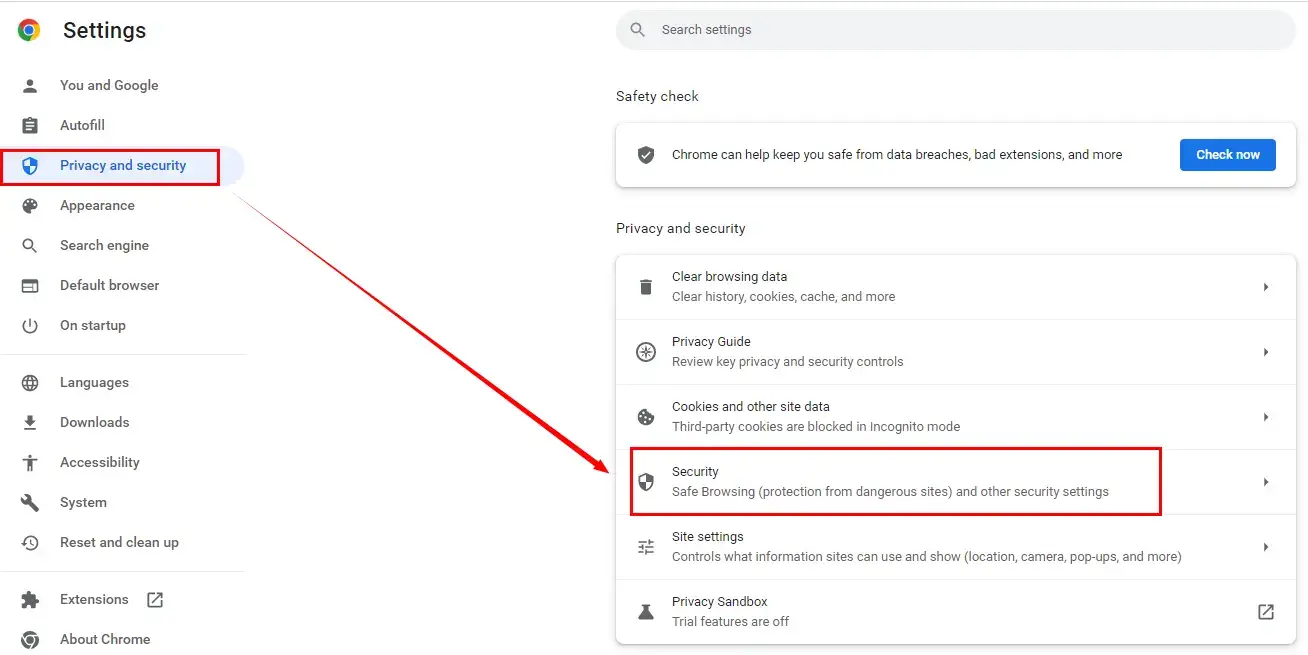 3. Choose No protection to turn off chrome blocking downloads.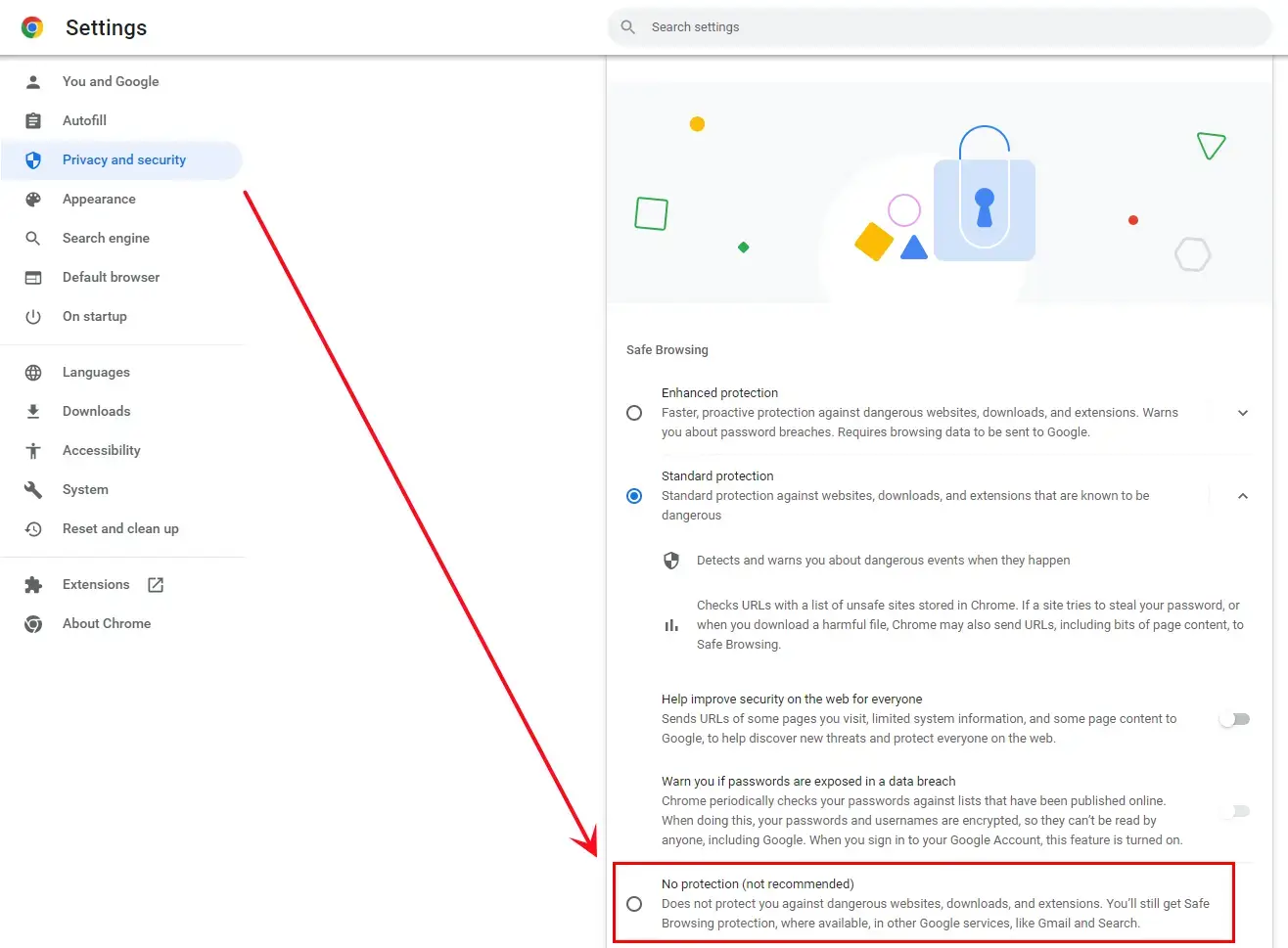 📕Warning
You should read Google's official reminder when you make this option since it is not recommended by it.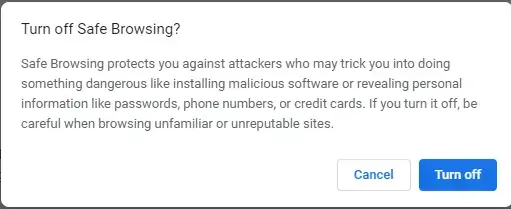 ---
Final Thought
This is all our discussion about how to recover deleted downloads on Google Chrome. All the methods are easy to operate and free of charge, so we sincerely hope you can find your ideal solution. However, it is strongly advisable to try WorkinTool Data Recovery.
Now, are you ready to retrieve your deleted Chrome downloads?