How to Recover Favorites or Bookmarks in Microsoft Edge
What can you do when you find your Edge favorites or bookmarks go missing? Please worry not. Today, we will present you with a post focusing on how to recover favorites or bookmarks in Microsoft Edge. The solutions advised here prove to be practical and effective. You will read the following topics:
💡How to Restore Favorites or Bookmarks in Microsoft Edge Without Tools–Microsoft Edge Legacy and Restore previous versions
💡How to Recover Favorites or Bookmarks in Microsoft Edge with Tools–Data Recovery Software (WorkinTool Data Recovery) and Windows File Recovery
However, it is highly recommended to try WorkinTool Data Recovery since it is:
💖FREE trial plan to recover 500-MB files
🧡Temporarily and permanently deleted data recoverable
💛High recovery rate
💚Easy to use and green
💙Multiple file formats supported
💜Batch recovery available
💝Partition recovery possible
How to Recover Favorites or Bookmarks in Microsoft Edge [4 Proven Solutions in 2023]
Hi, everyone. I think I have trouble here. I added a webpage to the favorites lists of my Edge last week. However, it can't be found anywhere in it today. Do you have any idea of getting it back?
What can you do in face of such a situation? Today, we will present you with a post focusing on how to recover favorites or bookmarks in Microsoft Edge. The solutions advised here prove to be practical and effective.
Now, let's begin our journey.
---
Something to Say Before Edge Favorites/Bookmarks Recovery
📌What is Microsoft Edge?
Microsoft Edge is the internet browser developed by Microsoft and initially released in 2015, so it is the default browser that automatically appears in Windows operating system. Compared with Microsoft's old flagship internet browser–Internet Explorer (IE), it embraces immense improvements and possesses enough features powerful enough to be a real alternative to more popular browsers like Google Chrome or Firefox. That is why it now takes the place of IE and becomes the only default browser in your Windows OS.
📌Why do I lose favorites or bookmarks on Microsoft Edge?
The common reasons for favorite or bookmark record loss are as follows:
Virus Attack
Software Breakdown
Inadvertent Deletions
Microsoft Edge Updating
Hardware Corruption or Damage
So when your favorites or bookmarks vanish in your Edge, what should you do? Please read on to know the answers instructed by the following topics:
How to Restore Favorites or Bookmarks in Microsoft Edge Without Tools?
How to Recover Favorites or Bookmarks in Microsoft Edge with Tools?
Now, let's take a look at the central theme.
---
How to Restore Favorites or Bookmarks in Microsoft Edge Without Tools
In this chapter, we will introduce you to two helpful ways to retrieve favorites or bookmarks in Microsoft Edge.
1. Restore Favorites or Bookmarks in Microsoft Edge from Microsoft Edge Legacy
Microsoft Edge Legacy contains the older version of your favorites or bookmarks. It is suitable to bring back the relevant information from your previous favorites folders. Here is what you need to do:
1). Click the star icon or perform the shortcut operation–Ctrl + Shift + O to open Favorites bar.
2). Press the three-dot icon and then click Import favorites.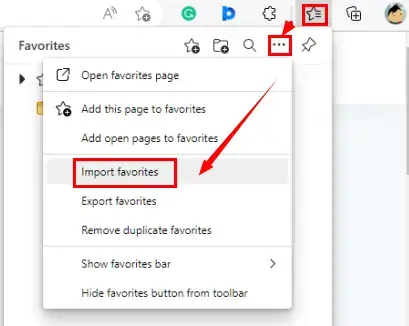 3). Then hit Choose what to import to open a new window.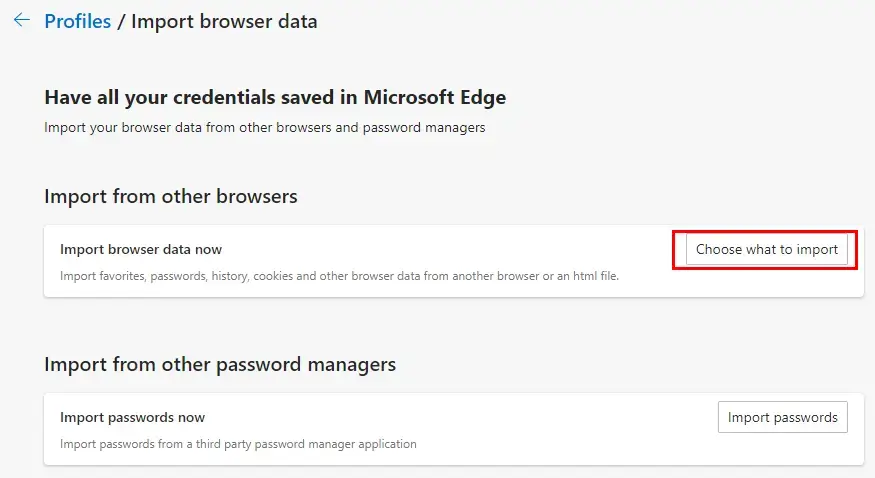 4). Select Microsoft Edge Legacy in the drop-down box, tick Favorites or bookmarks only and then click Import.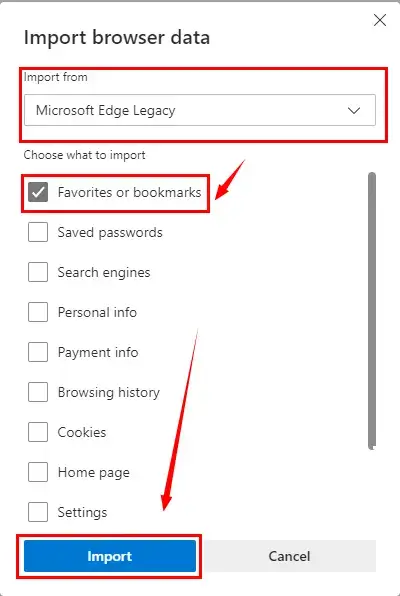 Then you wait until the previous favorite or bookmark records come back.
2. Retrieve Favorites or Bookmarks in Microsoft Edge via Restore Previous Versions
You can manually restore lost Edge favorites or bookmarks with the help of a built-in backup service–Restore previous versions in Windows OS. This approach also serves to find the older versions of your browser records. Please read the following guidance:
1). Type favorites (Windows 10 and 11) or C:\Users\Username\Favorites (Windows 7 or lower) in the upper search bar to locate the Favorites Bar (Windows 10 and 11) or Favorites (Windows 7 or lower) folder.
2). Right-click the folder to open a pop-up menu and then select Restore previous versions.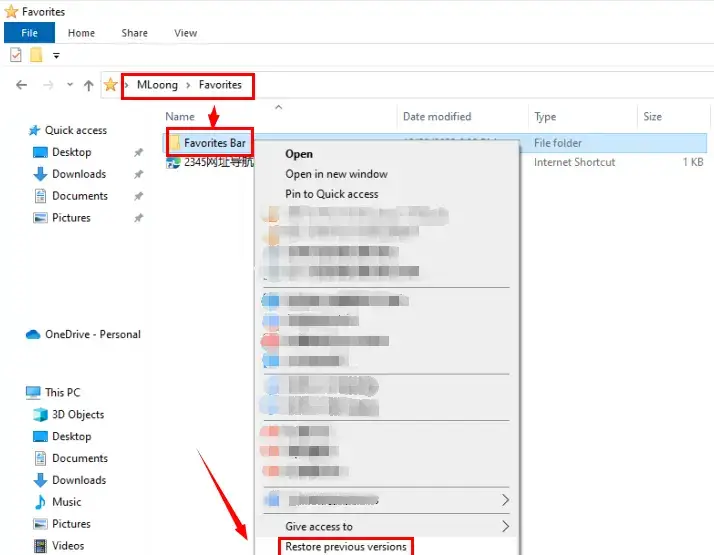 3). Choose the wanted previous records and then click Restore > OK.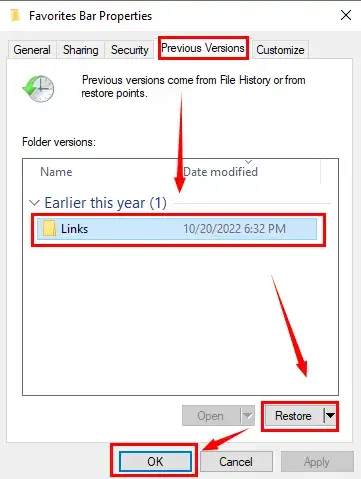 However, both solutions will only work if you have a backup of your favorite or bookmark records. So what should I do when there are no such backups? Please worry not by continuing your reading to learn how to recover favorites or bookmarks in Microsoft Edge with tools.
---
How to Recover Favorites or Bookmarks in Microsoft Edge with Tools
A proper tool will be handy to help you get more removed favorites or bookmarks in Microsoft Edge. This chapter will acquaint you with two practical tools to recover your Edge favorites or bookmarks.
1. Recover favorites or bookmarks in Microsoft Edge Through WorkinTool Data Recovery
Data Recovery software will be the most guaranteed way to bring back the most favorite or bookmark records effortlessly and instantly. WorkinTool Data Recovery is a useful tool like this. So please follow the steps to use WorkinTool to restore your erased Edge favorite or bookmark:

Step 1. Click open WorkinTool Data recovery and then pick a recovery scene.
(If the opening interface is Wizard Mode, you can switch it to Scene Mode to enjoy this feature.)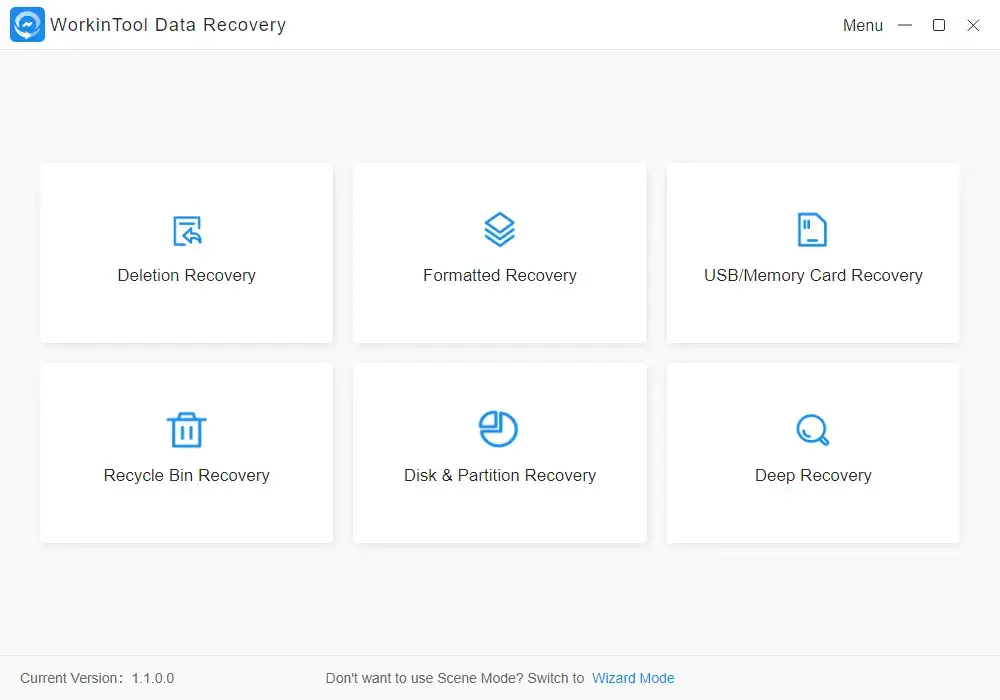 Deletion Recovery

It targets the recovery of the files deleted or lost on your PC or laptop.

Format Recovery

It is designed to retrieve the removed files from formatted disks or devices.

USB/Memory Card Recovery

It enables you to restore the disappeared files from mobile devices like USB, HDD, SD cards and more.

Recycle Bin Recovery

It helps to easily and instantly recover files permanently erased or cleared from the Recycle Bin.

Disk Partition Recovery

Effectively repair file loss as a consequence of missing disk partitions.

Deep Recovery

This mode aims at the maximum recovery effect, so it will adopt a more complete and time-consuming search mode to find the eliminated files. Hence, it is pretty suitable for the restoration of permanently deleted files.
Step 2. Hit Customize location, find and choose Favorite Bar and then click select folder > Scan Now.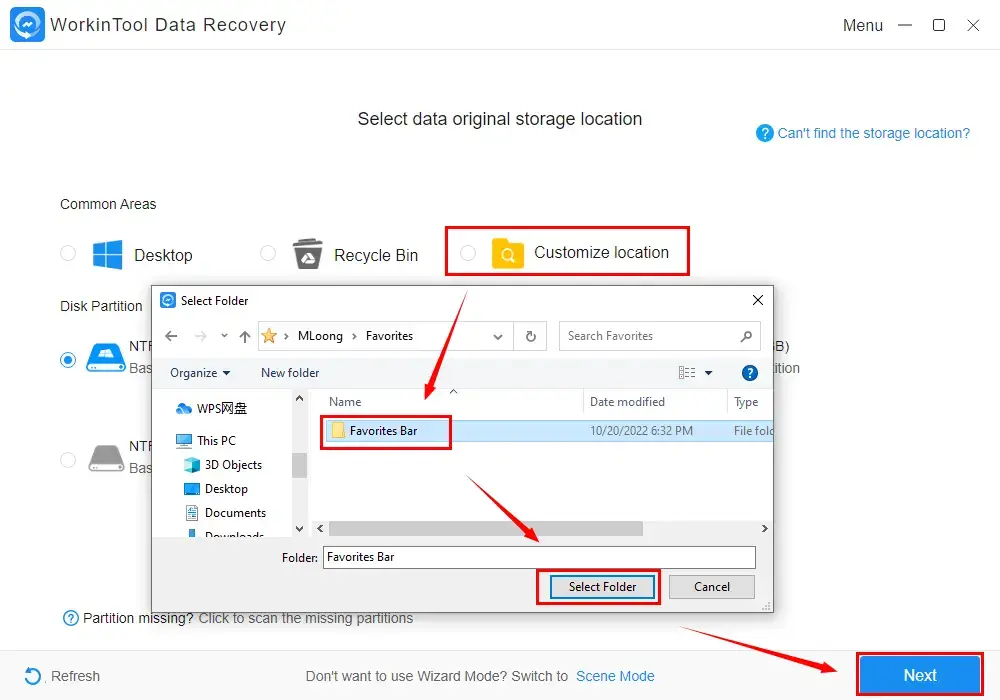 Step 3. Navigate to Directory > Program Files (x86) > Microsoft > then all the records that apply > Recover.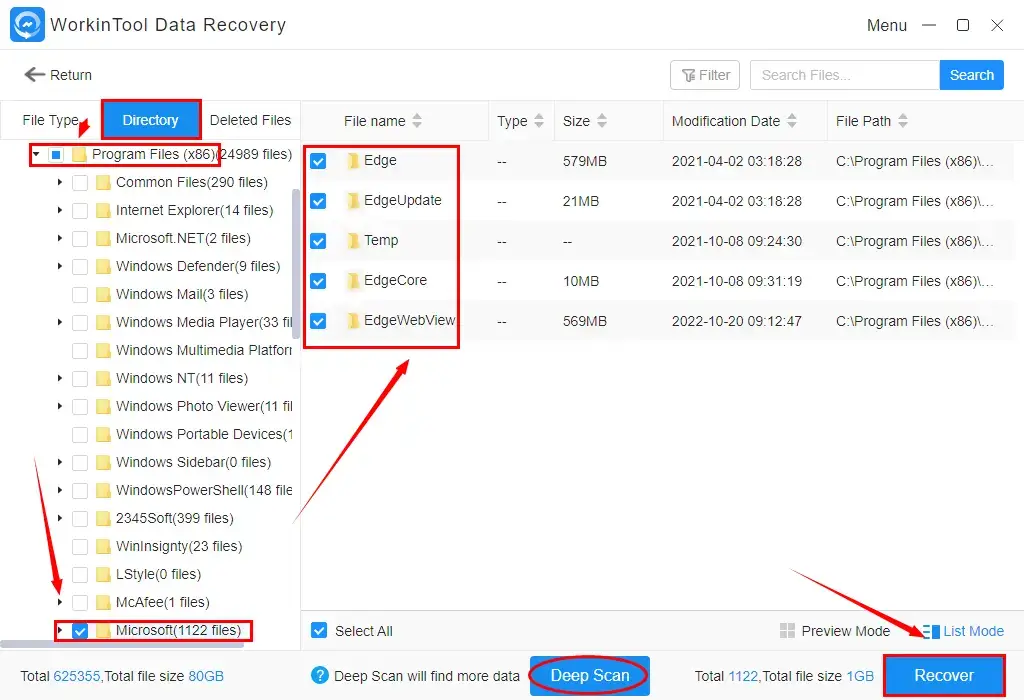 📣PS: A Deep scan is optional if you are discontent with the retrieved data at present. This mode will enable the software to scan your computer deeper and get back more lost records. However, it will be time-consuming, so please be patient.
Step 4. Set your save path and then hit Sure in the pop-up window.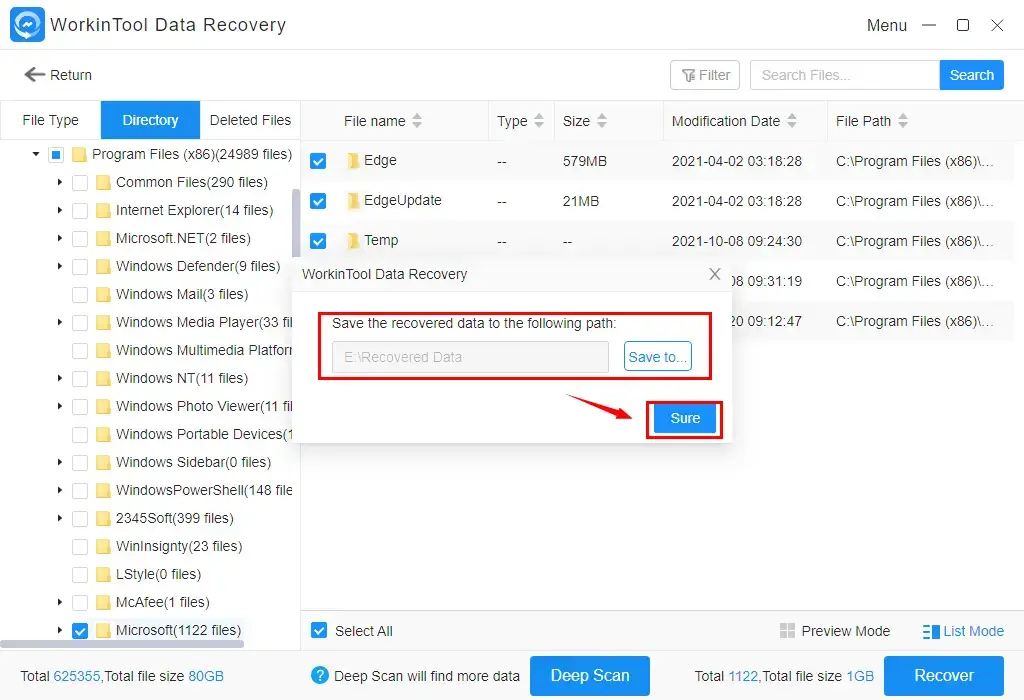 Step 5. Then click Open to find your recovered Edge favorite or bookmark records.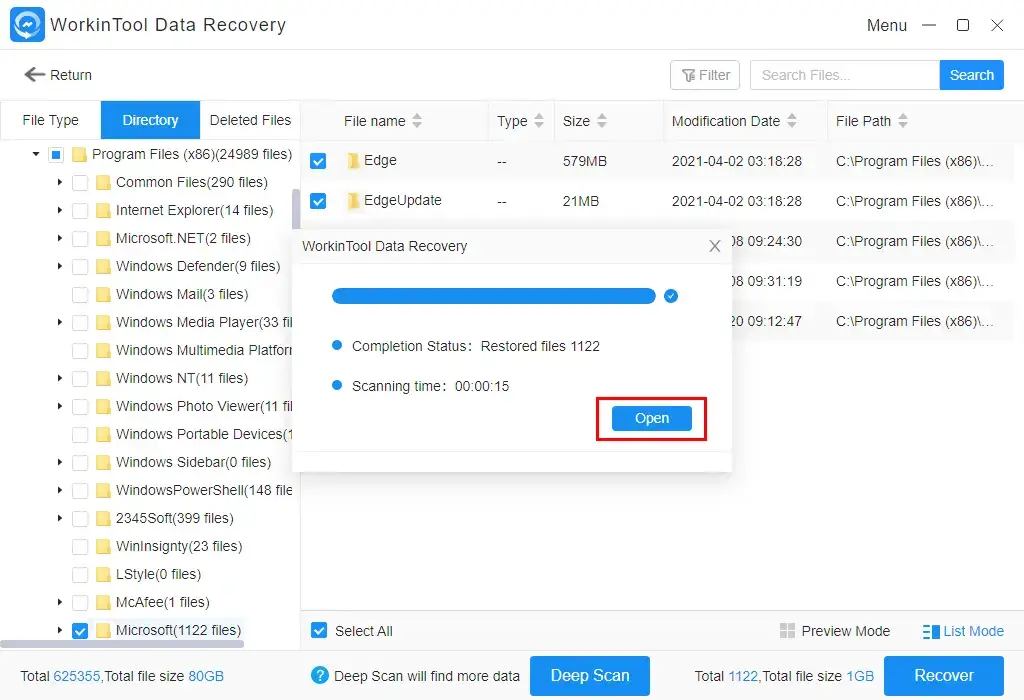 Additional Words
💡Why is WorkinTool Data Recovery ideal for you?
WorkinTool Data Recovery is a useful and powerful data recovery tool designed to bring back your temporarily or permanently deleted multi-formatted files. It captures the users' minds quickly thanks to the following features:
Easy to Use: For most of its recovery features, it takes approximately five steps to finish your data recovery.
Multiple Formats: It allows you to recover all the common files or data on your computer, including office documents (Word, Excel and PowerPoint), photos, PDF files, audio, videos, emails, ZIP files and other essential ones.
Batch Recovery: It helps to retrieve unlimited data in batches, so it will effectively enhance your working efficiency.
Partition Recovery: As a piece of free partition recovery software, it offers your an effortless experience in getting back the deleted files due to missing disk partitions.
Currently FREE: 500-MB files can be recoverable within its free-trial plan and no compulsory registration is required to enjoy its features.
Cheaper Price: Its license fee is much less expensive than other tools in the market.
Green: No ads will appear in your data recovery, whether you choose its free trial or premium plan.

💡What else is WorkinTool Data Recovery able to do?
WorkinTool Data Recovery allows you to
2. Restore Favorites or Bookmarks in Microsoft Edge Using Windows File Recovery
Windows File Recovery is a Microsoft-developed program aimed at data recovery from your backup folder or local storage devices like USB drives, memory cards and external drives. Please pay attention: you need to upgrade your system to Windows 10 version 2004 or newer to run this app. It isn't automatically installed on your PC, so you should get it from Microsoft Store.
Launch File Recovery to open a command prompt window.
Enter the command: winfr C: D: /n \Users\UserName\AppData\Local\Microsoft\Edge\UserData\UserName\Bookmarks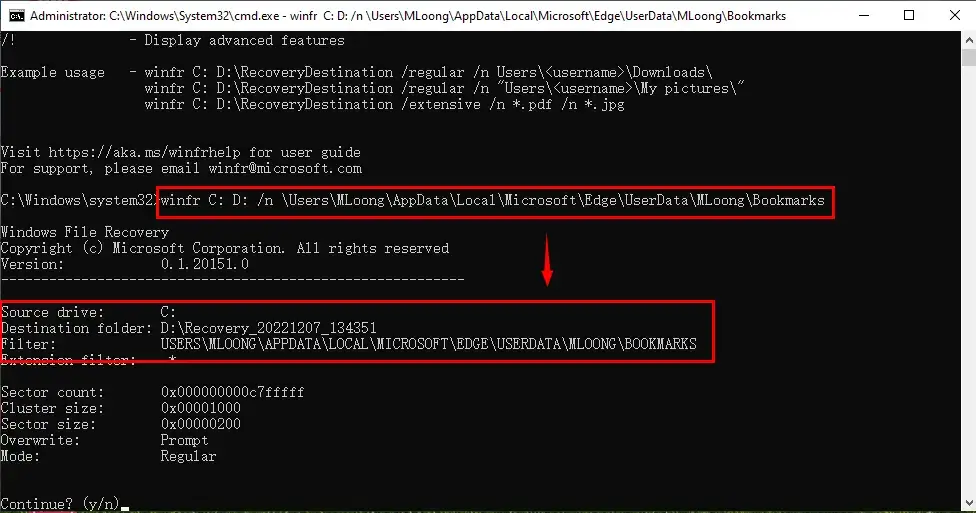 (D: means the destination drive, which is replaceable. You input any letter on behalf of your drive that you intend to save and access your bookmarks or favorites.)
So a recovery folder on the destination drive (in this example, D:) will be created to display the recovered records. Then copy the Bookmarks folder to your Edge Data Profile folder to access them.
---
Wrapping up
This is our discussion on how to recover favorites or bookmarks in Microsoft Edge. We hope that there is an ideal solution after you finish this article. However, it is strongly advisable to try WorkinTool Data Recovery.
So are you ready to restore your lost favorites or bookmarks in Microsoft Edge now?