How to Record Instagram Live with Sound Free
This post will elaborate on how to record Instagram live videos for free on PC, iPhone, iPad, and Android mobile phones in detail. It will introduce a powerful and professional desktop software – WorkinTool VidClipper, which can not only record the screen but also can re-edit the recorded video. In addition, it will present how to record screens with the built-in tools on iPhone, iPad, and Android phones. It mentions an efficient screen record application as well. Just check it to figure out your trouble.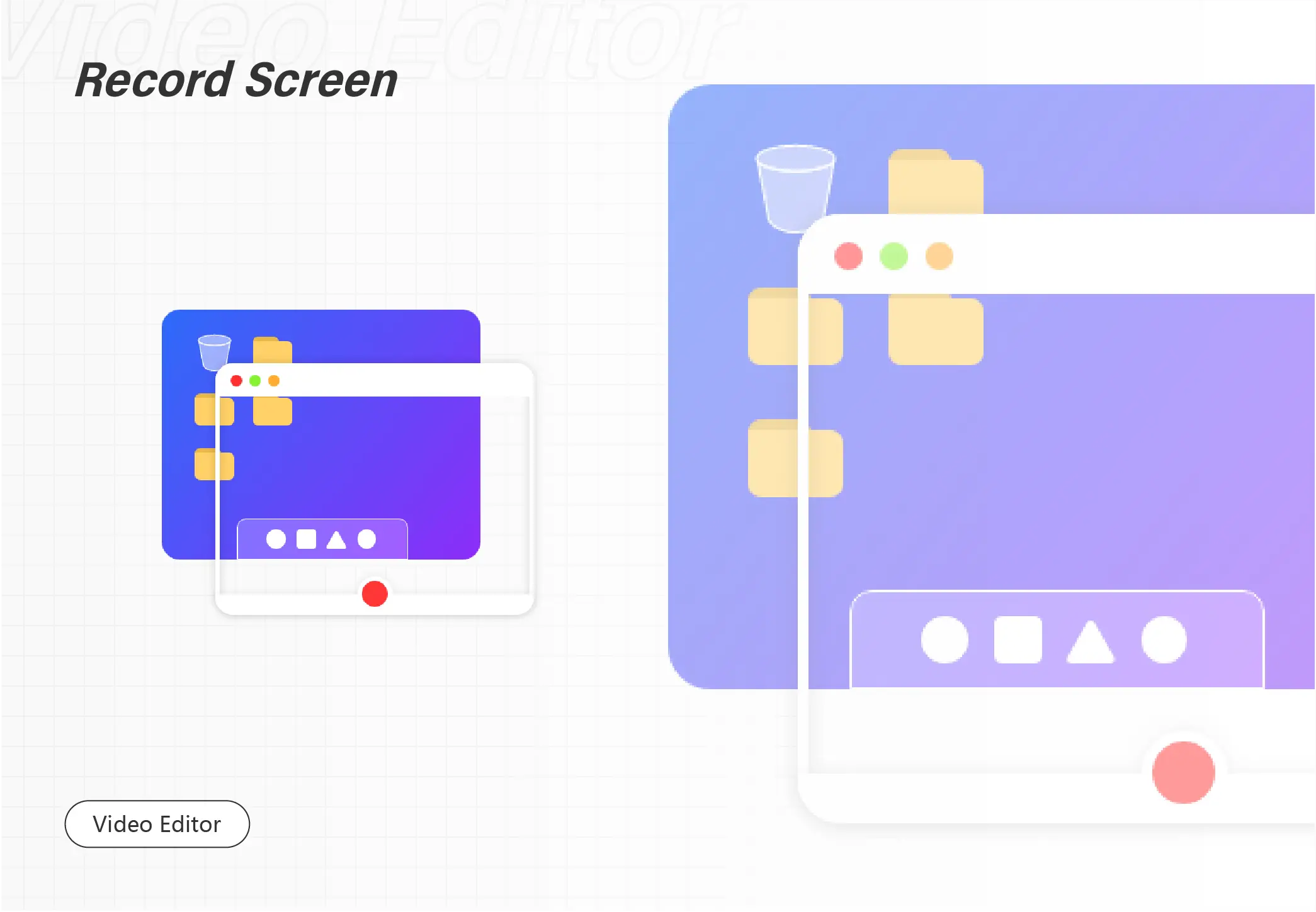 How to Record Instagram Live with Sound Free
Instagram is one of the most popular live broadcast social platforms. Many celebrities have created their own personal accounts and interacted with fans through live videos on it. However, Instagram does not support downloading other people's live videos, so what should I do if I want to save the live broadcast of the person I like? If you need to save live videos on iPhone, iPad, or Android phones, it is easy, as they have built-in recording tools.
If you want to save live Instagram videos on your computer, the most convenient way is to use third-party software to record the live screen. However, a truly effective and free screen recording software may be difficult to find. WorkinTool VidClipper is something I highly recommend among numerous software. It can help you record Instagram live FREE with system sound on your computer quickly and easily. With it, you can also save live Instagram videos without comments from others.
📌 How Can I Record Instagram Live with Sound on PC
Instagram Live Record with WorkinTool VidClipper
WorkinTool VidClipper is a professional and effective video editor that is launched recently. It can also fulfill recording computer screen and edit it during and after the recording process. There are plenty of reasons why you can pick to record Instagram live videos among numerous screen recorders in the market.
Firstly, it is totally free without time limits for users. Some software advertises as free, but limits the duration of use, the number of times of use, watermarks, etc., and asks you to subscribe to their advanced features. WorkinTool provides various functions and numerous editing elements for free to all users.
Secondly, capture the screen with it, and you can export videos in high quality with system sound or microphone sound. It is feasible to select the output quality as SD, HD, and ordinary, and decide the output format as MP4, FlV, or AVI.
Third, autostop is available. If you don't have time to wait for the recording process. You can set when to stop. The recording frequency is optional as well.
Lastly, another benefit that makes it prominent is that it is in favor of post-producing the recorded video. You can add subtitles, special effects, transitions, background music, text, etc. to re-edit the live stream video.
How to Record Live Stream with WorkinTool VidClipper
Step1. Launch WorkinTool VidClipper, then choose Screencast at the main interface.
Step2. Set the recording area, recording audio, exported format and quality, and the saving path of the new video. It can capture the entire screen of your computer and record specific areas according to your settings. If you need to record a third-party software, you can select to record a specific area.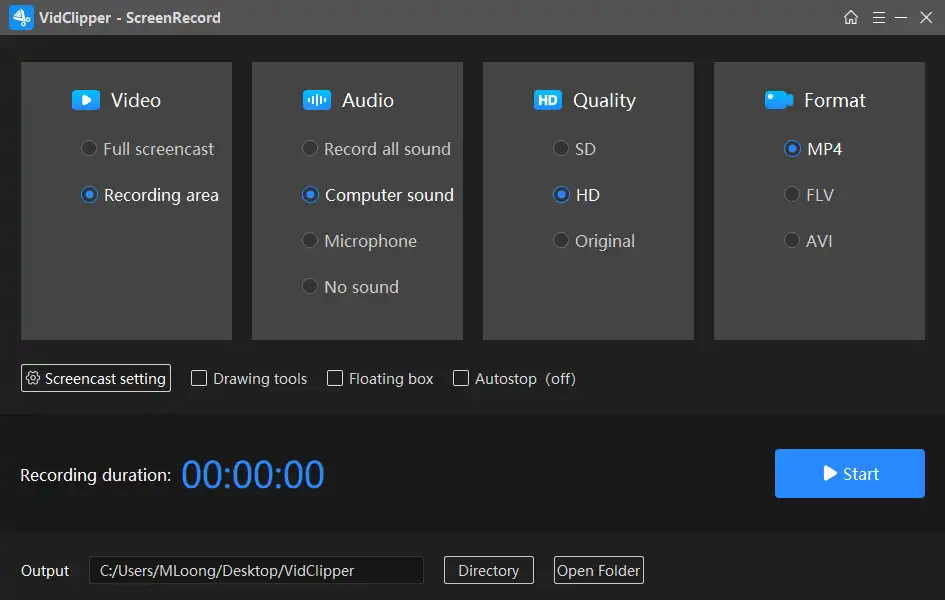 Tip: If you need to stop recording automatically, just open the Autostop button, and set the recording duration and frequency.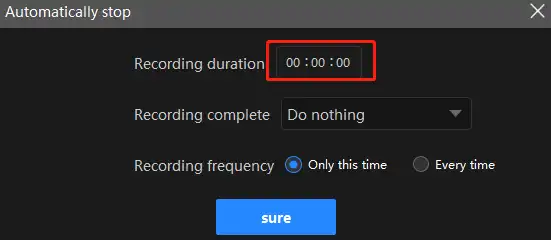 Step3. Click Start to record. There will be a flow bar where you can edit or stop the video recording with it.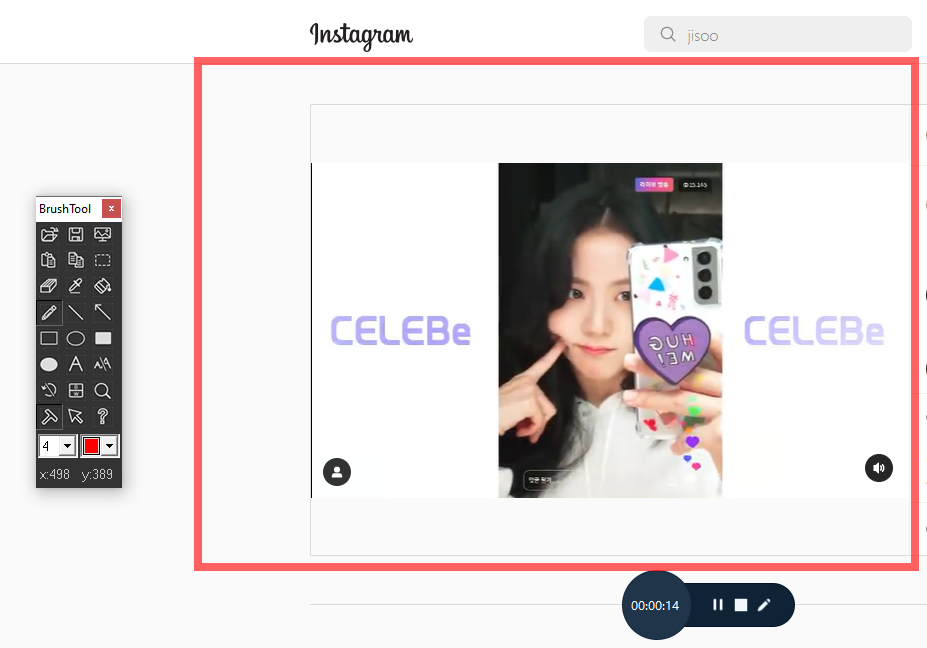 Step4. Check the recorded video by tapping Play, or send it to edit by clicking Add to clip.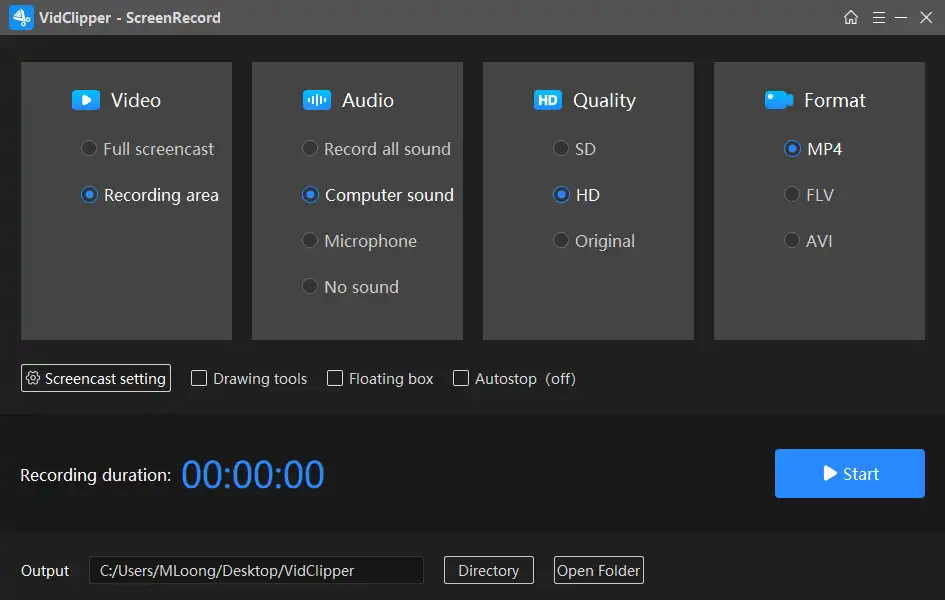 Note: If you want to record a live stream on Instagram without comments, just turn off the comments and then record it.
Other Tutorials about WorkinTool VidClipper
📌 How to Record Instagram Live on iPhone/ iPad/Android
iPhones and iPads that are in iOS 14 and later have their own screen recording function, which can create screen recordings and capture sound and the recorded videos will be saved directly in the picture album. Here is a step-by-step tutorial on how to record Instagram live on iPhone and iPad.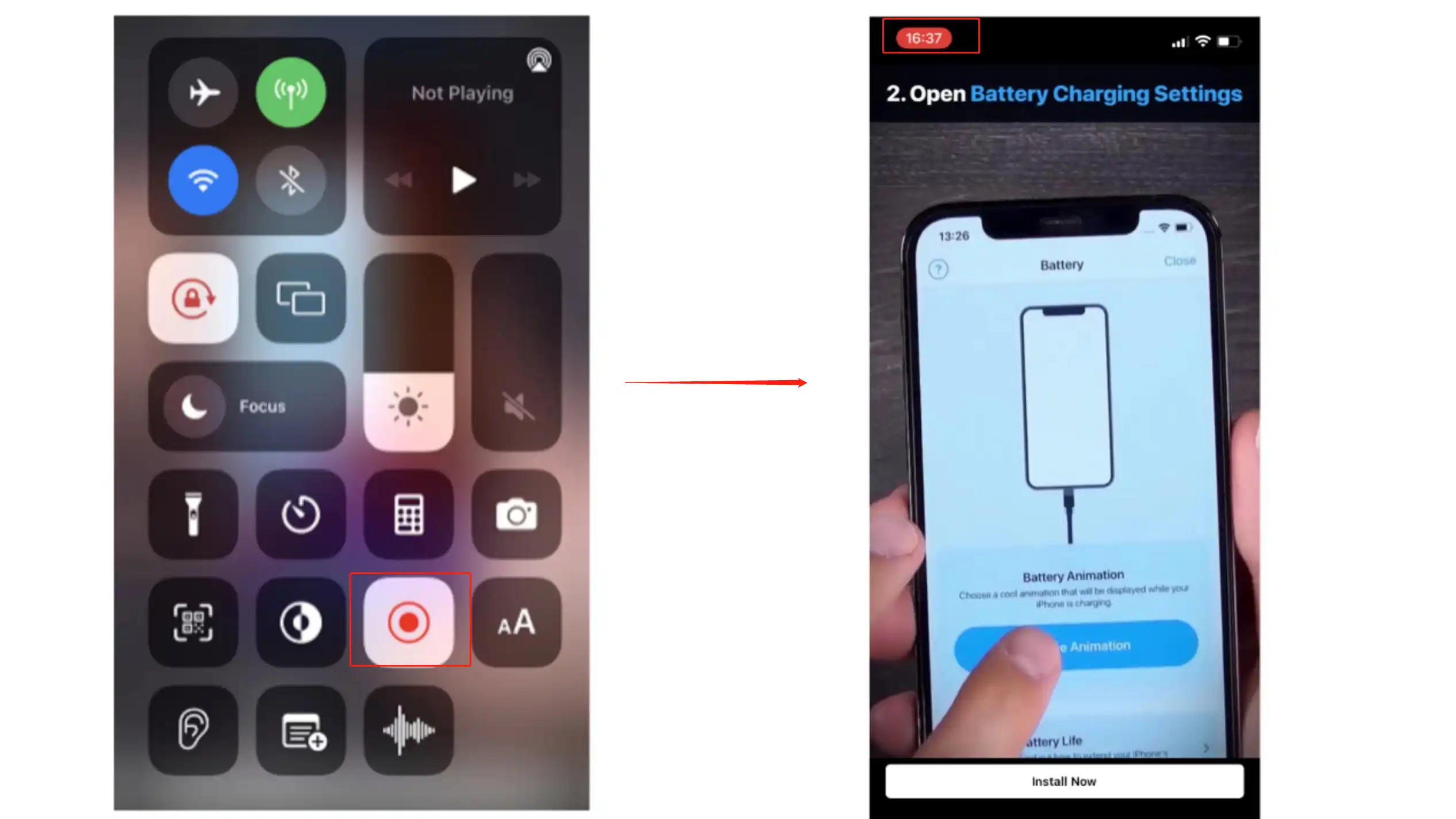 Step1. Go to Settings > Control Center, then tap Screen Recording to add.
Step2. Open Control Center, tap the screen recording icon, then wait for the three-second countdown. Turn on the Microphone audio if you need to screen record with microphone sound. Then open the live show you want to record.
Step3. To stop recording, open the Control Center, and tap the red recording button again to stop.
Step4. Check out the video from your photo album.
Capture Screen by Default Function of Android
Many Android phones now also have a built-in screen recording function, and the operation is basically the same as that of iPhones and iPads.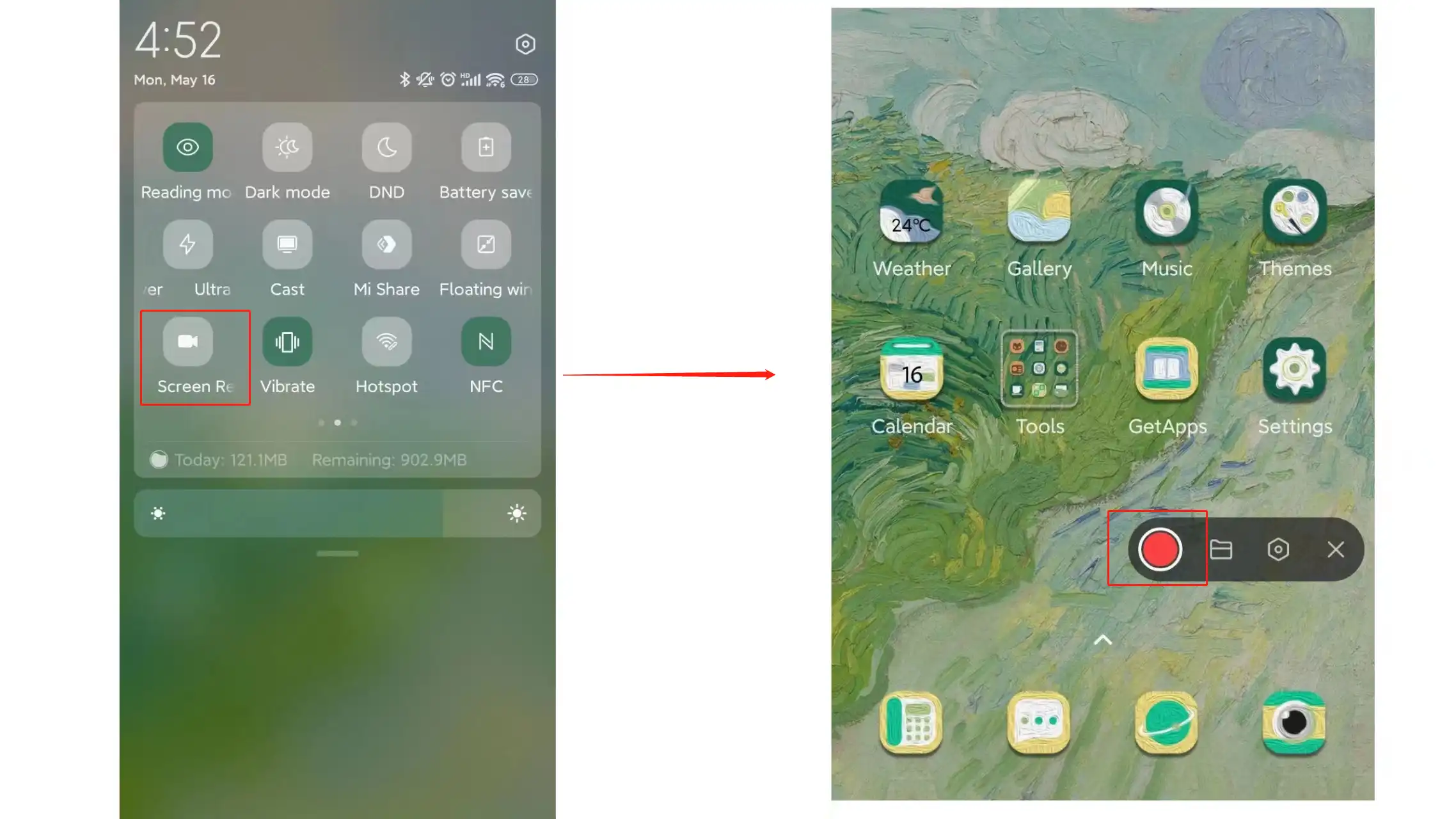 Step1. Pull down the main screen to find the system tools, then find the screen recording button to open. If not, click the settings button to add it.
Step2. Click the red button to start capturing, then open the Instagram live stream to record.
Step3. Past the red button again to stop recording, then check it in the picture folder.
Record with Screen Recorder App
If your mobile phone or system do not equip with a screen recording function, you can also choose professional screen recording software to record the Instagram live broadcast. AZ Screen Recorder is my pick from more than a dozen free screen recording software. It has no limit on the duration of use and can also export HD videos. It works on both Android and iOS, you can use it with ease. Furthermore, it is easy to use as well.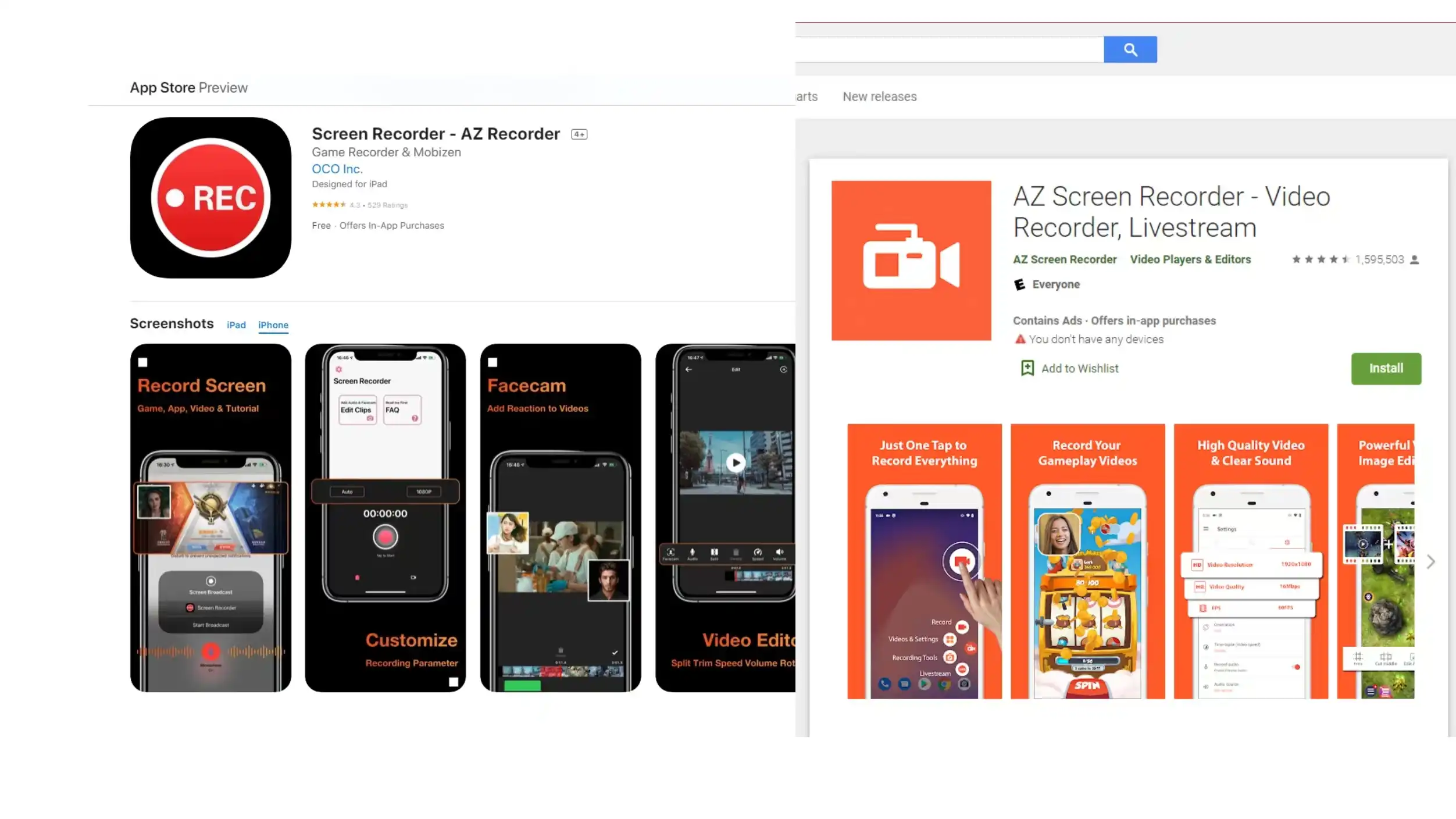 First, you can download it from the Apple Store or Google Play.
Second, open it, then decide to record the screen with system audio. Then launch Instagram to record.
Finally, stop recording by tapping the stop button and check the recorded video.
Wrapping Up
In this post, I have presented how to record Instagram live with sound on your computer, iPhone/iPad, and Android mobile phones. I'm convinced that you have already settled your problem after your careful reading.
As for Instagram live records on PC, I highly recommend the screen recording software – WorkinTool VidClipper, for it is easy to use, powerful, and completely free for all users.
As for saving Instagram live videos on mobile phones, you can use the default screen recording tool, or download the effective screen capturing app – AZ Screen Recorder.
Hope this post can give you some helpful aid.
Products Reviews:
TrustScore
4
|
323
reviews