How to Screen Record on Discord with Audio in 2023
Wondering how to screen record on Discord? WorkinTool VidClipper can easily record video calls, discord streams, and chat room screens with system and microphone audio. With it, you can export the recorded video in HD and multiple formats, like MP4, AVI, FLV, etc. Post-producing, like trimming, speeding up, adding elements are available as well. It's completely free to download and use now. Just have a free trial.
How to Screen Record on Discord with Audio in 2023
Discord is the most popular social gaming platform nowadays. It allows you to chat with your friends, and share in the gaming community by voice, video, and text. The software has hundreds of millions of users, making it one of the world's most popular ways to connect with friends online. Discord is available on almost all popular platforms and devices, such as Windows, macOS, Linux, iOS, iPad, and Android, and can also be run through a web browser. It is in favor of making video and audio calls and starting a live stream.
So, what if you want to record a video call or live stream on discord? Unfortunately, Discord does not have a built-in recording function, so we need to find professional screen recording software to achieve this. WorkinTool VidClipper is what I'd like to highly recommend. It is so powerful that it can not only record a full screen or specific screen with system sound, microphone voice, etc. but also can post-produce the recorded video by trimming, converting to other formats, speeding up, etc. In this post, I'll mainly talk about how to screen record on Discord for FREE with audio on PC and mobile phones with effective screen recording tools.
📌 How to Screen Record on Discord on PC
Record Discord Stream/Video Call with Audio with WorkinTool
WorkinTool VidClipper is an all-around video editor, which also realizes screen recording. It is suitable for the Windows system. It has rich recording functions, but it features simple operation methods that even beginners can use. Besides the basic full-screen recording, you can also have rich recording features such as recording only a part of the selected screen, webcam recording, game recording, system recording, microphone recording, etc. It offers you multiple recording modes as well. You can decide whether to record the system or microphone audio, and select the output video quality in HD, SD, or original.  You can also use basic video editing functions with this software during the recording process. If you need more advanced editing functions, it is so convenient that you can add the recorded video to re-edit directly.
How to Screen Record Discord on Windows with WorkinTool VidCilpper 
Step1. Launch the software, then select Screen Records from the main interface.
Step2. Set the recording area, recording audio, output quality, format, etc. Then open the Discord interface that you want to record, then click Start.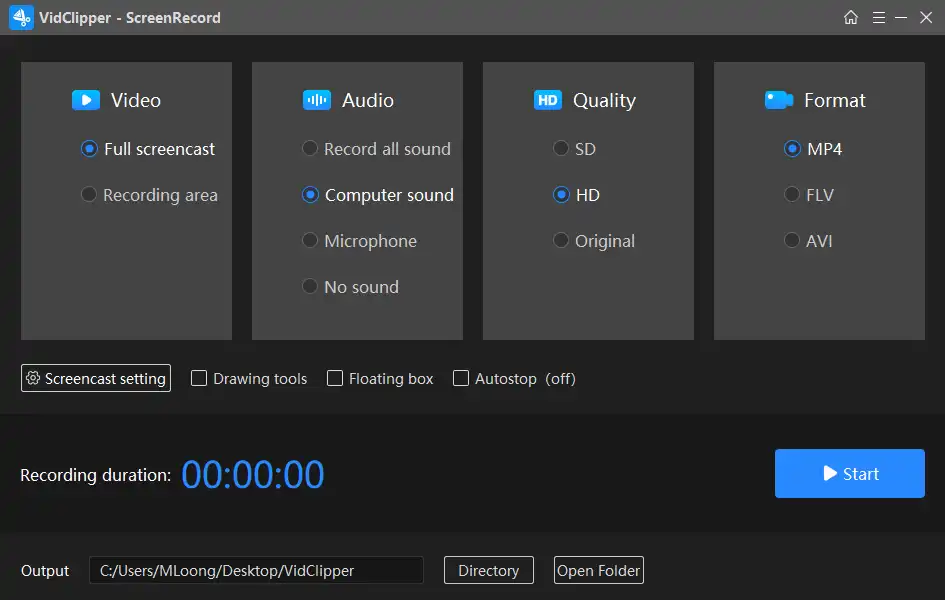 Step3. Click the edit or stop button on the flow bar to edit the video or end the recording process.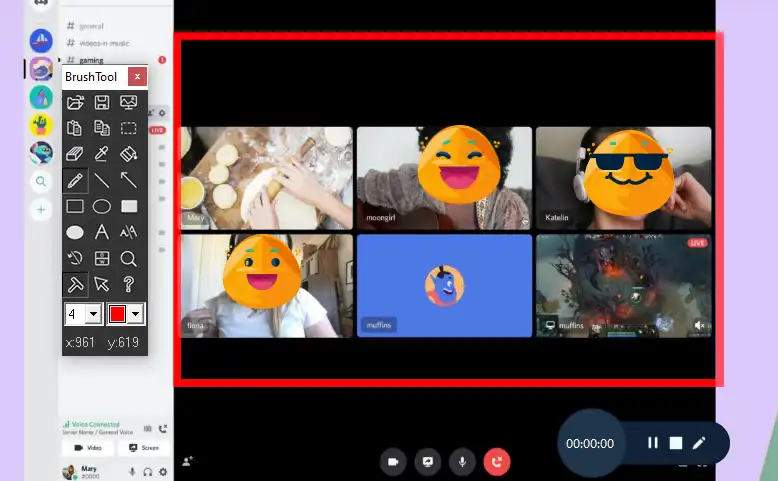 Step4. Play or re-edit the recorded video.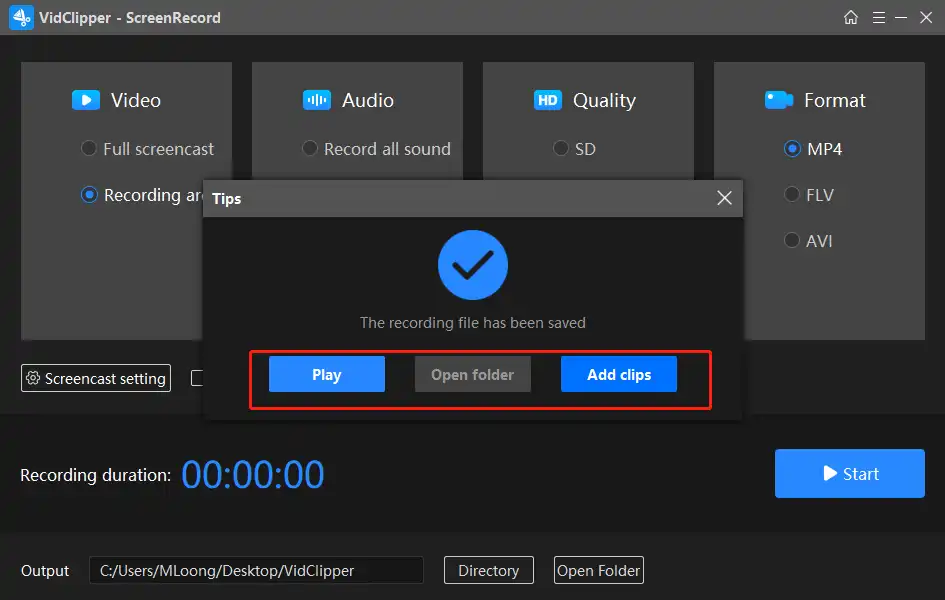 Note: You can set a time to end the record in it so that you don't have to wait for the recording process. Just turn on the Auto-stop button. Indeed, this function is quite user-friendly.
Why Choose WorkinTool VidClipper
There is plenty of screen recording software on the market. They each have their advantages and disadvantages. So why should I pick WorkinTool among numerous screen recorders? That is because WorkinTool VidClipper combines many benefits in one. Here is a conclusion of the reason that I'd like to suggest it to you.
Free with no limits on recording time and other operations
Record screen video and audio simultaneously
Edit with text, lines, arrows, and more in real-time
Advanced Video Editing Features
Timed recording: stop recording automatically
Save the recorded video in formats such as MP4/FLV/AVI
High-quality output: HD, SD, and original quality are optional
Other Usages of WorkinTool VidClipper
As I mentioned before, WorkinTool VidClipper can be used to re-edit the recorded video. Its multiple usages make it prominent among various screen recorders. Now let's see what other functions it is bound to.
📌 How Can You Screen Record Discord on Mobile Phones
Screen Record Discord screen on mobile phones is quite easy, as most smartphones are now equipped with default screen recording tools. Although this built-in tool is very convenient and fast, its function is relatively simple, and generally, it can only record screens without editing tools. If you need professional software that combines screen recording and video editing, you can look forward to the mobile version of WorkinTool VidClipper, which will be online very soon.
How to screen record on iPhones/ iPad/Android with audio with the built-in screen recording tool.
Step1. Down drag the control panel, then find the screen recording icon.
Step2. Click the screen recording button and open the microphone voice if needed.
Step3. When the Discord call or live stream is over, press the icon to stop recording. The recorded video will then be saved directly into the photo album.
Take screen recording on iPhone as an example. Here is the display of recording operations: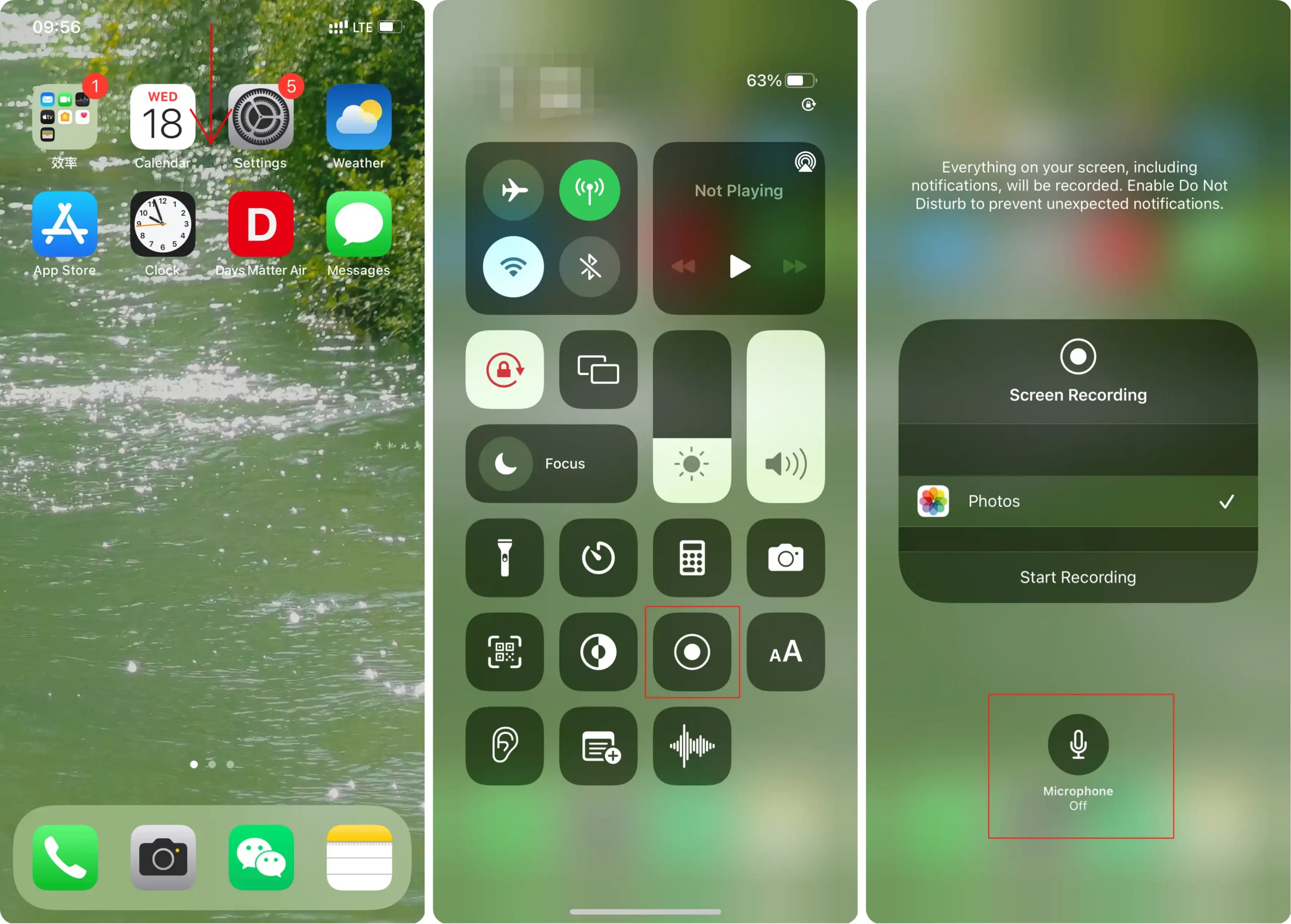 Final Thought
As early as 2018, Discord swept the game area and became the most popular chat and live-streaming platform for gamers. It has a huge fan base, and many users come together on it because of a game or a topic. There is a clear division of labor and self-organization under the strong fan base. Everyone complains and forms groups, pushes game updates, and even communicates directly with the game's producers or promoters online. Breaking the traditional BBS model, its real-time chatting function enhances the user's sense of participation. In Discord, there will be many interesting and funny stories. WorkinTool VidClipper can help you record these stories in HD videos. Whether you want to record it and share it with your friends, or you want to post it on social platforms to attract fans, WorkinTool is the best choice for you to screen record on Discord. It is designed for free for all users, so don't worry there will be extra cost to use it. Just have a free trial right now.