SharePoint Recover Deleted File [in or not in Recycle Bin]
Need to recover deleted files from SharePoint? Don't worry. Check out the SharePoint Recycle Bin for the first time. If you are eager to recover deleted SharePoint files, not in Recycle Bin, use this WorkinTool Data Recovery software. It can:
🟡 Recover deleted, missing, and formatted files for FREE
🟢 Fast scan of your computer and external hard drive
🔵 Export the recovered data with no limits on data size, watermark, etc.
🟠 Easy to operate without any tech support
SharePoint Recover Deleted File [in or not in Recycle Bin]
😟 "I delete a critical file from SharePoint by mistake. Is there any way to restore it instantly?"
Don't panic if you also encounter the above situation. SharePoint provides a Recycle Bin feature that can help users retrieve deleted online documents. In addition, data recovery software is also effective at recovering deleted SharePoint items on a computer. In this guide, we'd love to show you SharePoint recover deleted file. Following the below instructions and find the crucial document back.
📋 What is SharePoint
SharePoint is a web-based collaborative platform launched by Microsoft. It is not a single application nor a tool in Office365, but a platform, a collection of tools and services that users interact with in many ways. SharePoint can be regarded as a document storage center, an information-sharing platform, and a tool for quickly creating websites. It is so powerful that many users like to save and share important files on it.
How to Recover Deleted Files from SharePoint Recycle Bin
SharePoint has an in-built Recycle Bin feature that allows you to recover deleted items within a specific period. SharePoint Recycle Bin is divided into two stages. As for the first-stage SharePoint Recycle Bin, you can retrieve deleted files within 30 days. After 30 days, your files will be removed. As for the second-stage Recycle Bin (also called site collection Recycle Bin), your data will be preserved for 93 days, and the site administrator can only recover the deleted files. Check how to recover deleted files from SharePoint from the first and second-stage recycle bins in the following:
📌 How can SharePoint recover deleted file in the first-stage Recycle Bin
Step1. Open the SharePoint site and log in. Then click Settings> Site Contents on the dashboard.
Step2. Hit Recycle Bin in the top right corner, pick the deleted files in it and click Restore.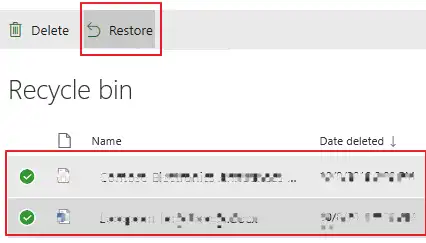 📢 Note: If you cannot find the deleted items in the first-stage Recycle Bin, it is possible that your file is beyond expiration and removed from the recycle bin, then you can turn to the site collection recycle bin to restore.
📌 How can SharePoint recover deleted file on the site collection recycle Bin
Step1. Go to the SharePoint site and log in with your administrator's credentials. Then select Recycle Bin on the left toolbar. If not, go to Settings> Site Settings> Site contents to see the Recycle Bin feature.
Step2. Choose the deleted items you want to recover and click Restore. The files will then be recovered to their original location in SharePoint.
SharePoint Recover Deleted File not in Recycle Bin
Fortunately, SharePoint also allows you to sync your files, like text, images, and office documents, to a local computer or mobile phone. If you have lost or deleted an online document from SharePoint, you can try to recover the document on your computer using professional data recovery software.
WorkinTool Data Recovery deserves your trust. It is an entirely free file recovery software for the Windows system. With it, you can easily retrieve deleted, missing, and formatted files from your hard drive and other external data storage devices. With its quick scan and deep scan, you can find the deleted SharePoint files without effort.
Best FREE solution to recover lost, deleted, formatted data on Windows 11/10/8/7

Recover permanently deleted emails, documents, pictures, videos, audio, and more. The successful recovery rate is up to 99.9%.
Retrieve lost files from SSDs, HDDs, USB flash drives, SD cards, Recycle Bin, etc.
Restore missing data due to deletion, formatting, system shutdown, virus attack, etc.
All data recovery features are available for FREE with NO Ads or other hidden limits at all.
Steps to SharePoint recover deleted file with WorkinTool Data Recovery
Step1. Install Data Recovery Software
Download and install the WorkinTool Data Recovery software on your PC. Then launch the tool and select Deletion Recovery on the dashboard.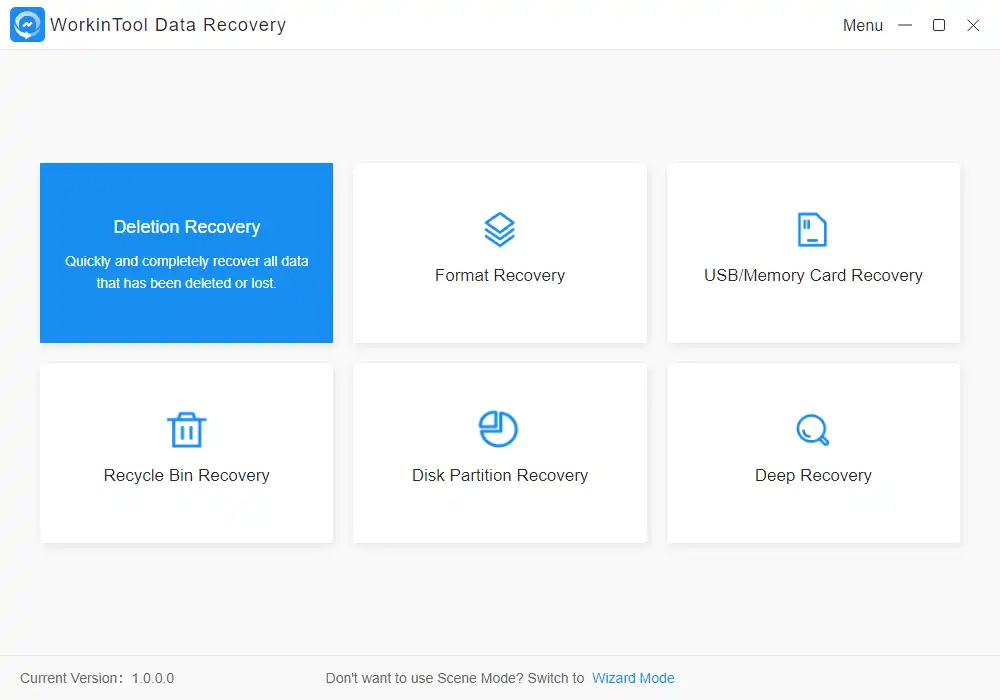 Step2. Scan for Deleted SharePoint Files
Pick the hard drive in which you saved the SharePoint data, then paste the Scan button to search for deleted, missing, and corrupted SharePoint documents.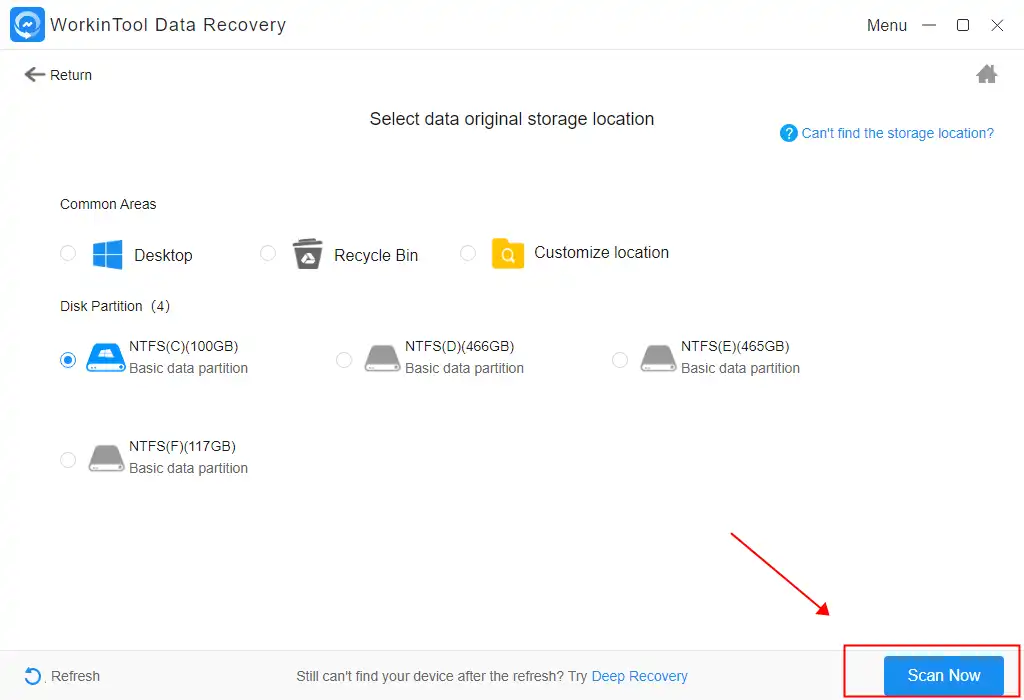 Step3.  Recover Deleted Files in SharePoint
Filter the scanned files by locating their original save path or searching for target files directly. Then select all the SharePoint documents you want to retrieve and press the Recover button. Lastly, choose a local folder to save the recovered files on your computer.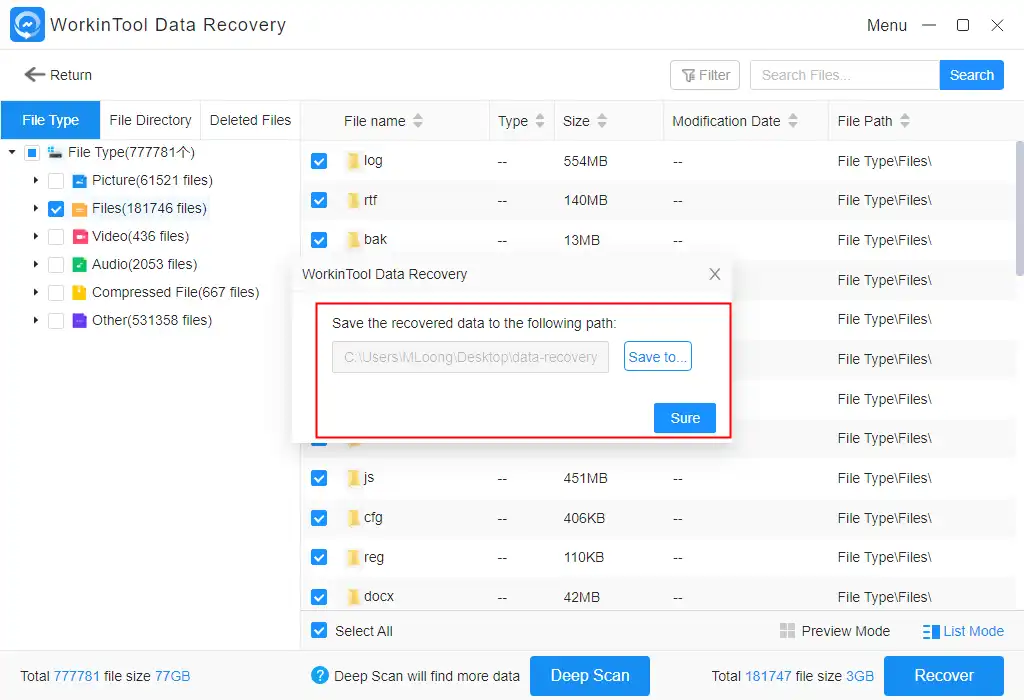 🔎 Other Tutorials for WorkinTool Data Recovery
FAQs on SharePoint Recover Deleted File
💬 Can you recover deleted Files on SharePoint?
The answer is definitely yes. Since SharePoint provides a Recycle Bin to preserve recently deleted files, you can easily recover deleted files on it. Also, there will be a local folder on your computer that helps you save SharePoint data if you sync it to your device. Therefore, you can also restore deleted files from SharePoint on your computer.
💬 How long will the SharePoint Recycle Bin save deleted items?
SharePoint offers two-stage Recycle Bins. As for the first-stage Recycle Bin (from which you can restore deleted items easily), it will save recently deleted items for 30 days. Moreover, the second-stage Recycle Bin (which requires your administrator's credentials), will save deleted documents in SharePoint for 93 days.
💬 How do I recover permanently deleted Files from SharePoint?
If the SharePoint Recycle Bin cleans your files automatically, then you can check if you can recover those files on your computer. WorkinTool Data Recovery software is helpful in recovering deleted, lost, and formatted files in SharePoint.
The Final Words
This article focuses on SharePoint recover deleted file. In conclusion, there are two effective methods to recover deleted files from SharePoint. First, you can check the online SharePoint Recycle Bin. If you fail, try to use the data recovery software if you have ever synced SharePoint data on your computer. Give these methods a try and hope you can successfully retrieve the deleted items.