How to Record Google Meet Easily on Windows for FREE
Google Meet, like Zoom or Skype, has gradually become a frequently-used tool for online meetings as the outbreak of Covind-19 has moved almost every business online. Do you know you can record a meeting on Google Meet? This article will discuss how to record Google Meet on Windows in 3 free ways, including:
💡A Built-in Programme–Xbox Game Bar
💡A Third-Party Tool–WorkinTool VidClipper
💡An Online Screen Recorder–FlexClip
You are welcome to use all the aforementioned approaches. However, it is highly recommended to try WorkinTool VidClipper since it is easy, convenient, powerful and free without output watermark. Please continue your reading to learn about specific solutions and experience each of them by yourself.
How to Record Google Meet Easily on Windows | 4 Ways
Google Meet, like Zoom or Skype, has gradually become a frequently-used tool for online meetings as the outbreak of Covind-19 has moved almost every business online. Do you know you can record a meeting on Google Meet? This article will discuss how to record Google Meet on PC in four simple and FREE ways.
Please read on to know the specific information.
---
Why Do You Need to Record Google Meet?
The global outbreak of Covid-19 has brought the whole world to a sudden halt. However, it somehow accelerates the digitization of almost all walks of life since most communication and business operations are now running online. Therefore, video conferencing services are increasingly prevalent nowadays, including Google Meet.
As what is going on on Google Meet is a meeting or a training session, there must be plenty of important points. Hence, it is essential to record the meeting on Google Meet to find references to crucial issues, even if the meeting ends.
So please continue your reading to learn how to record Google Meet with audio on Windows.
---
How to Record Google Meet on Windows with a Built-in Program
If you have upgraded your operating system to Windows 10 or higher, you will have a useful built-in screen recorder–Xbox Game Bar. It is helpful to capture your computer screen with or without audio. If you have no additional requests for your recording, this tool will be an ideal option. With its help, you can easily record your meetings hosted on Google Meet. It also supports sharing your recordings to Medal TV. However, the recording length is limited to two hours only.
📕How to Record Google Meet on Windows via Xbox Game Bar?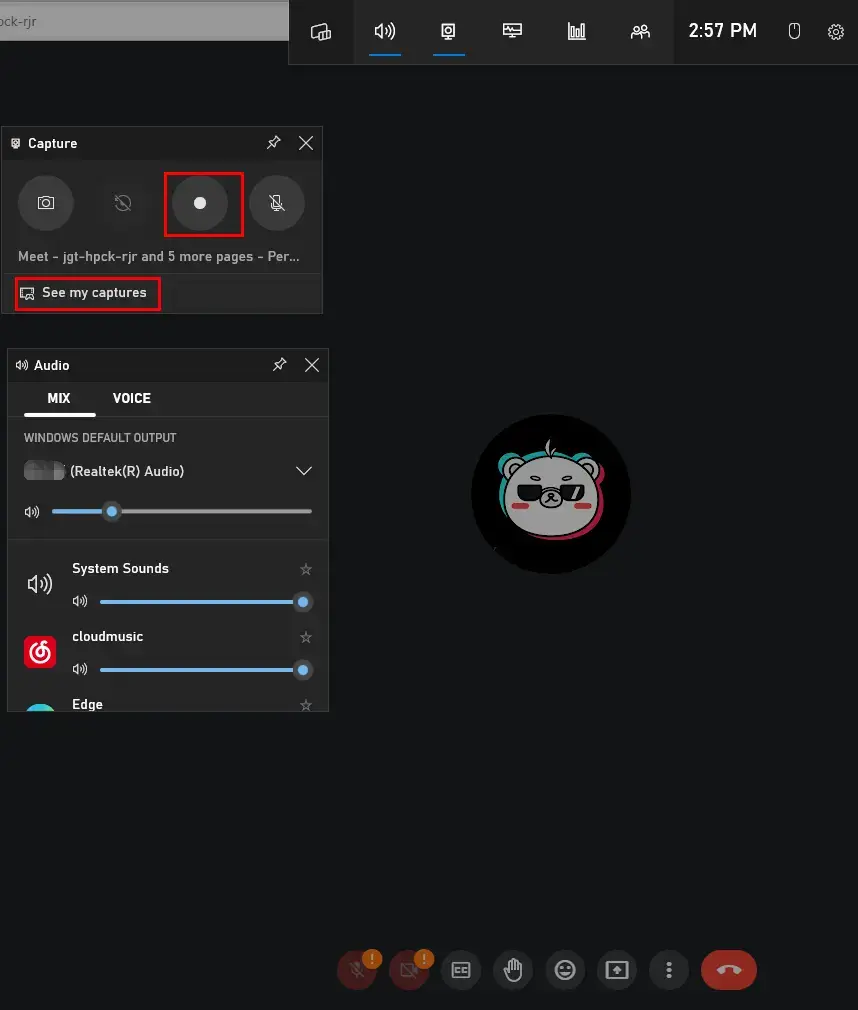 Perform the shortcut operaton–Win+G to activate the tool.
Click the recording button at the top left to start your recording.
Press the Stop icon on the console or the recording timer to end your recording.
Find See my captures to find and view your recording.
Shortcut Operation in Xbox Game Bar
Win+G–Open the tool
Win+Alt+R–Start/End recording
Win+Alt+T–Open/Close recording timer
✨Our Advice
😎Pros
😒Cons

Entirely FREE
A pre-installed program
Easy to use
Additional video-sharing option

One video format–MP4 only
Available on Win 10 or higher OS only
Recording length limit–two hours
Unexpected lag or frame drops
---
How to Record Google Meet on Windows with a Third-Party Tool
If you require more for your recording or need to make a video tutorial out of it, you'd better resort to a handy screen recorder. Also, recording a meeting with audio on Google Meet can be effortless if you are helped by it. This chapter will introduce you to two practical and free tools–WorkinTool VidClipper and OBS.
📕How to Record Google Meet on Windows Using WorkinTool VidClipper?
WorkinTool VidClipper is a piece of useful and helpful video editing software that boasts a variety of valuable features, including screen recording. Much as many functions are available, it is still equipped with a lightweight and simple interface. For some features, a brief introduction is attached to the page, so even a computer novice will find it convenient and easy to operate. You can't miss this tool for the following reasons:
As a screen recorder, WorkinTool VidClipper enables you to record anything on your PC screen, including:
📕Please follow the steps below to use WorkinTool VidClipper to capture Google Meet:
1. Open VidClipper and find Screen Recorder on its opening page.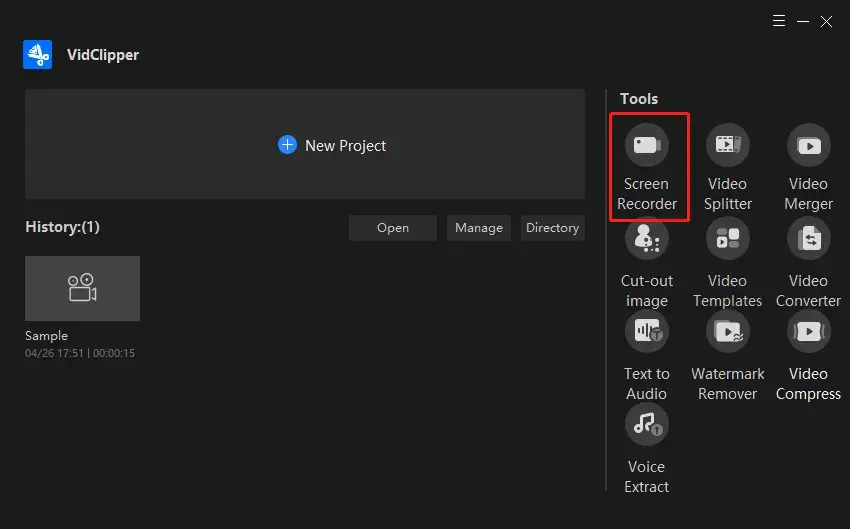 2. Adjust your settings based on your needs and click Start or press the hotkey Alt +F1 to begin your recording.
(Take Recording Selection as an example.)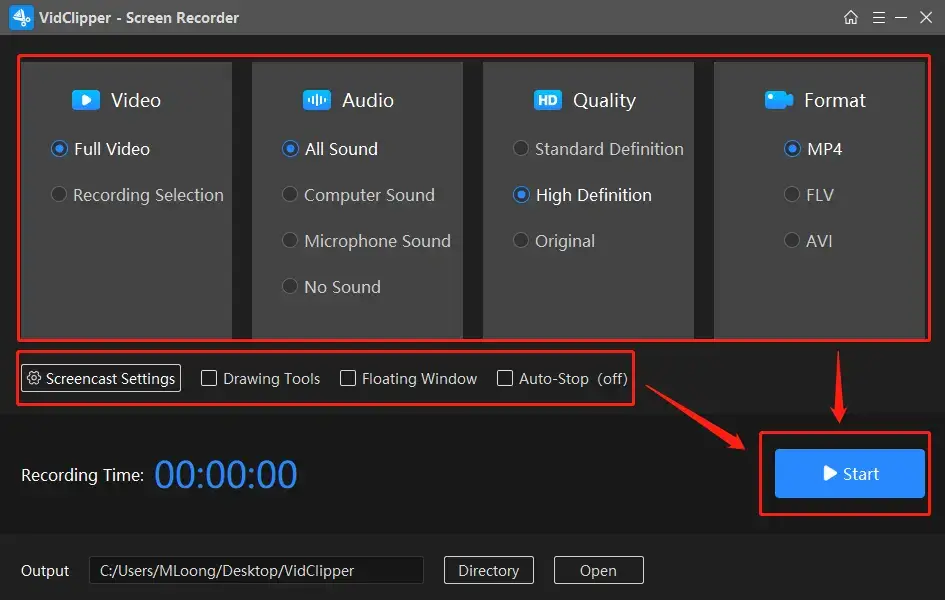 📄Advice: If you are the host of a meeting, it is advisable to choose Record all sound.
If you are a participant in a meeting, you can select either Record all sound or Computer sound.
Recording Settings

Video

Full Video: The entire screen of your PC will be recorded so that all the content on the screen will be exported. The recording will start immediately after the countdown by choosing this mode.
Recording Selection: The screen area to record will be customizable based on your requirements, so only the selected content will be saved. The recording won't start until the recording area is pinpointed and the countdown completes.

Audio

All Sound: Both microphone and computer sounds will be recorded after the screen recording ends.
Computer sound: The audio in the recording will include computer sound only when your screen recording finishes.
Microphone Sound: Microphone sound will be the sole audio source for recording by making this option.
No Sound: You will get a mute screen recording if you make this choice.

Quality
It refers to the video quality of your screen recording.

Standard Definition: a video with 720p.
High Definition: a clip with 1080p.
Original: It will help you maintain the aspect ratio of your original video.

Format
MP4, FLV and AVI
3. Hit the Stop icon or press the hotkey Alt+F2 to stop and save your recording.
(The Pause icon allows you to temporarily stop the recording without saving it. You can then press the Play button to restart your recording later.)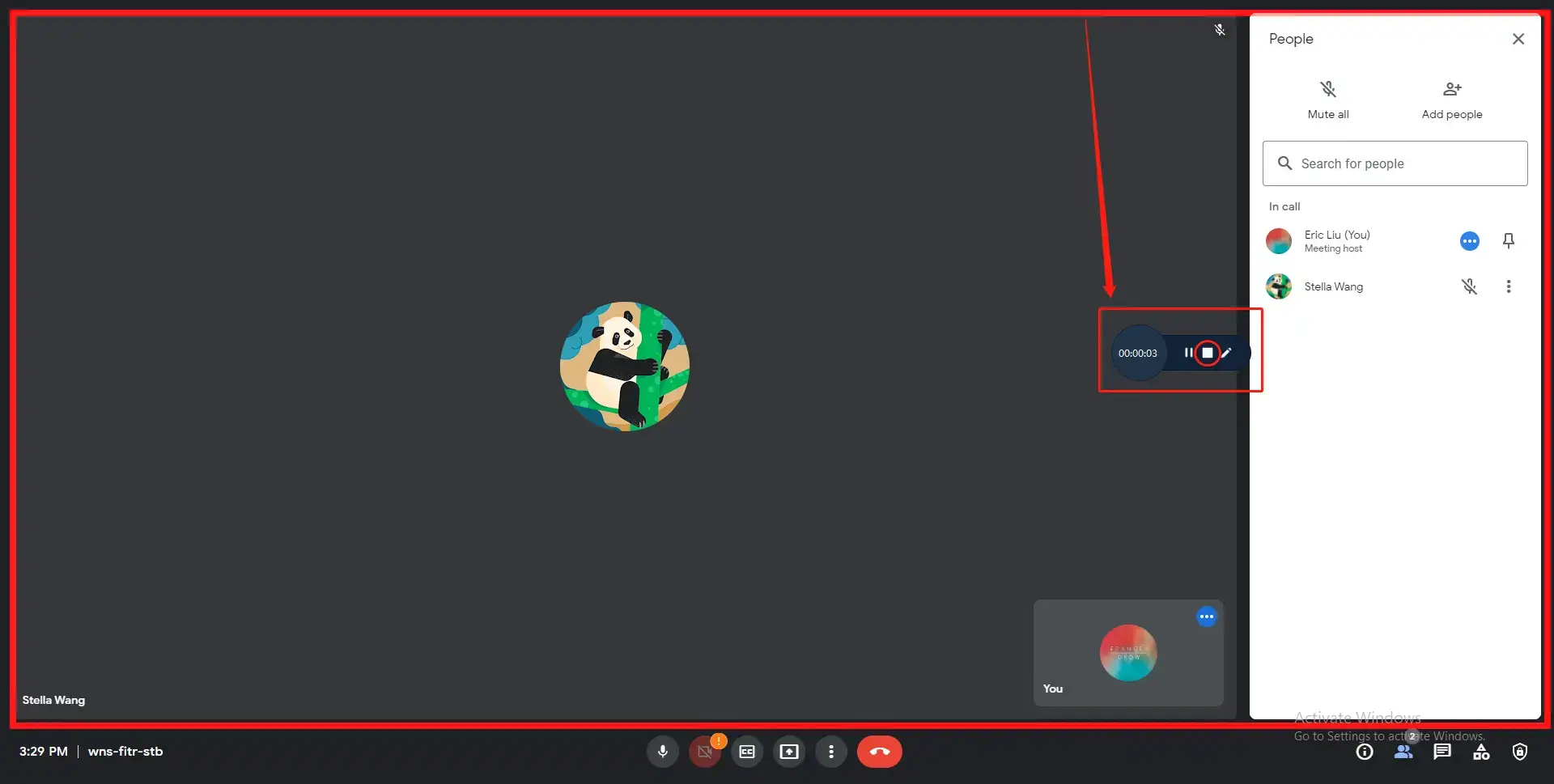 Here are the results.
Full Video
Recording Selection
😎Surprising Function:
WorkinTool VidClipper's drawing toolbar is here to help you make a recording with marks or texts.
📕How to record Google Meet with marks or texts on Windows?
1. Repeat the first and second steps above.
2. Click the pencil-like icon to open the drawing toolbar window and then select the mark or text mode to highlight or write in your recording.
(Right-click your mouse to hide the drawing toolbox.)
3. Press Alt+F2 to stop and save your recording.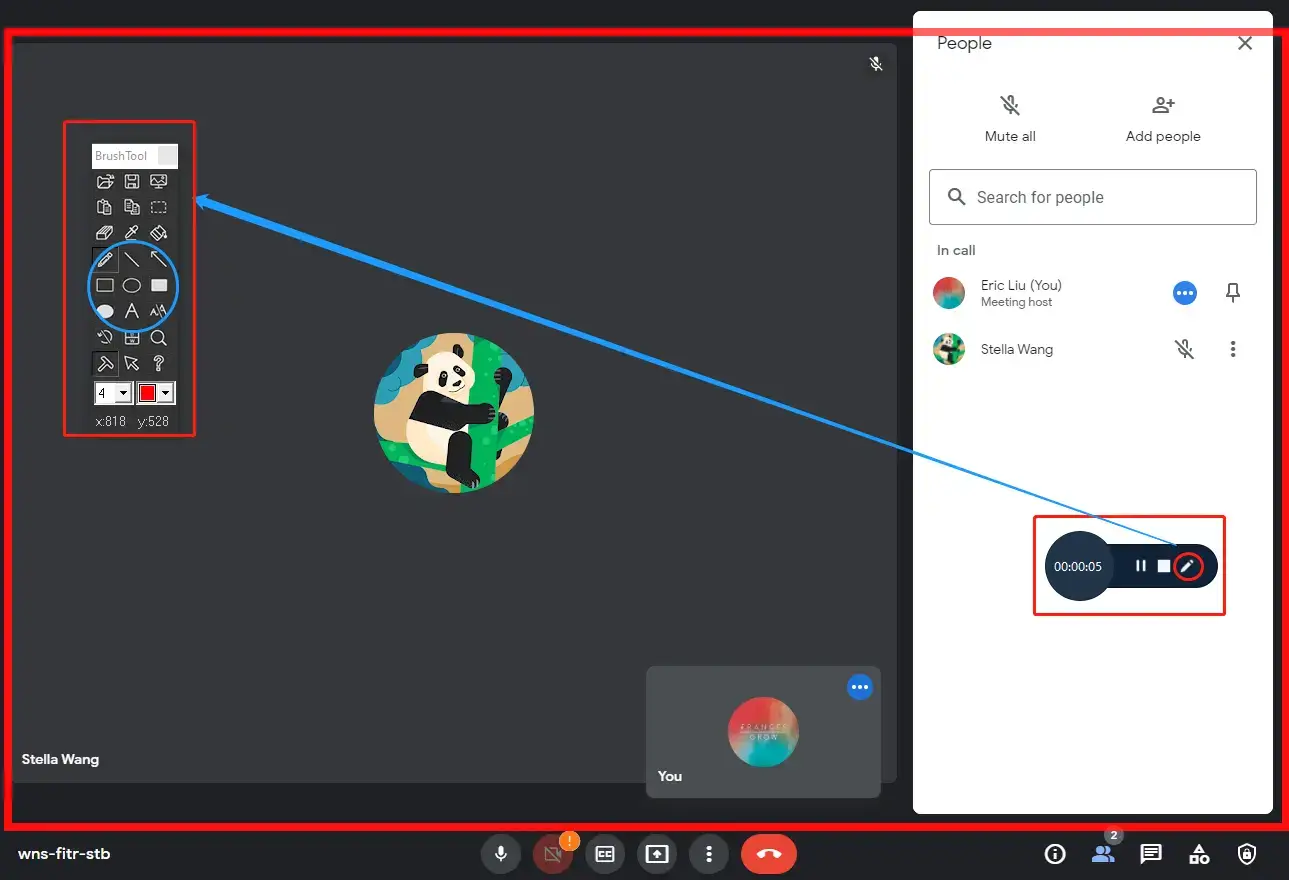 Please see the result.
📢Notes for Drawing Tools:
The content in the video will pause when the drawing toolbar is opened. So you can make your marks or leave your texts in this area to highlight or write.
Multiple drawing tools are optional in this toolbox, including lines, rectangular and circular graphs and texts. Also, their colors are easily changeable.
📝Specific Tips for All The VidClipper Screencast Settings
✨Our Advice
😎Pros
😒Cons

Simple and convenient
Custom recording settings
Additional drawing toolbar
Auto-stop feature
100% FREE with no signup
High-quality output
---
How to Capture Google Meet Online
A free online screen recorder can be extremely helpful for those unwilling to use any desktop software. Meanwhile, it is also suitable for hosts or participants using the online version of Google Meet. Here, you can give FlexClip a try.
FlexClip is one of the globally-recognized online video solution providers. Boasting a clear and modern interface, it usually allows users to complete their video editing tasks within a few steps.  Also, FlexClip rises to fame thanks to its various editing features, including screen recording which shared almost the same function as an offline tool.
📕How to Capture Google Meet with FlexClip?
1. Open FlexClip's tool–screen recorder and then click Start Recording.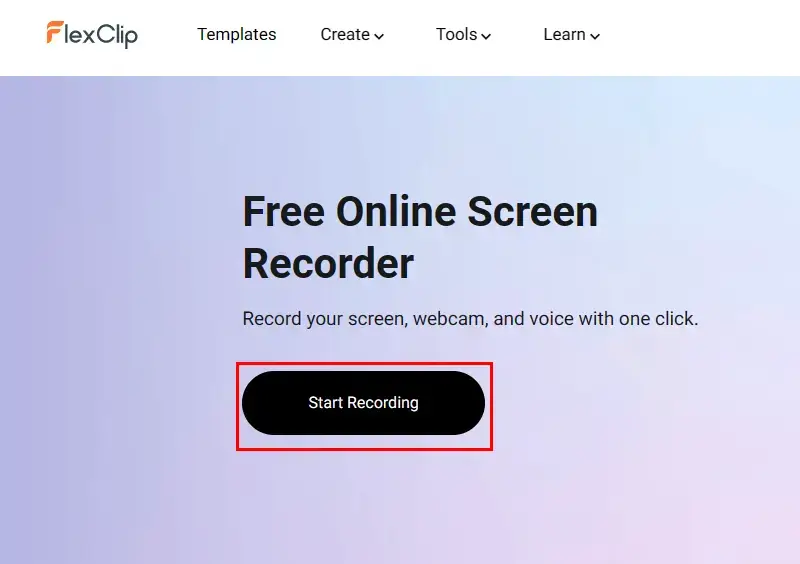 2. Pick a recording mode—Screen+Webcam, Screen Only or Webcam Only and then hit Next.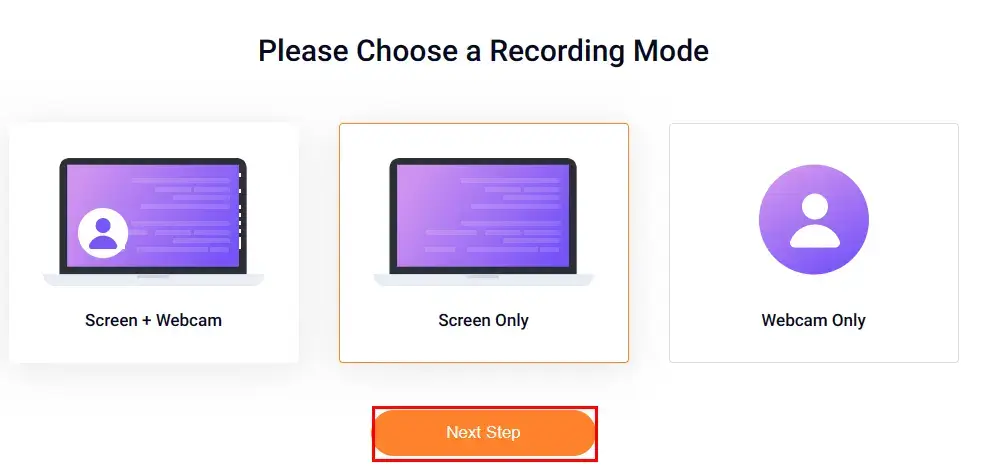 3. Decide on the recording settings–Microphone+System audio (a host or speaking participant), Microphone, System audio (a participant) and No audio.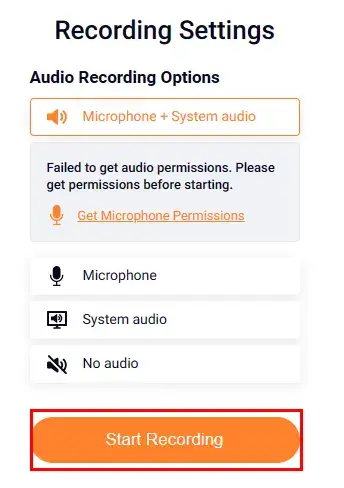 4. Identify screen content to share with FlexClip screen recorder and then go to Share to start your recording.
(Here, Tab is advised as a Google Meet meeting is usually hosted online.)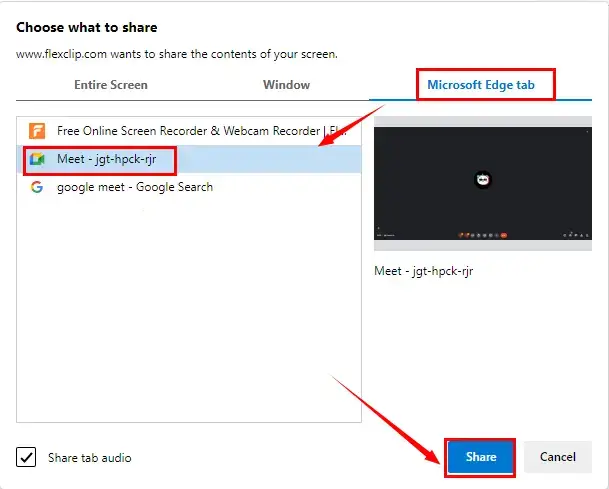 5. Hit the red Stop button to end your recording or the small Pause icon to suspend and resume it.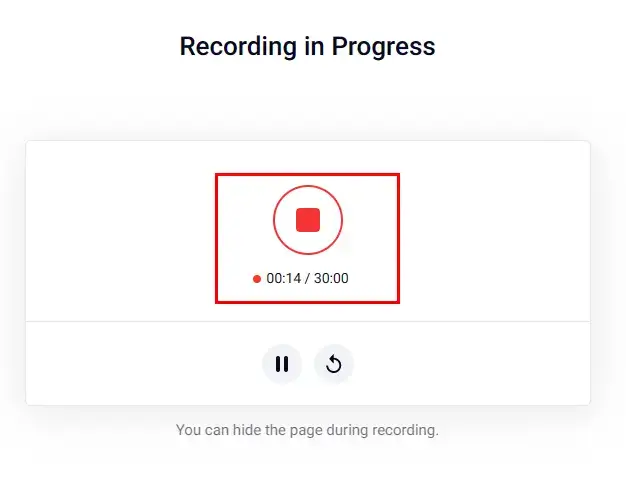 6. Press Download and Edit to get your Google Meet recording.
(Default video format: .wbem)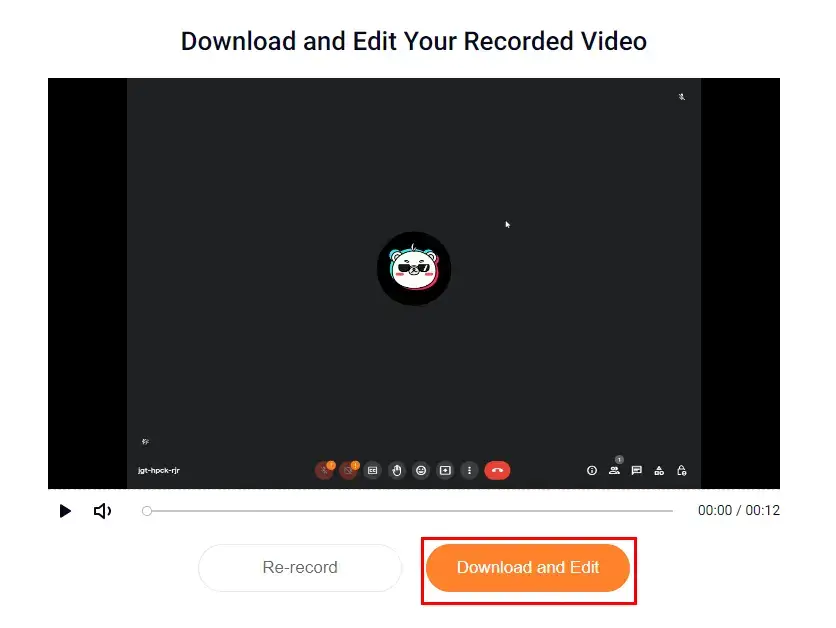 📢PS: The recorded clip will be automatically added to its online editing console for further editing once you complete your recording. You can close this window if you don't need any modification to your video.
✨Our Advice
😎Pros
😒Cons

Modern UI design
Easy to operate
Multiple recording modes
Smooth recording process
Generally FREE
Compatible with all internet-connected devices

Internet access required
Less mainstream video format
Video export length limit–1 minute
Video resolution limit–480p
Project storage number limit–12
No drawing toolbar
---
More Information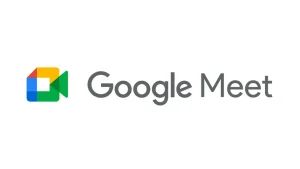 📌What is Google Meet?
Google Meet is a basically free online video meeting service presented by Google (Its Workspace edition will require payment to make you enjoy the premium services). You can join or host a meeting anytime and anywhere when internet access is available. Initially designed for enterprise customers, it is now accessible to everyone. Since it has multiple versions like PC web, iOS and Android apps, it is ideal for both an individual and a corporation.
Meanwhile, the best thing about Google Meet is that you save the cumbersome process of downloading and installing a desktop program and can enjoy the service directly online.
📌How to record Google Meet without a third-party tool?
Google Meet provides a video meeting recording service by itself. However, it is not a free service. You have to upgrade your Google Meet by purchasing the Google Workplace individual plan to enjoy this advanced service, which is $7.99 per month. However, you can have a 14-day free trial period before your payment is charged. For detailed information, please refer to the link in the first sentence.
📌How to record audio only on Google Meet?
Well, if the audio on Google Meet is your sole aim, you can resort to our other product–WorkinTool Audio Recorder to record audio from Google Meet for free.
---
Wrapping up
That is all about how to record Google Meet with audio on Windows. I hope that it becomes less challenging after you finish this article. WorkinTool VidClipper is a powerful desktop program designed to solve your screen recording and video editing problems. Therefore, it is strongly advisable to give it a try.
Now, are you ready to record Google Meet meetings with audio on your Windows PC?