[Solve] How to Remove Black Bars from Video for Free
If you are trying to find a way how to remove black bars from video, then you have found the right spot. Here in this article, we will provide you with three detailed methods to solve this problem on Windows, Mac, and iPhone. All three methods are free to use and available through our test. You can pick any of them due to your current device and needs. Among them all, WorkinTool VidClipper is the best in performance. It is an all-in-one free video editor and very easy to operate. Come download and experience the magic yourself now.
[Solve] How to Remove Black Bars from Video for Free
We know that sometimes when you play videos on different devices, it can be highly annoying to see black bars on the sides. Well, this is not due to a problem with the video or playback devices, but rather their aspect ratio incompatibility. If you are able to remove them while adapting to the device not only allows the viewer to focus more on the content it also makes the video look a lot better. So, how do remove black bars from video?
Technically, it is not hard to remove black bars from your video. Here in this post, we will walk you through very detailed methods to solve it. On our specific list, you will be able to know precisely the right tools and techniques to do it on Windows, Mac, and iPhone devices. Also, you will understand why these black bars appear and how to avoid them from now on.
Why Do Black Bars Appear?
Before we go to the part about how to remove black bars, let's find out why they exist first. In fact, it is straightforward in logic. The video aspect ratio doesn't fit the screen. It is like putting 6.5 size feet into a pair of 8.0 shoes. It is just too big, you know. If you put a 4:3 video on a 16:9 screen, it won't fit the frame, and chunks of empty space end up being the black bars to fill in the gap. This is how those annoying black bars appear in your videos.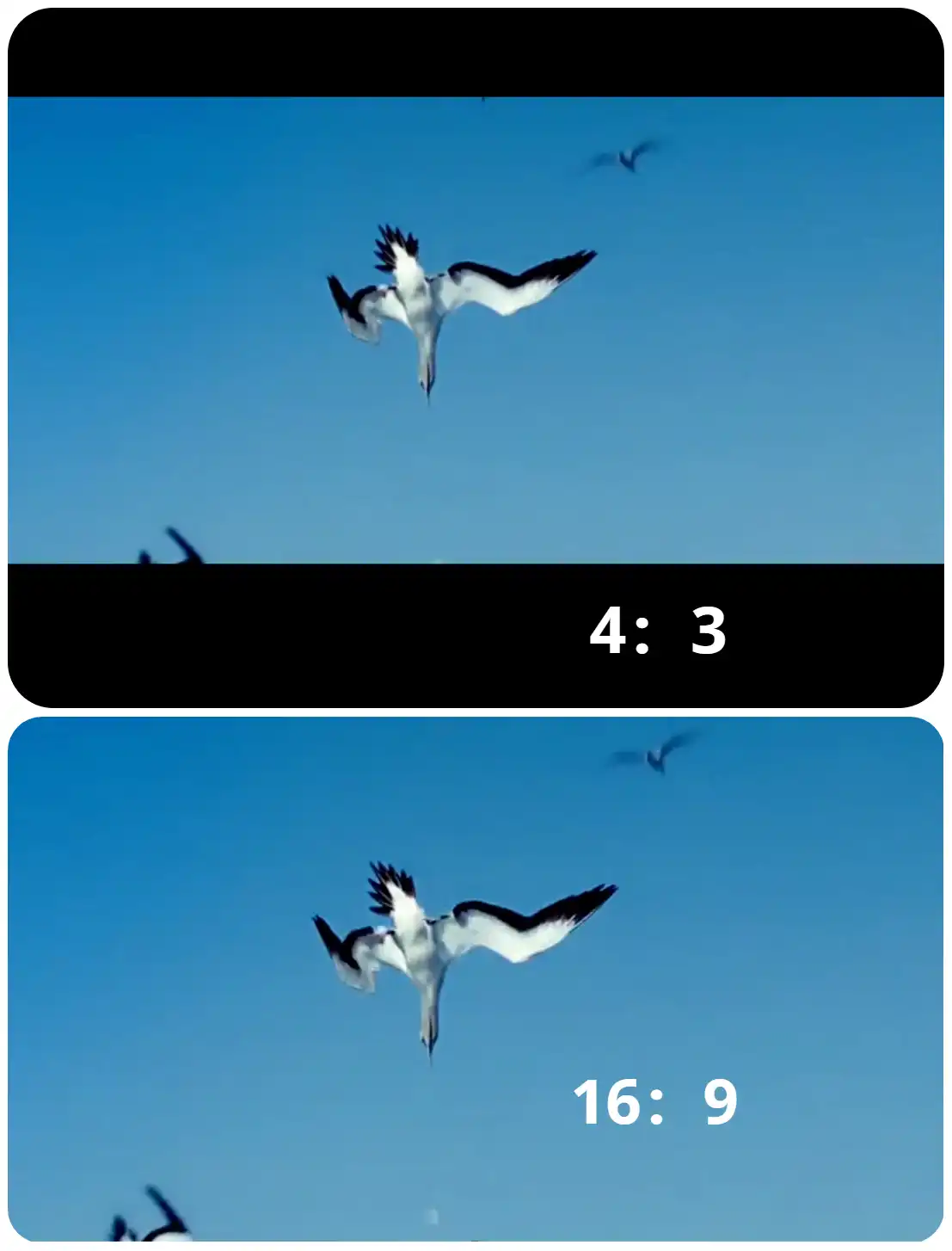 Well, even those black bars plague the videos with the wrong aspect ratio. But you don't have to put up with them. You can still quickly get rid of these disturbing black bars once and for all. Now, let's get to the point of the methods of how to remove black bars from video for free:
How to Remove Black Bars from Video on Windows
If you want to remove the black bar from the video on Windows, you may need a video editor to help you. Right now, dozens of video processors on online services are on the Internet. How can you be sure which one is safe and free to do that editing? In order to save your time and energy, we have found the perfect video tool for you.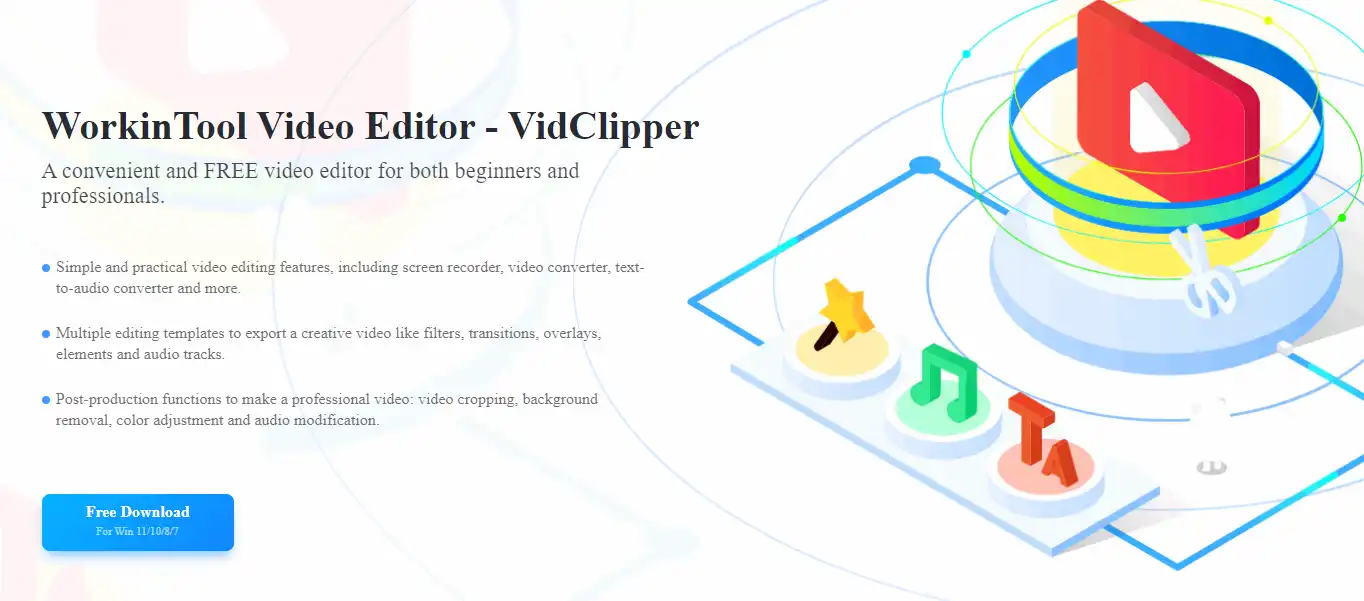 WorkinTool VidClipper can perfectly deal with the problem. It is a free video editor with a clean and user-friendly interface. Basically, all the video editing functions you can find on the Internet, WorkinTool VidClipper has them all. From basic image adjustments to adding text, music, and filters, you can do them all with WorkinTool VidClipper for free. Plus, there is absolutely no need to worry about any limits because there is none. You can input any video without a size limit and export them without a forced watermark. Just do the editing however you want.
For the part where you can remove unwanted black bars, it offers you two ways to do that. One is to change the aspect ratio of the image, so that you can fill the image right in the screen frame without leaving black space. The other one is to blur those black bars for a better viewing effect. Now, shall we see the steps on how to do it?
Here is how to do it:
1:
Open WorkinTool VidClipper and click here to import your target videos.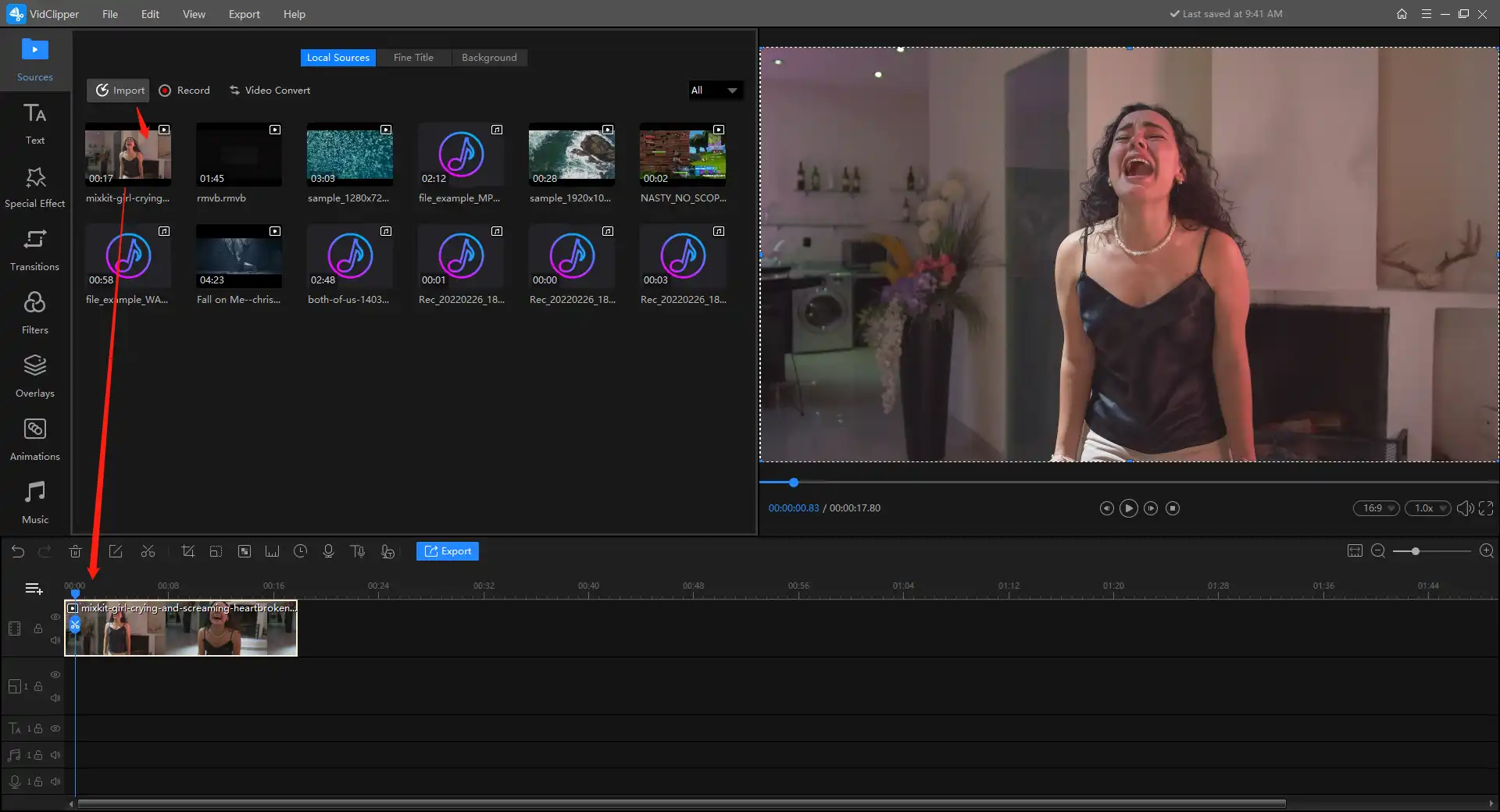 Drag and add the imported video to the timeline so that you can edit it.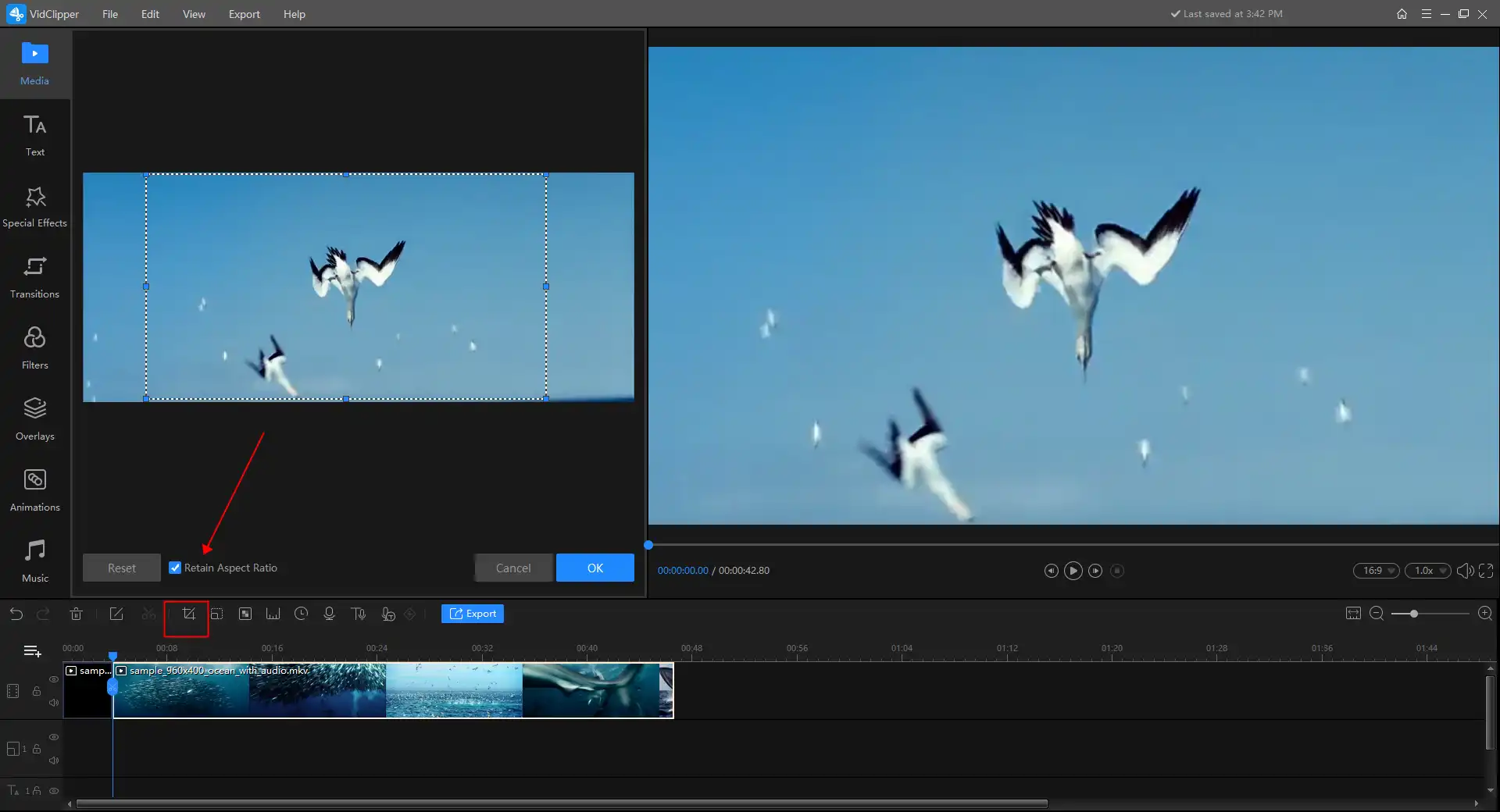 You can see a 

Crop

 icon, tap on it and box the 

Retain Aspect Ratio 

option.

Crop down the video image and view the effects on the right real-time screen.

Click on

 OK

 and

 Export

.
2:
the former steps are the same as the first method. You need to import the video and put it in the timeline.

Select the

 Blur

 option in the background color. It is excellent if the video image is pure color.

Once it is done, save the settings and export it out.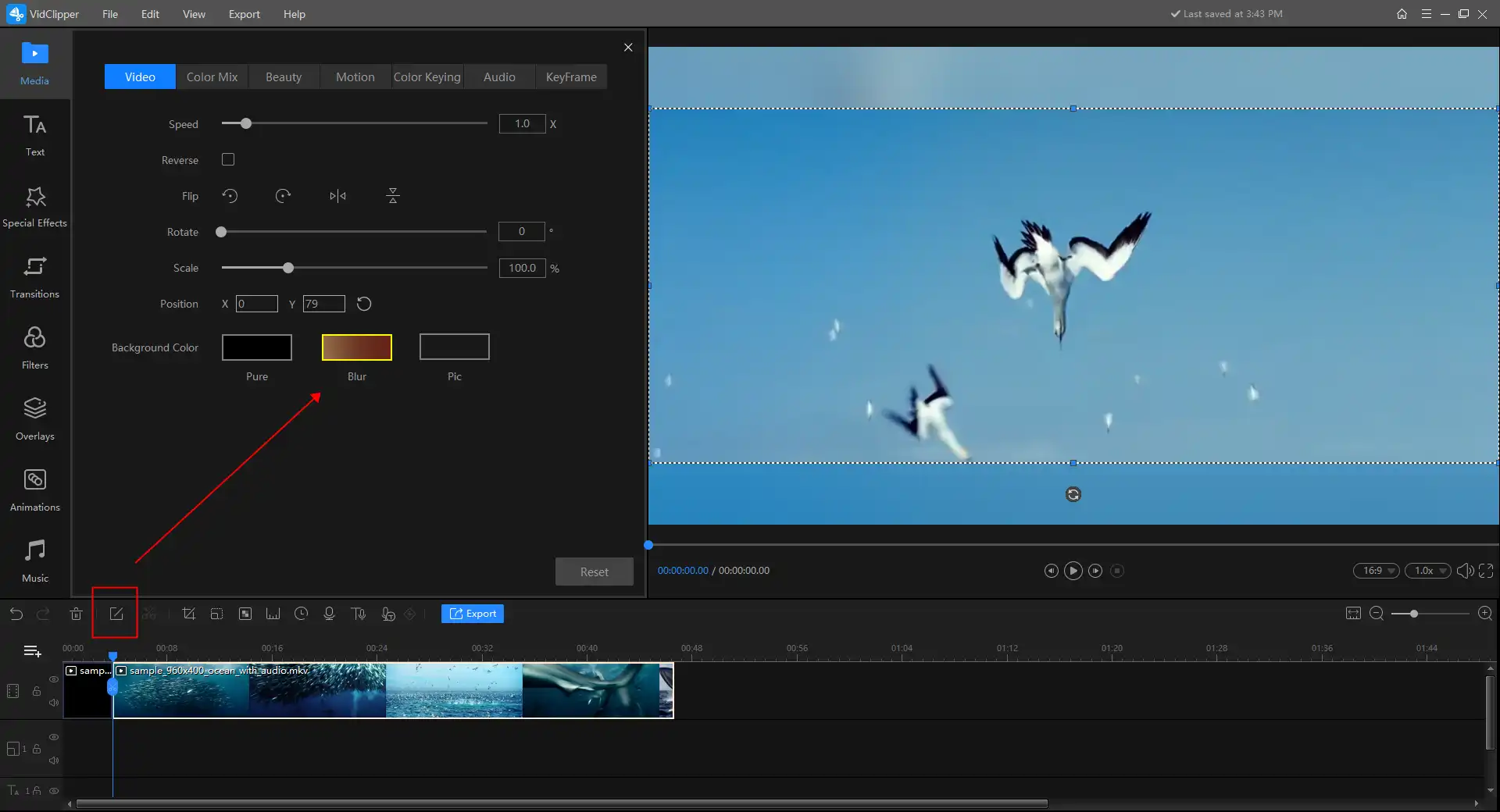 🎉 More VidClipper Features 🎉
| | |
| --- | --- |
| Standard Video Editing Features | Additional Video Management Tools |
| Rotate a Video | Combine Videos |
---
How to Remove Black Bars from Video on Mac
If you are a Mac user, then you are in luck. There is built-in video software that can help you remove black bars from vertical or horizontal videos. Without downloading any other software, you can do it right with iMovie. iMovie is a free video editor app for Apple devices. This will help users do all the basic video editing on their Mac system. Except for the cropping, cutting, and merging clips, it can also help users remove unwanted black bars right away.
How to remove black bars with iMovie:
Open iMovie and import the video you want to remove black bars.

Drag and add the video to the edited timeline, and select the cropping icon.

Click the 

Crop to fit 

option and select the area that you want to keep on the screen.

Lastly, when you are done with the cropping step, click on the blue mark to confirm the edit and press 

Share

 to 

Export Movie

.
Bonus: How to Remove Black Bars from Vertical Video on iPhone
In addition to those two methods and video editing software, there is another way for you to use your iPhone to remove black bars from vertical video directly. You don't have to download any third-party applications or use online tools. Open the tape in your media album, and there is an edit button for you to resize your video clips. So, how do we do that?
Open your video in the media Album.

Click on the 

Edit

 button at the top of the screen.

Select the

 Crop

 option and press the 

fit screen

 option at the top.

Find your desired aspect ratio and crop the video.

After that, you can click 

Done

 and save it.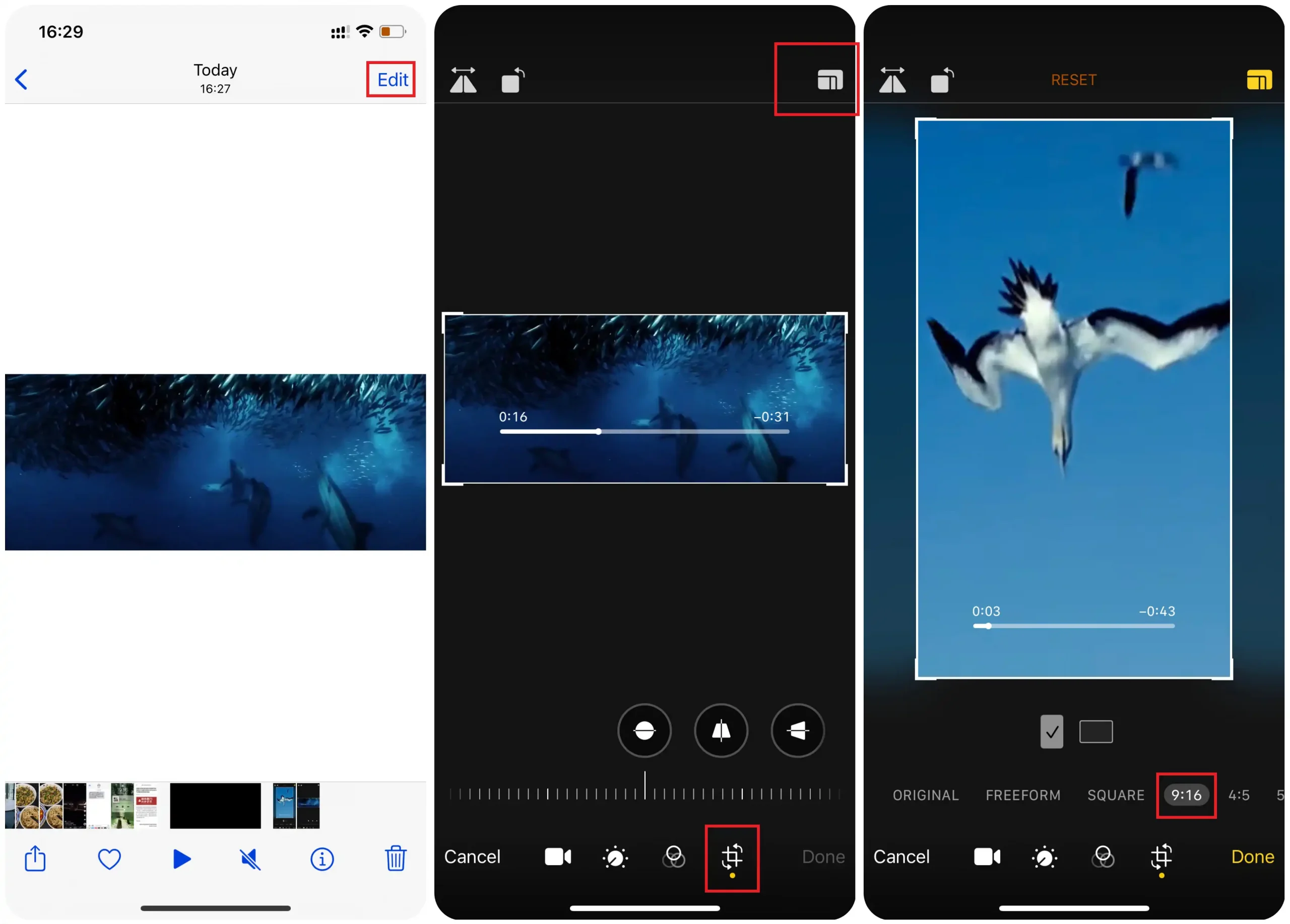 More to Share
If you are looking for methods on how to remove black bars from the video here, we certainly hope that this guide will be a great help to you. As you can see on the list, all these three methods are all free to use and available for three leading platforms Windows, Mac, and iPhone. You can pick to use a third-party application or the built-in software as long as it can solve your current problem of the black bars.
If you have any suggestions or questions, please feel free to contact us at any time.