How to Make a Video Black and White on Windows in 2023
Admittedly, black and white videos, just like old Hollywood movies, will add an artistic quality to the scenes and provide the audience with a nostalgic sense. So this is an effective way to make your videos stand out. Today, we will introduce you to how to make a video black and white in Windows. All the methods recommended will be simple, practical and FREE. You will read the following topics:
💡How to Make a Video Black and White with Offline Methods–VLC Media Player and WorkinTool VidClipper
💡How to Turn a Video Black and White in an Online Way–VEED.IO
You will know the specific instructions after finishing this article. However, it is strongly advisable to try WorkinTool VidClipper since it is:
💖Powerful
🧡Simple to use
💛100% FREE
💚 Green
💙 High-Quality Guaranteed
💜Available for both basic and professional video editing
[FREE Video Filter] How to Make a Video Black and White on Windows in 2023
Video sharing has become quite prevalent with the advent of video-based social networks like YouTube and TikTok. In order to make your videos outstand tons of other ones, you'd better add a dash of new color to them. For example, video filters can be a wise choice. Today, we will focus on one filter-black and white effect and introduce you to how to make a video black and white in Windows. All the methods recommended will be simple, practical and FREE.
Now, let's start our journey.
---
Before Making Your Videos Black and White
🎯Why do you need to make a black-and-white video?
Admittedly, black and white videos, just like old Hollywood movies, will add an artistic quality to the scenes and provide the audience with a nostalgic sense. A black and white filter is particularly suitable to put on a video centered on memories, happy or sad. A clip like this will absolutely be eye-catching and striking in the network world saturated with colorful videos.
So how to make a color video black and video? Please read on to learn the solutions in the following topics:
How to Make a Video Black and White with Offline Methods?
How to Turn a Video Black and White in an Online Way?
Now, let's move on to the central theme.
---
How to Make a Video Black and White with Offline Methods
A desktop tool will undoubtedly be helpful for such a request. It will assist you in putting a black-and-white filter on your videos instantly and effortlessly. Here, we will present two pieces of useful software to solve this problem.
1. Add a black-and-White Filter to a Video using VLC Media Player
VLC Media Player is a FREE audio and video player and editor. It quickly wins a global reputation owing to its practicability. With its help, most audio and video issues can be resolved without too much difficulty, including making a video black and video. Here are the instructions:
Step 1. Open VLC and then click Media > Open File to import your video.
(Select Open Multiple Files or Open Folder to upload more clips.)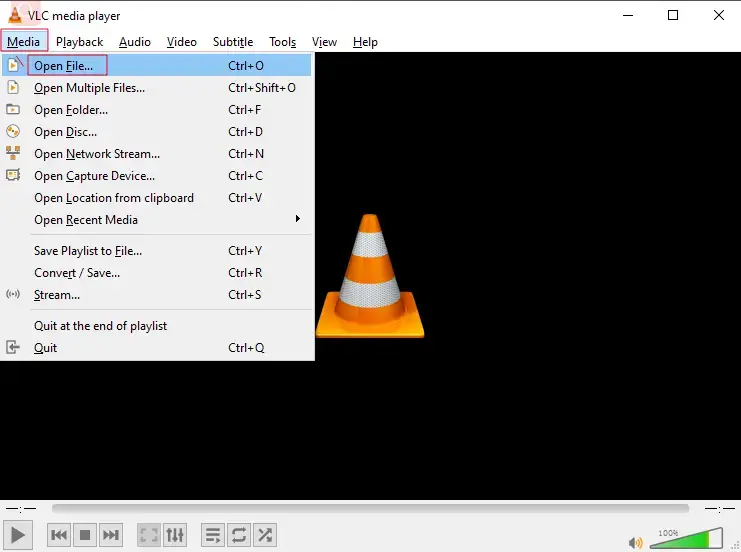 Step 2. Navigate to Tools > Effects and Filters.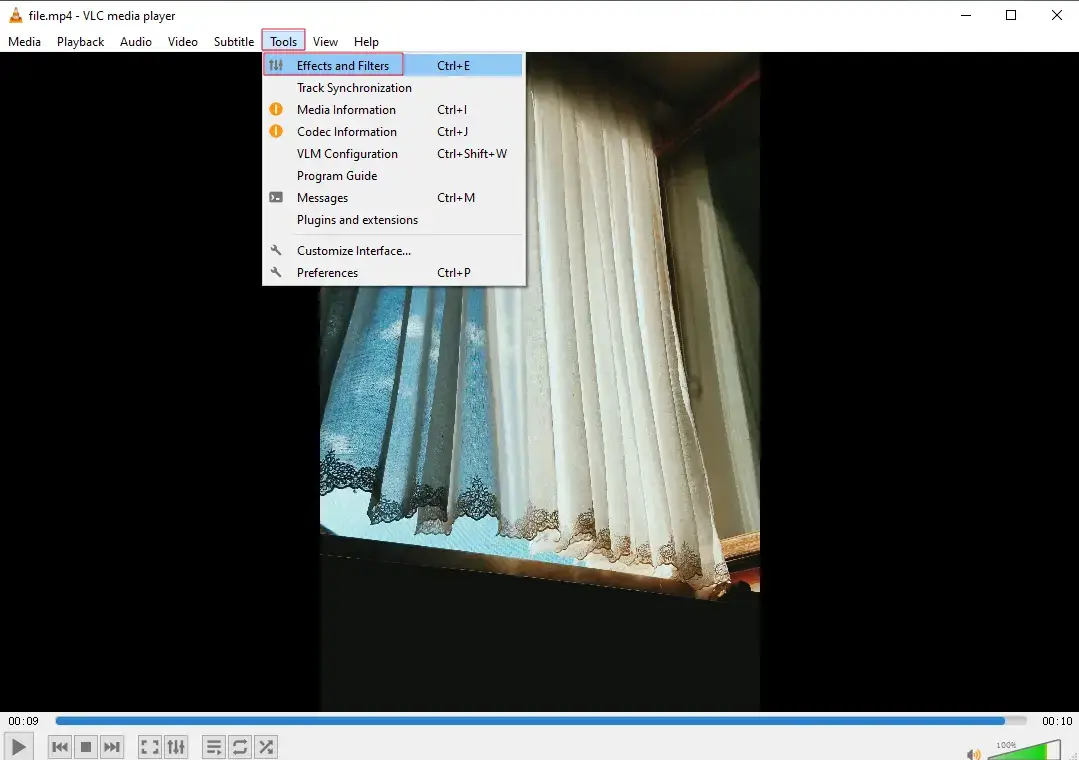 Step 3. Find Video Effects > Colors > Color extraction and then type FFFFFF in the color box.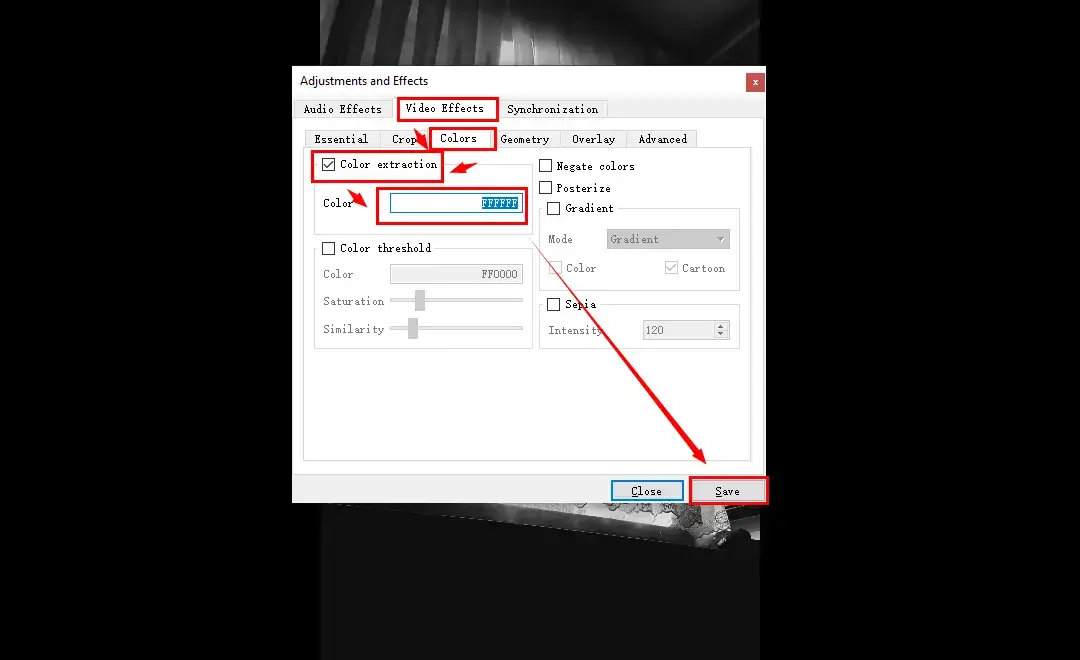 Step 4. Then hit Media > Convert/Save to export your black-and-white video.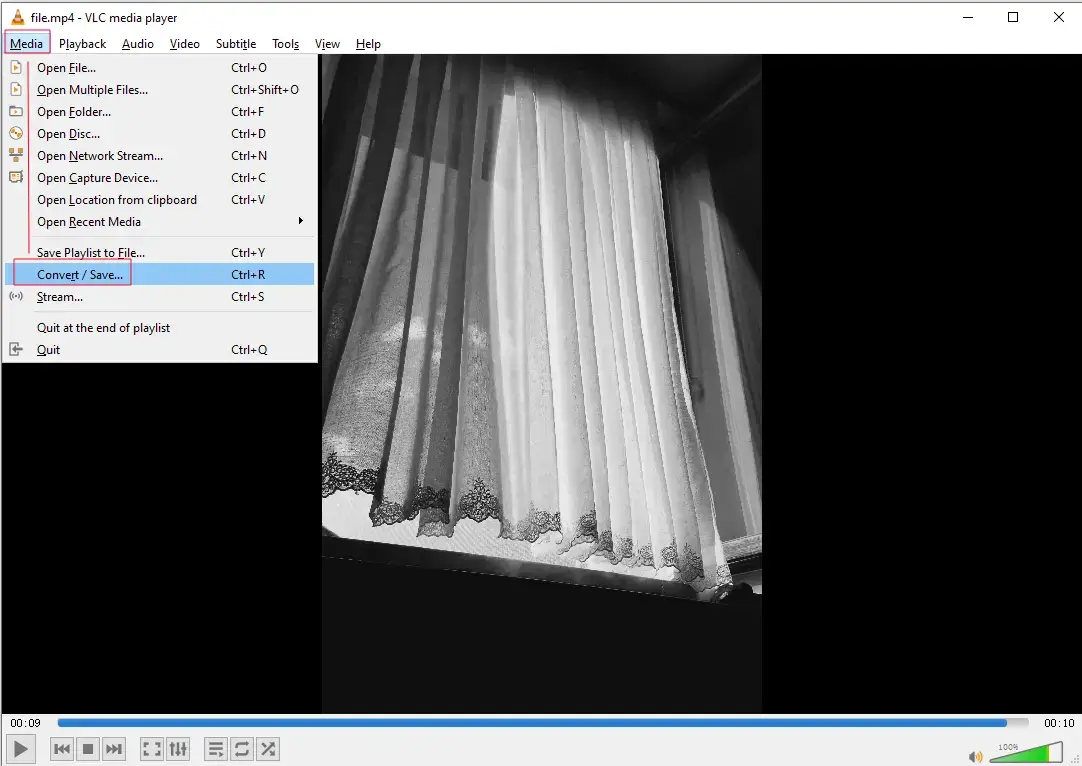 2. Make a Video Black and White Through WorkinTool VidClipper
Another tool advised here is WorkinTool VidClipper. It is a powerful and FREE video editor that allows you to complete both basic and professional video editing tasks. With its easy-to-operate interface, you don't have to be tech-savvy to get a well-edited video like a pro. More than 60 filters are available in VidClipper and it will be easy as a pie to put a filter on a video in it. Please follow these steps to save a color video as a black and white one in WorkinTool VidClipper.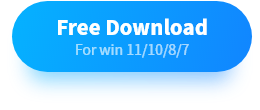 Step 1. Open VidClipper and click + New project.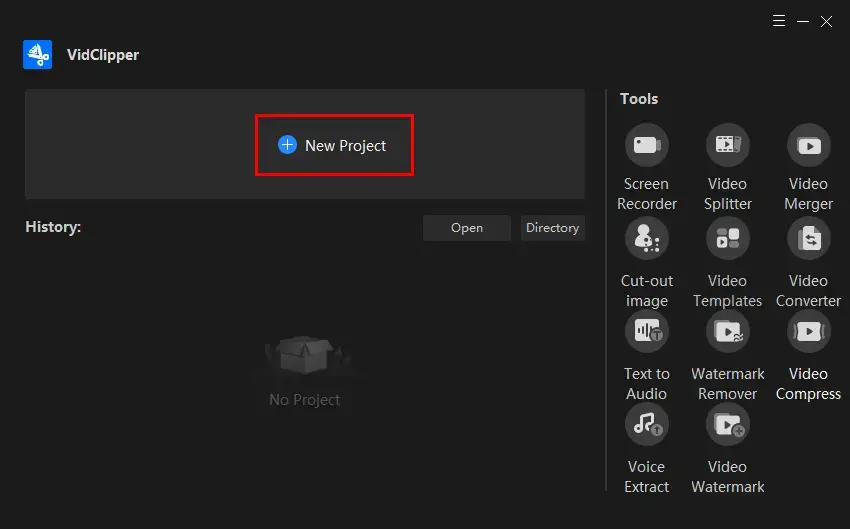 Step 2. Hit Import or the big + below to upload your video.
(You can also drag your video to the + box to fulfill this purpose.)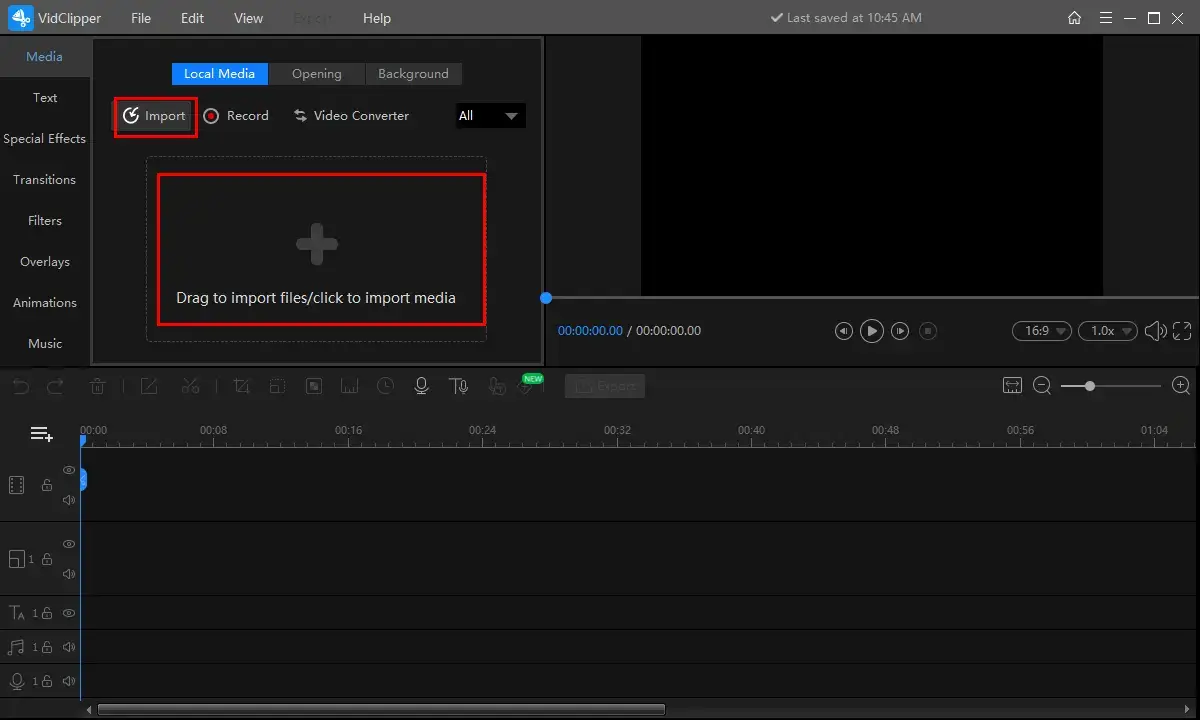 Step 3. Drag your video to the editing bar below and then click Filters.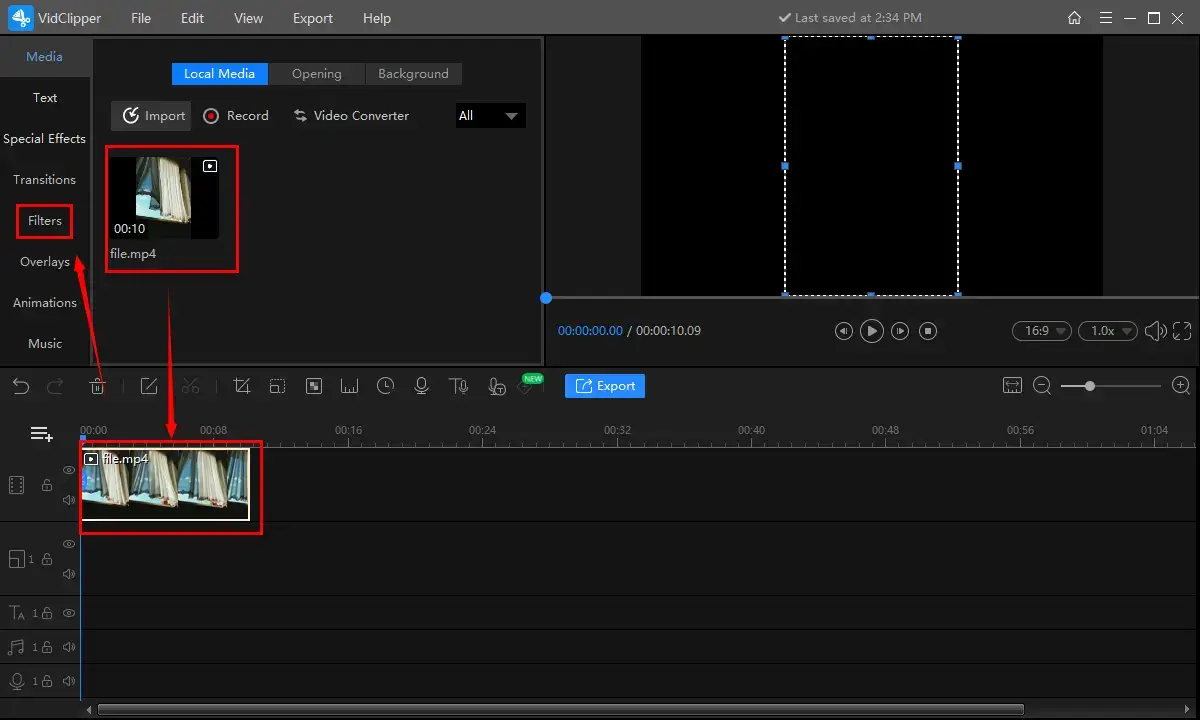 Step 4. Locate LUT > Film Black_White, preview the effect on the right screen and then click Export.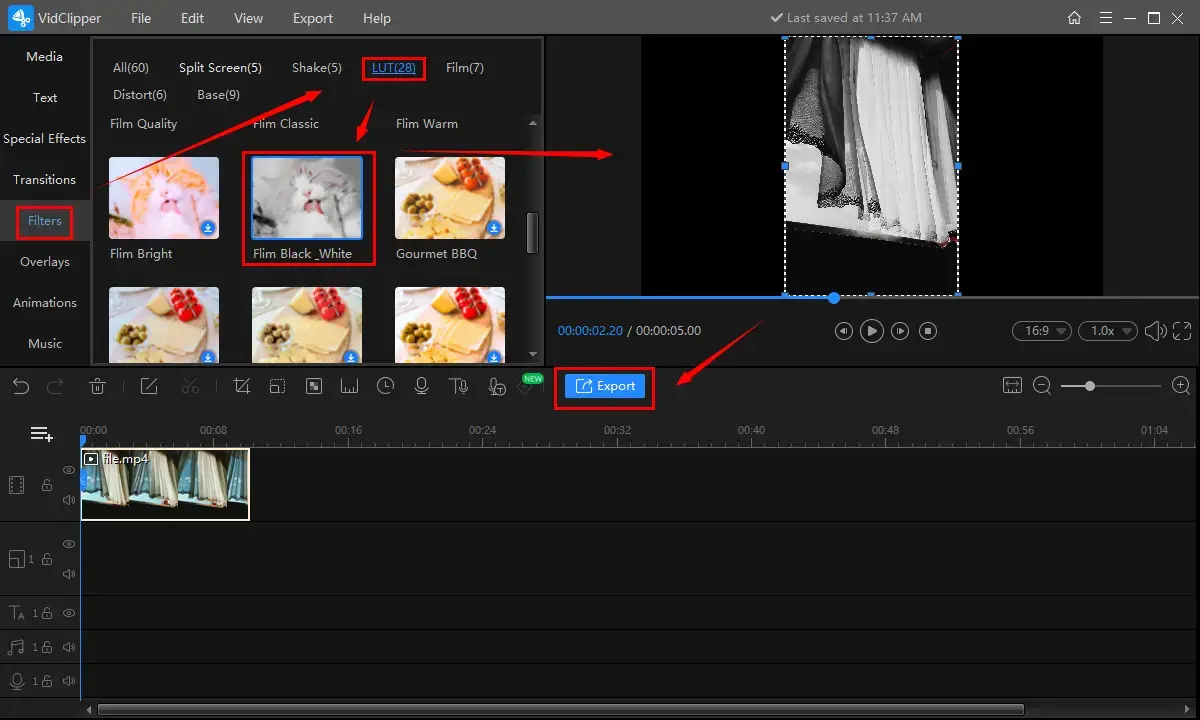 Step 5. Select the video format, adjust the settings and then hit Export to save your black-and-white video.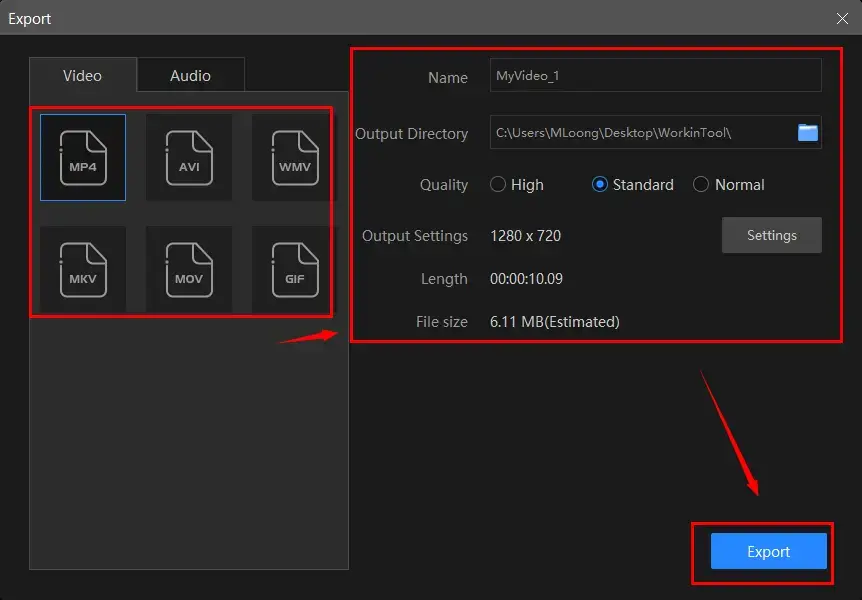 Specific Notes for WorkinTool VidClipper Settings

Video Formats
MP4, AVI, WMV, MKV, MOV and (animated) GIF
Video Quality
High(1080p), Standard (720p) and Normal (480p)
*Output Settings
Video (Encoder, Frame Rate, Resolution Rate and Bit Rate)
Audio (Encoder, Channel, Sample Rate and Bit Rate)
*This allows you to resize your video by changing your video and audio quality.
PS: You can personalize the reminder or the post-export status when your output is under processing, including a ringtone reminder, PC shut down and no further operation.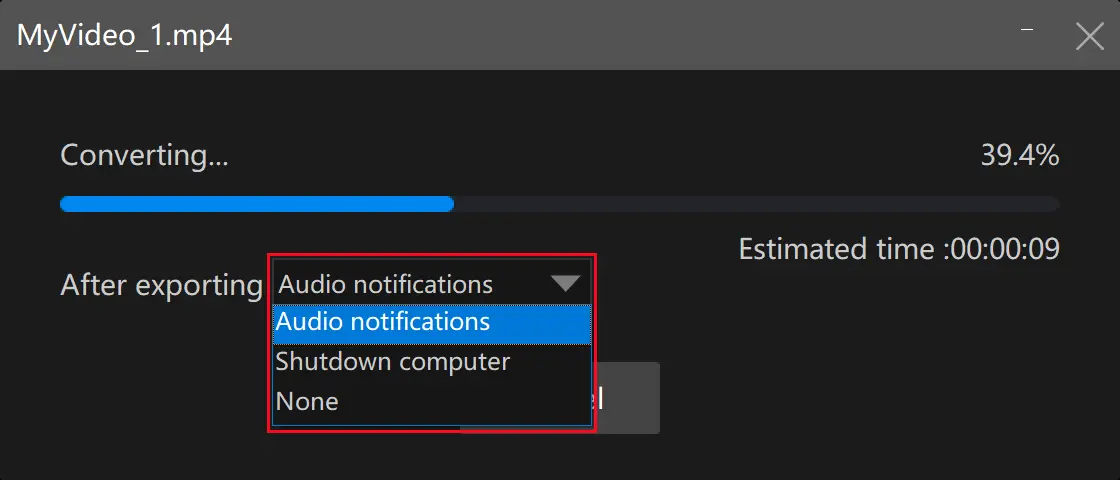 Additional Words for WorkinTool Vid Clipper
📌Why should you choose WorkinTool VidClipper?
WorkinTool VidClipper is a piece of powerful and free video editing software. Inspired by lightweight and practical ideas, its designers will endow it with a simple-to-use interface suitable for beginners. These are the specific reasons for picking it:
Powerful Features: WorkinTool VidClipper is able to provide you with an easy experience of both basic and professional video editing.
Simple Editing Process: WorkinTool VidClipper is easy to use. It usually takes five steps to complete your video editing.
Abundant Additional Editing Features: On top of the black-and-white filter, your videos can be easily and instantly customizable through our various editing features, including 100+ stylish texts, 60+ filters, 300+ transitions, 70+ overlay effects, 200+ elements and 600+ sound effects.
Quick Editing Modes: Quick editing modes on the opening page are there for you, such as screen recorder, video splitter, video merger, video background remover, video templates, video converter, text-to-audio converter and watermark remover.
High-Quality Guarantee: The output via WorkinTool VidClipper will be exported without losing quality.
100% FREE Currently: All the features of WorkinTool VidClipper are accessible without any license payment and compulsory registration.
Green: There will be no advertisements during your video editing and no intrusive watermark added to the outcomes.

📌What other editing missions can WorkinTool VidClipper accomplish?
In addition to putting a black-and-white filter on a video, WorkinTool VidClipper enables you to cope with the following video-editing issues:
Video Editing
Video Content Editing

Make a Video Clip (Video Splitting)
Combine Videos
Video Templates for Common Scenarios
Convert Videos
Remove Video Watermark
---
How to Turn a Video Black and White in an Online Way
If you truly feel it inconvenient to download and install a third-party tool, you can still resort to some useful online tools. VEED.IO is a fantastic online program designed to help you with video editing. Apart from the features like transitions, overlays, filters, elements, etc., it functions as an online video editor to help you with essential video editing. Please read the following guidance to turn a video black and white:
1. Open VEED.IO and then navigate to Products > Tools > Filter Text.


2. Click Get Started below Video Filter.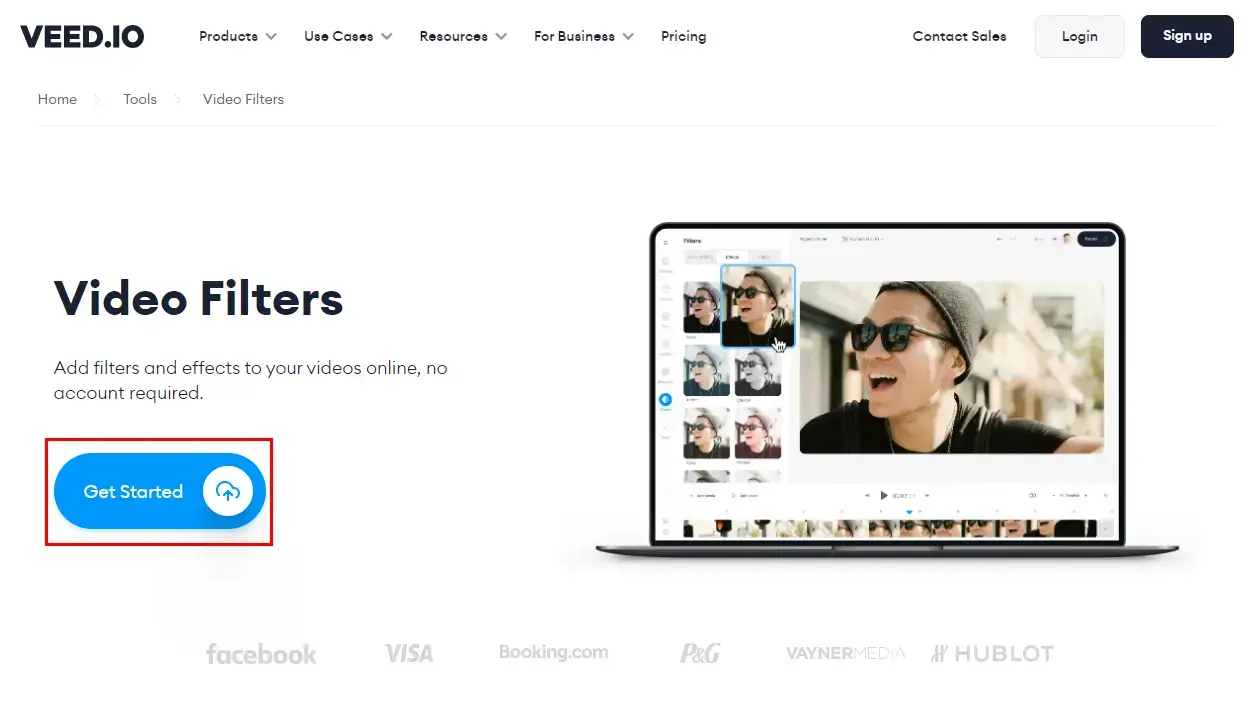 3. Import your video by hitting Upload a File or dragging it into the column.


4. Locate the effect-Clayton in Filters, preview the final effect and then click Export.
(You can adjust the intensity of this filter by dragging the bar to the left or right direction.)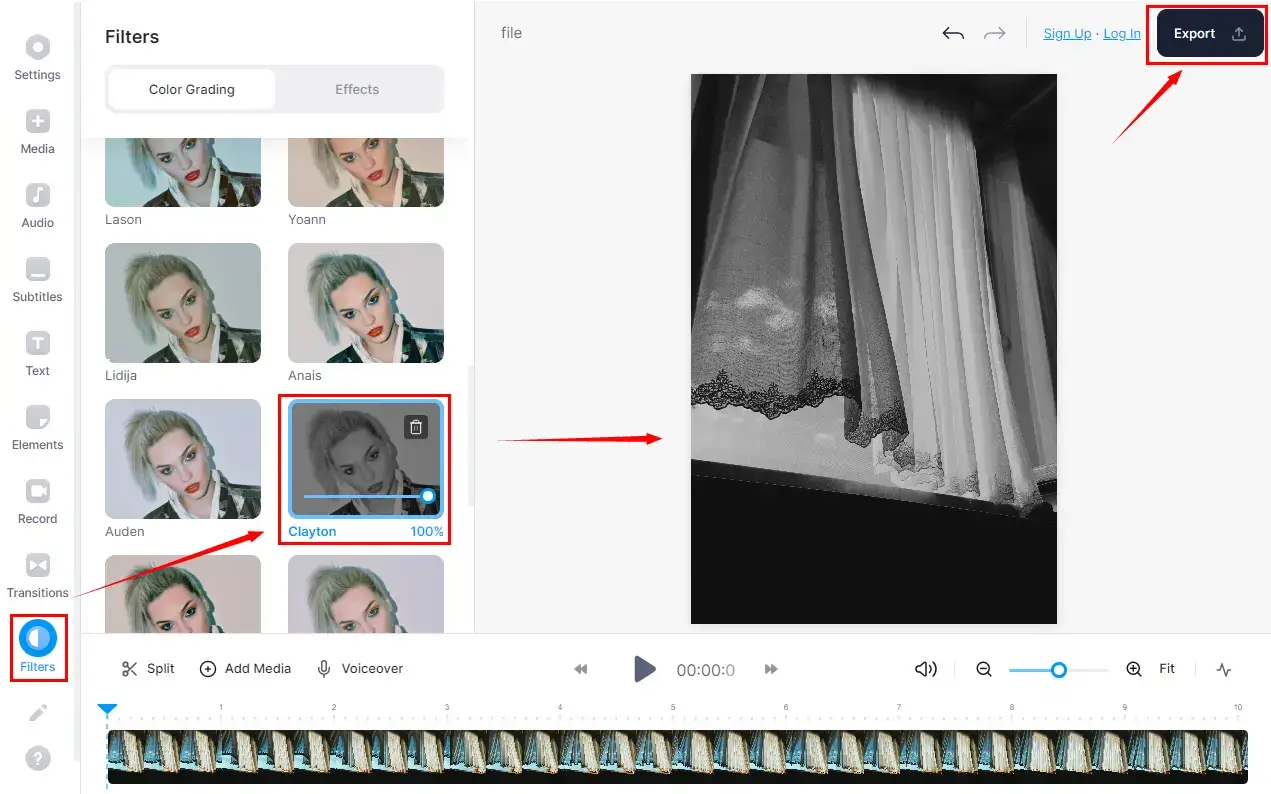 5. Make your video settings and then hit Export Video.
(Basic video settings: Draft-Low quality and Standard-medium quality)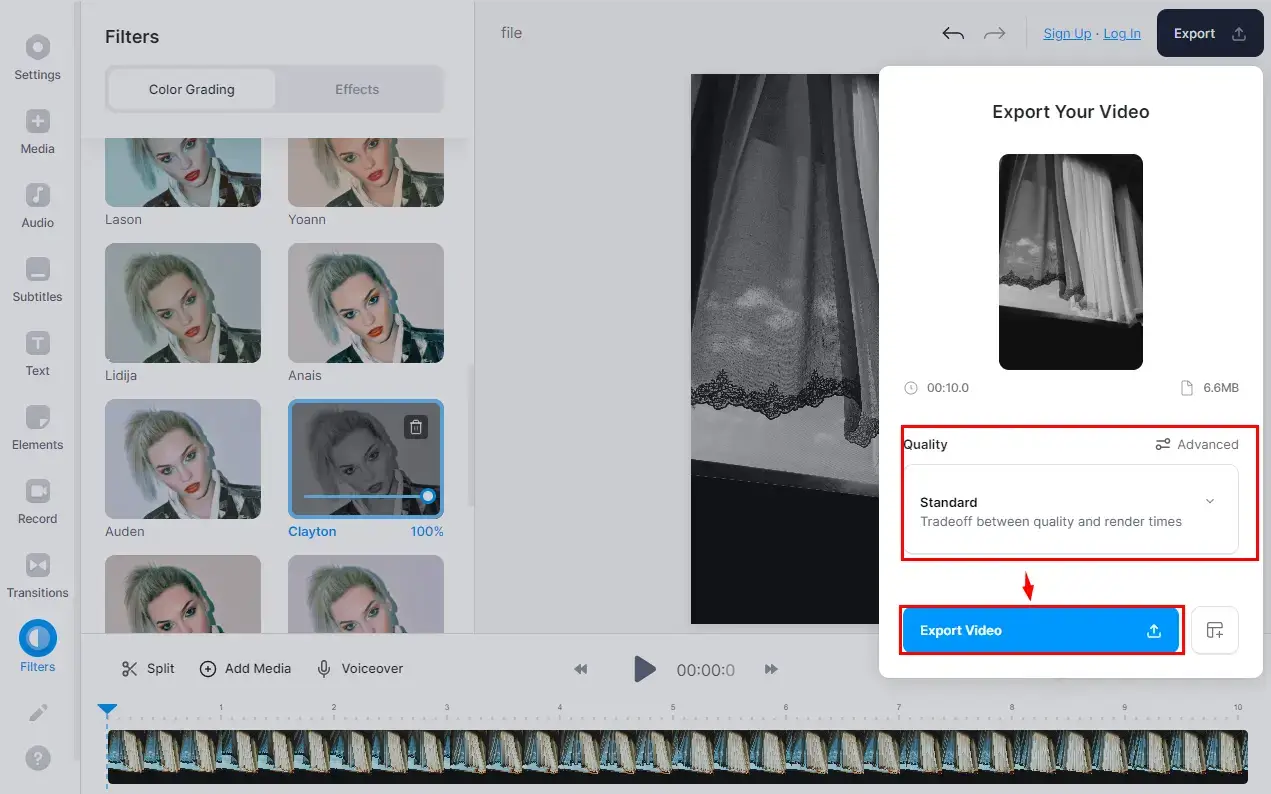 📢Notes

You can expect a more detailed video setting by switching to Advanced beside Quality, including:

Framerate Limit
5-60
Resolution
480p,720p, Instagram and Hootsuite Twitter
Quality
Low, Standard and High
Compression
Higher Quality and Faster Render
6. Click the highlighted icon (and then select a file format) to download the video with the black-and-white filter.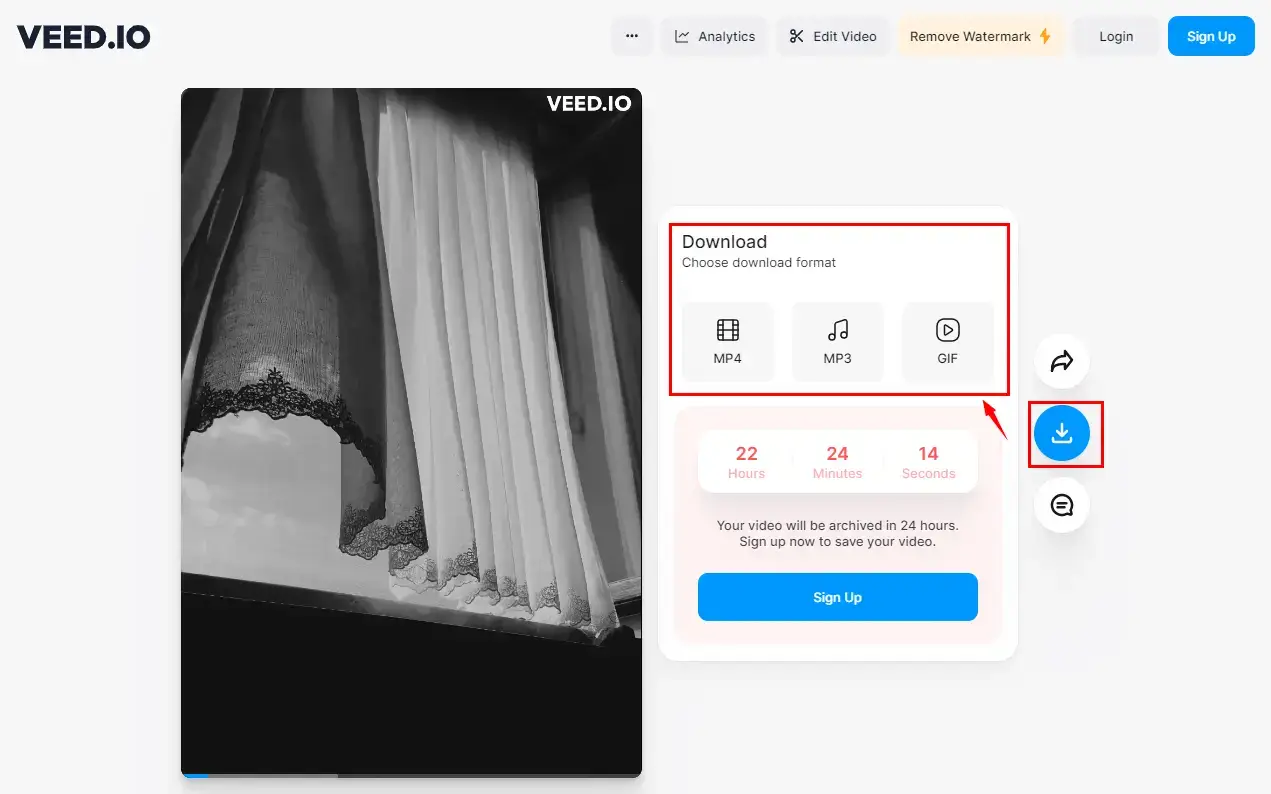 📣Attention
1). You can register an account and sign in to store your edited video, or it will stay in VEED.IO for 24 hours only.
2). A logo watermark will be inserted on your outcome unless you pay a license fee to upgrade your account from a free trial to a basic, pro or business plan.
3). The uploading and downloading speed will vary and depend heavily on your internet connection.
---
Bonus Tip
💡How to Convert a Photo to Black and White?
In order to realize this goal, you can try WorkinTool Image Converter to make a photo black and white by way of the feature–Black and White in Edit Image > FILTER.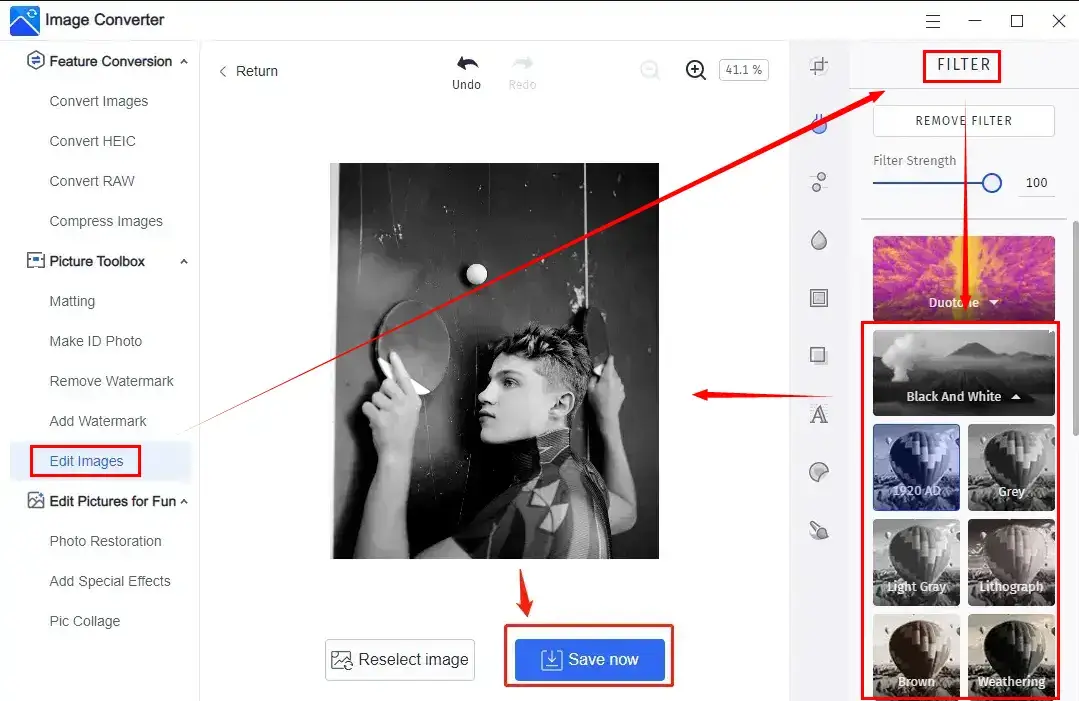 ---
Final Thought
How to make a video black and white? I believe it is now a less challenging question after you finish this article. You are welcome to try all the aforementioned solutions until an ideal one is pinpointed. However, it is strongly advisable to try WorkinTool VidClipper.
Now, are you ready to create some black-and-white videos by yourself?