How to Compress SVG File Size for Free in 2023
How to compress SVG file? SVG file format is widely used in the web design industry. As a vector image format, it may be larger in size because it contains more paths and nodes compared with the raster image format. So how to reduce SVG file size? This article gives you a free and reliable SVG file size reducer-WorkinTool File Compressor!
SVG files are supported on various computer systems and web browsers. If you're a web designer, I believe you must be familiar with SVG file format. SVG is a popular image format in the web design industry. Because when editing SVG pictures, the picture quality will not be reduced. Therefore, many web designers like to use it to design logos, enrich web content, and even create GIF animations. But sometimes, if the SVG image is too large, it will affect the web page loading speed and discourage viewers. Therefore, we need to know how to compress SVG file.
Words before you Reduce SVG File Size
What is an SVG file?
SVG, short for Scalable Vector Graphics, is a vector image format for two-dimensional graphics based on XML (Extensible Markup Language), which is designed for storing, transmitting, and reconstructing arbitrary data. In other words, you can edit and resize SVG files freely without losing image quality.
Why is my SVG file so big?
An SVG file is big because it is uncompressed. As a vector image, it contains more data (in terms of paths and nodes) compared with raster images like PNG. How could a file mainly used in web browsers be large? That is terrible! Is there any method to reduce SVG file size? This brings us to today's topic: how to compress SVG file size for free in 2022.
How to Compress SVG File for Free
Many people search SVG file size reducer that can compress SVG free. After testing dozens of SVG file size reducers, we found that WorkinTool File Compressor is the best SVG compressor among desktop software and online programs that can compress SVG free.
How to Compress SVG file size via WorkinTool File Compressor?
Firstly: Open WorkinTool File Compressor and find "Image Compressor".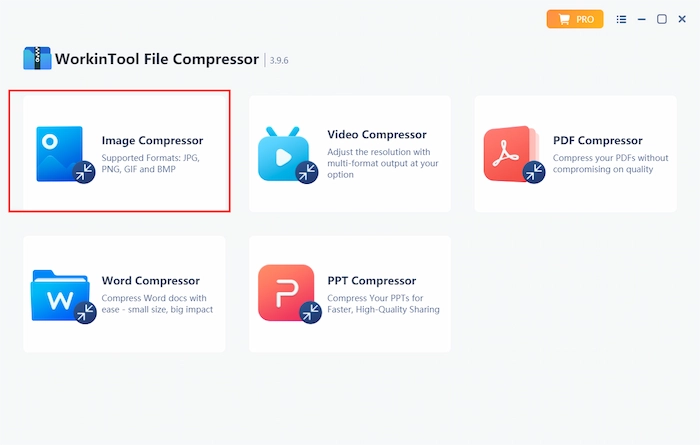 Secondly: Click "Add file" or drag to upload your file(s).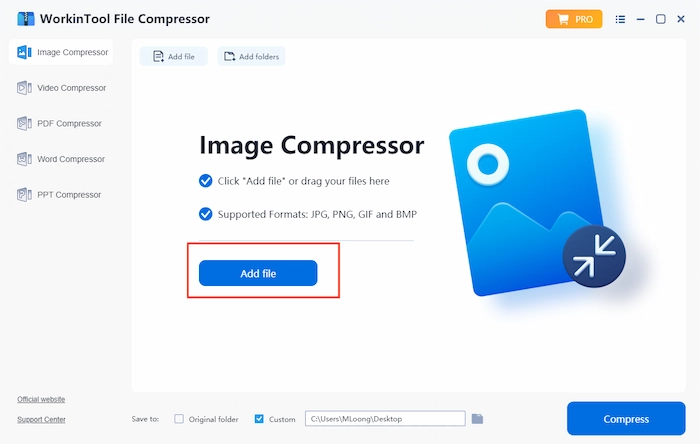 Finally: Custom general settings and additional settings and select the file folder, then hit the "Compress" button.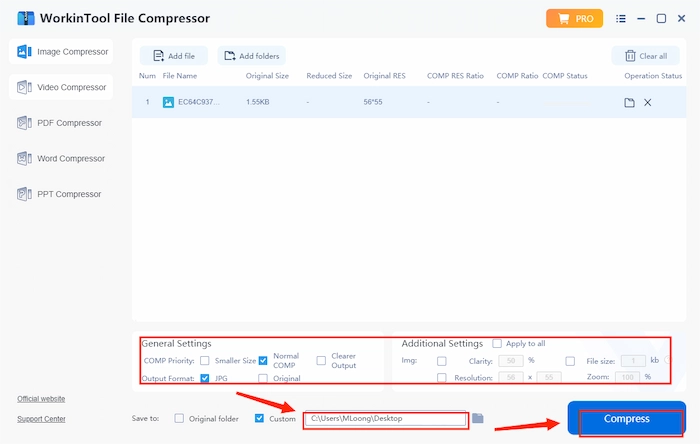 📢Notes:
In general settings, you can set compression priority as smaller size, normal COMP, or clearer output.
Smaller Size focus on reducing file size but with a little sacrifice to image quality.
Clearer Output will remain image output quality while being larger.
Normal COMP will balance image size and quality to the largest extent.
You can also choose the output format as JPG. That is to say, WorkinTool File Compressor is also an SVG to JPG converter. You can convert images including but not limited to JPG, BMP, SVG, GIF, and PNG to JPG with this tool.
In additional settings, image clarity, resolution, size, and zoom level are adjustable. Usually the larger parameters, the better output quality with the larger image size.
Here shows a Before & After comparison of one SVG sample.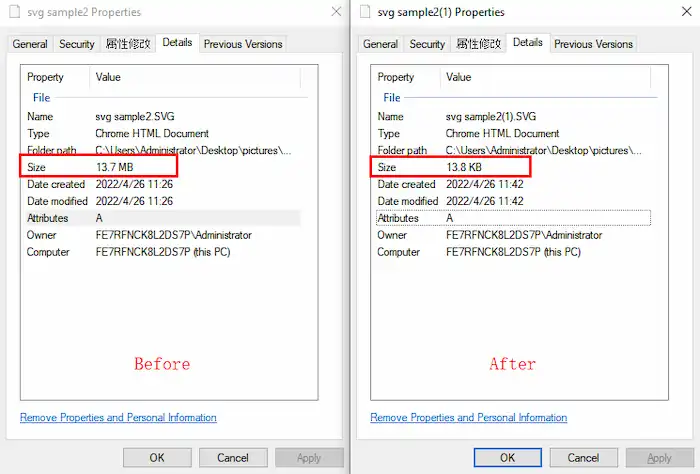 As you can see, WorkinTool successfully compressed the SVG image from 13.7 MB to 13.8 KB.
🔺 What if the compression fails?
The built-in nodes and paths of each SVG image may be different, and the operating environment of different computers varies as well. Therefore, compression failure may occur.
In this case, you can choose WorkinTool Image Converter to convert the SVG image format to other image formats like JPG or PNG, and then compress it in WorkinTool Compressor. You can refer to convert SVG to JPG for detail. If you still need to keep the SVG format of the image, put the compressed JPG or PNG into WorkinTool Image Converter and transform it to SVG again. The operation steps are clear in Convert JPG to SVG.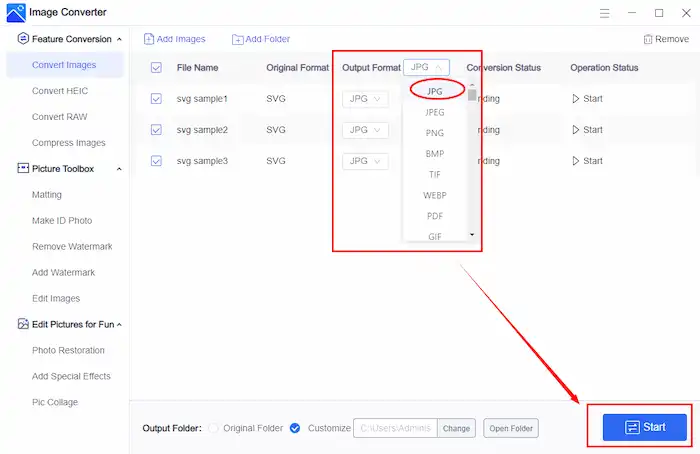 This method is a bit cumbersome but works well in most cases where compression fails.
Why Should you choose WorkinTool to minify SVG?
Why do we grade WorkinTool File Compressor so high and consider it as the best SVG compressor? There are powerful features that convince readers including ourselves.
📌Free trial: economize your costs.
As we mentioned before, users can compress SVG file size via WorkinTool File Compressor with a free trial. That is to say, you can download the software free, no need to visit or log in, no need to pay to eliminate ads, and no need to pay for compressing images within 200 KB. With this tool in hand, you don't need to care about how to compress SVG file in Illustrator, thus leading to big savings for amateurs.
📌Multiple file formats supported: compress all types of files.
On the initial page of this SVG file size reducer, it's not hard to find that this software is not only limited to SVG compression but also equipped with compressions of other image formats and video formats. In addition, you can also achieve PPT compressor, PDF compressor, and Word compressor as well.
Supported Image and Video Compression
You can achieve whatever you want with this all-in-one compressor, which can solve your problem about how to compress SVG file size but also compress PPT, PDF, Word, Video, and Image at the same time.
📌Easy to use: meet everyone's skill level.
When you have installed and opened the SVG compressor on your computer, you will see a clean and concise interface without any ads. Each feature is well-categorized. And there are prominent guides on every operation page. Just with a few clicks can you shrink SVG file size successfully. Even beginners and computer novices will find it simple to use.
📌Changeable output quality: set quality level as you want.
There must be people who want to make a ZIP file smaller. Lucky you are! WorkinTool File Compress is the perfect solution, by which not only you can reduce SVG file size, but also set quality level and compress it to chosen size like KB and MB. This feature makes uploading images to websites and apps with regulations convenient.
📌Batch processing: minify more files in a single try.
Are you troubled with compressing images one by one? It's too time-consuming and laborious! Why not choose WorkinTool to deal with compression-related issues? It can compress all files of a certain category like images and videos in a single try. Isn't it good to speed up the work process and save time and energy?
Conclusion
At last, I guess you have a clear understanding of how to compress SVG file size now. No matter what identity you are, students, teachers, and office workers, and no matter what skill level you are at, it's necessary to install a safe and reliable file compressor on your computer. In this case, why not choose a versatile, and easy-to-use software like WorkinTool File Compressor, including but not limited to SVG compression? Believe me. After you give it a try, you'll honestly regret not getting it sooner!